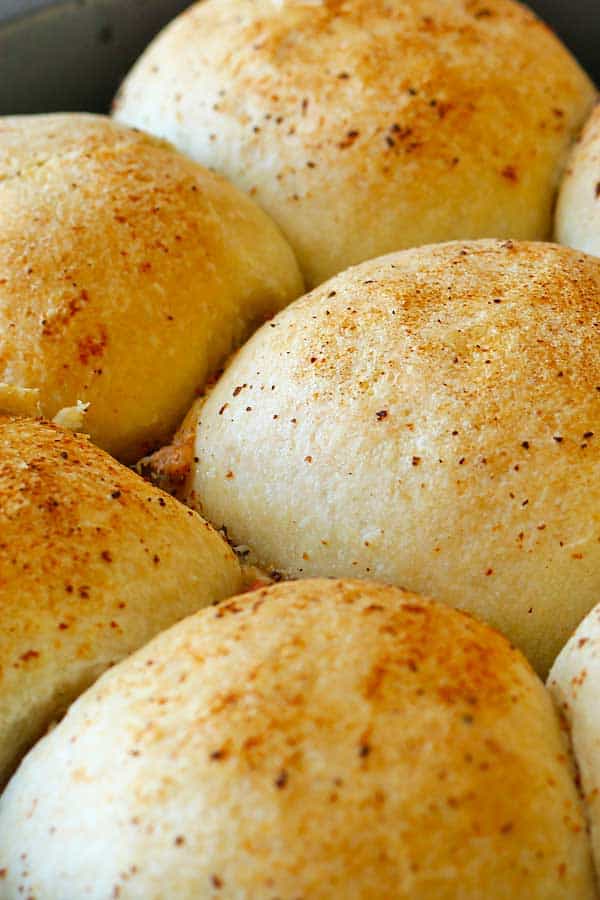 The name
I was contemplating about the name, you know. Are they pizza balls? Pizza buns? Cheesy balls? Pizza balls with meat and cheese inside? Then my husband came out with the name that he said would not confuse people. Pizza bites. Stuffed pizza bites. I loved it!
Disclosure: some of the links below are affiliate links, meaning at no extra cost to you, I will get a small commission if you click through and make a purchase. Everything I mention in this post is what I personally use and recommend.
The filling
The filling can be whatever, really. It can be your favourite empanada filling, your favourite pizza topping, your favourite chilies or taco..or create a new filling of your desire. For this recipe I opted for minced beef, cream cheese and mozzarella.
First I cooked the onion and red bell peppers until they were soft and added in the minced beef, seasonings and continue cooking until the meat was fully cooked. Then I transferred the filling into a bowl and let it cool completely.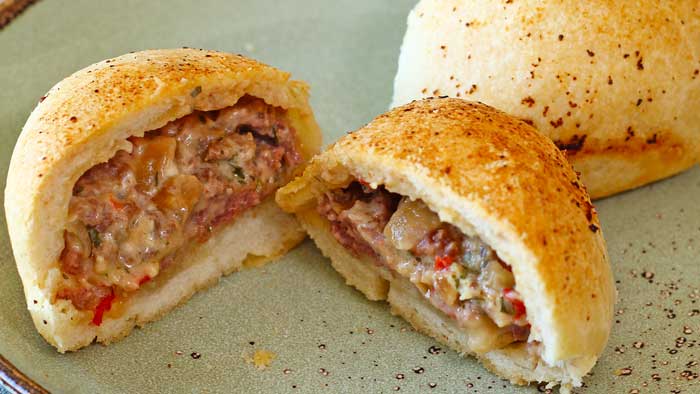 I didn't want to add both of the cheeses while the filling was still hot because I didn't want them to melt just by mixing them with the filling. I wanted them to melt when they were being baked.
The dough
I used my homemade pizza dough recipe, which you could easily find it in the website or my YouTube channel. I have been using this recipe for years and it never failed me. Don't you like it when you have a perfect recipe that you don't need to think to tweak this and that to make it better? Well, I do 🙂
I used basic ingredients for the dough. Flour, yeast, olive oil, sugar and water. I prepared the yeast mixture and then added it to the rest of the ingredients and began to knead to around 10 minutes or until the dough is smooth and elastic.
Back then before we bought our stand mixer, I used to knead every single bread, pizza..you name it, manually. And by that I mean by hands. It was not a burden for me at all, I loved it! I make mollete (Spanish bread) for my husband's breakfast all the time and I think he felt pity for me.
More in the summer as the summer here is extremely hot and with all the manual kneading process was too much for his eyes 😀
So he bought the mixer and yes I have to admit it, it does get easier but my point is..even if you didn't have one, that should not be an obstacle for you not to start making your own pizza dough, breads and so many more. I've been there and it was not bad at all to do it manually.
Back to the dough 😀 Since it's summer now, so my dough didn't take that long to rise. I left it in a warm and draft free place.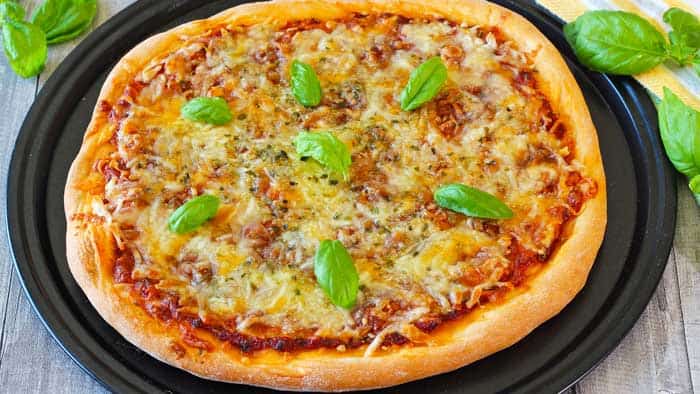 When I first started learning to make breads years back, sometimes I left the dough by the window where the wind was blowing like crazy and then I was wondering why my dough didn't rise like everybody else 😀 Lesson learnt.
I used half of my homemade pizza dough for this recipe. You can make double batch of this recipe or you can make a pizza out of the other half of dough. Your choice. I made a pre-pizza out of it. It's what my husband's family like to do with their Argentine style pizza.
You pre-bake the pizza base and then put the toppings and bake it again or you simply freeze the pre-baked base. Maybe one day I'll make a video about it.
We will have 8 balls from the dough. What I did was divide the dough into 8 balls first and then start working with them one by one. I flatten 1 ball using my fingers only, no rolling pin needed. Then I place 1 full tablespoon of the filling on the center of the flatten ball.
I then pinched the seams together and form it into a ball and placed it in a greased 9 inch round pan. Simple, don't you think? I repeated the same steps with the rest of the balls.
I covered them loosely with a cling film and leave them to rest around 30 minutes. Just to give them a chance to puff up a bit.
Baking
Well, this was the easiest part of this whole recipe. Before I baked them I did brush them with some melted butter mixed with some garlic powder. You can skip this. I baked them the same way I bake my pizza.
Once they were golden brown, I took them out and tried to resist myself from taking one ball and eat it right at that moment. You wouldn't want to do that. Hot bread. Hot cheeses. Burnt mouth. Not good.
Anyway, this is a simple recipe that can be modified according to your taste and creativity. Hope you give this a try!
Watch how to make stuffed pizza bites in the video below: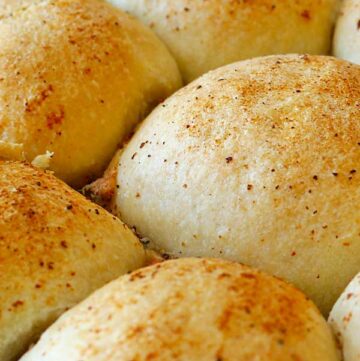 Stuffed Pizza Bites
Pizza bites stuffed with yummy cheesy minced beef, onion and red bell peppers. Another way to eat another flavor of pizza. Yummy!!
Print
Pin
Rate
Ingredients
1/2

onion

, cut into cubes

1/2

cup

red bell pepper

, cut into cubes

200

gr

minced beef

2

tsp

Worcestershire sauce

3/4

cup

shredded mozzarella

1/2

cup

cream cheese

1/2

tsp

garlic powder

1/2

tsp

dry parsley

salt to taste

butter

, melted

garlic powder
Instructions
The filling
Heat some olive oil in a pan. Add in onion, red bell pepper and cook until they're soft. Add a pinch of salt.

Add in the minced beef, Worcestershire sauce and continue cooking until the meat is fully cooked. Adjust seasoning if needed. Transfer to a bowl and leave to cool completely.

Once cooled, add in shredded mozzarella, dry parsley, garlic powder and cream cheese. Mix everything together.
The dough
Divided the dough into 8 equally sized balls. Take 1 ball and flatten it. Place 1 full tablespoon of the filling in the center. Pinch the seams together and form into a ball. Place in a greased 9 inch (23 cm)round pan. Repeat the same steps with the rest of the balls.

Cover them loosely with cling film and leave them around 30 minutes, just for them to puff up a bit. Brush the top with some melted butter and garlic powder mixture.
Baking
Bake them at 200°C (400°F) preheated oven for 20-30 minutes or until golden brown and fully cooked. Leave to cool a bit before serving.