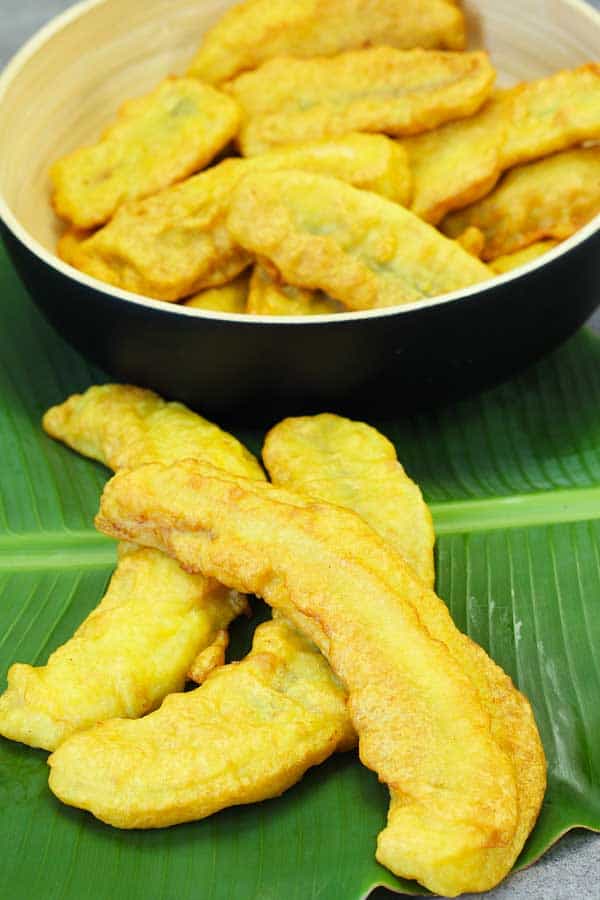 Ohh yes!!
Today we're making turmeric fried bananas! Malaysian style!!
Fried bananas is one of the typical Malaysian street food. You can find it anywhere, anytime. Usually they are sold at the stalls by the streets, together with some other fritters like masala vada or banana fritters. Interested to know how are those?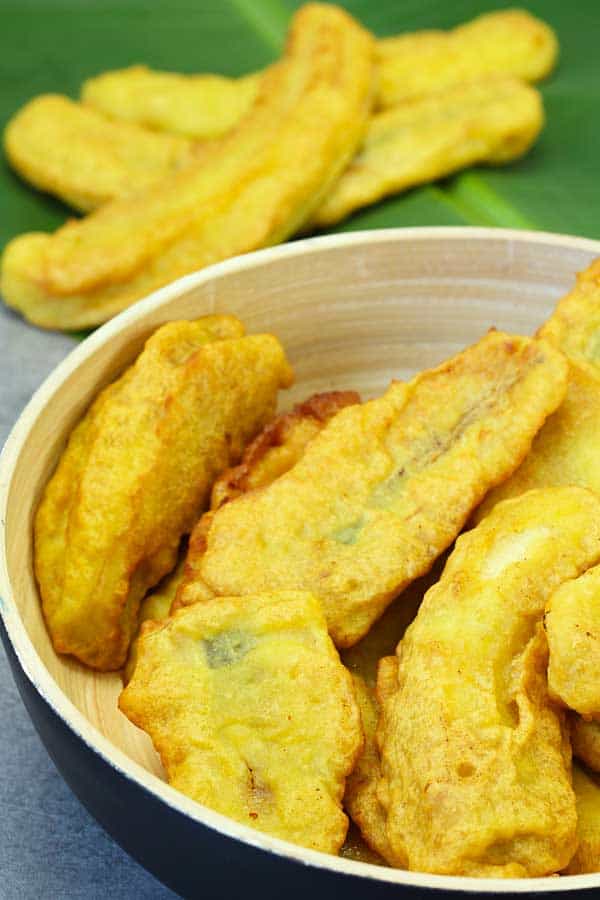 We Malaysians like to say that we're hardcore foodies. So it's very common to have street stalls selling food until late at night, even restaurants that open for 24 hours. And yes, people do go buy and eat during those hours.
I remember when I was a kid and was studying in a boarding school. Me and some friends took a bus ride of 6 hours from our school to Penang where one of my friend's father came to pick us up at the wee hour of 5 am.
Do you know the first thing that he did? He took all of us to eat Nasi Kandar at that hour. Haha! It's one of the things about Malaysians also, always concern if you've eaten or not.
In fact, the first question that they'll ask you as soon as you arrived at their house is, "Have you eaten yet?" and that will be followed with you being served tea, snacks or meals.. depending on what your answer is 😀
Hey in case you're interested, I have Nasi Kandar recipes 😉
Anyway..
Turmeric fried bananas.
Turmeric is such a common ingredient in Malaysian cooking. It's often used as a natural yellow food colouring and it has a unique mild taste. So don't worry about putting too much turmeric powder in your meals.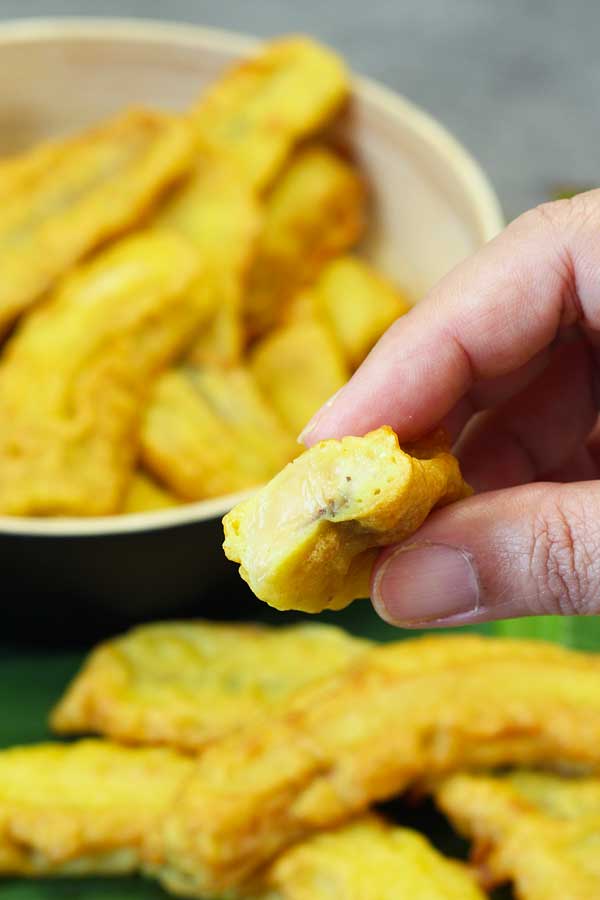 In my house, instead of white rice I like to make turmeric rice just by simply adding some turmeric powder while cooking my rice. And of course, my absolute favourite.. sticky rice with turmeric powder and coconut milk.
Click here to see how I make my sticky rice with turmeric and coconut milk
Turmeric has so many health benefits such as anti-inflammatory, relieves pain, helps with digestions and improves liver functions. So whenever you can, incorporate turmeric in your meals. Rice, stir fry veggies, stir fry seafood, fried/baked fish/chicken.. the list goes on.
This turmeric fried bananas is not something new in my family. This is how we do it whenever we make our own fried bananas. I just thought I'd share this simple yet delicious recipe with you.
Now that we've talked about turmeric, lets talk briefly about bananas.
In my homeland country Malaysia, there are certain type of bananas that we use to make this fried bananas. I don't have that luxury here in my city. So I'm using the typical banana that I would eat.
One thing though, try to choose bananas that are not ripe. In fact, choose the skin towards green more than yellow.
Other than that, there's nothing more than to enjoy!
Watch how I make turmeric fried bananas in the video below: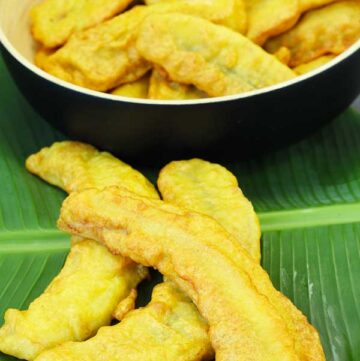 Turmeric Fried Banana
Simplest and easiest way to make these delicious turmeric fried bananas. Fried bananas is one of the typical Malaysian street food.
Print
Pin
Rate
Ingredients
1 1/4

cup

rice flour

(160 gr)

1/3

cup

all purpose flour

(40 gr)

1/3

cup

coconut flakes

(25 gr)

1/2

tsp

salt

1/8

tsp

baking soda

1/2

tsp

turmeric powder

1

egg

1

cup

water

(250 ml)

7

bananas
Instructions
In a bowl, add in all of the ingredients except bananas. Whisk until well combined and leave the batter to rest for 20 minutes.

Peel and slice the bananas in half, lengthwise. Coat the banana one by one in the batter and shake off any excess batter.

Fry in abundance of oil until golden brown. Remove from the oil and place on a kitchen paper to absorb the oil. Best served hot. Enjoy!