Another super quick dinner for ya! This easy 10 minute lo mein noodles with beef are going to surprise you in the most amazing way. And trust me, you won't be ordering lo mein take-out anymore after you know how ridiculously easy it is to make it yourself.
And of course, home cooked meals always taste better, right? The wonderful bonus is, you know what you're putting into your meal and you choose the quality.
Jump to:
Recipe Highlights
Texture and flavour - I'm going with the classic lo mein, with a tiny tad twist. Saucy stir fry egg noodles with spinach and beef. The secret is in the slightly sweet and salty sauce. Make it yourself using basic Asian pantry staples and adjust it to your liking. Yeay!
Size - Perfect for 2
Level - Extremely easy and fast
Occasion - Amazing for quick dinner during the week or when you fancy Asian meal in a jiffy
Lets Talk Ingredients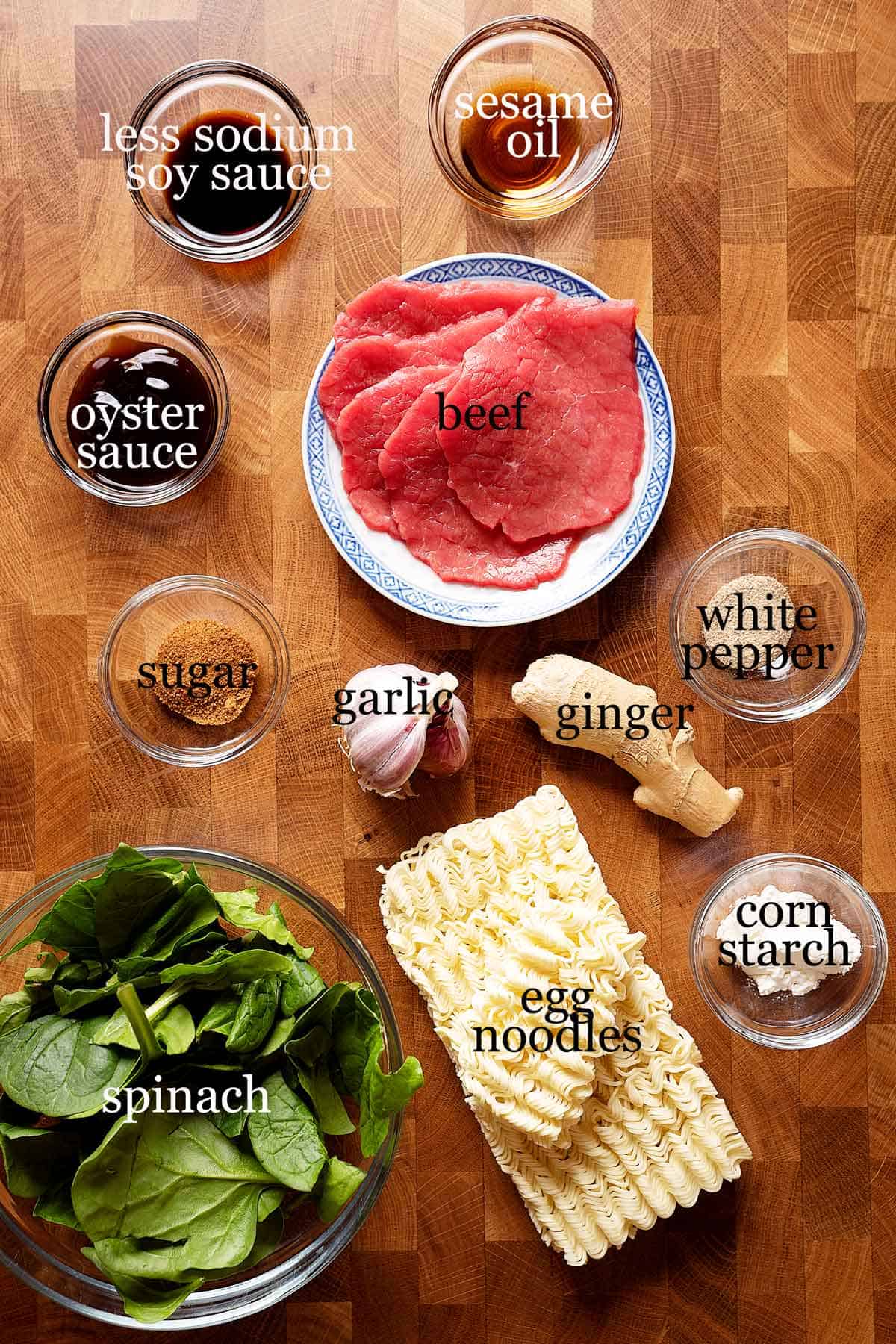 Soy sauce - I highly recommend you to use less sodium soy sauce as you can use more of it without worrying about your meal getting too salty. Meaning you can infuse more flavour in what you're cooking. I'm absolutely in love with this less sodium soy sauce, I have it all the time in the house.
Oyster sauce - Another Asian pantry staple that if you're into Asian cooking then you should always have it in your kitchen. It has the syrupy consistency with that umami salty and sweet flavours.
SUBSTITUTIONS:
- You could use a combo of soy sauce and bit of sugar
- Indonesian sweet soy sauce (skip sugar in recipe) for the syrupy consistency
- Regular sweet soy sauce (also skip sugar in recipe) although this is more liquid
- Hoisin sauce with soy sauce (equal ratio 1:1)
They will not give your lo mein the same flavour as you would get using oyster sauce but they work.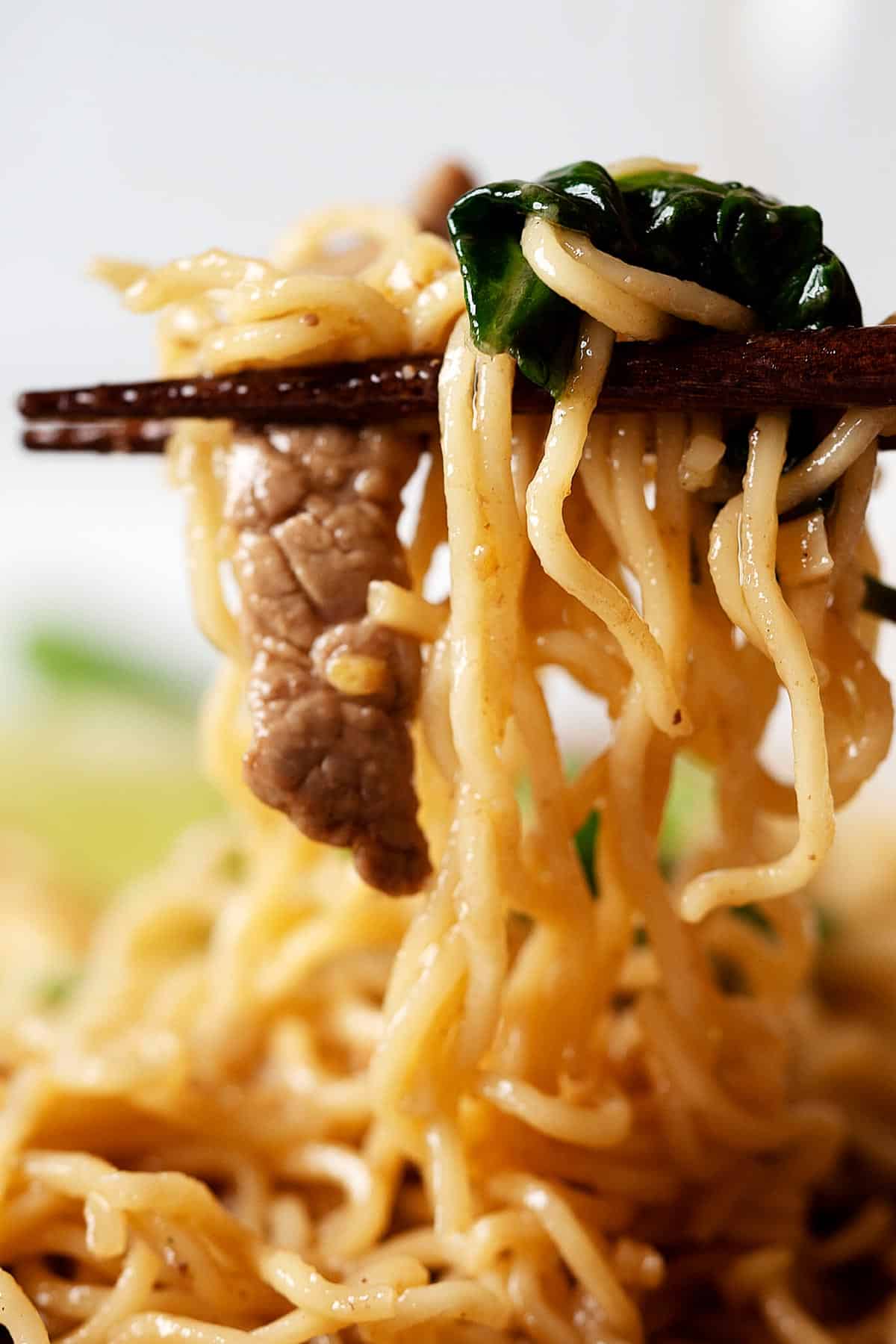 Egg noodles - You can use fresh or dry ones, no problem at all. You can also make your own egg noodles. I like not to be restricted so I can tell you that spaghetti or udon also work here *wink!*
TIP: Use 12 oz (340 g) of cooked noodles or udon.
Spinach - I'm going with the classic lo mein and making it second best to the classic by substituting pak choy for spinach. I'm trying to grow my own pak choy at the moment that I'm writing this post (wish me luck!). So if you have it, use it.
Beef - Feel free to use whatever protein you desire. Chicken, shrimps, calamari, pork, you do you boo. Or simply skip it.
What's Going To help You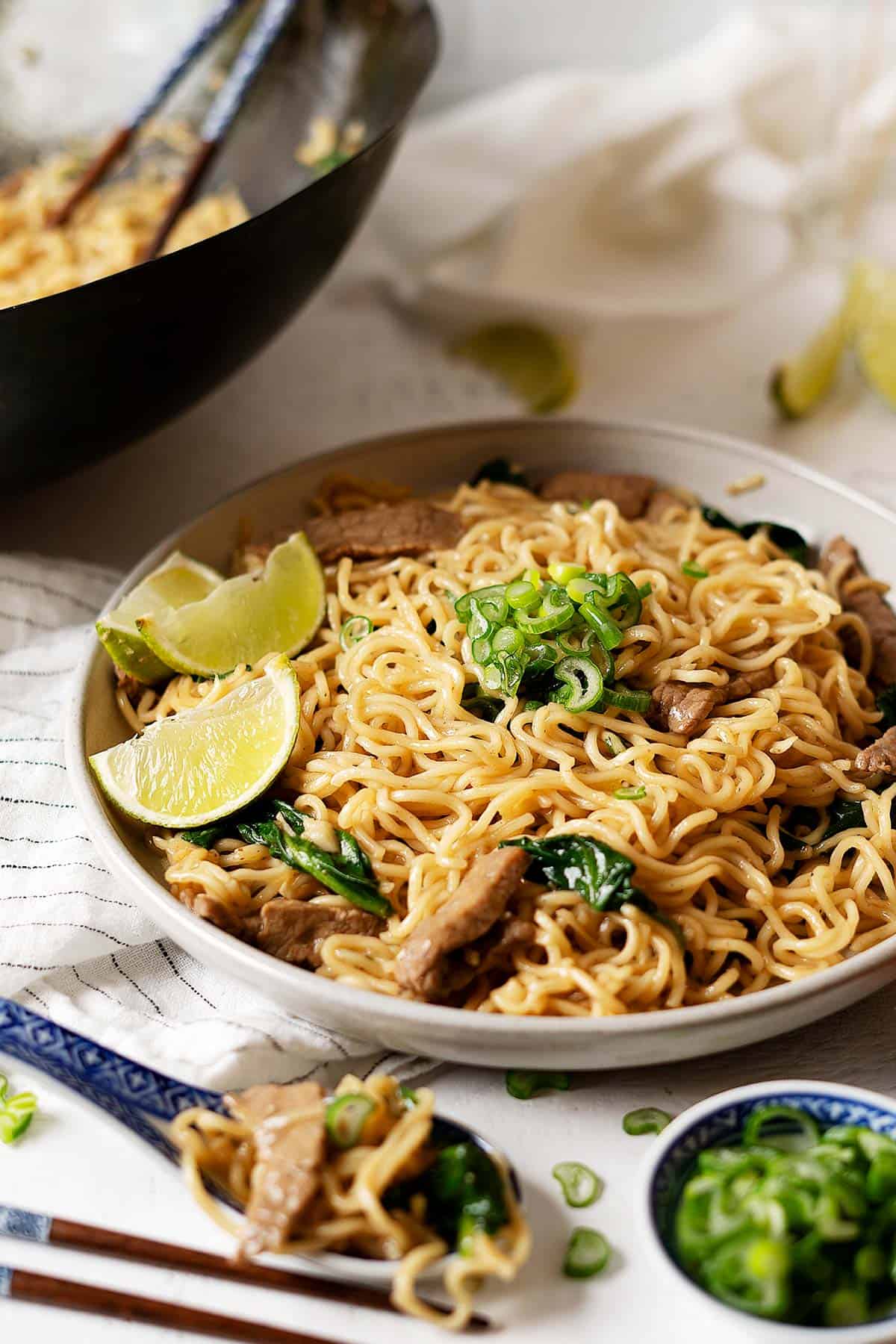 I would say lo mein is a more relaxed Chinese stir fry noodles. So there's no specific rules to it when it comes to cooking this delicious dish. Here are 3 things that I think you need to know to make your life easier.
To cook in - Use any pan. You don't necessarily need a wok (although you'd look cooler taking a selfie with a wok *wink!*). I have 2 woks which are iron cast and carbon steel (you can see how I season my wok) if you're interested.
But just letting you know, apart from using woks, I've also made this recipe in a non-stick pan and an iron cast skillet, no problem at all. So just use what you have.
Heat - Medium high heat. There's no need for extremely high heat, so there's no need to panic or worrying you might burn your food. Or your kitchen.
To cook with - What I recommend though is to use kitchen tongs to cook as you can easily spread, separate and coat the noodles better in the sauce.
Recipe Video
📖 Recipe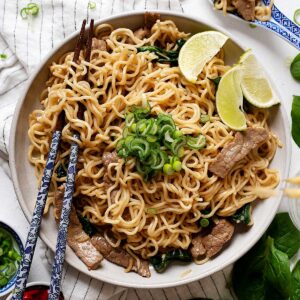 Easy 10-Minute Lo Mein Noodles With Beef
Super quick dinner! This easy 10 minute lo mein noodles with beef is definitely better than take out, more when you know that you're putting good quality ingredients into your food. The key is the homemade sauce. Give it a try!
Print
Pin
Rate
Ingredients
The Sauce
¼

cup

water

(

60

ml)

2

tablespoon

oyster sauce

1 ½

tablespoon

less sodium soy sauce

2

teaspoon

sesame oil

2

teaspoon

corn starch

1

teaspoon

sugar

½

teaspoon

white pepper powder
The Rest
1

inch

ginger

, minced

2

garlic cloves

, minced

¼

lb

beef

(

110

g), thinly sliced into strips

1

handful spinach leaves

5.3

oz

dry egg noodles

(

150

g)
Instructions
Cook dry noodles according to packet's instructions, drain and set aside.
The Sauce
Add all ingredients into a bowl, mix well and set aside.
Cooking
Heat some oil in a wok or pan on medium heat. Then add in minced garlic, ginger and cook until golden brown. Now add in beef, stir around using a kitchen tongs and cook until it's half cooked.

Add in noodles and spinach, and mix everything together. Finally pour in the sauce, mix well and continue cooking until the noodles are well coated and the sauce thickens. Serve immediately!