Crispy skin, juicy meat with delicious soy sauce flavour and a touch of heat to it. It takes only 5 ingredients, 5 minutes to prepare, and 16 minutes to cook. Perfect for busy weekdays!
I love this type of recipe as I always don't have time to cook (yeah, I know...and I'm a food blogger!) since we're all the time busy with 101 tasks. I know you can relate, regardless of what you do.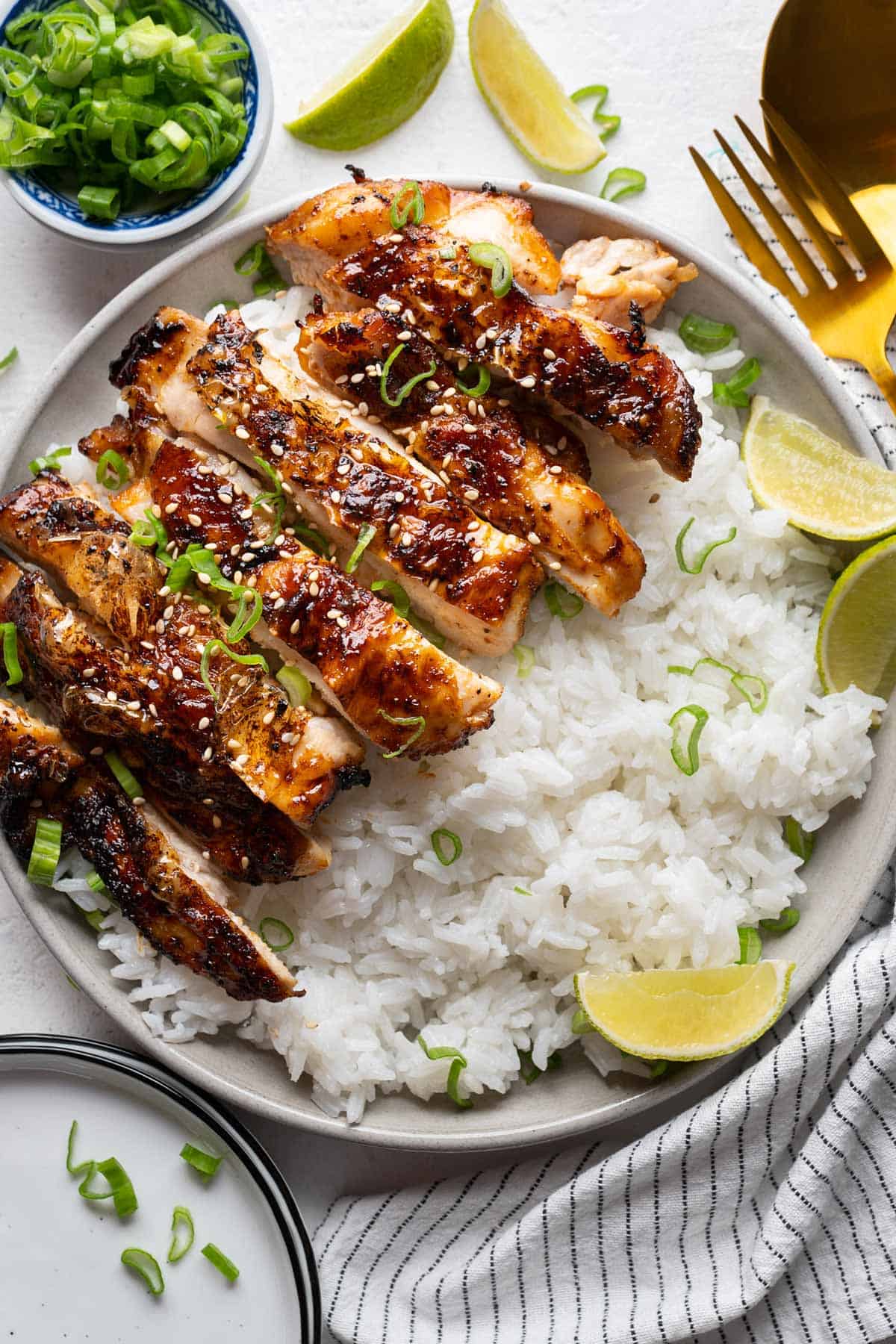 My perfectly cooked jasmine rice or grains like quinoa, and salads on the side and you're good to go!
If you love to cook with an air-fryer (high five!) then you should check out my delicious air-fryer orange chicken, and my softest air-fryer tuna cheese rolls. I also like to use an air-fryer to cook my chicken for my mini chicken pot pies.
Did you know you can also make muffins in your air-fryer? Yep, you can! Here's my healthy air-fryer apple cinnamon muffin recipe.
Jump to:
Ingredients & Substitutions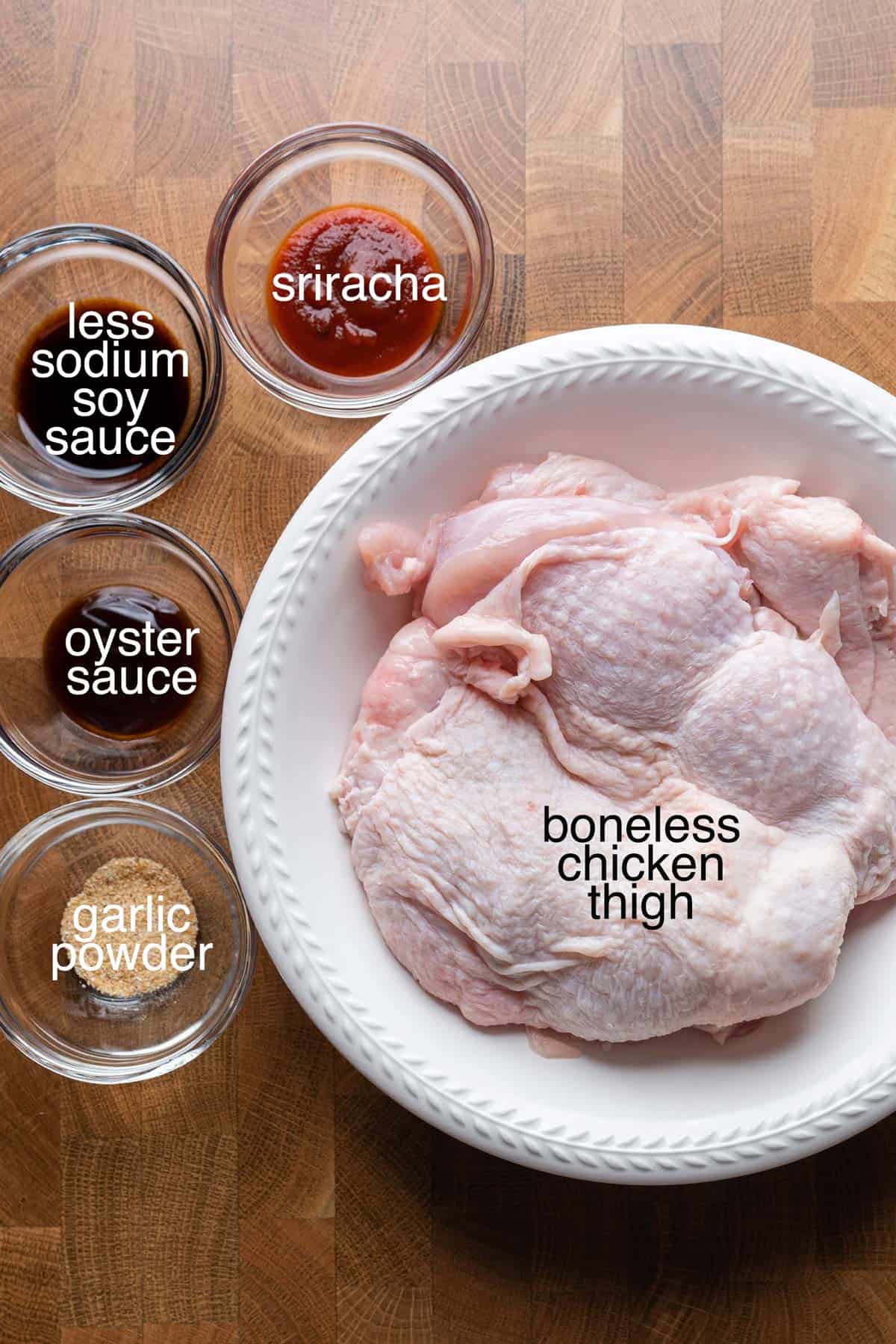 Chicken thigh - Boneless, skin on. Boneless is easier to cook and eat. It also cooks faster.
NOTE: Just for your info, free range chicken takes a bit longer for the skin to crisp up. It's due to its thicker skin. To get crispy skin, you'd have to cook it longer and risking the meat getting a tad dry. I tested it, and for this recipe that appreciates crispy skin and juicy meat, I don't recommend using it.
Soy sauce - Always use less sodium soy sauce. I keep saying this and I'll say it again. You'll get more flavour and less salt with this.
Oyster sauce - Gives that umami with a slight caramel touch to it. Oyster sauce is a must-have sauce for any Asian cooking, so it's really handy to have in the kitchen.
Sriracha - Everybody loves sriracha, right? By using it in this recipe, we're cutting our ingredients short since sriracha is a well-rounded sauce. It's sweet, savoury, sour, and spicy.
SUBSTITUTIONS: Use sweet chili sauce or any of your favourite hot sauces.
Garlic powder - Adds that extra layer of flavour. No need to peel, chop, etc.
VARIATIONS: Use onion powder instead. Or if you have time, finely chop 1-2 garlic cloves. 5 spice powder, sweet and smoked paprika work great also.
How To Make Air-Fryer Soy Sauce Chicken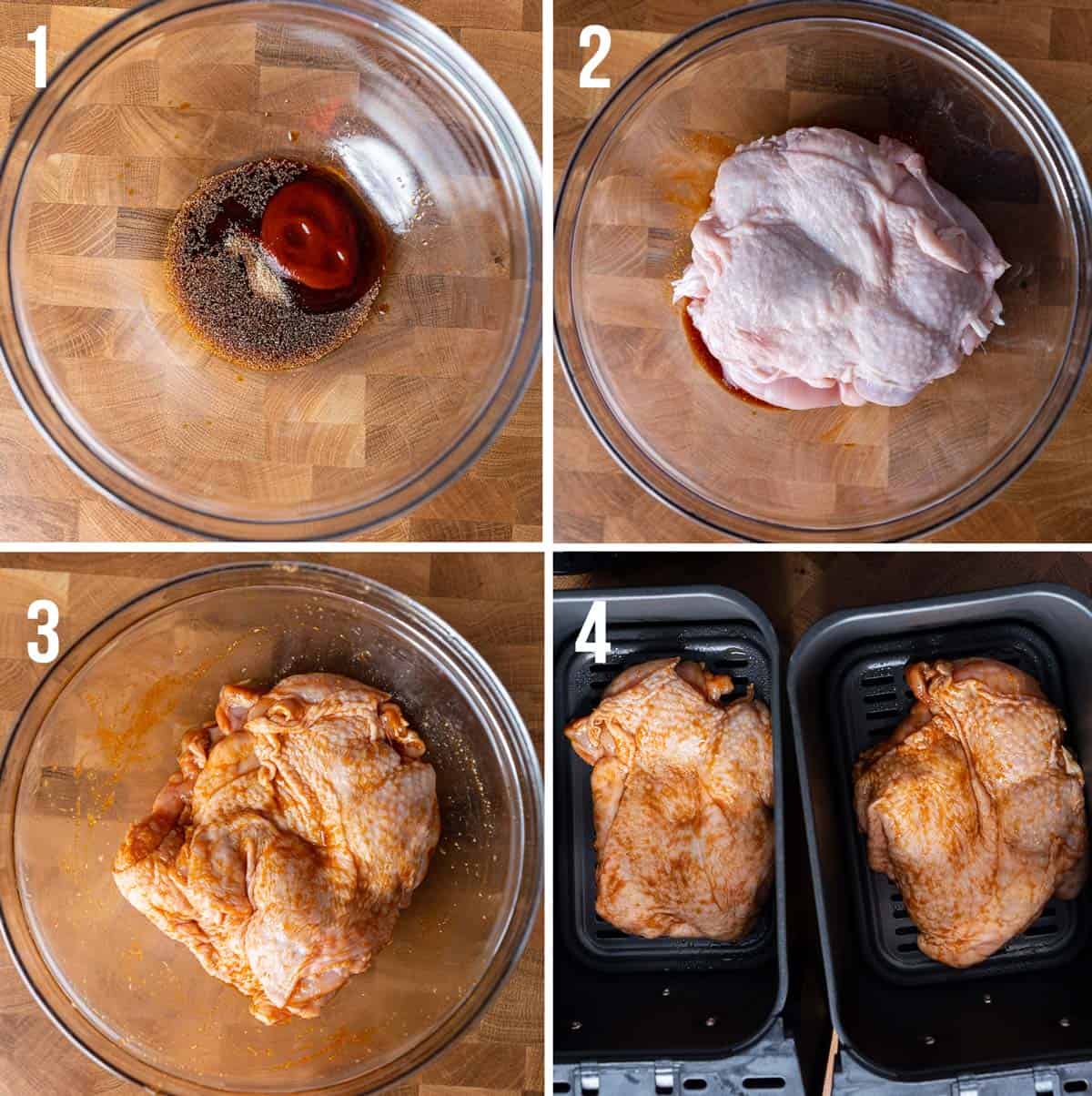 Seasonings - Add all of the seasonings into a bowl. Mix well.
Chicken thighs - Add in the patted dry chicken thighs in.
Coat - Mix and coat the chicken well.
Cook - Spray the air-fryer basket with some oil and place the chicken in. Cook using "Air fry" program for 16-20 minutes (depending on the size of the chicken).
Tips To Get Crispy Chicken Skin
Pat chicken - Pat the chicken real dry. It's a secret to get that crispy skin when you cook them.
Don't overcrowd - Give the chicken some space. Depending on the size of your air-fryer and chicken thigh, you might need to cook it in batches.
How To Serve And Store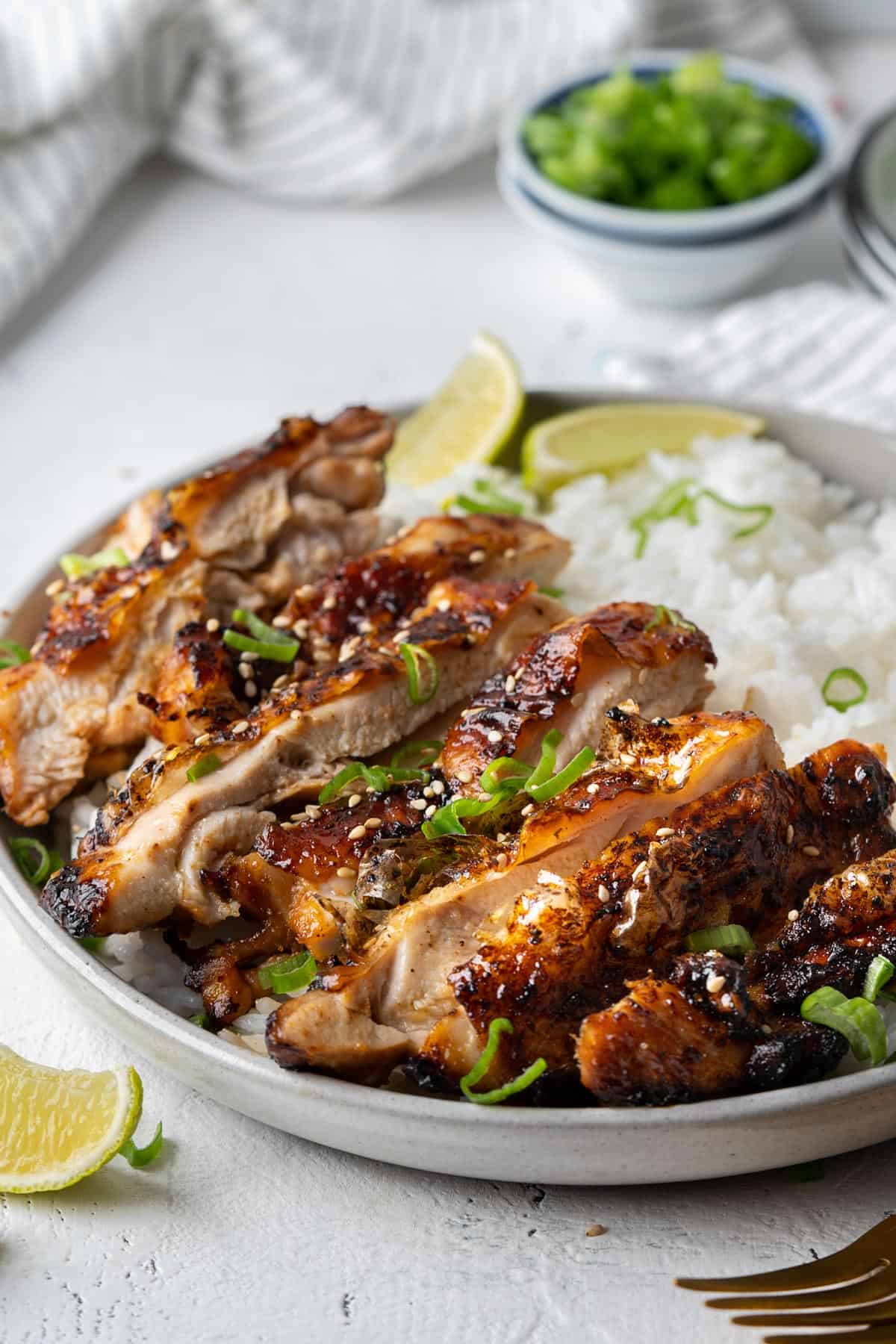 Serve - Serve immediately with some grains (rice, quinoa, etc) and some greens on the side. I love it with some sesame seeds, spring onion, and a squeeze of lime.
Store - This soy sauce chicken is best to serve immediately to enjoy that crispy skin. Although, you can marinate the chicken for 2 days in advance before cooking it.
FAQs
Can I use chicken breast?
I don't want to say no, you can't. Because of course, you can. But you'd need to adjust the cooking time and temperature though as I haven't tried it.
I don't like chicken skin. Can I still make this recipe? If yes, then how?
I hear you. We don't normally eat chicken skin either, except for this type of recipe where the skin is crispy and no deep-frying is involved. You can follow the recipe exactly, just spray the chicken with some oil before cooking.
I don't like spicy food. How?
This recipe is not that spicy but hey, I understand. Marco cannot eat so much spicy food either. Just follow the recipe exactly, add 1 teaspoon of paprika (sweet or smoked) or 5 spice powder instead of sriracha.
Watch How To Make It
📖 Recipe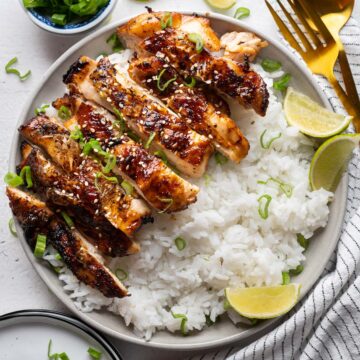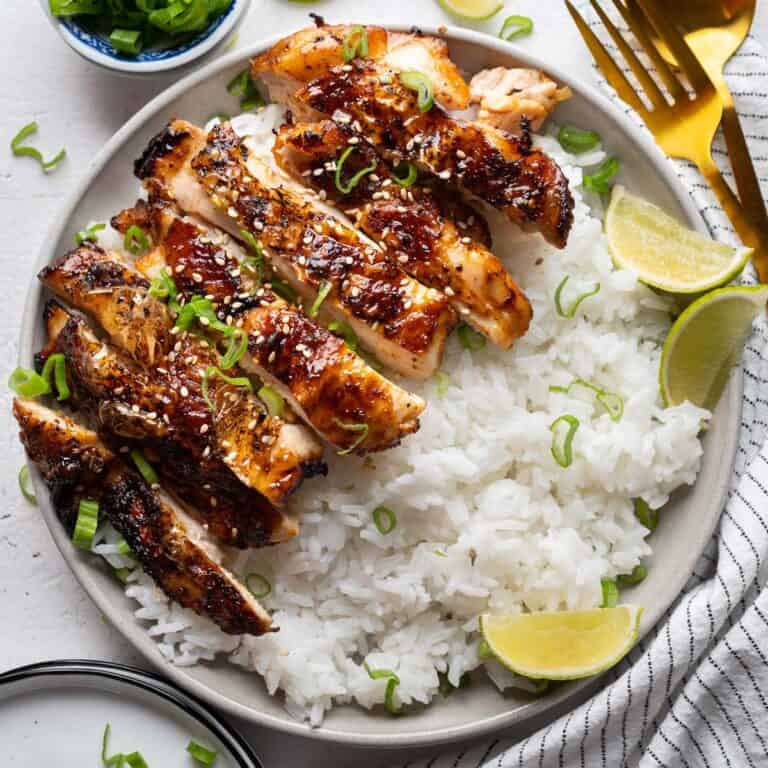 Air-Fryer Soy Sauce Chicken
Crispy chicken, juicy meat, and amazing flavours for a fast any-day meal. 5 ingredients, 5 minutes prep, and 16 minutes to cook. Can't go wrong with this easy recipe. Have the chicken with some rice and greens on the side, you're good to go!
Print
Pin
Rate
Instructions
Prep Chicken
Pat the chicken real dry with some kitchen paper. Add the rest of the ingredients and mix well.
Cook
Spray some oil in the air-fryer basket. Place the chicken in, giving some space between them. Cook using "Air fry" for 16-20 minutes, depending on the size of your chicken. The internal temperature of the fully cooked chicken thigh should be 165ºF (74ºC).

Sprinkle with some sesame seeds and serve immediately with some rice and greens! I find that some squeeze of lime takes it even to another level!
Notes
There's no need to spray oil on top of the chicken since the skin will release its oil.
Cooking time varies depending on your air-fryer and the size of the chicken thigh.
Serve immediately to enjoy the crispy skin.
Nutrition Facts
Calories:
506.9
kcal
,
Carbohydrates:
2.2
g
,
Protein:
37.8
g
,
Fat:
37.7
g
,
Saturated Fat:
10.2
g
,
Cholesterol:
222.3
mg
,
Sodium:
766.1
mg
,
Potassium:
514.5
mg
,
Fiber:
0.2
g
,
Sugar:
0.1
g
,
Calcium:
23.2
mg
,
Iron:
1.7
mg