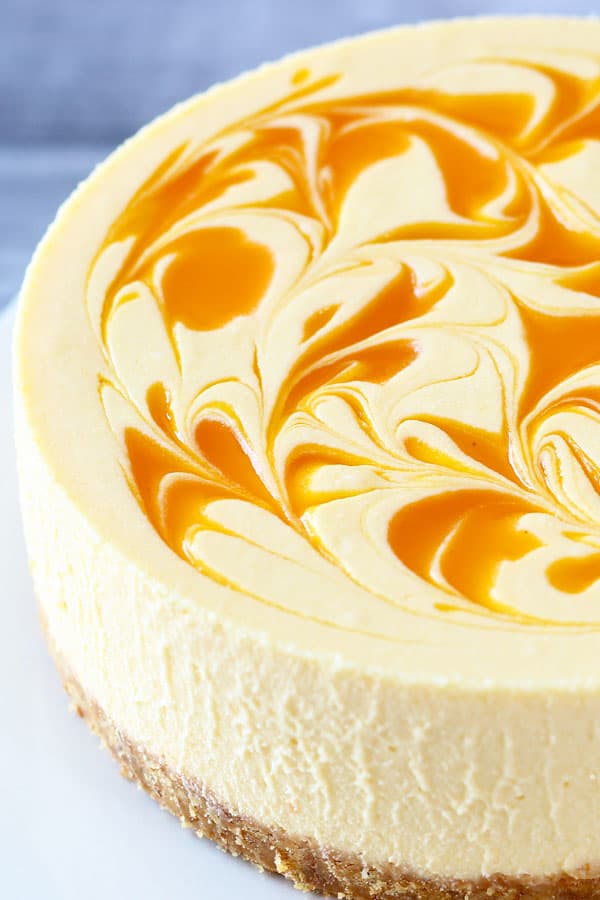 Mangos and me
Mangos have a soft spot in my heart. Childhood memories, you might say. When I was a kid, my parents planted several mango trees (among other trees) in our small humble lawn. My father said they were the "honey mango" type and he was right because they tasted so sweet, like honey. The flesh were so bright orange that it made you feel happy just to see it 😀
Throughout the years the trees were giving us extremely lots of fruits until it was impossible for us to consume them all. My father started to give them to our neighbours. My mother even packed boxes of them for me to give to my office mates back then. The mangos were gifts for relatives, whoever that came by the house.
We still have those trees. Until now. For me they're not only some mango trees. They're precious memories that I cherish from both of my late parents.
Disclosure: Some of the links below are affiliate links, meaning at no extra cost to you, I will get a small commission if you click through and make a purchase. Everything I mention in this post is what I personally use and recommend.
The base
For this no-bake mango cheesecake, I used digestive biscuits. Well, like most of my other no-bake cheesecakes. I tried to look for graham crackers just to try them as they're commonly used as the base but in Europe it's something impossible 😀 . Well I guess unless you're willing to spend more than needed. Digestive biscuits are delicious as they have that saltiness touch to them.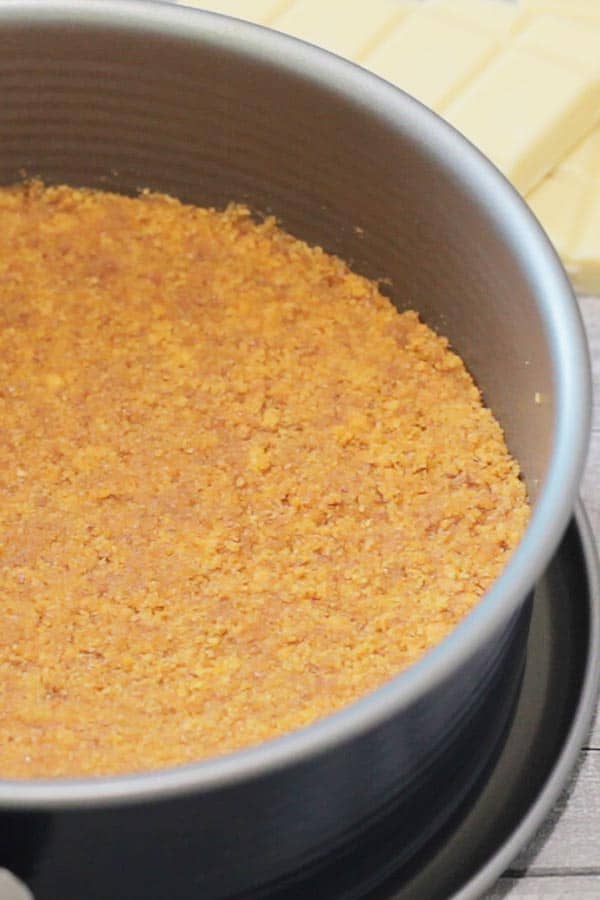 I simply put them in a ziplock bag and started to hit them with a rolling pin, into fine crumbs. You can put them in a food processor if you want. With ziplock bag, less washing involved as you can simply throw it later 😉 .
Then I put the crushed biscuits into a bowl and added some unsalted melted butter. I didn't add any sugar because I feel the biscuits are sweet enough. I simply mixed them to combine and walla! The base is done!
For this cake, I used a 7 inch springform pan. I poured the base mixture into the pan and started to press evenly only at the bottom of the pan. I didn't want a tall base that comes up to the sides of the cake. Then I put the pan to chill in the fridge for 30 minutes.


The cheesecake
I used full fat cream cheese. Personally for me, never use light cream cheese when making cheesecake or frosting. Why? Because on several occasions already (yes, it took me several times to realise it 😀 ) that when I used light cream cheese, it was too soft, it didn't set as it should and etc.
To start preparing the cheesecake, I first beated the cream cheese only until it was light and fluffy, using my electric hand mixer. I scraped the sides as I went. After that I added chilled whipping cream and mixed it with the cream cheese until it thickened a bit. I didn't mix it until it thickened totally because there were more mixing to be done and I didn't want to over mix the cream and split it.
Then I added melted white chocolate to the mixture. Here's how I melted it. I cut the white chocolate cooking bar into small chunks and placed them in a microwave safe bowl. Then I microwaved it at max for 15 seconds, took the bowl out and gave it a good stir. I repeated the process until I saw the white chocolate was totally melted.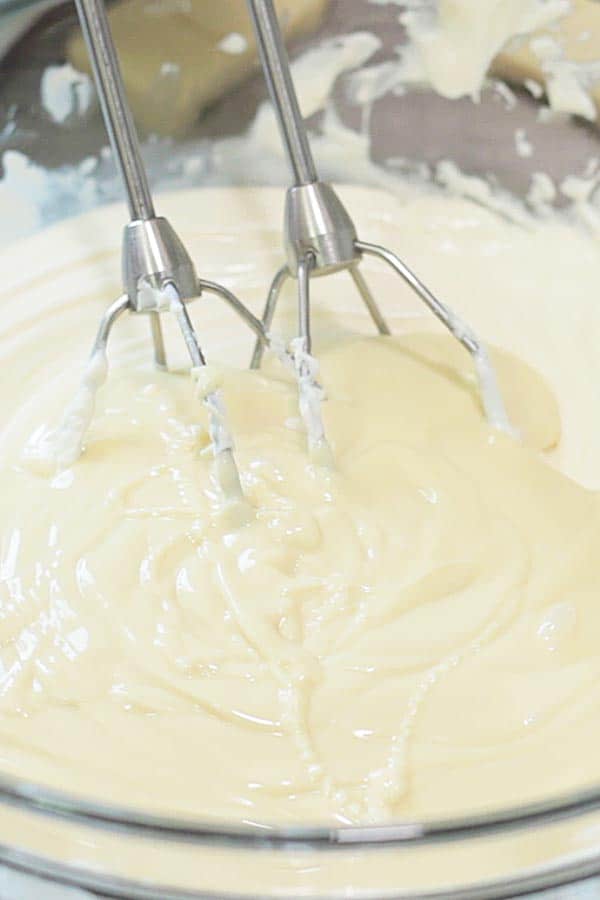 As soon as I added the melted white chocolate into the batter, I immediately mixed it in. I didn't want the white chocolate to seize up. After that I added the mango pulp. I used canned mango pulp as for me I feel it is more concentrated with mango flavour. Plus, it's easier 😀 . Then I mixed the whole mixture to combine together with lemon juice.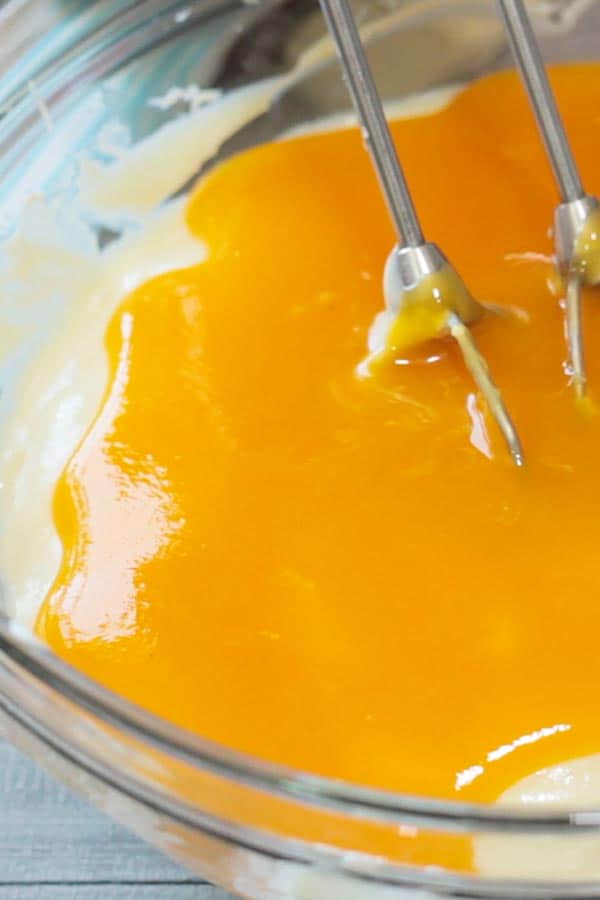 Putting the mixture aside, I started with my powdered gelatin. I simply soaked it in a bowl for a few minutes and microwaved it until it was totally dissolved. I tempered the gelatin by adding a few tablespoons of the cheesecake mixture.
Then I added the tempered gelatin mixture into the cheesecake mixture and I immediately mix them all together to combine. Every time I do my mixing, I scrape the sides now and then. I think it's a good habit to make sure everything is well combined.
Well, the cheesecake mixture is done!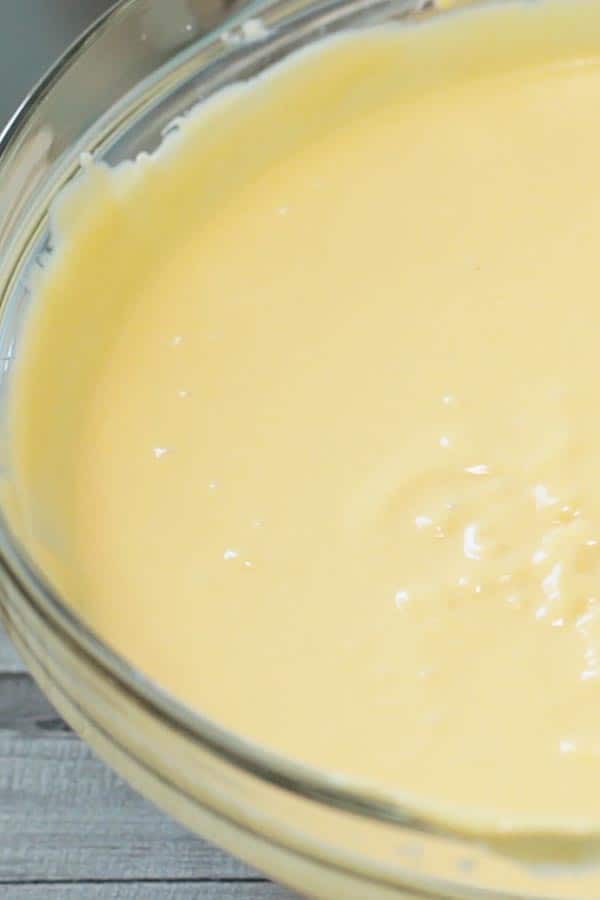 Assembling
This is the fun and easiest part! I simply poured in the cheesecake mixture into the prepared base. After that I hit the pan against the kitchen top for a few times. This is to release any air bubbles. Then I spooned some mango pulp on top.
Using a skewer stick, I just made some swirls but not too much. Why? Because I didn't want to over do it and ended up with one layer of mango pulp on top. After that I put it in the fridge to set overnight. It was ready to be eaten the next day.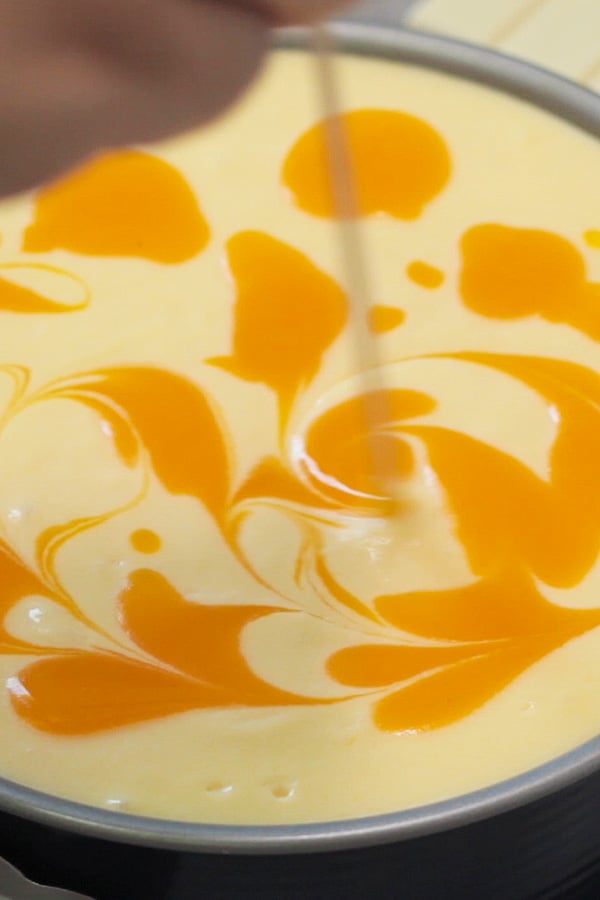 This recipe involves a few steps, but extremely easy steps. Most of the time you're just mixing and mixing 😀 . Do give it a try as it was very delicious!
If you like this no-bake mango cheesecake recipe, maybe you will also enjoy my other cheesecake recipes.
Or just check my sweet and desserts recipes for something easy and delicious to indulge in.
Watch how to make this no-bake mango cheesecake in the video below: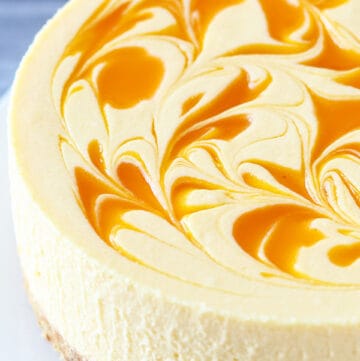 No-Bake Mango Cheesecake
Easy no bake mango cheesecake recipe with smooth creamy texture and delicious mango cheese flavour enriched with white chocolate. What more could you ask for a summer dessert?
Print
Pin
Rate
Ingredients
130

gr

digestive biscuits

(4.5 oz)

50

gr

unsalted butter

, melted (3 tbsp plus 1 tsp)

300

gr

full fat cream cheese

, room temperature (10.5 oz)

150

ml

whipping cream

, 35% fat, chilled (1/2 cup plus 1 tbsp and 2 tsp)

250

gr

white chocolate

(8.8 oz)

1 1/2

cup

canned mango pulp

, for cheesecake (375 ml)

2

tbsp

lemon juice

10

gr

gelatin powder

(use any type or amount that sets 500 ml)

1/4

cup

water

(60 ml)

1/4

cup

canned mango pulp

, for decoration (60 ml)
Instructions
The base
Crush the digestive biscuits into fine crumbs. Pour into a bowl and add in melted butter. Mix well and pour into a 7 inch springform pan. Press the crumbs to the base. Chill in the fridge for 30 minutes.
The cheesecake
In a bowl, add in cream cheese and whisk until fluffy. Add in whipping cream and mix until the mixture is a bit thicker. Do not over mix to avoid the cream from splitting.

Melt the white chocolate in microwave or double boiler. Add into the cream cheese mixture and immediately mix all together to avoid the white chocolate seizing up. Add in mango pulp and mix to combine. Add in lemon juice and mix all together. Set aside.

In a bowl add in water and powdered gelatine. Let it bloom for 5 minutes and heat in microwave or double boiler until the gelatine is dissolved. Add some cheesecake mixture into the dissolved gelatine and mix to combine. This is to temper it so it's easier to mix later.

Add tempered gelatine into cheesecake mixture. Immediately mix all together to combine. Pour into previously chilled base. Hit the pan against the work surface a few times to release air bubbles.

Spoon mango pulp randomly on top. Using a stick, make a swirls all around. Chill in the fridge overnight to let it fully set. Ready to serve.
How Transfer To Serving Plate
It's easy since this cake is small. First insert a knife under the cheesecake and carefully run it all around to detach the cheesecake from the base.

Using the same knife, gently lift the cheesecake a bit and insert 1 flat spatula. Do the same in the opposite direction.


Carefully yet confidently lift the cheesecake with both spatulas and place on a serving plate. Gently remove spatulas out.


Or place a baking sheet on the base of the springform pan before assembling. You will have a slightly bigger baking sheet coming out from the springform pan after assembling it. Before serving, gently slide the cheesecake onto a serving plate.

How To Serve
Keep the cheesecake in the fridge all the time until just a few minutes before serving. Cut the slices as needed and put back the cheesecake in the fridge to maintain chill.
Notes
Please use full fat cream cheese. Meaning, do not use light cream cheese else it won't set as good.
Please use minimum 35% fat content for the whipping cream. The fat is needed to help set the cheesecake.
Use unsalted butter.