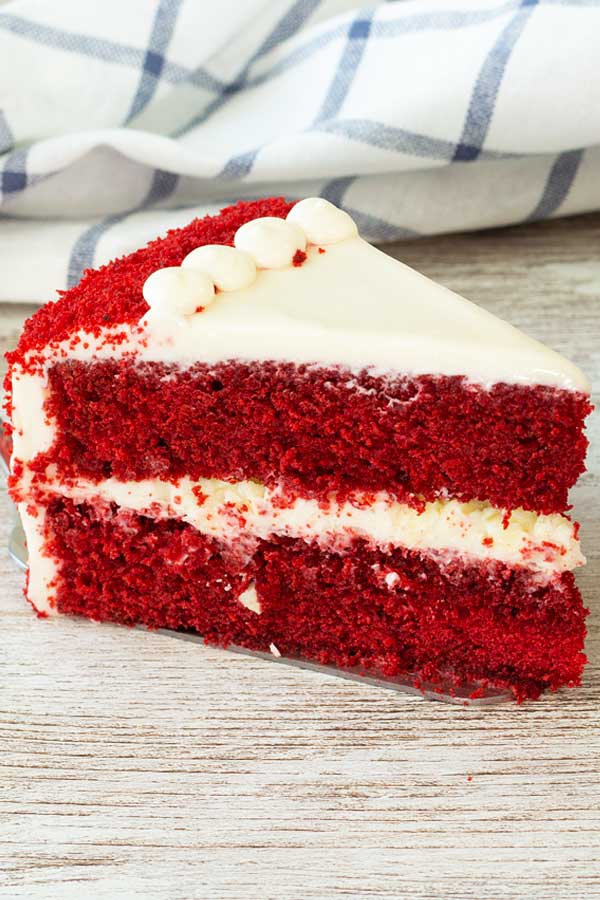 I was a bit hesitant to put this recipe in my Youtube channel because I feel there's just too many red velvet in all sorts of shapes and forms out there and I really don't think the world needs another one.
But then I thought, well everybody has their own way of making it and why not share my way. Besides it's good to have it in the channel's recipe collection.
Anyways.
I love to make this red velvet cake for some special occasion. Who wouldn't right? It's such a beautiful and delicious cake that needs to be celebrated. Well then again, if you want to treat yourself in the weekends with some friends, why not? This time I'm making this cake for Mother's Day. Yeay!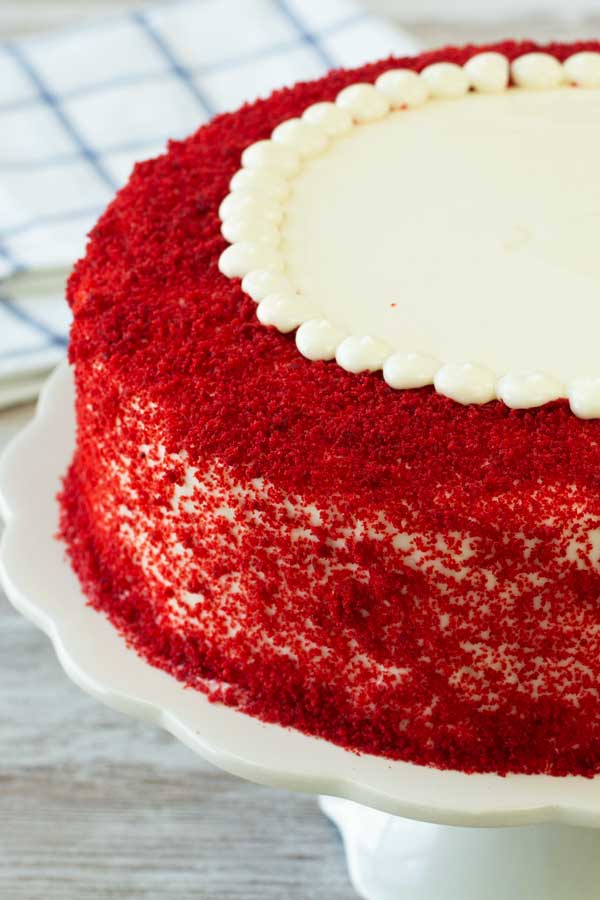 This cake and cream cheese frosting have a few steps to it. No, don't worries.. only simple steps. The method of preparing the cake is similar to almost any other cake with a twist at the end. The vinegar and baking soda combination.
I have to say, don't mix the vinegar and baking soda and then leave the mixture to go and read whatsapp messages or things like that. The mixture needs to be mixed immediately into the cake batter. Well then it's baking like always.
When working with stacked and coloured cakes, I like to level the tops (with this tool) so that the cake doesn't end up with a dome. I also like to cut out the surroundings of the cakes to reveal those vibrant colors.
I feel the surrounding part of the cake is always a bit too brown and kind of hide the true colours of the cake. But that's just me. You can skip this part if you want.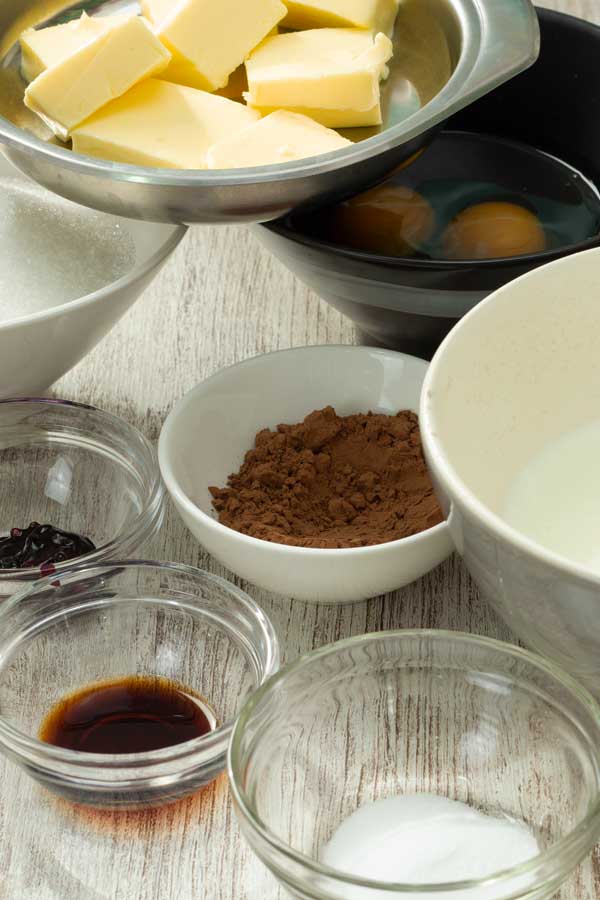 The cream cheese frosting for this red velvet cake is just to yummy. Believe me. Well, or don't. One thing though, if you find the frosting is too runny to work with..don't worry. What I always do is I place the frosting, together with the mixing bowl, yes, into the freezer for around 50 minutes.
Every 10 minutes I stir and mix the frosting. This is so that it cools evenly and avoid the outside part (the part touching the metal bowl) getting frozen. You can simply do it by eye also. Use it when the frosting reaches to your desired thickness for frosting your cakes.
I like to use the cut off tops of the cakes as crumbs to decorate my red velvet cake. I didn't show this in the video because I don't want to bore you guys with such long video and too detailed steps but I press/grate the cut off cake pieces through a sifter to get those fine crumbs. If not, the crumbs would be too huge for my liking. Again, that's just me.
I also held a bowl on top of the cake when I sprinkled the crumbs on the top part, so that the crumbs make kind of perfect round shape. Well, that's just me. Wait.. wait. There's another one. I used a brush to lightly brush off any excess crumbs on the top of the cake to make it even. Yes, that's just me! Haha!
Ok back to this yummy red velvet cake with cream cheese frosting from scratch. Well there's nothing more than just to enjoy it!
More Cake Recipes
Recipe Video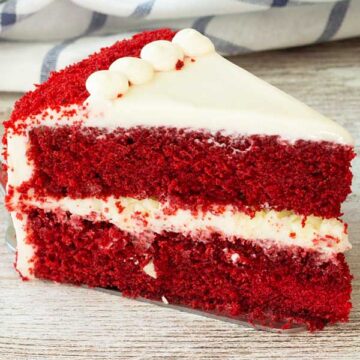 Red Velvet Cake
Soft and moist red velvet cake with creamy cream cheese frosting, everything made from scratch. Perfect for any special occasion, including whenever you feel like treating yourself in the weekend 😉
Print
Pin
Rate
Ingredients
The Cake
2

cup

all purpose flour

(

260

gr)

½

teaspoon

salt

1 ½

tablespoon

unsweetened cocoa powder

(

11

gr)

¾

cup

buttermilk

, room temperature

2 ½

teaspoon

red food coloring gel

½

cup

unsalted butter

(

113

gr), soften

1 ¼

cup

granulated sugar

(

250

gr)

1

teaspoon

vanilla extract

2

eggs

, room temperature

2

teaspoon

apple cider vinegar

1

teaspoon

baking soda

1.8

oz

white chocolate

(

50

gr), cut into small chunks for the filling
The Cream Cheese Frosting
½

cup

unsalted butter

(

113

gr), soften

1

lb

full fat cream cheese

(

450

gr), room temperature

2

teaspoon

vanilla extract

3

cup

icing sugar

(

360

gr), sifted
Instructions
The Cake
Into a bowl, sift in the flour, salt and cocoa powder. Set aside.

In another bowl, add in buttermilk and red food colouring gel. Mix until well combine and no lumps. Set aside.

In a standing mixer bowl, add in soften butter and sugar. Whisk until fluffy, around 5 minutes. Then add in vanilla extract and eggs. Continue mixing until everything is well combined.

Now add in the sifted flour mixture in 3 additions, alternating with buttermilk mixture in 2 additions. Mix well after each addition. Basically you start with flour, buttermilk, flour, buttermilk and end with flour. Just remember don't over mix the batter to avoid hard and dense cake. Set aside.

You need to work a bit fast in this part. In a bowl, add in baking soda followed with apple cider vinegar. It's going to start to foam right away, stir to combine good and immediately pour into the cake batter. And immediately also, fold everything together to combine. Again, don't over mix your batter.

Pour the batter evenly into 2 pans of 9 inch (23 cm) that have been buttered and lined beforehand. Spread the batter evenly and bake in a preheated oven at 340ºF (170ºC) for 20 minutes or until fully cooked.

Leave the cakes for 5 minutes and then flip them on a rack and set aside to cool completely.
The Cream Cheese Frosting
In a standing mixer bowl, add in soften butter and cream cheese. Mix to combine and fluffy, around 2 minutes.

Then add in vanilla extract and sifted icing sugar, in 2 additions. Mix well after each addition.

If the frosting is too runny, place the frosting in the freezer for 50 minutes. Stir and mix every 10 minutes to make sure it cools evenly and the sides doesn't freeze.
Assembling
Cut of the domey tops of your cakes to level them out, saving the top pieces as crumbs for later. Cut all around the cakes also, to show the vibrant red color.

Put some frosting on the base of your serving plate/cake stand. This helps prevent the cakes from moving/sliding. Place 1 piece of cake on top followed by some more frosting. Spread the frosting evenly. Sprinkle the white chocolate on top. Place the other cake on top of it, bottom side up.

Put more frosting on the cake and spread a thin layer all over the cake as a crumb coat. Put in the fridge to chill for 1 hour or until the frosting hardens a bit and locks all the crumbs in.

Finally spread the remaining frosting evenly to cover the whole cake. Decorate with some crumbs as you like or pipe some frosting on top if you wish. Enjoy!