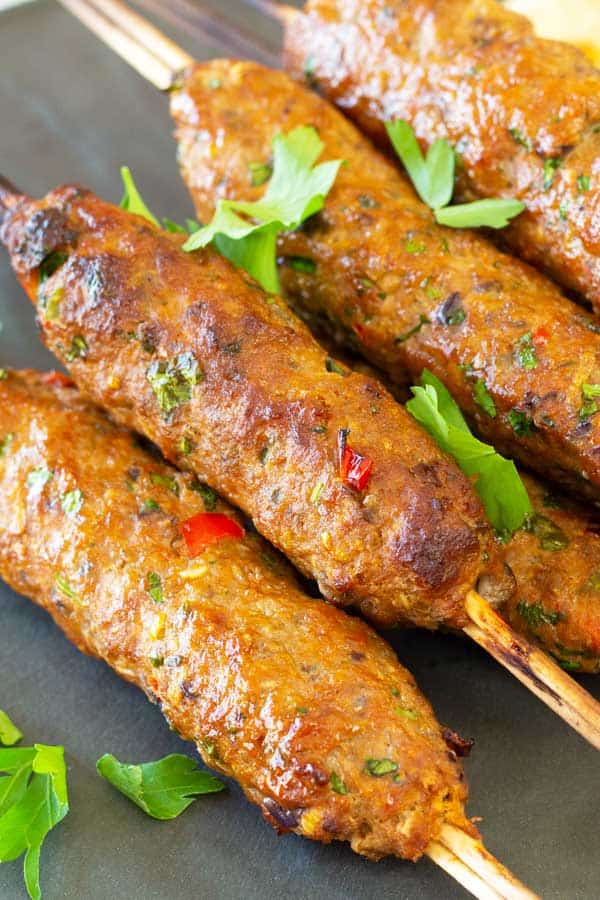 My take on the classic kofta kebab and I'm baking them in the oven! Yep. In this recipe I'm using minced beef and other wonderful herbs and spices. Do try, they're extremely easy and delish to make.
For me, kofta's recipe varies thoughout the world. I believe it's originally from the Middle East, but I'm not sure. Anyways, I haven't been to any of the Middles Eastern countries but I'm so intrigued with the making of kofta kebab. Watching so many travel videos contributes to that.
This kofta recipe is not by all means the authentic way of making it. This is how I make it in my house for my family. Just thought I'd share it so that few people out there who are like us, loving food from other countries, could make it too in the convenience of their own kitchen.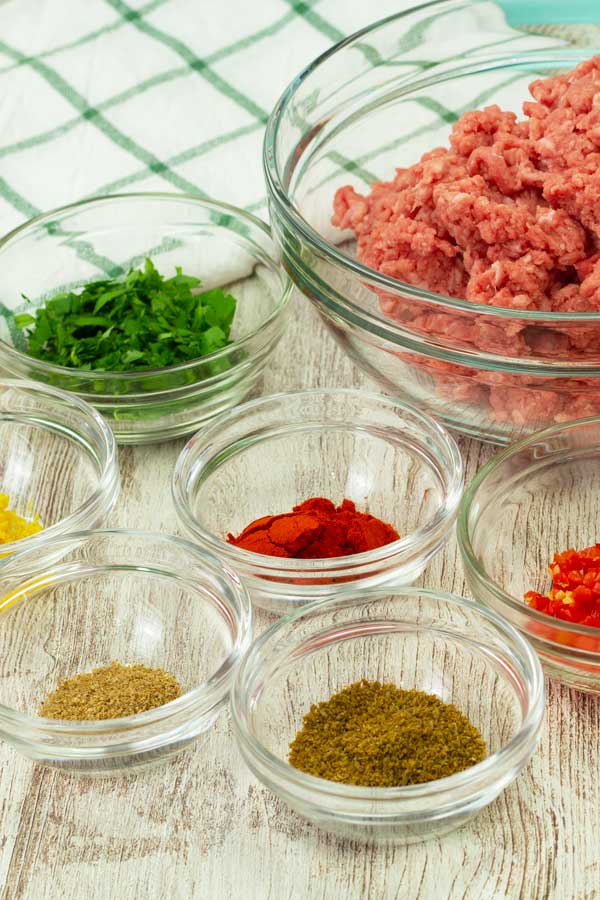 I use all common ingredients that I have in my kitchen. I'm using smoked paprika instead of normal paprika to help with that smokey taste, since I'm baking these kofta in the oven. I'm also using zest of 1 lemon in replace of summac because it's not a common thing to find at my place.
Summac has acidic taste that can be replaced with lemon zest. Also instead of chopped onion, I opted to blend it into a paste. I feel this adds moisture to the kofta kebab mixture and helps keeping them moist.
Well and there you go. Homemade baked beef kofta kebab.
We love to have this kofta with some flatbreads, rice or pasta. With some salad to go with it, mint yogurt and we're satisfied.
More Beef Recipes
Recipe Video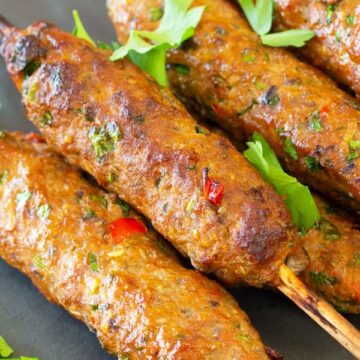 Baked Beef Kofta Kebabs
My take on the classic kofta kebab and I'm baking them in the oven! Yep. In this recipe I'm using minced beef and other wonderful herbs and spices.
Print
Pin
Rate
Ingredients
1

red onion

2

garlic cloves

1

chili

, chopped

2

tablespoon

chopped coriander

2

tablespoon

chopped parsley

1

lemon zest

2

teaspoon

cumin powder

½

teaspoon

coriander powder

1

teaspoon

salt

, or to your taste

2

teaspoon

smoked paprika

1.1

lb

minced beef

(

500

gr)

some cooking oil spray

, for spraying before baking

10

skewer sticks

, soaked in water for 30 minutes
Instructions
In a chopper, add in chopped red onion and garlic cloves. Blend into a fine paste. Pour into a bowl. Add in the rest of the ingredients except the minced meat. Mix everything well.

Add in minced beef and mix everything together. Don't over work the meat to avoid the kofta kebabs turning tough.

Grab some meat mixture and wrap it around 2 skewer sticks, making around 4 inches (10 cm) length of kofta kebab. Do the same with the rest of the meat to get total of 10 kofta kebab. You can wrap the exposed part of the skewers with aluminium foil to avoid them getting too burnt.

Place kofta kebab in a baking tray narrow enough so that the skewers are sitting on the rim of the tray and the meat doesn't touch anything (refer to the video) and spray with a bit of cooking oil.

Preheat your oven to 480ºF (250ºC) with the broiler on (heat from the top) and put the tray on the upper third rack. Bake until nicely charred and fully cooked, around 4 minutes depending on your oven temperature.

Serve with some flatbreads or rice, and some mint yogurt. Enjoy!
Nutrition Facts
Calories:
137.5
kcal
,
Carbohydrates:
2.2
g
,
Protein:
9
g
,
Fat:
10.2
g
,
Saturated Fat:
3.9
g
,
Cholesterol:
35.4
mg
,
Sodium:
271.8
mg
,
Potassium:
191.4
mg
,
Fiber:
0.6
g
,
Sugar:
0.8
g
,
Calcium:
20.8
mg
,
Iron:
1.5
mg