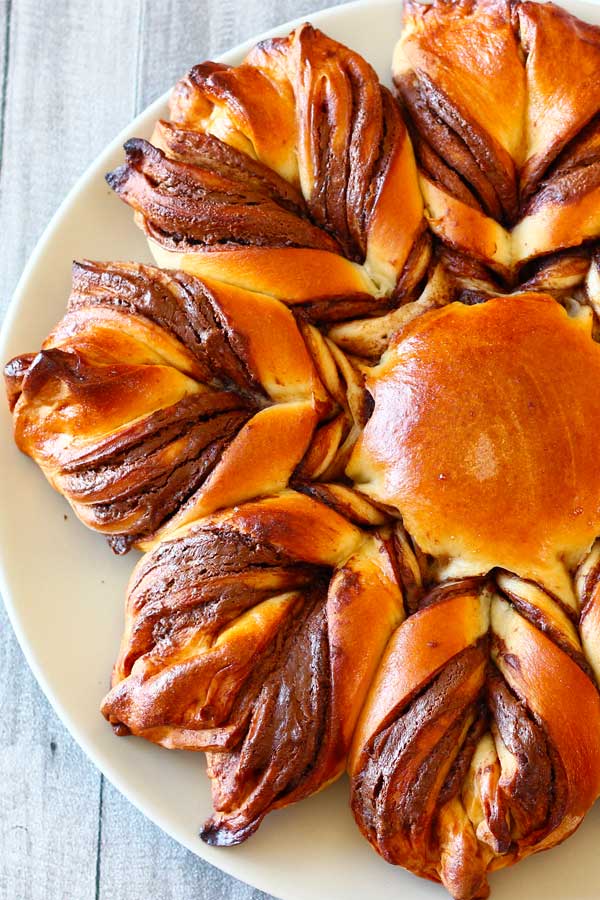 Nutella And Us
This is not a paid article but who doesn't love Nutella, right? I bet if we could we would be eating Nutella every single day. My husband is crazy about Nutella. Well not as much as dulce de leche but it's in the same level of craziness. I have to hide the Nutella jars in our house because else he could finish them all within several days. Yup.
I used to buy Nutella and peanut butter waffles with my sisters whenever we went out for movies. My best waffle combo, just because of the memories.
The Braided Star Shape
Let's get straight to the main point of this recipe, the braided star shape bread. Is it difficult to make? Nope, not at all. But I will tell you that it does get messy a bit but the beauty of it is that when it's baked, it's going to come out beautiful. Trust me on that.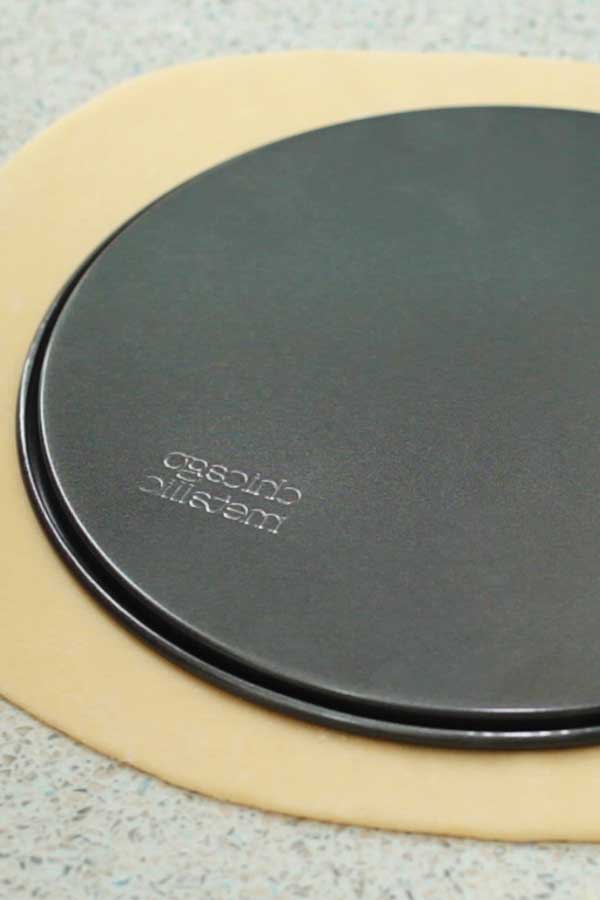 You can find the written recipe for the bread dough at the bottom of this page. It's just a straightforward bread recipe.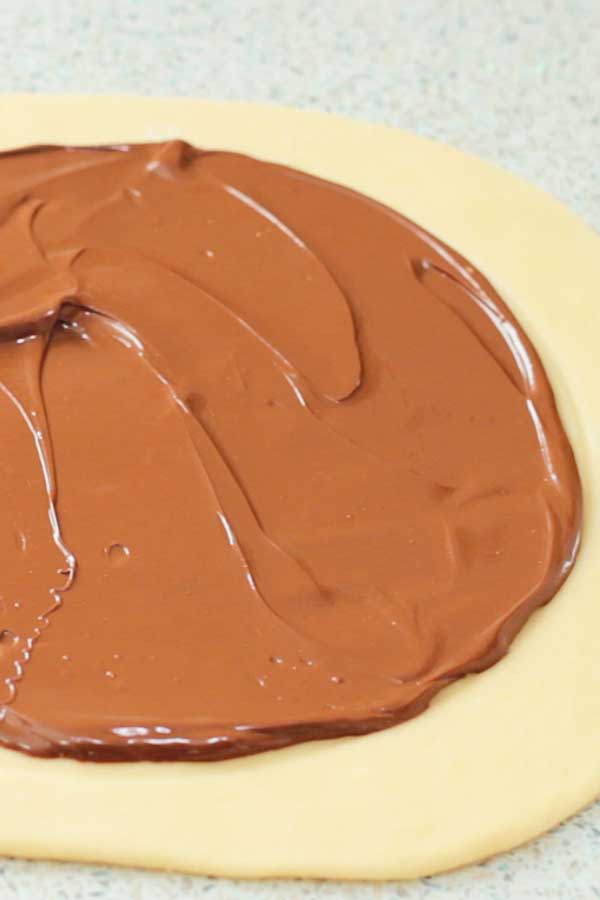 Now let's talk about making that beautiful star shape. What I did first was divide my dough into 4 equal portions. I formed each portion into a ball and set them aside. Working with one ball at a time, I flattened it a bit and rolled it into a thin disk.
I was aiming for a 20 cm diameter disk and I used the base of a baking pan as a guidance. I rolled it slightly bigger than the pan. I placed the rolled dough on a baking sheet and continued the same thing with the rest of the balls. I kept the rolled dough between baking sheets so that they don't stick to each other.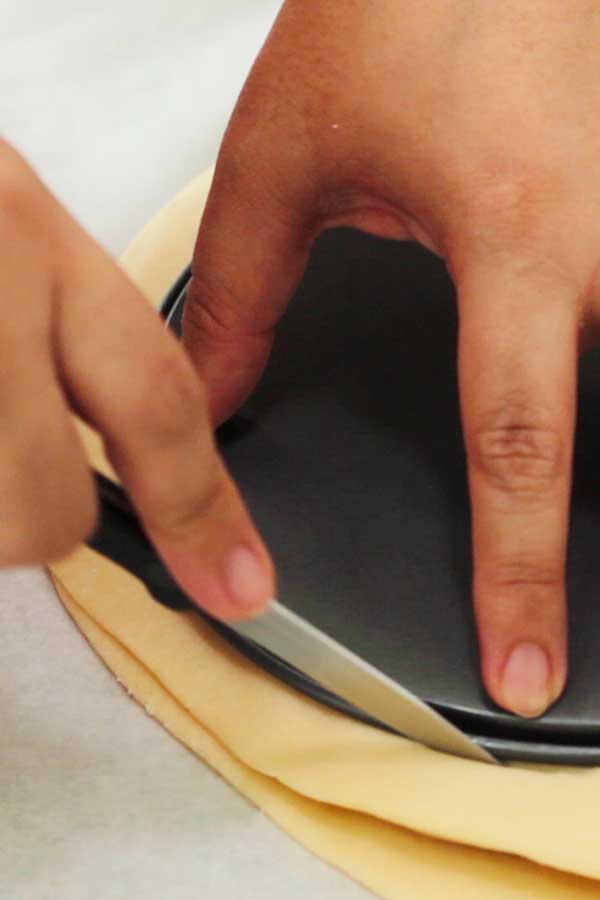 Then I took 1 rolled dough and marked it with the 20 cm pan base. I simply pressed the pan lightly on the dough. Then I set the pan base aside. I spooned some Nutella on to the marked area and spread it evenly.
Note, warm the Nutella for a few seconds in the microwave so that it's a bit thinner and thus easier to spread.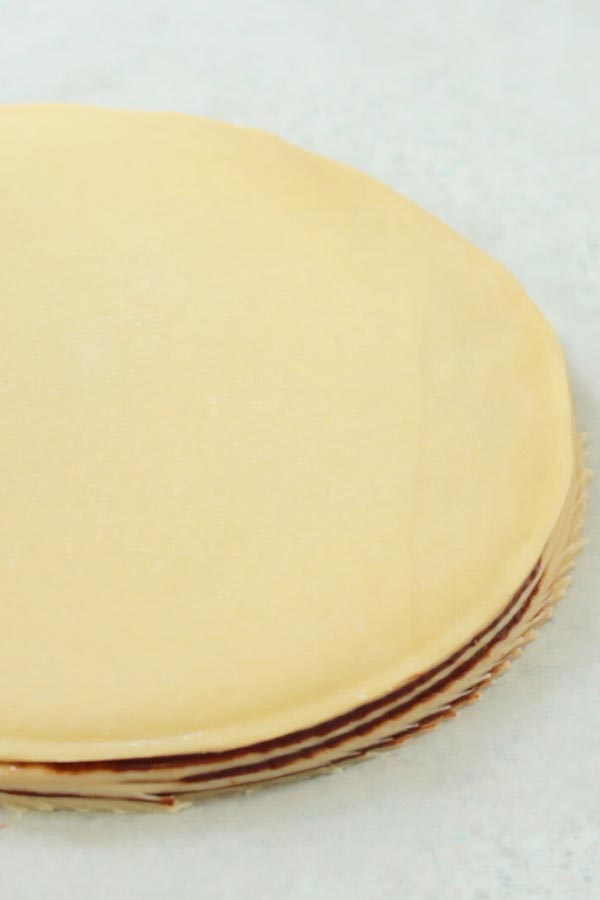 Then I took another rolled dough and placed it on top of the first dough that by now had some Nutella on it. I marked it again using the pan base, carefully not to press too hard to avoid the Nutella oozing out.
Again I spread some Nutella onto the marked area. I repeated the same with the rest of the dough. The final dough was left without Nutella on top.
Ok, so far so good. Right?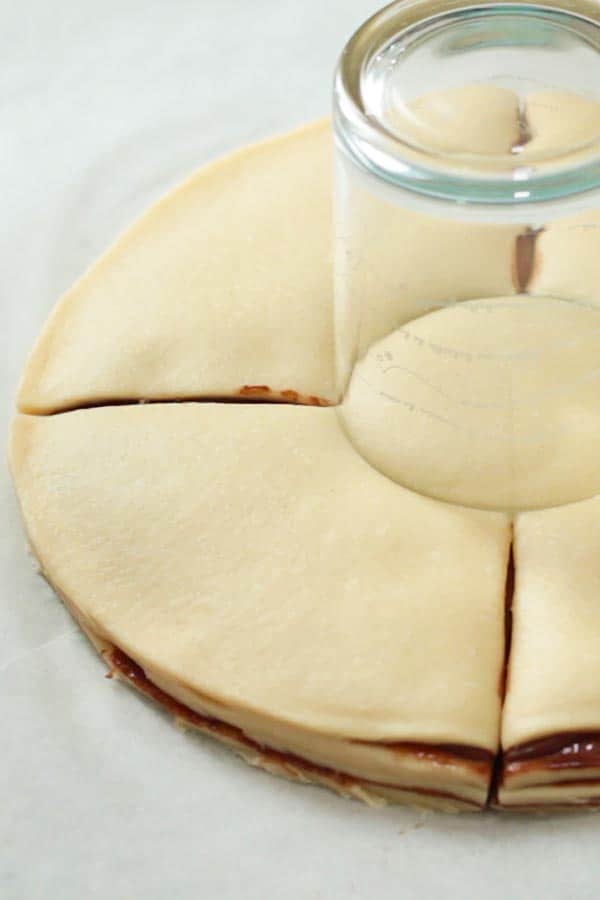 What I did next was to put the whole stack onto a baking sheet. Don't worry. Just swiftly lift it and slide a baking sheet underneath.
Then I took the base pan again and put it on top of the stack. Using a sharp knife I cut the stack all around and discarded the excess dough. I removed the base pan and I was left with a perfect round stack of dough and Nutella. Awesome!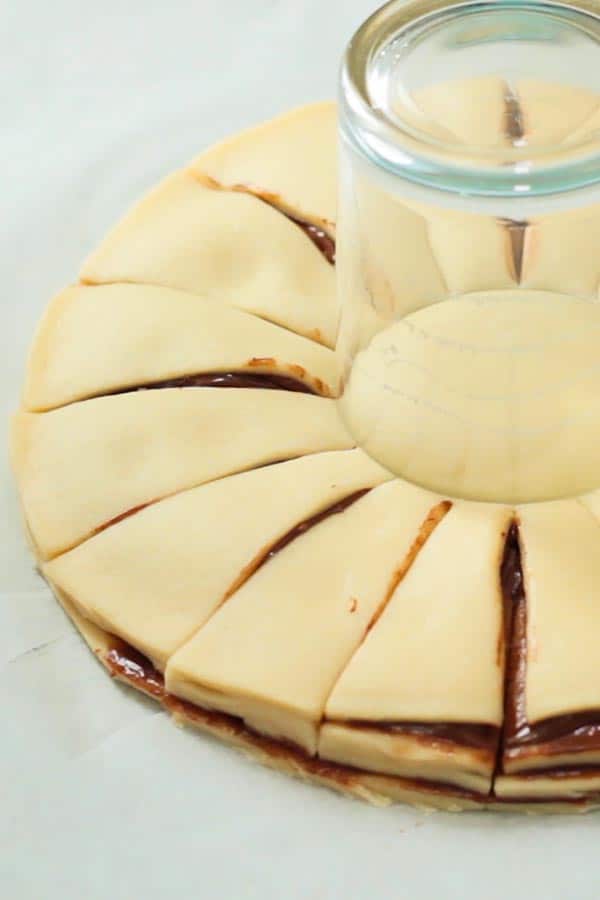 Next!
I used a small glass/cup and placed it on the center of the stack and lightly pressed it. I wanted to cut 16 strips starting from the edge of the glass. So first I cut the stack into 4. Then each section I cut into 2. And that section I cut into 2 again. I was left with 16 strips. Great!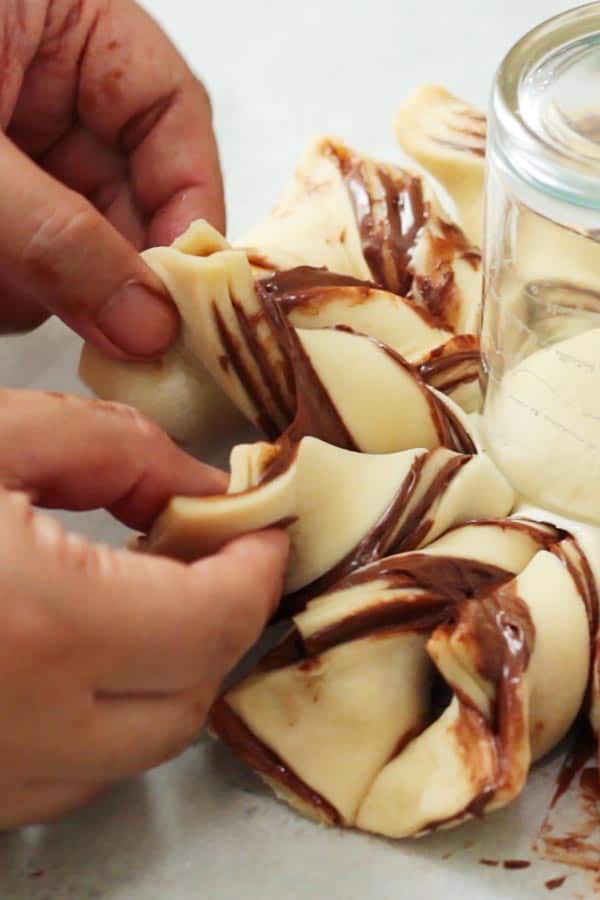 Now comes the twisting part. Don't worry, it's actually simple. I took 2 strips that were next to each other and pulled them a bit. Then I twist them 2 times in the opposite directions. I did the same with the rest. Simple, don't you think?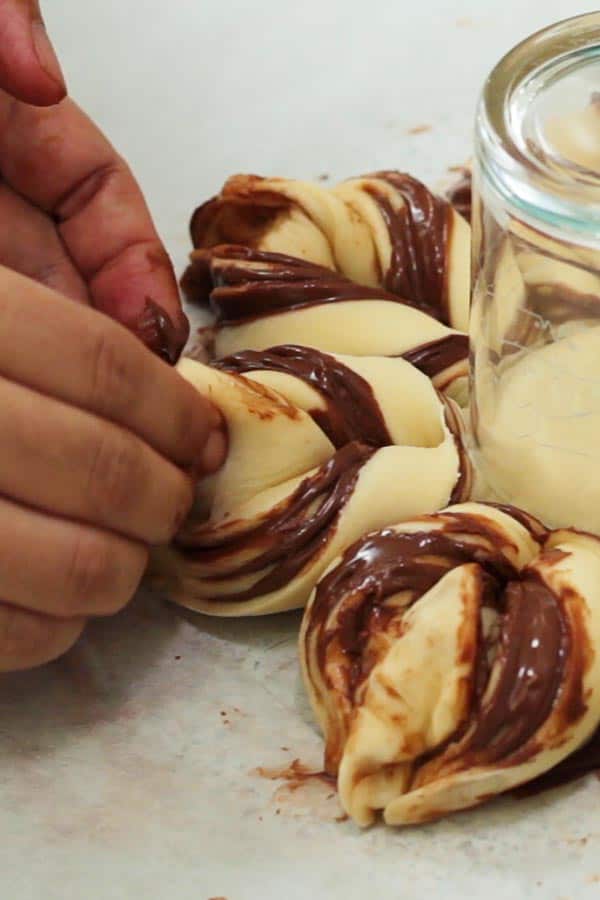 Now comes the pinching part. Taking the edges of 2 twisted strips that were next to each other, I pinched them together. I did the same to the rest. Yes, that was all.
Like I mentioned earlier, it will get a bit messy but do not worry. It will come out good.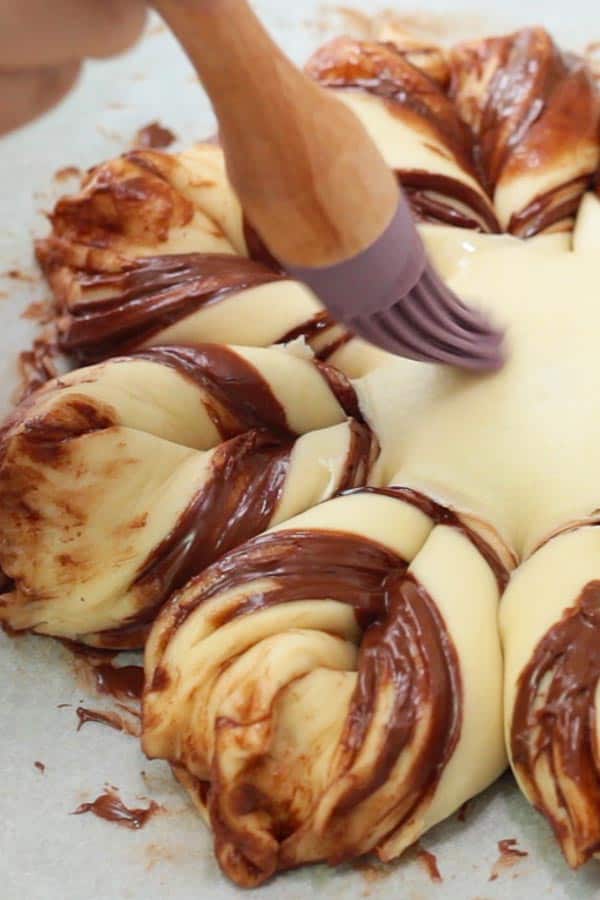 To finish it off, I removed the glass and cover the braided star bread loosely with cling film. I left it to rest for about 30 minutes so that it puffed up a bit. Then I brushed it with egg white and baked in the oven until it was golden brown and fully cooked.

I left it to cool slightly on a rack. It's best eaten slightly warm. It freezes good too. We ate some and I froze the balance. I put it in a zip lock bag. To eat it, I just defrosted it on the kitchen counter 1 day earlier. Before eating I warmed it in a microwave and it was as delicious as the day it was baked.
So, would you try this braided Nutella star bread?
More Nutella Recipes
Video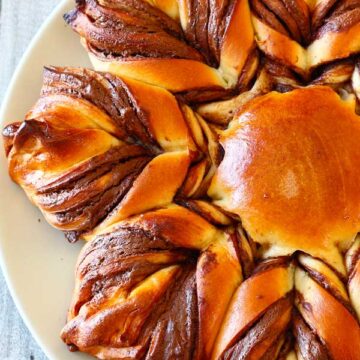 Braided Nutella Star Bread
Braided star bread with layers of decadent Nutella. Not only beautiful to look at but it's also a delish! Making the star shape is easier than you think.
Print
Pin
Rate
Ingredients
½

cup

water

(

125

ml), warm

½

cup

milk

(

125

ml), warm

1

teaspoon

granulated sugar

1

packet

dry yeast

(

7

g)

3 ¼

cup

bread flour

(

420

g)

3

tablespoon

unsalted butter

(

45

g), melted

⅓

cup

granulated sugar

(

65

g)

½

teaspoon

salt

⅔

cup

nutella

(

225

g), warm a bit in microwave for easy spreading
Instructions
In a bowl, add in both warm milk and water. Add in sugar and mix. Sprinkle in the yeast and mix again. Leave it to activate for 3-5 minutes. When it gets foamy then it's ready to be used.

In a standing bowl mixer, add in the flour, melted butter, sugar, salt and the yeast mixture. Mix to incorporate and knead for 10 minutes. Form dough into a bowl and place it in a greased bowl. Coat the dough with some oil to avoid any crust forming on its surface. Cover the bowl tightly with cling film and leave the dough in a warm and draft free place until it doubles in size.

Form the dough into a log and cut it into 4 portions. Take each portion and form it into a ball. Take a ball and roll it into a disk that's a bit bigger than 8 inch (20 cm) diameter. Use a base of a pan as guidance (or any item of your choice). Repeat with the rest of the balls. Keep them between baking sheets to avoid them sticking to each other.

Take one rolled dough. Use a 8 inch base pan and press lightly to mark it on the dough. Remove the pan. Spoon in some Nutella in the marked area and spread evenly, again in the same marked area. Take another rolled dough and gently place it on top. Repeat the same and finish the stack with the final rolled dough without Nutella on top. Now carefully and swiftly slide a baking sheet underneath the stack.

Gently place the pan again on top of the stack. Carefully cut all around it and discard the excess dough. Remove the pan. Place a glass upside down on the center of the stack, press lightly. Cut the stack into 16 strips, starting from the center (the glass).

Take 2 strips, pull them a bit and twist 2 times in the opposite direction. Don't worry if things get messy, everything will turn out great at the end. Repeat with the rest of the strips.

Take the ends of 2 strips and pinch them together. Repeat the same with the rest. Remove the glass. Cover the bread loosely with a cling film and leave it for 30 minutes so that it puffs a bit.

Brush the bread with egg white. Carefully and swiftly slide a baking tray underneath. Bake it at 180°C (350°F) in preheated oven for 15 to 20 minutes or until golden brown and fully cooked. Cool on a rack. Enjoy!
Notes
See video for better understanding on making the braided star shape. It's not difficult as you might think. And don't worry if it gets messy, it will turn out beautiful after baked.