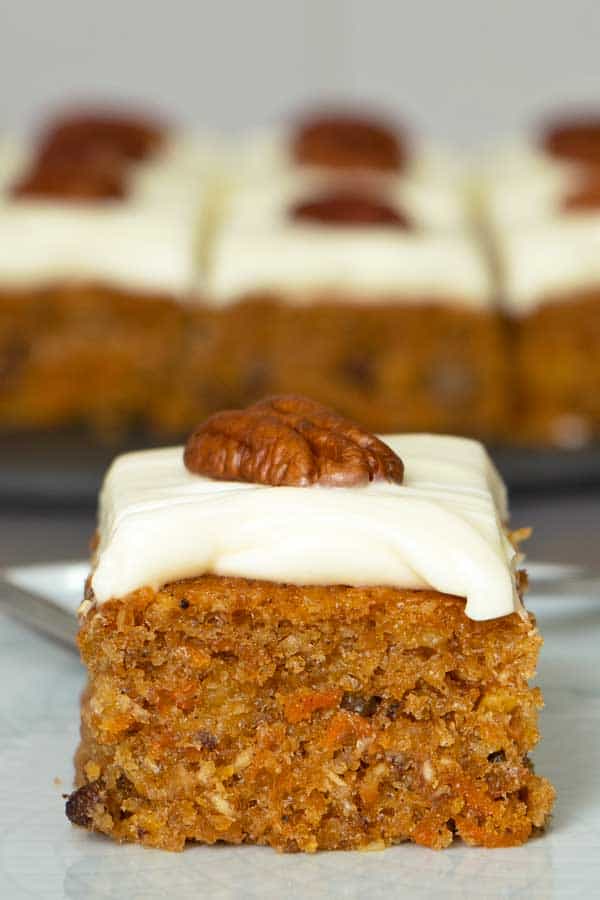 I have been WAITING for the weather to get colder to share this super delicious (I'm not being bias, I promise) carrot cake with pineapple and pecans...AND with cream cheese frosting.
We should never leave out the cream cheese frosting, right?
You could say this is another version of my previous carrot cake that I shared like a year ago. What? You haven't checked it out yet?
Ok let's go on with the recipe, shall we?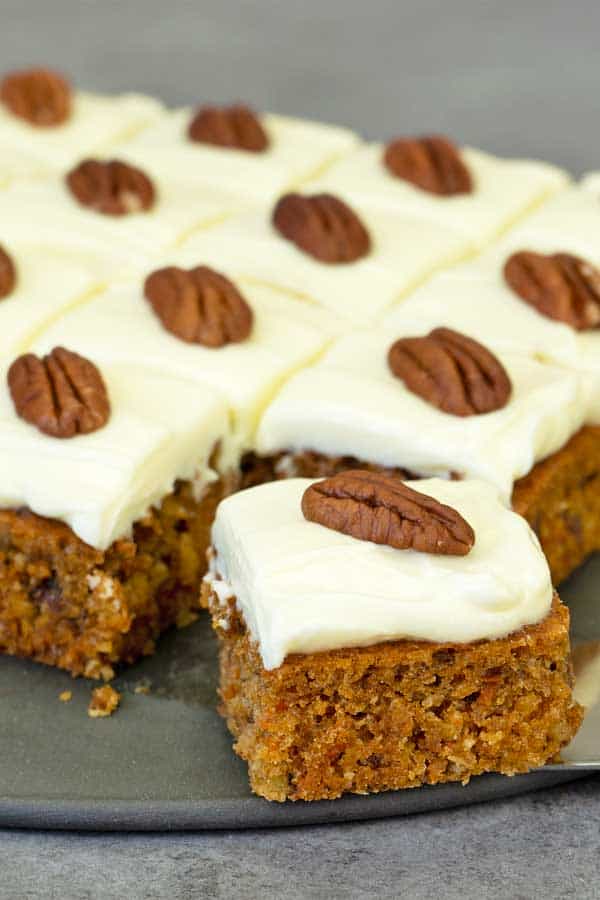 What Pineapple To Use
If I can get a hold of fresh ingredients to use in my bakings, I would.
So in this recipe I'm using fresh pineapple that I turned into homemade crushed pineapple.
Before we go on into how to make homemade crushed pineapple (which is ridiculously easy), let's talk about what pineapple to use.
Crushed or chunks.
Personally for me I prefer crushed. Why? Because it's faster and easier than chopping the pineapple into small chunks.
And that my friend, is my main reason. The other reason is, crushed pineapple helps the carrot cake to be more moist due to the juice that it has if compared to chunks.
Like always, you do whatever that's convenient to you, of course.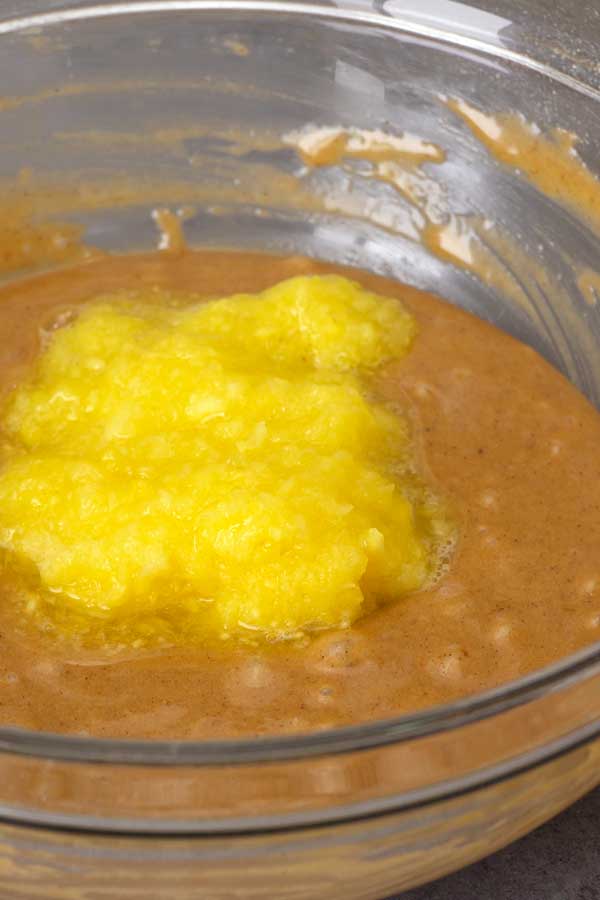 How To Make Homemade Crushed Pineapple
Peel and prep your fresh pineapple like you normally would.
Then cut it into 1 inch (2.5 cm) cubes. Place around 1 cup or a handful of the pineapple cubes into a blender or a food processor and blend for 10 to 15 seconds. Or until they are crushed.
Keep an eye on it since we don't want it to turn into a pineapple puree.
Easy, right? Way easier and faster than manually chopping them into small chunks (if I was to use chunks instead).
Spice Mix
My carrot cake with apple and walnuts that I mentioned earlier doesn't have spice mix in it.
Of course that doesn't mean you cannot add some, by all means do.
In today's recipe I'm adding some spices to this carrot cake. I'm using cinnamon, ginger, clove and nutmeg powder.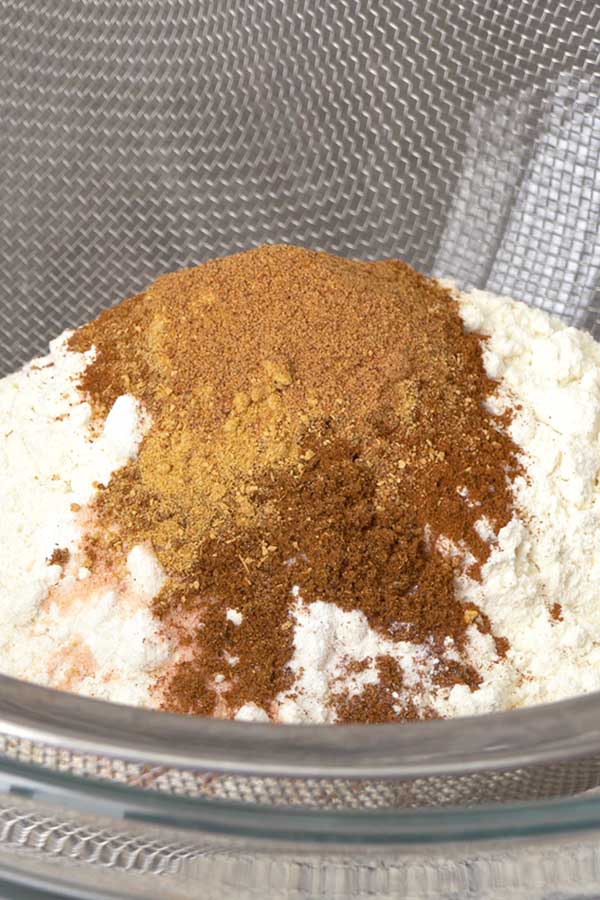 The combination of those four spices are really amazing. We love it!
Skip any of the spice if you don't like it. Or skip them all together if you must.
The choice is always yours.
Less-Sugar Cream Cheese Frosting
I try to reduce as much sugar as I can in my bakings.
This cream cheese frosting recipe has way less sugar than you would normally find in most of cream cheese frosting recipes out there.
In fact, I'm even using more cream cheese than other recipes so that it will be worthy of its name.
I'm also using a touch of lemon juice to balance everything out.
How To Get A Flat Top Cake (Not Domey)
Don't you hate it when you bake a cake and it comes out domey? More when you know you want to glaze or ice it later.
Yes you can cut the domey part, no problem. But then the cake will be thinner and what's the point, right?
Well I have been using this Wilton strip that amazingly for me, helps me in having flat top cakes.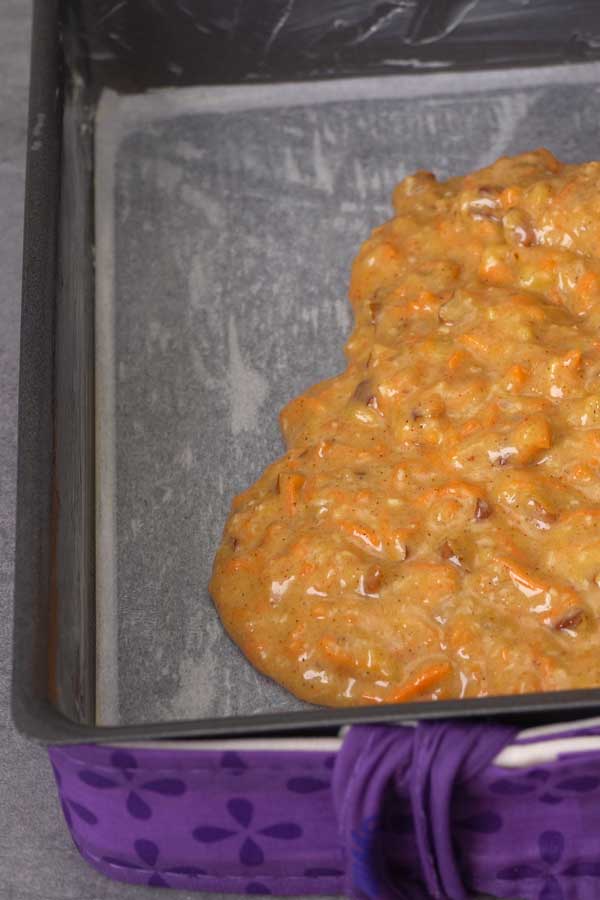 Yep!
I was sceptic when I first bought the strips but after several times using them, I find myself loving them!
What I do is soak them in water for 30 minutes and then lightly squeeze out the water. Then I wrap the strip around my baking pan, in this case my 8 inch (20 cm) square pan. And then I bake like I would normally do.
The moist from the wet strip will keep the sides of the pan not as hot, thus leaving the batter on the sides to cook at the same time as the batter in the center of the cake, making them rise evenly. Which means flat top.
Dome happens when the sides of a pan gets hotter than the center, making the batter cooks faster (and sets) while the batter in the center is still cooking and rising.
If you're like me, that sometimes go crazy about the top of your cakes being flat, then you should really try the strips.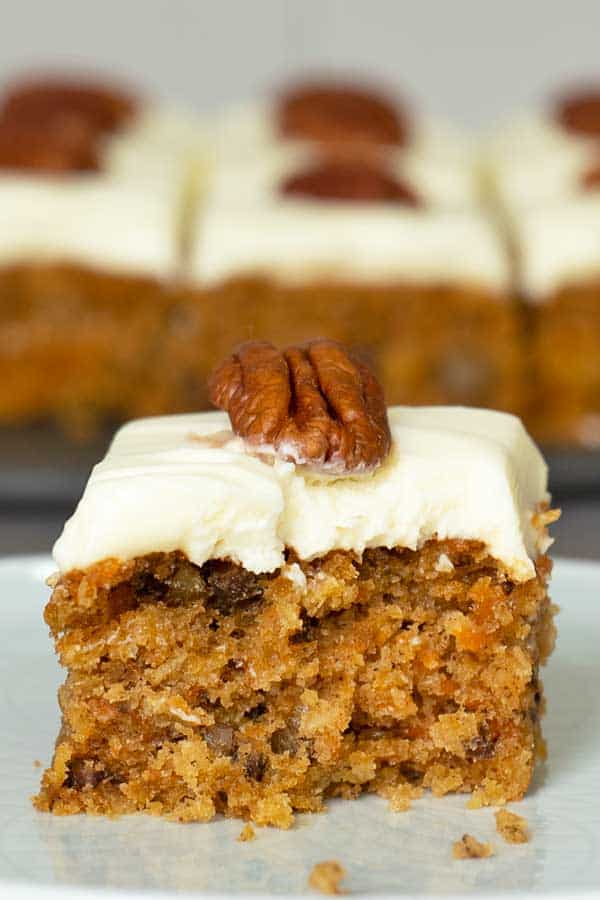 Moist Carrot Cake
If I haven't said it already then I'm saying it now.
This carrot cake is super moist. Believe me. You can see it for yourself in the pictures and the video below.
It's not dense whatsoever. The moist texture comes from the crushed pineapple, grated carrot among other ingredients that are used in this recipe.
If you're a carrot cake lover like me, then I would really recommend you to try this. You will not regret it.
Before You Go
I would love to suggest a few recipes for you to check out, if you haven't already.
Video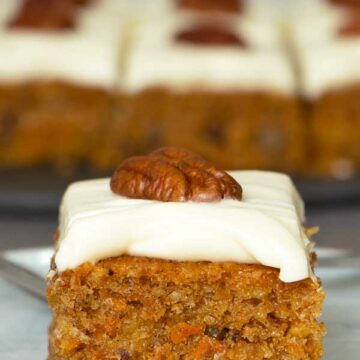 Carrot Cake with Pineapple and Pecans
Moist and fluffy carrot cake with pineapple and pecans..and cream cheese frosting. This carrot cake is infused with some spices that simply compliment the whole cake. I'm also using less sugar for the cream cheese frosting and more cream cheese so that it's worthy of its name.
Print
Pin
Rate
Ingredients
The Carrot Cake
1

cup

all purpose flour

(

130

gr)

1

tsp

baking powder

½

teaspoon

baking soda

¼

teaspoon

salt

1

teaspoon

cinnamon powder

¼

teaspoon

ginger powder

¼

teaspoon

nutmeg powder

¼

teaspoon

clove powder

⅓

cup

sugar

(

70

gr)

¼

cup

coconut sugar (

50

gr)

1

teaspoon

vanilla extract

½

cup

Sunflower oil

(

125

ml)

2

eggs

, room temperature

¼

cup

dessicated coconut

(

20

gr)

1

cup

grated carrot

(

90

gr)

½

cup

crushed pineapple

(

110

gr)

½

cup

chopped pecans

(

60

gr)
The Cream Cheese Frosting
¼

cup

unsalted butter

(

60

gr), room temperature

6

oz

cream cheese

(

170

gr), room temperature

½

cup

icing sugar

(

60

gr), sifted

1

tablespoon

lemon juice
Instructions
The Carrot Cake
Sift flour, baking powder, baking soda, salt, cinnamon, clove, nutmeg and ginger powder into a bowl. Set aside.

In another bowl, add in both sugars, eggs, oil and vanilla extract. Whisk until well combined.

Pour into flour mixture and whisk just to combine. Then add in pineapple, carrot, coconut, and pecans. Fold everything together.

Pour into an

8 inch (20 cm) square pan

that has been buttered and lined at the bottom. Spread the batter evenly. Bake in a preheated oven at 350ºF (175ºC) for 30 minutes or until fully cooked. Remove from the oven and leave to cool completely before using.
The Cream Cheese Frosting
Using a hand held mixer, whisk the butter until fluffy. Then add in cream cheese and continue whisking until light and fluffy.

Finally add in icing sugar and lemon juice. Mix to combine. Pour on top of carrot cake and spread evenly. Decorate as you wish, slice and enjoy!