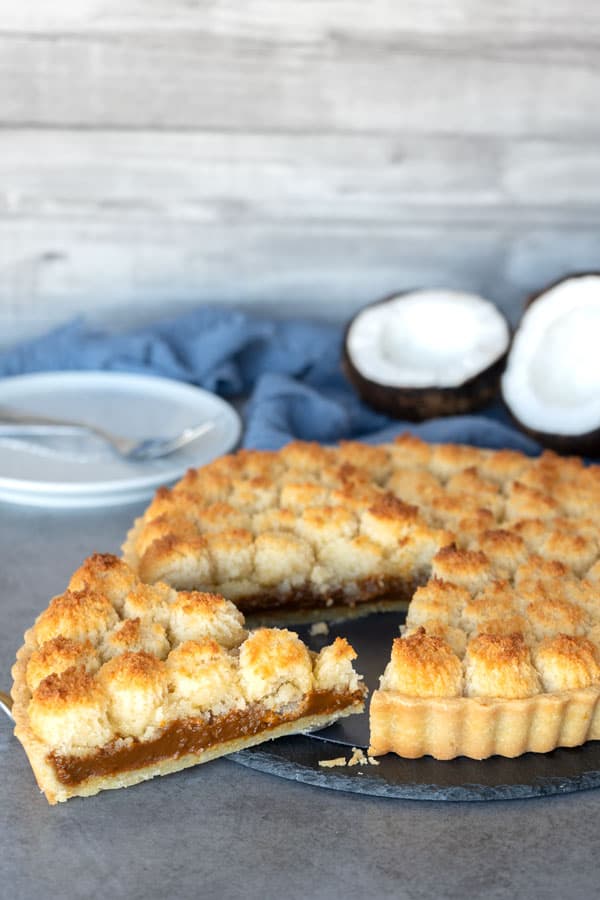 If you're nuts for coconut AND dulce de leche then you've come to the perfect place.
Today's recipe that I'll be sharing is an Argentine style coconut and dulce de leche tart. Imagine flaky crust with generous layer of delicious dulce de leche and topped with aromatic golden brown bits of coconut.
I don't know about you but I imagined a heaven!
Let's dive straight into the heaven please!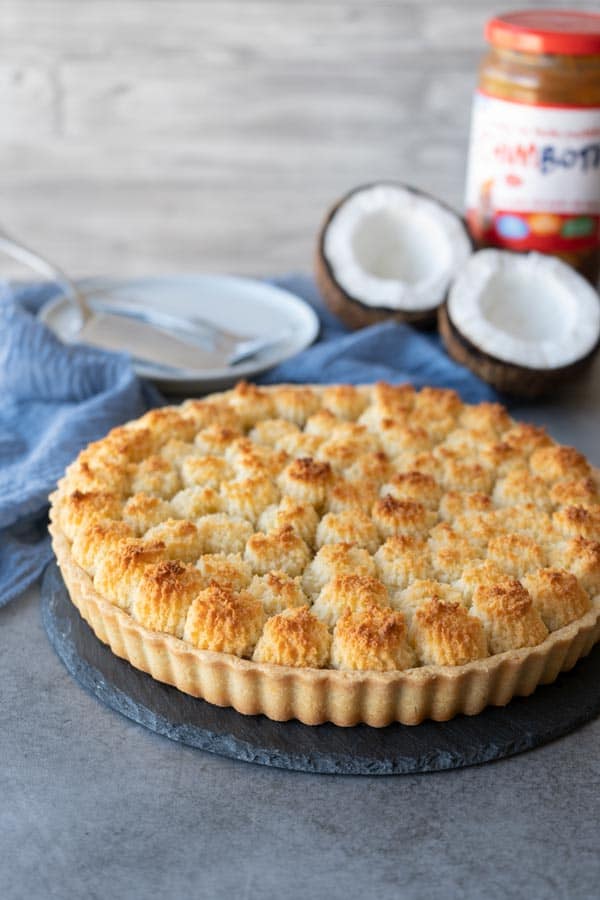 Argentine And Dulce De Leche
My husband is Argentine and mark my words, no Argentine is born without a heart fond of dulce de leche. Maybe some were even born with a jar of dulce de leche in their hand.
I only get to know and of course, fallen in love with dulce de leche through my husband. And yes, dulce de leche is the heart of today's recipe.
If you're not familiar with what the heck of this dulce de leche that I'm talking about, you can read about it in my post on how to make dulce de leche.
I got this recipe from my husband, of course. He absolutely loves it and I'm excited that I get to share it with you today.
Before I forget about the dulce de leche, I would like to remind you that for this recipe I'm using bakers dulce de leche. The consistency is different from the regular one. This one is thicker and is often used as fillings for cakes, pastries and more.
So when you're making this tart, make sure to use bakers one. The reason being is so that it holds its shape and texture very good while baking.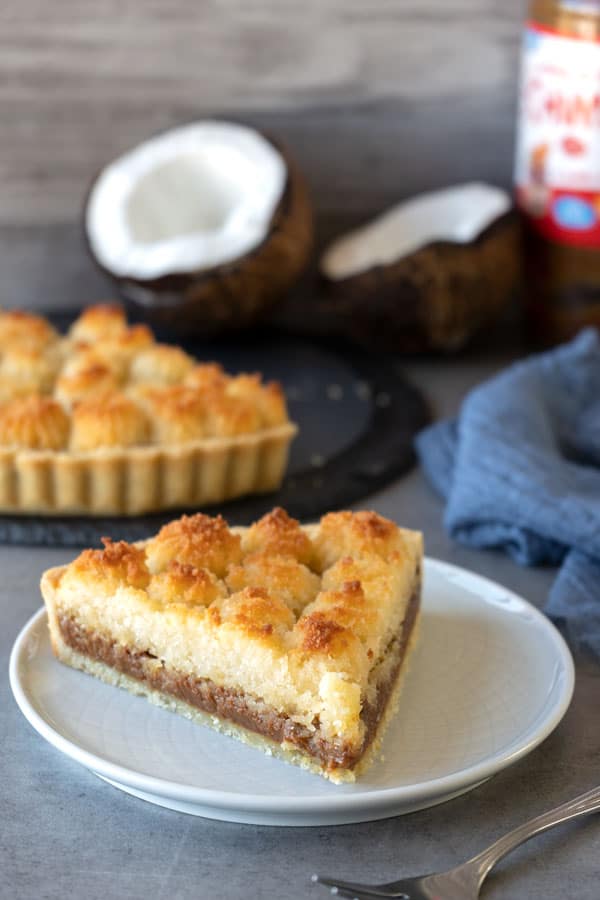 Sweet Childhood Memories
Marco mentioned that he eats this coconut tart for as long as he can remember.
It's a famous dessert in Argentina. Not as famous as pasta frola, he said, but this tart is something that he remembers enjoying since he was a kid.
You can find this coconut and dulce de leche tart in most Argentine bakeries. I'm not so much into sweets but this tart really got me. And it got me really good!
The combination of coconut and dulce de leche is just so perfect.
The other day when we went to our local ice cream shop, Marco even chose coconut and dulce de leche flavours because they remind him of this tart.
Give this amazing tart a try, I promise you that you'll enjoy it!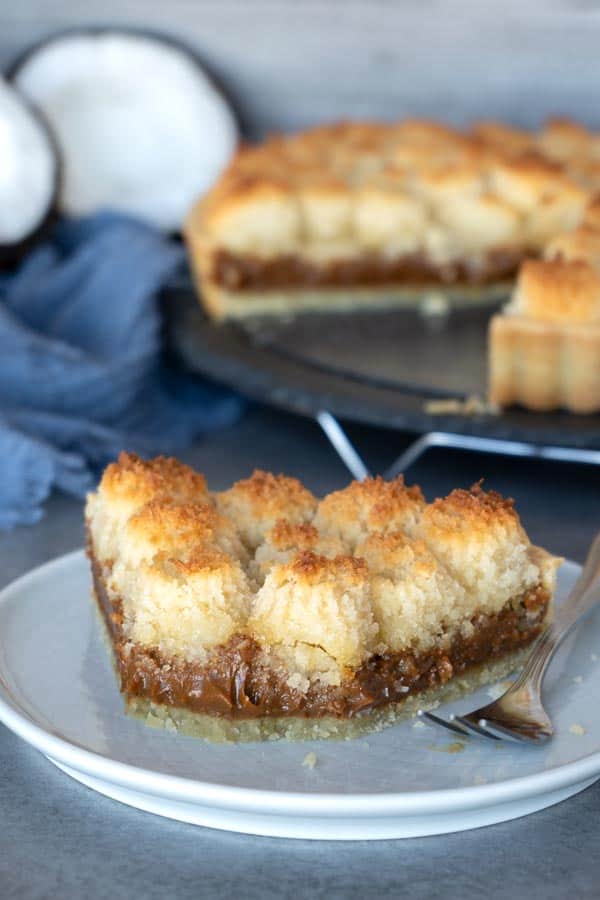 In Summary
This Argentine style coconut and dulce de leche tart is:
a must try for all dulce de leche lovers out there
and also not forgetting the coconut lovers please
easy to prepare
with flaky crust, generous later of dulce de leche and golden brown bits of coconut
so DELICIOUS that it's difficult to stop munching on it!
Hungry For More?
Here are more dulce de leche treats for you:
Video
📖 Recipe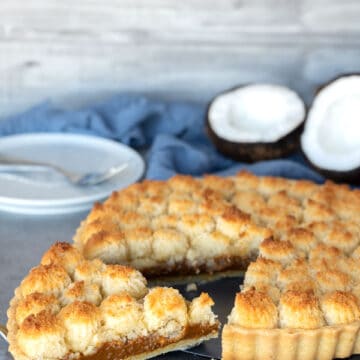 Coconut & Dulce de leche Tart
This Argentine style coconut and dulce de leche tart is perfect and a must try for all the coconut and dulce de leche lovers! Flaky crust, generous layer of delicious dulce de leche and aromatic golden brown bits of coconut. Yum!
Print
Pin
Rate
Ingredients
The Crust
½

cup

butter

(

113

g), room temperature

3

tablespoon

sugar

(

35

g)

1

large egg

, room temperature

zest of ½ lemon

½

teaspoon

vanilla extract

1 ½

cup

all purpose flour

(

195

g)
The Filling
⅔

cup

sugar

(

130

g)

3

large eggs

1

teaspoon

vanilla extract

⅔

cup

whipping cream, min 35% fat

(

160

ml)

3

cup

unsweetened fine desiccated coconut

(

240

g)

1

lb

bakers dulce de leche

(

450

g), or to your liking
Instructions
The Crust
Add both butter and sugar into a bowl and mix well using a spatula. Now add in egg, lemon zest, vanilla extract and continue mixing.

Finally add in flour and fold everything together to combine, don't over mix it. You will have a sticky dough, no worries.

Place dough on a cling film, wrap and flatten it into ½ inch (1.3 cm) thickness. Place it in the freezer for 20 minutes or until it stiffened enough to manage. Meanwhile, let's prepare the filling.
The Filling
Into another bowl, add in sugar, eggs and vanilla extract. Whisk to combine. Now add in whipping cream and mix well. Finally add in desiccated coconut and give it one final mix.

Chill in the fridge for 40 minutes.
Assembling
After 20 minutes, place the stiff dough in between 2 cling films. Roll into a circle that's slightly bigger than 9 inch (23 cm) tart pan with a removable bottom.

Remove the top cling film and sprinkle some flour on the dough. Swiftly and confidently flip the dough into the tart pan, floured side down. Rearrange the dough as you need and cut off the excess bits.

Place back in the freezer for 10 minutes.

After 10 minutes, remove the pan from the freezer and pipe the dulce de leche in. Use an offset spatula to even it out. Now pipe the filling on top, making sure to cover all the dulce de leche surface.

Bake in a preheated oven at 350ºF (175ºC) on the lowest rack for 45 minutes or until the top is golden brown. Cool completely before slicing (you'll get a cleaner cut) and enjoy! Note: Serve this with mate (Argentine herb tea) for maximum enjoyment!
Freezer Or Fridge (not to get confused)
Freezer is where you keep the frozen things.

Fridge is where you keep all your fresh veggies, milk and etc.
Notes
Use fine-textured desiccated coconut. Coarse ones will make it difficult to pipe later.
Use whipping cream that's not whipped, or else your filling will be too dry.
Make sure to chill the filling in the fridge so that the desiccated coconut has the time to absorb the liquid and gets "firmer" to pipe later.
If your filling is still runny, leave it in the fridge for a few minutes longer (refer to the tutorial video above for the final texture).
Nutrition Facts
Calories:
406.9
kcal
,
Carbohydrates:
33.2
g
,
Protein:
5.6
g
,
Fat:
29.2
g
,
Saturated Fat:
21.7
g
,
Cholesterol:
91.8
mg
,
Sodium:
97.7
mg
,
Potassium:
177
mg
,
Fiber:
4.1
g
,
Sugar:
17
g
,
Calcium:
28.7
mg
,
Iron:
1.8
mg