My late father wasn't the cook of our house, my late mother was. But, everybody admits (my mother included) that he made the best mee goreng in the world. Heavily biased, I know, but I stand by my words.
We would prepare all the ingredients beforehand, and I would be so excited thinking that in just a few minutes I would be devouring my hot delicious bowl of mee goreng.
On that thought, I created this easy version of mee goreng so that it's doable, regardless of where you are, in the hope you'd enjoy a bowl of mee goreng as much as I do.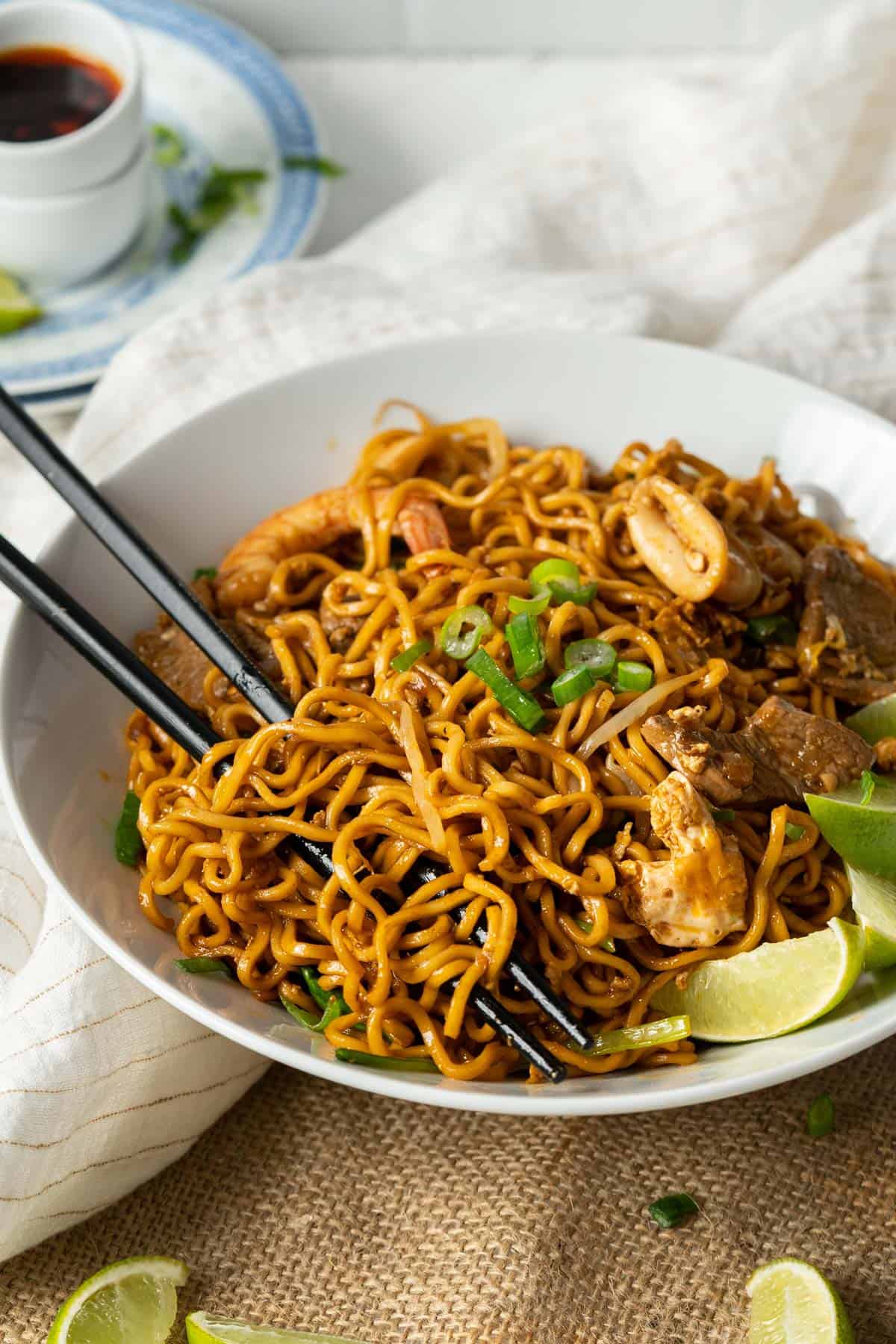 Jump to:
What Is Mee Goreng?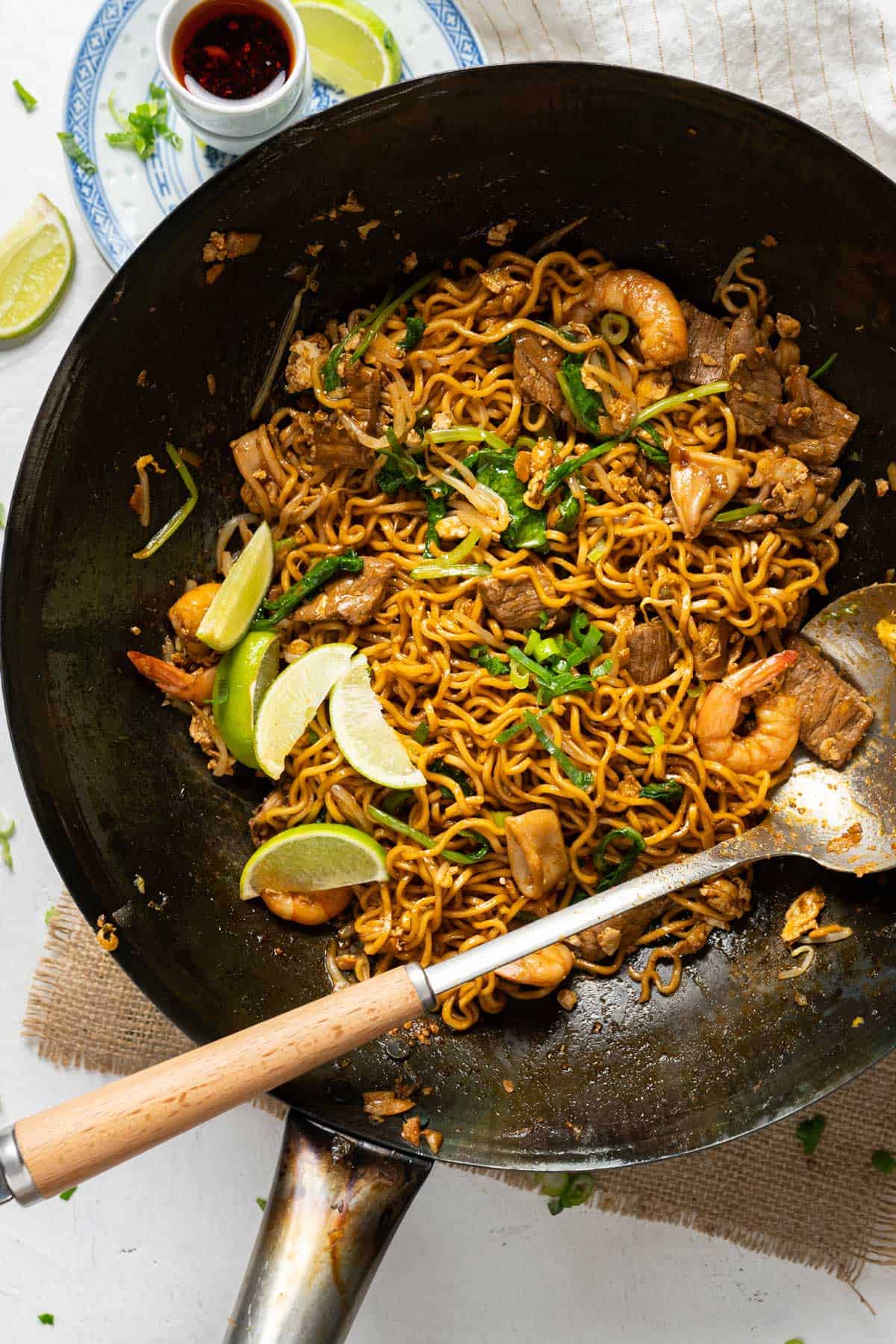 Mee goreng is famous street food found in South East Asian countries like Malaysia, Indonesia, and Singapore. One of its signatures is, being cooked in a deep wok over high heat.
It's stir-fry egg noodles in soy sauce chili mixture, together with veggies and different types of protein sources. The veggies could be green mustard, cabbage, and bean sprouts. The protein sources could be beef, chicken, calamari, shrimp, and cockles.
Like any other stir-fry recipe, mee goreng doesn't take long to cook. In fact, it cooks in less than 15 minutes like my easy beef lo mein.
Ingredients Talk & Substitutions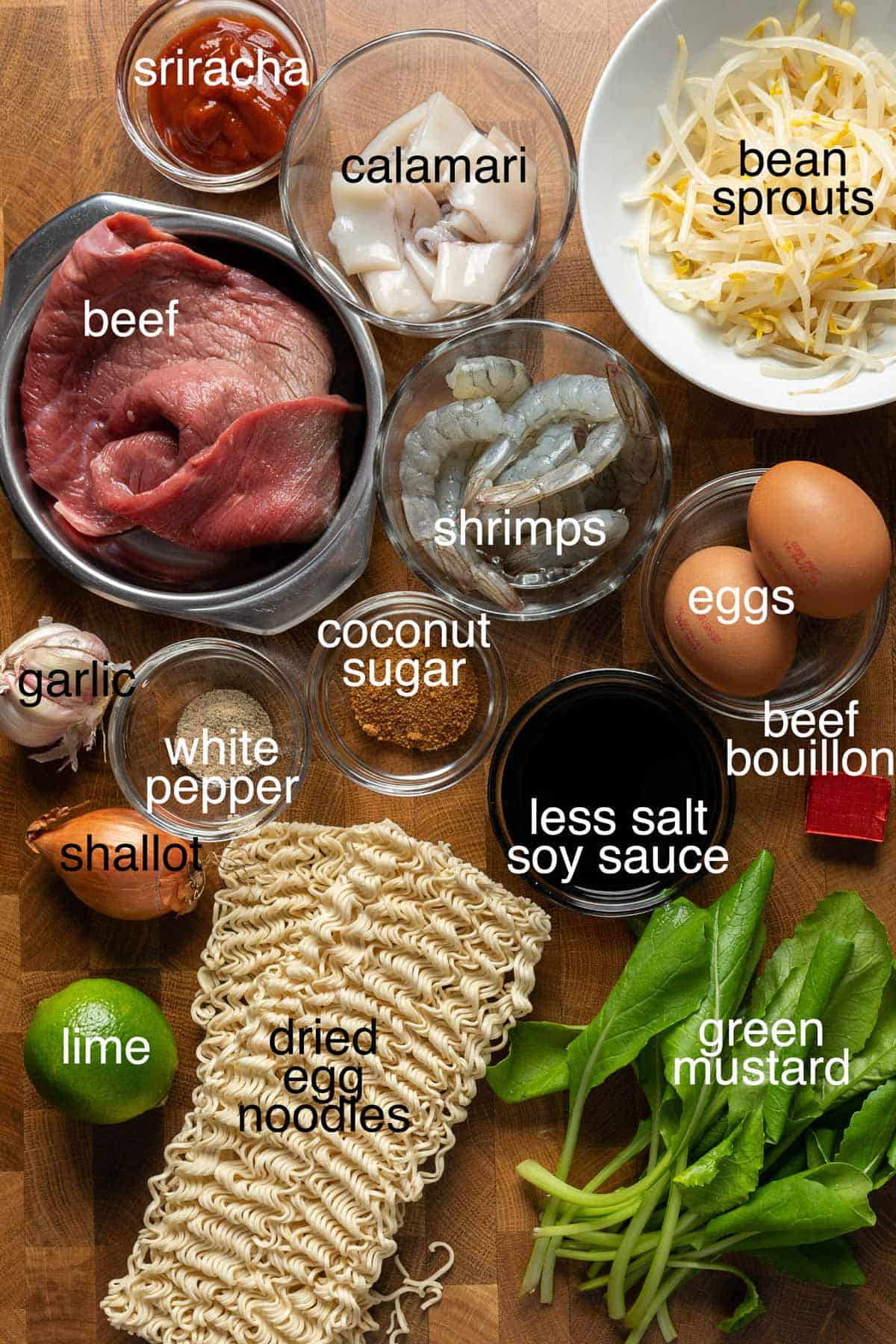 Noodles - I use dried egg noodles, as it's easier to find and is very common.
SUBSTITUTIONS: Use fresh egg noodles or yakisoba instead. Use ¾ lb (340 g). Or you can use dried ramen noodles from instant ramen packets.
Soy sauce - I LOVE this less salt soy sauce, I've been using it for many years and that's my main and only soy sauce in the kitchen, for flavour. Occasionally I use dark soy sauce just for the colour, since it doesn't influence any flavours.
This less salt soy sauce lets me have more soy sauce flavour in my dishes, without having to worry about them being too salty.
Sweet soy sauce - I make my own sweet soy sauce by simply adding coconut or brown sugar to it. This way I don't need to have different types of soy sauce in my kitchen (I'm an Asian who cooks Asian meals every day, so that says a lot).
Sriracha - Traditionally mee goreng calls for chili paste, for that touch of heat. Well, too much work for that. Sriracha gives that all-rounder flavour. It has heat, sweetness, and tanginess. Plus, it's easier and everybody has it.
Green mustard - A common veggie in mee goreng, for the green and mild taste. Green leafy veggies are always amazing.
SUBSTITUTIONS: Use the same amount of pak choy or spinach.
Bean sprouts - For that fresh, crunch texture. If you can, find fresh ones. Unfortunately due to pandemic and the ripple effects of war now (yeah, you'd think it'll effect bean sprouts, eh?), I can't find them in my town so I'm using the ones in jar. I've used jarred ones for several times already and they're surprisingly amazing. Just rinse them with water and drain before using.
Protein sources - In Asian cooking, we love to mix our protein sources, like surf and turf. It's because every protein brings a different flavour and when combined, it's like creating your own umami components. Try.
SUBSTITUTIONS: Double the amount of meat, if you're leaving out the seafood. Triple the amount of seafood, if you're leaving out the meat.
Utensils To Use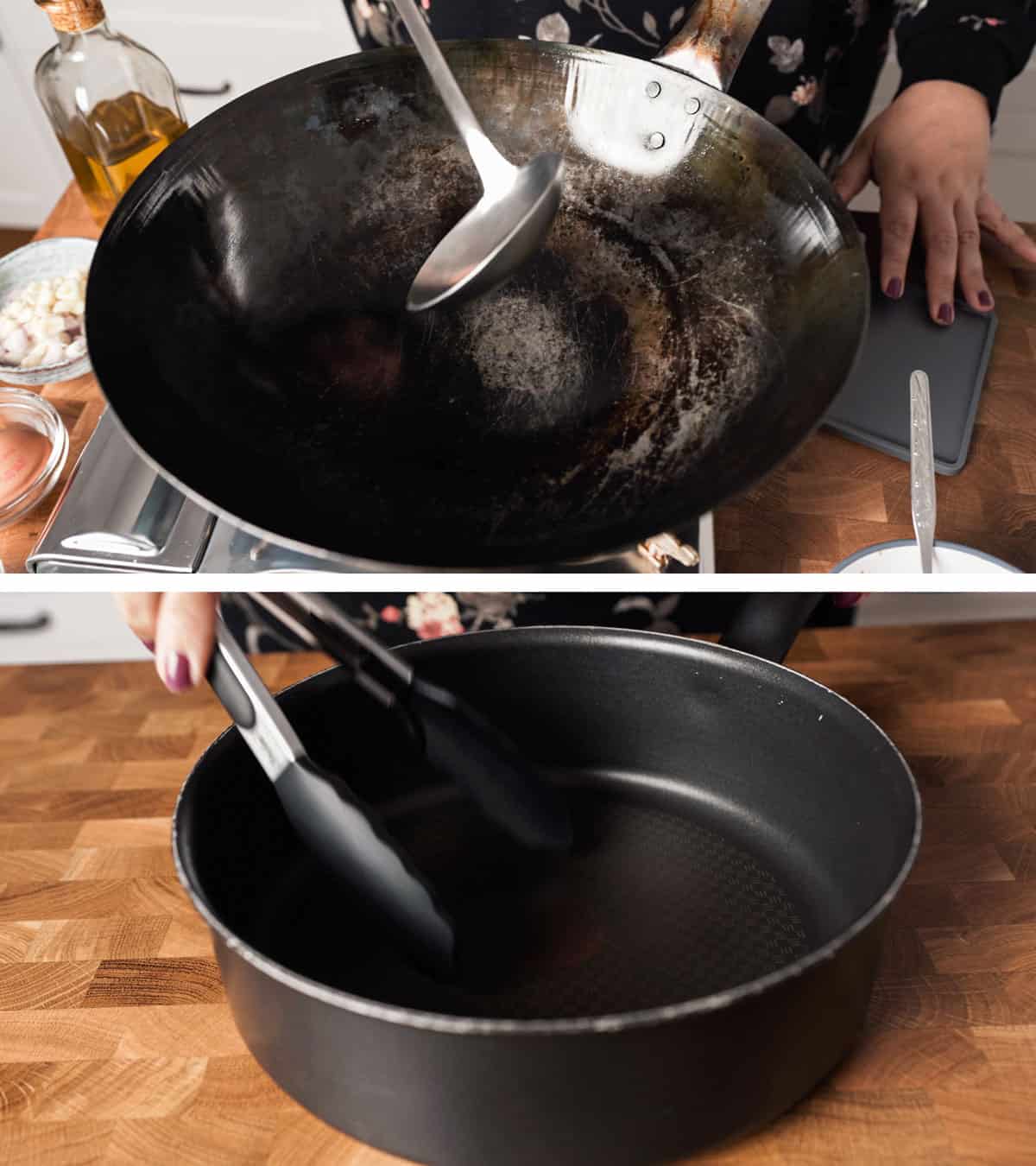 Carbon steel wok and metal ladle - I love this combo when I cook my stir-fry meals. The deep bottom with a wide diameter makes it very easy to stir and mix the food. The ladle is surprisingly easy to use. Instead of folding the ingredients on top of each other (the typical mixing method), you use it to swirl, mixing the food by pushing and pulling it towards you. I've seen this style of stir-fry cooking in street food and Asian restaurants that I decided I'd like to learn it also. If you're interested in investing in a carbon steel wok, I can show you how to cure it.
Wide pan and kitchen tongs - Obviously you can use a normal pan. I'd recommend using the widest that you can find, so that it'll be easier to mix the ingredients. A kitchen tong is more suitable than a spatula since you can grab and toss the food better.
Tips For Successful Mee Goreng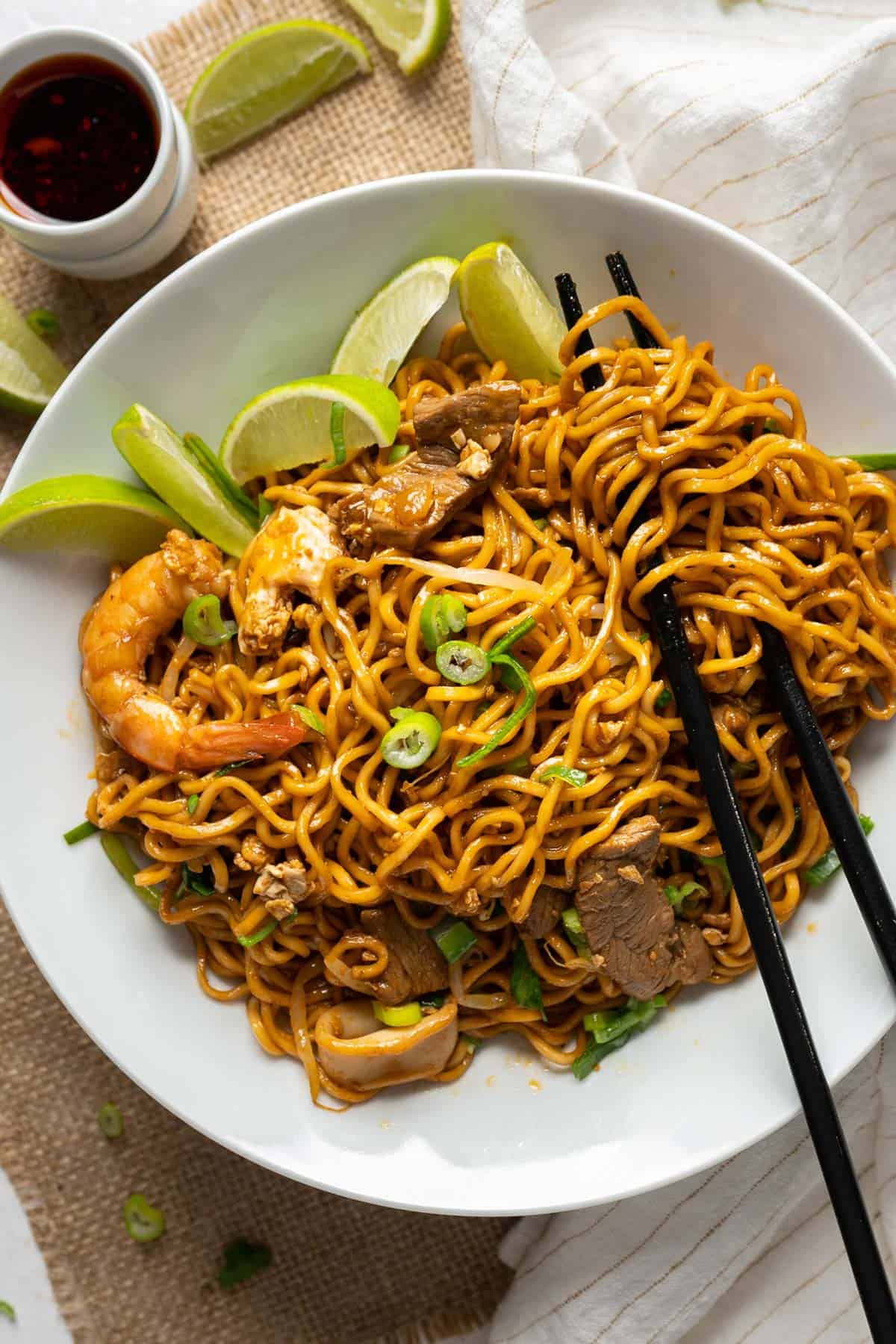 Asian stir-fry is slightly different in the sense that it usually takes only a few minutes of cooking time. Having that in mind, here are my tips for you that you can follow, so that you can make it successfully.
Preparation - Make sure to chop, mince, cut, slice, and measure all the ingredients first before you start turning on the fire to cook. This includes all the condiments. This is because, again, as I mentioned earlier, it doesn't take long to cook. So you don't want to pause to chop onion or veggies in the middle of cooking.
Heat - Be alert to the heat that you're using. Use high heat when specified.
Serve - Serve immediately while piping hot. That's when you get to really experience the deliciousness of a bowl of heavenly mee goreng.
How To Make Mee Goreng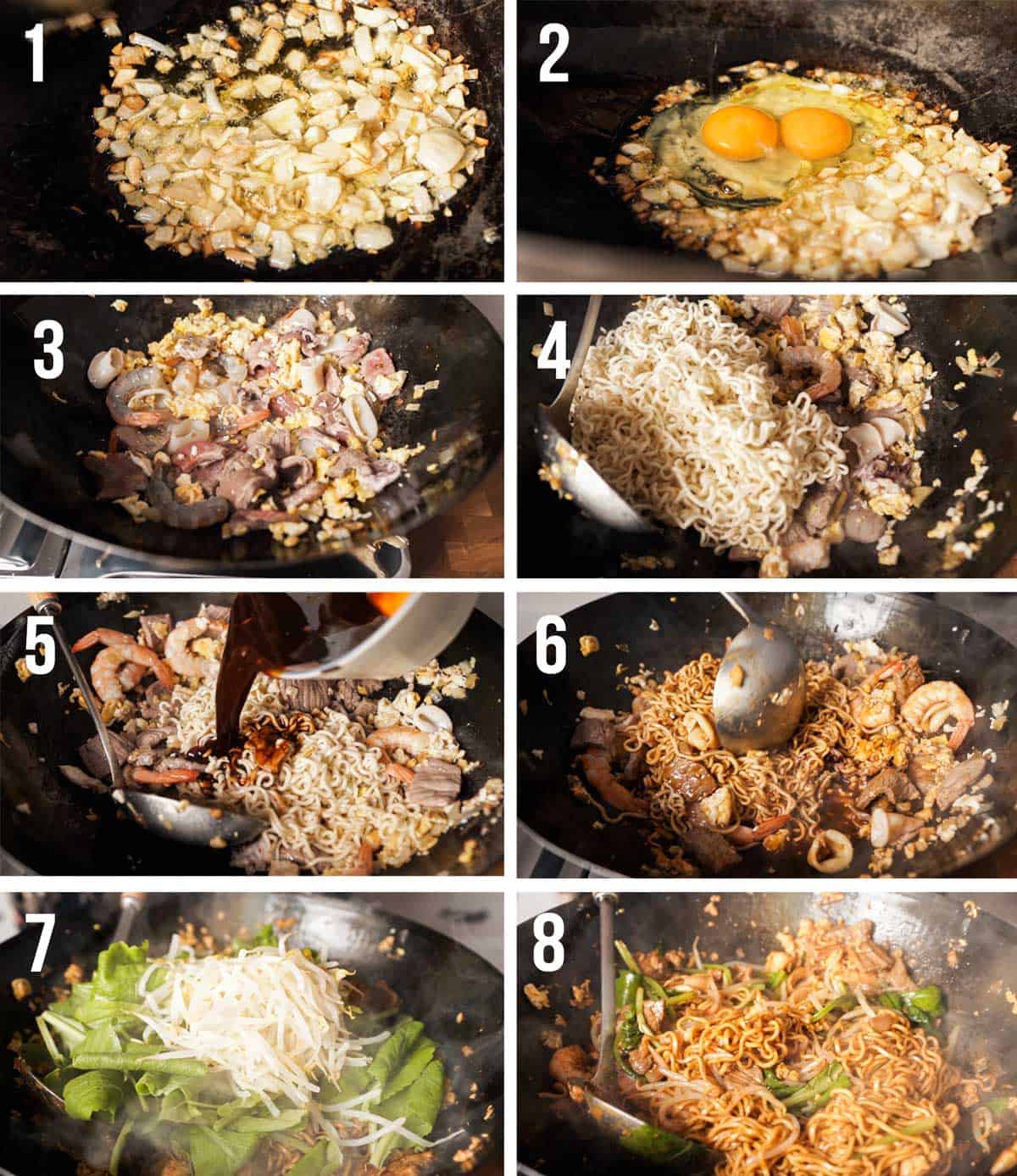 Prepare all the ingredients - Chop shallot and garlic, slice all the protein sources, cut and wash the veggies, prepare the sauce, prepare the condiments, boil and drain the noodles.
Saute on medium heat - Saute shallot and garlic, crack in the eggs and make scrambles out of them.
Stir-fry on high heat - Add the protein sources, continue until they're half-cooked. Add in noodles and give everything a good mix. Pour in the soy sauce mixture and mix everything well for just a few minutes. The bottom of the wok/pan should not be soupy. Add in the veggies, turn the heat off. Give it a final mix, the residual heat will cook the veggies just enough, leaving them still fresh and not soggy. Add a drizzle of sesame oil.
Serve - Serve immediately with some wedges of lime and sprinkles of spring onion.
What To Serve It With
Mee goreng is always served with several condiments like wedges of lime, chopped spring onion, slices of cucumber and/or tomato, a drizzle of sesame oil, fried egg, and fried onion. I'm going simple with just lemon and spring onion. You can serve with whatever you prefer.
Watch How To Make It
📖 Recipe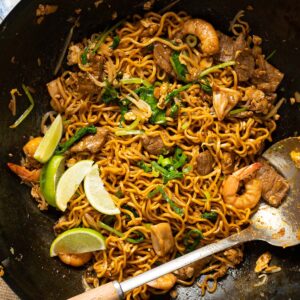 Easy Mee Goreng
Easy and simplified Malaysian style mee goreng that doesn't take fancy sauces. Using basic ingredients that you already have in the kitchen, this mee goreng is amazingly delicious.
Print
Pin
Rate
Ingredients
The Sauce
¼

cup

less salt soy sauce (

60

ml)

3

tablespoon

sriracha

1

tablespoon

coconut sugar

, or any sugar

½

teaspoon

white pepper

½

beef bouillon granule

, or

½

tablespoon of bouillon powder

1

lime

, squeeze its juice
The Protein Sources
7

oz

beef

(

200

g)

4

calamari

10

shrimps
Others
1

shallot

, diced

4

garlic cloves

, diced

2

large eggs

5.3

oz

dried egg noodles

(

150

g)

1

teaspoon

dark soy sauce

(optional) for darker mee goreng colour

some sesame oil
Veggies
1

handful of green mustard

1

handful of bean sprouts
The Condiments
some chopped spring onion

some lime wedges
Instructions
Prepare all the ingredients before you start cooking.
The Sauce
Mix all ingredients in a bowl, set aside.
The Protein Sources
Beef - slice into thin rectangular of thumb size. Calamari - cut the calamari tube in 1 inch (2.5 cm) length. Shrimps - Peel and devein them. I like to leave the tails on. Set aside.
The Veggies
Cut the green mustard into 2 inch (5 cm) length. Wash and drain jarred bean sprouts. Set aside.
The Noodles
Cook the noodles as per instructions from the packet, but leave them slightly undercooked. We'll continue cooking them later in our stir-fry.
Cooking
Heat some oil in a wok on medium heat and add in shallot and garlic. Cook until they're golden brown. Crack the eggs in, leave for a few seconds until they're almost set and then break them to make scramble.

Turn the heat to high. Now add in all the protein sources and continue cooking until they're half-cooked. Add in the noodles and give everything a good mix.

Pour the sauce and mix until everything is well coated and the protein sources are fully cooked. Optional: Add dark soy sauce if you like the mee goreng to be slightly darker. Add in the veggies, and turn the heat off. Give everything a good stir, the veggies will be cooked with the residual heat. We don't want them overcooked or soggy.

Drizzle with sesame oil. Serve immediately with some chopped spring onion and wedges of lime.
Notes
Make sure the bottom of the wok/pan is always dry for a good stir-fry. Use higher heat if you see it soupy.
Nutrition Facts
Calories:
386.1
kcal
,
Carbohydrates:
33.8
g
,
Protein:
22.9
g
,
Fat:
18.2
g
,
Saturated Fat:
7.4
g
,
Cholesterol:
159.7
mg
,
Sodium:
1940.4
mg
,
Potassium:
447.4
mg
,
Fiber:
2.3
g
,
Sugar:
4.1
g
,
Calcium:
74.7
mg
,
Iron:
3.7
mg