Enjoying baked goodies doesn't mean you need to feel guilty for every single bite that you take.
Why don't we also give ourselves some amazing healthy treats like these healthy blueberry oatmeal muffins that have no white flour and no white sugar... AND no oil or butter like in my healthy apple muffins.
Phew! That's a lot of nos and a million of yes, of course!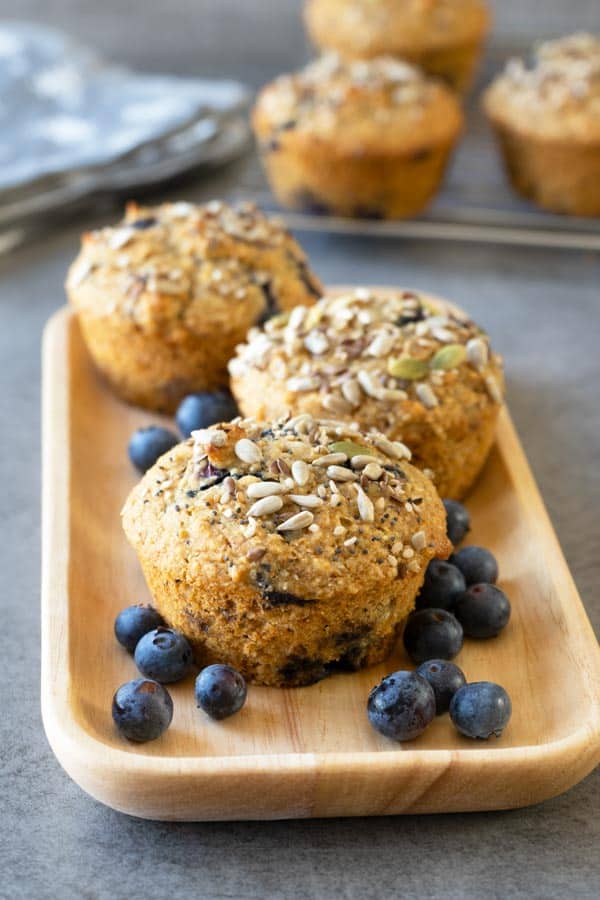 These muffins are not only super delicious but they are super moist, soft and fluffy. You're not missing on the white flour, fats or refined sugar, I promise.
Let's see this super easy recipe.
Healthier Options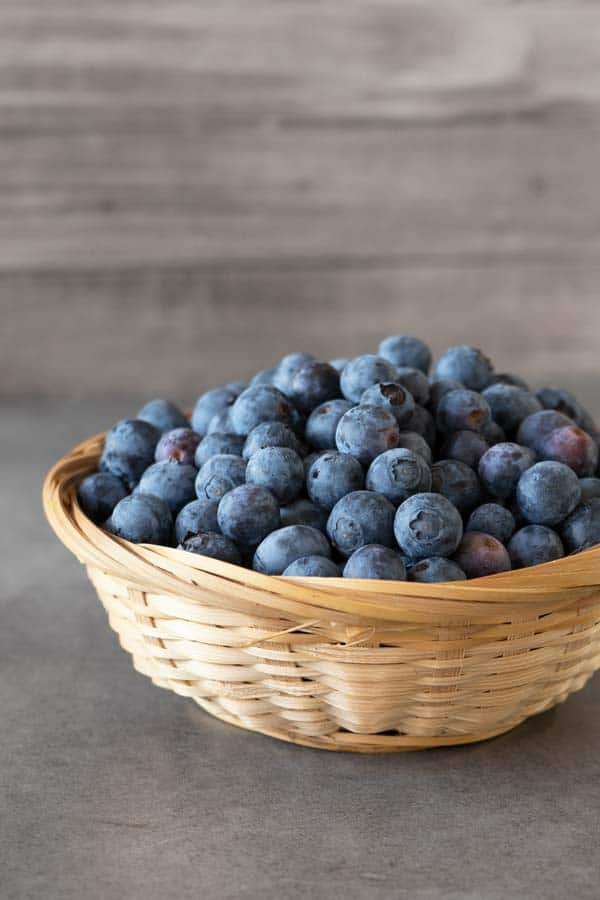 Have you tried my healthy oats banana muffins that ALSO don't have white flour or refined sugar? If you haven't, then you really might want to. I use that recipe as a guidance to this one.
As I mentioned earlier, in this recipe we will NOT be using white flour, or refined sugar or even fat.
What???
Yes dear friend, it can be done and it's extremely easy and delicious!
Oatmeal Instead of White Flour
I love to treat oatmeal like white flour in my healthy baking recipes.
Oatmeal or oat flour is just ground oats. They can be in coarse or fine texture. The one that I'm using in this recipe has a very fine texture, almost like white flour.
Oatmeal is high in fibre and protein, one of the good carbs; they help in lowering the cholesterol level and eventually prevent heart disease.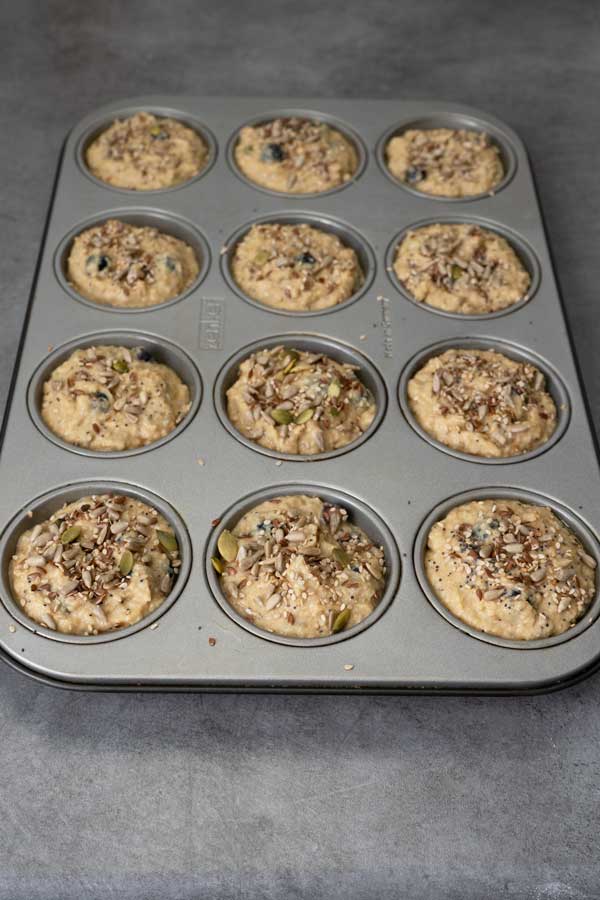 Make your own oatmeal by grinding your rolled oats with a grinder like this to your desired texture. I love this grinder because it grinds grains so amazing! I use it all the time especially for my Asian cooking.
One thing though, if you make your own oatmeal and you're using cup measurement please measure AFTER you grind your oats and NOT BEFORE.
It's not a 1:1 ratio.
1 cup rolled oats (90 g) = almost ¾ cup fine texture oat flour (90 g).
Also take in mind that I'm using a very fine textured oatmeal, almost the texture of white flour.
Applesauce Instead Of Oil Or Butter
Applesauce is really a magical ingredient if you want to bake healthy.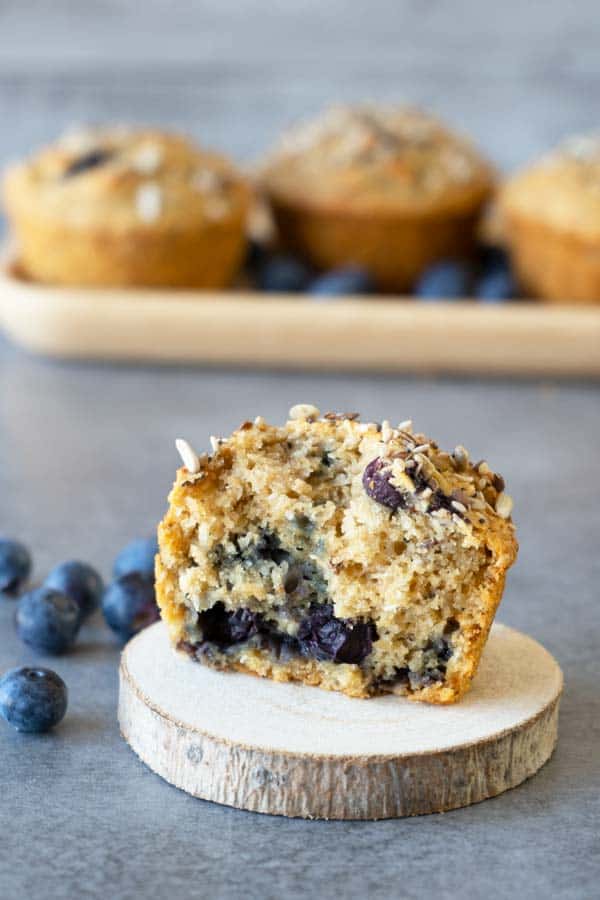 I'm using it to replace fat in this recipe. You won't even know that these delicious and amazingly healthy muffins don't have any oil or butter in them.
Applesauce is just apples cooked until soft with some water and then blended into a puree. Some recipes call for cinnamon and sugar. I don't find it necessary.
The applesauce that I'm using is with 92.2% apples so it's barely sweet.
I really hope you would give this muffins recipe a try. They are THAT amazing, seriously.
In Summary
These healthy blueberry oatmeal muffins are:
with no refined sugar and no white flour
they don't have any fats at all, no oil nor butter
high in protein, fibre and with good carbs
absolutely fill you more than any other typical muffins
so darn DELICIOUS!
Before You Go
Maybe you would also like to check out these recipes:
Video
📖 Recipe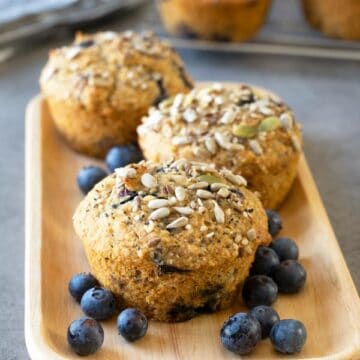 Healthy Blueberry Oatmeal Muffins (No White Flour & Refined Sugar)
A healthy snack that has no white flour, no refined sugar and no fat. Yet these muffins are super moist, soft and amazingly delicious! They definitely fill you more than the typical muffins.
Print
Pin
Rate
Ingredients
Dry Ingredients
2

cup

oat flour

(

260

gr)

2

teaspoon

baking powder

½

teaspoon

baking soda

¼

teaspoon

salt

1

cup

desiccated coconut

(

80

gr)

¼

cup

mixed seeds

(

40

gr)
Wet Ingredients
½

cup

milk

(

125

ml), room temperature

½

tablespoon

lemon juice

1

egg

, room temperature

1

teaspoon

vanilla extract

1

cup

applesauce

(

280

gr)

½

cup

honey

(

160

gr)
Others
1

cup

blueberry

(

145

gr)

some mixed seeds

for topping
Instructions
Sift oat flour, baking powder, baking soda and salt into a bowl. Then add in desiccated coconut and mixed seeds. Mix everything well and set aside.

Homemade Buttermilk: Pour milk into a bowl together with lemon juice. Leave untouched for 10 minutes.

Into the same bowl, add the rest of wet ingredients and mix well using a hand whisk.

Now add dry into wet and mix everything just to combine. Finally add in blueberries and fold everything together using a spatula.

Bake in a preheated oven at 360ºF (180ºC) for 20 minutes or until fully cooked. Remove from oven and leave for 5 minutes. Then using an offset spatula or a knife, gently insert into the surrounding of the muffins to help loosen them. Place on a rack and cool completely.
How To Store
Store in an airtight container at room temperature up to 3 days.

To Freeze: Wrap the muffins individually with a cling film and put them in a ziplock bag. Place in the freezer up to 3 months.

To Defrost: Thaw at room temperature. Gently heat in microwave to bring it back to life.
Nutrition Facts
Calories:
226
kcal
,
Carbohydrates:
33.9
g
,
Protein:
5.2
g
,
Fat:
8.8
g
,
Saturated Fat:
5.1
g
,
Cholesterol:
16.8
mg
,
Sodium:
185.8
mg
,
Potassium:
197.2
mg
,
Fiber:
3.8
g
,
Sugar:
17
g
,
Calcium:
114.1
mg
,
Iron:
1.7
mg