I bet you didn't think this pineapple upside-down cake is healthy and made with healthier ingredients, right?
It has no white flour and is refined-sugar-free. It looks so pretty and it tastes amazing! Super moist and tender, juicy pineapple with a touch of caramel on the top.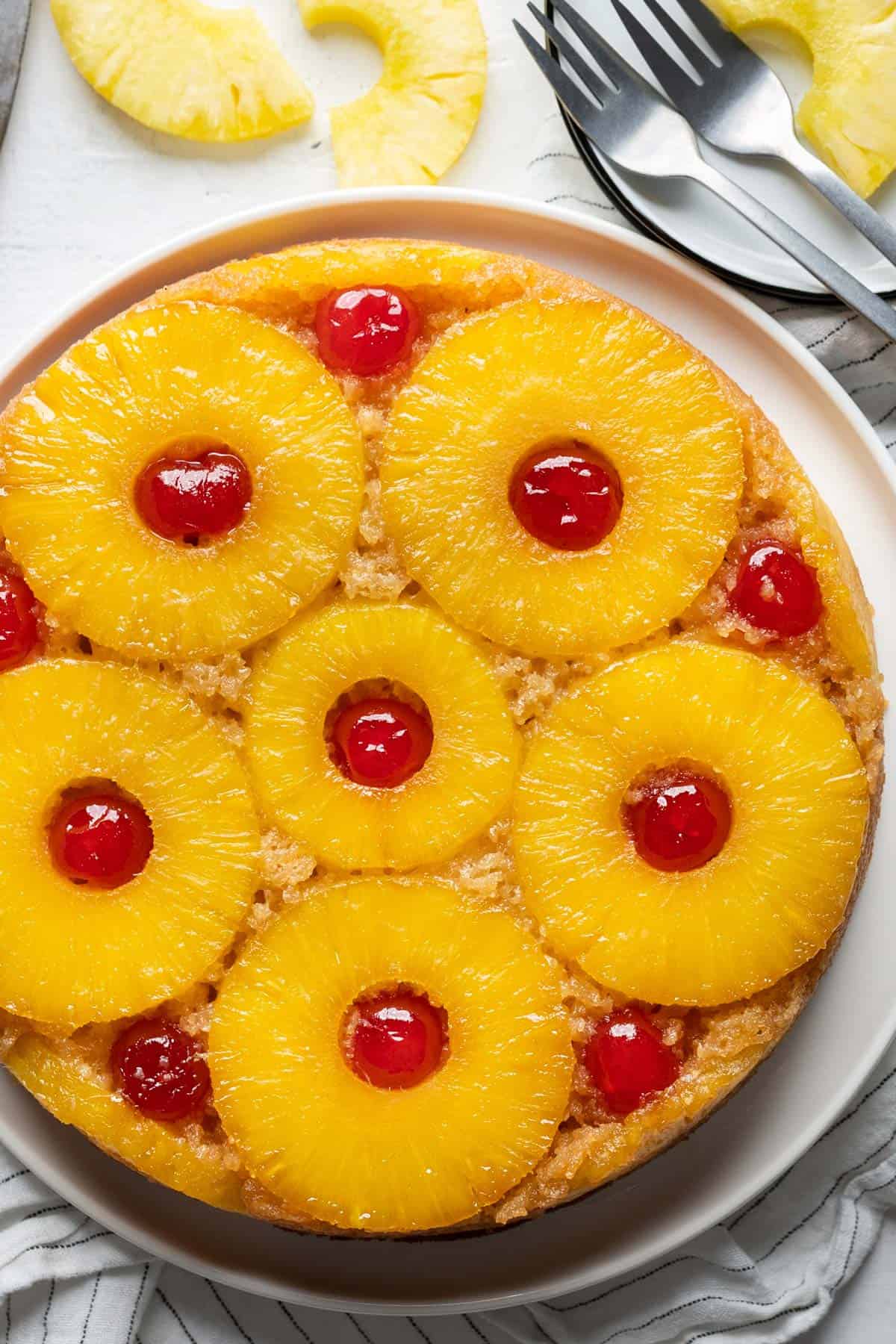 And you know what? It also has coconut! So it's like a combination of pineapple upside-down cake and pina colada. I mean, you can never go wrong with this combo.
I created this healthy pineapple upside-down cake for my husband Marco, by modifying my peach upside-down cake and my lemon almond cake. If you love anything upside-down cake, you really should try the recipes!
And if you like summer cakes with fruits, you should check out our peach cobbler with cake mix, such a delicious and easy summer dessert.
Jump to:
Ingredients & Substitutions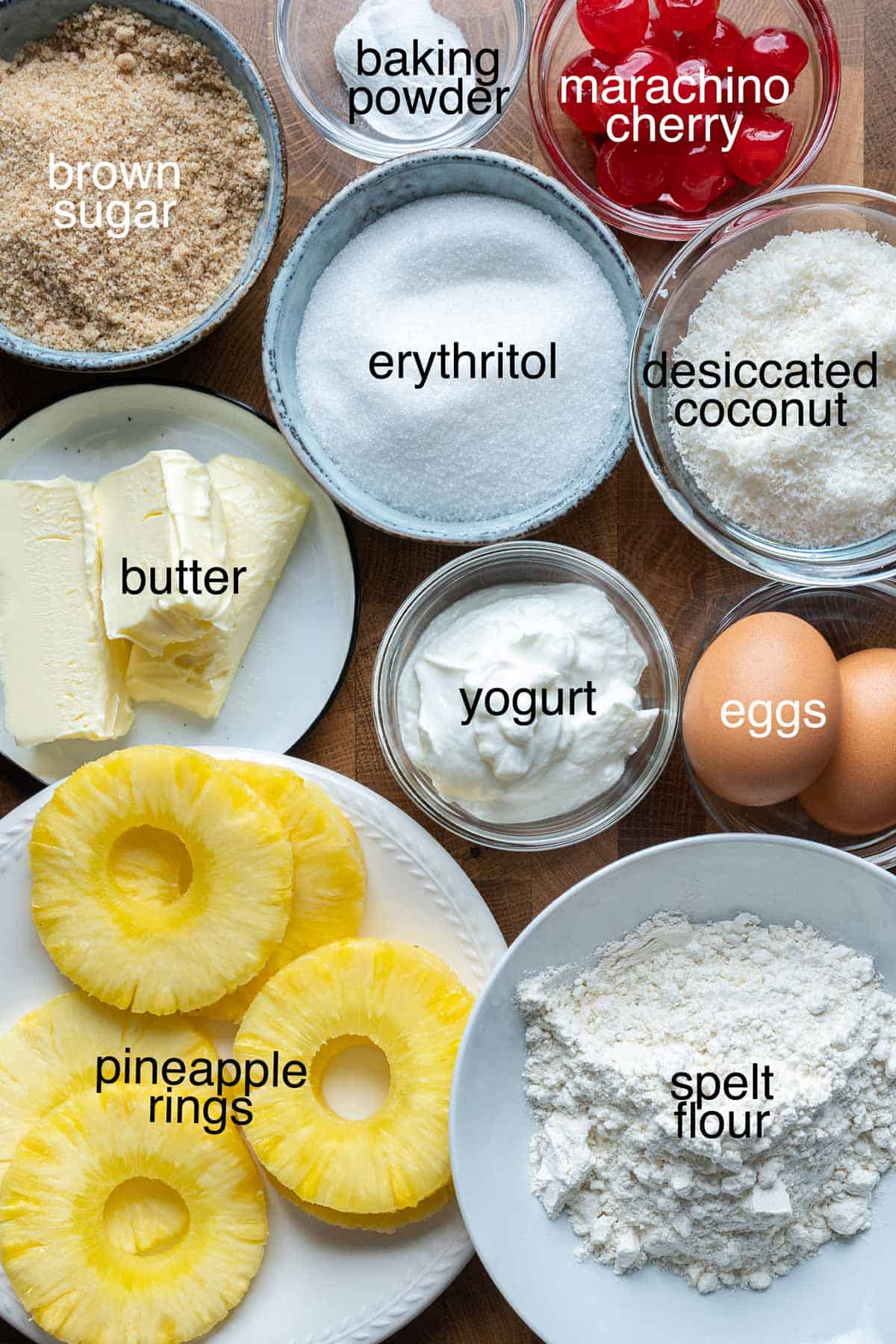 Pineapple - I use fresh ripe pineapple. Canned pineapple works great also.
Spelt flour - It's healthier than all-purpose flour and the amazing thing is, it acts very similar to all-purpose flour. My olive oil raspberry cake is one delicious proof! So if you're thinking of switching to healthier flour, start with spelt flour.
Sugar - I use 2 different kinds of sugar. For the caramel topping, I use brown sugar. For the cake itself, I use erythritol. You can use any dry sweetener that you prefer.
NOTE: Erythritol is generally 30% less sweet than regular white sugar. So bear that in mind if you plan to use other types of sugar.
Desiccated coconut - Unsweetened. This elevates the cake flavor to another level, trust me on this.
SUBSTITUTION: If you're not up for it, no worries! Simply use another ½ of spelt flour instead.
How To Flip An Upside-Down Cake
This healthy pineapple upside-down cake is appreciated not only for its taste but of course, for its unique look. The beautifully arranged pineapple crowning the cake, yes that's what we want.
And in this type of cake, the nerve-wracking moment would be when we flip it, right? Is the pineapple going to be stuck? Is the cake going to fall down easily? It is going to look good? How do I do this?
Well, I'm here to help put those nerves at ease. Follow the steps below and you're good to go!
Leave the cake to cook for 10-15 minutes after removing it from the oven. Don't wait too long or else the caramel will harden and get stuck. And then the pineapple and the cake might get stuck also.
Meanwhile, find a serving plate that's at least 1 inch (2.5 cm) bigger than the cake.
Place the serving plate facing down, on top of the cake.
Swiftly yet confidently flip both the serving plate and pan. If everything comes out great, you'll hear the sound of the cake falling onto the serving plate.
If in doubt, gently tap the bottom of the pan a few times. Gently lift the pan up and that's it!
Steps To Make Pineapple Upside-Down Cake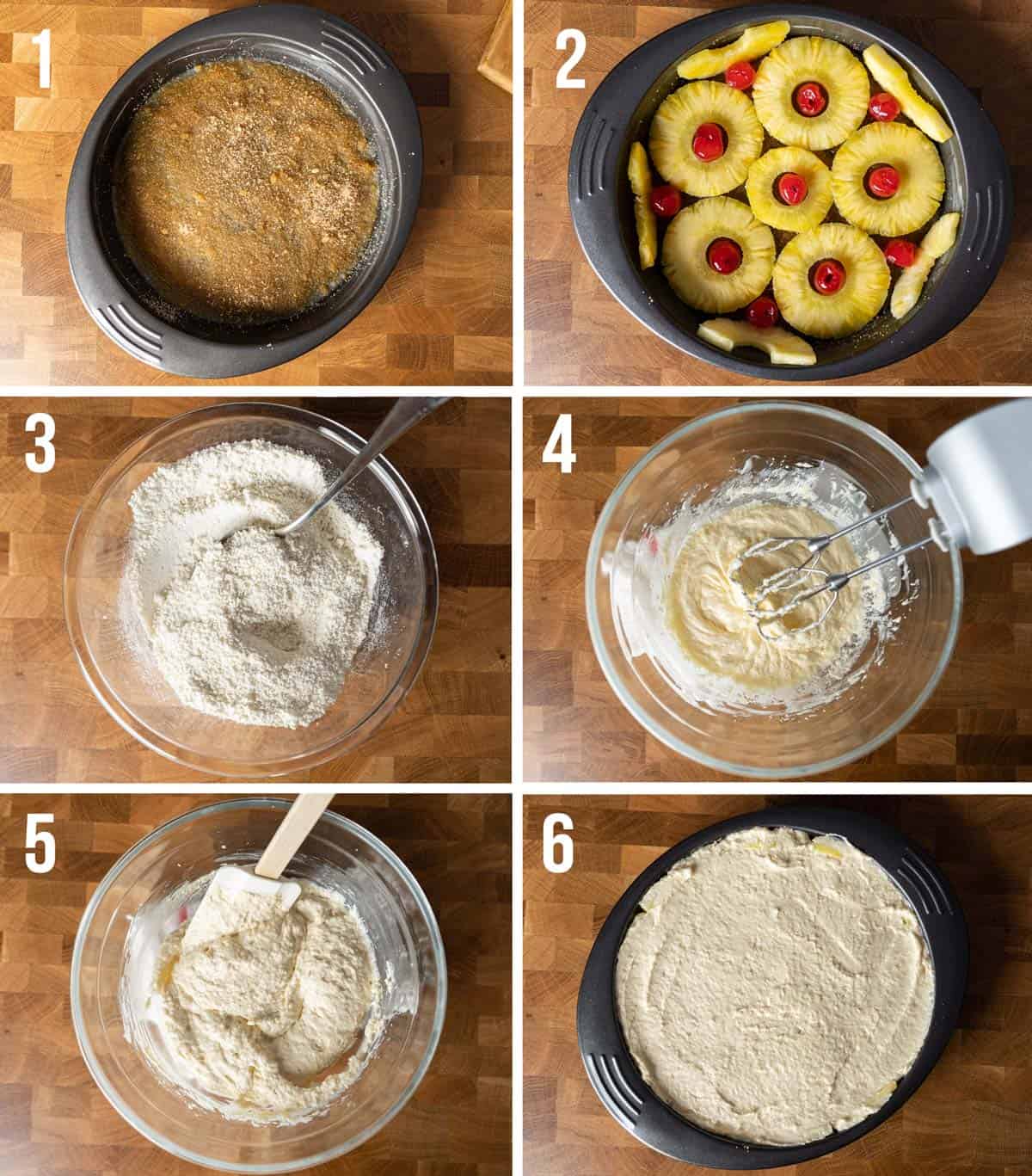 Caramel - Pour melted butter and sprinkle brown sugar in a 9-inch (18 cm) cake pan.
Pineapple - Arrange pineapple slices and place some cherries in between.
Dry ingredients - Mix all dry ingredients in a bowl.
Whisk until pale - Whisk butter and erythritol until pale and fluffy. Add in eggs 1 by one and mix well.
Add in dry - Add dry ingredients half at a time and mix well. Finally, mix in yogurt.
Bake - Pour batter in and spread evenly. Bake at 350ºF (175ºC) for x minutes. Cool for 15 minutes, flip it on a serving plate, and leave to cool completely before slicing.
Tips For Making This Recipe
Make sure to pat the pineapple dry before using. This applies to both fresh and canned pineapple. We don't want extra moisture in our caramel layer.
Don't slice the pineapple too thick (or too thin). 1 cm thickness is enough.
How To Serve & Store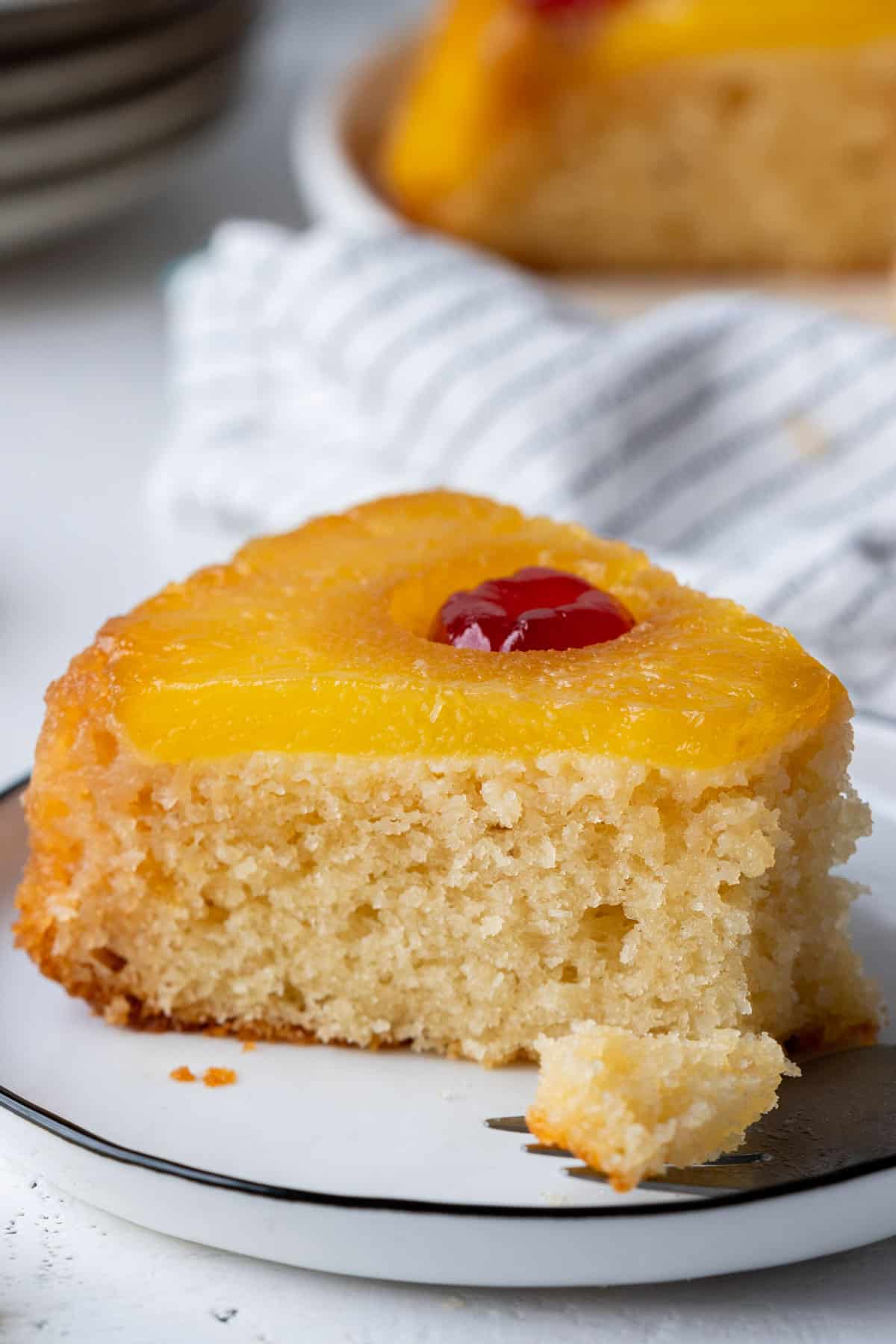 Serve - At room temperature. A scoop of vanilla ice cream on the side is not a bad idea. Both Marco and I have eaten it cold from the fridge and surprisingly, it also tastes delicious! Haha!
Store - At room temperature for max 24 hours. After that, it's better to be kept in the fridge since it's a cake with fruit. Best for up to 3 days in the fridge. If you plan to keep it longer than that, then freeze it. Best consumed within 1 month.
FAQs
Can I use canned pineapple?
Yes, no problem at all.
What if I don't have desiccated coconut?
No worries, then simply use another ½ cup of spelt flour instead.
My pineapple is stuck to the pan when I flipped the cake. Why is that?
This is probably because you waited too long before flipping it. When the caramel cools down, it hardens and sticks to the pan. Flip after 10-15 minutes.
Why does my cake turn out soggy?
Well, this has to do with extra moisture. Make sure to pat the pineapple dry before using.
Can I use parchment paper to make sure the pineapple doesn't get stuck?
If you follow all my instructions and tips, you don't need to. But of course, you can use it if you want to.
Watch How To Make It
📖 Recipe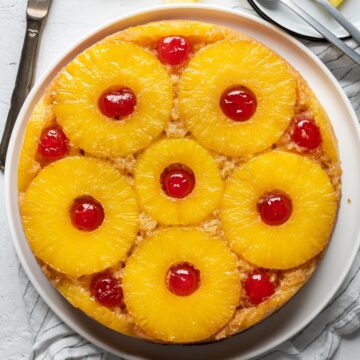 Healthy Pineapple Upside Down Cake
This pineapple upside down cake is made with healthier ingredients and is refined-sugar free. The unique thing about this cake also is that it has that coconut flavour which reminds it of pina colada. Beautiful and delicious combination of flavours here!
Print
Pin
Rate
Ingredients
Caramel Pineapple Layer
¼

cup

melted butter

⅓

cup

brown sugar

5

pineapple rings

12

cherry
Dry Ingredients
1

cup

spelt flour

¾

cup

unsweetened desiccated coconut

2

teaspoon

baking powder

½

teaspoon

salt
Wet Ingredients
½

cup

unsalted butter

, room temperature

¾

cup

erythritol

2

large eggs

, room temperature

½

cup

plain yogurt

, room temperature
Instructions
Caramel Layer
Butter

1

x 9 inch round cake pan. Pour in melted butter and swirl the pan so that it covers the bottom. Sprinkle brown sugar evenly.
Pineapple Layer
Arrange pineapple rings and place cherry in between. Set aside.
Dry Ingredients
Mix all ingredients in a bowl with a spoon. Set aside.
Wet Ingredients
Into another bowl, add in butter and erythritol. Using a handheld whisk, mix until pale and fluffy.

Now add in the eggs, one at a time and whisking for a minute after each addition. Mix in yogurt.

Add dry ingredients half at a time and mix well. Mix in yogurt. Don't over mix at this stage to prevent hard, dense cake. Pour batter into the pan. Spread evenly using an offset spatula.
Bake
Bake at 350ºF (175ºC) using conventional mode, on lower ⅔ rack for 40-45 minutes or until a skewer inserted in the center comes out clean.
Flip
Leave to cool for 10-15 minutes before flipping the cake. Let it cool completely before slicing.
Notes
Use a portable oven thermometer to make sure your oven's temperature is accurate. I use this all the time.
Use scoop and level method when measuring flour.
Pat the pineapple dry before using.
Nutrition Facts
Calories:
290.1
kcal
,
Carbohydrates:
41
g
,
Protein:
4.8
g
,
Fat:
20.3
g
,
Saturated Fat:
13.4
g
,
Cholesterol:
71.9
mg
,
Sodium:
227.6
mg
,
Potassium:
135.1
mg
,
Fiber:
3.4
g
,
Sugar:
13.7
g
,
Calcium:
82.7
mg
,
Iron:
1.3
mg