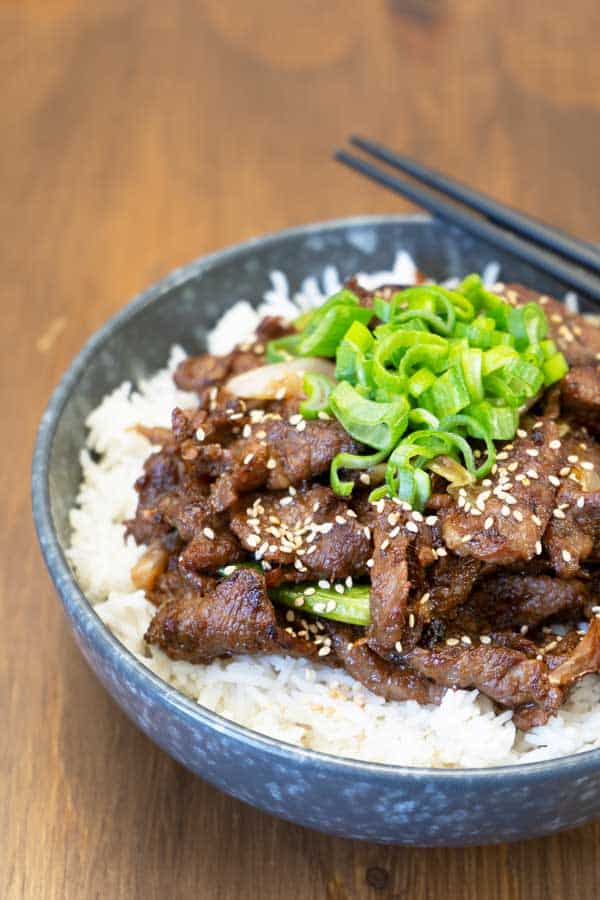 Are you into trying new exciting food from all around the world?
I hope you are because today I'm sharing this extremely (not kidding) easy and delicious Korean-style BBQ beef or also known as bulgogi.
Don't you think bulgogi sounds too darn cute?
My younger sisters are VERY into Korean food. They keep sending me photos of this and that Korean meal and always tease me that we live in such a small city (well their exact words are a village in the jungle) that we've never tried those meals. Haha!
They introduced me to Korean samyang noodles and then the double spicy samyang noodles.
Have you tried? What do you think of them?
The spicy samyang noodles is not spicy for me. The double spicy one? Meh!
I mean, I could take even spicier (wooo.. how arrogant!)
But I do LOVE the taste. It's very delicious and the spiciness is sharp and a bit different from say, bird eye chili or dried chili.
Ok where was I? Today's recipe. Yes, let's start.
What Is Bulgogi?
In Korean "bul" means fire and "gogi" means meat.
So bulgogi literally means fire meat.
It's thinly sliced meat that then you marinate. And then you grill it on a barbecue or on the stove.
Bulgogi is usually eaten with rice, lettuce or perilla leaves and some kimchi on the side.
It's a very known traditional meal in Korea for many many years.
What Type Of Meat To Use
You would want to get a very good cut of meat with fats marbled throughout it.
Rib eye, sirloin or brisket are typically chosen for this meal.
I'm using rib eye and you can see the meat is beautiful. I do trim off the fat before slicing the meat thin.
And yes, you would want to slice your meat very thin. As thinly as you can.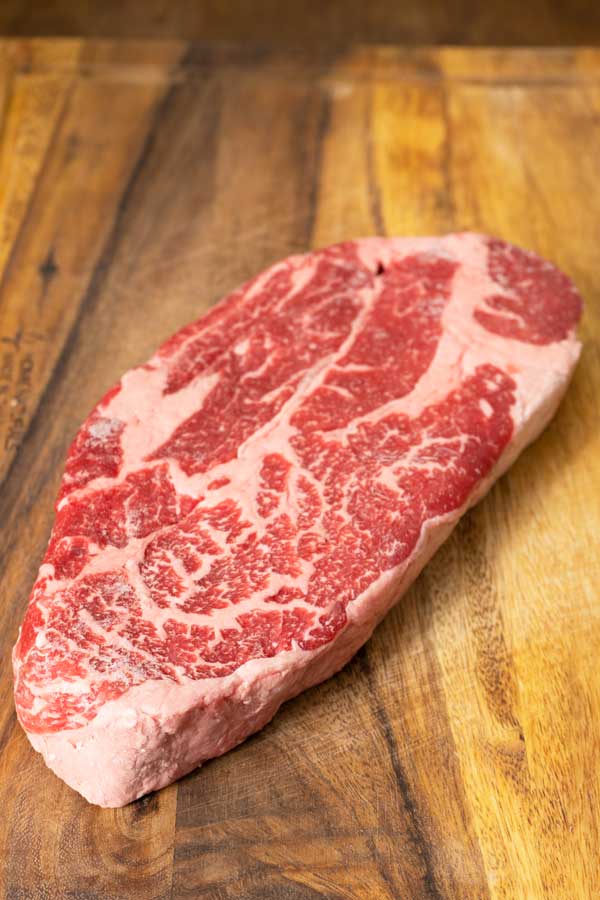 How To Slice Meat Very Thin
If your butcher can slice it very thin for you then that's great. You can skip this part.
If you're not sure your butcher will cut it exactly the way you want it then here's how you do it.
Semi-freeze your meat.
Put your meat in a plastic bag and into the freezer for 2 hours. Once it gets semi-frozen or solid then it will be easier to slice it very thin, just the way you want it.
Just try to cut it against the grains, like you would always do with meat. It will ensure the meat is tender when cooked.
Talking about tender, I'm using Granny Smith apple together in the sauce for my bulgogi.
The apple acts as a meat tenderizer and it also lends some tangy touch to the flavour.
How To Get Char Bits Using A Home Stove
You can get char bits on your bulgogi even without using a barbecue.
Just use the right skillet. In this case, cast iron skillet is the best.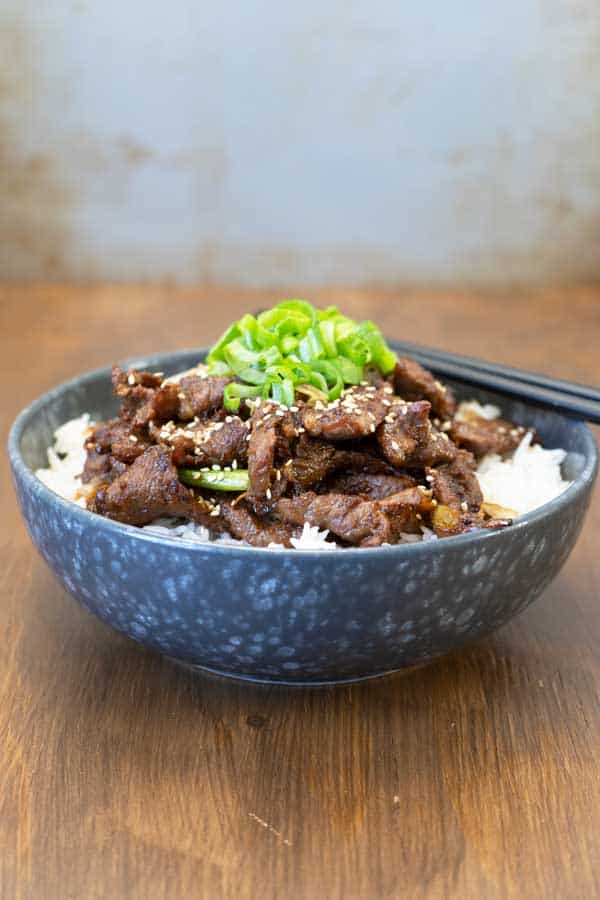 I LOVE to use mine whenever I want those brown char marks on my meat. It heats and marks so much better than my other skillets or pans.
Also, do in small batches. Don't dump the whole batch of meat, onion and the sauce in your iron-skillet. It will never char or get marks.
You can watch in the video below how I did it. Small batches, no marinate juice and I like to cook the onion on one side.
I hope you'll give this easy recipe a try, it's delicious!
In Summary
This Korean-style BBQ beef or bulgogi is:
a very easy Korean meal, a great choice to start cooking your first Korean meal
uses very few basic Asian ingredients that you definitely have in your kitchen
can be made in advance (marinate) and saves time
just so DELICIOUS!
Before You Go
Do check these recipes also:
Video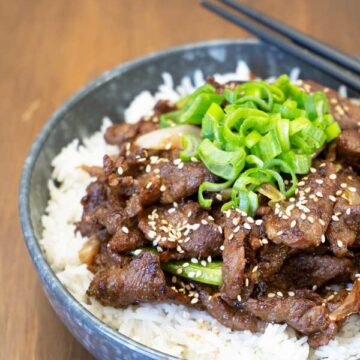 Korean-Style BBQ Beef (Bulgogi 불고기 )
Easiest way to get started with Korean food, try this Korean-style BBQ beef also known as bulgogi 불고기. With only few basic ingredients you can easily make this at home. Use cast iron skillet for those char bit wonders.
Print
Pin
Rate
Ingredients
Main
1

lb

rib eye

(

450

g)

1

stalk

spring onion
Marinade Sauce
½

thumb sized

ginger

, grated

4

garlic clove

, grated

½

Granny Smith apple

, peeled, cored & grated

3

tablespoon

soy sauce

3

tablespoon

brown sugar

(

30

g)

1

tablespoon

sesame oil

few cracks of black pepper
Others
some chopped spring onion

some sesame seeds
Instructions
Prepping The Meat
Slice meat thinly as you can. Refer to my post above on how to do it in an easier way.
Marinade
Add all of marinade sauce ingredients into a wide container and mix well.

Add in sliced meat and coat well with the marinade.

Cut and separate the green part of spring onion from the white. Cut the green part into 2 inch (5 cm). Cut the white part thin. Add them into the container and mix well.

Cover and chill in the fridge for 1 hour. You can also leave it overnight.
Grilling
Using a tongs, add in marinate meat (leave out the marinate liquid) and onion. Cook in small batches. Once the meat is looking golden brown with char marks, flip and continue cooking. Move around in the skillet to soak up the flavour.
How To Serve
Serve hot with some rice, perilla leaves or lettuce with some kimchi on the side.