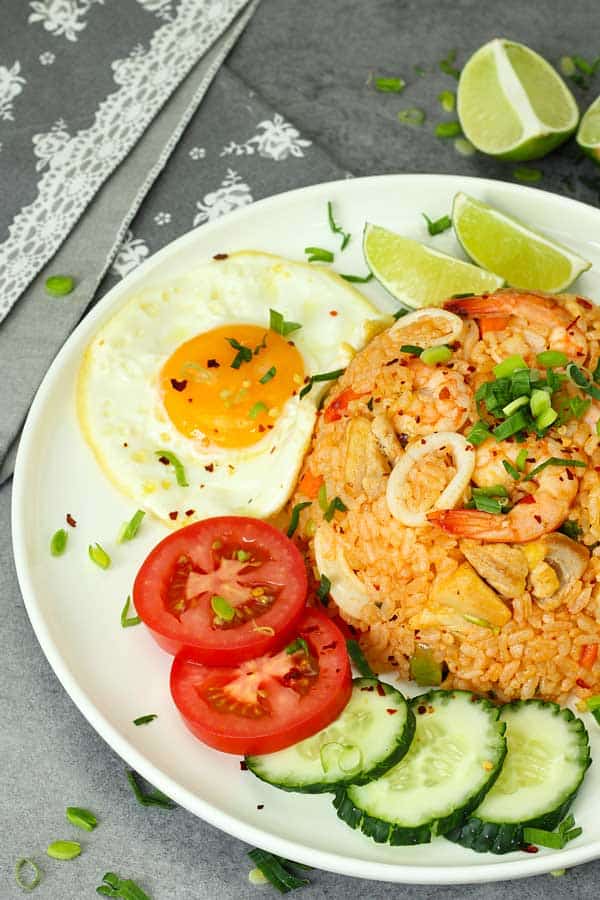 Surf and turf fried rice, Malaysian style!!
Yes, sir!
This surf and turf fried rice is famously known as nasi goreng USA in my homeland country Malaysia. Nasi goreng means fried rice. And nope, USA doesn't mean The United States of America.
USA refers to the protein source that's being used in this meal. U refers to udang (prawns), S refers to sotong (calamari) and A refers to ayam (chicken).
This nasi goreng USA is another variety of fried rice that you can find in Malaysia. Wondering about what else is there? Don't you worry, I have another recipe for you.
Click here to see my spicy village fried rice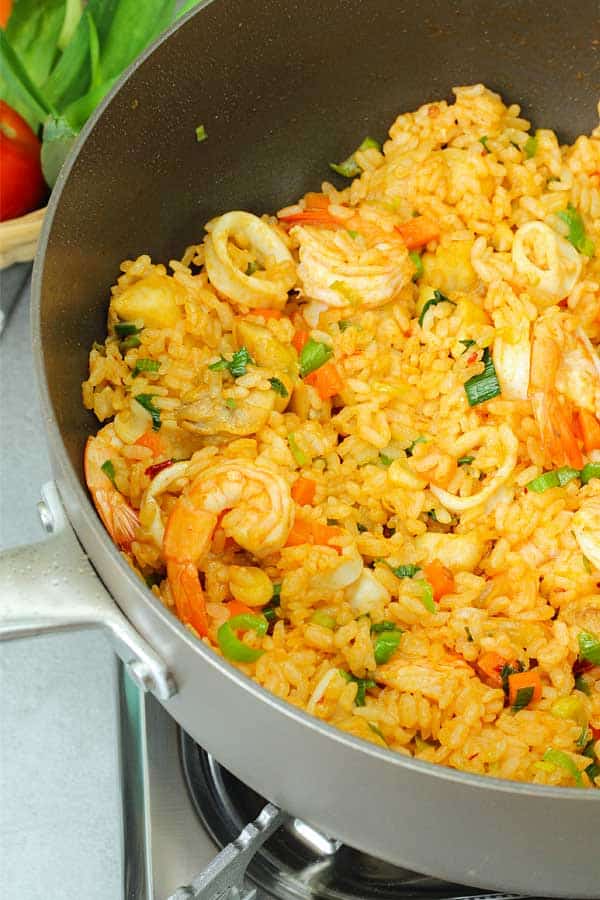 As I was saying, nasi goreng USA is one of the delicious fried rice that you can order in any restaurants, food bazaar or night markets in Malaysia. The ingredients for the nasi goreng is not fixed other than it needs to have all the 3 protein sources that I mentioned earlier.
Nasi goreng USA is typically served with fried egg, slices of cucumber, tomato and some lime wedges on the side.
Disclosure: some of the links below are affiliate links, meaning at no extra cost to you, I will get a small commission if you click through and make a purchase. Everything I mention in this post is what I personally use and recommend.
My Nasi Goreng USA
These days stealing some time to cook a good delicious homemade meal is a struggle, right?
Yes the easiest way out is to buy ready made food, order some deliveries or open up a box of frozen pizza and bake it. I know because I've done that more than I want to admit.
For us at least, after a meal or two of store bought ones.. we will be itching for some home cooked meals. Already.
This nasi goreng USA is one of the fast meals that I like to prepare when I don't really have time (or whenever we crave for it).
It uses super simple ingredients and cooks awesomely fast.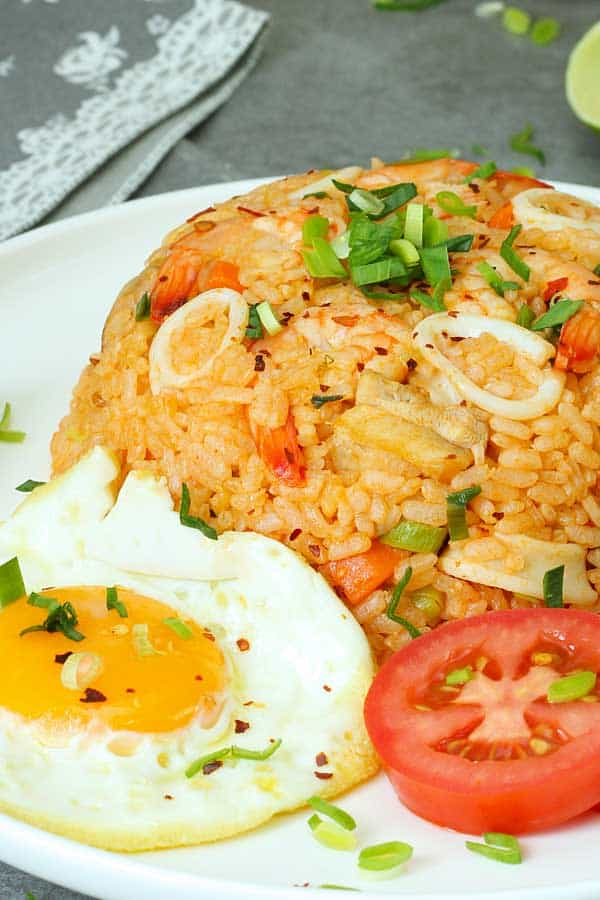 What I like to do before I do any of my stir fry recipes is, I prepare all the ingredients. Meaning have everything chopped, measured and prepped.
For me it's important because stir fry meals only take a few minutes to cook because I always use high heat and I don't want to get overwhelmed with the task of chopping this and that while I'm doing my kung fu moves with my wok.
So my tips for you, prepare ALL of the ingredients before you turn the heat on.
In this recipe I'm using sambal oelek from a bottle (like this one). I always have it in the house for fast meals like this. You can easily find it in any Asian stores or even some supermarkets.
The sambal oelek will just give this nasi goreng a hint of spiciness. If you don't like it then skip it. If you like it extra spicy, use more of it. It's your choice.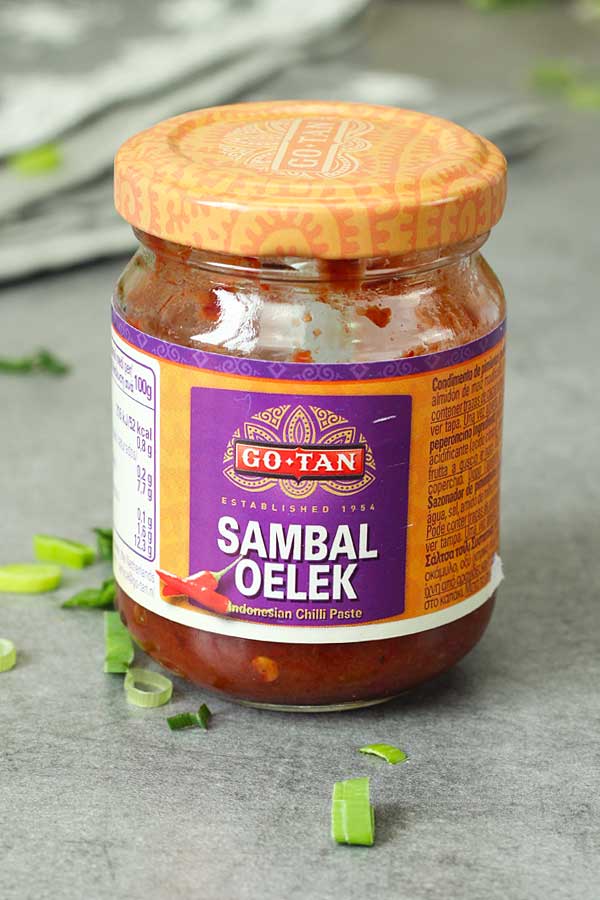 I'm also using fish sauce in this recipe. I love using fish sauce in my stir fry recipes. By using just a bit, it gives the meal that depth of flavour. Delicious!
If you don't have it, then simply use salt to taste to replace it.
There you have it. A simple yet delicious fast meal that's definitely better than a take out that you can easily prepare at home. Adjust it to your liking. Give it a try and let me know what you think.
If you're into stir fry meals, maybe I could convince you to check out my other easy and yummilicious stir fry meals?
Click here to see my Penang Char Kway Teow (Penang style stir fry flat rice noodles)
My easy Pad Thai recipe
If you've made any of my recipes, show us some love! Leave us a comment in our Pinterest, show us photos of your creations or tag us in Instagram. Thank you!
Video
📖 Recipe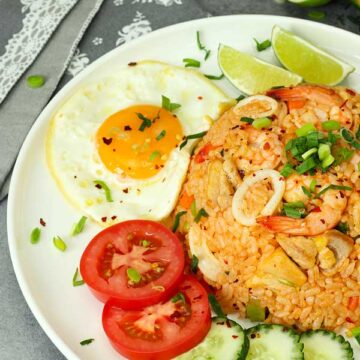 Nasi Goreng USA
Malaysian style surf and turf fried rice or also known as Nasi goreng USA. This super easy, fast and mouth watering fried rice is one of the famous fried rice dishes in Malaysia.
Print
Pin
Rate
Ingredients
2

chicken thighs

, bone in and skinless and cut into 1 inch (2.5 cm)

10

prawns

, peeled and deveined

4

medium sized

calamari

, cut into rings

2

spring garlic

, chopped

½

medium sized

carrot

, cut into small cubes

2

cup

day old cooked rice

(

400

gr)

1

tablespoon

sambal oelek

1

tablespoon

fish sauce

2

tablespoon

ketchup

salt to taste

3

eggs

, fried

1

cucumber

, sliced

1

tomato

, sliced

1

lime

, slice into wedges
Instructions
Prepare all your ingredients before start cooking. It will make the stir frying more convenience. We will use high heat all the time and non stop stir actions.

Heat some oil in a wok, using high heat. Place the chicken and sprinkle some salt. Brown the chicken. When the chicken is almost cooked, add in carrots. Cook until carrot softened a bit.

Then add in the prawns and calamari. Continue cooking until they are fully cooked. Add in rice, spring garlic, sambal oelek, ketchup and fish sauce.

Mix everything well and cook for a further 1-2 minutes. Serve immediately with fried egg, cucumber, tomato and lime wedges on the side.
Nutrition Facts
Calories:
363.3
kcal
,
Carbohydrates:
43.7
g
,
Protein:
28.3
g
,
Fat:
8
g
,
Saturated Fat:
2.2
g
,
Cholesterol:
273.4
mg
,
Sodium:
1357.1
mg
,
Potassium:
682.7
mg
,
Fiber:
2.9
g
,
Sugar:
6.8
g
,
Calcium:
100.3
mg
,
Iron:
2.4
mg