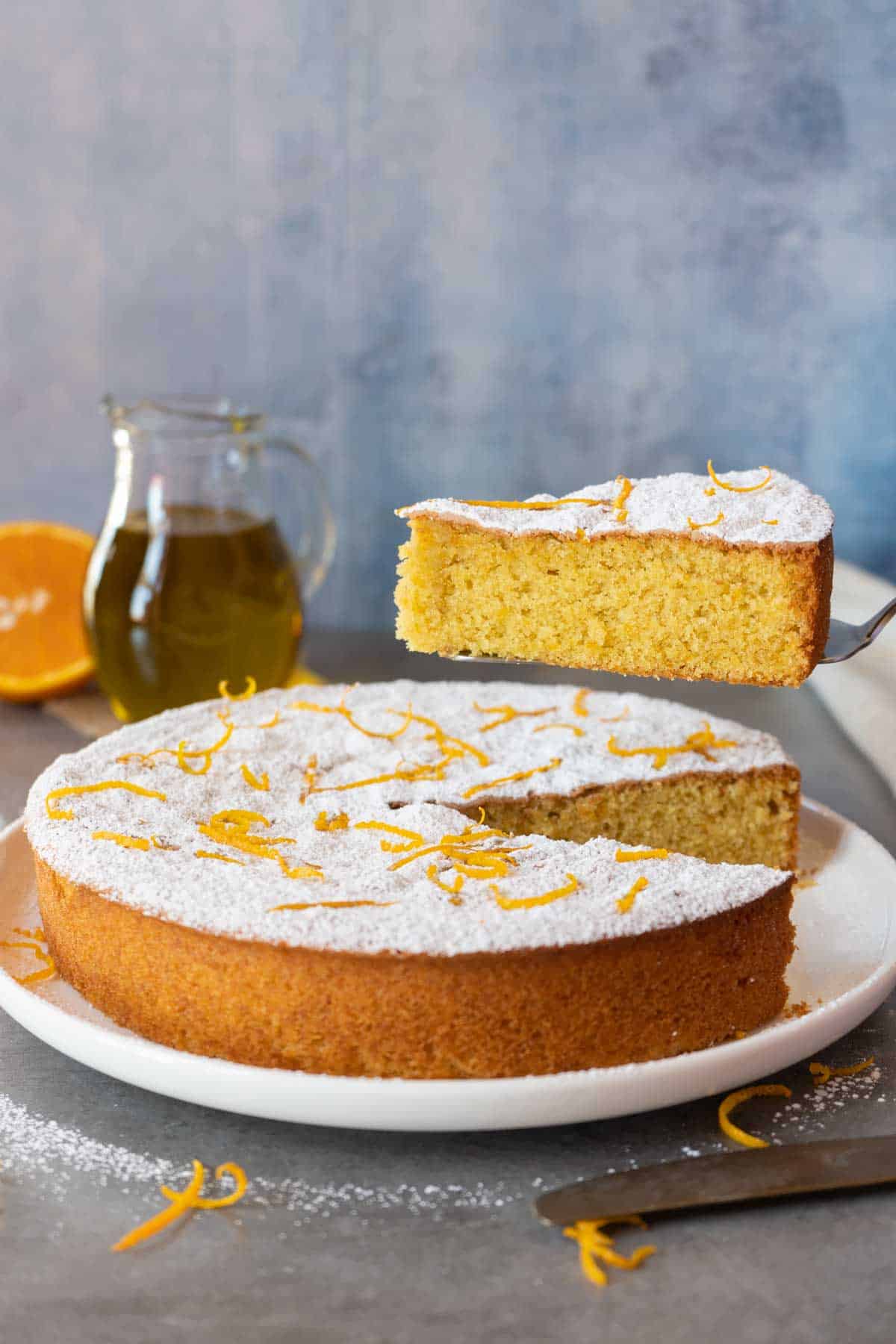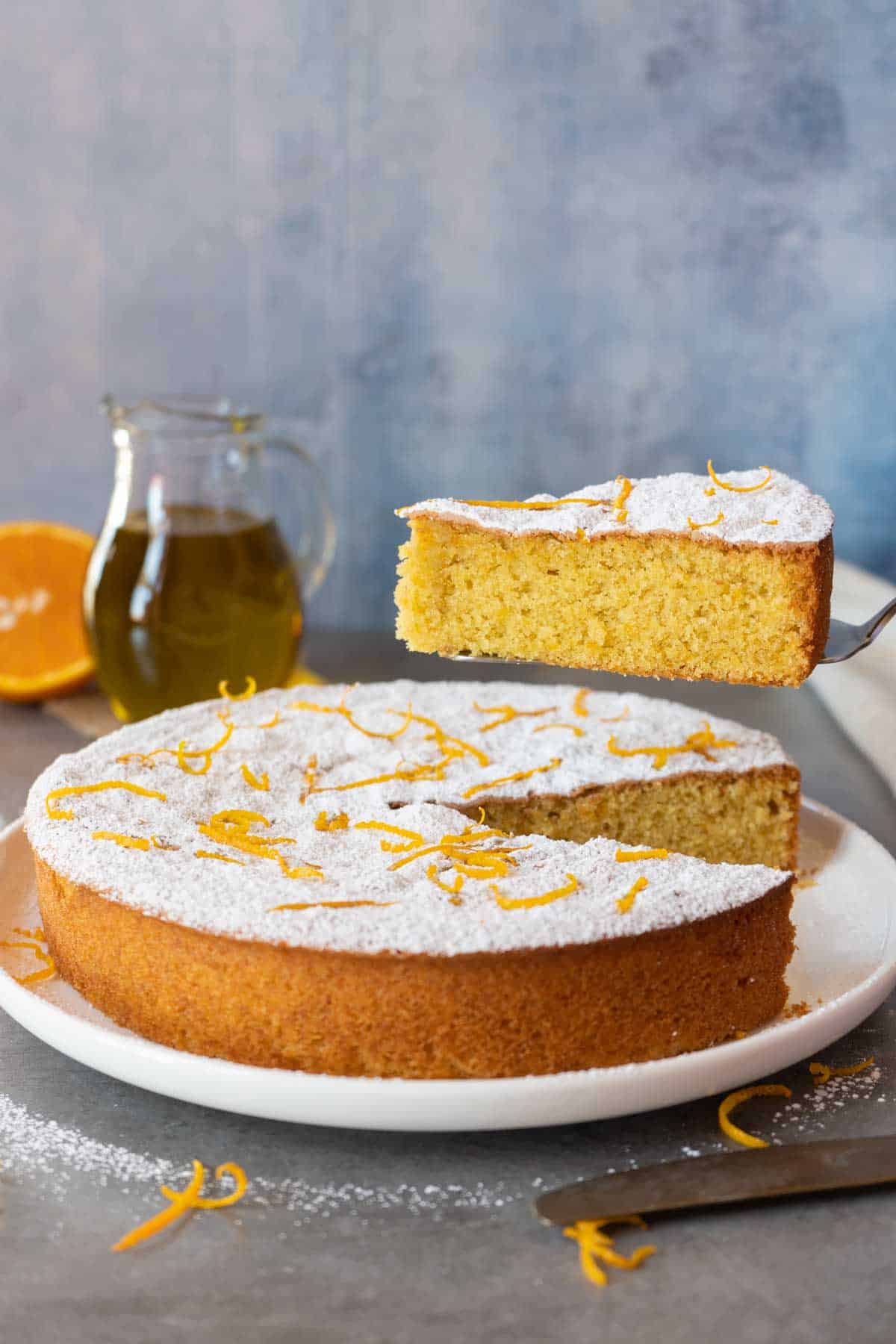 I am super excited to share this week's recipe, which is olive oil orange cake!
Wait until you smell the citrusy raw batter, the heavenly goodness while it's baking and ohhh yes, when you take it out from the oven. Your life would never be the same again (and I refuse to say I'm too dramatic here, because I'm not. haha!)
Let's start, let's start, let's start already!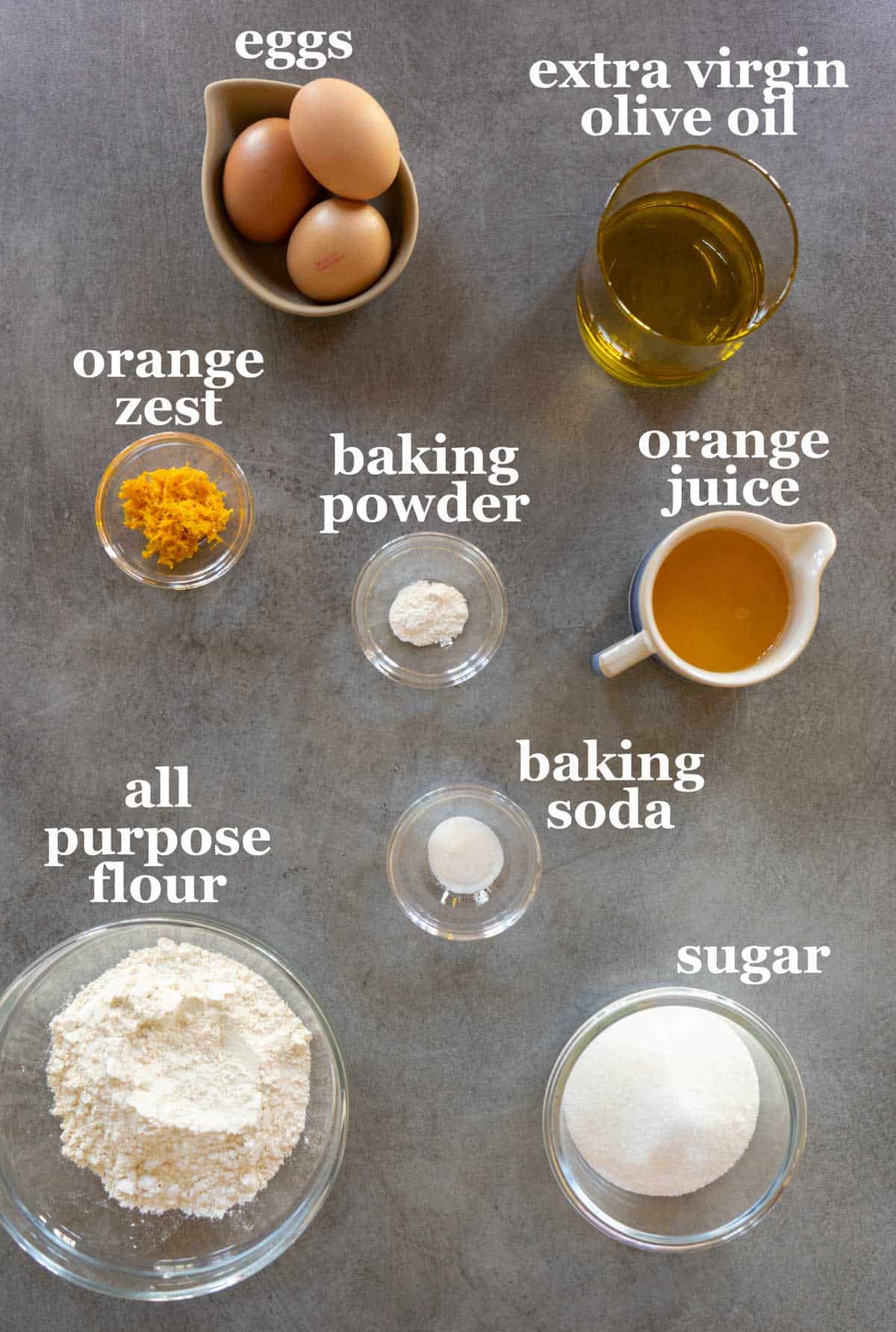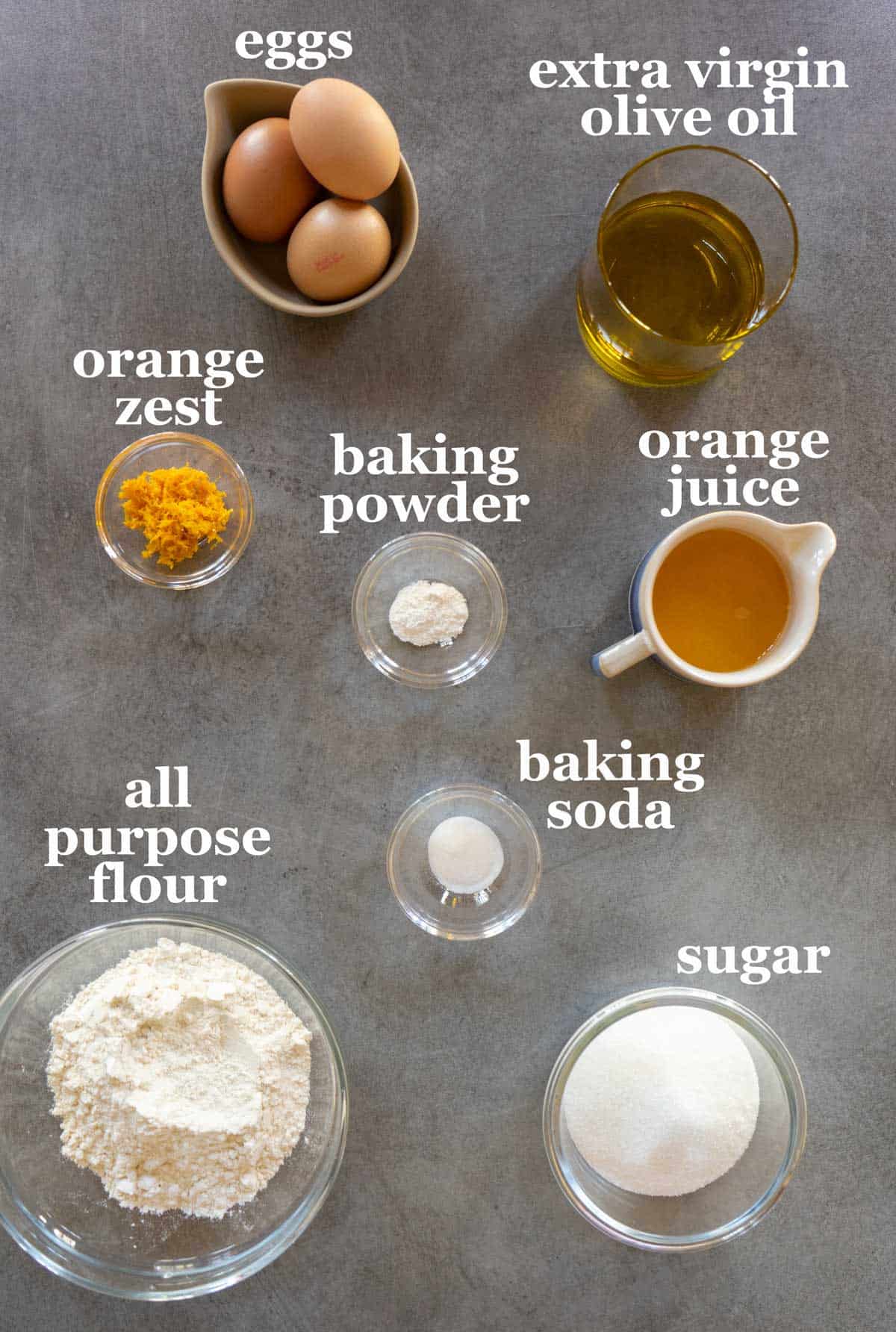 The Texture
I can talk the whole day about the texture of this cake. But I won't because I want you to experience it yourself instead of me convincing you. I'll just say a few words so that you can hurry up and go make this beauty!
The texture of this cake?
Ohh it is super duper soft, fluffy and moist. Seriously, I'm not kidding.
You can already tell just by looking at the crumbs. They don't look compact or dense. No, we don't want any dense cakes here, do we?
You can also see how soft and fluffy it is when you insert a fork into it for a bite, the cake is like a soft sponge. Yum yum!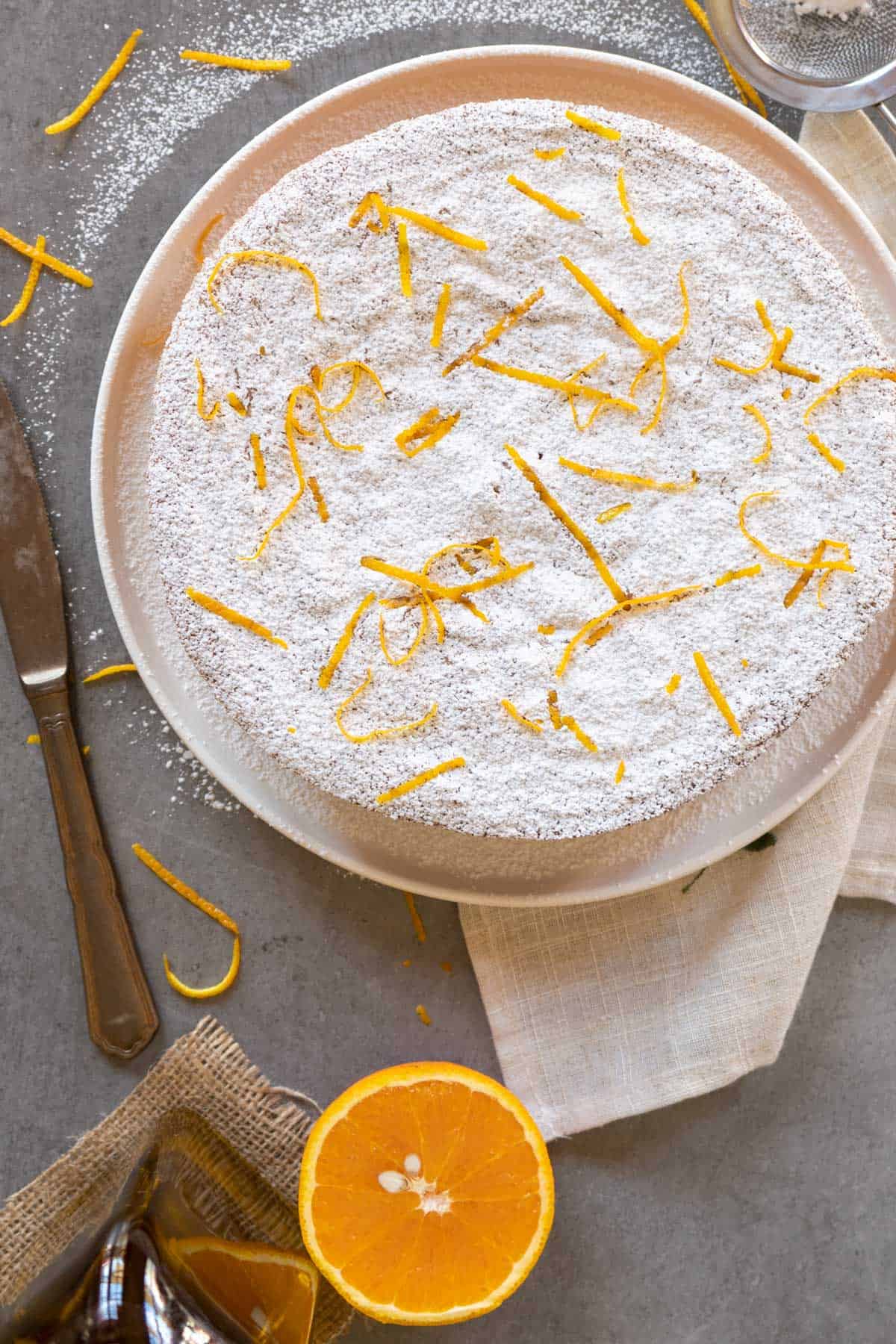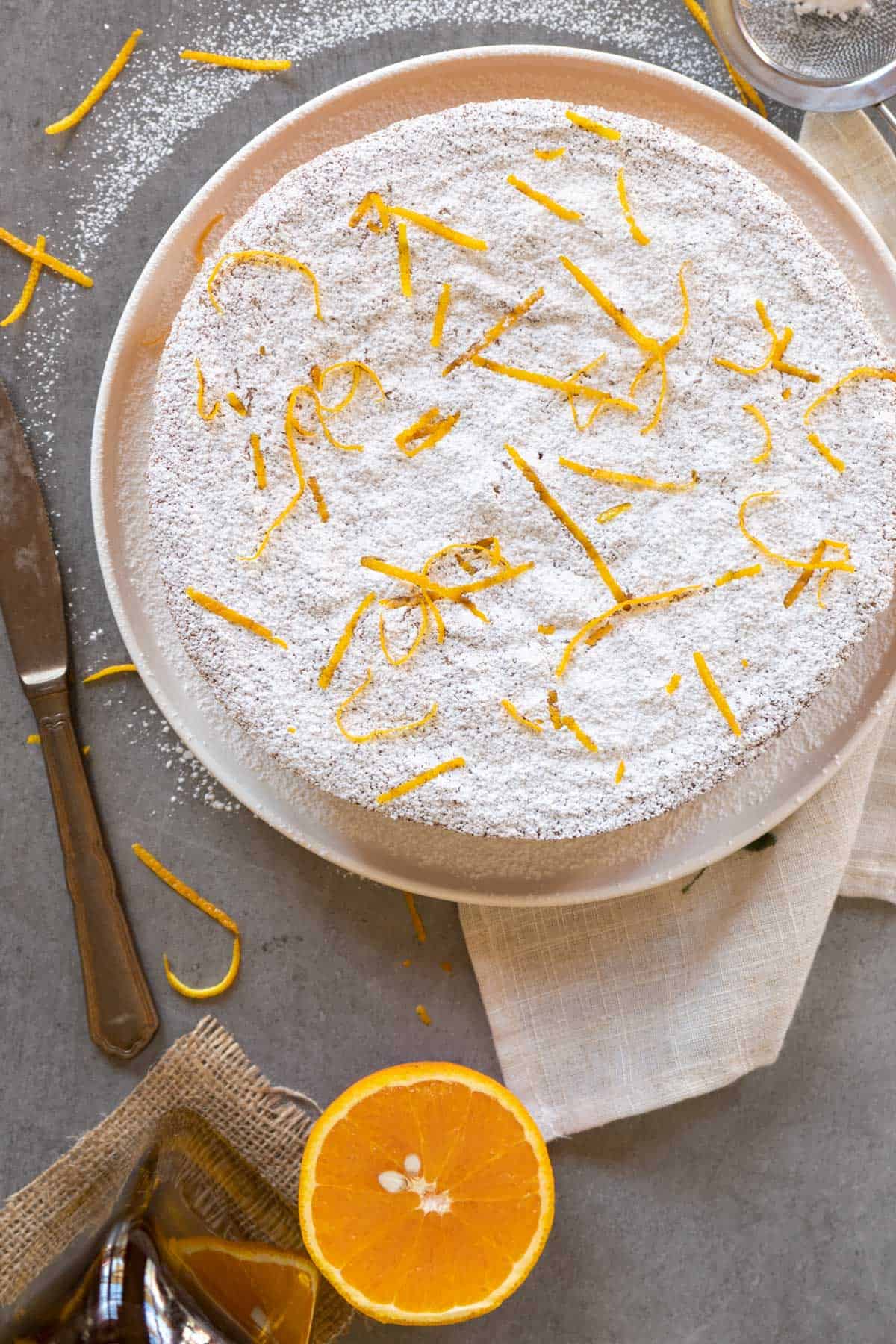 The Taste
I'm using a lot, and when I say a lot, I meant ¾ cup of extra virgin olive oil for this 9 inch (23 cm) cake.
With that amount, you can really taste the olive oil in the cake with every bite that you take. It's so beautiful and amazing to be able to taste it, more in a cake like this.
I don't know about you but I just love extra virgin olive oil. The fruity taste, a bit tangy, slightly natural bitter taste of a good quality extra virgin olive oil... oh so delicious. Since Spain is one of the world's largest producers for good quality olive oil, so it's not an expensive oil here. We only buy extra virgin olive oil for the house for our daily cookings.
The orange touch is just to give a slight citrusy flavour to the cake, which I think is just perfect.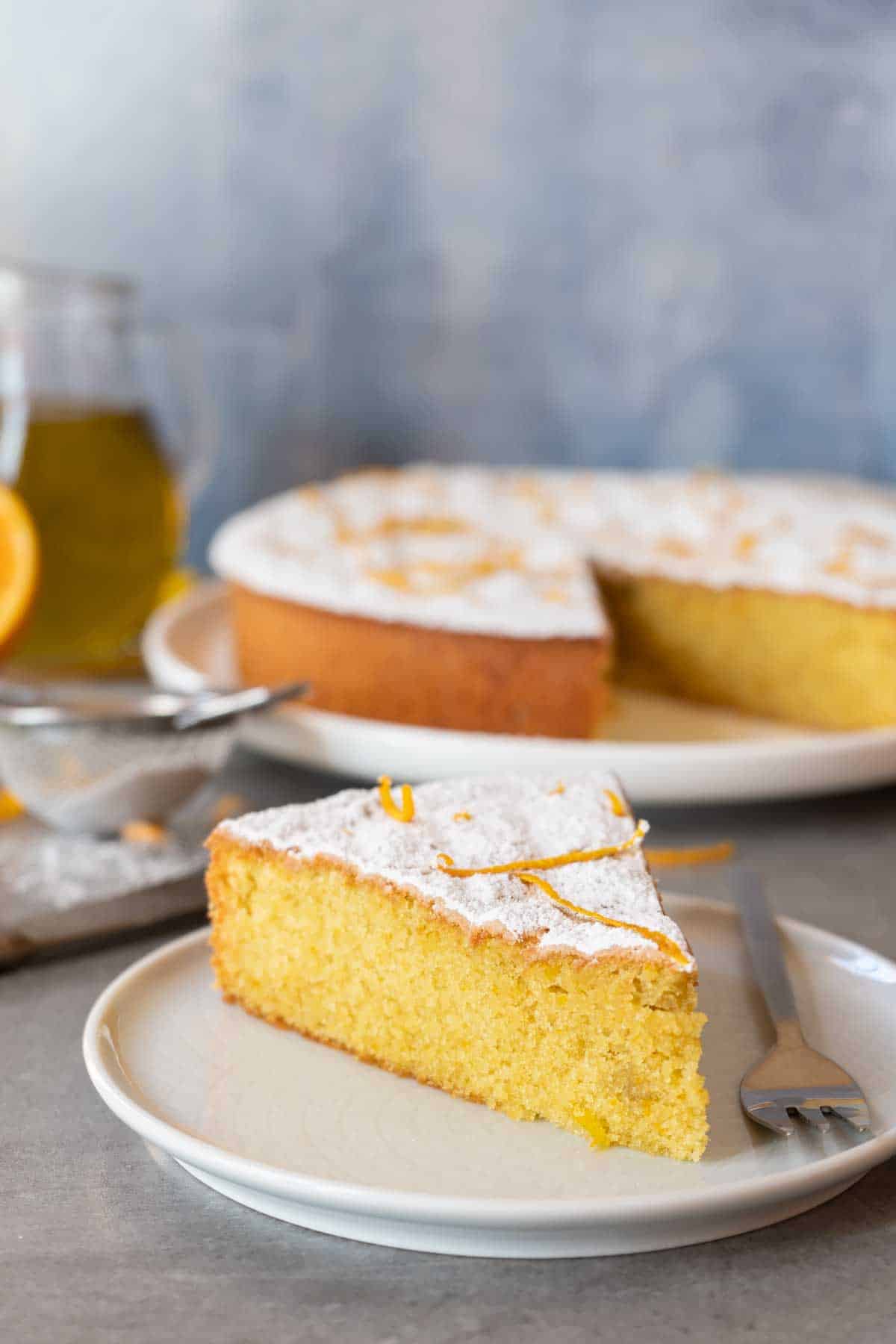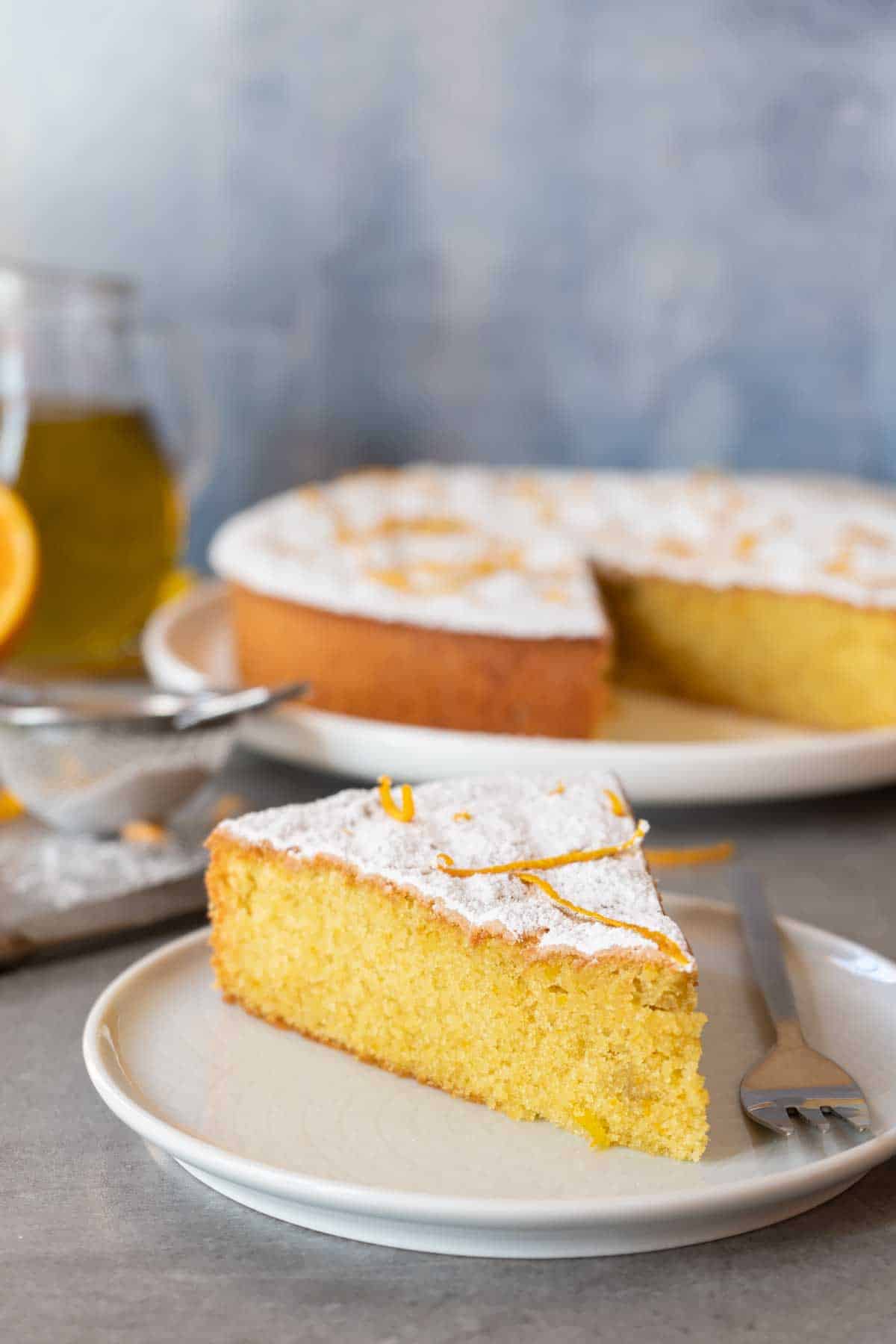 Extra Virgin Olive Oil
Ok now let's talk a bit about olive oil for this cake.
Like I mentioned earlier, I use extra virgin olive oil. What is that?
Well as we all know, olive oil is the oil from olives. Yes, it's literally that. There are varieties of olive oil in the market but we often come across to olive oil and extra virgin olive oil.
Extra virgin olive oil is different from just olive oil in the sense that it's:
the highest quality of any olive oil where you press the olives to get the oil without using high temperature or any chemicals
pure olive oil that's untreated
not mixed with other grade of olive oil
with stronger natural taste (fruity, touch of tangy and bitter)
high in antioxidants
Having those in mind, I'd really recommend you to find an extra virgin olive oil for this recipe. You will not regret it. It is an olive oil cake after all so we want those beautiful flavours of a good olive oil so that's it's worthy of its name.
Give this recipe a try and let me know what you think 🙂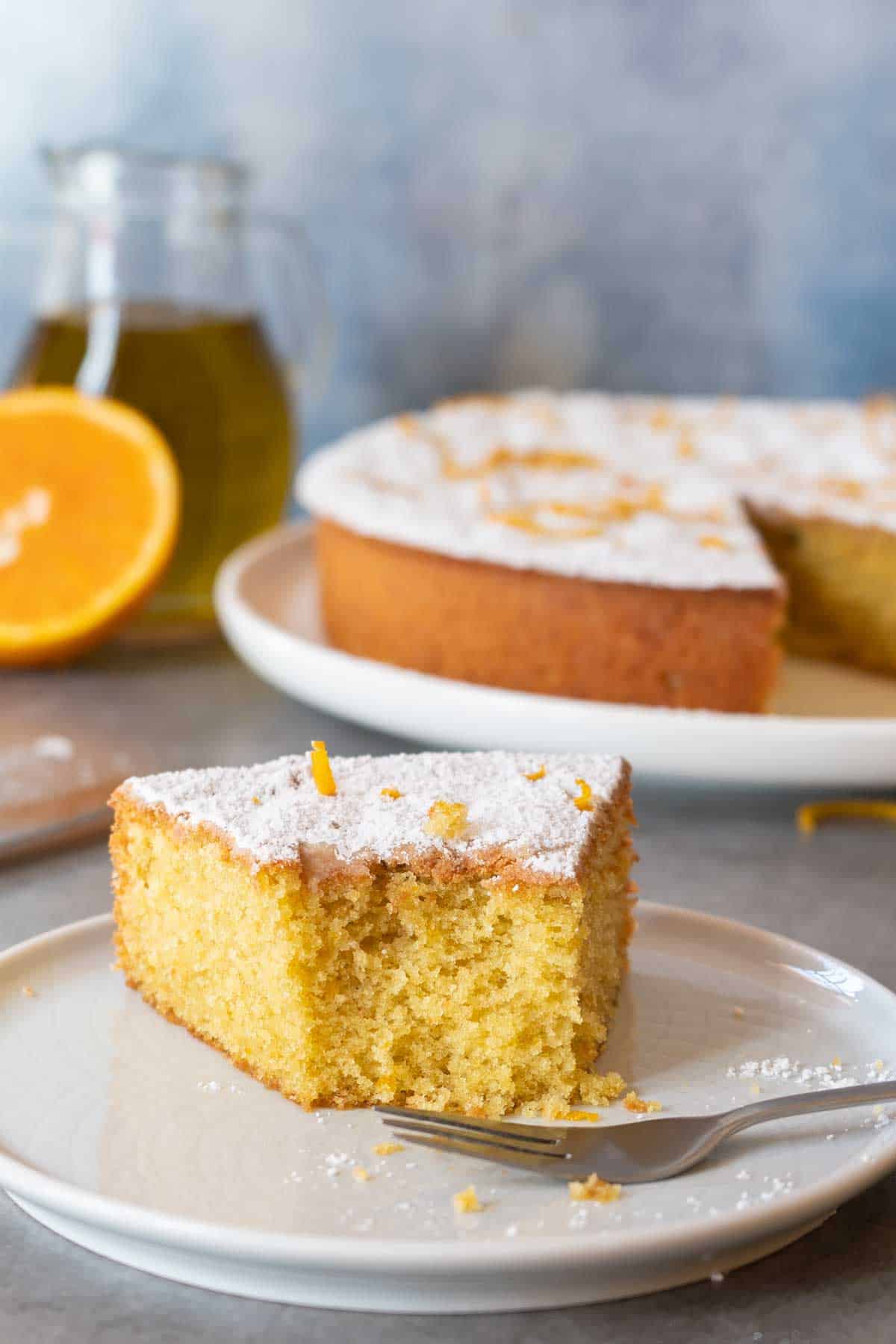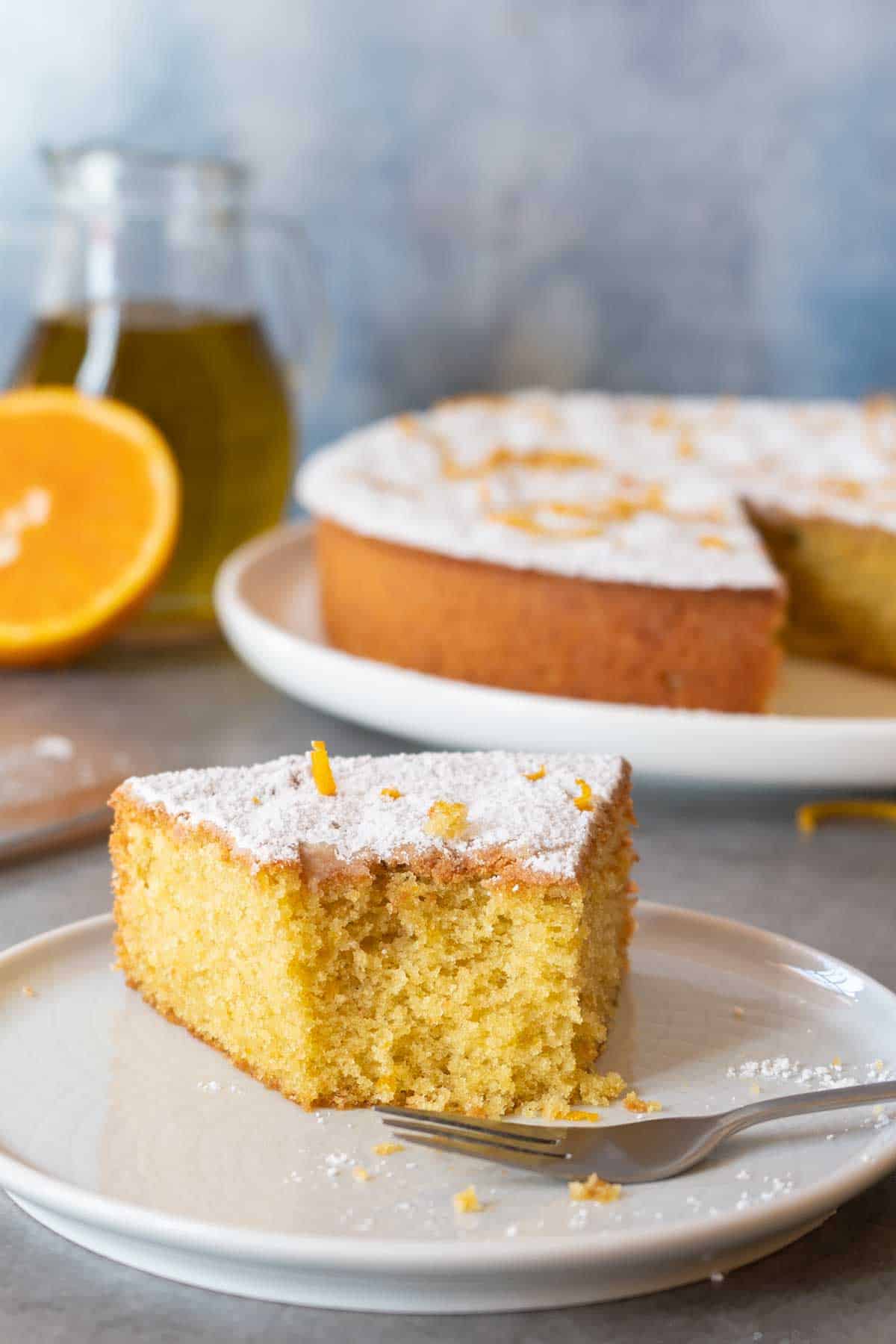 Hungry For More?
Do check these out, they're our readers' favourite cakes:
Video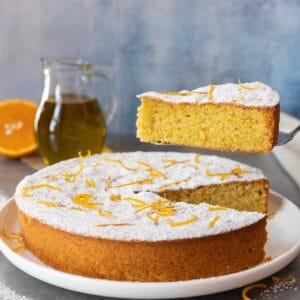 Olive Oil Orange Cake
Super soft and fluffy olive oil orange cake that is super easy to make. It takes only a few basic ingredients to prepare this delicious must-make cake. Just a hand whisk and some minutes of your time, you'll be enjoying this treat in no time. Do try!
Print
Pin
Rate
Ingredients
Dry Ingredients
1 ¼

cup

all purpose flour

(

160

g), use scoop and level method

½

teaspoon

baking powder

½

teaspoon

baking soda
Oil Mixture
¾

cup

extra virgin olive oil

(

190

ml)

¼

cup

orange juice

(

60

ml)
Wet Ingredients
3

large eggs

, room temperature

¾

cup

sugar

(

150

g)

zest of 1 orange
Topping
some powdered sugar

some orange peel
Instructions
Dry Ingredients
Mix all ingredients in a bowl and set aside.
Oil Mixture
Mix all ingredients in a jar and whisk well to combine. Set aside.
Wet Ingredients
In another bowl, add in eggs and sugar. Using a hand whisk, whisk the mixture until it turns pale. This will take a few minutes.

Now we will add dry ingredients in 3 times, alternating with oil mixture. Whisk until everything is well combine after each addition but make sure you don't over mix. Try to scrape the bottom of the bowl as you go to mix better.
Baking
Pour batter in a 9 inch (23 cm) round pan that has been greased and lined at the bottom. Bang the pan 2 times on the working surface. Bake in a preheated oven at 340ºF (170ºC), fan off, at ⅔ lower rack, for 25-30 minutes or until you insert a wooden skewer in the center of the cake and it comes out clean.

Remove from the oven and leave it for 10 minutes before flipping it on a rack to cool completely.

Dust with powdered sugar and sprinkles of orange peels. Slice, serve and enjoy!
Notes
use scoop and level method if you're using cup measurements
since all oven come with different strength of temperature, I'd really recommend you to use portable thermometer for a more accurate temperature reading, thus preventing cases of cake collapsing in the middle
do not over mix the batter because then you will loose all the air, resulting a dense cake
Nutrition Facts
Calories:
300.3
kcal
,
Carbohydrates:
30.1
g
,
Protein:
3.7
g
,
Fat:
18.8
g
,
Saturated Fat:
2.9
g
,
Cholesterol:
55.8
mg
,
Sodium:
99.3
mg
,
Potassium:
55.8
mg
,
Fiber:
0.7
g
,
Sugar:
16.9
g
,
Calcium:
26.8
mg
,
Iron:
1.2
mg