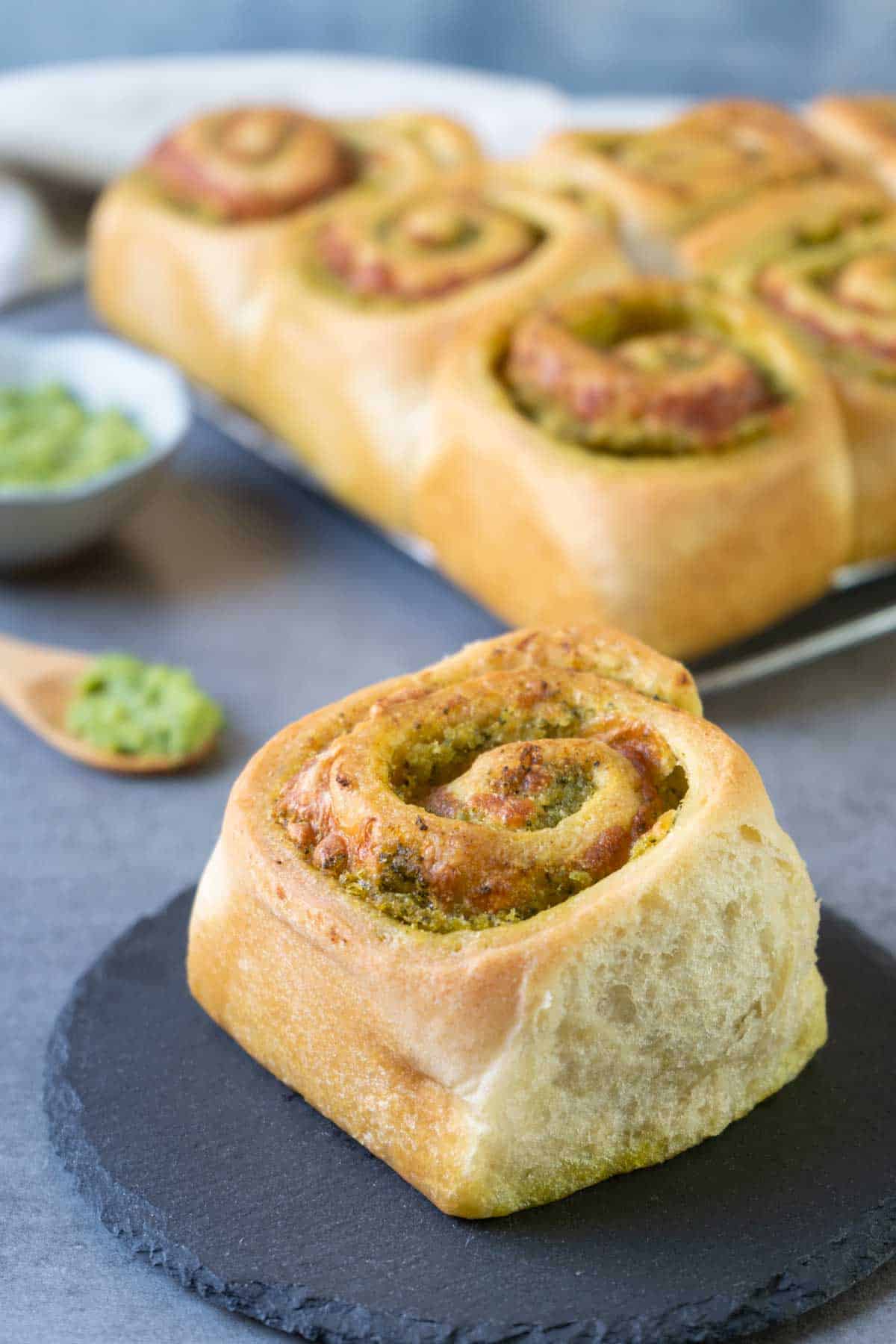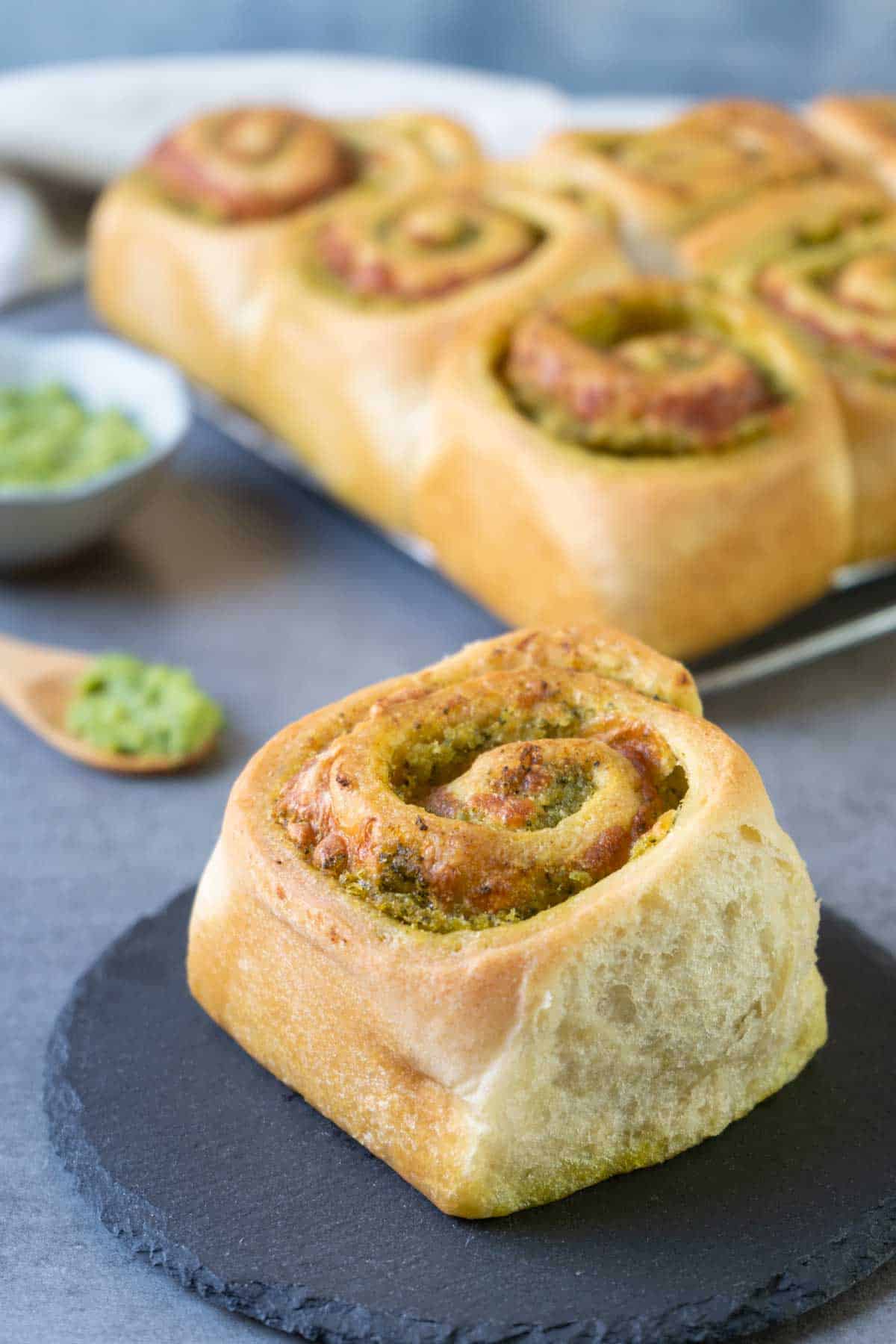 Another week and another recipe to share. This week I'm going to share something a bit different, no sweet treats this week.
Instead I'm sharing pesto bread rolls! Yeaaaaayyyy!
Let's just dive straight in!
Super Fluffy Roll Buns
These buns are super fluffy and buttery. I'm not kidding you!
You can see in the video below on how fluffy they are. A touch of honey and a yolk really help. And ohh, butter. Though it feels buttery but you don't need much in this recipe.
The buns texture reminds me a bit of brioche. Yum yum yum!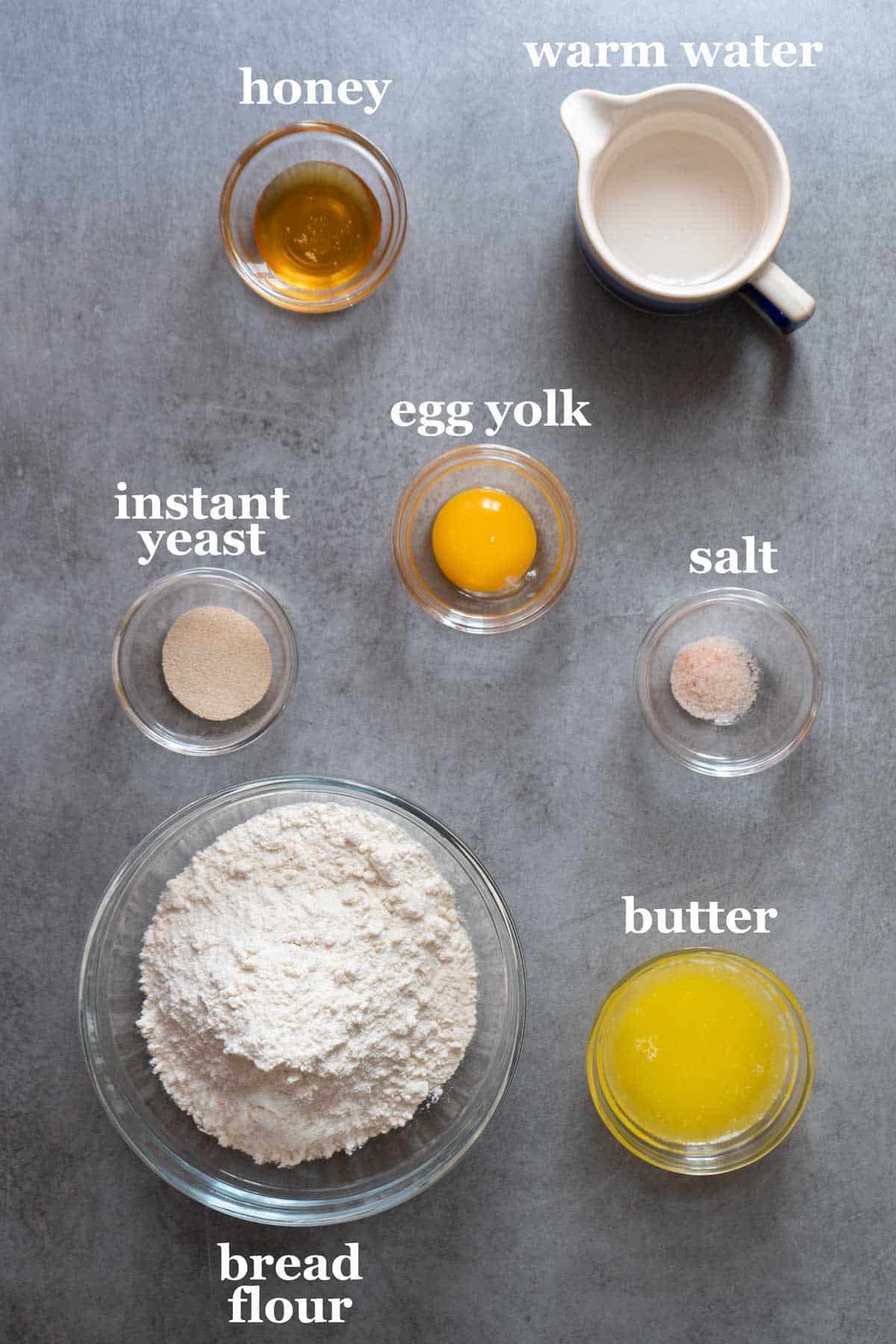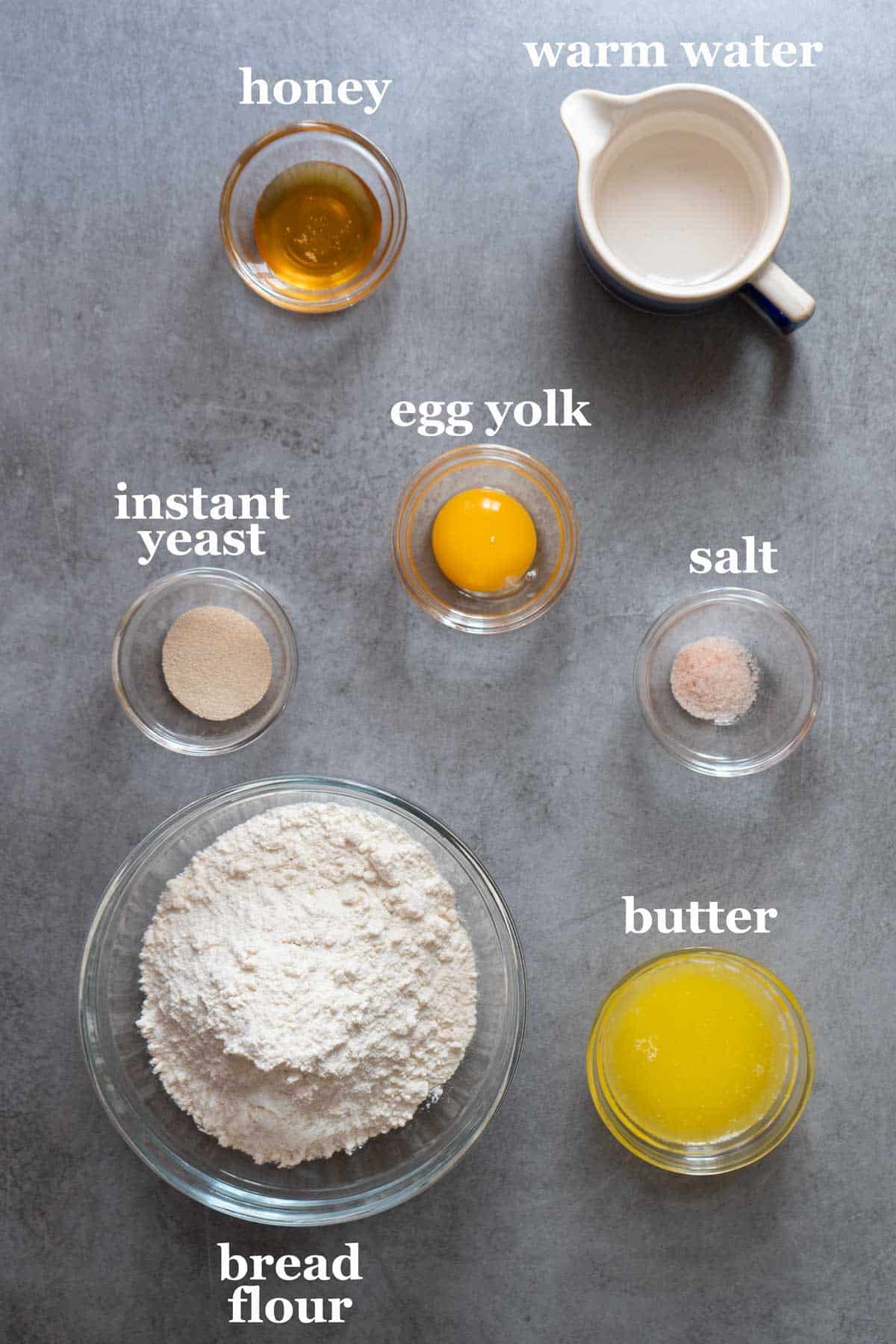 You can use this roll buns recipe for both sweet and savoury. In fact I used the same one for my apple cinnamon roll buns, except that I used more honey for those.
This super fluffy roll buns recipe is a keeper. You will not need other, I promise.
Pesto
Ok let's talk about the second hero of this delish beauty. The pesto.
Homemade
For this recipe I'm using my walnut basil pesto but with slight tweaks. This is a family recipe from Marco's family. You can use yours, no problem at all.
But if you're making your own pesto, I'd strongly recommend that you reduce the amount of olive oil. By lots.
Why?
Because we don't want the pesto to be too liquidy since we want to use it as the filling. It'll make spreading, rolling and cutting easier. Not messy.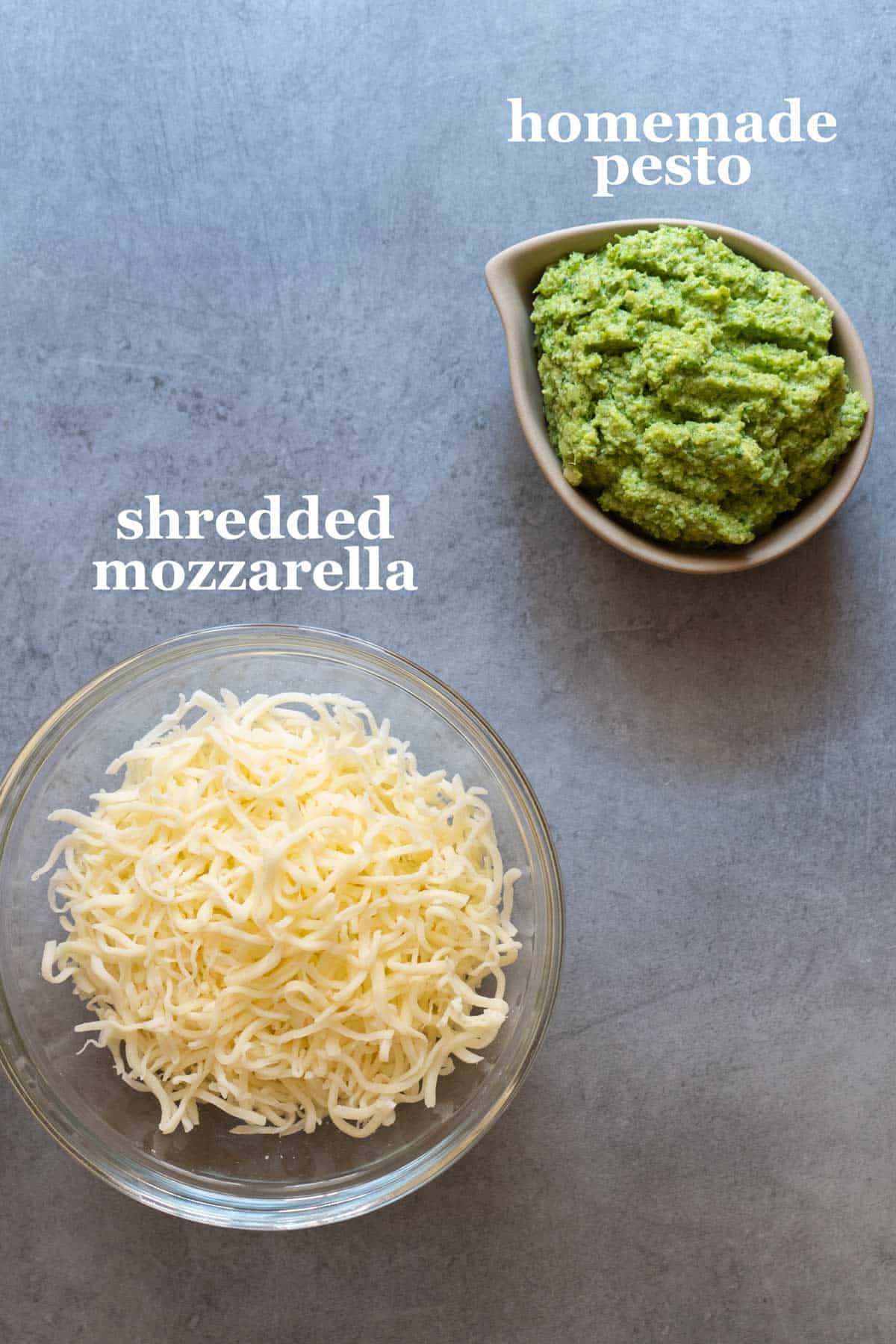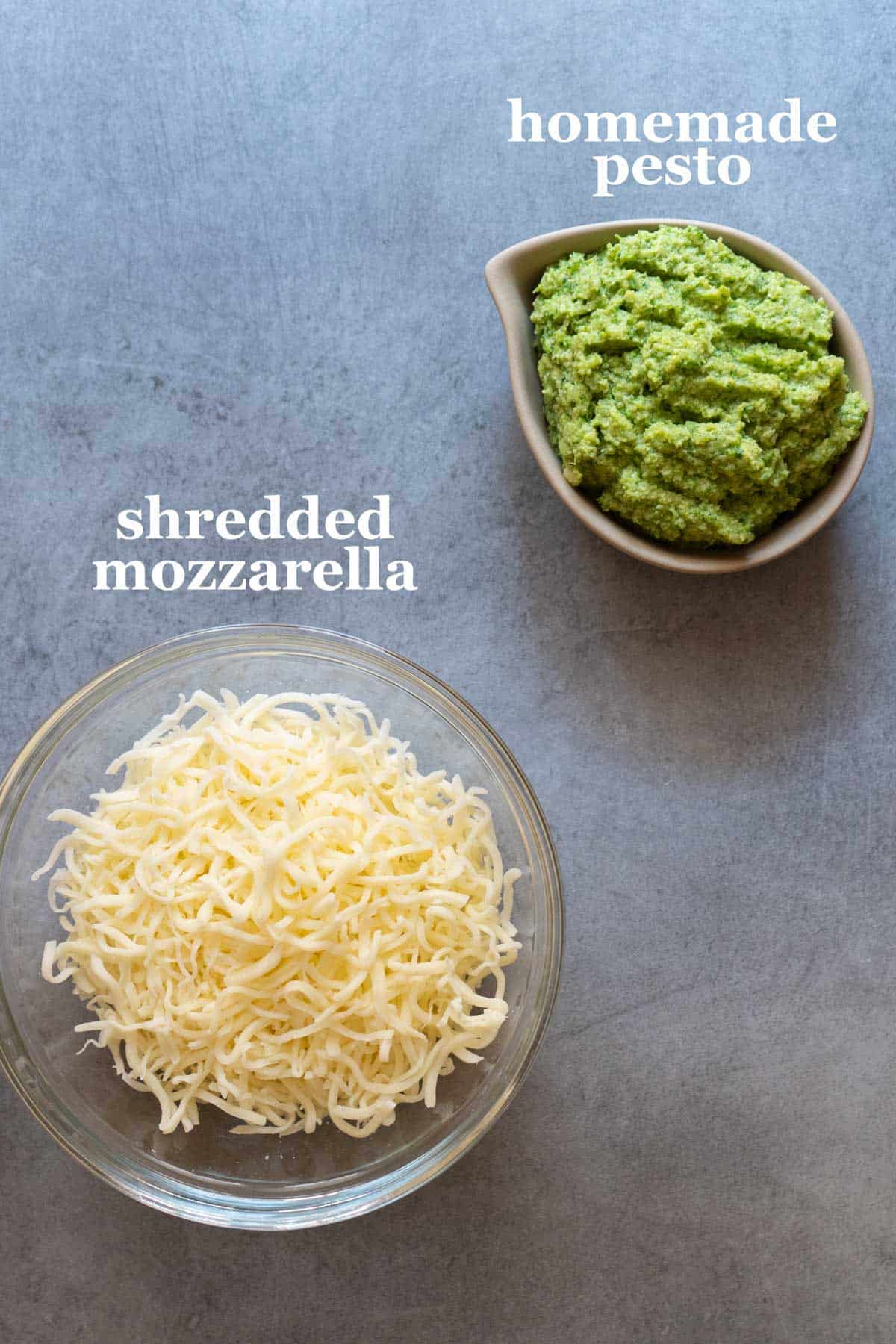 Store-bought
Yes, of course you can use store-bought pesto. Nobody's going to put you in jail for that. By all means, use it.
We all know cooking and baking are not that easy these days, so you do what's convenient for you.
Adjust to taste
Regardless of homemade or store-bought pesto, what you need to do is adjust the quantity that you use for the filling, depending on the saltiness of the pesto.
Some pesto are very salty (especially store-bought ones). So use your common sense and adjust to taste, alright?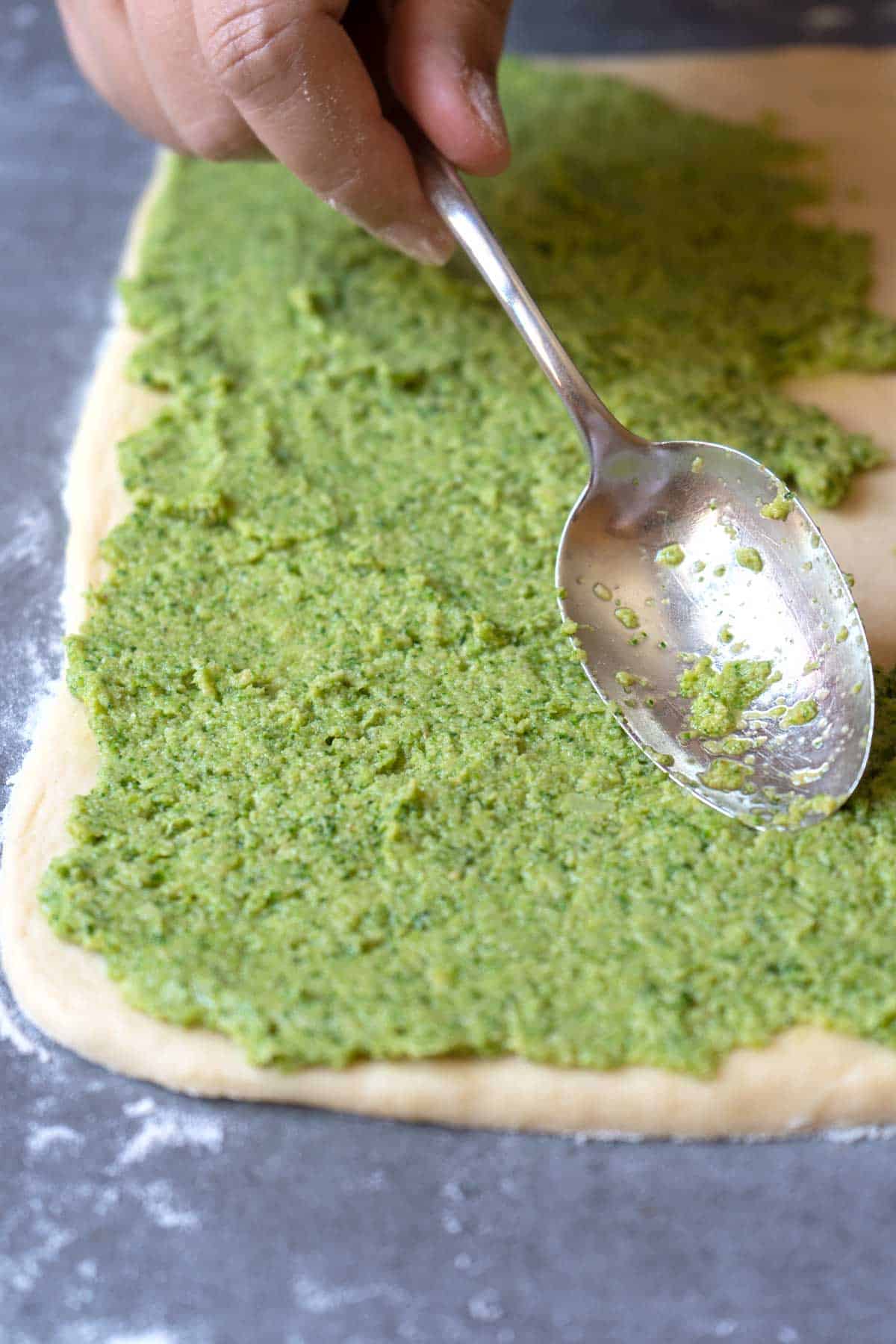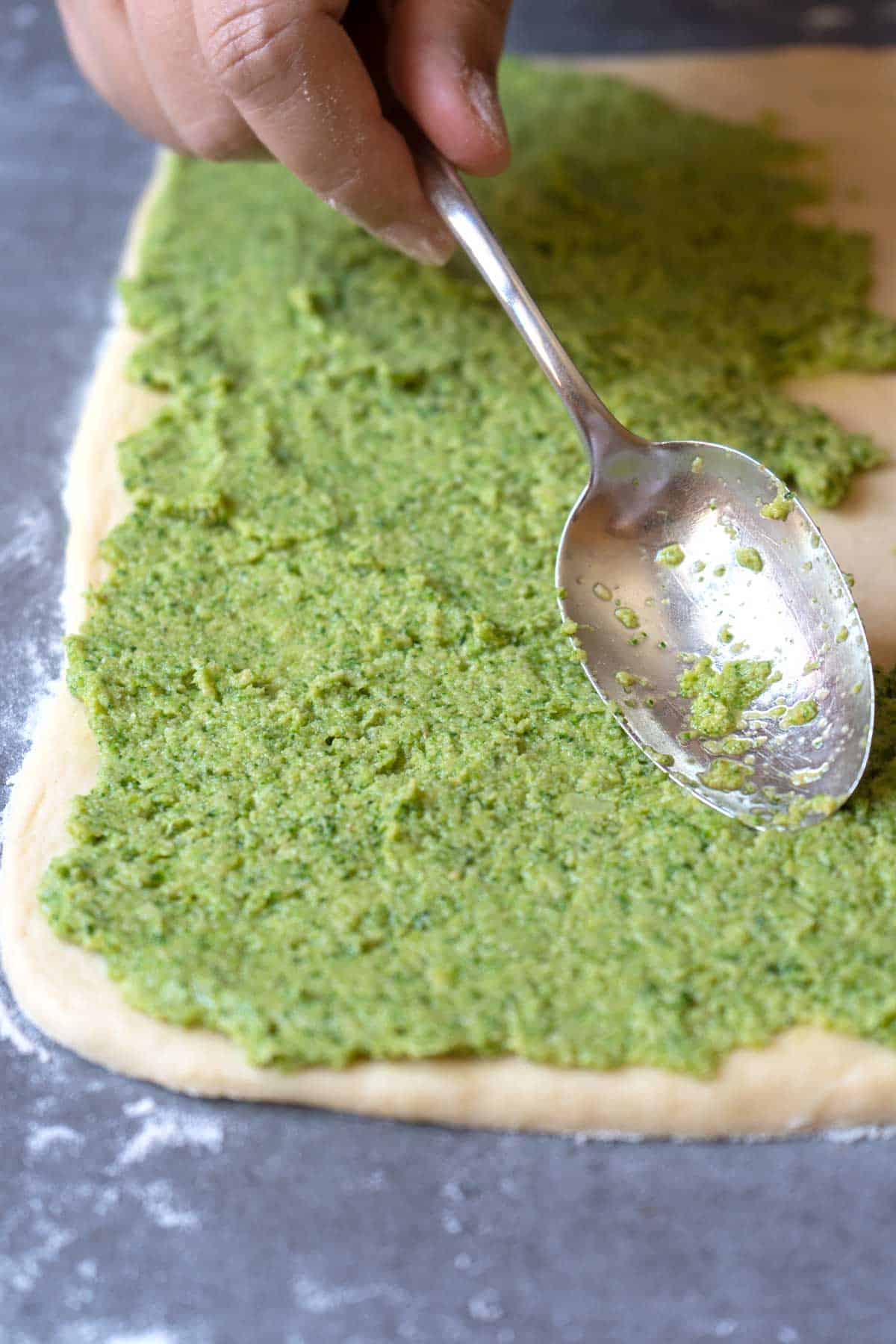 Fun
I don't know about you but I just LOVE making breads, of any kind. And it has been quite a while since I shared a bread recipe here, isn't it?
These bread rolls are fun to make, and super easy. We had extra fun filming the video for this recipe. It's our first yeast-knead bread recipe since we moved to this house.
Having to use our tiny island as the work table where we put the Kitchenaid to knead the dough, ohh you should have seen it. The island was moving so much that Marco and I were thinking, Do one of us have to hold it down during the filming so that it doesn't show like we were experiencing an earthquake? Haha!
Anyway.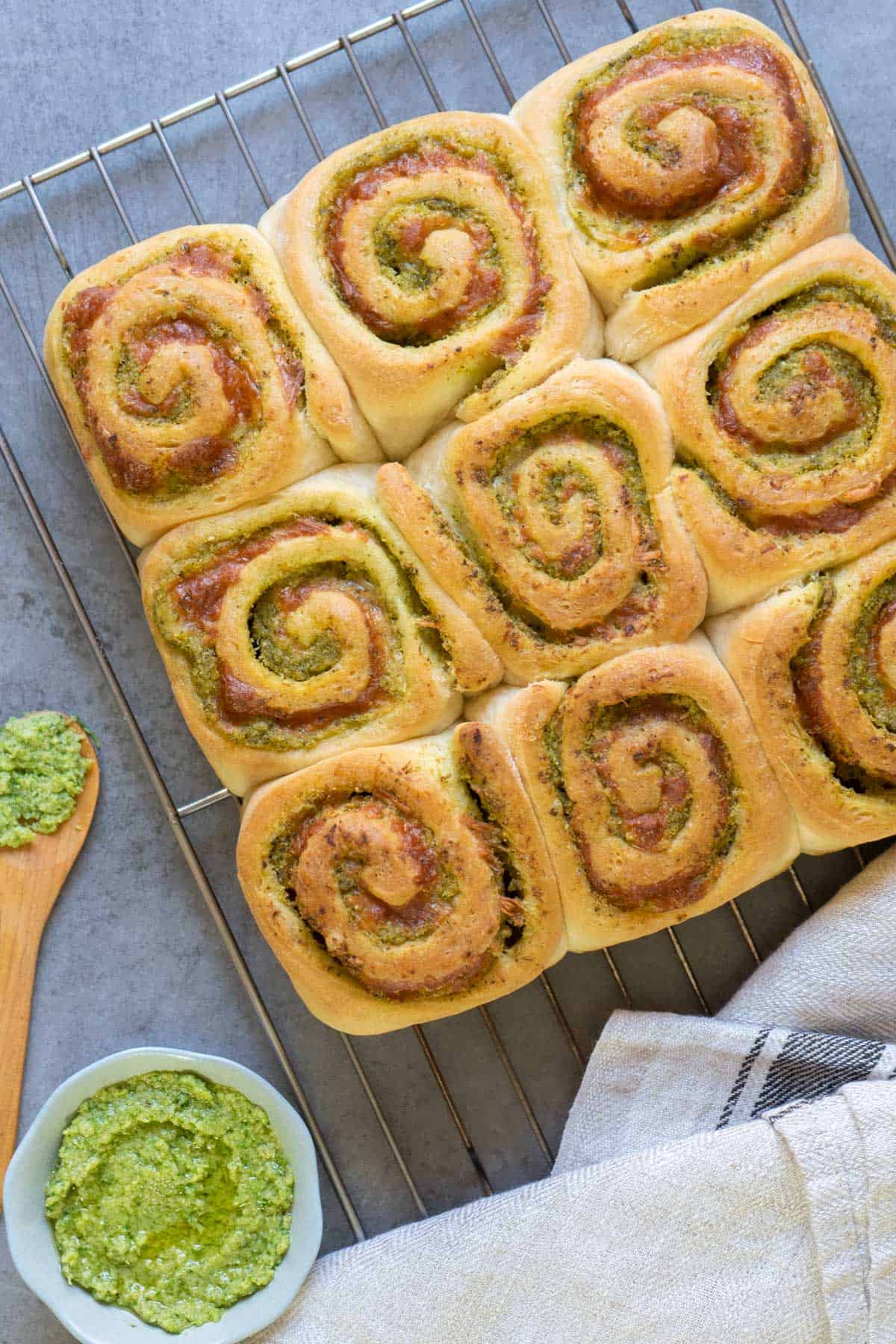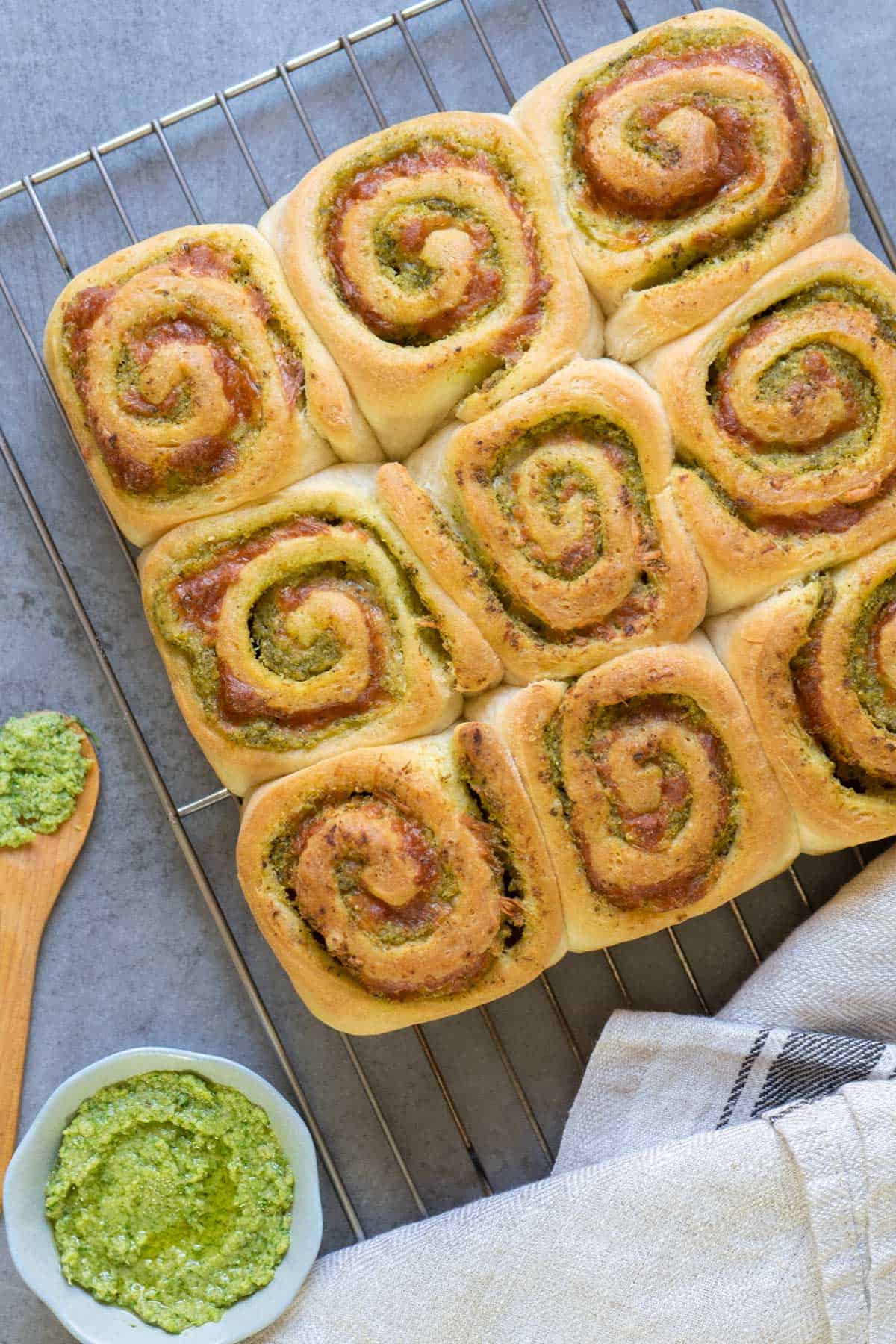 This week's recipe was chosen by all of you when I asked the other day in my InstaStory. It was between these pesto bread rolls and pan-fried steam buns. We both were eagerly waiting on what would you guys choose because depending on the result, that will determine if we needed to go out to buy the the ingredients or not.
Long story short, if you guys chose pesto bread rolls then we didn't need to go out. If not, yes we had to. And I remember before going to sleep that night, I told Marco, Looks like we need to go out tomorrow to buy ingredients. Let's be ready with the masks, gloves etc. Let's go at the time when there's not so many people in the supermarket. You know, all those precaution steps.
And the next morning when I checked, I told him, Ermm I think we don't need to go out!. Haha! Am I experiencing FOGO (fear of going out)?
Anyway, it was fun for us. Yeah, we really redefine the word fun, eh?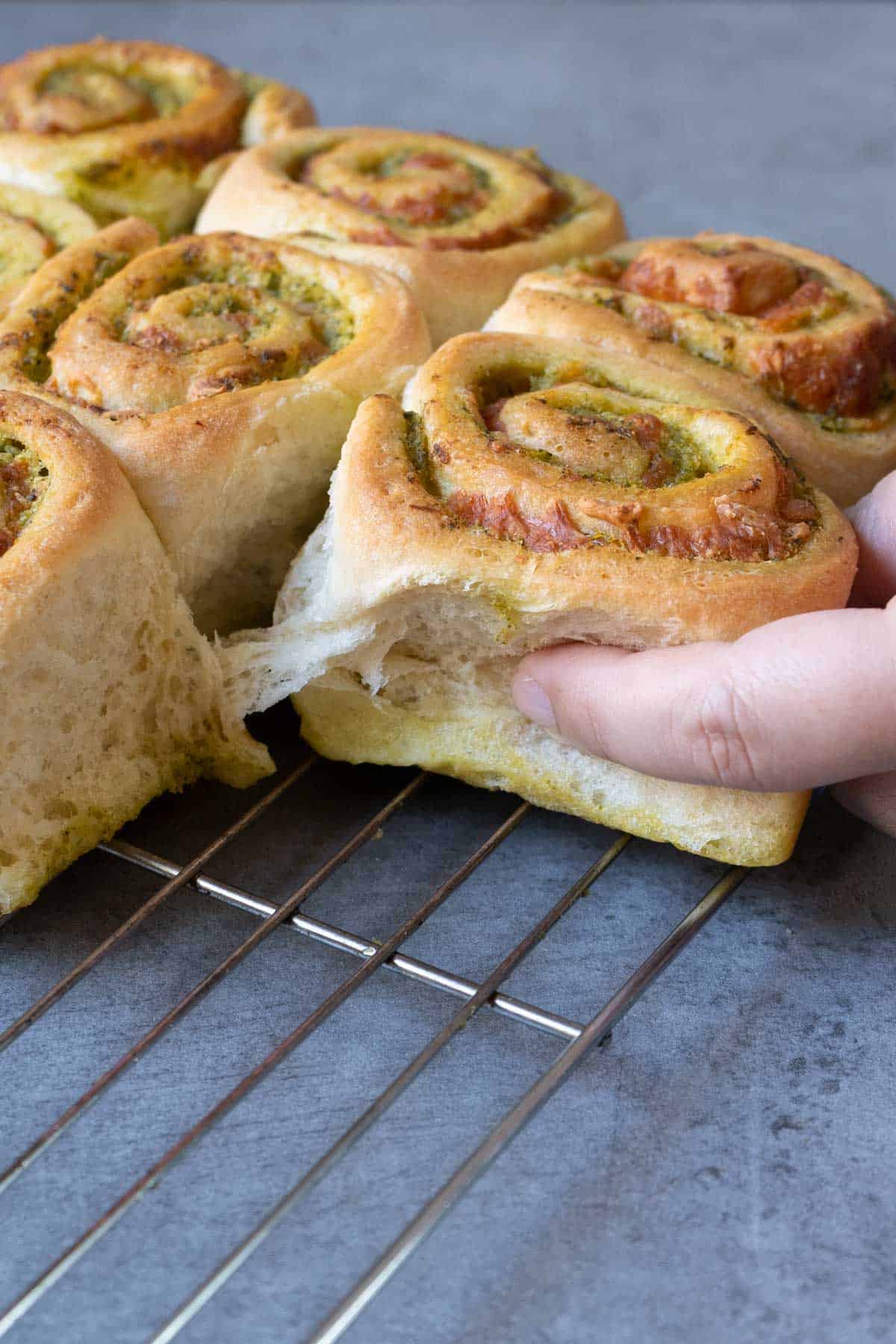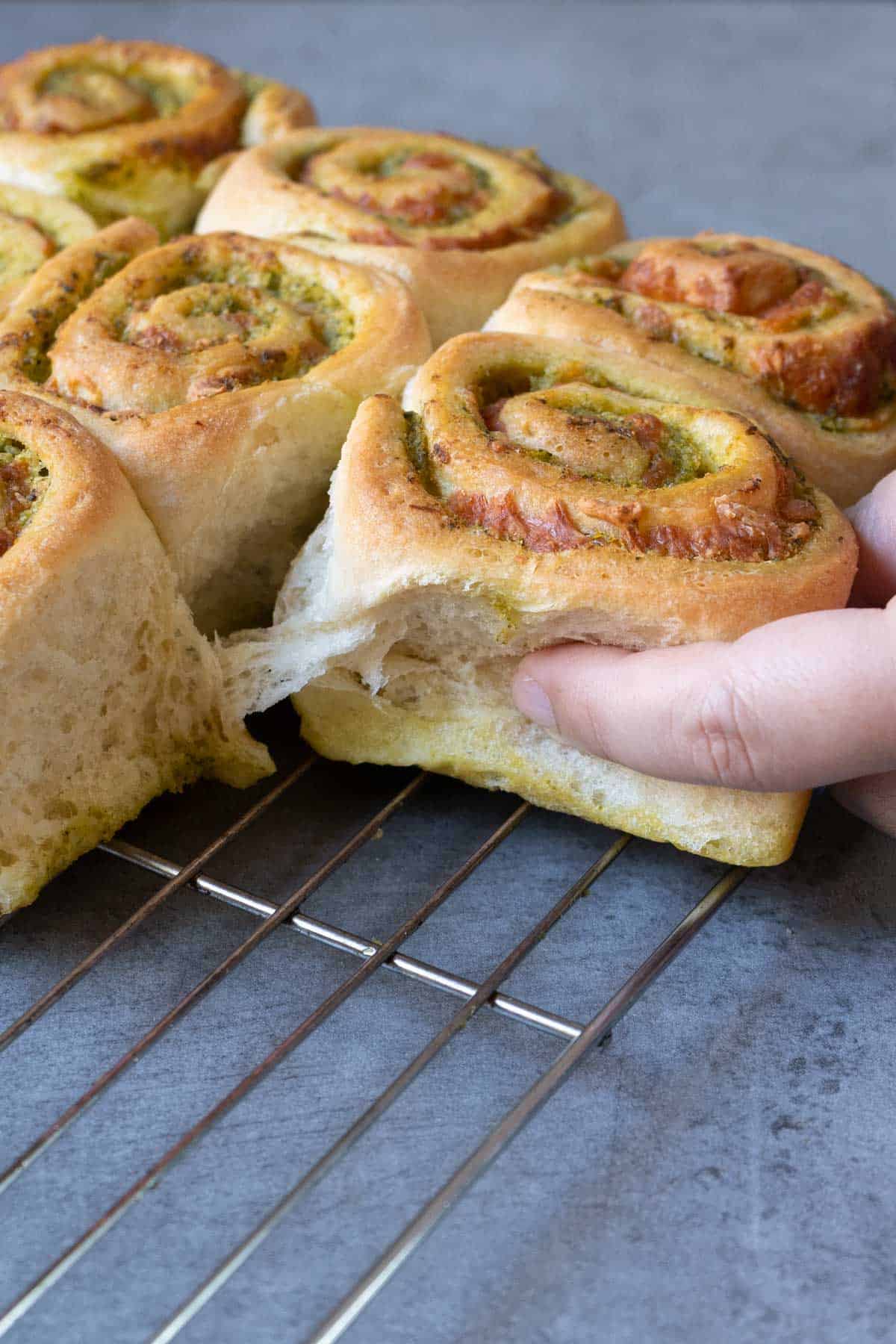 Hungry For More?
Check these out:
Video
📖 Recipe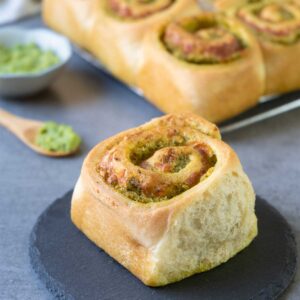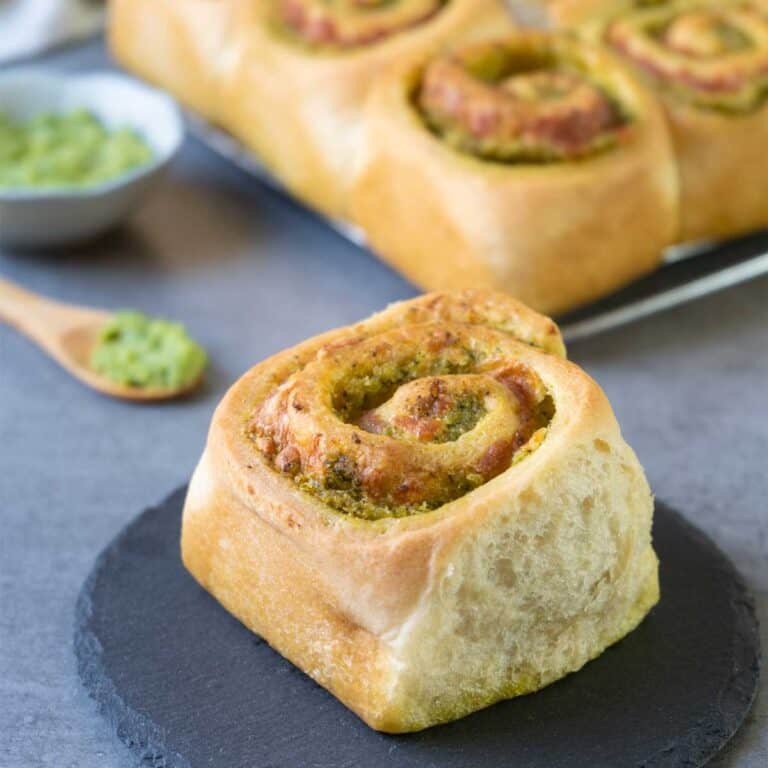 Pesto Bread Rolls
These pesto bread rolls are super fluffy (yes, I'm not kidding) and combined with the cheesy pesto, they are just super delish! Super easy to make and fun. A must try!
Print
Pin
Rate
Ingredients
The Dough
2

cup

bread flour

(

260

g)

½

teaspoon

salt

1

egg yolk

, room temperature

1 ¾

teaspoon

instant yeast

(

5

g)

1

tablespoon

honey

(

20

g)

3

tablespoon

unsalted butter

(

45

g), melted

½

cup

warm water

(

125

ml)
The Filling
1

cup

pesto

(

250

g), I use my homemade pesto

1

cup

shredded mozzarella

(

90

g)
Instructions
The Dough
Add all ingredients into a standing mixer bowl, mix to incorporate and then knead for 10 minutes. Form dough into a ball and place in a greased bowl. Cover bowl tightly and leave until the dough rises double its size, in a warm and draft free place. Depending on the temperature of your kitchen, it might take 50 minutes to 1 ½ hour.
Assembling
Place dough on a lightly floured working surface. Lightly press and roll into a 11 inch (28 cm) square.

Spread pesto evenly on top, followed by shredded mozzarella. Roll dough into a log and cut into 9 equal pieces. Place them in a buttered 8 inch (20 cm) square pan. Cover with a kitchen cloth and leave for them to puff up a bit, around 20 minutes.
Baking
Bake in a preheated oven at 350ºF (175ºC), no fan, upper and lower heat, on the lower ⅔ rack, for 25 minutes or until golden brown and fully cooked.

Remove from the oven and cool completely. Enjoy!
Nutrition Facts
Calories:
313.4
kcal
,
Carbohydrates:
26.9
g
,
Protein:
9.2
g
,
Fat:
18.8
g
,
Saturated Fat:
6.3
g
,
Cholesterol:
44.5
mg
,
Sodium:
489.8
mg
,
Potassium:
66.5
mg
,
Fiber:
1.8
g
,
Sugar:
3.1
g
,
Calcium:
122.8
mg
,
Iron:
0.6
mg