What Is Piroshki?
Piroshki means small pies in Russian. A single or singular reference for piroshki is piroshok.
Piroshki are Russian stuffed buns that can either be baked or fried. The buns are usually made using yeast dough and are brushed with some egg wash just right before baking. The egg wash produces the wonderful golden colour that the typical piroshki have.
The filling for piroshki can be from meat, veggies or fish. The beauty about piroshki is that they can also have sweet filling like a mixture of fresh fruits and jams.
They sound exciting already, don't they?
Salmon Piroshky Piroshky Bakery Inspired
If you have been following our website and Youtube channel for a while, maybe you would have noticed that we LOVE to try food from all over the world.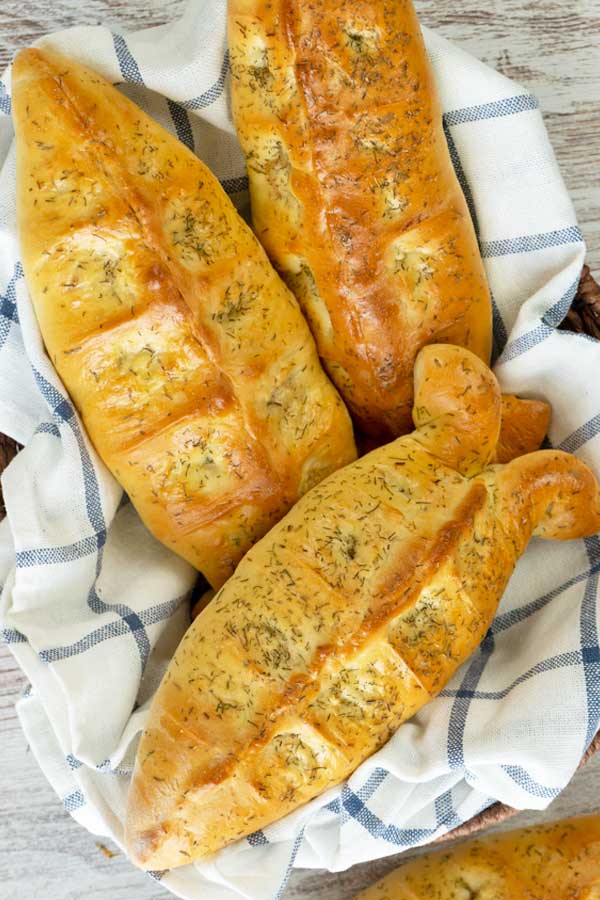 Us coming from two different worlds really spark our love for experiencing food from different countries and learning about different cultures.
That being said, the recipe that I'm sharing today is inspired by the famous Piroshky Piroshky bakery at the Pike Place Market in Seattle, USA.
We watched one of Mark Wiens videos when he went there and we got really curious and excited about the smoked salmon pate piroshki that he tried. It looked amazing and from what Mark said, it tasted delicious. Of course.
So after some research and rewatching his video for several times, this is my version of it.
I'm not claiming this is the authentic recipe at all. It's something that we both would love to try and since we can't simply go there just for a piece of piroshki, the next best thing is to make our version of it.
My Salmon Piroshki
I think this is my first Russian dish that I'm making. And I'm so excited about it!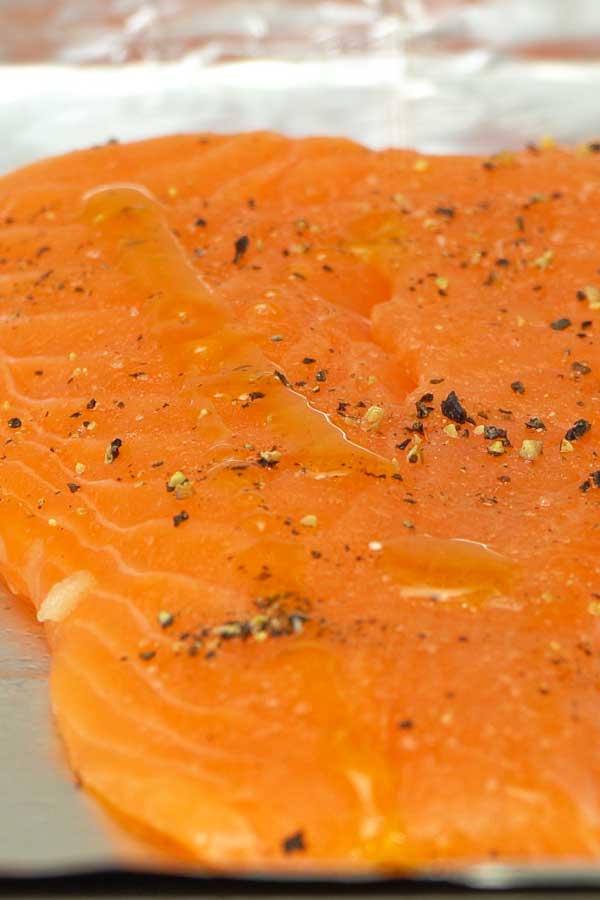 Like I mentioned earlier, piroshki can either be baked or fried. If something can be baked, I would definitely bake it. The same goes for this piroshki.
The Dough
The dough is a typical buns dough, using butter and egg apart from the common ingredients like flour, milk and salt. When I was looking for information on piroshki I didn't find any specific rules on the yeast dough.
Unlike gozleme, a Turkish flatbread. The yeast dough has some specific rules to it. No sugar in the yeast dough and it needs to have some yogurt in it.
Have you tried gozleme? You should, it's super delicious!
The Salmon Filling
The salmon pate piroshki in Mark's video was a smoked salmon.
Expensive. Yep.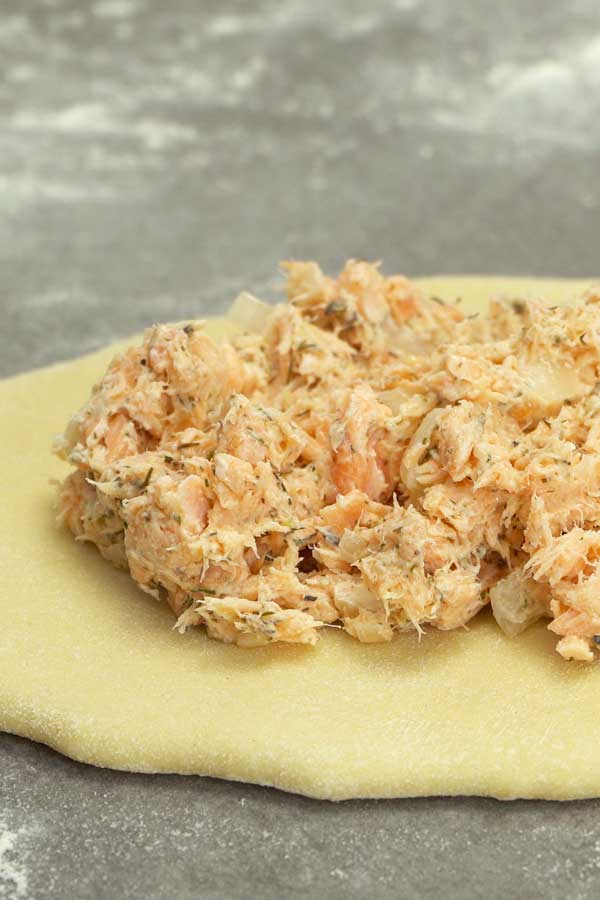 I thought I would make it more affordable to us by using fresh salmon and simply bake it. You can do whatever you want, really. You can use smoked salmon if you want. Your choice.
I'm keeping the condiments of the filling simple, just cream cheese, onion, dill and baked salmon. I want the salmon to be the star.
The Piroshki Shape
Basically you just roll the dough into a circle, place the filling in the center and bring both sides of the dough together and pinch them to seal.
I thought I would try to make the fish shape just like in Mark's video. Haha!
Though my piroshki don't look exactly the same but hey, I would say they are pretty decent. Right?
So, again you do what's convenient to you. Just shape your piroshki the basic way or maybe have some fun with the fish shaped ones.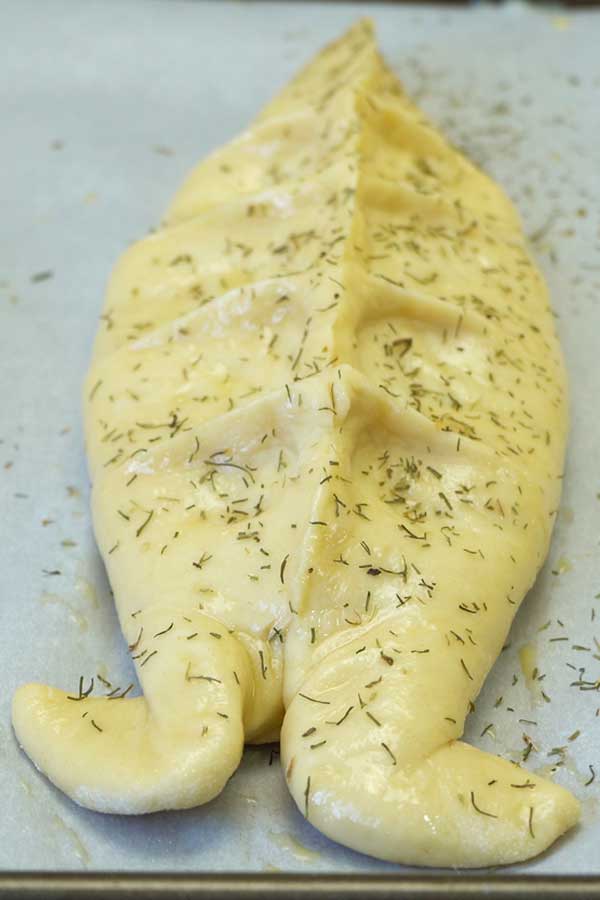 Baking Piroshki
As I mentioned earlier, piroshki is always brushed with some egg wash to get that golden color.
So I did the same and they turned out so wonderful, if I may say so.
And of course, don't forget to sprinkle them with some dill before baking.
The piroshki don't take long to be baked. I bake them around 15-18 minutes until they're golden brown. They get cooked fast because the dough is thin.
So there you go. If you are anything like us who love to experience food from all over the world regardless where we are, then you might want to try this salmon piroshki. They are delicious!
Before You Go
I have more buns recipes that you might want to give them a try.
You can go to my recipe page for more recipes. Thanks!
Video
📖 Recipe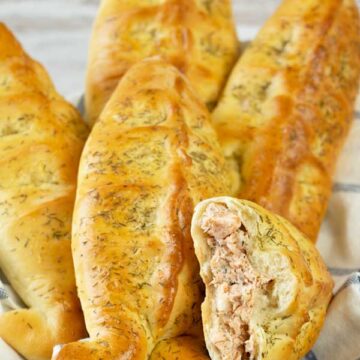 Salmon Piroshki
Soft and fluffy buns with salmon and cream cheese filling. This recipe is inspired by Piroshky Piroshky bakery. Piroshki is a Russian pastry that can either be fried or baked. Try my baked version, easy and yummy.
Print
Pin
Rate
Ingredients
The Dough
⅔

cup

warm milk

(

160

ml)

1

tablespoon

honey

(

20

gr)

2 ¼

teaspoon

dry yeast

(

7

gr)

2 ½

cup

bread flour

(

325

gr)

1

teaspoon

salt

1

egg

, room temperature

2

tablespoon

unsalted butter

(

30

gr), melted
The Salmon Filling
1

lb

salmon

(

450

gr)

salt to taste

black pepper to taste

3

oz

cream cheese

(

85

gr)

1

tablespoon

dry dill

½

onion

, finely chopped
Other
1

egg

, for egg wash

splash of milk

, for egg wash
Instructions
The Dough
Mix honey with warm milk and then sprinkle in dry yeast. Give it a mix and leave for the yeast to activate, around 3-5 minutes.

In a standing mixing bowl, add in the rest of the dough ingredients including the yeast mixture. Mix to incorporate and then knead for 10 minutes.

Form into a ball and place in a greased bowl. Cover the bowl tightly with a cling film and leave until the dough rises double its size.
The Salmon Filling
Season the salmon with salt and black pepper. Drizzle with a bit of oil and bake at 320ºF (160ºC) until fully cooked. Remove from the oven and leave to cool completely before using.

In a bowl add in all of the filling ingredients, including the cooled salmon. Use a fork to mix everything, breaking the salmon into small pieces as you go. Season with salt and black pepper. Cover with cling film and set aside.
Assembling
Place the dough on a lightly floured working surface and lightly knead into a log. Cut into 6 equal pieces and form each piece into a ball.

Take one ball and roll it into an oval of 9 inch (23 cm) length. Place some filling on it, spreading evenly and leaving around 1 inch (2.5 cm) empty space all around.

Fold both sides to the center and pinch them together to seal. Press flat at one end and slice it in the middle, taking care not to cut into the filling. Twist the sliced part outwards, forming a fish tail.

Now lightly press the whole piroshki and using your fingers, pinch the body to form a few lines. Place in a baking tray with a baking sheet. Repeat with the rest of the balls. NOTE: You can see the assembling part in more detailed in the video above.

Mix egg with a splash of milk and brush all of the piroshki. Bake in a preheated oven at 350ºF (175ºC) for 15 minutes or until golden brown and fully cooked. Best serve warm, enjoy!
Nutrition Facts
Calories:
442
kcal
,
Carbohydrates:
47.7
g
,
Protein:
25.9
g
,
Fat:
16.1
g
,
Saturated Fat:
6.9
g
,
Cholesterol:
85
mg
,
Sodium:
688.8
mg
,
Potassium:
553
mg
,
Fiber:
2.7
g
,
Sugar:
5.4
g
,
Calcium:
73.8
mg
,
Iron:
1.3
mg