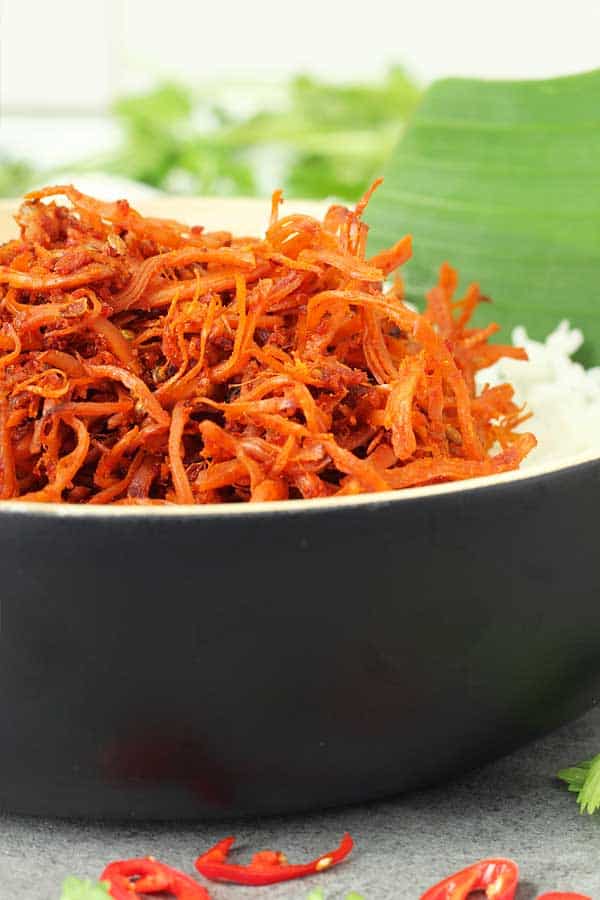 What Is Serunding Ayam?
Ayam is chicken in Malay language.
Serunding is a Malaysian meal originated in a state that's called Kelantan and it's basically a type of floss that can be made with various types of protein source like chicken, meat, fish and some just simply use coconut flakes. It's cooked with spices and coconut milk until the meat gets dry.
The purpose of cooking it until dry is so that it lasts longer, like any other type of floss or jerky. The texture is somewhat chewy.
The beauty of a serunding depends on the thinness of the meat strands. The thinner you shred the meat, the more beautiful your serunding will look.
Serunding is commonly eaten together with rice, sticky rice or some also like to eat it together with Lontong, a coconut soup with veggies and rice cakes.
If you wonder how to make a delicious homemade lontong, I'll help you out.
Click here to see my homemade lontong recipe
If you want to see how easy it is to cook sticky rice, I can help you out with that too.
Click here to see how to cook sticky rice with turmeric and coconut milk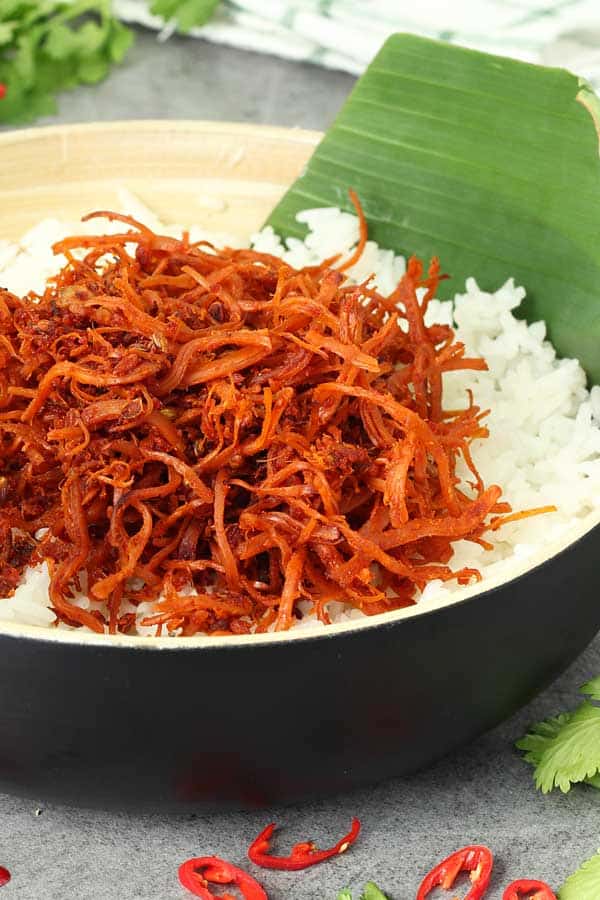 Is It Difficult To Make It?
Nope, not at all.
It does require a bit of time, that I will say.
I would divide this recipe into 2 main components. The chicken and the cooking.
The longest time that I take for the chicken is when shredding it. I like to shred it manually, meaning using my fingers. And yep, that takes time. Around 40 minutes or so (while watching Suits).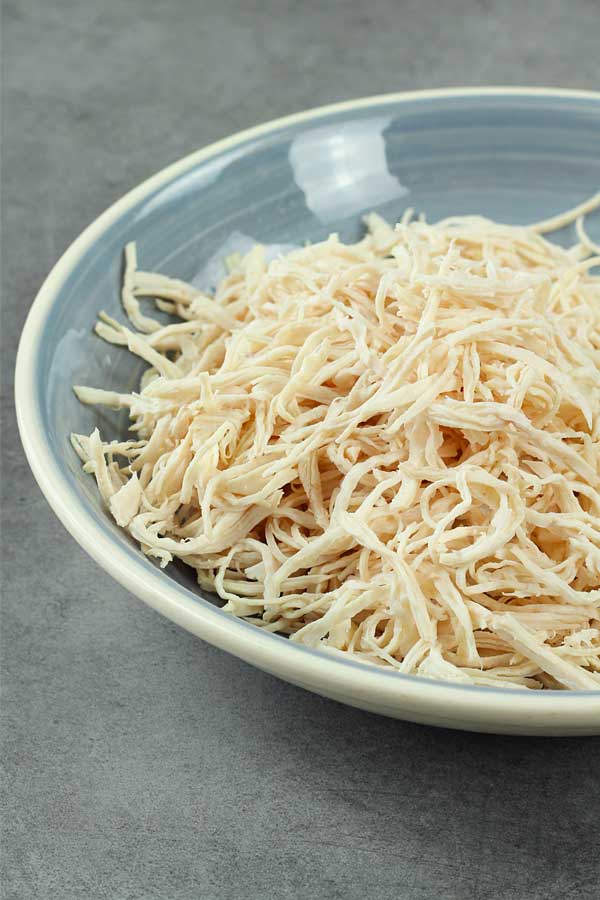 You can however use 2 forks and start shredding the chicken with them. Or use a paddle attachment for your standing mixer and shred the chicken on low speed.
Personally I don't like those methods because for me, the strands will somehow get broken into shorter strands and I love seeing thin long strands in my serunding. That's just me. You choose whatever method that's convenient to you.
And the longest time for the cooking is to get the chicken dry on low fire. It takes me, again 40 minutes.
But the cooking time also depends on how dry you like your serunding. I like mine pretty dry (well not until the chicken strands get dry and hard like sticks) as you can see in the photos. If you don't then good for you, don't cook it that long.
Tips For Making It Outside Malaysia
Back in my homeland country Malaysia, my mother preferred to buy serunding than making her own since serunding can be found anywhere anytime. Well I ate whatever she bought.
Living abroad, that simply changed. Nobody sells serunding in my town. It's even difficult to find dry chillies that are originally used in a serunding recipe.
That's why I created this serunding recipe so that it's doable for expats like me, and fellow foreigners who would like to try their hands on making this in their homes.
Ohhh I have to tell you about something really cool. Recently a sweet Russian couple contacted me through IG and kindly shared with me a video on how they made roti canai using my recipe, and they loved it!
I mean, that is wild and amazing! And that's our goal actually, to make Malaysian and Asian meals more doable for others living outside Malaysia and Asian countries. I'm still smiling every time I remember the video.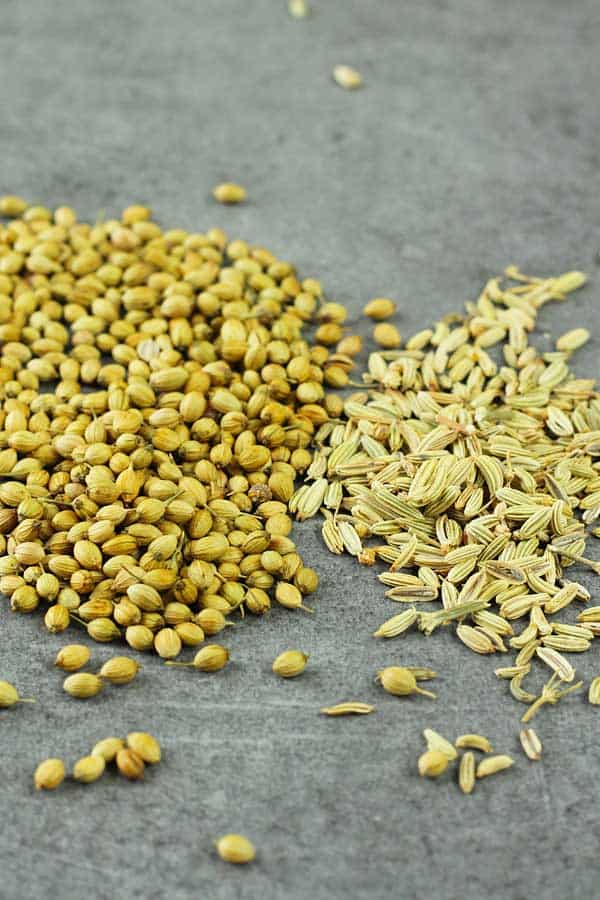 By the way do you want to see how I make roti canai?
Click here to see my roti canai recipe
Ok, moving forward.
Instead of using dry chillies, I'm using roasted sweet red bell peppers for the color, combined with cayenne pepper powder for the heat. You can also use the normal roasted peppers if you want. The point is to get that beautiful red color.
As for the heat, you can basically use whatever is it that you prefer. Use chili powder, or dry cayenne or even Thai red chillies. As long as it gives the heat and don't mess with the beautiful red color.
I'm also substituting tamarind juice for lemon juice. Tamarind in any shape or form is quite difficult to find in my town. Lemon juice gives this serunding ayam the same light touch of acidic that I feel there's no point of going for a tamarind hunt just for that.
And that's all. The rest of the ingredients are easier to find.
If you're into Malaysian food, maybe you would want to give this recipe a try. Let me know what you think.
Video
📖 Recipe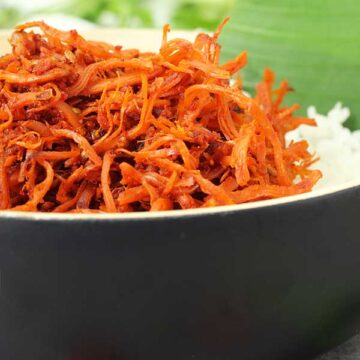 Spicy Chicken Floss (Serunding Ayam)
Made easy for expats and people living outside Malaysia so that it will be more doable to cook this delicious sweet and spicy chicken floss or in Malaysia we call it serunding ayam.
Print
Pin
Rate
Ingredients
14

oz

chicken breast

(

400

gr)

a few slices of ginger

enough water

, to boil the chicken

3

tablespoon

coriander seeds

(

10

gr)

½

tablespoon

fennel seeds

(

3

gr)

8

pieces

roasted sweet red bell pepper

2

garlic cloves

1

thumb sized

ginger

, roughly cut

½

red onion

, roughly cut

1

tablespoon

cayenne pepper powder

, adjust to your taste

½

teaspoon

turmeric powder

1 ½

tablespoon

coconut sugar

salt to taste

½

cup

coconut milk

(

125

ml)

2

tablespoon

lemon juice
Instructions
Preparing The Chicken
Bring a pot of water to a boil. Add in sliced ginger and chicken breast. Cook for 10 minutes or until the chicken is fully cooked. Transfer the chicken onto a plate and cover it with cling film. Leave to cool completely.

Once cooled, shred the chicken into thin strands by first pressing it with your fingers and then pull the strands apart. You can also use 2 forks to shred it. Cover with a cling film and set aside.
Cooking
Roast the coriander and fennel seeds in a pan on medium heat until they release their fragrances.

Then add them into a food processor together with sweet bell peppers, garlic, ginger and red onion. Blend everything into a smooth paste.

Heat a pan with quite a bit of oil on medium heat. Add in the blended paste, cayenne pepper powder, turmeric powder and cook for a few minutes until the water evaporates.

Then add in coconut sugar, salt, coconut milk and mix well. Lastly add in shredded chicken and mix everything together.

Reduce heat to low and cook until everything is dry (or to your liking), around 40 minutes. Serve this serunding ayam with hot white rice. Enjoy!
Nutrition Facts
Calories:
217.5
kcal
,
Carbohydrates:
11
g
,
Protein:
22.8
g
,
Fat:
10
g
,
Saturated Fat:
6.3
g
,
Cholesterol:
63.5
mg
,
Sodium:
454.1
mg
,
Potassium:
570
mg
,
Fiber:
2.6
g
,
Sugar:
4.1
g
,
Calcium:
56.4
mg
,
Iron:
2.4
mg