I'm not talking about the instant ramen noodles here, guys! I'm talking about this delicious, full of flavor and beautiful looking hot bowl of goodness. I mean, if that's not yummilicious then I don't know what is.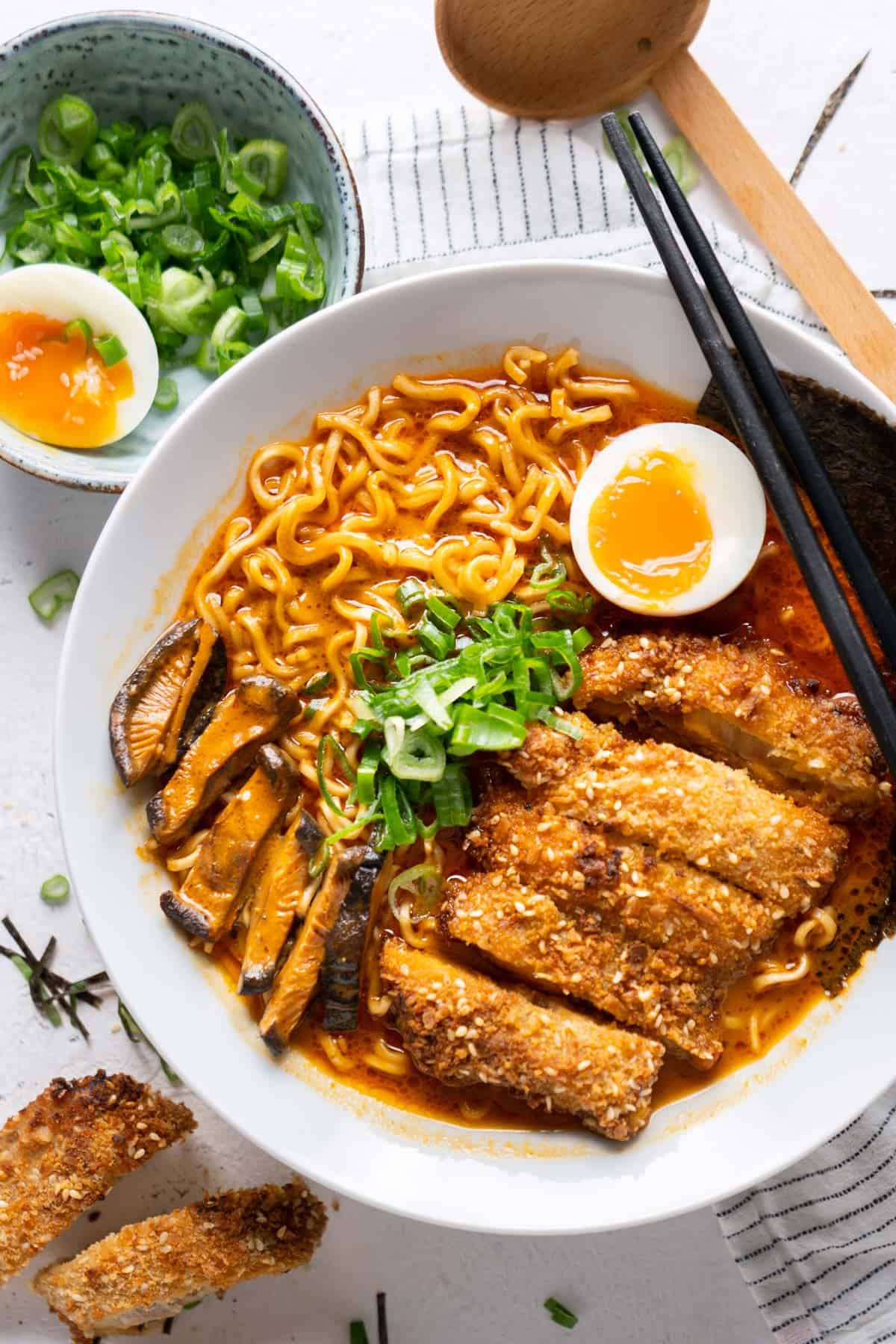 Ramen is a Japanese noodle soup that uses Chinese-style wheat noodles, with a variety of flavour-based broth and different types of toppings. Bottom line, it's delicious!
This is by no means an authentic Japanese ramen recipe, but I'm going out on a limb here, it's as delicious as a bowl of ramen can get.
Jump to:
Recipe Highlights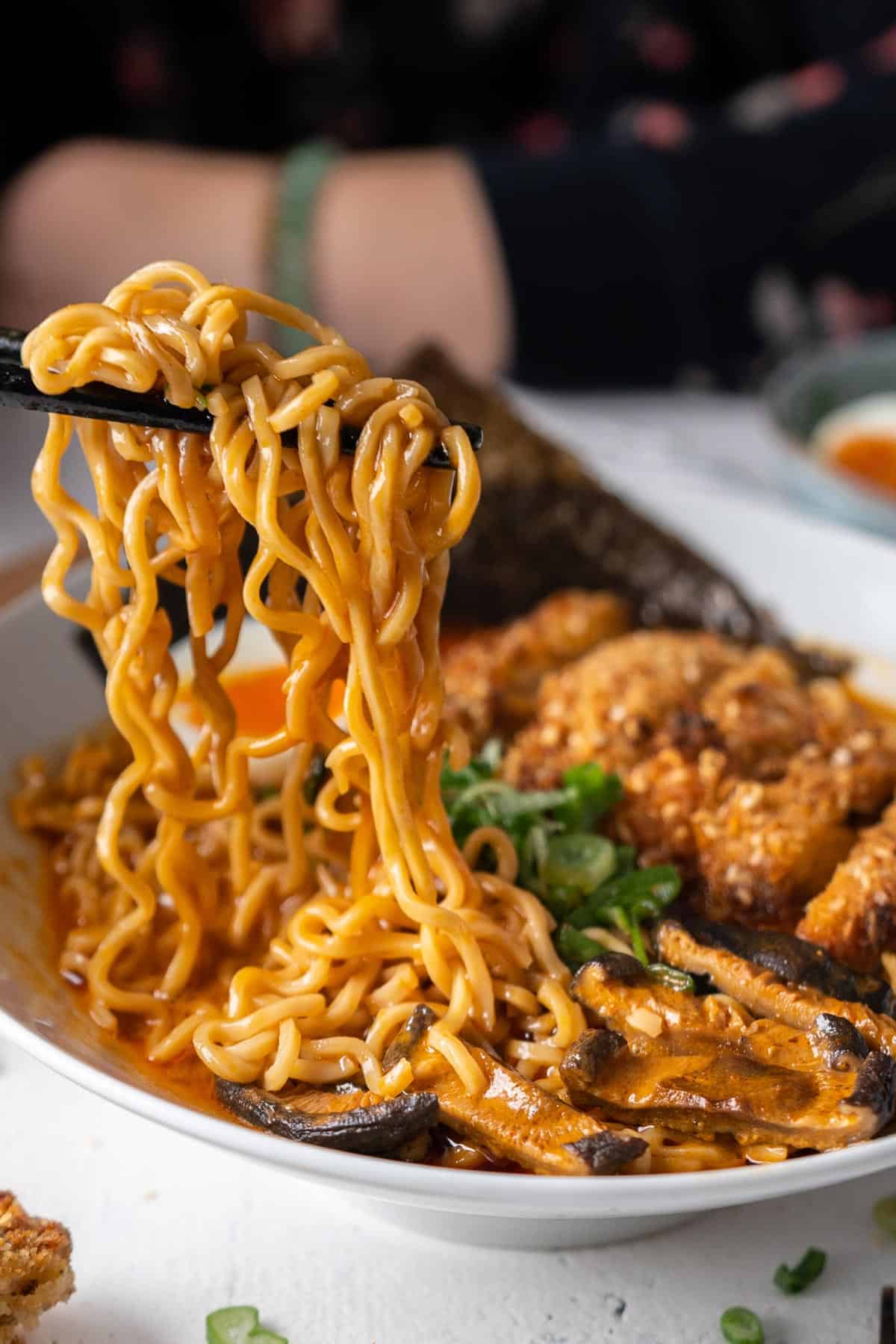 Texture and flavour - Spicy umami broth, slightly creamy with a touch of sweetness, with chewy noodles, crispy breaded chicken (katsu), topped with fresh spring onion, creamy egg, shiitake and nori. Perfect balance of savoury, spicy and sweet to quench your ramen thirst!
Size - For 4 ramen lovers.
Level - Easy, although there are a few steps involved when it comes to preparing the toppings.
Occasion - Anytime! Whenever the cravings hit you, make this recipe. Serve this ramen to your friends also and see how they'd be amazed.
Lets Talk Ingredients & Substitutions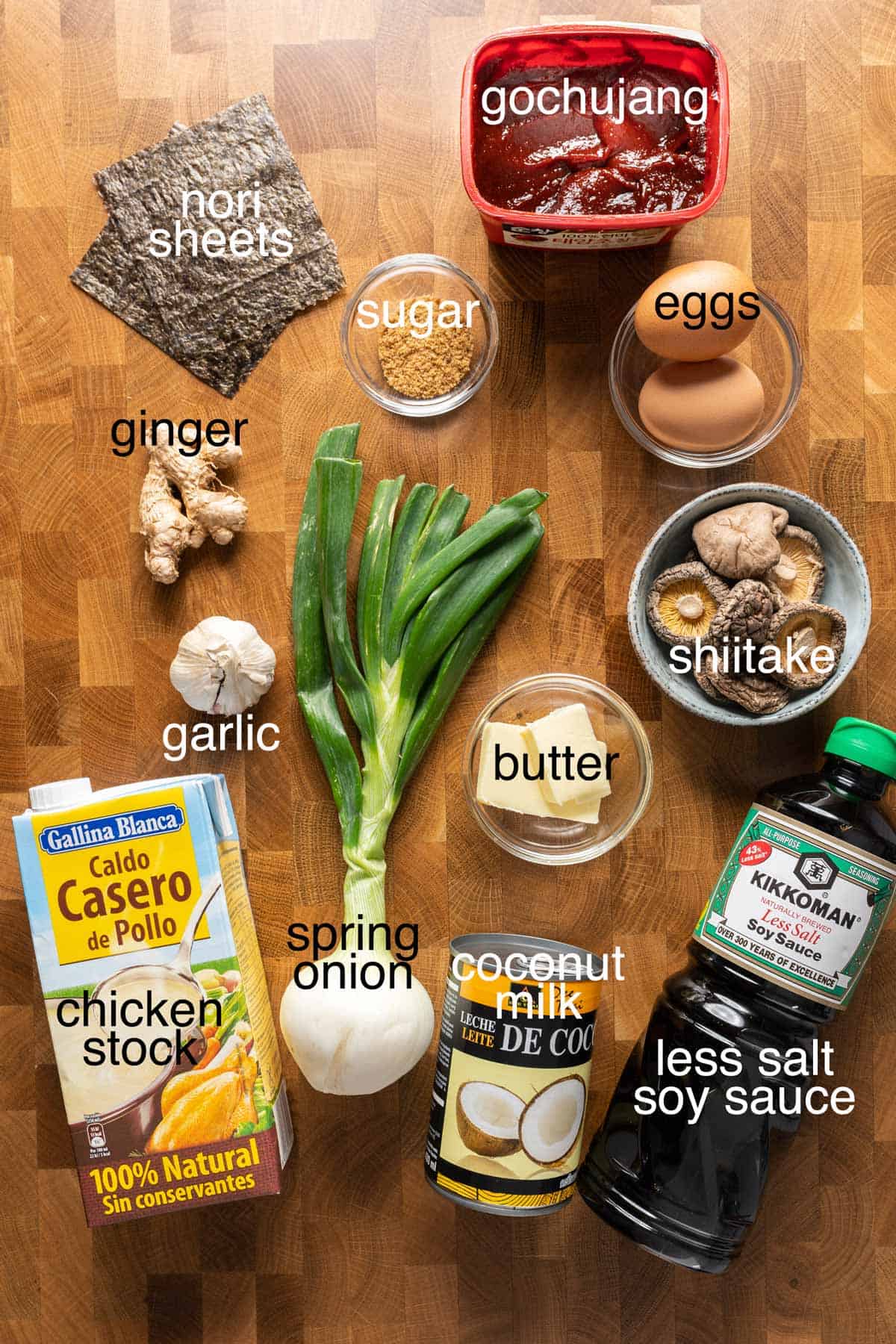 Gochujang - It's a fermented Korean chili paste that's made from gochu-garu (Korean chili powder), glutinous rice, fermented soybeans, barley malt powder and salt. It's spicy, savoury and sweet. It's also what's going to add colour to our ramen broth. This is the one that I always buy.
SUBSTITUTION: If you really can't find it, then use sriracha and adjust the amount to your liking. The flavour won't be the same though. I really recommend you to find gochujang for this recipe.
There are many delicious recipes that you can make with gochujang like my kimchi fried rice, Korean BBQ sauce and make these Korean meatballs to go with it.
Less salt soy sauce - I'm a firm believer and happy consumer of this less salt soy sauce! You can use more to get more flavour, without having to worry about your dish being too salty.
SUBSTITUTION: Use regular soy sauce, start with ½ of the amount and go from there.
Dry shiitake mushrooms - Dry ones have a stronger flavour than fresh ones. They help infuse the broth and get that umami flavour. I love throwing them directly in the broth so that they rehydrate while cooking, leaving all the delicious flavours into the broth.
SUBSTITUTION: Use 2 cup (290g) of fresh shiitake mushrooms. Slice and throw them in the broth after it's been simmering for 20 minutes, cook for a few minutes more until they've slightly softened.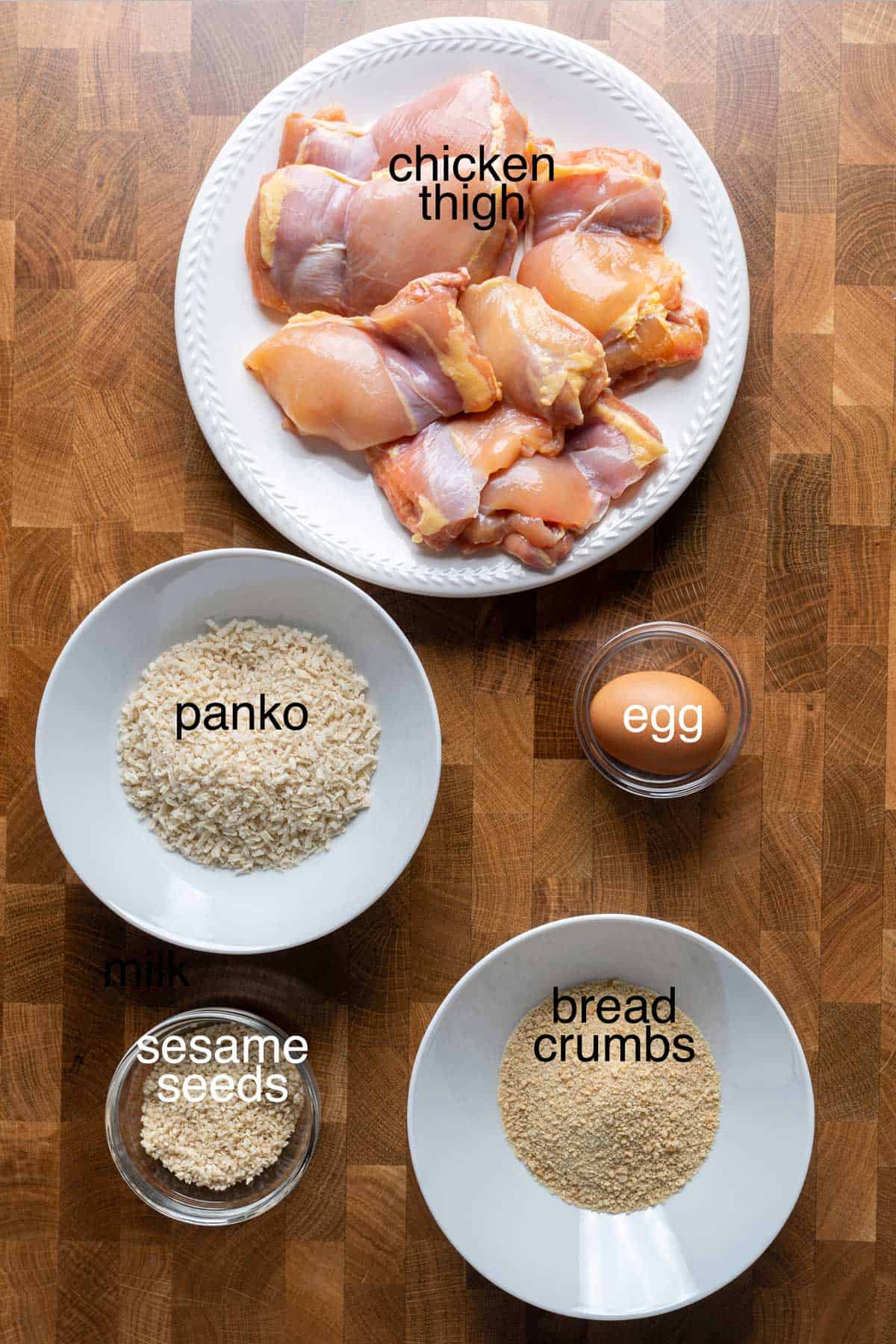 Chicken thigh - I'm cooking my chicken katsu in an air fryer. I'd recommend using chicken thigh for this recipe, especially if you're going to use an air fryer also. You won't get "dry" chicken katsu, and the breading colour will be beautifully golden.
SUBSTITUTION: Use chicken breast, pound it so that it's with the same thickness (it cooks better) before proceeding with the breading process.
NOTE: Although, I do have to say, if you're using an air fryer with chicken breast, the breading colour won't get as golden brown without making it "dry". I'd recommend you to shallow or deep-fry it instead to get that beautiful golden colour and juicy texture.
Panko - Gives that extra texture compared to bread crumbs only. Sometimes it's difficult to find panko, but no worries. You can make it yourself with my easy homemade panko recipe.
What Noodles To Use For Ramen?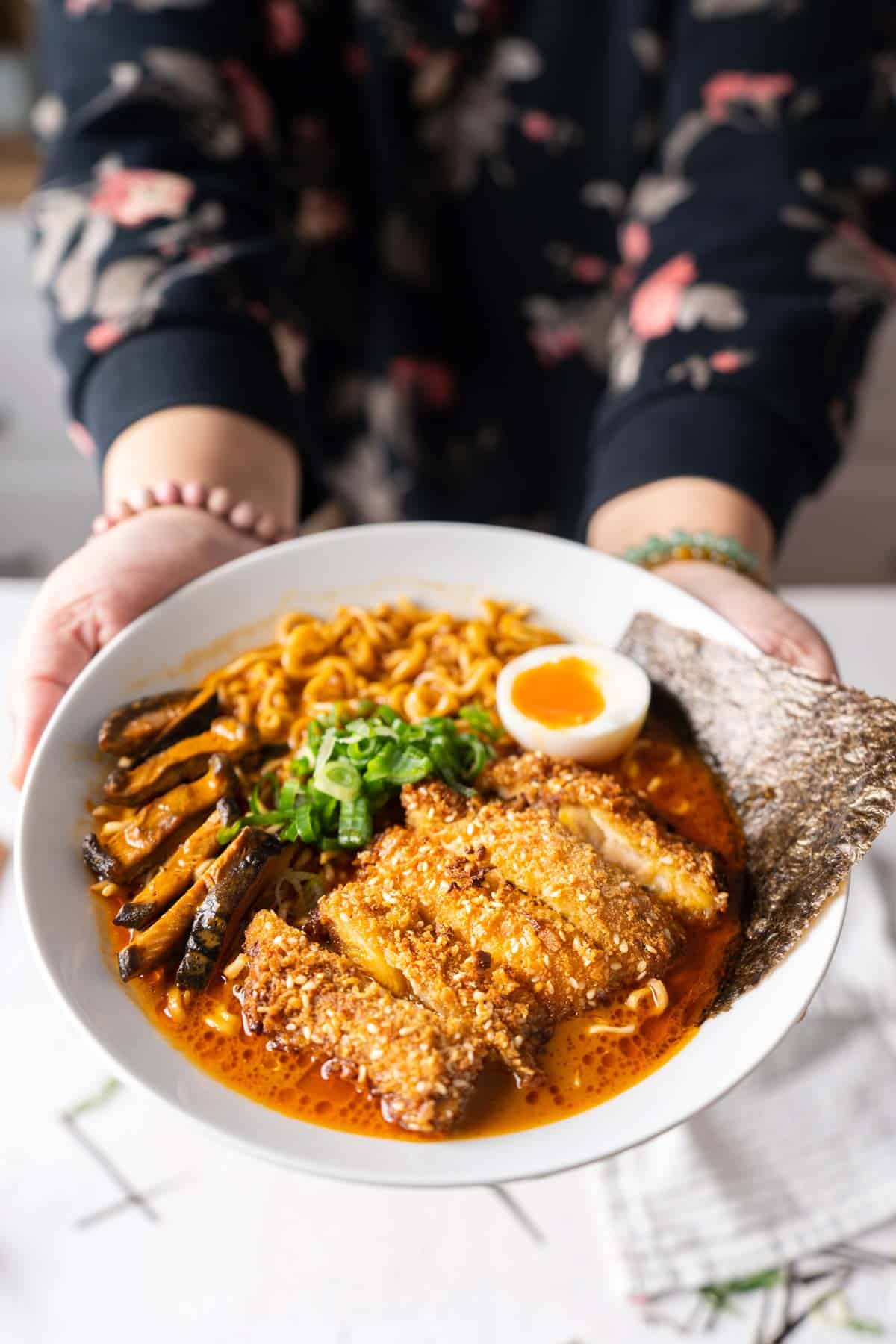 Like I mentioned earlier, ramen uses Chinese-style wheat noodles. And here are some options that you can choose from.
Make your own noodles - With just a bit of planning ahead, you're going to get fresh, chewy and delicious homemade noodles. My Chinese egg noodles recipe is perfect, so many of our YouTube followers have made and loved them.
Dry egg noodles - They're made from wheat. They're just dry egg noodles in packets, without any flavouring or seasoning like this. I also like to use them in my stir-fry recipes.
Pre-cooked egg noodles - Also made from wheat and sometimes labeled as yakisoba noodles. They usually come in packets that are already thought of as one portion per packet. They last long and do not need to be kept refrigerated.
Instant ramen noodles - The easiest option of them all. Simply buy any instant ramen noodles and just use the noodles. Save the seasoning for later use.
Watch How To Make This Ramen
📖 Recipe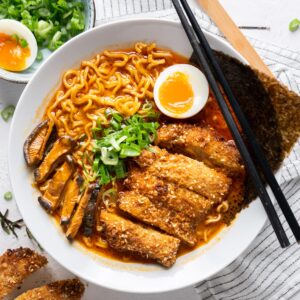 Spicy Ramen With Chicken Katsu
Spicy umami broth, slightly creamy with a touch of sweetness, with chewy noodles, crispy breaded chicken (katsu), topped with fresh spring onion, creamy egg, shiitake and nori. Perfect balance of savoury, spicy and sweet to quench your ramen thirst!
Print
Pin
Rate
Equipment
2 Cooking pots

(1 big and 1 medium)

2 Bowls

(1 medium and 1 small)
Ingredients
Broth
3

inch

ginger

, sliced

6

garlic cloves

, bruised & peeled

4

cup

chicken stock

(

1

liter)

8

dry shiitake mushrooms

1

can

coconut milk

2

tablespoon

butter

(

30

g)
Chicken Katsu
1

lb

chicken thigh

(

450

g)

1

large egg

1

cup

panko

(

70

g)

½

cup

bread crumbs

(

70

g)

¼

cup

sesame seeds

(

35

g)

salt and pepper to taste
Noodles
7

oz

dry egg noodles

(

200

g)
Topping
2

large egg

spring onion

1

nori sheet
Instructions
Broth Flavouring
Mix everything well in a small bowl. Set aside.
Broth
Add all ingredients, including broth flavouring into a huge pot. Bring to a simmer, cover the pot with a lid and cook for 30 minutes or until the shiitake mushrooms have soften. Meanwhile, lets proceed with the chicken katsu.

Once broth's ready, scoop out shiitake, ginger and garlic. Discard ginger and garlic. Slice shiitake, set aside.
Chicken Katsu
Season the chicken well with salt and pepper. Crack the egg in a deep plate, sprinkle with some salt and whisk. In a flat plate, mix panko, bread crumbs and sesame seeds.

How To Bread Chicken Without Getting Your Hands Messy

Line chicken, egg, breading mixture and another flat plate. Grab a chicken with one hand and coat it in the egg. Then place on the breading mixture. With another hand, cover chicken with breading, pressing as you go so that it sticks. Flip and do the same. Place in an empty plate. Repeat until you finish all the chicken pieces.

Spray some oil in the air fryer inner rack. Place the chicken in and spray the top with a bit more oil. Use "Air fry" mode, set temperature to 400ºF (200ºC) and cook for 16 minutes. Remove and set aside for late.
Topping
6 ½ Minute Egg

Bring a pot of water to a boil. Put the eggs in and immediately lower the heat so that it's just barely simmering. Set timer for 6 ½ minutes. Once done, scoop the eggs out and place them in a bowl of cold icy water. Leave to cool completely before peeling.

Spring Onion

Chop and set aside.

Nori Sheet

Cut into 3x3 inch (7.5 cm) squares. You'll need 4 pieces. Set aside.
Noodles
Cook noodles as per packet's instructions. Set aside. Just don't cook them too soon as they'll dry out and the strands stick to each other.
Assembling
Grab a ramen bowl and add some noodles in. Pour few ladles of the hot broth in. Cut the chicken kastu in slices and place in the bowl, together with some shiitake, chopped spring onion and half of an egg. Slide in nori sheet at a corner and enjoy! Of course, do serve the others with a bowl of their own also 😁.
Notes
Use oven instead of air fryer for chicken katsu. Bake in a preheated oven at 400ºF (200ºC), at middle rack, for 20-25 minutes. Flip after half cooking time. 
Nutrition Facts
Calories:
835
kcal
,
Carbohydrates:
65.2
g
,
Protein:
45.9
g
,
Fat:
44.8
g
,
Saturated Fat:
26.4
g
,
Cholesterol:
258.9
mg
,
Sodium:
1690.5
mg
,
Potassium:
1127.5
mg
,
Fiber:
4.2
g
,
Sugar:
11.5
g
,
Calcium:
227.7
mg
,
Iron:
9.7
mg
Recipe inspired by Tieghan from Halfbakedharvest.