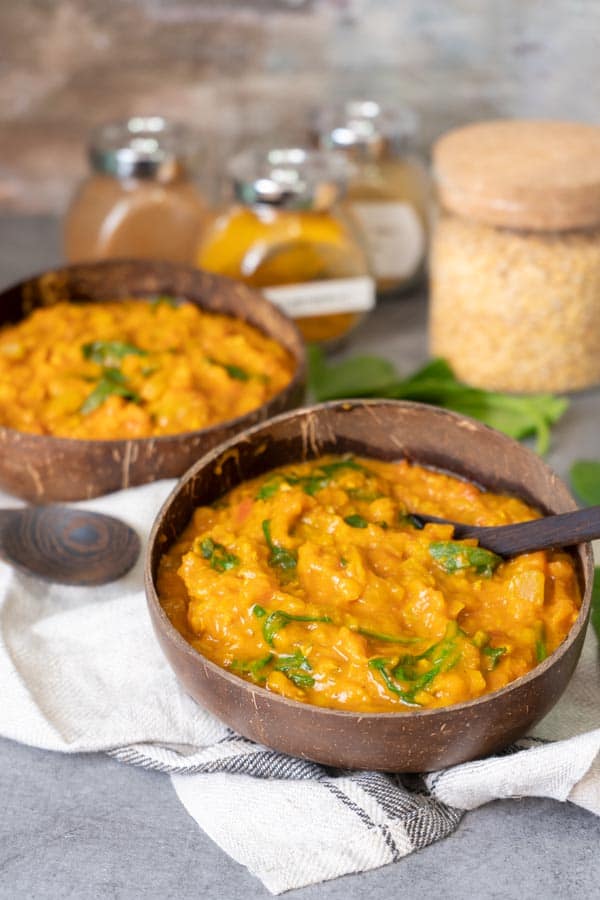 It's 2020! Oh wow!
How about squeezing this healthy quick turmeric lentil stew with coconut milk in one of your meals this year? It's packed with veggies, super healthy, super easy and fast and yes, it's totally vegan!
Let's kick this new year with this beautiful delicious bowl of goodness, shall we?
What Lentils To Use?
Yes, I know there are varieties of lentils out there. Different types for different meals and yes, different cooking time also.
I don't know about you but I don't have a humongous kitchen to store many things (and by that I meant all the different types of lentils 😀 ). I usually just have 2 types of lentils in my kitchen. The typical brown lentils and the peeled yellow split lentils.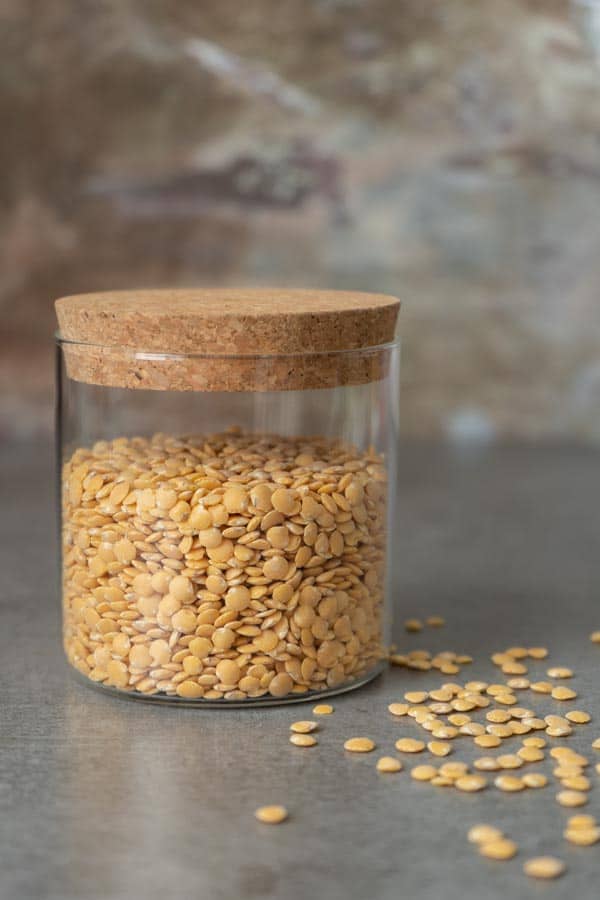 And today we're going to use the latter because they cook super fast, and that's what this recipe is about. Fast healthy delicious food.
Why do these lentils cook faster than brown lentils?
Well because of 2 things.
Peeled - lentils that have already been processed and had their skins peeled will cook faster than the ones that still have the skin on.
Split - being split lentils also helps in reducing the cooking time since the heat can get to (or cover more) of each split lentil's surface.
So the key to this quick recipe is to use peeled split lentils, alright?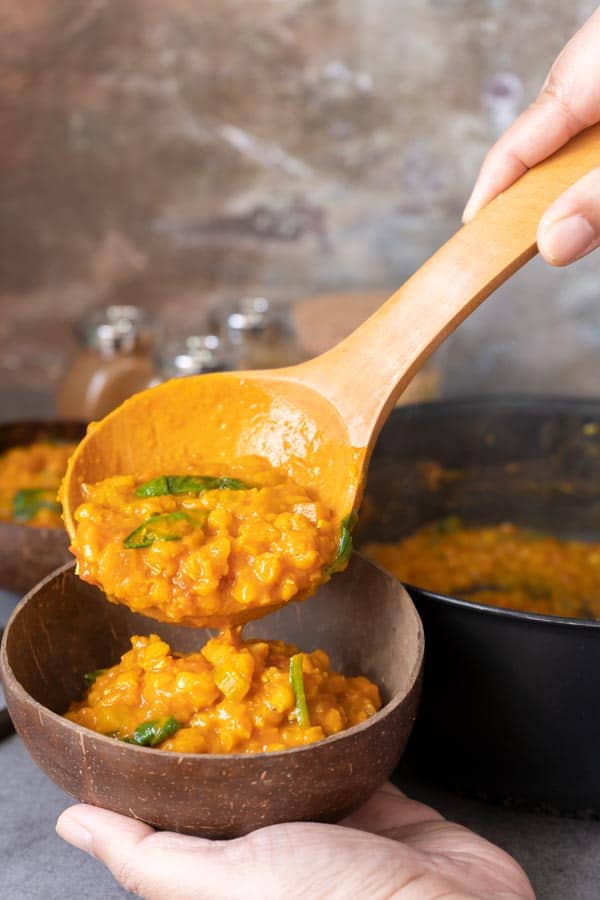 Do I Need To Soak The Lentils First?
Nope, you don't need to.
That's the beauty about using peeled split lentils. It makes your cooking easier 😉
Wonderful Flavour
I'm using a few spices in this recipe that just bring out the flavour in the stew. Turmeric, cinnamon, smoked paprika, vegetable bouillon and ras el hanout.
If you're thinking what in the world is ras el hanout, well don't worry. It's an amazing Moroccan spice mix that you can easily make at home. I have a super easy homemade recipe for it 😉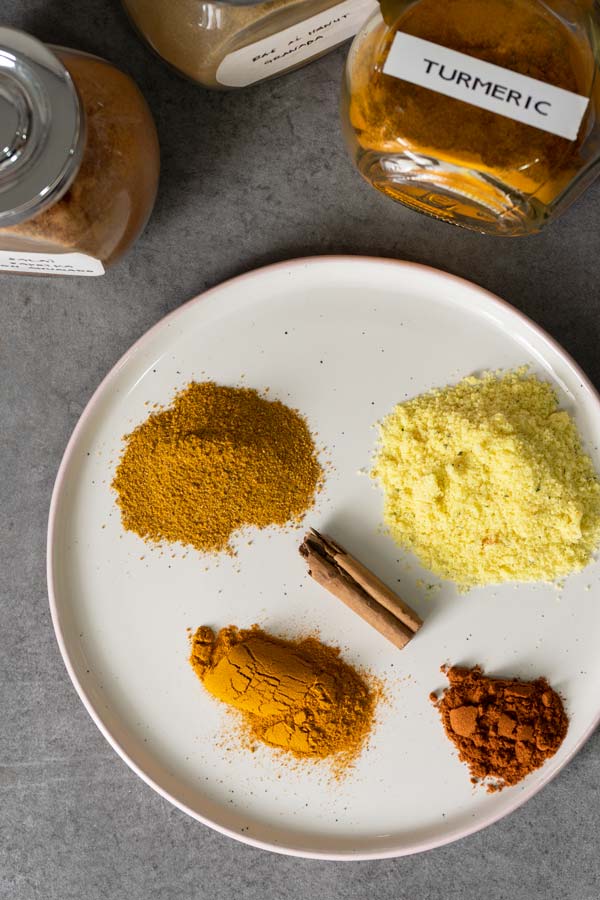 Healthy Option
I didn't grow up eating lots of lentils or legumes in general.
Yes, I know. Legumes are one of the healthy food and we should consume more of them 😀 .
But hey, I do LOVE this dhal curry that is super delicious! In my home country Malaysia, dhal curry is one of the curries that you have together with your roti canai.
Yes, you have more than 1 curry for your roti canai. And yes, I have a killer roti canai recipe if you would want to give it a go 😉
Ok back to our recipe.
As I was trying to say, this recipe is definitely a healthy option if you want to incorporate more legumes in your meals. It's packed with veggies. Add your favourite veggies if you want to switch it up. In previous times, I've made it with a combo of red and green peppers, leeks, mushrooms and even green peas.
It's also a vegan recipe if you are on Veganuary month 😉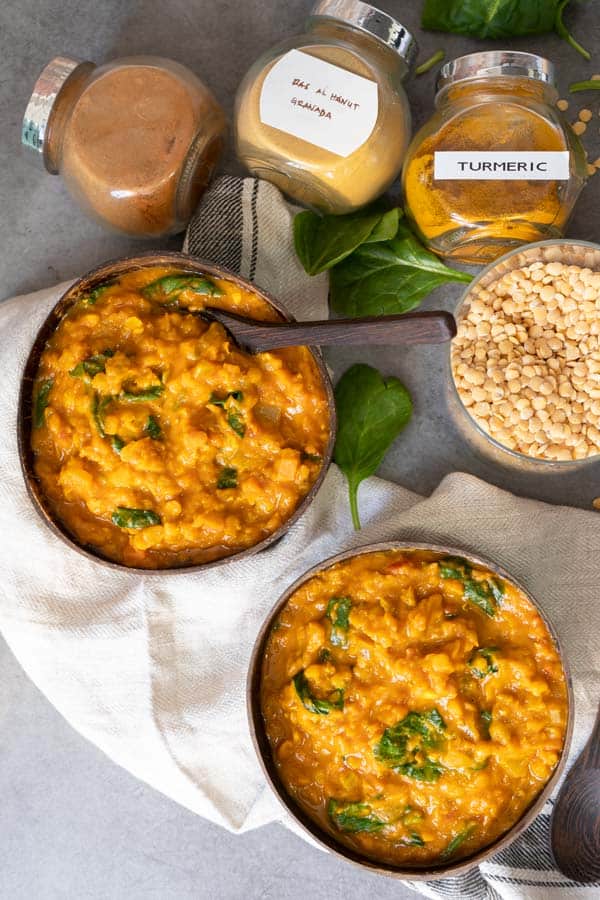 In Summary
This lentil stew is:
quick and you can enjoy it in 30 minutes or less
vegan!
packed with veggies and can be easily personalised using your favourite ones
healthy way to consume more legumes
definitely DELICIOUS! Serve as is or together with some brown rice. Yum!
Hungry For More?
Check out more of these healthy options:
Video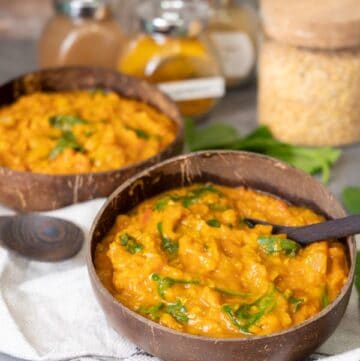 Quick Turmeric Lentil Stew (Vegan & Ready In 30 Minutes)
This quick turmeric lentil stew is a great healthy and delicious way to consume legumes. It's packed with veggies and it's ready to serve in 30 minutes. Super fast! Flavoured with wonderful spices, you need to try!
Print
Pin
Rate
Ingredients
The Base & Veggies
some coconut oil

1

celery stick

, chopped

½

yellow onion

, cut into cubes

1

medium sized carrot

, cut into cubes

2

garlic cloves

, minced

1

cinnamon stick

some salt
Spices & Flavour
½

tbsp

ras el hanout powder

1

tbsp

vegetable bouillon powder

1

tsp

turmeric powder

½

tsp

smoked paprika powder
The Rest & More Veggies
1

cup

peeled split yellow lentils

(

200

g)

1

cup

tomato passata

(

250

ml)

4

cup

water

(

1

liter)

½

cup

coconut milk

(

125

ml)

2

cup

spinach leaves

(

70

g)

some lemon juice
Instructions
Heat some coconut oil in a casserole pan on medium high heat. Then add in all the base and veggies ingredients. Saute until the onion is translucent.

Now add in all the spices to bring out the flavour. Mix well and cook for 1 minute.

Add in the lentils, tomato passata, water and mix everything together. Bring it to a simmer and cover the pan with a lid. Cook for 20 minutes or until the lentils are soft and fully cooked.

Remove the lid and give the stew a stir. Add in coconut milk, spinach leaves and mix well. Continue cooking just until the leaves are wilted. Turn the heat off and add in some lemon juice. Adjust the salt if needed and black pepper to taste. Give it one last stir and serve!

Note: please refer to my post above on what lentils to use
How To Serve
Serve as is. You can also serve it together with some brown rice, toasted baguette or flatbreads.