What Is Dhal?
Dhal or dal if I'm not mistaken, is an Indian word that refers to split, dried pulses like peas, beans and lentils. It is also both an ingredient and a dish. So you can be making a soup using dhal or you can be making a dish called dhal.
In this recipe I used dhal lentils. As for the dhal lentils, it didn't take long to cook. First you need to wash them to discard all the impurities and drain them. Then simply put them in a pot with some salt, turmeric powder and enough water to cook them until they're tender and a bit mushy.
One thing though, do not boil them like crazy. Gentle simmer is enough. Well anyway, at least that's how the dhal lentils that I used are supposed to be cooked. Follow the instructions of your dhal lentil packet on how to cook them.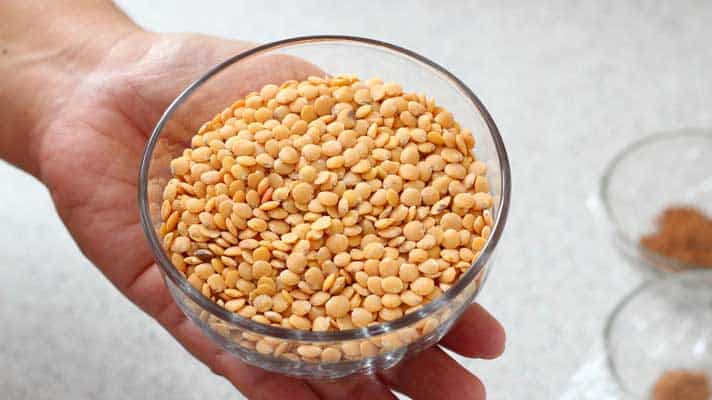 Without Curry Powder
In my country whenever you say you're making a curry, there's without a doubt that you will be using some sort of curry powder in the recipe. If not, then it wouldn't be a curry. In my version for this recipe, there's no curry powder included even though the name is curry. Fascinating!.
I love simple recipes with good results. Who wouldn't, right? This curry is so simple that you might think that it took hours to make it. Yes.
I would say this recipe can be divided into 2 parts. First part is cooking the dhal lentils. Second part is cooking the flavourings for the curry.
So we cooked our dhal lentils and we set it aside. Now's the time to infuse it with wonderful flavours. I fried some mustard seeds, cumin seeds and cinnamon stick until they released their fragrances.
Then I added the rest of the ingredients like garlic, ginger, red onion, green chilli (which I grow myself in my garden) and tomato. I cooked them until they were soft before I added turmeric powder, cayenne pepper powder, salt, sugar and lemon juice. Then I simply let it simmer for a few minutes for all the flavours to mix. Done.
You can of course add more cayenne pepper powder if you want more heat to it. You can also use tamarind juice or concentrated tamarind paste. I used lemon juice because I wanted the recipe to be more doable for everybody.
Because yes, not everybody has easy access to tamarind. What you need is that sour touch to it. So use or substitute with what you have. There's no rule.
My husband liked this dhal curry as it is. He can eat a bowl of it with nothing else. This dhal is also great to be eaten with some type of bread like paratha or roti canai. Maybe I will make a video on how to make roti canai.
Anyway. If you're into dhals and curry, I think you might like this dish. Let me know if you've tried it.
More Healthy Main Dishes
Video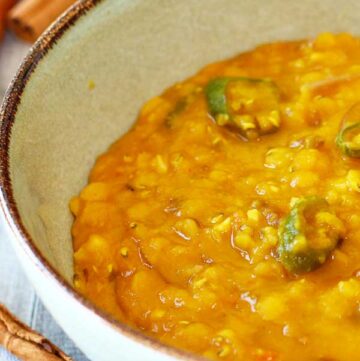 Dhal Curry
Creamy dhal curry with aromatic herbs and spices, perfect to be eaten with some bread or rice. It's a straightforward recipe and super easy to make.
Print
Pin
Rate
Ingredients
1 ⅓

cup

dry dhal lentils

(

250

g), washed and drained

2

tsp

ground turmeric

1

tsp

salt

3

cup

water

(

750

ml)

1

tsp

mustard seeds

1

tsp

cumin seeds

1

cinnamon stick

1

inch

ginger

, minced

4

garlic cloves

, minced

½

red onion

, thinly sliced

1

green chilli

, sliced

1

tomato

, peeled and cut into cubes

1

tsp

cayenne pepper powder

1

tsp

ground turmeric

1

cup

water

(

250

ml)

½

lemon

, squeeze the juice

2

tsp

brown sugar
Instructions
In a pot, add in dhal lentils, ground turmeric, 1 tsp salt and 3 cups water. Give it a quick mix. Bring to a gentle simmer and cook for 20 minutes. Or until the lentils are tender and a bit mushy. Set aside. - Follow the instructions on your dhal lentil packet on how to cook them.

In a pan, heat some olive oil. Add in mustard seeds, cumin seeds, cinnamon stick, ginger, garlic, red onion, green chilli and tomato. Cook for a few minutes until they're soft, stir now and then.

Add in cayenne pepper powder and ground turmeric. Mix everything and cook for 30 seconds or until the powdery taste is gone. Add in previously cooked dhal lentils and 1 cup water. Mix everything well. Add in ½ tsp salt (adjust as needed), brown sugar and lemon juice. Stir and mix everything. Leave to simmer for 5 minutes and your dhal curry is ready. Enjoy!
Notes
Dhal tends to soak liquid. If you're leaving it to eat later, you might find the curry gets a bit dry. Simply add some hot water, give it a quick mix and it's ready to be eaten.