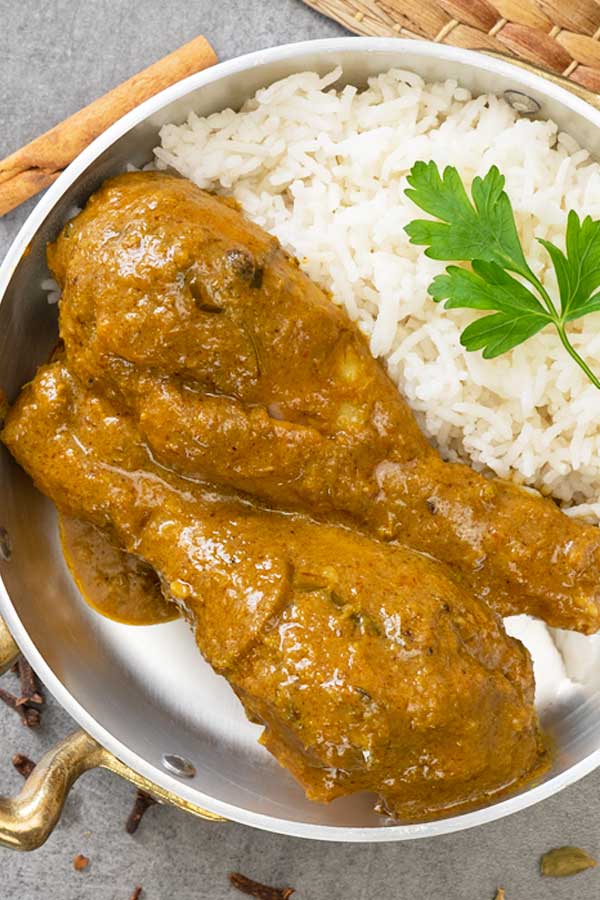 If you've ever been to Malaysia and its neighbouring countries then maybe you've heard of rendang curry.
It's a richer type of curry that is packed with herbs and spices like lemongrass, galangal, ginger, cinnamon, cardamoms.. just to name a few.
Protein source such as beef and chicken are the typical for rendang curry. But as always, we should be free. My family makes fish and even cockles rendang curry 😉
Rendang curry, like any other traditional recipe, varies to each country and houses.
Today I'm sharing mine 🙂
My Rendang Curry
This rendang curry recipe is thought for those who are not living in Asian countries or are having difficulties in getting Asian ingredients. If you fit in either of those two categories, then hey, high five! We're in the same club! 😀
I've been saying this for many times, food should be enjoyed regardless where you are and you adapt the food to whatever that's convenient to you.
Don't you agree?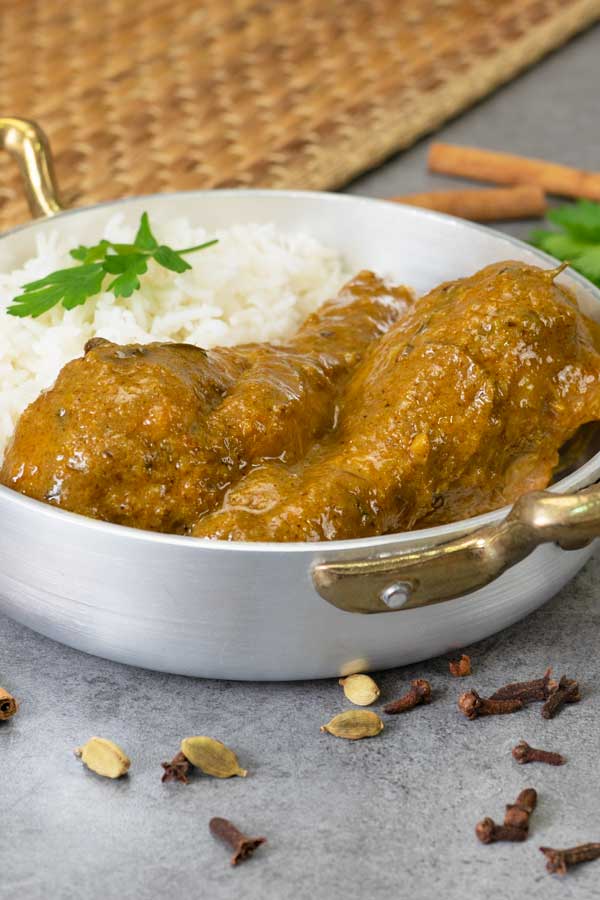 This recipe is a bit different from my previous rendang curries in 2 ways. The recipe itself and the way of cooking it. Have you seen my other rendang curries?
Here you can see my Chicken rendang curry
And here is my Beef rendang curry
Let's talk about the cooking method first, shall we?
Slow Cooker Rendang Curry
Cooking rendang curry takes quite a long time actually. And you need to baby sit it. You cannot simply put it on a stove and come back a few hours later hoping everything turns out great.
Having that experience and the fact that now everybody has so little time for everything, I thought I'd share how I simplify my rendang curries with amazing results, if I might say 😀
Cooking my rendang curries in a slow cooker really helps me. The method is easier and I definitely don't need to baby sit it.
To Cook Or Not To Cook The Paste
If you watched the video on how to make rendang below, you will see that the base for a rendang is the paste of herbs and spices.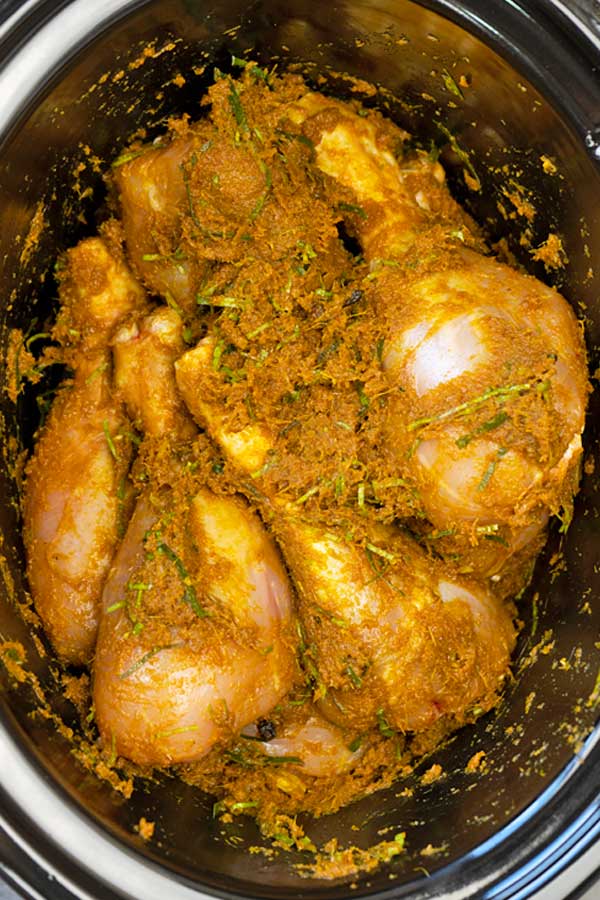 I've tried not cooking the paste first, which means I put the paste and coated the chicken with it and directly put on high setting to cook.
The result was good, but for me personally, it was lacking a tad depth of flavor.
Then I tried cooking the paste for 10 minutes until the it became thick, coated the chicken with it and then put on hight setting to cook.
The taste was amazing! A mere 10 minutes of cooking changes a lot.
So you choose what's convenient to you. To cook or not to cook the paste 😉
How To Thicken The Sauce
As we know, cooking with a slow cooker always results in quite watery dish. No rendang curry deserves that.
That's why I'm using the minimal water as possible to cook.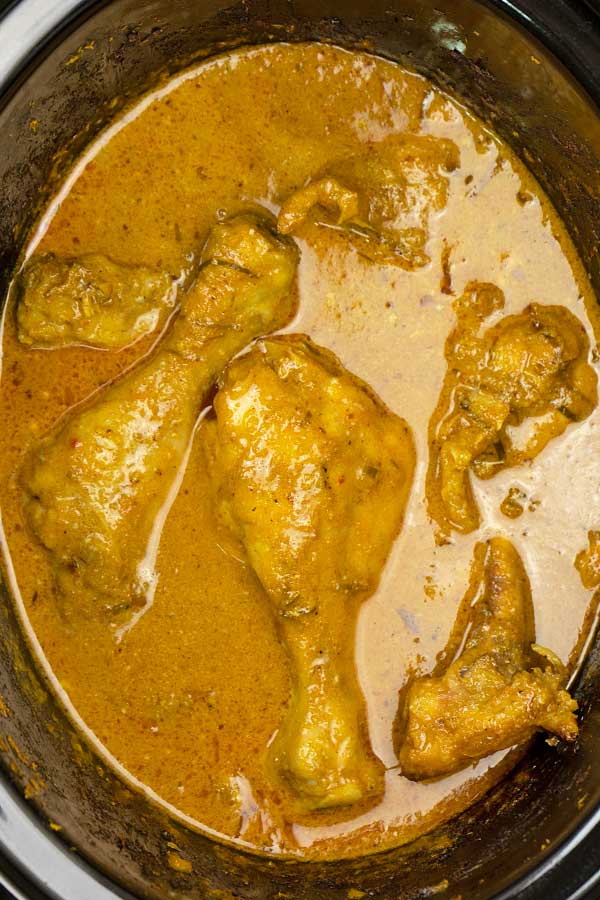 And then I finish it off with some cornstarch that I mix with coconut milk, continue cooking the rendang curry for another 10-15 minutes without the lid.
That simple trick really converts this slow cooker rendang to another level.
Main Ingredients Substitutions
Lemongrass
I plant my own lemongrass. My late mother sent some lemongrass to me some years ago and taught me how to plant them and that's how I get my fresh lemongrass supply.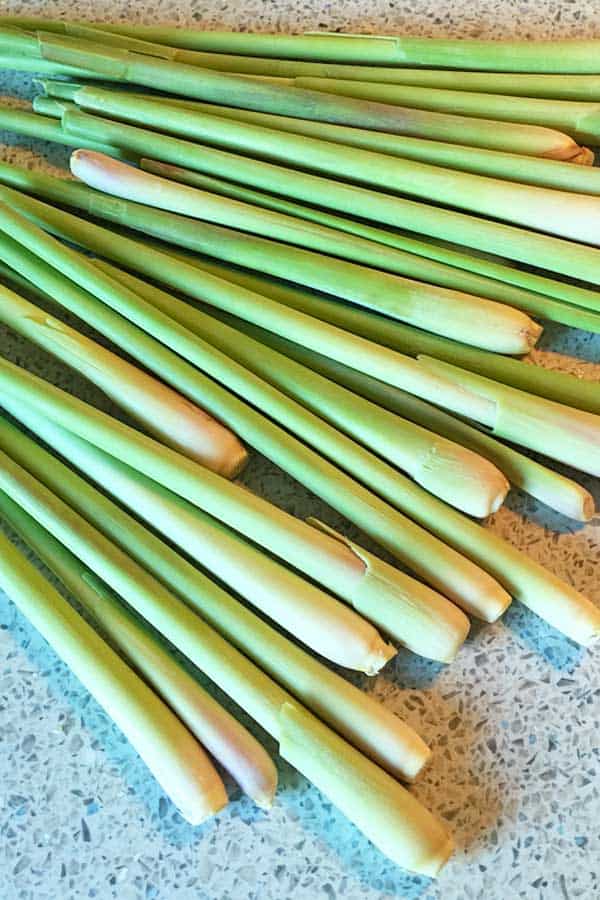 If you can't find any fresh lemongrass you can use lemongrass paste, which I know is easier to find.
For this recipe, I would say use ¼ to ⅓ cup of lemongrass paste. Just be careful of the salt since usually lemongrass paste already comes with salt.
Turmeric Leaves
This year I managed to plant my own turmeric plant. Yay! 😀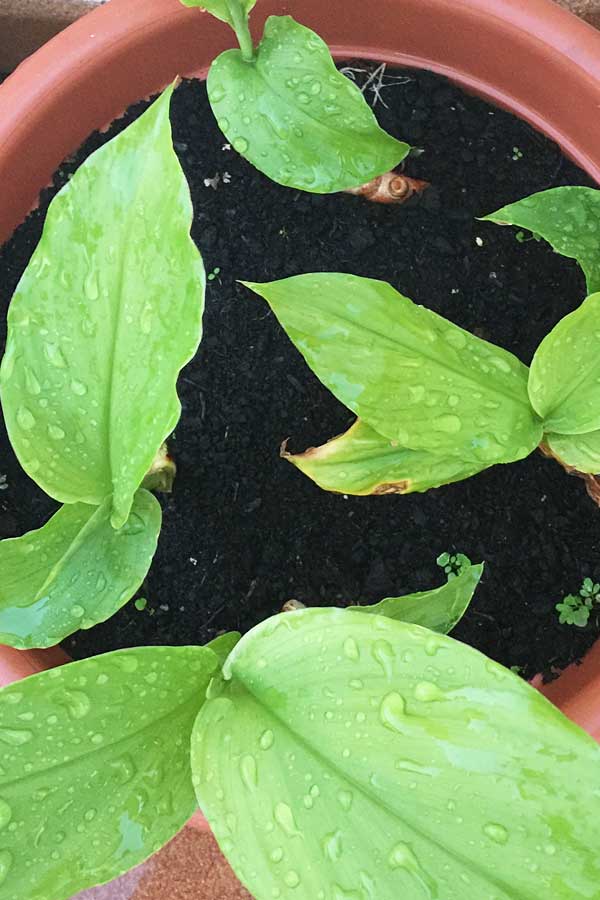 Turmeric leaves give the rendang curry an aromatic smell.
They are difficult to find in Asian stores. If you don't have any, then simply skip it. I didn't put any turmeric leaves in my rendang all these years, until when I have my turmeric plant.
Keffir Lime Leaves
This is a must, unfortunately.
But hey, good news is they are so easy to find in any Asian stores and even Amazon.
If you really really really can't find them (which I think should not be the case 😀 ), you could use lime zest. Quite a lot of it.
The rendang curry needs that citrus touch to it.
Dry Chillies, Galangal And Tamarind
Simple, I use cayenne pepper powder. Easier and I'm happy with it. Adjust the amount to your likings though.
You can find galangal in any Asian store, in the frozen section. If you don't have any, simply skip it.
I use lime or lemon juice instead of tamarind paste. The reason is to incorporate a touch of acidic taste to the meal. Use whatever is convenient to you.
There you go. A slow cooker rendang curry for you to try. We like to have it with steamed turmeric glutinous rice or simply with white rice. I really hope you'll give this recipe a try 🙂
You can also check my Amazon Asian list to find some of the ingredients needed for this recipe.
Before You Go
Perhaps you would want to check out these recipes also:
You can find more of this similar recipes in my recipe page.
Video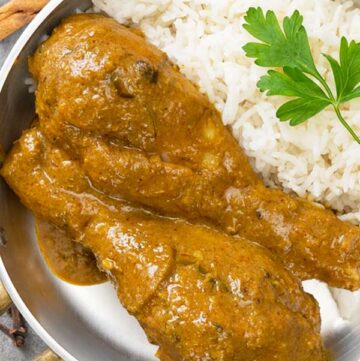 Slow Cooker Chicken Rendang Curry
The simplest way to make my favorite Malaysian chicken rendang curry, by using a slow cooker. The taste is equally amazing and delicious with such less effort.
Print
Pin
Rate
Ingredients
The Paste
1

onion

, chopped roughly

4

garlic cloves

6

lemongrass

, thinly sliced

1 ½

thumb sized

galangal

, chopped roughly

1 ½

thumb sized

ginger

, chopped roughly

2

lemongrass

, bruised

1

cinnamon stick

1

star anise

4

cloves

4

cardamoms

3

tbsp

curry powder

2

tsp

cayenned pepper powder

1

tsp

turmeric powder
The Rest
⅓

cup

water

(

80

ml)

4

turmeric leaves

, thinly sliced

15

kefir lime leaves

, thinly sliced

2

tsp

salt

2

tbsp

coconut sugar

2.2

lb

chicken drumsticks, bone in & skinless

(

1

kg)

1

cup

coconut milk

(

250

ml)

1

tbsp

cornstarch

½

lime, the juice
Instructions
The Paste
Blend lemongrass, onion, garlic, galangal and ginger into a fine paste. Set aside.

Heat a pan on medium heat with some oil. Add in bruised lemongrass, cinnamon stick, cloves, cardamoms and star anise. Cook until the spices release their fragrances. Add in the rest of the ingredients and continue cooking for 10 minutes, until the paste becomes thick.
Cooking
Spray the inside of the slow cooker pot with some oil. Add in cooked paste and the rest of the ingredients except chicken, coconut milk, cornstarch and lime juice. Mix everything well. Now add in the chicken and coat them well with the mixture.

Close the lid. Cook on high setting for 2 hours. Gently give everything a mix and continue cooking for another 30 minutes on high setting with the lid on.

Then remove the lid. Mix coconut milk with cornstarch and pour into the pot together with lime juice. Gently mix everything well. Continue cooking for another 10-15 minutes on high setting without the lid, until the sauce thickens. Serve with some steamed glutinous rice or white rice. Enjoy!