Crispy buttery phyllo dough filled with deliciously spiced-up potato filling. Perfect hint of heat and that touch of lime just brings everything together.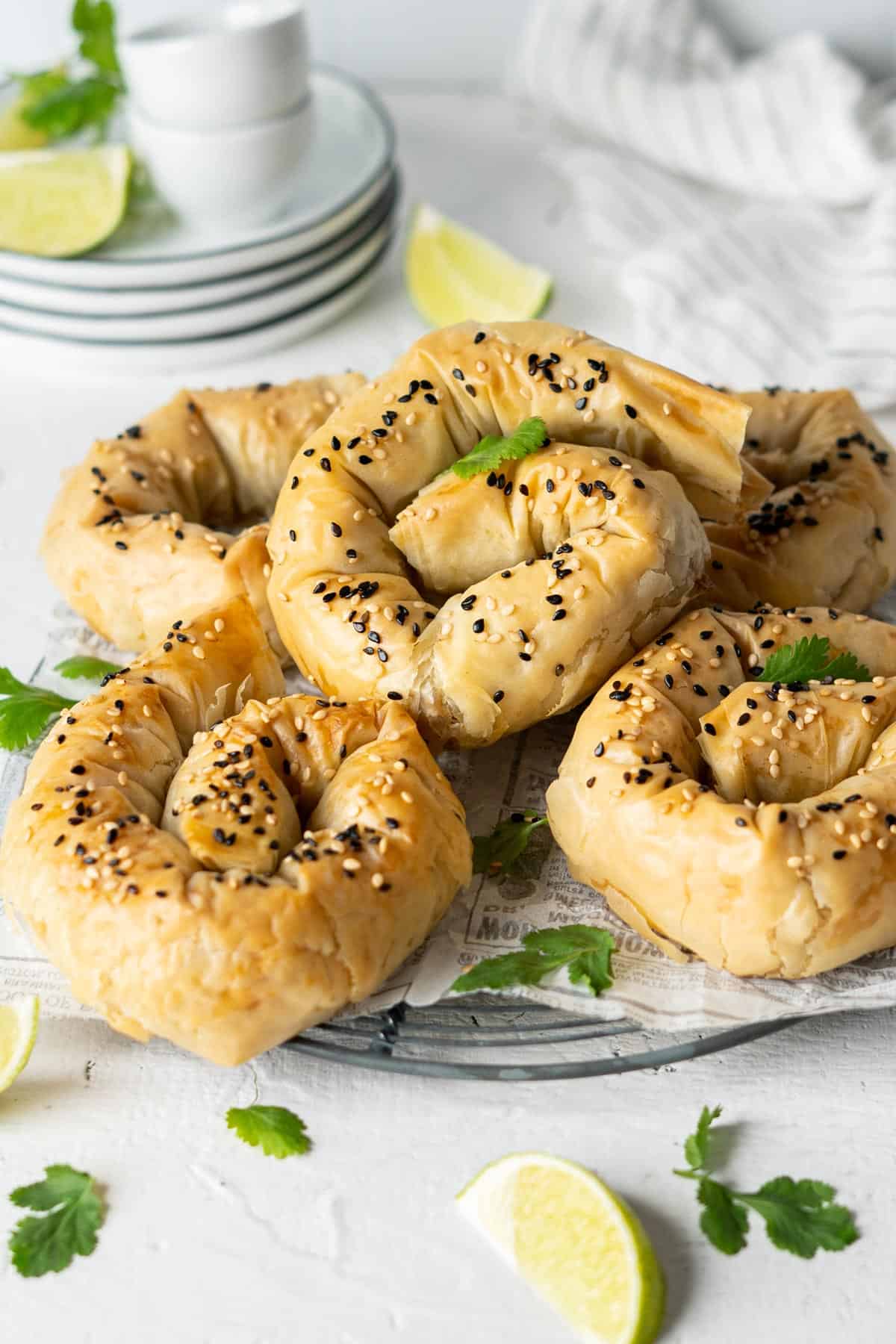 These baked potato phyllo samosa coils are perfect for parties and gatherings where people just grab one (or two!) and pick a corner to sit and enjoy themselves.
Jump to:
Easier One-Pot Method
Traditionally and generally when making the filling for samosa, you boil the potatoes separately and then add them into the sauteed spices mixture. Well, with my one-pot method, it'll be easier and with less pots to wash.
Cooking the potatoes together with the spice mixtures also infuses wonderful flavours into the potatoes. Win and win situation, right?
Ingredients & Substitutions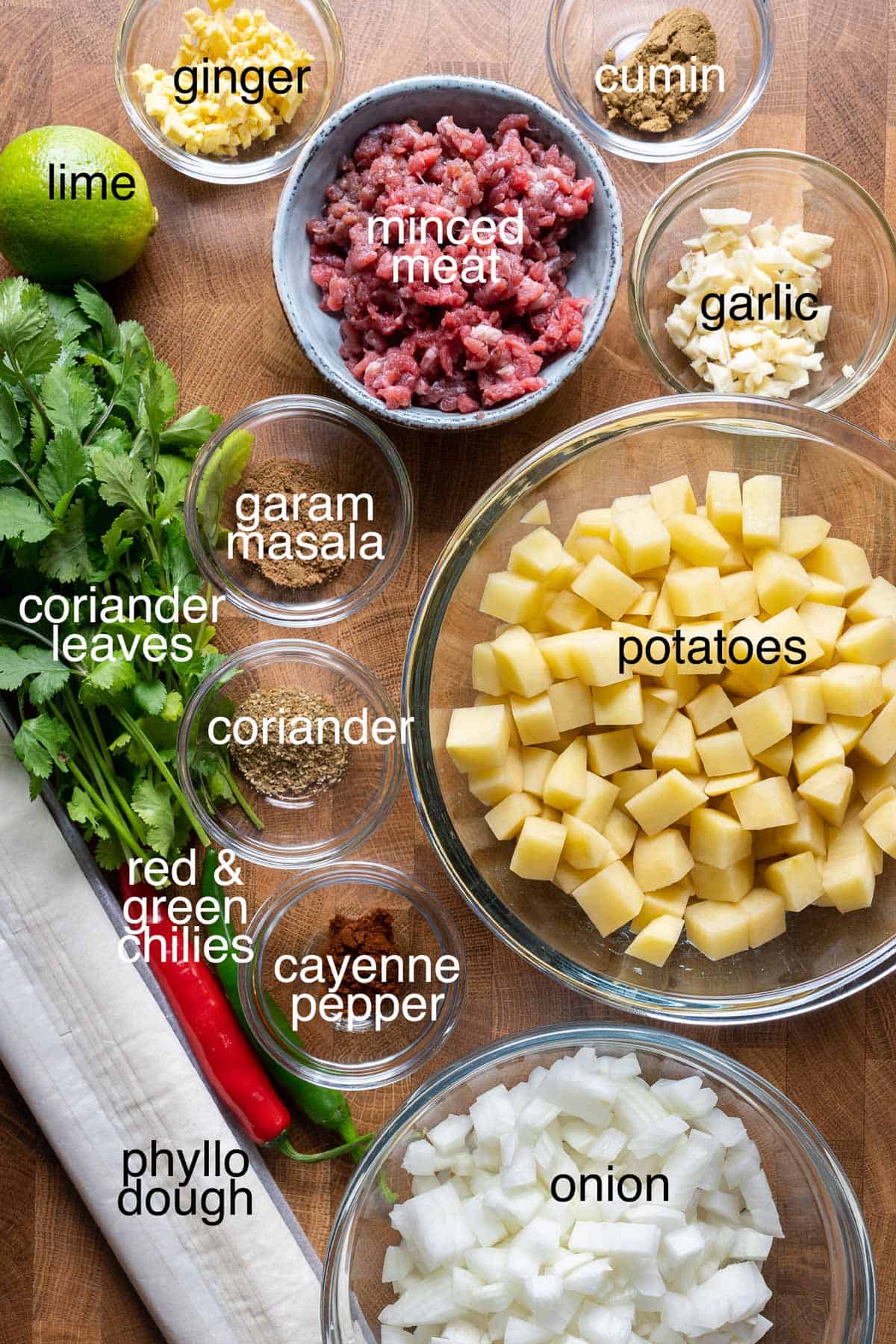 Phyllo dough - A brilliant shortcut to classic samosa dough. You'll get even crispier skin with no work at all.
Potatoes - Give the substance and body for the filling. Any type will do.
SUBSTITUTION: Use sweet potatoes or yams. Swap half the amount of them with cauliflower, if you like.
Meat - Swap for any protein source that you like. Chicken, turkey, lamb, your choice.
MAKE IT VEGETARIAN: Use more potatoes (see above) or tofu.
Spices - The combo of the spices really brings all these delicious samosa flavours together. I'd really recommend you to use them and have them in the pantry as they're amazing, common spices to use in Asian dishes.
SUBSTITUTION: It won't really taste the same but you could use 1 teaspoon of curry powder instead.
How To Make Phyllo Samosa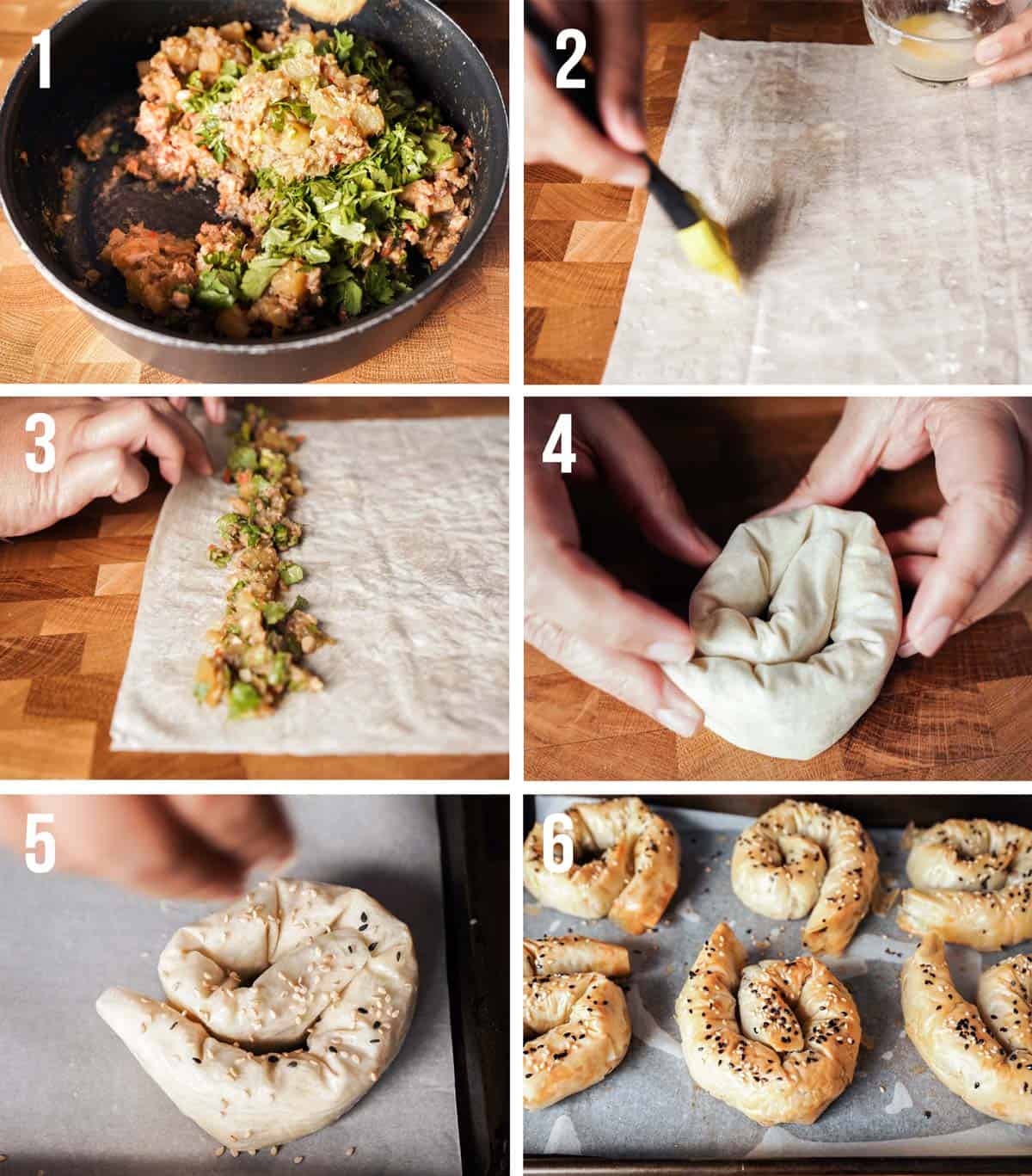 One-pot filling: Saute the veggies, add in spices, minced meat, potatoes and water. Cook until potatoes are soft, add in green peas. Mash some of the potatoes. Cool completely. Right before using, add in lime juice and coriander leaves, mix well.
Butter phyllo dough sheets: Take 1 phyllo dough sheet and brush its top surface with melted butter. Place another sheet on top, and also brush its surface with butter.
Roll: Roll the phyllo doughs into a log.
Coil: Twist inwards, making a coil shape.
Sprinkle: Brush with some butter and sprinkle with some sesame seeds.
Bake: Bake until golden brown. Best served hot.
Tips In Making This Recipe
Always cover the phyllo dough with a damp kitchen towel to prevent them from getting dry and breaking apart.
Don't put too much filling as it'll burst when shaping the phyllo dough into coils.
How To Store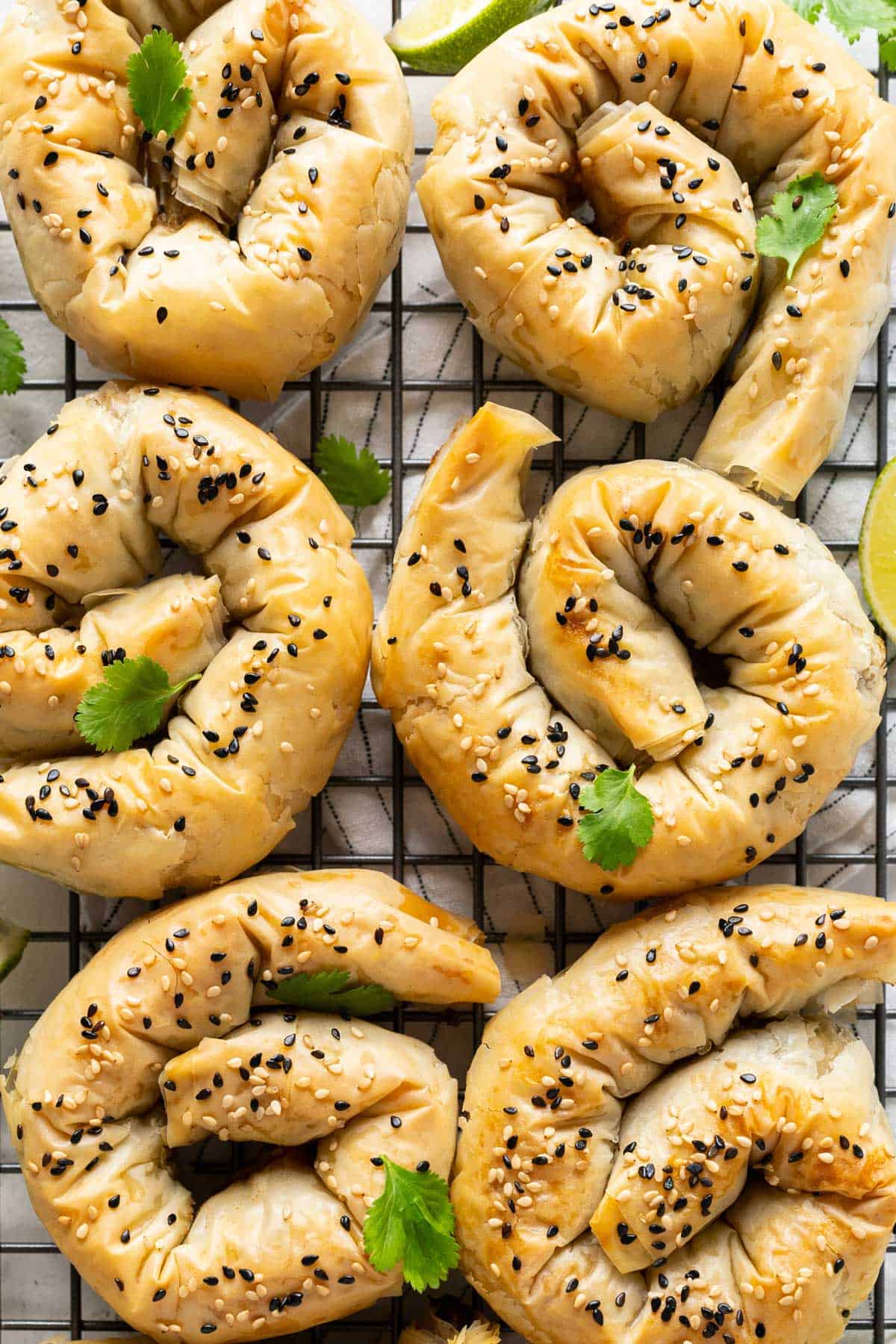 Room temperature - In an air-tight container they last up for a day. Since they have meat as the filling, it's not recommended that you have them sitting long at room temperature.
Fridge - In air-tight container, baked samosas last up to 3,4 days in the fridge. Re-heat in the oven at 350ºF (175ºC) or an air-fryer, for a few minutes to bring them back to life before serving. I don't recommend you keeping the shaped samosas unbaked in the fridge as they'll get dry and start breaking apart.
Frozen - I'd recommend you freeze them shaped but unbaked. Baked phyllo samosas will be crispy and delicate for freezing (still doable though). Best consumed within 6 months. Place them on a parchment paper with a tray and freeze for 1 hour. Once frozen, put them in a ziploc bag and back in the freezer. Baked directly without thawing, add a few minutes more of cooking time.
FAQs
What Is Samosa?
Delicious Indian savoury pastry that's either fried or baked. With varieties of spiced fillings such as potato and meat, you can basically create your own version of it. Samosa name is said to be traced to Middle Persian's word "sanbosag", which means pastry with triangular shape.
What Is Phyllo Dough?
Phyllo dough is a very thin dough or sheets that's typically used in pastries such as baklava. Phyllo pastries gets their crispiness by layers of phyllo dough stacked together and brushed with melted butter in between the layers.
How In Advanced Can I Make Them?
You can cook the filling 2,3 days earlier and have it chill in the fridge. You can assemble and keep them frozen for up to 6 months. I don't recommend keeping assembled unbaked samosas in the fridge as the phyllo dough will dry out.
Can I Make Them Vegetarian?
Of course! Swap the meat for more potatoes, cauliflower, or even more green peas.
I Don't Have Phyllo Dough, What Can I Use?
You won't get the same results as in the pictures but you could use puff pastry dough instead. Although with that, I recommend you shape them into triangle samosas. Cut squares, put filling on lower triangle, fold over and press to seal.
Can I Cook Them In The Air-Fryer?
Yes, of course. Use the air-fry function at 360ºF (180ºC), and cook for 5 minutes. Flip and continue cooking for another 5 minutes. Adjust the cooking time accordingly as it depends on the basket size and the air-fryer itself.
Watch How To Make Them
📖 Recipe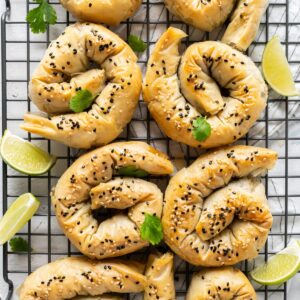 Bakes Potato Phyllo Samosa Coil
The healthier and faster way to enjoy crispy and delicious potato samosas. With my one-pot method, it's even easier and with less wash-ups. Freezer-friendly.
Print
Pin
Rate
Ingredients
Filling
2

thumb-sized

ginger

, minced

1

onion

, chopped

4

garlic cloves

, minced

1

red chili

, chopped (optional)

1

green chili

, chopped (optional)

4

oz

minced meat

(

100

g)

1

lb

potato

, peeled & cubed into 1 cm

½

cup

frozen green peas

(

70

g)

¼

cup

chopped coriander leaves

(

15

g)

1

lime
Spices
1

teaspoon

garam masala

, make your own here

1

teaspoon

coriander powder

1

teaspoon

cumin powder

½

teaspoon

cayenne pepper powder
Others
1

lb

phyllo dough

(

450

g)

½

cup

melted butter

(

113

g)
Instructions
Filling
Heat some oil in a casserole pan. Add in ginger and sautee until golden brown. Add in onion with a pinch of salt, and cook until translucent.

Add in garlic, both chilies and cook until garlic is golden brown. Add in all the spices, mix well, and cook for 30 seconds. Add in minced meat, some salt and pepper, and cook until meat is fully cooked. Finally, add in potatoes and some water just until about to cover the potatoes. Bring to a boil, then simmer for 10 minutes or until the potatoes are soft. Add more water as needed.

Add in frozen green peas and continue until they're fully cooked. Mash some of the potatoes with the back of your spatula, leaving some in chunks still. Cool completely. Right before using, add lime juice and coriander leaves. Mix well.
Assemble
Brush the top of 1 phyllo dough with some butter, and place another 1 on top. Brush it also with some butter.

Spoon around 1 tablespoon of filling in a line, at one end of the phyllo doughs. Roll into a log. Grab one end and twist inwards, creating a coil shape. Place on a baking tray lined with parchment paper. Brush with some more butter and sprinkle with some sesame seeds. Repeat with the rest.
Bake
Bake in a preheated oven at 375ºF (190ºC) for 20-25 minutes or until they turn golden brown. Best served hot. Enjoy!
Air-fryer
Use the air-fry function at 360ºF (180ºC), and cook for 5 minutes. Flip and continue cooking for another 5 minutes. Adjust the cooking time accordingly as it might vary depending on basket size and the air-fryer itself.
Notes
Use a portable oven thermometer to get the accurate oven temperature (I use it all the time).
Re-heat in oven/air-fryer for a few minutes to get back the crispy skins.