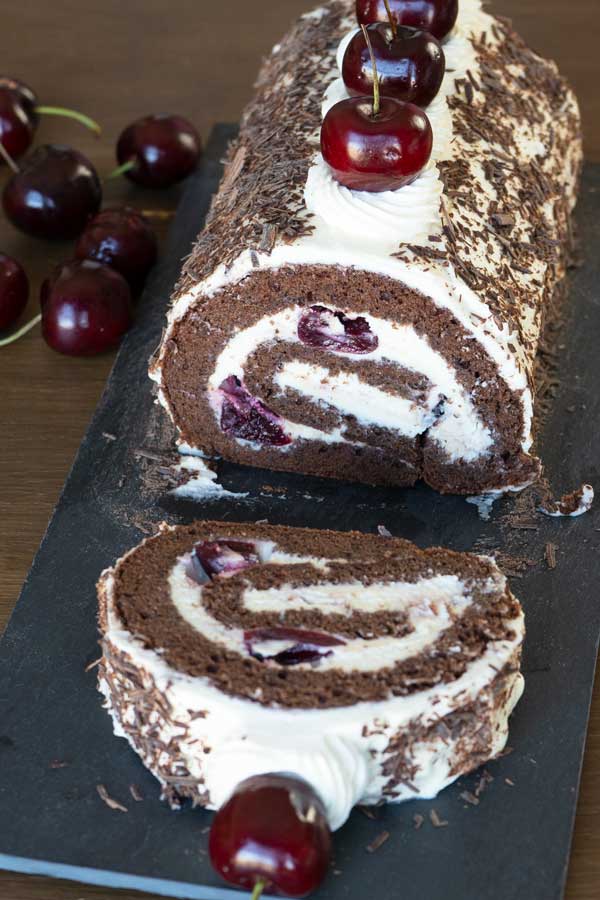 Have you tried black forest cake? If you have then good for you!
This is my take on the delicious cake but with a twist. A black forest roll cake. Yum!
Super soft and fluffy chocolate cake with cherry compote, luscious cream and sprinkles of shaved chocolate.
What do you think of that?
Everything You Need To Know When Making A Roll Cake
Ok, I'm the last person who will say that I know everything about everything. Having said that, I do believe that there are several crucial things about a roll cake that you need to know.
How do I know that?
Well because I did recipes (yes, several recipes) testings (yes, many testings) for this particular chocolate roll cake that has cherry compote and cream as the filling, for hmm.. let me think. For about 9 times?
Yes, believe me. I was even almost crying at one point and had given up. Haha!
My husband said to me "But this is the most basic type of cake that is used in lots of cake recipes. So cannot be that we are not able to make it. And people make roll cakes all the time. We have to nail it, we owe it to ourselves."
Yes, he simply loves challenges. In fact he helped me a lot in this recipe. He basically went through every ingredient and came out with this final recipe that I'm sharing with you today. Bless him! And how lucky am I?
Ok, so let's get started, shall we?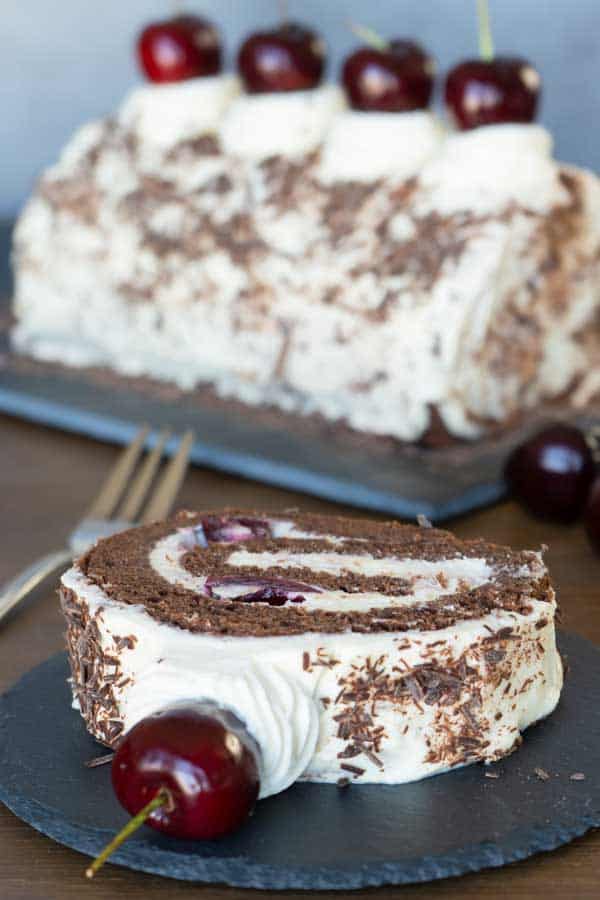 Genoise Roll Cake
It's an Italian sponge cake that's named after a city called Genoa, Italy. The different with this sponge cake and other sponge cakes is that you don't need to separate the egg whites and the yolks. So the method itself is simpler and easier from the very beginning.
There are several things to take note though:
Temperature - some people think that the temperature of ingredients don't matter. Wrong. It does matter and in fact is very important. So if the recipe says eggs at room temperature, then make sure they are.
Ribbon stage - you need to whisk your eggs and sugar until ribbon stage. It's when you can write on the batter and the writing stays visible for a few seconds.
Sift and sift again - sift your dry ingredients together, to make sure there are no lumps. Then when you add them to your eggs mixture, sift them in. Don't throw them in using spoon. Sifting creates light and thin layer of the dry ingredients, which makes folding and mixing them in easier.
Add in gradually - yes, add in your dry ingredients bit by bit. I added mine like in 5,6 additions. So take your time.
Fold gently - most crucial part. Take your time in folding and mixing in the dry ingredients into the batter and do it gently. We want to preserve as much air as we can.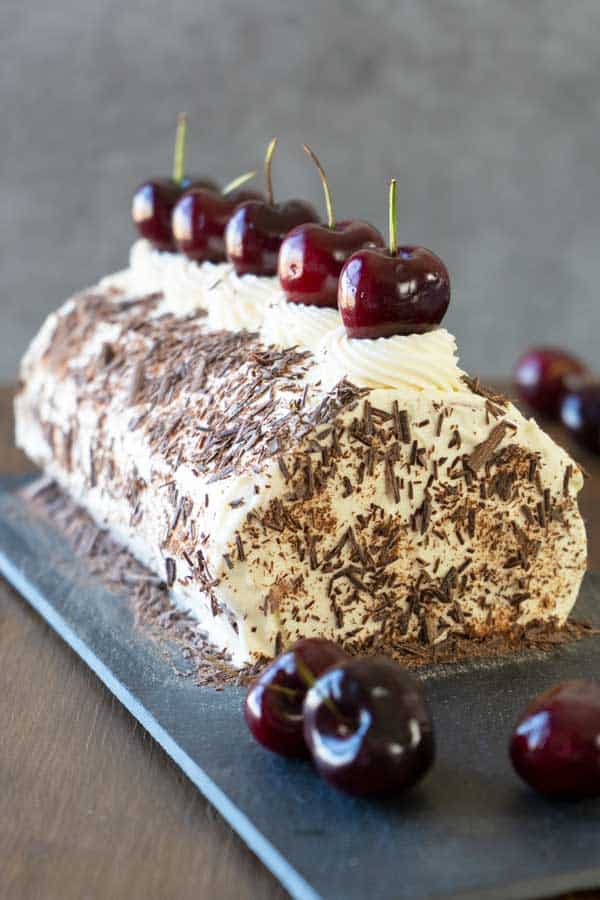 Don't over bake - This cake doesn't take long to cook so keep your eyes on it. You know it's fully cooked when you lightly press the top surface and it bounces back. Over baking it will make it dry and horrible.
Pre-rolling The Cake
This is so that your cake has that physical memory of being rolled and thus making it easier for you to roll it after you filled it later.
Do pre-roll it while it's still hot or warm. Sprinkle some powdered sugar or cocoa powder on top to avoid the top surface sticking to the baking sheet.
The Cream Filling
Make sure your cream is very firm. This will make rolling the cake easier and you will have a nice cream ratio to the cake.
I would really suggest you whisk your cream even before you start making this cake and have it chill in the fridge. 1 day earlier? Even better.
Cherry Compote
I make my own simple cherry compote for this recipe. You can buy yours or even use some marmalade.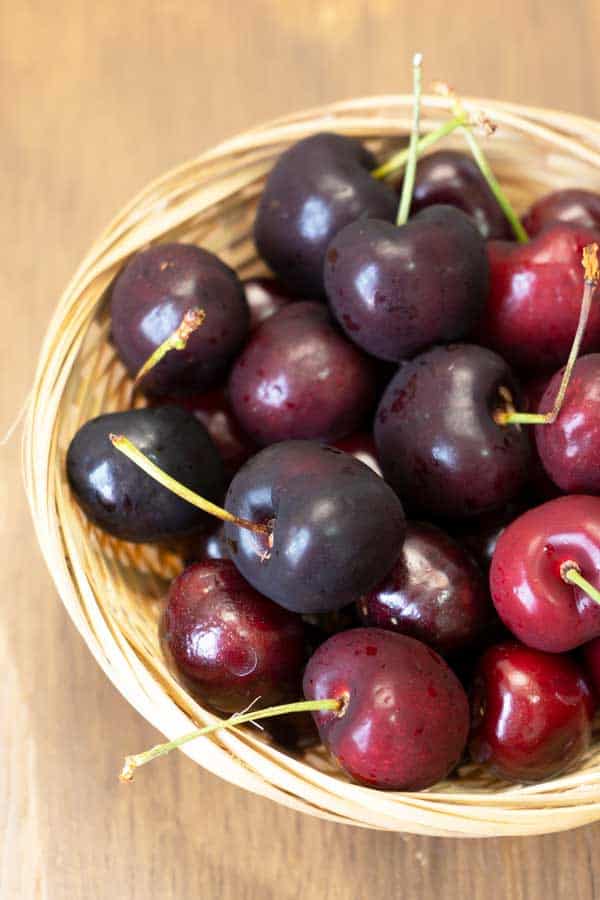 Just put in the cherries only, not the thick syrup because then it will make the filling soggy and it also stains the beautiful white cream.
Ok so there you go. The crucial things that I think you should really know before you make this roll cake so that you can make it in your home with no problems.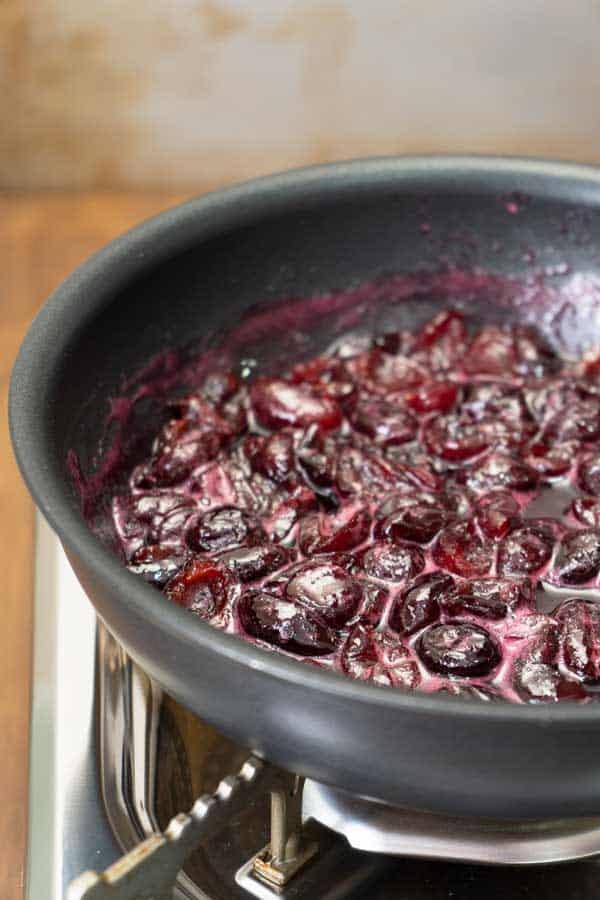 Inspired
If you follow me on Instagram (@elmundoeats) maybe you noticed my Insta story from a few weeks ago when we went to Black Forest, Germany.
It was absolutely amazing, we met the friendliest people ever, beautiful sceneries everywhere and yes, great food.
One of the food that we get to try was Black forest cake at Café Schäfer in Triberg. We went to the cafe 2 times because the first time they ran out of the cake and the second time, we just made it by luck. We literally had the last portions of the cake because the next customers after us were asking about it and the owner said no they have ran out.
So if you plan to go there, go early. They always ran out of their delicious signature cake around 5 pm.
Though not the same but this black forest roll cake is inspired by our trip there.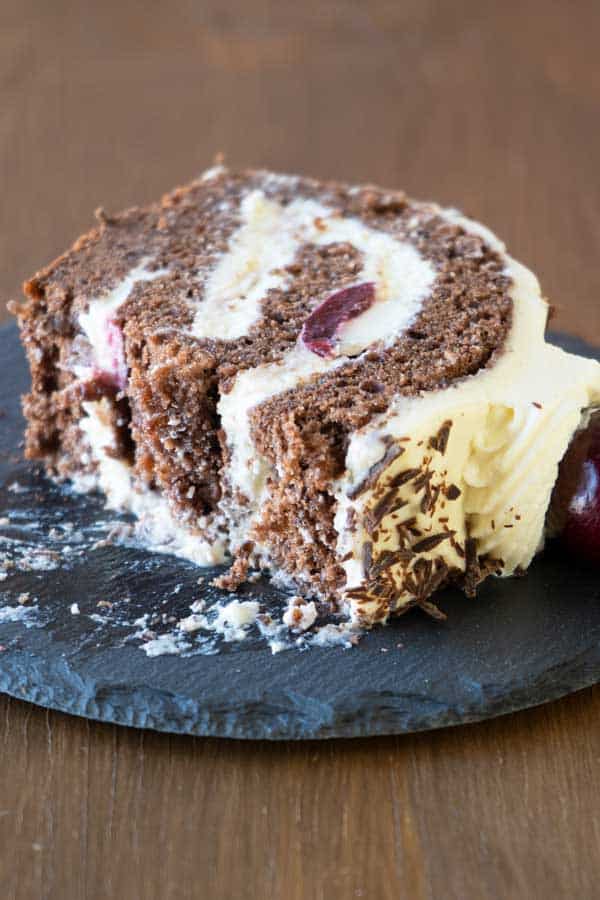 In Summary
This black forest roll cake is:
simpler because you don't need to separate the eggs
soft and fluffy!
has great chocolate flavour
is fun to make and yes, DELICIOUS!
Before You Go
Do check out these recipes also:
Video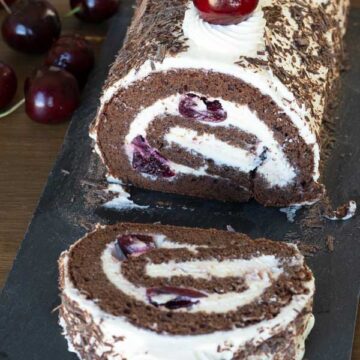 Black Forest Roll Cake
Soft and fluffy cake with strong delicious chocolate flavour, rolled with homemade cherry compote and cream. Absolutely amazing, and fun to make!
Print
Pin
Rate
Ingredients
Cream Filling
2

cup

whipping cream min 35% fat

(

500

ml), chilled

½

cup

powdered sugar

(

60

g), sifted

1

teaspoon

vanilla extract
Cherry Compote
8.8

oz

cherry

(

250

g), pitted

¼

cup

sugar

(

50

g)

1

tablespoon

lemon juice
Chocolate Cake
⅓

cup

all purpose flour

(

45

g)

¼

cup

unsweetened cocoa powder

(

30

g)

1

teaspoon

baking powder

½

teaspoon

salt

4

eggs

, room temperature

½

cup

sugar

(

100

g)

1

teaspoon

vanilla extract

¼

cup

butter

(

60

g), melted
Instructions
Cream Filling
Add all ingredients into a bowl and whisk until stiff peaks. Chill in the fridge until very firm before using.
Cherry Compote
Add all ingredients into a pan and cook on medium heat until the cherries have soften and broken down a bit.

Leave to cool completely before using.
Chocolate Cake
Sift flour, cocoa powder, baking powder and salt into a bowl. Mix everything well and set aside.

Into another bowl, add in eggs, sugar and vanilla extract. Whisk until ribbon stage using a handheld whisk. It takes me around 8 minutes of whisking.

Now sift in flour cocoa mixture bit by bit into the bowl, folding gently to combine everything well after each addition.

Once everything is well combined, add in butter and again, fold everything gently.

Pour batter into a 10.5x15.5 inch (27x39 cm) baking tray that has been greased and lined. Spread batter evenly. Bake in a preheated oven at 375ºF (190ºC) for 10 minutes or until fully cooked. Don't overbake.
Rolling & Assembling
Remove from the oven and leave for 3 minutes. Dust the top with some cocoa powder and place a baking sheet on top of it followed by a cooling rack. Carefully flip the baking tray and remove it. Peel off baking sheet. Now gently roll the cake together with the new baking sheet. Leave to cool completely before filling it.

Once cooled, unroll the cake. Make 3 cuts (not all the way through) with 1 inch (2.5 cm) distance on the side of the cake where you will start rolling. Spread some cream on all of its surface. Now spoon the cherry compote, only the cherries, in 4 lines with some space in between them. Spoon a bit more cream on top of the cherries and lightly spread it.

Now roll the cake again. Use a scrapper to push the cake tight on itself. Wrap it with the baking sheet and place in the fridge to chill for 1 hour.

After 1 hour, remove the baking sheet and cut off both ends of the rolled cake to make it neater. Frost it with whipped cream, place some cherries on top and sprinkle some shaved chocolate. Serve and enjoy!
Nutrition Facts
Calories:
303.9
kcal
,
Carbohydrates:
27.2
g
,
Protein:
4.1
g
,
Fat:
21
g
,
Saturated Fat:
12.8
g
,
Cholesterol:
112.7
mg
,
Sodium:
199.2
mg
,
Potassium:
142.9
mg
,
Fiber:
1.2
g
,
Sugar:
22.5
g
,
Calcium:
63
mg
,
Iron:
0.9
mg