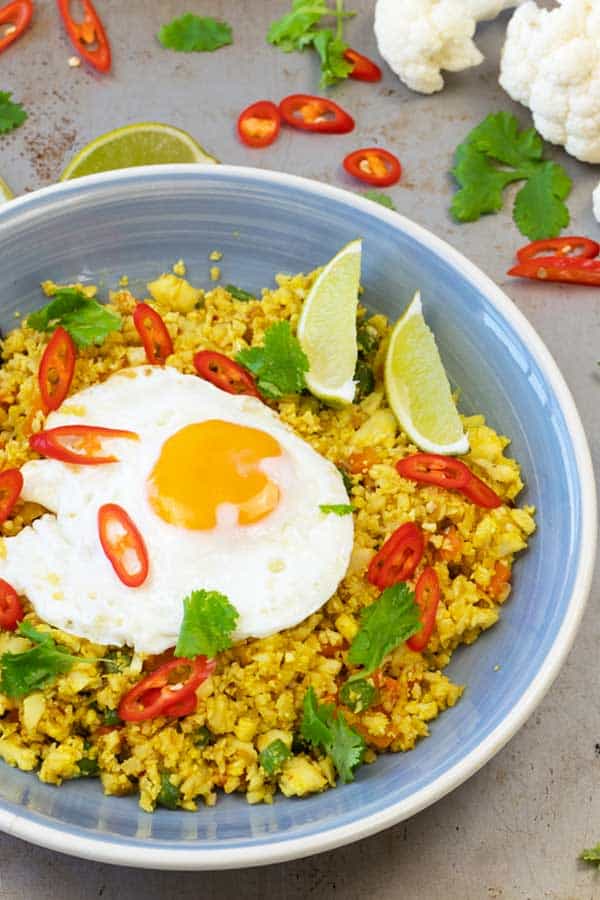 Have you tried cauliflower nasi goreng?
Nasi goreng is literally fried rice in Malay language. So cauliflower nasi goreng?
Yesssss, you've guessed it correct. It's cauliflower fried rice.
What's So Special About Cauliflower Nasi Goreng?
For those of you who want to mind their carbs intake either to get ready for the holidays or taking care after the holidays' feasts, this is one perfect meal for you.
And guess what, it's also a vegetarian friendly meal.
Low Carbs
Replacing the rice with cauliflower rice is a great choice as cauliflower rice absorb the flavours like rice does and it's very low in carbs.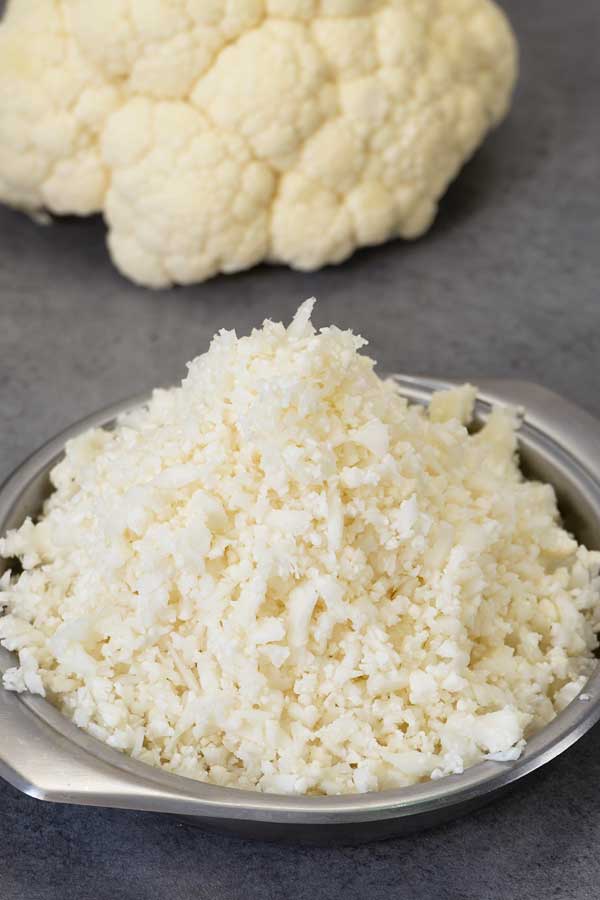 So by using cauliflower rice, you will still get and enjoy the taste of a delicious nasi goreng while still cutting your carbs intake.
Not only low in carbs, cauliflower is also high in fiber, a good source of antioxidants and as you can see, it's very easy to incorporate in your diet.
Vegetarian Meal
You can personalise this cauliflower nasi goreng in so many ways. I'm making it vegetarian friendly with this recipe by not using any animal meat.
You can make it vegan by skipping the egg. No problem at all.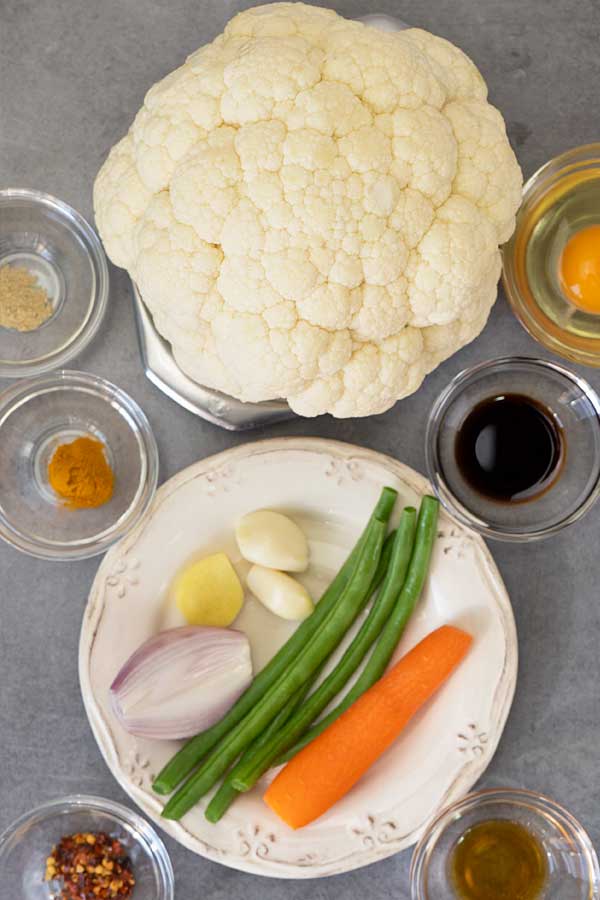 Or of course if you want you can add chicken, shrimps or beef in it. Make it yours.
Tips How To Make Perfect Cauliflower Nasi Goreng
The main problem that many people have with this meal is that the cauliflower rice gets extremely soggy and wet.
We don't like our nasi goreng soggy and wet, do we? And of course we don't want the same for our cauliflower nasi goreng.
Below are my tips to get the perfect cauliflower nasi goreng:
1. Washing The Cauliflower
I wash the whole cauliflower head before I cut it into florets. This will reduce the amount of water on the florets themselves and make them drier to begin with.
2. Blend In Small Batches
Yes, blend your cauliflower florets in small batches. ½ lb (250 g) a batch is perfect. If you blend too many at one time, you will end up with a cauliflower mush.
Trust me, I've been there.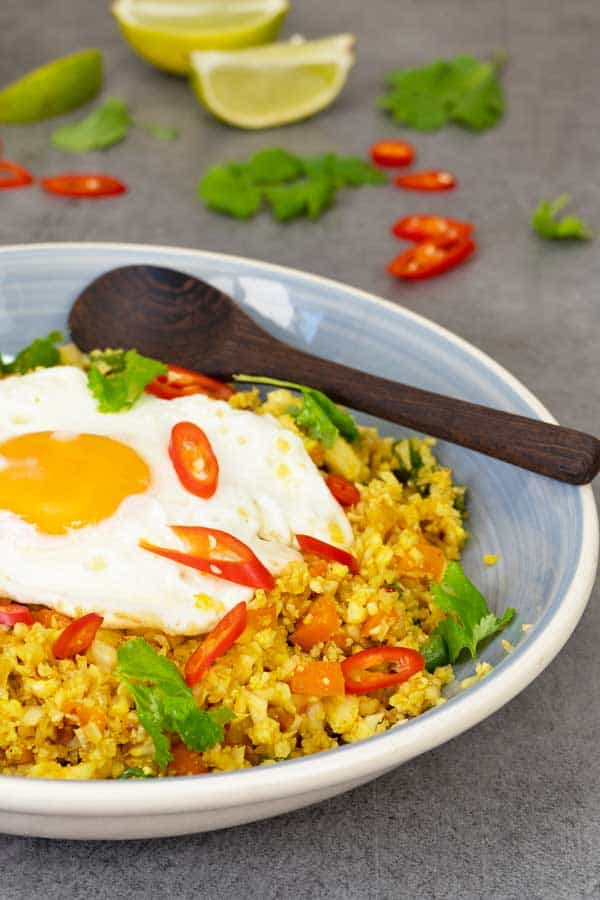 And oh, when I said blend I meant pulse. This will also ensure us getting cauliflower rice instead of mush.
3. Dry Condiments, Ingredients And Pan
The same concept applies in this recipe as in any other stir fry recipes. We will try to use condiments and ingredients that have less liquid.
So I would avoid using pastes as condiments. For example, instead of using sambal oelek you should use chili flakes for the heat. Go slow with the soy sauce also. A touch is enough. Help to season this meal by using salt or chicken bouillon powder if you want.
Use veggies that don't release so much water. I would not use mushrooms and zucchinis for example as they release lots of water as you cook them.
Always try to keep the bottom of the pan dry. Try to use wide surface pan.
Last but not least, try to cook this cauliflower nasi goreng in small batches. Cooking a huge amount in a pan will end up steaming the cauliflower instead of stir frying it and that, will lead to soggy and wet cauliflower nasi goreng.
So there you go. Simple and helpful tips to make a delicious cauliflower nasi goreng. Hope you'll give it a try!
Before You Go
If you're interested in simple light meals, perhaps you want to check these out:
You can look for similar recipes in my recipe page.
Video
📖 Recipe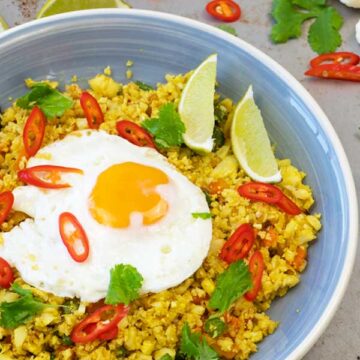 Cauliflower Nasi Goreng
A healthy low carb, vegetarian and delicious cauliflower nasi goreng. A perfect simple and healthy meal for the weekdays or whenever you want to get back on track after some holiday feasts.
Print
Pin
Rate
Ingredients
½

shallot

, diced

2

garlic cloves

, minced

½

thumb sized

ginger

, minced

4

green beans

, cut into ½ inch (bit more than 1 cm) length

1

small sized

carrot

, cut into ½ inch (bit more than 1 cm) cubes

½

teaspoon

chili flakes

½

lb

cauliflower

, cut into medium sized florets

½

tablespoon

soy sauce

¼

teaspoon

turmeric powder

¼

teaspoon

white pepper powder

½

teaspoon

sugar

1

teaspoon

sesame oil

salt to taste
Others
fried egg

slices of chili

lime wedges

coriander leaves
Instructions
Prepping The Cauliflower
Cut the washed cauliflower into medium sized florets. Place in a food processor and pulse until you get rice grains sized cauliflower. Set aside.

Prep and set aside all the other ingredients before starting to cook
Cooking
Heat some oil in a pan on high heat. Add in ginger, garlic and shallot. Cook until they turn golden brown.

Add in carrot, green beans, chili flakes and continue cooking until the veggies are slightly cooked.

Now add in cauliflower rice, turmeric powder, soy sauce, white pepper powder and sugar. Mix everything well and continue cooking just until the cauliflower rice is soft but not mushy.

Turn off the heat. Add in sesame oil and give it one last mix. Serve hot with fried egg, chili, coriander leaves and lime wedges. Enjoy!
Nutrition Facts
Calories:
245.6
kcal
,
Carbohydrates:
34.6
g
,
Protein:
13.1
g
,
Fat:
9
g
,
Saturated Fat:
2.2
g
,
Cholesterol:
141.4
mg
,
Sodium:
1879.7
mg
,
Potassium:
1280.5
mg
,
Fiber:
9.8
g
,
Sugar:
14.4
g
,
Calcium:
142.2
mg
,
Iron:
3.7
mg