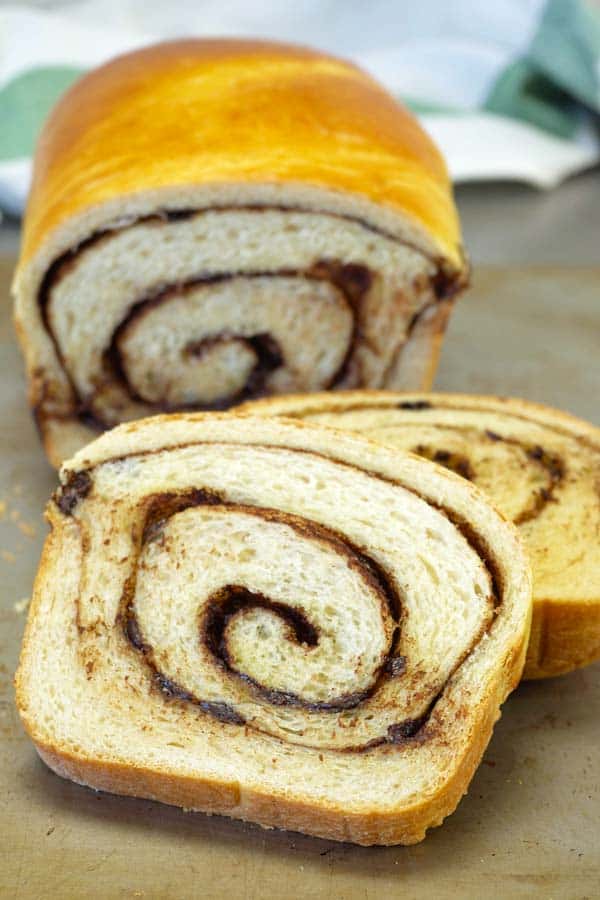 Imagine this.
Super soft fluffy bread with sweet buttery cinnamon and gooey chocolate. The smell of this delish beauty baking away in the kitchen.
Sounds good to you?
Well it sounds amazing to me, if I may say so.
This is what this cinnamon chocolate chip rolled bread is all about.
How To Get Soft And Fluffy Bread
Yes, this bread is soft and fluffy. You can see the texture and straightaway know that.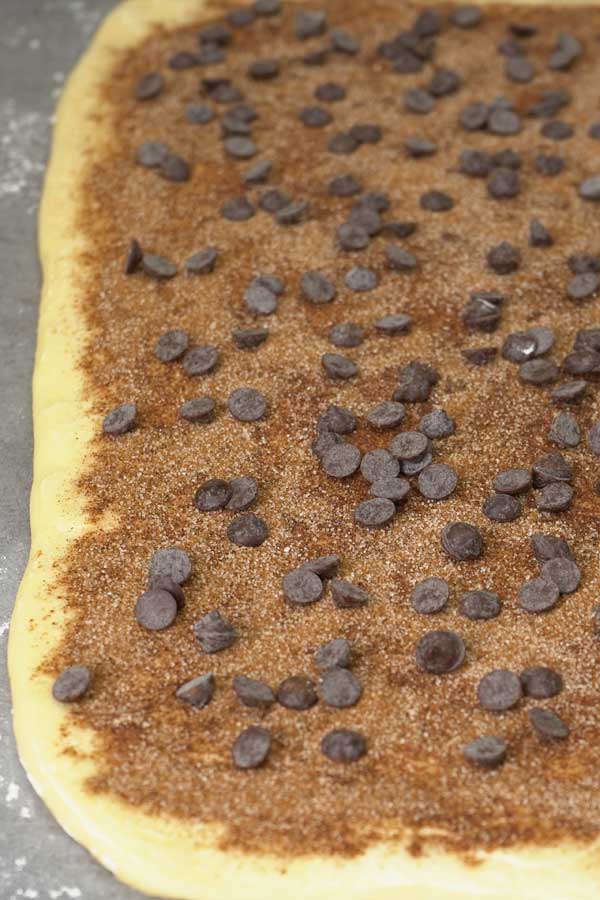 And it's all in the combination of the ingredients. Nothing fancy, so don't worry about it.
Just egg, butter, honey and another special ingredient that I find myself loving to use is powdered milk.
Yes, powdered milk.
Powdered Milk
It acts as a tenderiser by interfering with gluten development.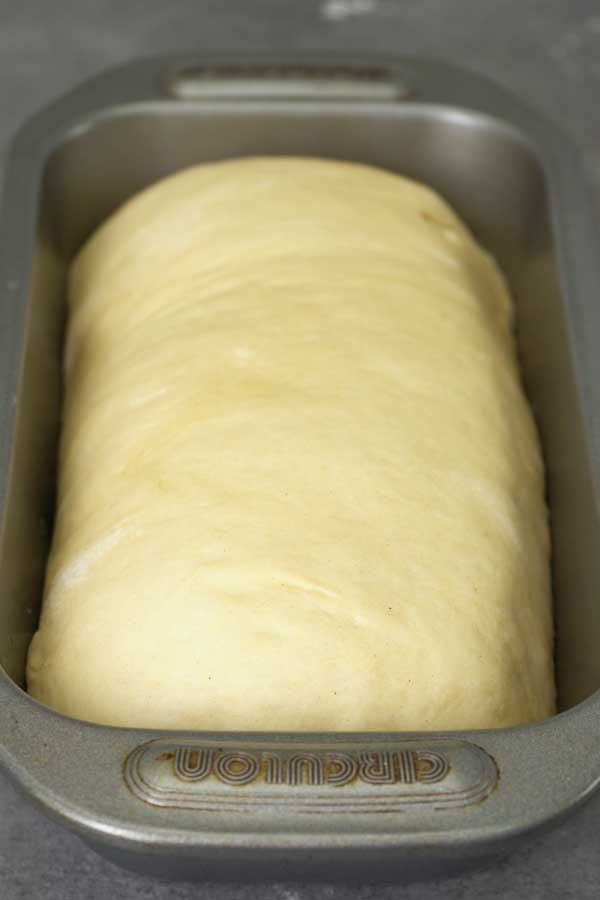 You can use any kind, really. Full cream or semi, it doesn't really matter. Sometimes when I go on a groceries trip, I just find full cream or semi, so I buy whatever that I find. No specific rule.
I know not many of us keep powdered milk in our house since fresh milk is more common in our daily consumption. In fact, for me I only buy powdered milk to make breads.
Have you heard of Spanish Antequera bread? A typical breakfast bread here in Andalusia, Spain. It's soft and delish!
My husband has it for his breakfast every morning. Sliced and toasted and then with some drizzle of olive oil on top, slices of fresh tomato and a sprinkle of salt. He goes crazy over that.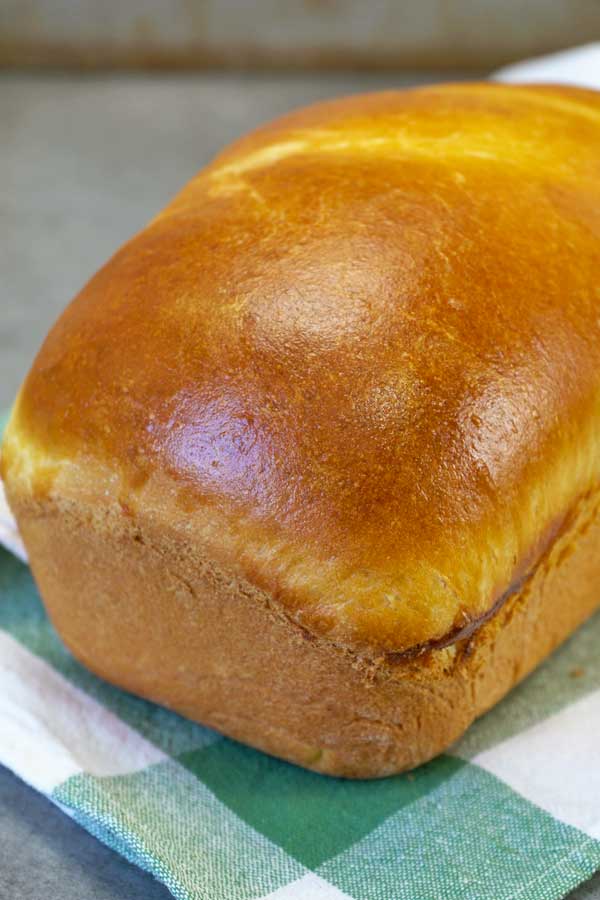 Anyway. As I was saying, I buy powdered milk for the purpose of making bread.
Though it's not compulsory but it enhances the dough and makes the bread softer. It adds flavour also.
Honey
Regardless if a bread is a sweet or savoury bread, the dough always needs a bit of sugar for the flavour.
Having said that, the amount depends on if you're taking it to a sweet or savoury bread.
I try to use honey as much as I can in my breads instead of sugar. I've been using sugar before and since quite a while I find myself trying to incorporate honey in my breads instead of sugar.
Honey helps extend the shelf life of a bread. And guess what? It also helps in making the bread softer and more moist.
Besides it's always good if whenever we can, we choose honey over sugar. Don't you agree?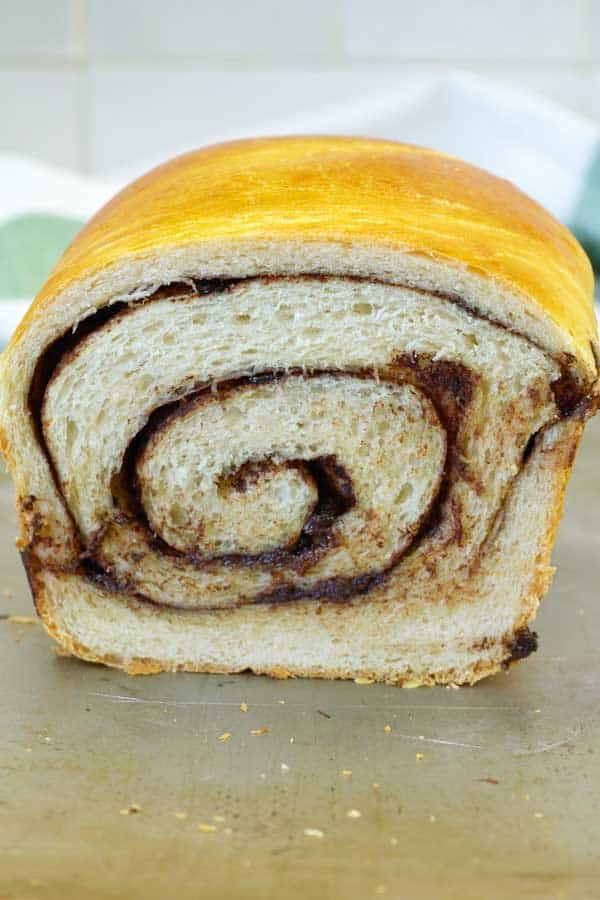 Egg
Egg(s) helps in making the bread rise higher and the fat also helps in tenderising the bread.
So there you go. My go to ingredients to make my breads soft and fluffy.
The Filling
I'm using lots of cinnamon for the filling. I simply love cinnamon in baked sweets.
Being an Asian, I grew up understanding that cinnamon is always used in savoury dishes like curries and rendangs.
Talking about those, you might want to check out my beef rendang.
You can look for more for curries and rendangs in the recipes page.
Anyway, so for me cinnamon is always associated with savoury.
Until I married a man with a sweet tooth. Haha!
From then on, I started to learn that there's more to cinnamon than savoury dishes. And I'm thankful for that.
Apart from cinnamon, I'm also using some sugar and chocolate chips.
You can basically do whatever filling that you like. It's your bread.
Put nuts, raisins, cranberries..create your own filling if you want to.
I hope you'd give this recipe a try. If you're into making breads, then you really SHOULD give this recipe a try.
Video
📖 Recipe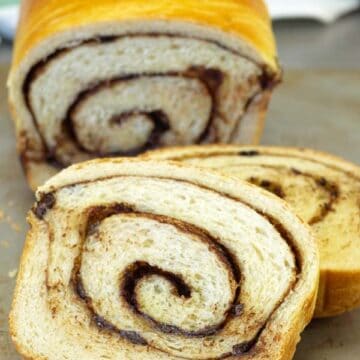 Cinnamon Chocolate Chip Rolled Bread
Soft and fluffy cinnamon chocolate chip rolled bread with buttery cinnamon sugar filling inside and if that's not enough, it also has chocolate chips. Instead of the typical bread, try this one. You'll love it.
Print
Pin
Rate
Ingredients
The bread
1

cup

warm water

(

250

ml)

2

tablespoon

honey

(

40

gr)

2 ¼

teaspoon

dry yeast

4

cup

bread flour

(

520

gr)

2

teaspoon

salt

¼

cup

unsalted butter

(

60

gr)

1

egg

, room temperature

⅓

cup

powdered milk

(

40

gr)
The Filling
3

tablespoon

sugar

2

tablespoon

cinnamon powder

2

tablespoon

unsalted butter

(

30

gr), soften

⅓

cup

chocolate chip

(

60

gr)
Instructions
The Bread
Mix honey with warm water and then sprinkle in the dry yeast. Give it a mix and leave for the yeast to activate, around 3-5 minutes.

Put the rest of the bread ingredients in a standing mixer bowl including yeast mixture. Mix to incorporate and then knead for 10 minutes. Grease your hands a bit and form the dough into a ball. Place it in a greased bowl and coat it with some oil. Cover the bowl tightly with a cling film and leave for the dough to rise double its size in a warm and draft free place.
The Filling
Mix sugar and cinnamon powder in a bowl. Set aside.
Assembling
Place the risen dough on a working surface with a bit of flour. Gently press and form it into a rectangle. Using a rolling pin, roll it into a rectangle of 9x16 inch (23x40 cm), with the shorter side facing you.

Spread soften butter on the dough, leaving around 1 inch (2.5 cm) empty space at your opposite end. Then sprinkle sugar cinnamon mixture evenly on the butter, continue with chocolate chips.

Starting from the end nearest to you, gently roll the dough tightly into a log. Pinch the seams and place it seam side down into a 5x9 inch (13x23 cm) greased bread loaf. Cover it loosely with a lightly greased cling film. Leave for the dough to puff up a bit, around 30 minutes.

Remove the cling film and brush the top with some egg wash. Bake in a preheated oven at 350ºF (175ºC) for 40 minutes. Cover loosely with aluminium foil if the bread browns too fast. Enjoy!
Nutrition Facts
Calories:
300.1
kcal
,
Carbohydrates:
46.1
g
,
Protein:
7.8
g
,
Fat:
9.7
g
,
Saturated Fat:
5.2
g
,
Cholesterol:
23.9
mg
,
Sodium:
437.7
mg
,
Potassium:
139.5
mg
,
Fiber:
2.6
g
,
Sugar:
9.8
g
,
Calcium:
58.6
mg
,
Iron:
0.7
mg