It's time for some chocolaty love, don't you think?
How about this yummilicious easy chocolate mousse for that special occasion.. or simply for celebrating that it's finally weekend.
Let's get on with today's recipe, shall we?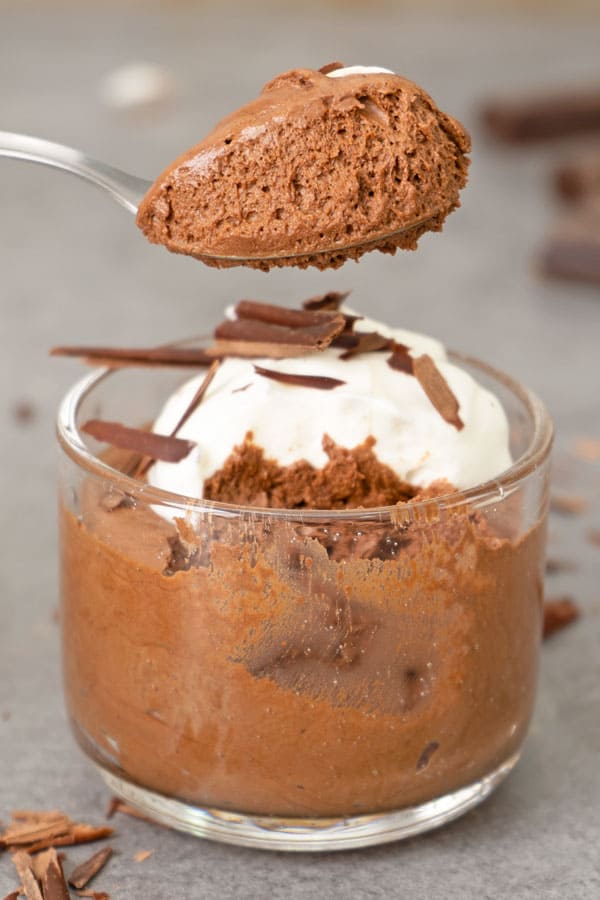 Perfect For Whatever Occasions
I made this easy chocolate mousse with my mother-in-law as dessert for last Christmas.
It was so easy that between the 2 of us, we made it in a jiffy.
I remember my husband saying to me, this is something that we need to put in the channel and website.
And yep, he was right. And what more appropriate than to share this recipe with you in just a few days shy of Valentine's day, eh?
So if you're feeling like celebrating something special, give this wonderful chocolate mousse a try. You won't be disappointed.
And hey, like I said.. the fact that it's weekend deserves a celebration also.
Chocolate Mousse
This delicious chocolate mousse has a rich chocolate taste without it being too overpowering. I would say it's just perfect.
If you watch the video below you can see the airy texture that we always look for in a perfect mousse.
The mousse also has that smooth texture. Every spoonful feels like a justified sin. Yes.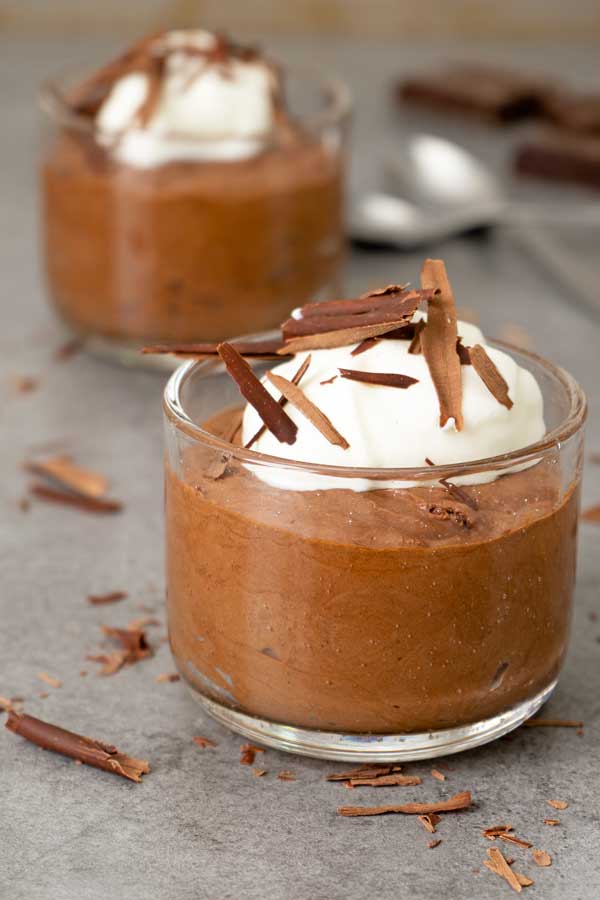 What Type Of Chocolate To Use
I always use semi sweet cooking chocolate with 55% of cocoa in my bakings, unless specified otherwise. And for this recipe, I'm using the same.
I love the taste of chocolate in this mousse, it's well balanced.
But hey, if you love that super strong almost bitter chocolate taste in your mousse, then you can use a higher percentage of cocoa in your chocolate. Your choice.
Also, I would like to stress that it's recommended that you use cooking chocolate because since it doesn't have too much of added ingredients like the on the rack chocolate (the ones that we buy to directly eat), it melts easier and making it easier to work with.
I really hope you would try and make this easy and delicious chocolate mousse. You can see in the recipe video below that it's very easy to prepare.
In Summary
This chocolate mousse is:
very easy to prepare
super delicious
perfect for two for some special occasion
has that airy and smooth texture that we love in a mousse
with balanced chocolate taste
Before You Go
If you're looking for more mousse or simple dessert recipes, no worries. I got you covered.
Video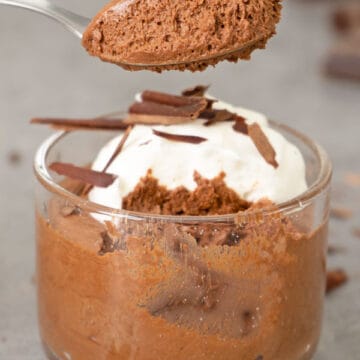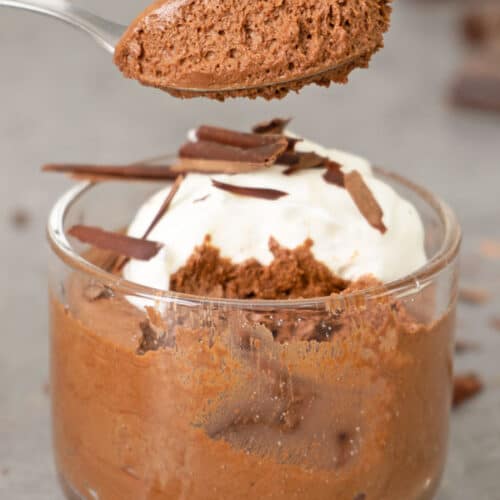 Easy Chocolate Mousse
Super delicious easy chocolate mousse that's perfect for 2 to celebrate any special occasion. This mousse has that airy and smooth texture that we always look for in a perfect mousse. Try, you won't be disappointed.
Print
Pin
Rate
Ingredients
3.2

oz

semi sweet chocolate 55% cocoa

, chopped in small pieces

2

tsp

unsalted butter

(

10

gr), melted

½

tsp

vanilla extract

pinch of salt

1

egg

, room temperature

2

tbsp

sugar

(

24

gr)

¼

cup

whipping cream min 35% fat

(

60

ml), chilled
Others
some whipped cream

some chocolate shavings
Instructions
Separate the egg white and yolk, put each in a different bowl.

Add sugar into the egg white and whisk until firm peaks. Set aside.

In another bowl, whisk whipping cream until stiff peaks. Lightly beat the egg yolk and add it into whipped cream. Gently fold to mix. Don't over mix. Set aside.

Melt chocolate in microwave. Add in melted butter, vanilla extract and salt. Mix everything together. Leave it to cool slightly before continuing.

Add 1 tbsp of whipped cream yolk mixture into the chocolate mixture. Mix everything until well combined. Then pour the chocolate mixture into the bowl containing whipped cream yolk mixture. Gently fold to mix everything well. Don't over mix.

Add 1 tbsp of egg white mixture and fold to temper the mixture. Then add it to the bowl containing egg white mixture. Gently fold to mix everything well. Don't over mix.

Divide equally into 2 glasses. Cover them with cling film and chill in the fridge overnight.
How To Serve
Serve chilled with a dollop of whipped cream and some chocolate shavings on top.
How To Get Airy Smooth Texture
When folding, always do it gently to avoid deflating all the air that we've incorporated. Preserving the air will make the mousse airy and smooth.

Do not over mix. Folding roughly and over mixing will result in dense mousse texture.