These creamy mini cheesecakes are inspired by none other than.. the Cheesecake Factory! This recipe has more than 17 million views on our Youtube (as this post is published) and is also one of our readers' favourites.
We have uncountable messages and emails from our viewers and readers saying how they loved it as it's so easy and never fails. Many have also started selling these and they become one of their customers' favourites also.
We can't express enough how happy, grateful and satisfied we feel to know all the stories and feedback. This recipe truly has a soft spot in our hearts.
Jump to: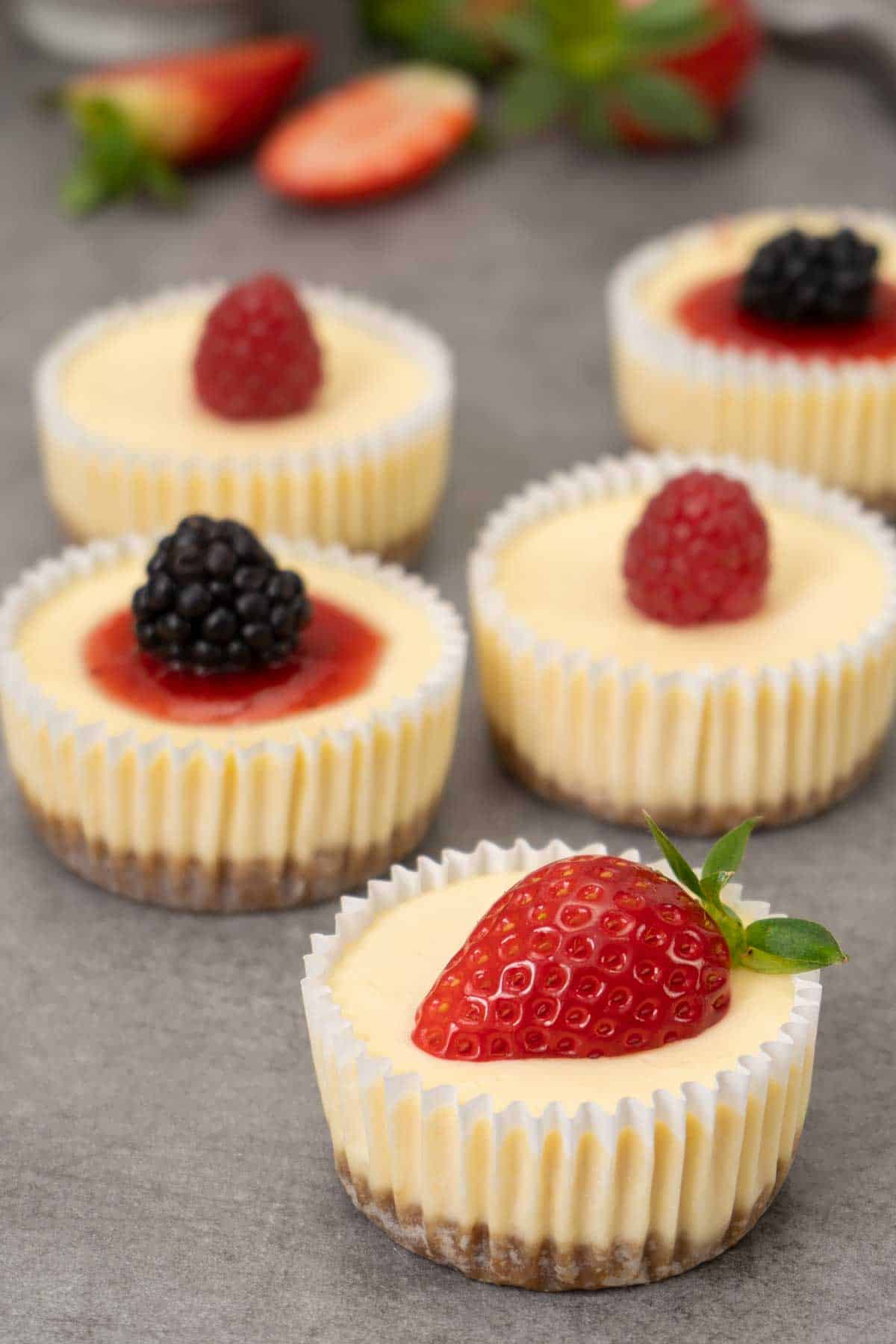 Recipe Highlights
Texture and flavour - Creamy luscious filling with a crunchy base. The mildly sweet filling with delicious cream cheese flavour goes amazing with the contrast of the base that has a touch of saltiness to it. Amazing combo!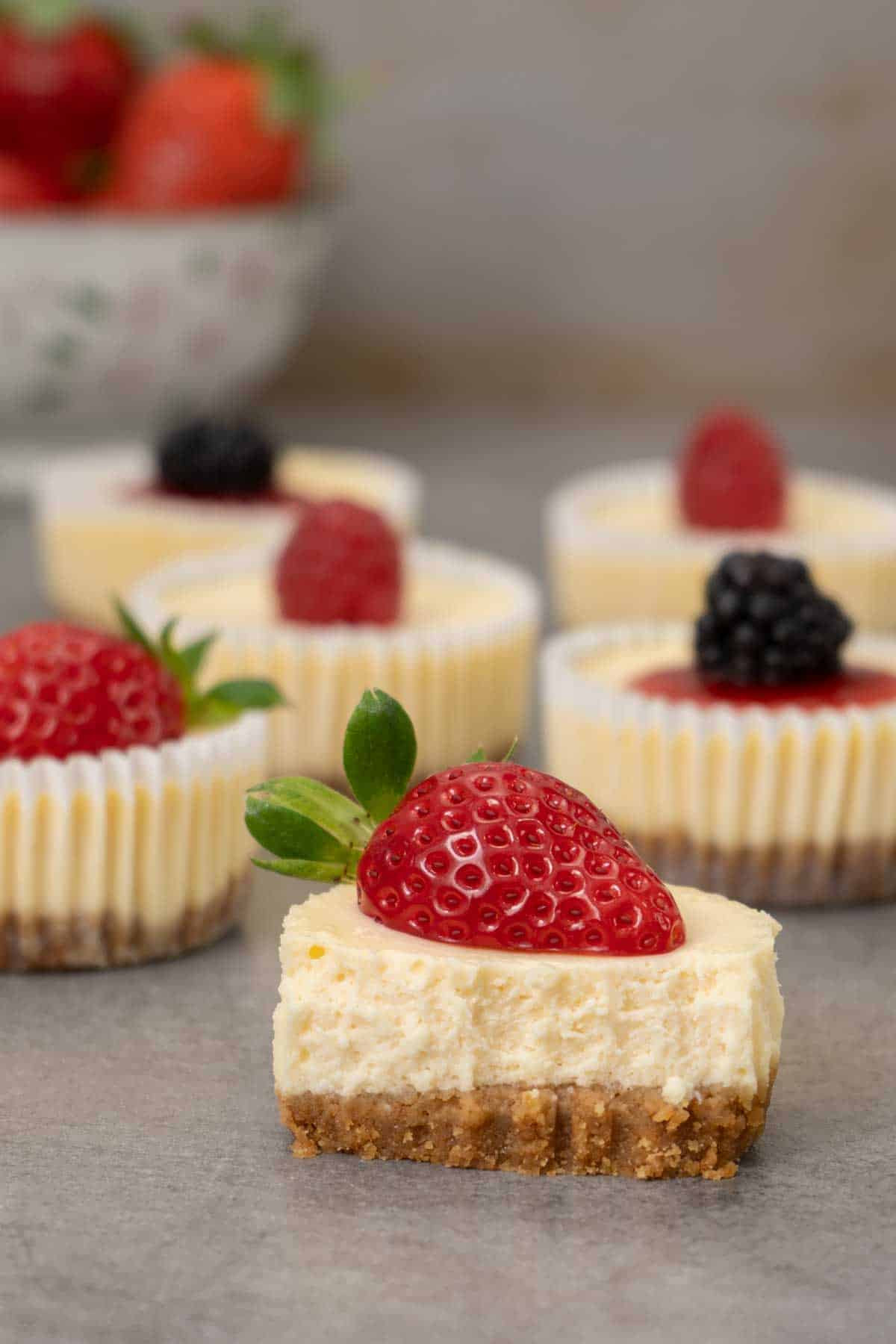 Level - Super easy, even for beginners. No water bath is needed.
Size - 12 mini cheesecakes, muffin size.
Occasion - I hate to limit these beauties to any occasion as they are perfect for any time, more when you want to impress somebody who's a cheesecake lover.
Lets Talk Ingredients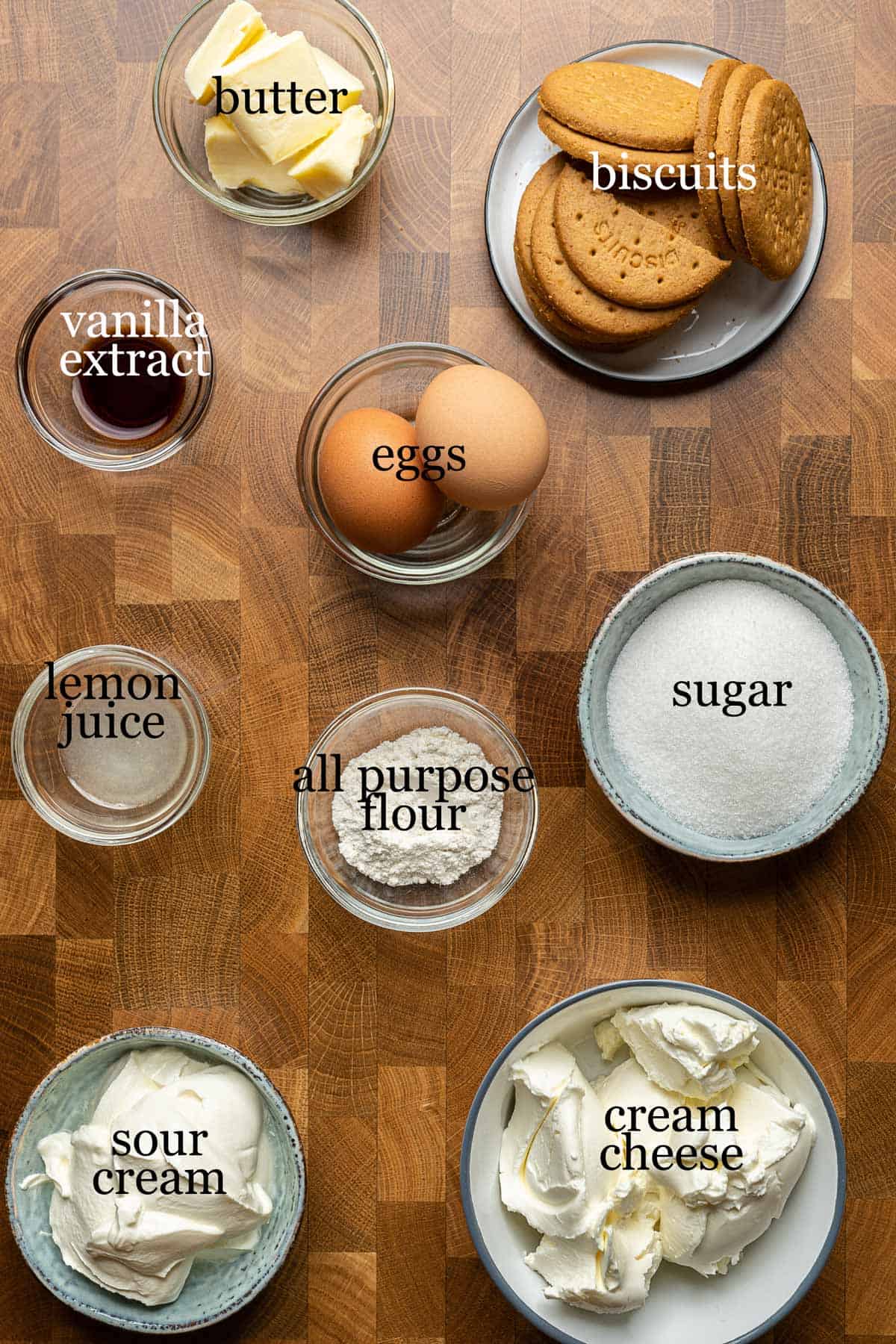 Digestive biscuits - Don't get taken aback by their name. We're based in Europe and instead of graham crackers, we use digestive biscuits which are easier to find. Honestly, I love the touch of saltiness from the biscuits, it's a nice contrast flavour.
SUBSTITUTION: Use graham crackers or any other similar biscuits.
Cream cheese - Use full fat, block ones. Not the ones for spreading on toasts, alright?
Sugar - Granulated sugar. Add a bit more if you want to use confectioner sugar as it's not as sweet as granulated. Or adjust to your liking.
SUBSTITUTIONS: Any dry sweetener will work. Add 30% more if you're using erythritol. The same amount for brown and coconut sugar but just know that they'll make the cheesecakes colour darker.
NOTE: I don't recommend using liquid sweetener as it'll affect the texture (too liquid).
All-purpose flour - I know it's not conventional but this small amount of flour will help prevent cracks, which is a huge no-no in baked cheesecakes.
Sour cream - Use full fat, please. We are making cheesecakes here. Go big or go home?
SUBSTITUTION: Use the same amount of full-fat unsweetened Greek yogurt.
Why This Recipe Has More Than 17 Million YouTube Views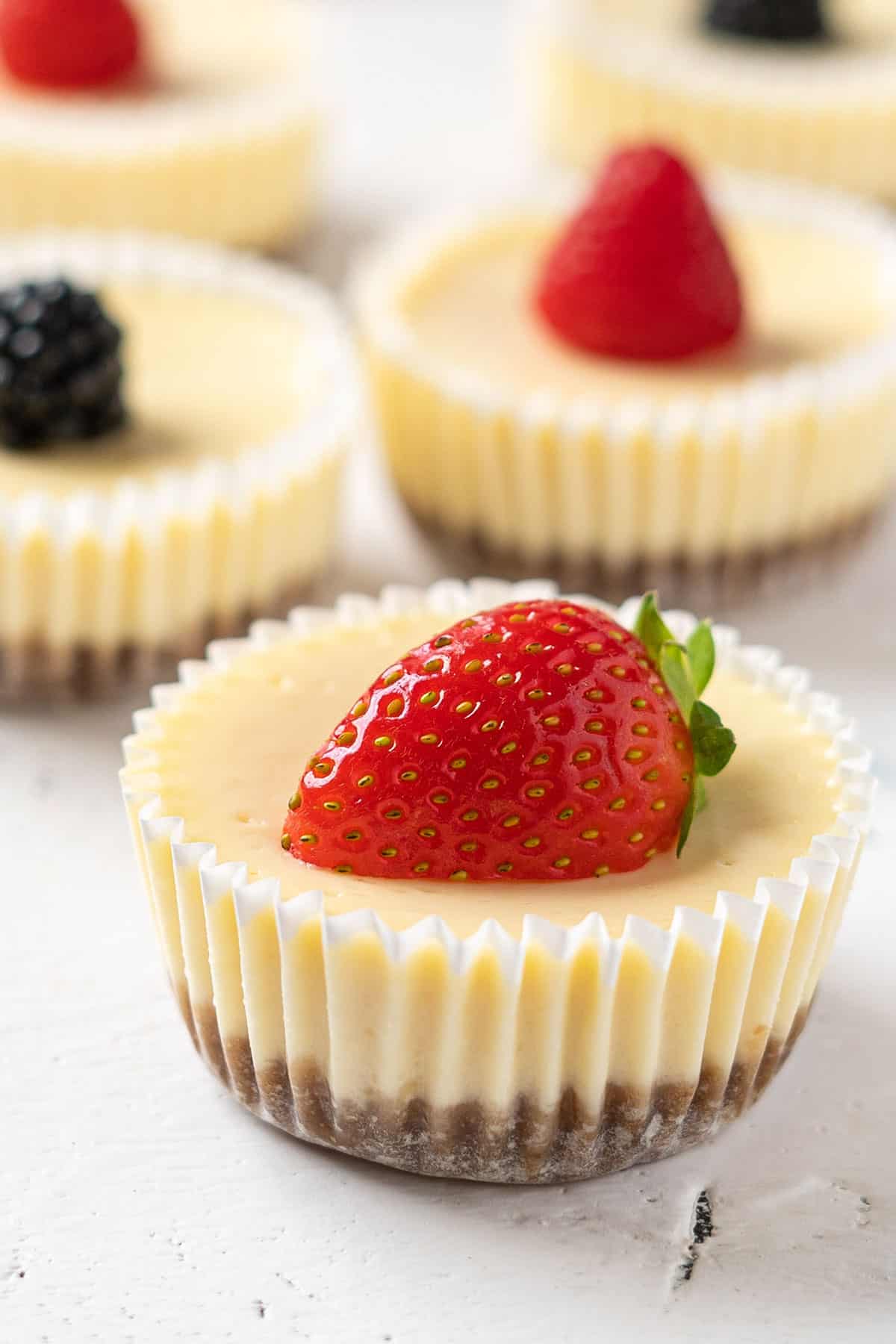 These are the feedbacks that we keep getting from everybody who's made this recipe:
Super easy - Many who've never baked a cake, let alone made a baked cheesecake (which we know is tricky), have successfully made this recipe on the first try. No fancy method is needed here.
It works - The recipe never fails. I know it's difficult to find reliable recipes in the internet world but no recipes are published here on our website without me testing them first. We're also known for our reliable recipes here, just letting you know. What you see is what you get.
No water bath - Baked cheesecakes usually need a water bath to cook properly and beautifully. This recipe doesn't need it. Less hassle with great results.
Easy ingredients - No fancy ingredients here. So if you follow exactly my recipe or tips for ingredient substitutions above, then you'll nail it every single time.
Quick cooking time - Only 15 minutes in the oven, yep.
How To Prevent Cracks In Cheesecakes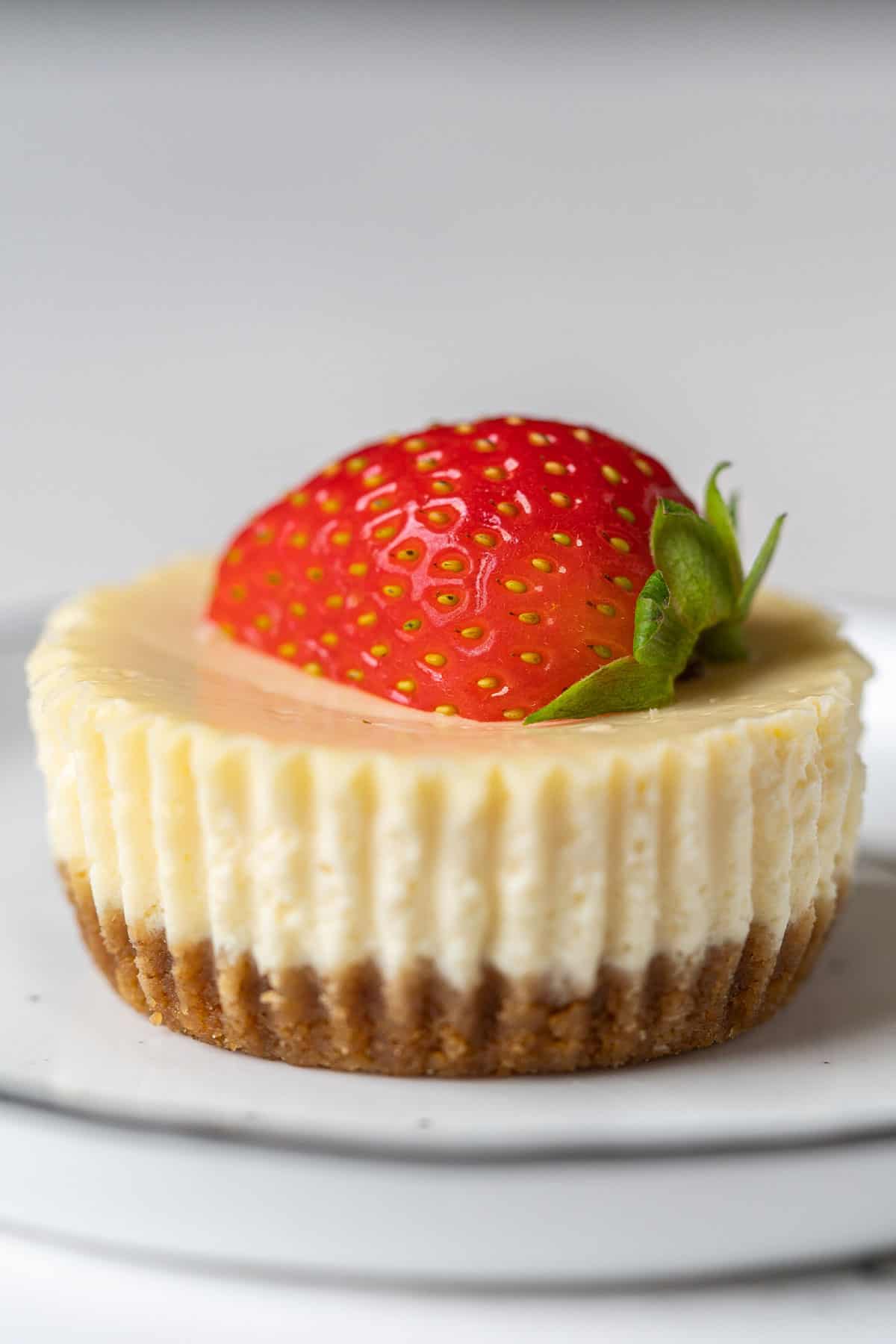 Baked cheesecakes are considered a success if there's no crack on them. Right? And also when they maintain the flat top, or in other words, they don't deflate when they come out from the oven. Here's how you can easily achieve those:
Room temperature - Ingredients should be at room temperature. This is so that they mix easily with each other.
Don't over-mix - Never, at any point, in any of my baked cheesecake recipes, should you over-mix the filling. Less is extremely more in this case. Over mixing will whip in the air, which will cause the filling to inflate and crack in the oven.
Low speed - Use the lowest speed on your handheld or stand mixer. Remember, we don't want to over-mix.
Low temperature - Not all ovens are made the same. Yours could be hotter than mine, and vice versa. Use a portable oven thermometer to get the accurate temperature, it's very affordable. The high temperature will make them inflate, deflate and crack.
Conventional - Use conventional mode (without fan-assisted) as it'll keep the temperature stable-low. Lower by 20-25 degrees if you're using a convection oven.
Don't overbake - With the correct temperature, they take only 15 minutes to cook. Not more. They should still wiggle in the center when you lightly shake the pan. Over baking will cause them to crack.
Great Cheesecakes Need Time
Making these cheesecakes is super easy and quick. But we want that depth in flavour in our cheesecakes, right?
And we can achieve that by giving some time for the wonderful flavours to blend with each other. Chill the baked room temperature cheesecakes in the fridge for a minimum of 4 hours. Preferably 8 hours. Trust me, you'll appreciate it.
Can I Put Them At Room Temperature For A Long Time?
The answer is, no.
All cheesecakes either baked or no-bake, are better-kept chill to maintain their structure. You can have these out on the table for a maximum of 30 minutes, not more.
If for some reason you want them to be longer than that, I'd recommend you freeze them for 1-2 hours, so that they hold longer at room temperature.
Can I Freeze Them?
Yes, you can. I do it all the time.
Place on a tray and freeze for 1 hour. Then put them in an airtight container and back in the freezer, for up to 6 months.
Thaw in the fridge.
More Recipes
Recipe Video
📖 Recipe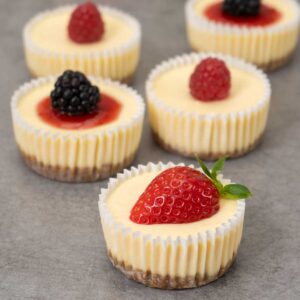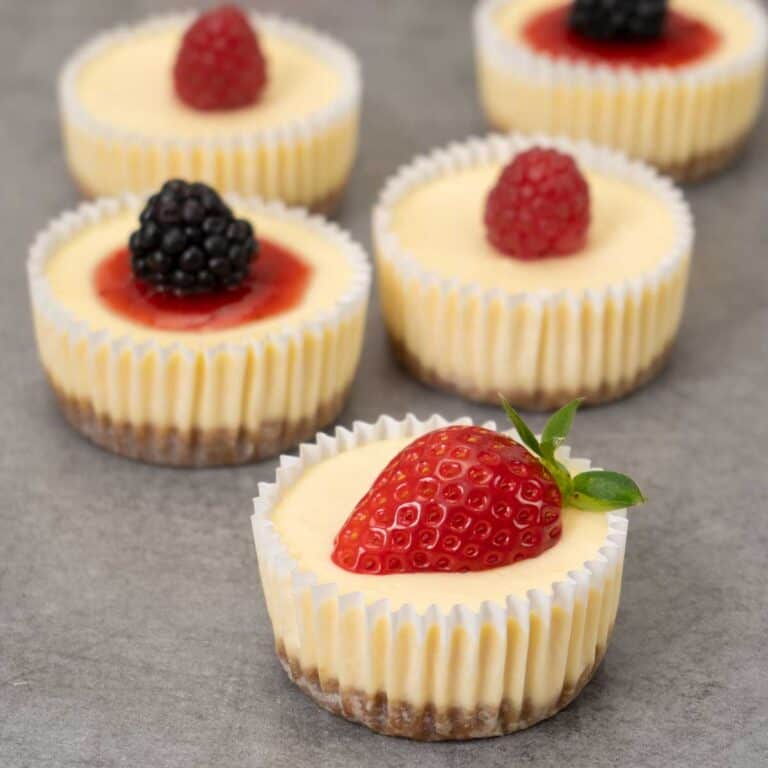 Easy Mini Cheesecakes
Inspired by Cheesecake Factory, these mini cheesecakes have super creamy texture and taste. This recipe has more than 18 million views in our YouTube and is also one of our readers' favourites here. It's super easy and never fails.
Print
Pin
Rate
Equipment
Bowls (1 big and 1 small)

Food processor or rolling pin (for biscuit crumbs)

Muffin liners

Handheld whisk
Ingredients
The Base
1 ½

cup

biscuits crumbs (

150

g) or use graham crackers

¼

cup

unsalted butter

(

60

g), melted
The Cheese Filling
10.5

oz

cream cheese, full fat

(

300

g), room temperature

½

cup

granulated sugar

(

100

g)

2

large eggs

, room temperature

1

teaspoon

vanilla extract

1

tablespoon

lemon juice

1 ½

tablespoon

all purpose flour

(

14

g)

¾

cup

sour cream, full fat

(

185

g), room temperature
Optional Toppings
some strawberry marmalade

berries of your choice
Instructions
The Base
Using a food processor, blend digestive biscuits into fine mixture. Pour into a bowl and add melted butter. Mix well.

Divide evenly into 12 muffin liners in a muffin pan. Using a spoon, press the mixture tightly and evenly. Set aside.
The Cheese Filling
Using a low speed in your mixer, mix cream cheese until just creamy. While mixing, gradually add in sugar. Then add in eggs 1 by 1, mixing just until well combined.

Then add in vanilla extract, lemon juice, flour and mix again just until combined. Finally add in sour cream and mix everything together.

Using an ice cream scoop, divide the cheesecake filling evenly into prepared muffin pan. Gently shake the pan to make the top surface flat. 

Bake in a preheated oven at 320ºF (160ºC), conventional mode, on ⅔ lower rack for 15 minutes or when you gently shake the pan, the cheesecake wiggle a bit and the center look not as set.

Remove from the oven and leave to cool to room temperature in the pan. Place the pan in the fridge overnight.
How To Serve
Serve as they are or with some strawberry marmalade and your favourite berries.
Notes
Do not over-mix to avoid cheesecake from cracking while baking.

Use a portable oven thermometer to get the accurate oven temperature.

It's easier to remove the cheesecakes from the pan after they're chilled in the fridge.

Don't put them too long at room temperature to maintain their structure. Max 30 minutes. Freeze for 1-2 hours if you want them to hold a bit longer than that.
They last up to 6 months in the freezer.
If you like this recipe you'll probably like our no-bake lemon cheesecake recipe.
Nutrition Facts
Calories:
248.9
kcal
,
Carbohydrates:
20.2
g
,
Protein:
3.7
g
,
Fat:
17.4
g
,
Saturated Fat:
9.5
g
,
Cholesterol:
72
mg
,
Sodium:
166.8
mg
,
Potassium:
85.7
mg
,
Fiber:
0.4
g
,
Sugar:
12.9
g
,
Calcium:
53.8
mg
,
Iron:
0.7
mg
Originally published on Feb 16, 2019. Updated with improved text and pictures on Aug 11, 2021.