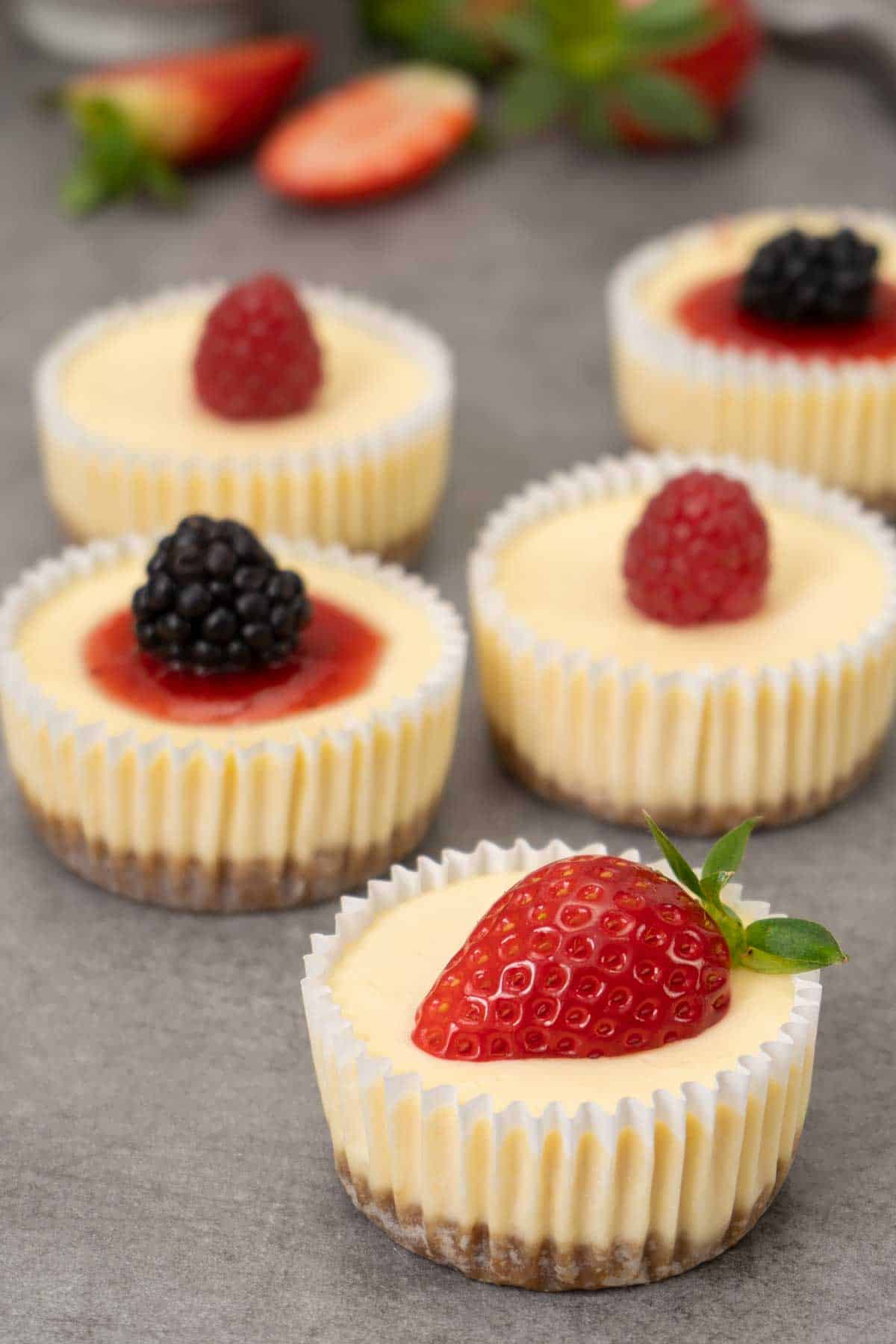 These creamy mini cheesecakes are inspired by none other than.. the Cheesecake Factory!
They have this luscious creamy texture, delicious creamy taste and matched with the crusty crust... oh la la!
Let's just dive into the recipe, shall we?
Cheesecake Factory Inspired
We've never been to any Cheesecake Factory restaurants, nope. I don't think they even have any restaurants in Spain.
BUT we do have Costco in Spain and by some miracle luck, one of the only two Costco that are in Spain, is near our home town.
Well not that near, it's 1 hour of drive but hey, we are grateful enough for that.
AND Costco brings the delicious cheesecakes from Cheesecake Factory. Yeay!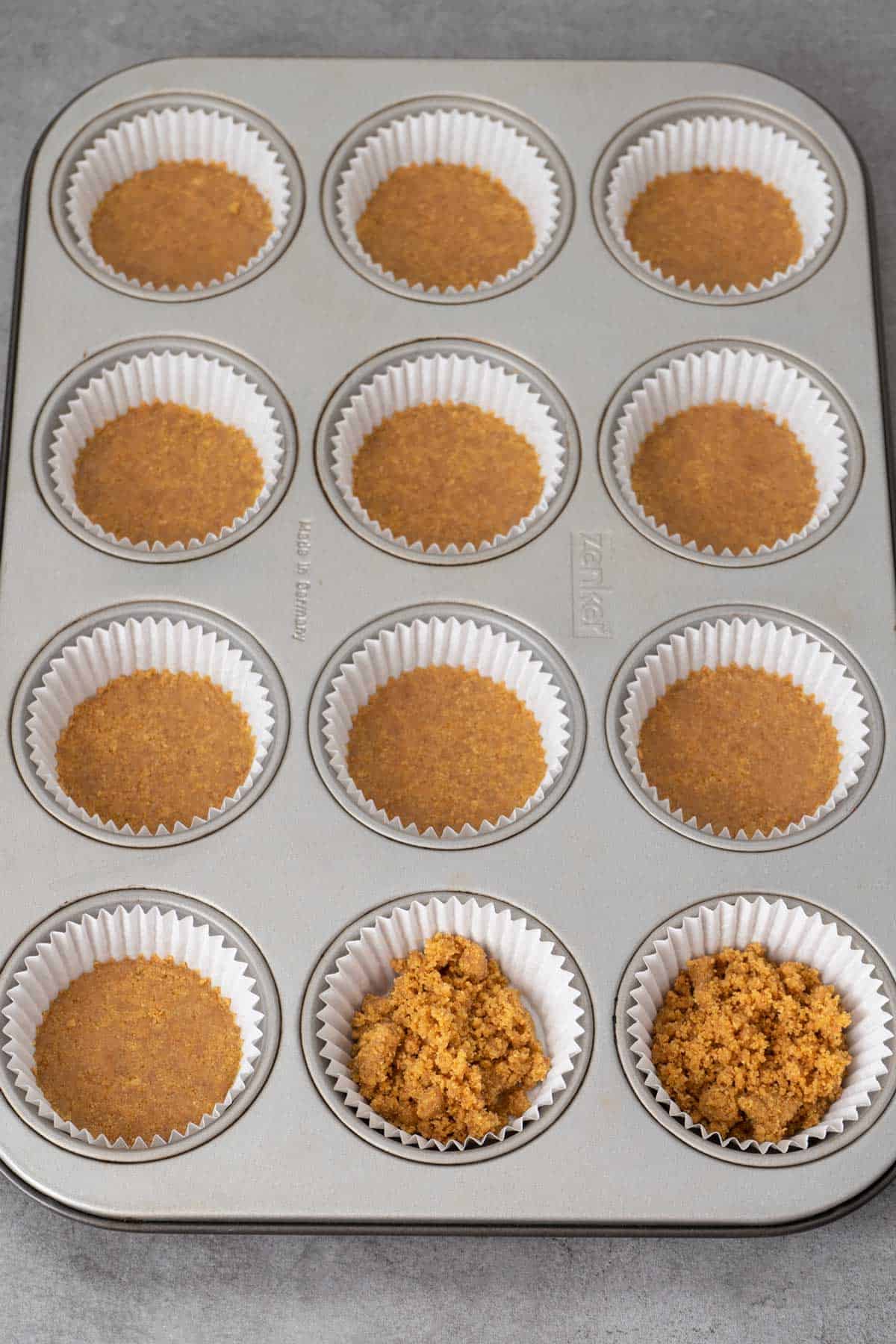 They come frozen and not cheap, but since we wanted to really try it so we bought a box. Let's justify it as for the sake of testing recipes.
And we really LOVED the taste. The creaminess is something that we really appreciate in it. Yum!
We loved it so much that we decided to share this inspired cheesecake in mini form.
Yes, they are already thousands of recipes inspired by Cheesecake Factory but hey, this is how I like to make it.
Common Reasons That Make Cheesecake Cracks
These are baked cheesecakes. One of the main problems of baked cheesecakes is that they tend to crack when you bake them.
Not a pretty sight, I know.
Here are some reasons why they crack and ways that you could avoid that from happening:
over whisking the ingredients - try to whisk your ingredients as minimal possible, using low speed with your mixer
high temperature - cheesecakes are better to be baked at a lower temperature so know your oven
over baked - they are cooked when you gently shake the pan and the cheesecakes wiggle a bit, with the center looking as if it's not fully set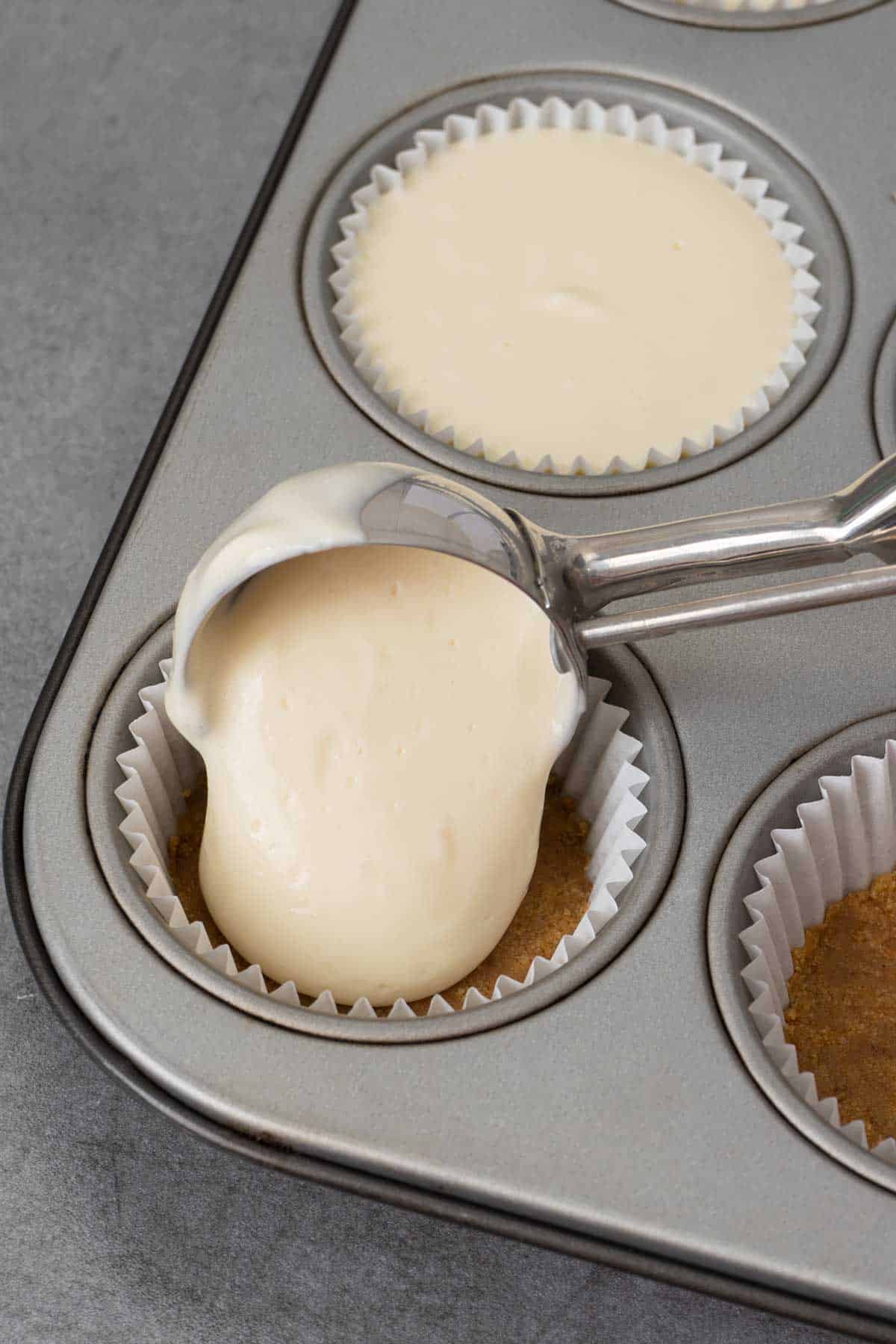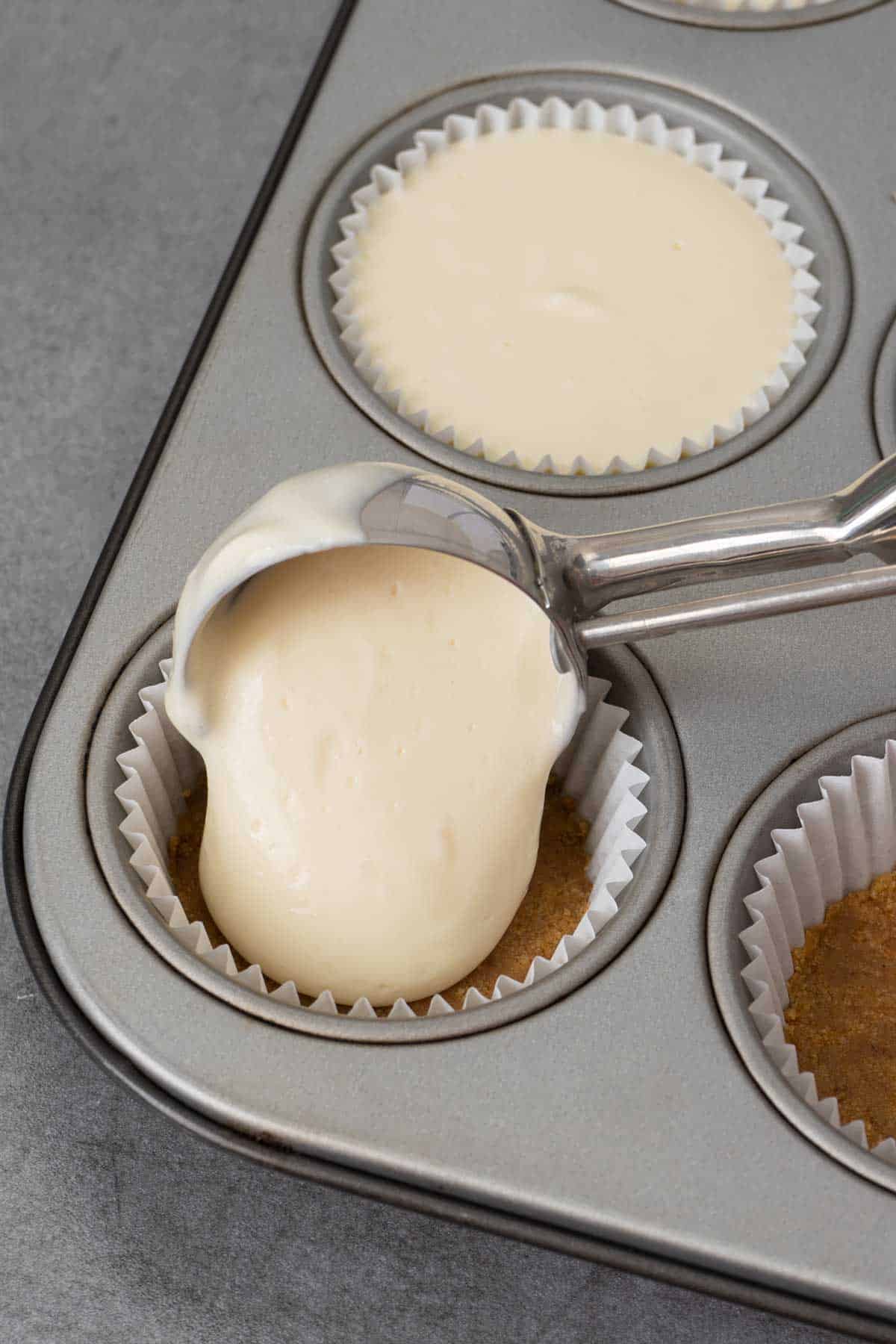 Great Cheesecake Needs Time
You might be tempted to sneak a taste of these delightful cheesecakes after they are baked and are cooled at room temperature but I advise you, do not.
They need to be chilled in the fridge, preferably overnight. Yes.
The taste changes so much within those hours that turn your average tasting cheesecakes to an award winning ones.
I know I'm being dramatic but you get my point.
So after baking, leave them in the pan until they cool down to room temperature and then place the whole pan in the fridge overnight.
I suggest you leave them in the pan because it's way easier to remove them from the pan after they're chilled in the fridge.
I really hope you would give this super easy and I promise, delicious mini cheesecakes a try. Eat them as is or take them further with your favourite marmalade and berries.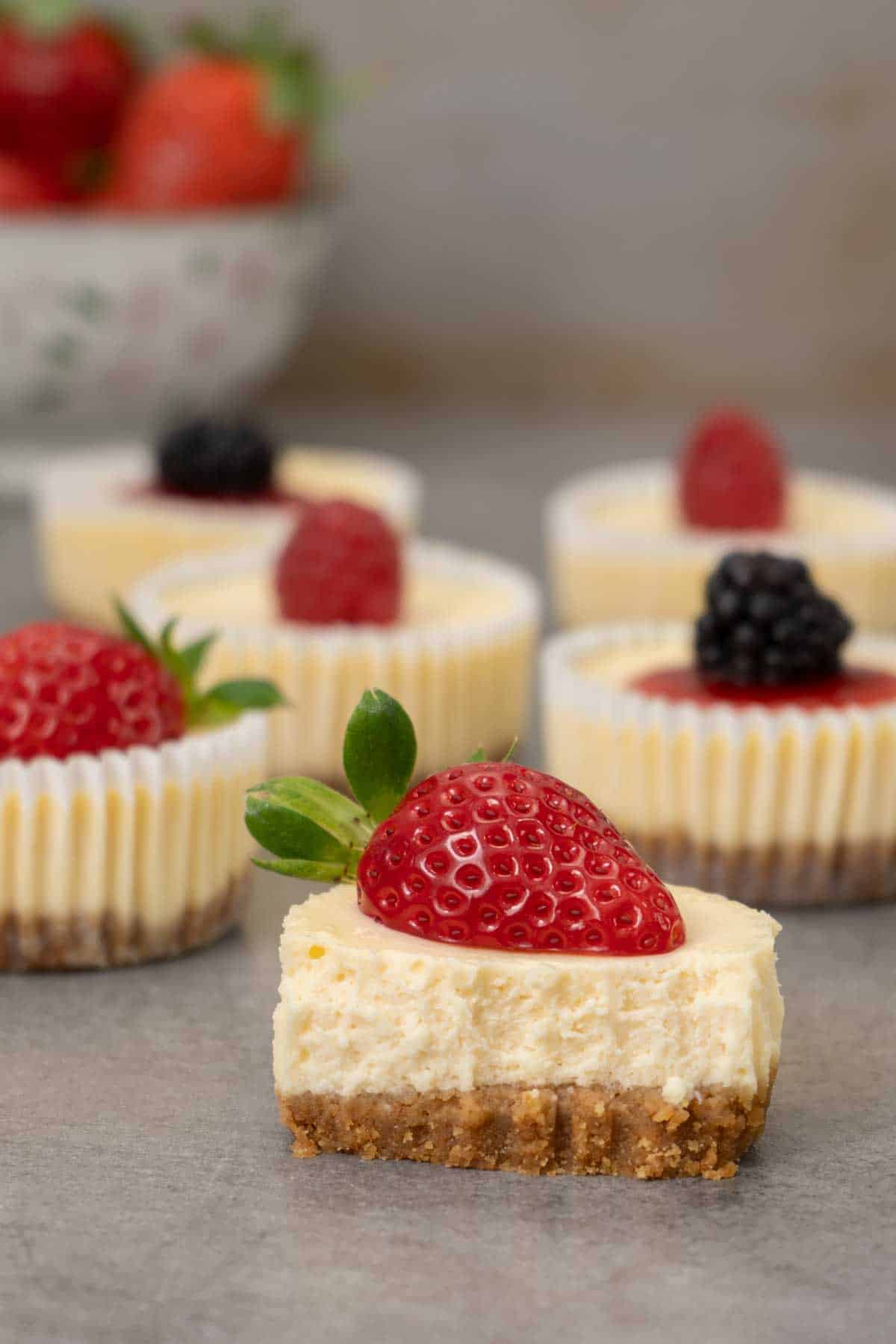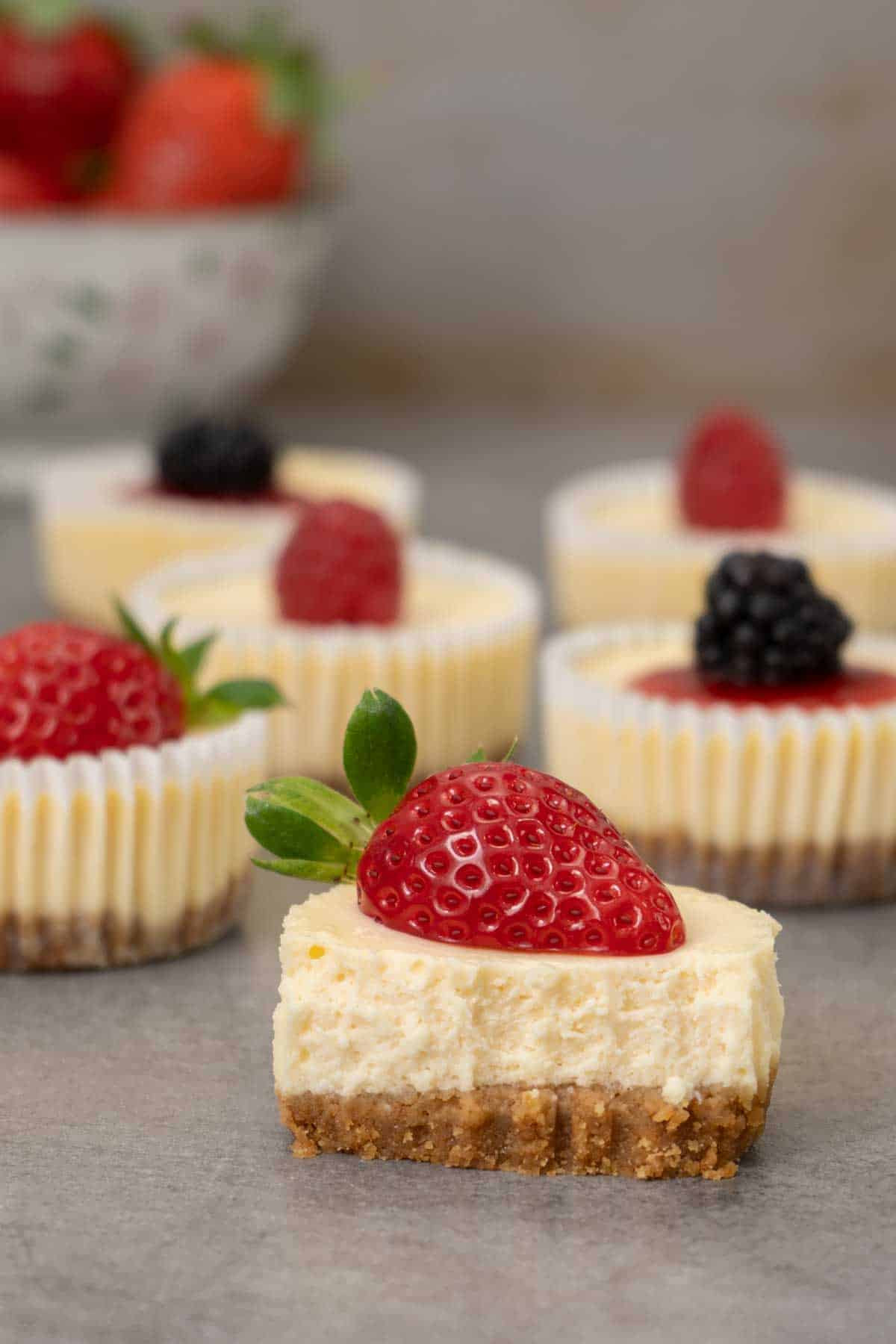 In Summary
These mini cheesecakes are:
super easy to make
have amazing creamy texture and taste
super DELICIOUS
inspired by Cheesecake Factory
great to take to parties and gatherings
Before You Go
Don't forget to check out my other cheesecake recipes:
Video Recipe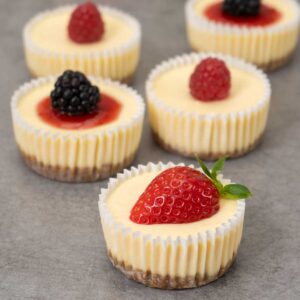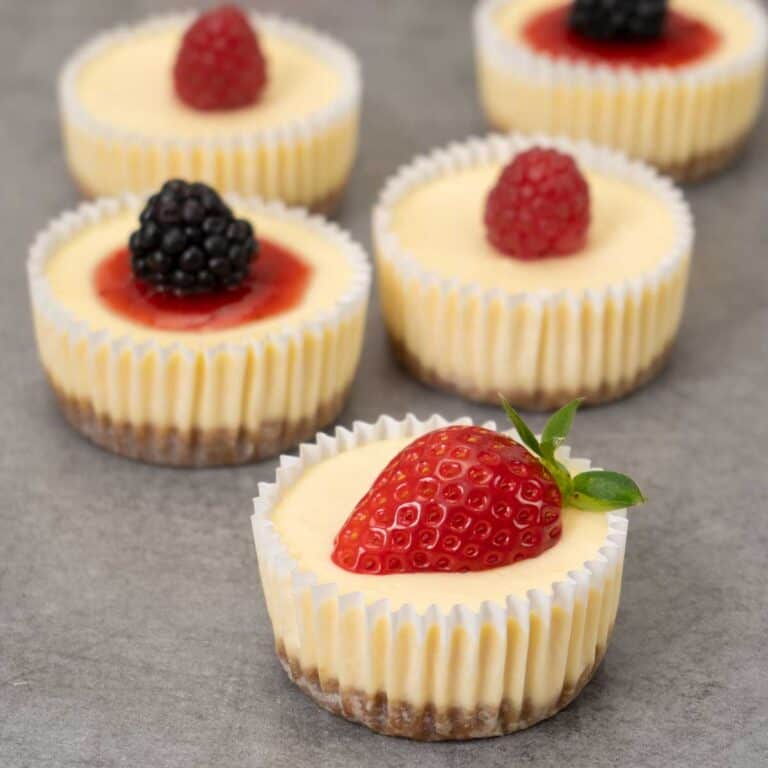 Easy Mini Cheesecakes
Inspired by Cheesecake Factory, these mini cheesecakes have super creamy texture and taste. They are easy to make and great to take to parties and gatherings. Enjoy them as they are or with your favourite marmalade and berries. Yum!
Print
Pin
Rate
Ingredients
The Cheese Filling
10.5

oz

cream cheese, full fat

(

300

g), room temperature

½

cup

sugar

(

100

g)

2

eggs

, room temperature

1

tsp

vanilla extract

1

tbsp

lemon juice

1 ½

tbsp

all purpose flour

(

14

g)

6.5

oz

sour cream, full fat

(

185

g), room temperature
Optional Toppings
some strawberry marmalade

berries of your choice
Instructions
The Base
Using a food processor, blend digestive biscuits into fine mixture. Pour into a bowl and add melted butter. Mix well.

Divide evenly into 12 muffin liners in a muffin pan. Using a spoon, press the mixture tightly and evenly. Set aside.
The Cheese Filling
Using a low speed in your mixer, mix cream cheese until just creamy. While mixing, gradually add in sugar. Then add in eggs 1 by 1, mixing just until well combined.

Then add in vanilla extract, lemon juice, flour and mix again just until combined. Finally add in sour cream and mix everything together.

Using an ice cream scoop, divide the cheesecake filling evenly into prepared muffin pan. Gently shake the pan to make the top surface flat. 

Bake in a preheated oven at 320ºF (160ºC) for 15 minutes or when you gently shake the pan, the cheesecake wiggle a bit and the center look not as set.

Remove from the oven and leave to cool to room temperature in the pan. Place the pan in the fridge overnight.
How To Serve
Serve as they are or with some strawberry marmalade and your favourite berries.
Notes
Do not over mix to avoid cheesecake from cracking while baking.

It's easier to remove the cheesecakes from the pan after they're chilled in the fridge.

They taste amazingly delicious after an overnight chilling in the fridge.