Creamy salmon in ginger-soy-sauce marinade, served with fresh and colourful toppings, doused with spicy mayo sauce. The textures, flavours all blended together for an amazing poke bowl. I'm making mine even easier with 2 secret ingredients!
I'm always looking for easier methods and ingredients in my recipes. My 30-minute chicken ramen is something that you should really try!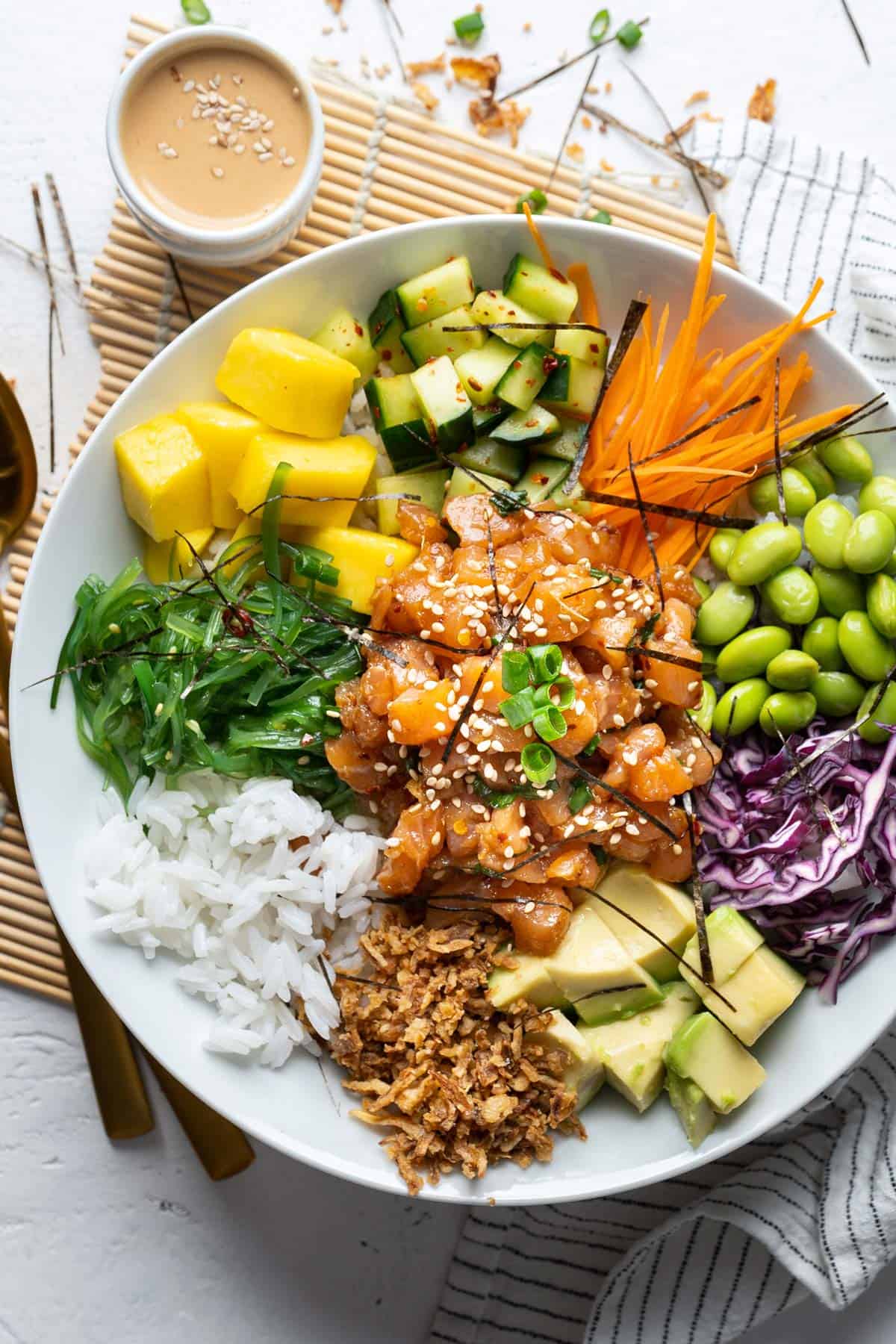 Jump to:
Best Salmon For Poke
Traditionally poke uses raw fish like salmon or tuna. When we talk about raw fish, we really need to make sure the fish that we're using is safe to eat, to prevent food poisoning or infected by parasites.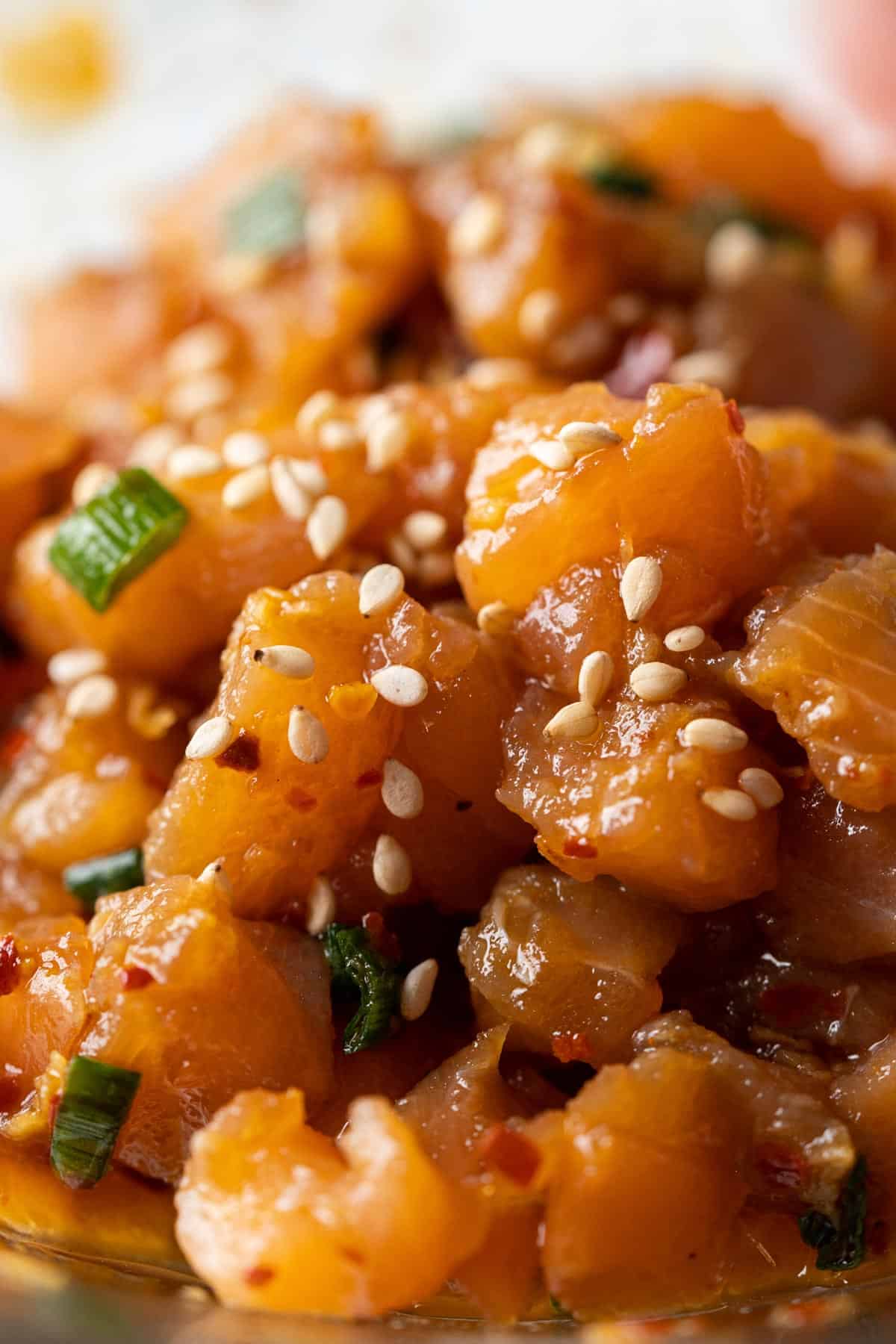 So how do you know if a salmon is safe to eat raw or use in poke bowl? Here's what you should do.
High quality - Look for labels that says "Sushi grade" for any fish that you want to eat raw, safely. They're handled and processed fresh, fast and kept under safe temperature at all time.
Freeze - If in doubts, freeze your raw fish first before consuming it. This will kill any parasite that's possibly present in the fish. Although, freezing raw fish doesn't kill all harmful germs.
My secret to easier and less hassle way is...by using cubed smoked salmon. It's one of my secret ingredients and it's even way easier to find than "sushi grade" labelled salmon (perks in living in a small town in Spain!), cheaper, 100% guaranteed safe and the smokey touch is a huge bonus!
Sometimes you don't need to rigidly follow the traditional ways. Shortcuts surprisingly give you amazing results, like my easiest crispy sesame chicken. Yum!
Ingredients & Substitutions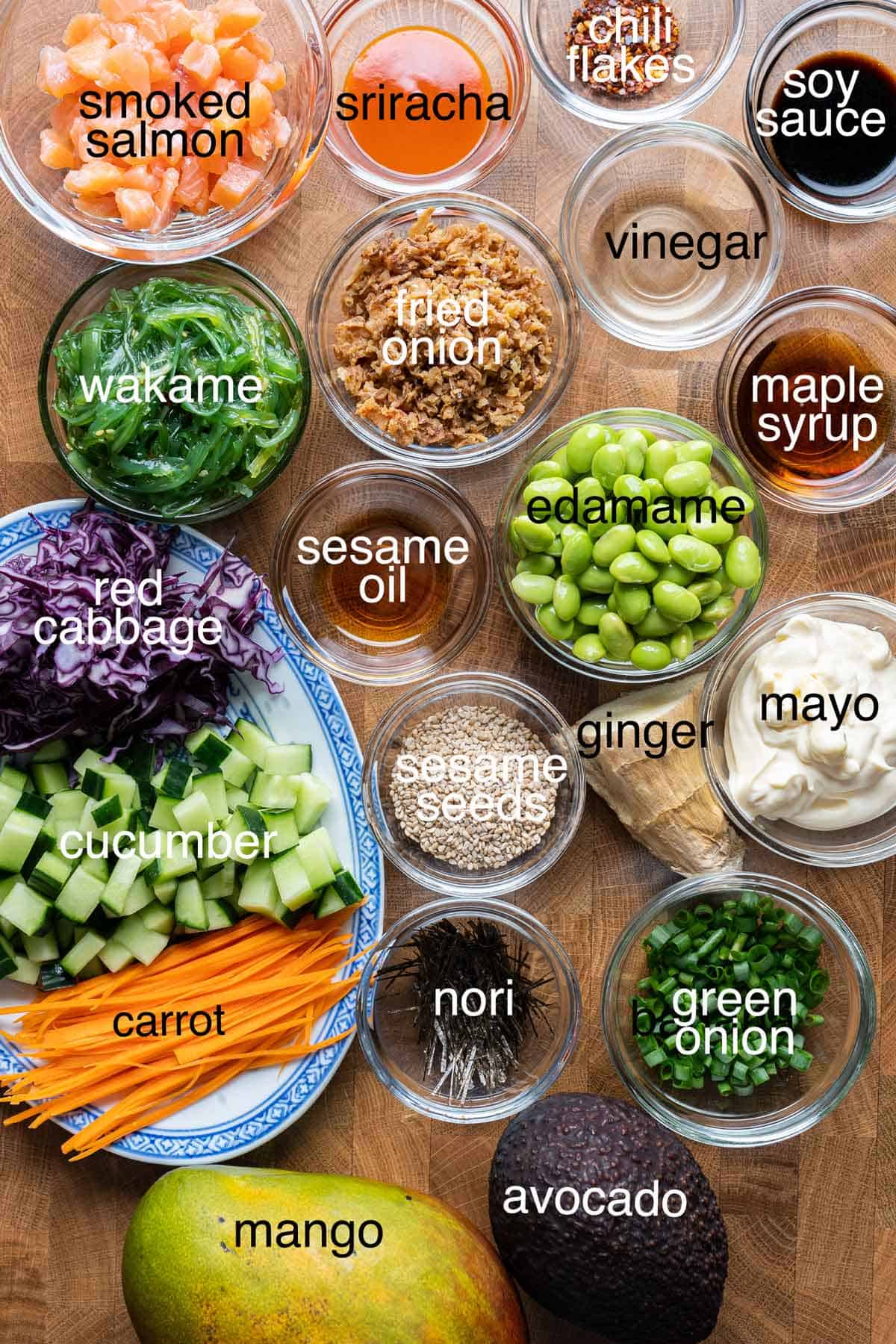 Salmon - As I mentioned above, I'm using cubed smoked salmon. For raw salmon, find "sushi grade" labelled one for safer consumption.
Soy sauce - I always use less sodium soy sauce. It gives more flavour without the extra salt. Highly recommended!
Sesame oil - Toasted Japanese sesame oil is the best. I've used several brands and always come back to this one. It gives the whole dish a wonderful earthy touch.
Fried onion - Oh don't skip this, ever! Trust me, fried onion is the magical ingredient here. It adds amazing flavour and texture.
Wakame - Is a seaweed with a slightly sweet touch to it. I highly recommend using it as one of the toppings, it's delicious!
Edamame - is immature soybeans. You can buy frozen ones, and then boil and remove its skin, or just buy them in jars (like I do).
SUBSTITUTION: Green peas work great also!
Veggies - I love the fresh flavours and colours of carrot, red cabbage, lettuce and cucumber. Simple yet amazing. You can, of course, use other veggies that you prefer.
Rice - I know some people go the extra mile and cook their white rice using sushi rice and flavour it as sushi rice would be. I'm telling you another secret for this easy recipe... there's no need for all that troubles! Plain old white rice is enough.
PRO TIPS: I don't store sushi rice at home since it's not versatile (can't use it in other recipes). So I use jasmine rice, without rinsing it to preserve its starch, thus making it sticky like sushi rice.
How To Make Salmon Poke Bowl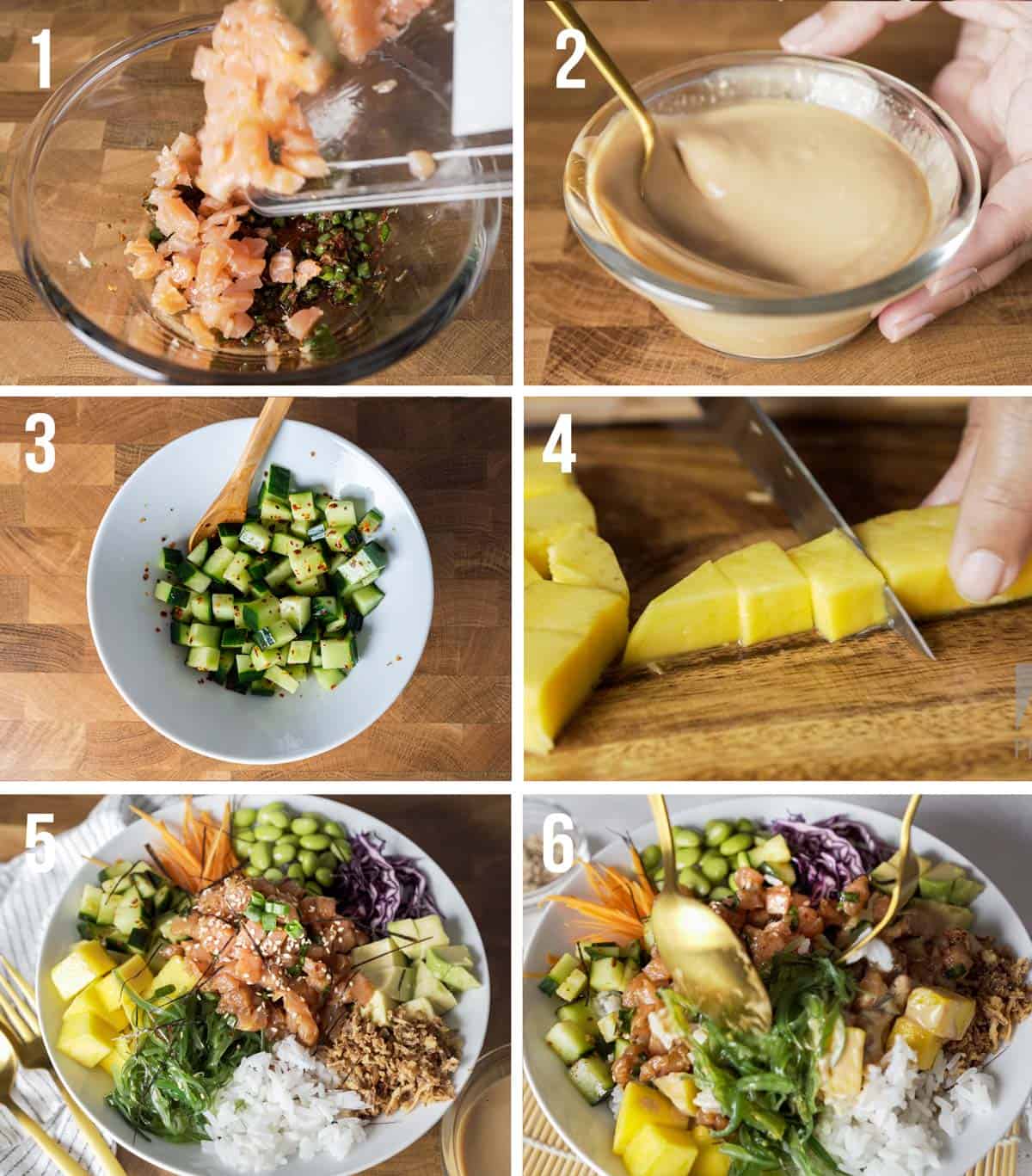 Salmon - Grate ginger into a bowl, add in soy sauce, sesame oil, chili flakes and green onion. Mix well, add in salmon and give everything one last mix. Chill in the fridge meanwhile.
Mayo sauce - Add in mayo, sriracha, maple syrup and soy sauce in a bowl. Mix well and set aside.
Cucumber - Slice into cubes and place in a bowl with vinegar, chili flakes and salt to taste. Mix well, set aside.
Toppings - Slice carrot, red cabbage, and lettuce. Cut mango into cubes. Have all toppings ready.
Assemble - Scoop some rice into a bowl, add the toppings followed by the salmon. Sprinkle fried onion, nori and sesame seeds on top.
Correct way to eat - I'm a strong believer that you just have to mix everything together first, before taking a bite. Try it, this is the way!
Tips To Make This Recipe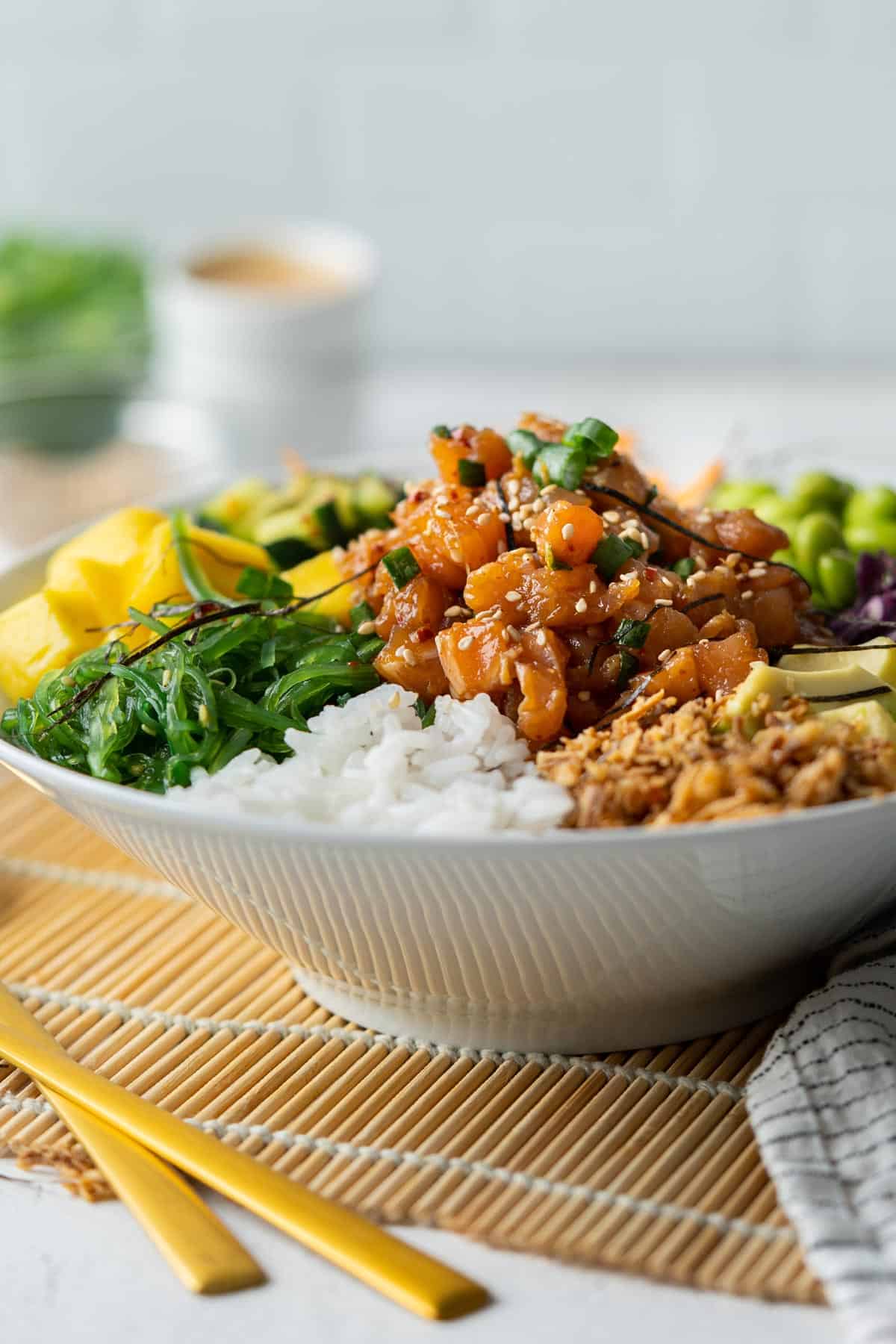 Make it even easier by preparing the sauce and veggies in advance. I recommend advancing the salmon by 2 hours and keep it in the fridge.
Have everything ready in buffet-style. This way everybody can do their own personalised toppings. Easier for you also as you don't need to assemble the bowl for everybody!
Personally for me, I just love a cold or fridge-chilled poke bowl. Somehow it tastes fresher. Just telling ya, so you know that you can prepare everything earlier and just enjoy it later. Another great fresh salad you could try is my Vietnamese beef salad.
How To Serve & Store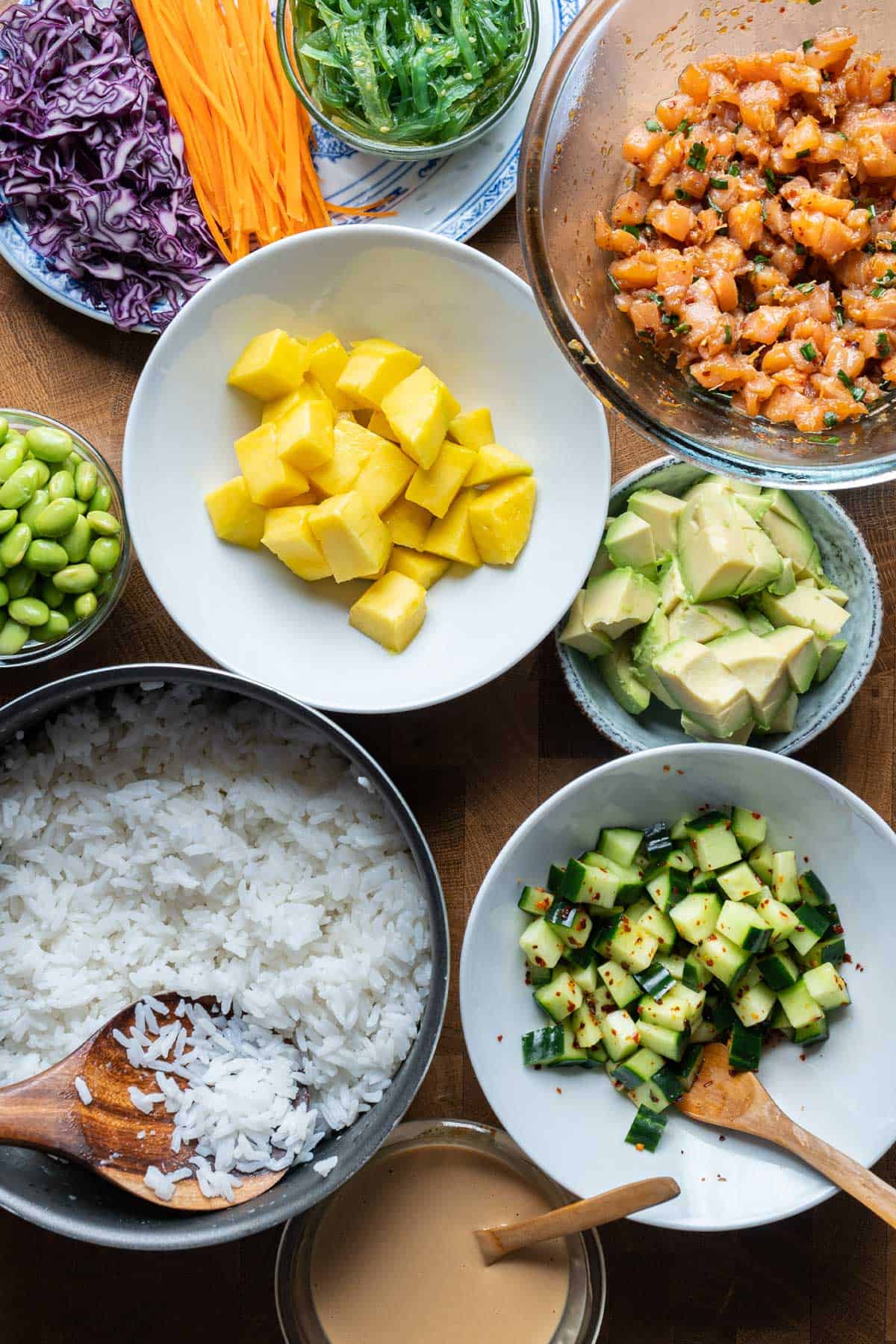 Serve - I serve it buffet-style in our house. It's easier. On top of that, everybody can make their own personalised toppings. Avoid food waste! It's also fun to see how each person come up with their poke bowl looks.
Store - As I mentioned earlier, I love my poke bowls cold or fridge-chilled. So I keep everything in the fridge until we're ready to eat. Since I'm using smoked salmon, I'd recommend eating it within 3 days. If using raw salmon, consume within 24 hours.
FAQs
Can you use any salmon for poke? Supermarkets salmon?
Always try to find the freshest salmon, even in the supermarkets. Look for the ones with "sushi grade" label. Or another safer way is to freeze the raw salmon first, before using it. This will kill parasites that might be present.
I don't like raw fish. What can I use?
No worries! You can use smoked salmon like I do in this recipe. Boiled shrimps or lobsters (yum!) are also amazing.
Can I use basmati rice since I already have it?
I've tried making my poke with basmati. It's doable, I have to say. But it was lacking that clumpy, sticky rice texture that's so nice in poke. Personally, I'd rather not use it.
Do you use Japanese mayonnaise for the sauce?
Nope! I just use good old mayonnaise. You can use normal or light mayonnaise, they both work great.
Watch How To Make It
📖 Recipe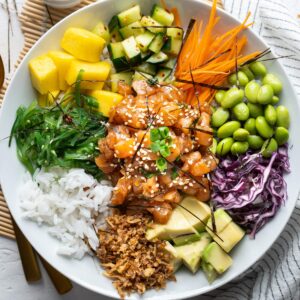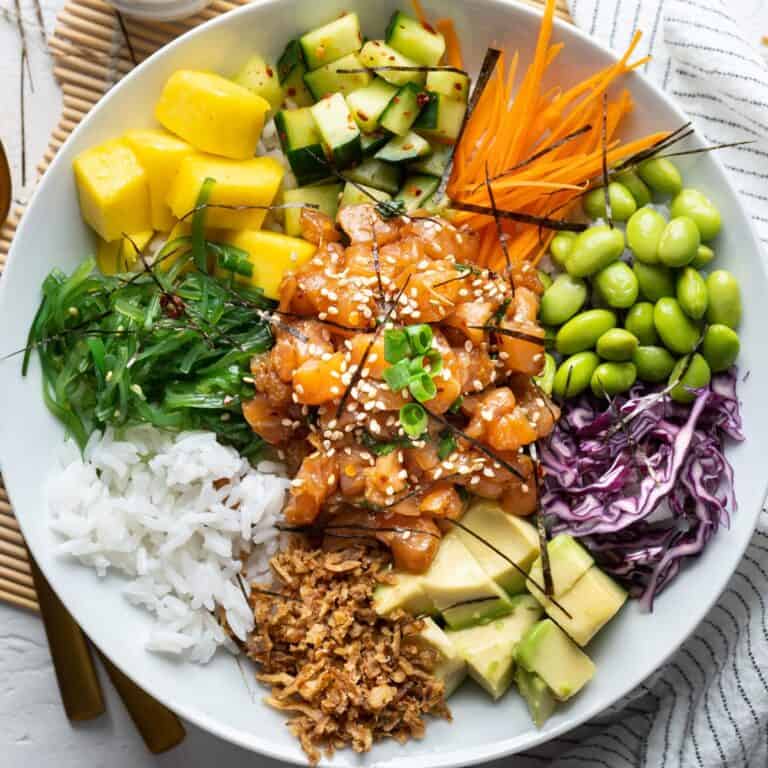 Easy Spicy Salmon Poke Bowl
Creamy salmon in ginger-soy-sauce marinade, served with fresh and colourful toppings, doused with spicy mayo sauce. The textures, flavours all blended together for an amazing poke bowl. I'm making mine even easier with 2 secret ingredients!
Print
Pin
Rate
Ingredients
Cucumber
1

cup

cubed cucumber

1

tablespoon

apple cider vinegar

, or any of your choice

½

tablespoon

maple syrup

½

teaspoon

chili flakes
Toppings
1

carrot

, julienned

1

avocado

, cubed

1

cup

cubed mango

1

cup

sliced red cabbage

½

cup

cooked adamame

½

cup

fried onion

4

oz

wakame

4

cup

cooked rice
Others (optiona)
sesame seeds

nori

chopped green onion
Instructions
Salmon
Mix all ingredients in a bowl and chill in the fridge meanwhile.
Cucumber
Mix all ingredients in a bowl, and season with salt to taste. Set aside.
Mayonnaise Sauce
Mix all ingredients in a bowl, set aside.
Assemble
Place rice into a bowl. Arrange the toppings nicely, including the cucumber. Lastly add in salmon and sprinkle with sesame seeds, nori and green onion. Spoon mayonnaise sauce on top. Enjoy!
Notes
If you don't already have cooked rice, here's what you do. Cook 1 ⅓ cup jasmine rice (don't rinse it) with 2 cups of water and some salt.
Nutrition Facts
Calories:
601.2
kcal
,
Carbohydrates:
78.3
g
,
Protein:
21
g
,
Fat:
23.5
g
,
Saturated Fat:
4.7
g
,
Cholesterol:
16.2
mg
,
Sodium:
1330.5
mg
,
Potassium:
819.1
mg
,
Fiber:
7.4
g
,
Sugar:
14.7
g
,
Calcium:
128.3
mg
,
Iron:
2.9
mg