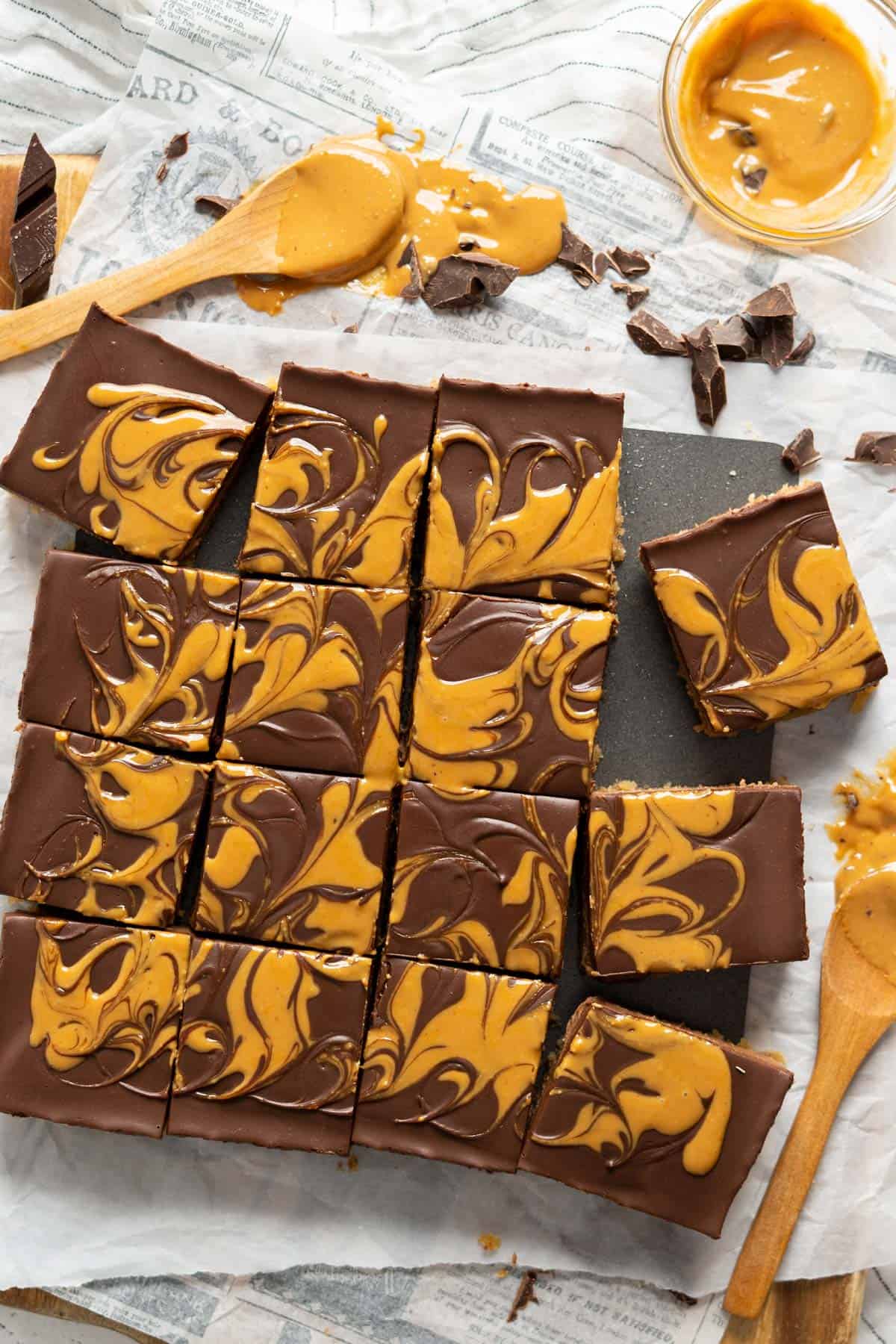 Cheesecakes are always indulgent, I agree. But this healthy chocolate cheesecake bars are way better because they're made with healthier real ingredients.
If we're going to indulge, at least let's make sure we're putting better ingredients into our bodies, right? These bars are just as delicious, if not more, than the typical ones. And they look as amazing as they taste!
Jump to:
Recipe Highlights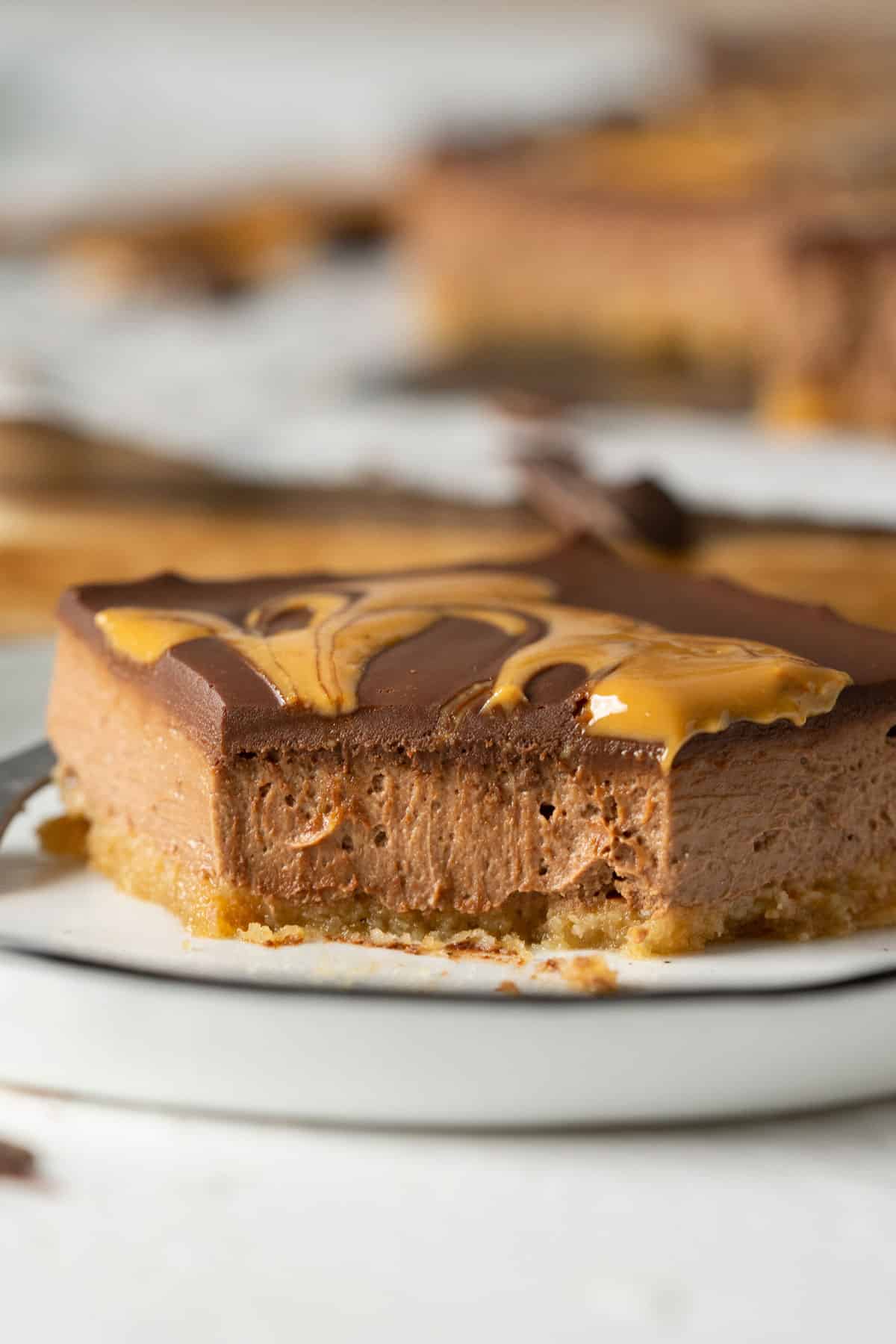 Texture and flavour - Super creamy chocolate cheesecake with almond and peanut butter base. The topping is just chocolate and milk ganache with swirls of natural peanut butter.
Size - 1 square cheesecake of 8 inches (20 cm), cut into 16 pieces.
Level - Easy. Don't let the fear of baking cheesecakes holds you back.
Lets Talk Ingredients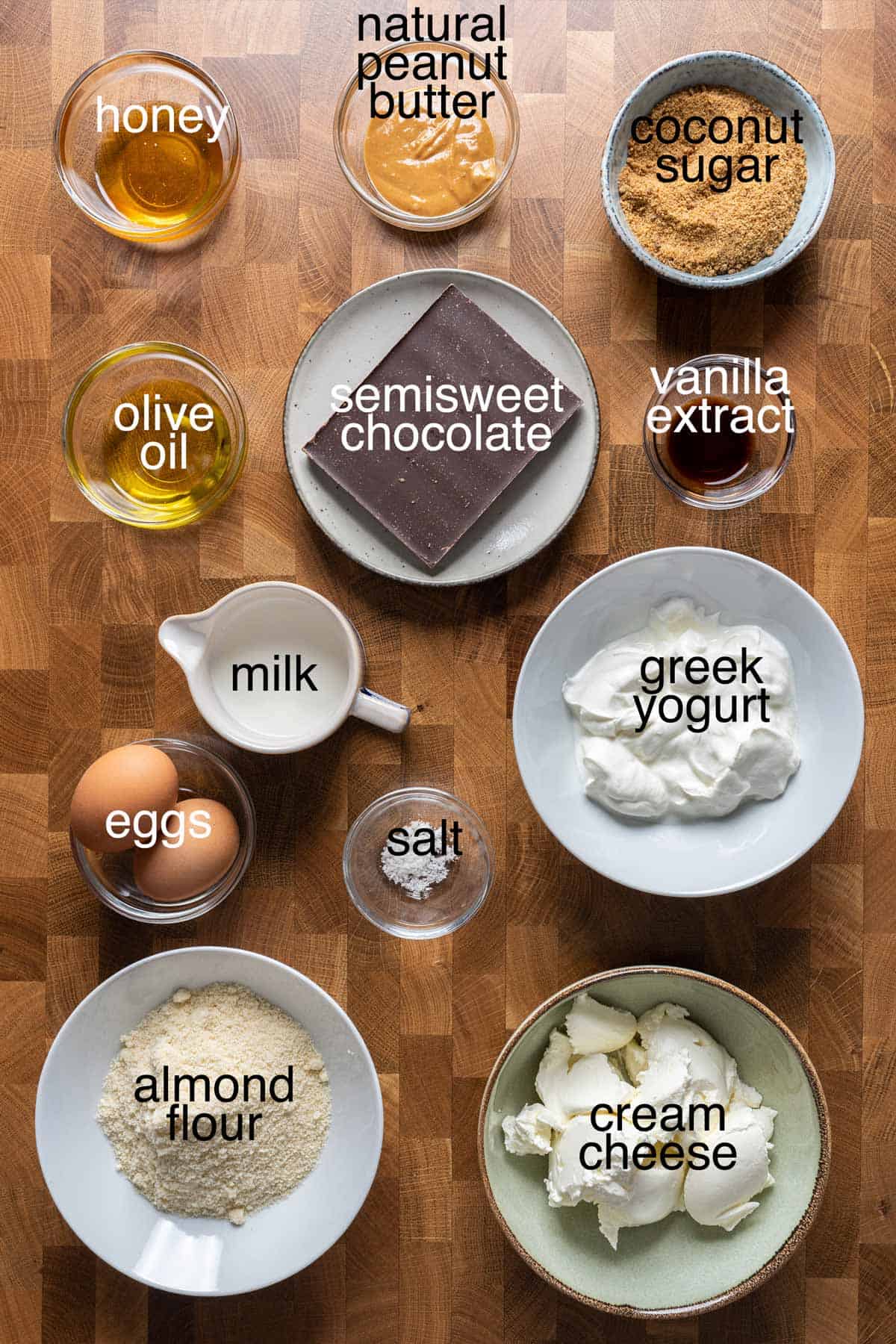 Cream cheese - Full fat. Don't use cream cheese that's for spreading on toast etc.
Greek yogurt - Full fat. Find the natural unsweetened one.
SUBSTITUTION: Use the same amount of sour cream. Full fat also, please.
Chocolate - Use baker's chocolate, or also known as baking chocolate. I'm using semisweet chocolate with Stevia. You can use whatever chocolate that you prefer.
Almond flour - It's basically almond blended almond. I'm using blanched almond flour. Almond meal works fine also.
Peanut butter - Find natural peanut butter, which is just peanut butter and salt. Sometimes they even come without salt. Crunchy or smooth, it doesn't matter.
Coconut sugar - I love the hints of caramel that it has. It helps to get that darker chocolaty colour for our cheesecake also.
SUBSTITUTION: You can use the same amount of brown sugar instead.
How To Prevent Baked Cheesecakes From Cracking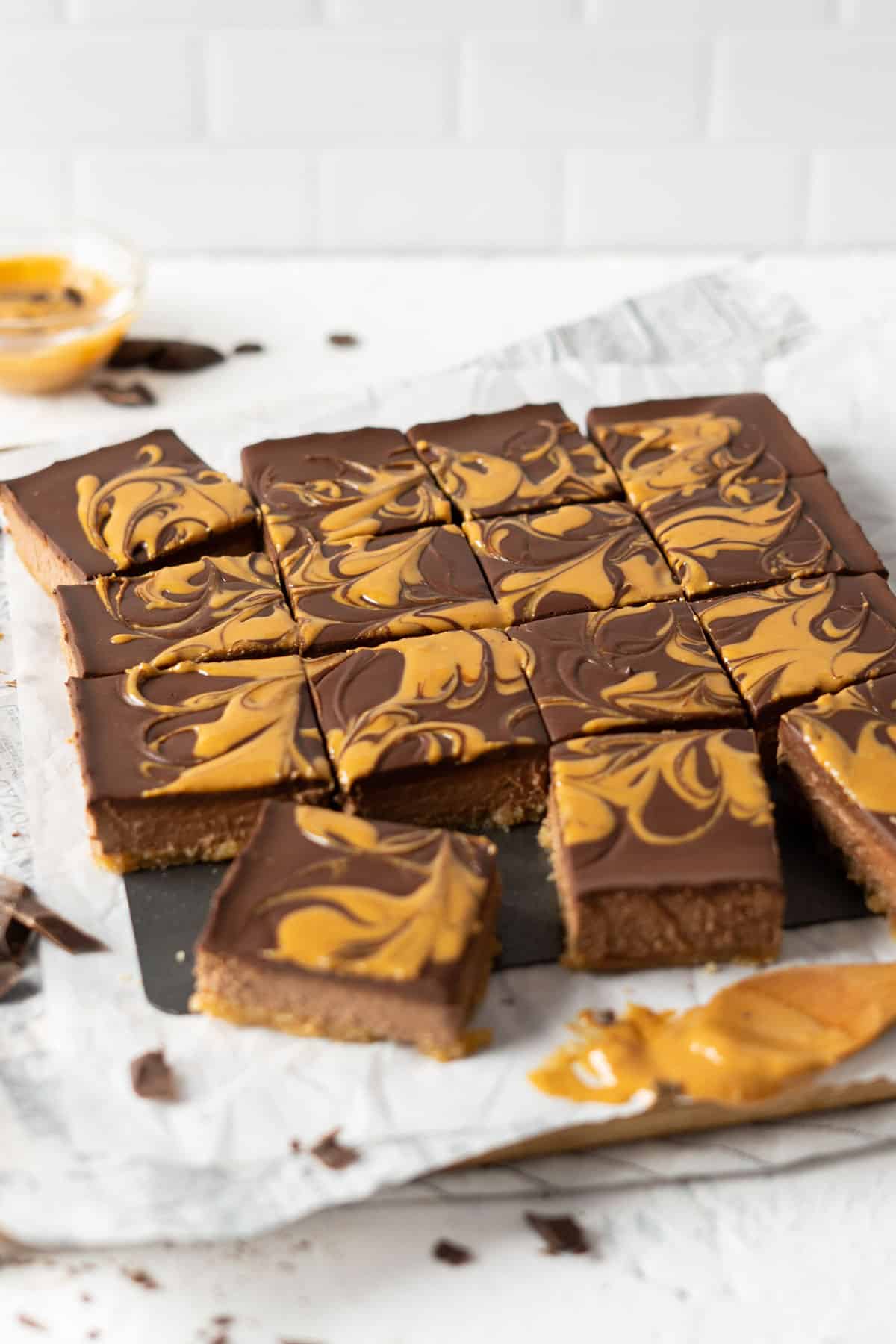 I want you to embrace baking cheesecakes because they're not difficult as people make them out to be, at all.
Yes, there are a few things to achieve in baking a "perfect" looking baked cheesecake for example smooth top (no cracks), not deformed (shrink as they cool down) and not looking burnt. Well unless you're making a specific burnt cheesecake type.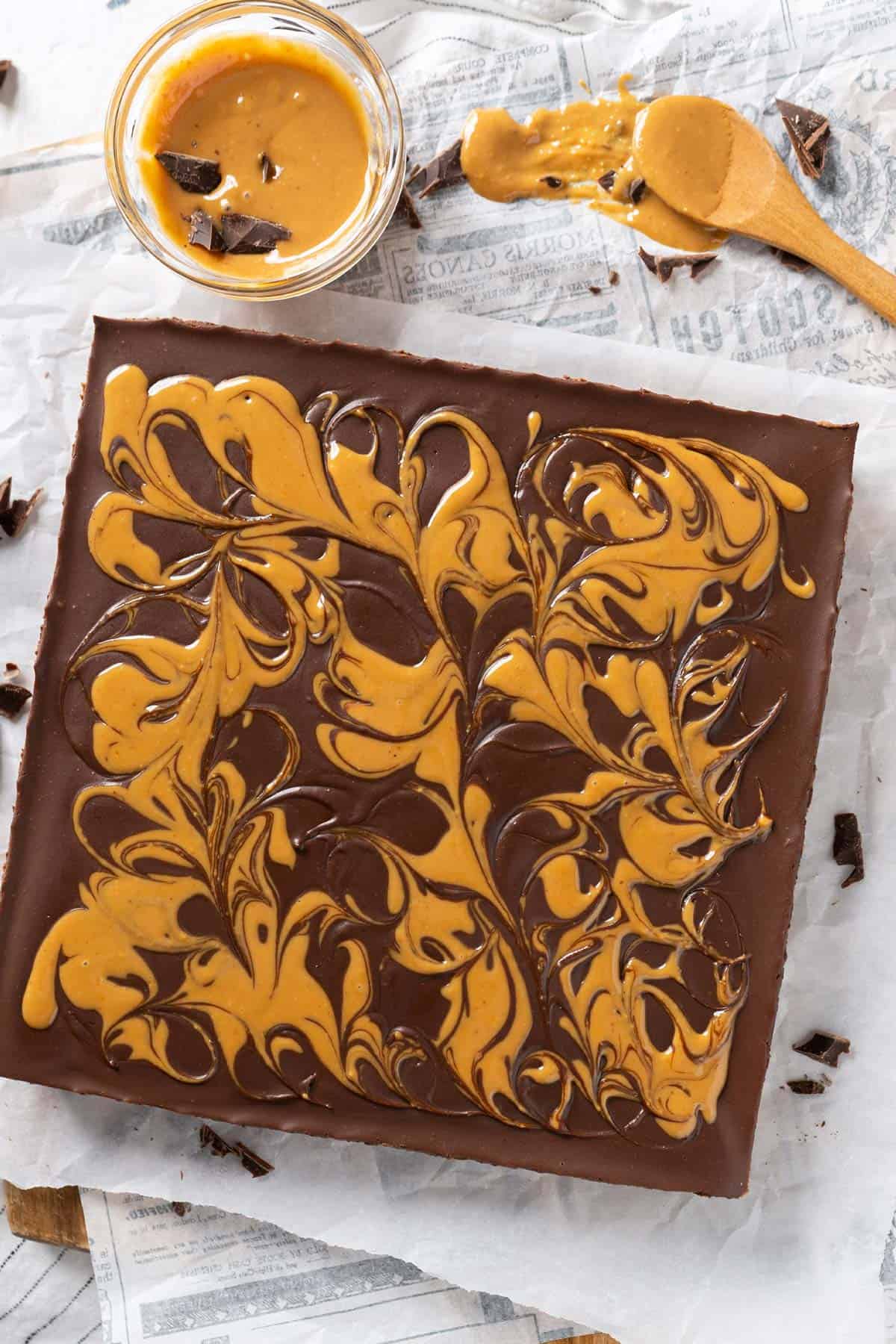 I'm going to show you how to achieve a perfect baked cheesecake and even better, without using water bath (bain marie).
Never over whisk - Do not over whisk any ingredient, at any time for baked cheesecakes. Over whisking will incorporate air into our mixture. That's going to make our cheesecake rise in the oven and crack like a cake.
Room temperature ingredients - Make sure all of your ingredients are at room temperature, unless the recipe says otherwise. This will make the ingredients easier to mix with each other without us having to over whisk them.
Oven temperature - Always low. We want that smooth creamy texture. High temperature will bake our cheesecake too fast and aggresive, creating those cracks. Each oven is different so I really recommend you to use a portable thermometer like this (I use it also). If you're baking with oven, and I'm not just referring to cheesecakes, you just need to have it.
Classic Cheesecakes
Recipe Video
📖 Recipe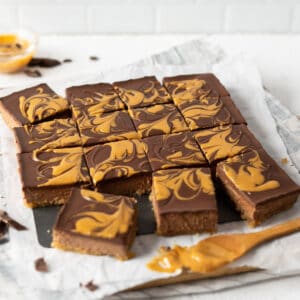 Healthy chocolate cheesecake bars
Using healthier ingredients and they're refined-sugar free. Creamy smooth texture with almond base, topped with chocolate ganache and peanut butter. Who can resist these?
Print
Pin
Rate
Equipment
8 inch square removable bottom pan
Ingredients
Base
2

tablespoon

natural peanut butter

(

35

g)

2

tablespoon

honey

(

30

g)

1

cup

almond flour

(

90

g)
Filling
10

oz

full fat cream cheese

(

280

g), room temperature

¾

cup

full fat natural Greek yogurt

(

190

g), room temperature

½

cup

coconut sugar (

50

g)

1

teaspoon

vanilla extract

¼

teaspoon

salt

4

oz

semisweet chocolate with Stevia

(

110

g)

2

large eggs

, room temperature
Topping
4

oz

semisweet chocolate with Stevia

(

110

g)

⅓

cup

milk

(

80

ml)

3

tablespoon

natural peanut butter

(

50

g)

some oil

, if needed to loosen up peanut butter
Instructions
Base
Warm up peanut butter and honey, and mix them well. Add in almond flour and mix everything together using a pastry cutter or a fork.

Pour into an 8 inch (20 cm) square removable bottom pan. Spread evenly with your hand and press. Place in freezer for 30 minutes.
Filling
Do not over mix at any point while making the filling. Add all ingredients except for chocolate and eggs, into a stand mixer bowl. Use the lowest speed with paddle attachment and mix. Set aside.

Chop chocolate into small pieces and heat in microwave at max power with 30 seconds intervals. Mix well after each intervals. Wait for it to cool down a bit. While mixing, pour in the chocolate and let everything blend together. Set aside.

In another bowl, lightly whisk the eggs. Pour into the stand mixer bowl and fold everything together using a spatula. Pour into the pan and spread evenly. Bake in a preheated oven at 285ºF (140ºC), conventional mode, on lower ⅔ rack for 36-40 minutes. Cool at room temperature before chilling in the fridge for minimum 4 hours.
Topping
Loosen up peanut butter with a bit of oil, if needed, by simply mixing them together with a spoon. It needs to be a tad loose to have beautiful swirl effects.

Chop chocolate into small pieces and place in a bowl. Heat milk until almost boiling and pour into chocolate bowl. Leave for a minute and then whisk using a hand whisk, until you get a thick ganache.

Pour on the cheesecake and swirl the pan around so that it covers all the surface. Spoon peanut butter randomly on top and using a wooden stick, make swirls. Chill in the fridge for 1 hour or until the chocolate sets. Remove from pan, cut and serve!
Notes
Make sure all ingredients are at room temperature, unless specified otherwise.
Never over whisk or mix anything, at any point, when preparing the filling.
Use a portable oven thermometer to get the accurate oven temperature (I use one like this all the time).
Bake for 10-15 minutes more if you prefer the cheesecake texture to be dense.
Maintain chilled all the time. Best consume within 2 days. Last up to 2 months in freezer.
Nutrition Facts
Calories:
252.7
kcal
,
Carbohydrates:
19.6
g
,
Protein:
5.4
g
,
Fat:
17.8
g
,
Saturated Fat:
7.5
g
,
Cholesterol:
39.5
mg
,
Sodium:
138.2
mg
,
Potassium:
83.4
mg
,
Fiber:
2
g
,
Sugar:
7.6
g
,
Calcium:
56.1
mg
,
Iron:
1.2
mg