Chinese New Year is just around the corner!
What more appropriate than to make some delicious dumplings and enjoy them with the family, right? And today I'm going to share with you on how to make dumpling dough from scratch.
It's very easy, let's start.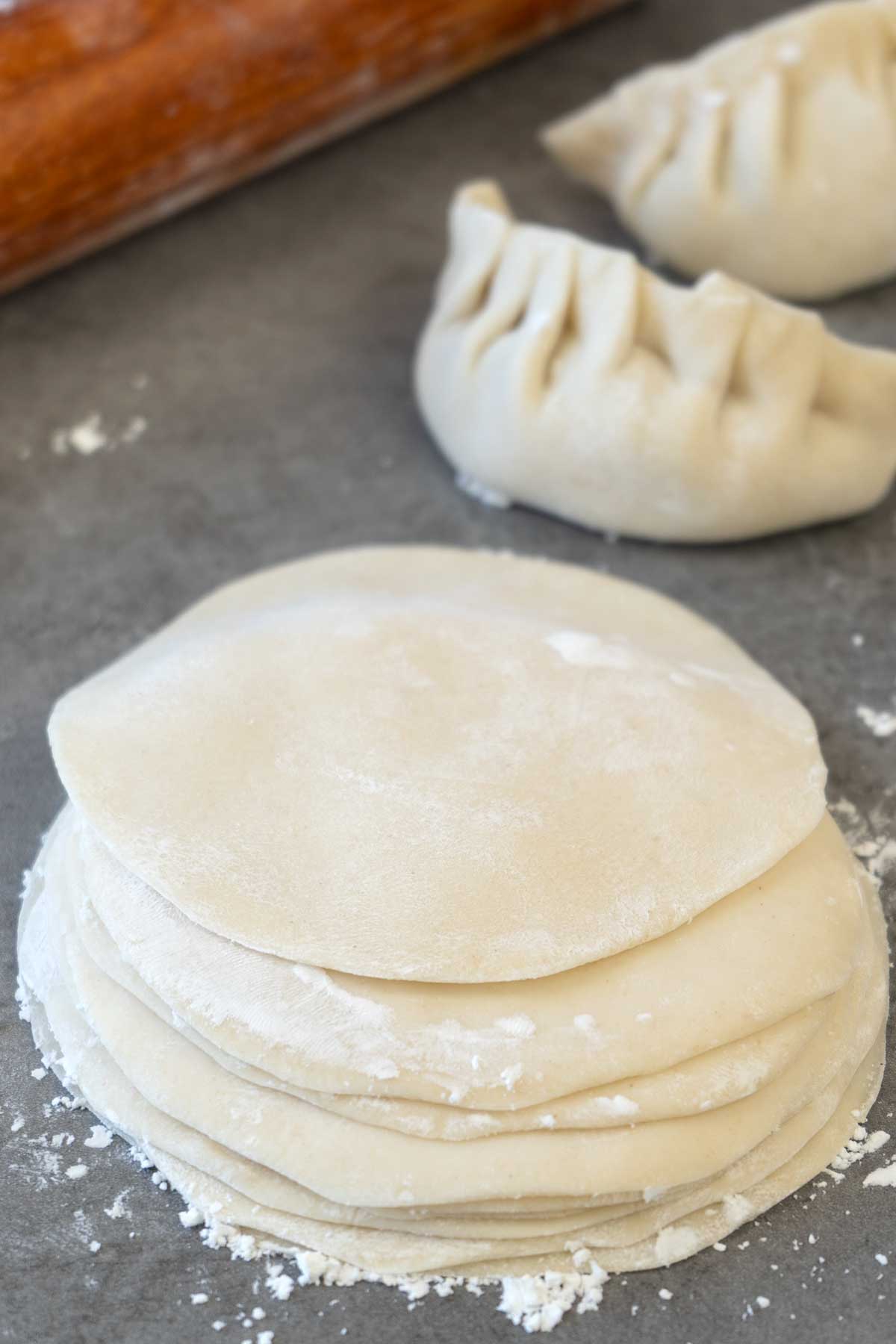 What Are Dumplings?
Dumpling in general is found in many world cuisines and it refers to a piece of dough that can either be wrapping some type of filling or simply the dough itself with no filling.
The dough is usually made from wheat flour, potato starch, cornmeal and so on.
The filling varies from savoury to sweet and basically can be whatever your heart desires.
There are several ways of cooking dumplings. Steaming, pan frying and boiling.
Today I'm sharing the dough recipe for boiled dumpling, Chinese style. But you can check my other recipe to make dumplings for steaming or pan-fried. I even made them in different flavours!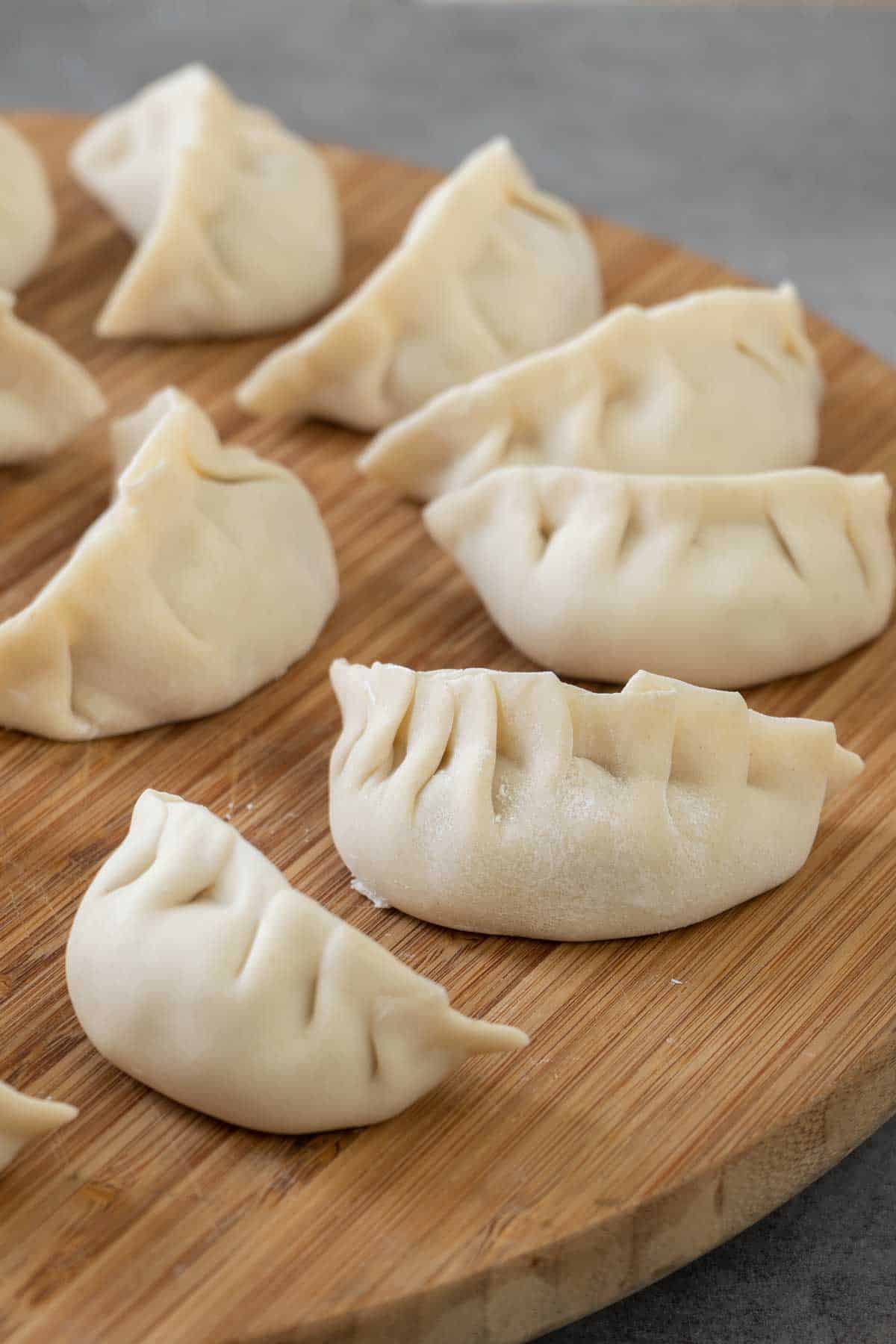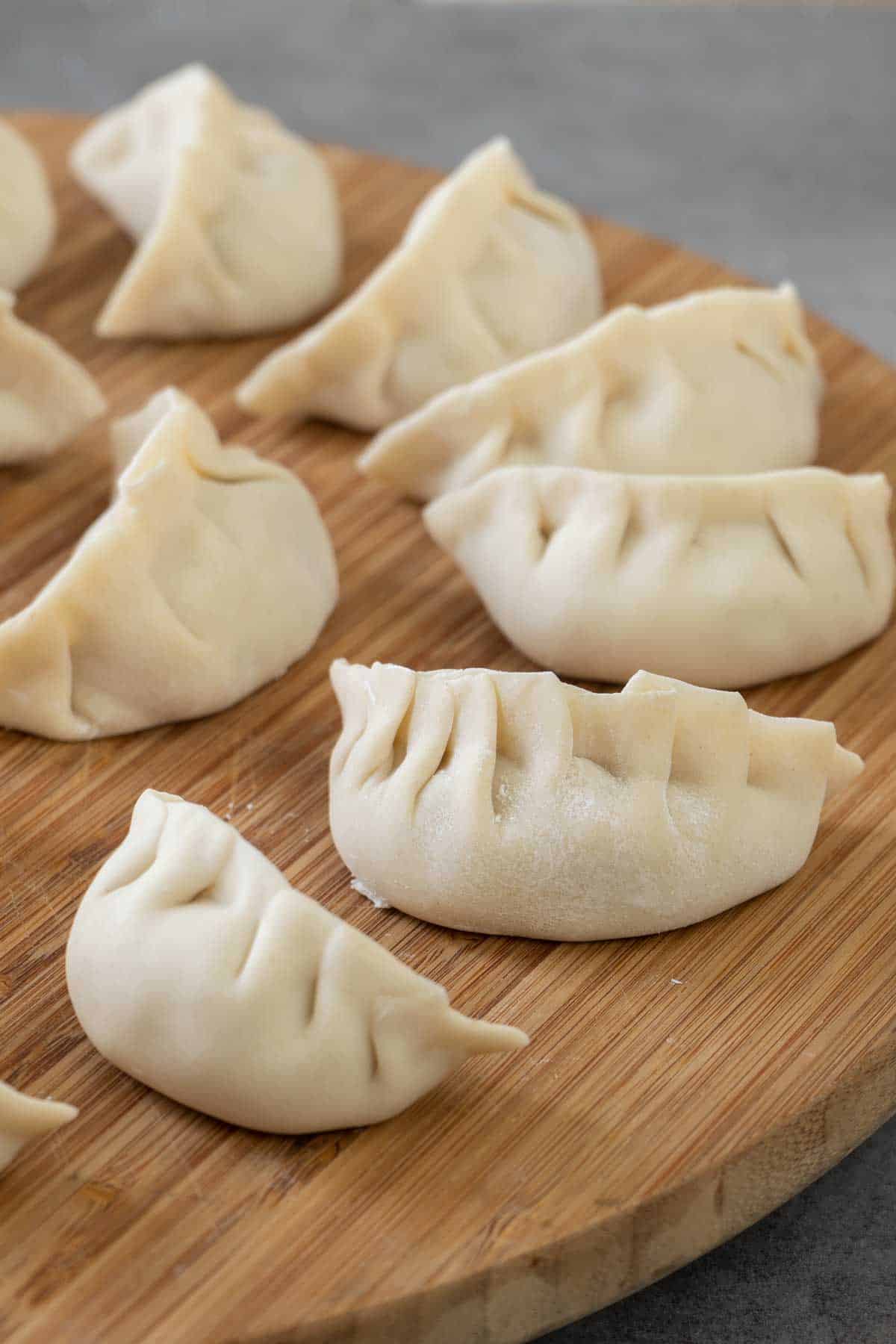 Types Of Doughs
As I mentioned just now, there are several ways to cook dumplings. Depending on the method of cooking your dumplings, the recipe for the dough varies.
The basic ingredients for dumpling dough are simply flour and water. And salt if you choose to.
The difference between one dumpling dough to the other is in the water.
Steamed and pan fried dumplings that are categorised into gentle cooking method, use hot water for the dough.
Instead for boiled dumplings, which involves a more vigorous cooking method, we use cold or room temperature water for the dough.
The dough for boiled dumplings is also rolled thicker, to endure the boiling cooking process. Doughs for steamed and pan fried dumplings on the other hand, are usually rolled thinner to match their gentle cooking method.
How To Roll It
It's actually fun to roll the doughs since you roll them a bit differently. You can see how I roll them in the recipe video below.
Basically what you want to have in the end are wrappers that are thinner around the edges and slightly thicker in the center.
First what you need is a small rolling pin. It's also known as Chinese rolling pin.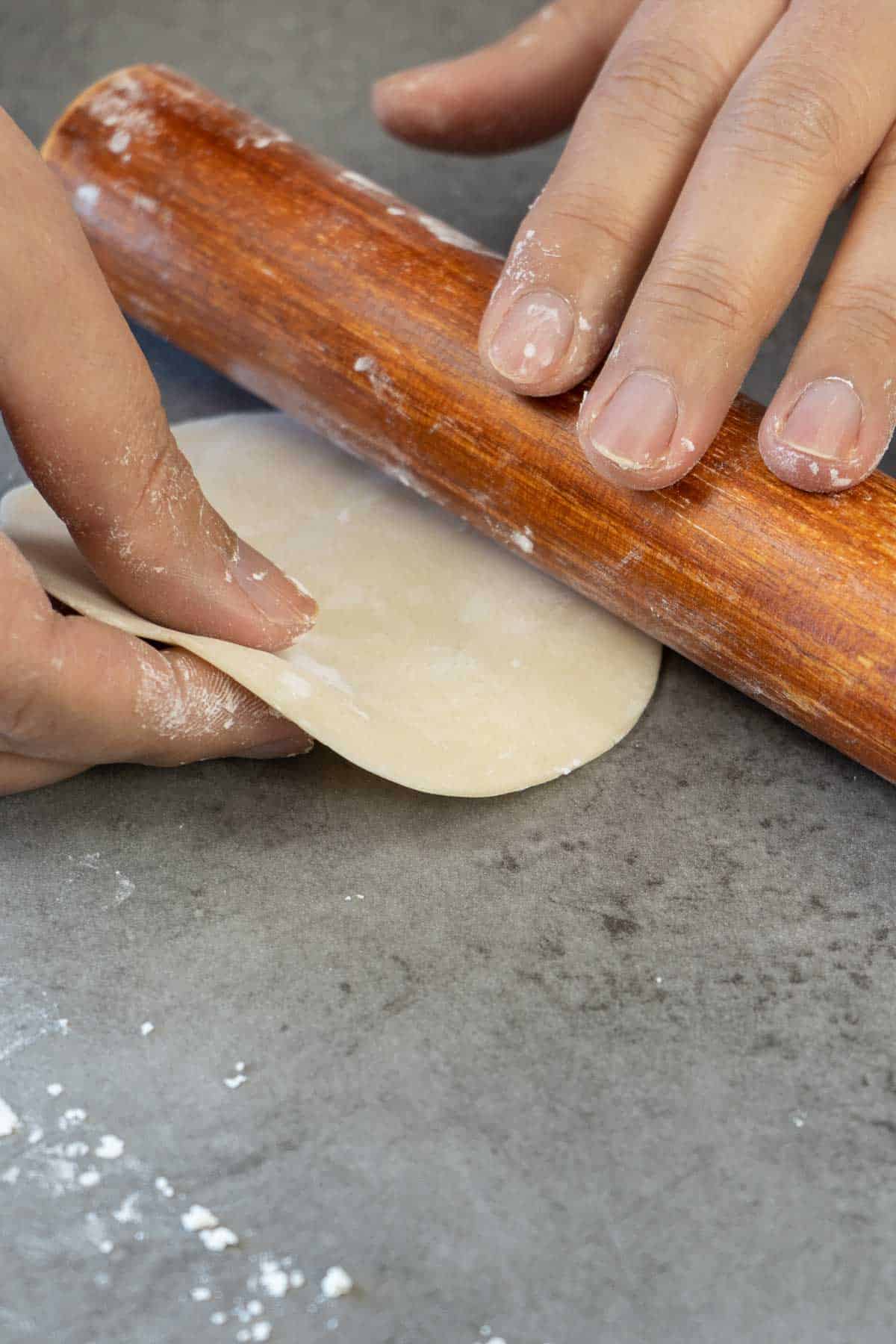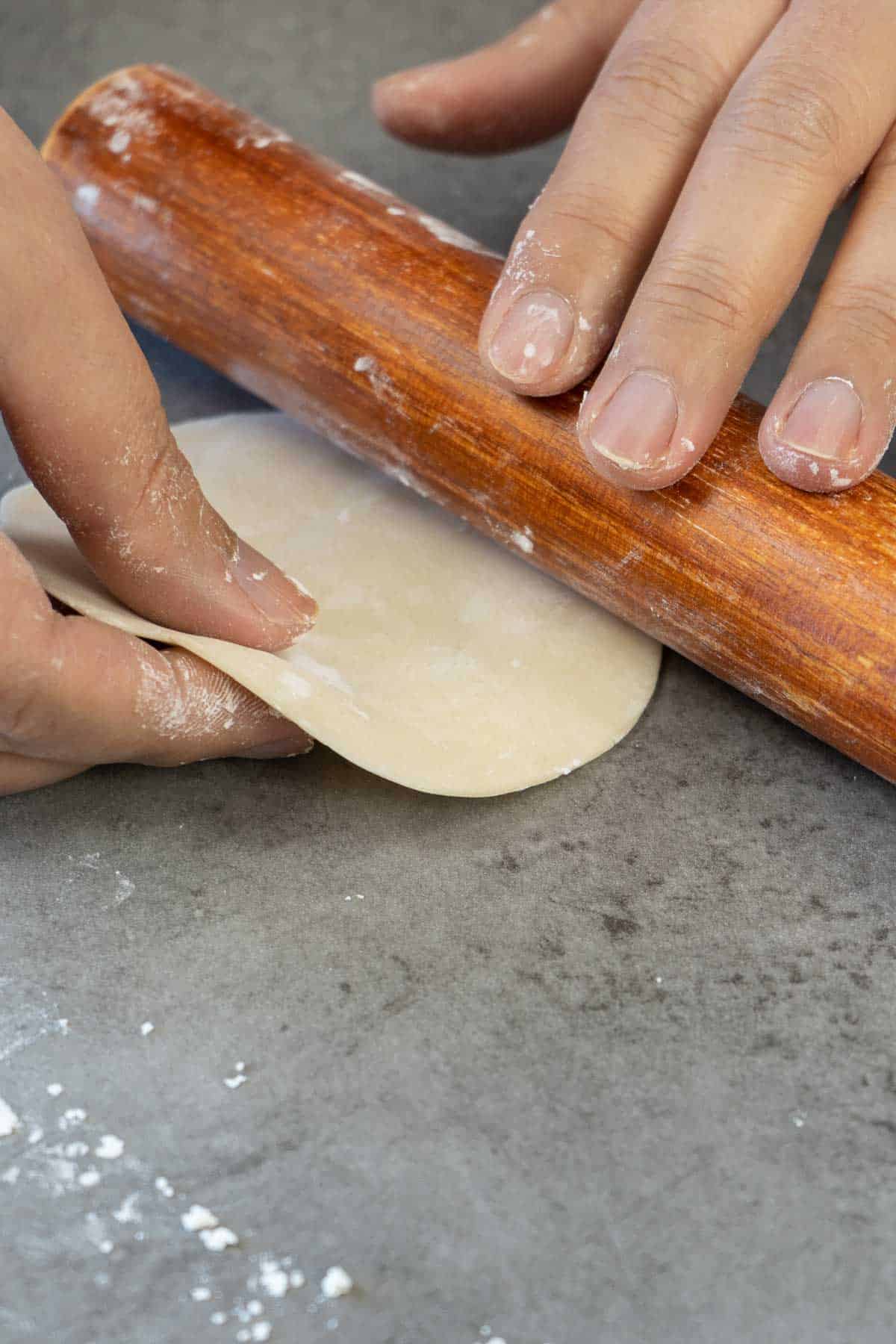 You want a smaller rolling pin because the dough itself is small and you want a better control of it.
Rolling a dumpling dough is different in a way because you only roll ⅓ in and then twist the dough, and continue until you get a disk that's thinner around the edges.
You want the center to be thicker because that's where the filling is going to be.
You want the edges to be thinner because when you pinch the seams, they will be the same thickness of the center and that will result in evenly cooked (boiled) dumplings.
Better Than Store Bought Ones
I know, nobody has time for anything these days. Yep.
But hey, now and then we should take a step back and just enjoy life. And some good old homemade food.
Buying ready made dumpling wrappers definitely saves your time but let's face it. It's the feeling that we all have, nobody cooks better than our own mother.. the same feeling applies here.
Nothing beats homemade food. Even as simple as dumpling wrappers.
They are easier to work with, you know what ingredients go inside it. The real ingredients that you can actually pronounce and picture in your head.
I hope you'll give this recipe a try. Let me know what you think.
In Summary
These dumpling wrappers:
are definitely tastier than store bought ones
use basic simple real ingredients
easy and fun to make
easier to handle
TASTY.. did I say it already?
Related Recipes
Maybe you would be interested also in these delicious recipes:
Video Recipe
📖 Recipe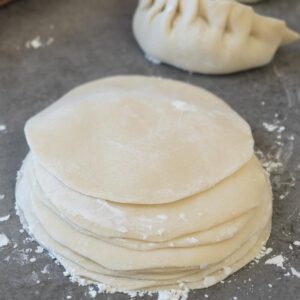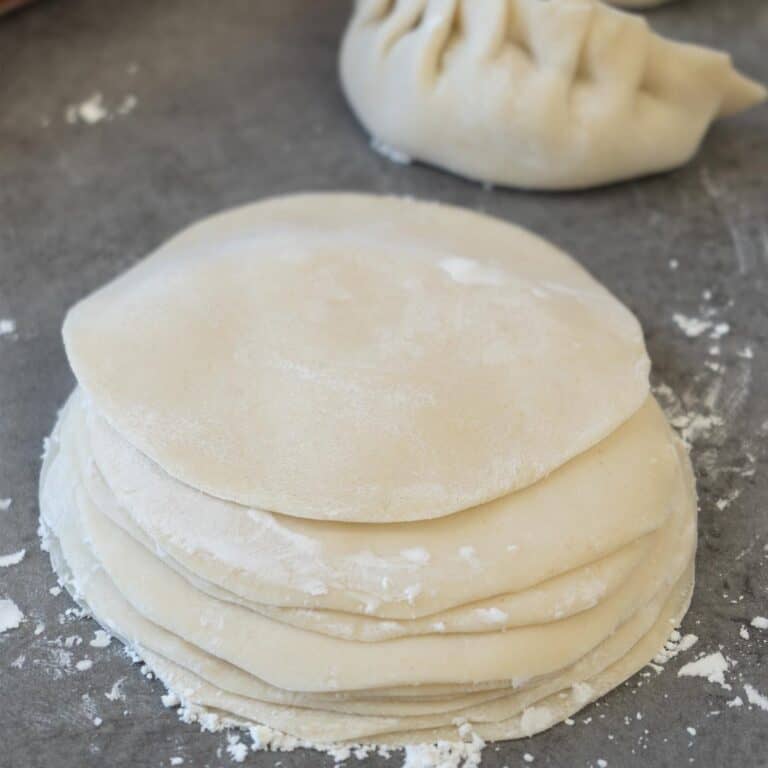 Homemade Dumpling Dough
Easy to make homemade dumpling dough recipe. Better than store bought ones. This simple recipe only uses 3 basic ingredients that you definitely have in your kitchen.
Print
Pin
Rate
Ingredients
9

oz

all purpose flour

(

250

g)

½

cup

water

(

125

ml), room temperature

½

teaspoon

salt
Instructions
Preparing The Dough
Mix flour and salt into a bowl. Slowly add in water while mixing it with the flour. Bring everything together into a rough ball with your hand.

Transfer the dough on a working surface and knead for 10 minutes or until smooth. Form it into a ball and place in a lightly floured bowl. Cover tightly with a cling film and rest for 1 hour.

Take the dough and place it on a working surface. Poke a hole in the middle of the dough using your finger and gently make the hole bigger until you eventually get a 1 inch (2.5 cm) thick ring. Refer to the video above to see this part clearer.

Cut the ring into 2 equal pieces. Line the 2 pieces together and cut them into 4 equal pieces. Line the 4 pieces together and cut them into 8 equal pieces. Cut each piece into 3 equal pieces. You will get a total of 24 pieces.

Sprinkle and coat each piece with some cornstarch. Cover them with a damp cloth to prevent them from drying.
Rolling The Dough
Take a piece of dough and flatten it slightly. Using a small rolling pin, roll ⅓ in and twist the dough. Repeat until you get a 3 inch (8 cm) disk that's thinner around the edges and slightly thicker in the center. Coat both sides of the dough with some cornstarch and set aside. Continue with the rest.
Notes
How To Use

I would recommend you to use the dumpling doughs immediately.

Place some filling inside, wet the edges with a bit of water, pinch the seams and boil.

Refer to my next recipe for more details on how to use these dumpling doughs.

Preventing The Dough From Getting Dry

The dough gets dry pretty fast so try your best work fast until you cover the pieces with a damp cloth.

Coat the rolled doughs with some cornstarch on both sides.

Tips

I'd suggest do not roll all of your dumpling wrappers all at once and stack them. If you leave them stacked for long, they will stick. I didn't have problem with mines because I was rolling them like crazy fast, so don't mind me 😀

Instead, roll 2 or 3 wrappers at once and then immediately fill them. Sprinkle with cornstarch in between and yes, you can stack them.

But if you're a beginner and takes a bit more time to roll, I'd suggest you roll 1 wrapper, fill it and then continue with the other.
Nutrition Facts
Calories:
38.7
kcal
,
Carbohydrates:
8.1
g
,
Protein:
1.1
g
,
Fat:
0.1
g
,
Saturated Fat:
0.02
g
,
Sodium:
49.6
mg
,
Potassium:
11.4
mg
,
Fiber:
0.3
g
,
Sugar:
0.03
g
,
Calcium:
1.8
mg
,
Iron:
0.5
mg