Uh? What Is Panettone?
Even if the name doesn't sound familiar to you, just know that it's definitely one heck of a delicious sweet bread!
Panettone is actually an Italian sweet bread that's usually consumed during Christmas and New Year.
What makes panettone special from any other sweet breads is its unique domey shape and its height.
Typically a panettone would have citrus zest, candied fruits and nuts. If you're wondering on how to make it, then wonder no more my friend. I've got you covered.
Today I'm sharing a variation of the classic panettone, which is mini chocolate panettone.
Let's begin!
Mini Panettone
Aren't mini and small scaled food so darn cute?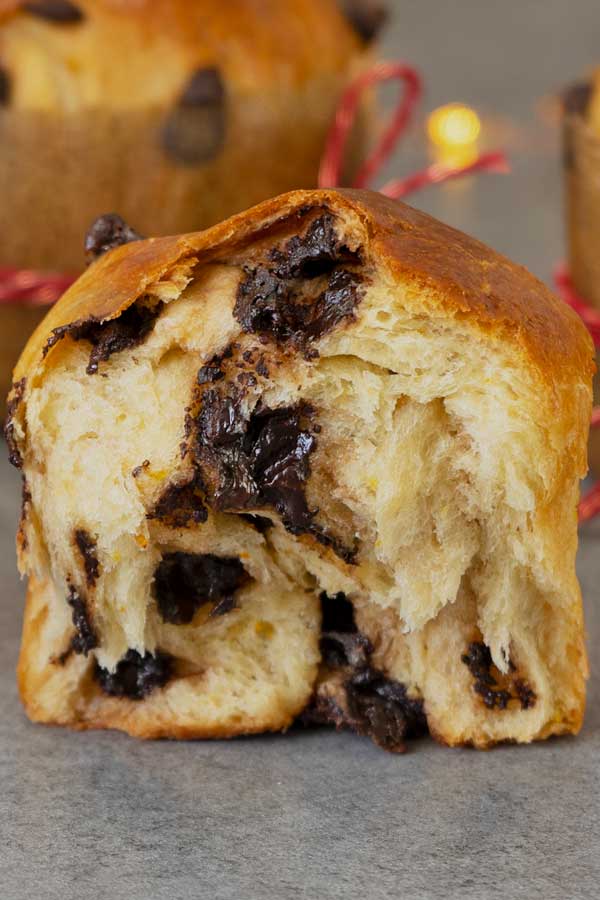 For this recipe I'm using individual panettone casings. They can hold about 4 oz of dough. Super cute, right?
What I like about them is that they can stand on their own without me having to put them in mugs or something. The base is also with a thicker paper, perfect to hold the weight of the dough.
To make it easier, they are exactly how a normal panettone casing would be, but just in a smaller size.
Do I Need To Flip The Mini Panettone
A normal sized panettone needs to be flip upside down immediately after baking and maintain that position for a few hours until the panettone is completely cool.
This will ensure the panettone remains fluffy, not dense and doesn't collapse.
For the mini panettone, fortunately I don't find the need to flip them. This is because they are small enough to hold their shape without collapsing and at the same time remain soft and fluffy.
So nope, you don't need to flip mini panettone.
Easier With Mini Panettone
Apart from not needing to be flipped, I find mini panettone in general is an easier panettone to make.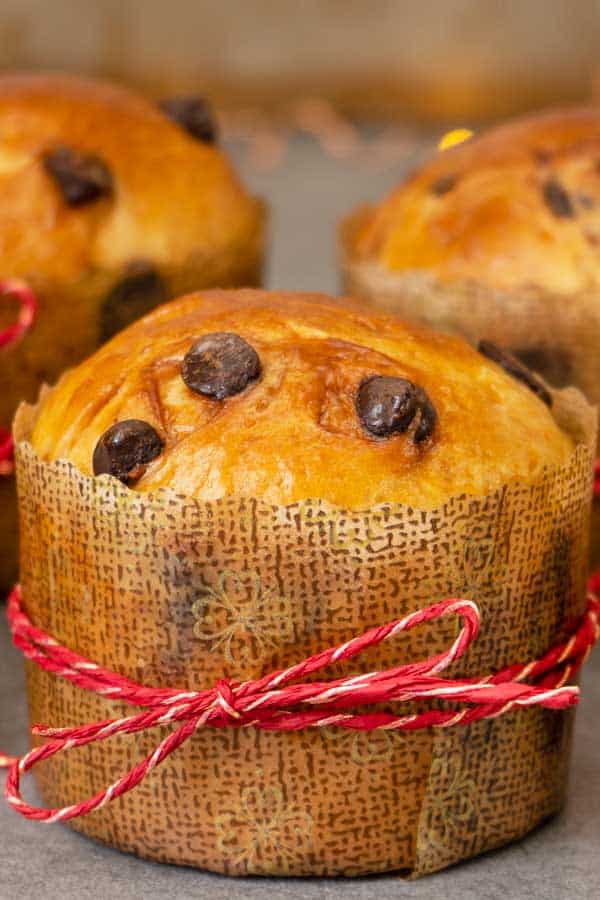 The recipe itself is simpler. The dough rising is just 2 times like any other breads where else a normal sized panettone would take 3 times of dough rising.
So if you're interested in making your first panettone, I would highly recommend you start with this mini panettone recipe.
Chocolate Panettone
This year I thought I'd share a chocolate panettone since not everybody likes candied fruits and nuts.
If you're one of those people, worry not. I only eat candied fruits if they're in panettone and fruit cake. Haha!
Besides, who doesn't love chocolate right? Chocolate makes everything better. Even more than better, it's goooood (as Joey Tribbiani said).
If you're not into chocolate, you can always use candied fruits. No problem at all. It's going to be equally delicious!
So there you go, a perfect panettone recipe for you to start making this delicious bread at home. Let me know if you have made it.
Before You Go
If you're looking for some food ideas for the holidays, maybe I could be of a help. Why don't you check these beauties out.
Video
📖 Recipe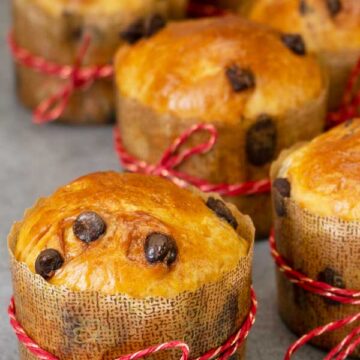 Mini Chocolate Panettone
This mini chocolate panettone recipe it's so easy to make at home. They are soft and fluffy with bits of chocolate all over. If you prefer candied fruits and nuts, you can use them instead.
Print
Pin
Rate
Servings:
6
mini panettones
Ingredients
⅓

cup

warm milk

(

80

ml)

½

teaspoon

sugar

2 ¼

teaspoon

dry yeast

2

cup

bread flour

(

260

gr)

1

teaspoon

salt

zest of ½ lemon

zest of 1 orange

1 ½

teaspoon

vanilla extract

1

egg

, room temperature

1

yolk

, room temperature

2

tablespoon

honey

(

40

gr)

⅓

cup

butter

(

75

gr), room temperature and cubed

3.5

oz

chocolate chip

(

100

gr)

1

egg with a splash of milk

, egg wash
Instructions
Mix sugar with milk and then add in dry yeast. Mix and leave for the yeast to activate.

Pour the rest of the ingredients into a standing mixing bowl, except for chocolate chips, butter and egg wash. Add in yeast mixture also. Mix to incorporate and then knead for 10 minutes.

Add butter bit by bit, mixing well to incorporate after each addition. Once all butter is added, knead for another 10 minutes. Place dough in a greased bowl, cover tightly with cling film and leave until the dough rises double its size.

Lightly grease your working surface. Do not use flour because we don't want to incorporate any more flour into the dough. Place the dough and lightly press into a square.

Sprinkle chocolate chips on top and lightly knead the dough to distribute well the chocolate chips. Then divide the dough into 6 equal pieces and form each piece into a ball. Place the balls in the mini panettone casings (2.5x1.75 inch or 6.35x4.4 cm), on a baking tray. This will make it easier to transfer into the oven later.

Cover loosely with a cling film and leave for the dough to rise until almost the brim. Gently brush the top surface with egg wash. Bake in a preheated oven at 350ºF (175ºC) for 25 minutes or until fully cooked. Enjoy!
Nutrition Facts
Calories:
412.2
kcal
,
Carbohydrates:
52.8
g
,
Protein:
10.2
g
,
Fat:
18
g
,
Saturated Fat:
9.4
g
,
Cholesterol:
99.1
mg
,
Sodium:
562.2
mg
,
Potassium:
169
mg
,
Fiber:
3
g
,
Sugar:
12.6
g
,
Calcium:
42.6
mg
,
Iron:
1
mg