One of Malaysian famous traditional meals, this is Nasi Lemak with all its trimmings.
Nasi lemak is basically fluffy aromatic rice that is cooked with coconut milk, pandan leaves and some other herbs.
It is always accompanied with a sambal (spicy sauce with any protein source of your likings), spiced fried chicken, hard boiled eggs, slices of cucumber and some peanuts.
Although nasi lemak literally means "buttery rice", it's understood that it's a complete meal of rice and all its trimmings.
Oh yes, I'm drooling just thinking of it!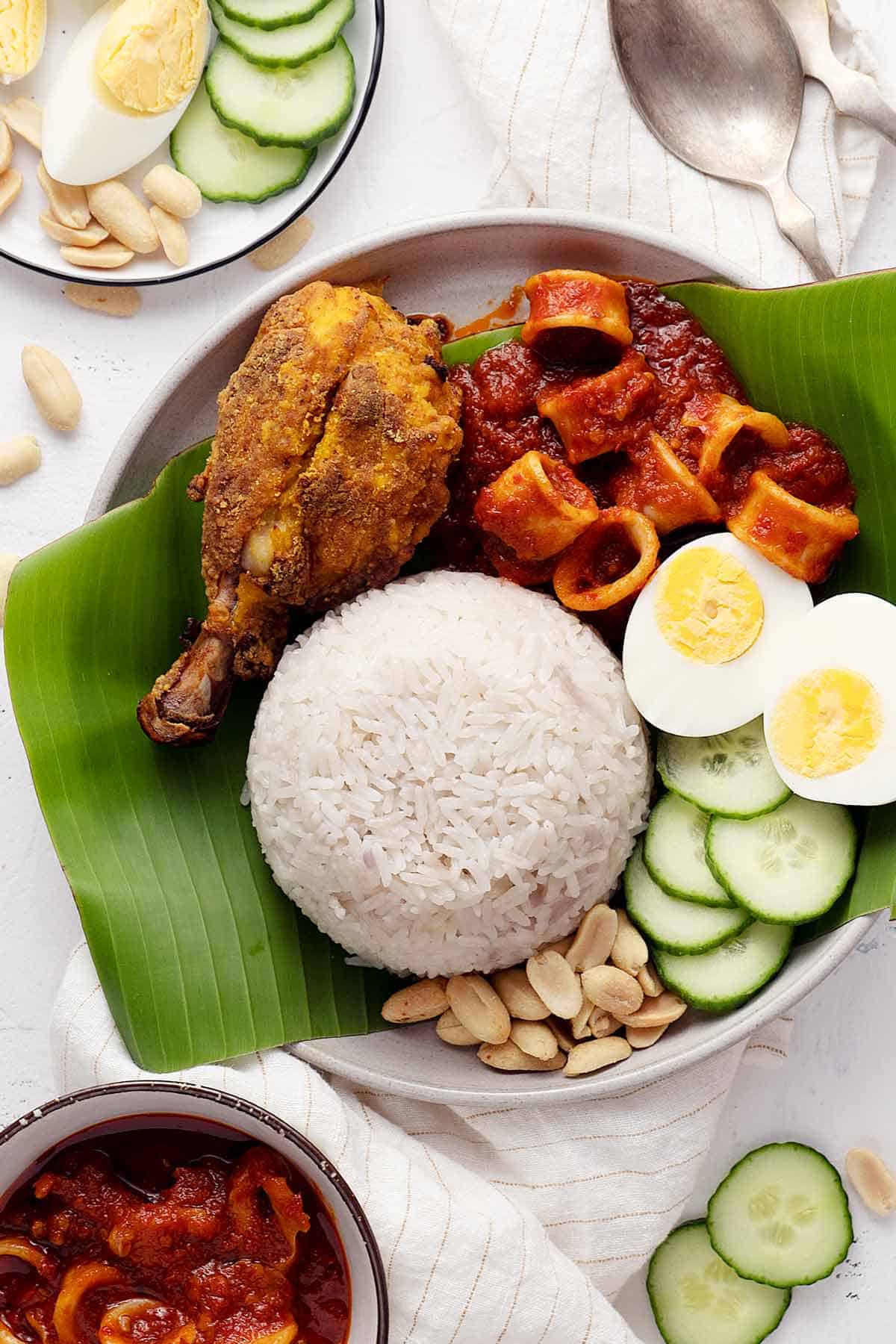 Jump to:
Adapting To Making Nasi Lemak Outside Of Malaysia
If you're living in Malaysia then you won't cry over this. There are unlimited restaurants and stalls that sell nasi lemak. And you also have easy access to all the ingredients needed for you to make this meal at home.
For people like me, who are not living in Malaysia, well then it's another story isn't it? Asian ingredients are very limited and also difficult to find. At least where I live.
So this recipe is for all expats that are missing nasi lemak and want to make it themselves, wherever they are. This is also for those who've tried nasi lemak and want to give it a go at making it at home.
What Are Nasi Lemak's Components?
Nasi lemak's basic components are: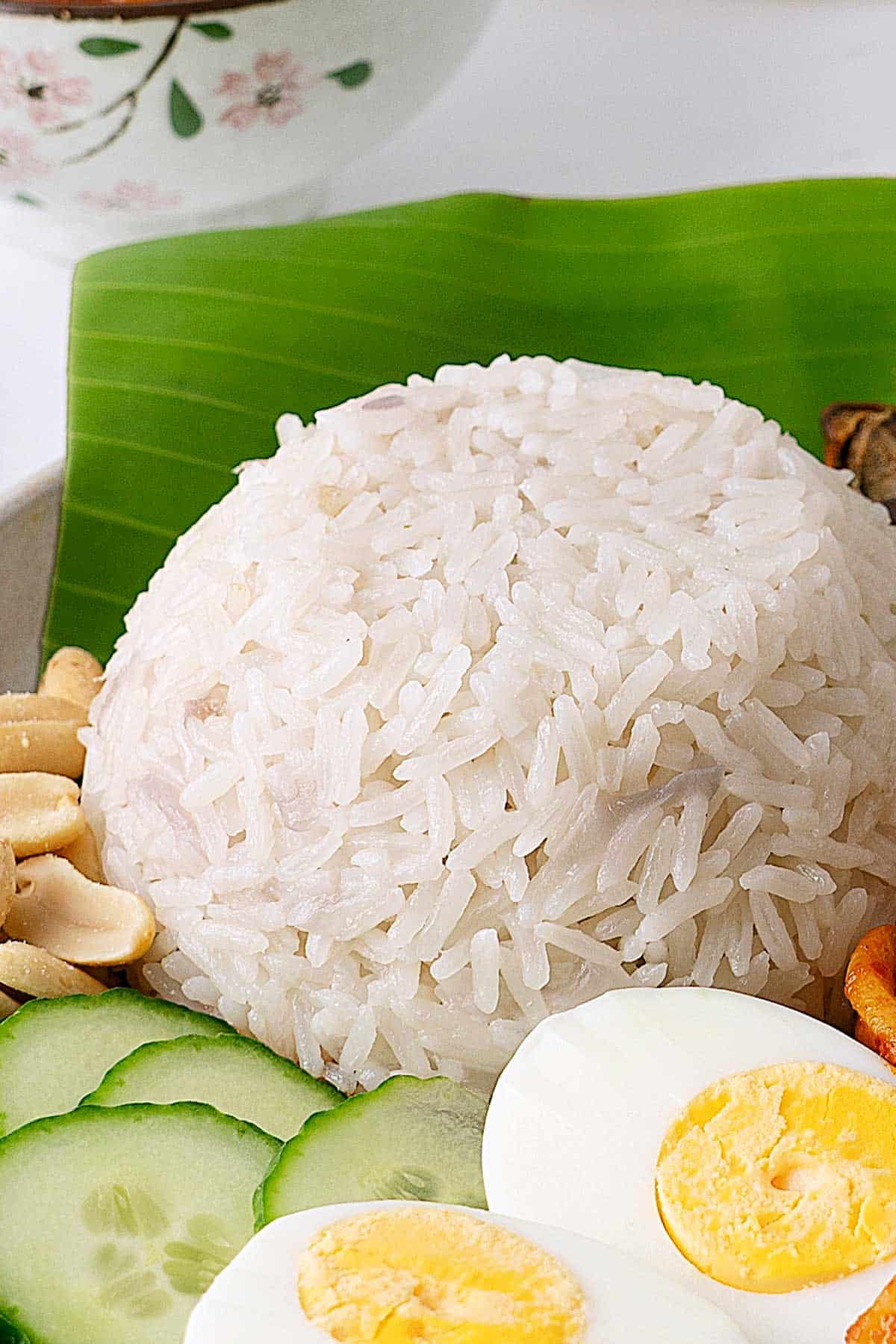 Rice - Fluffy rice that's cooked with coconut milk and some herbs.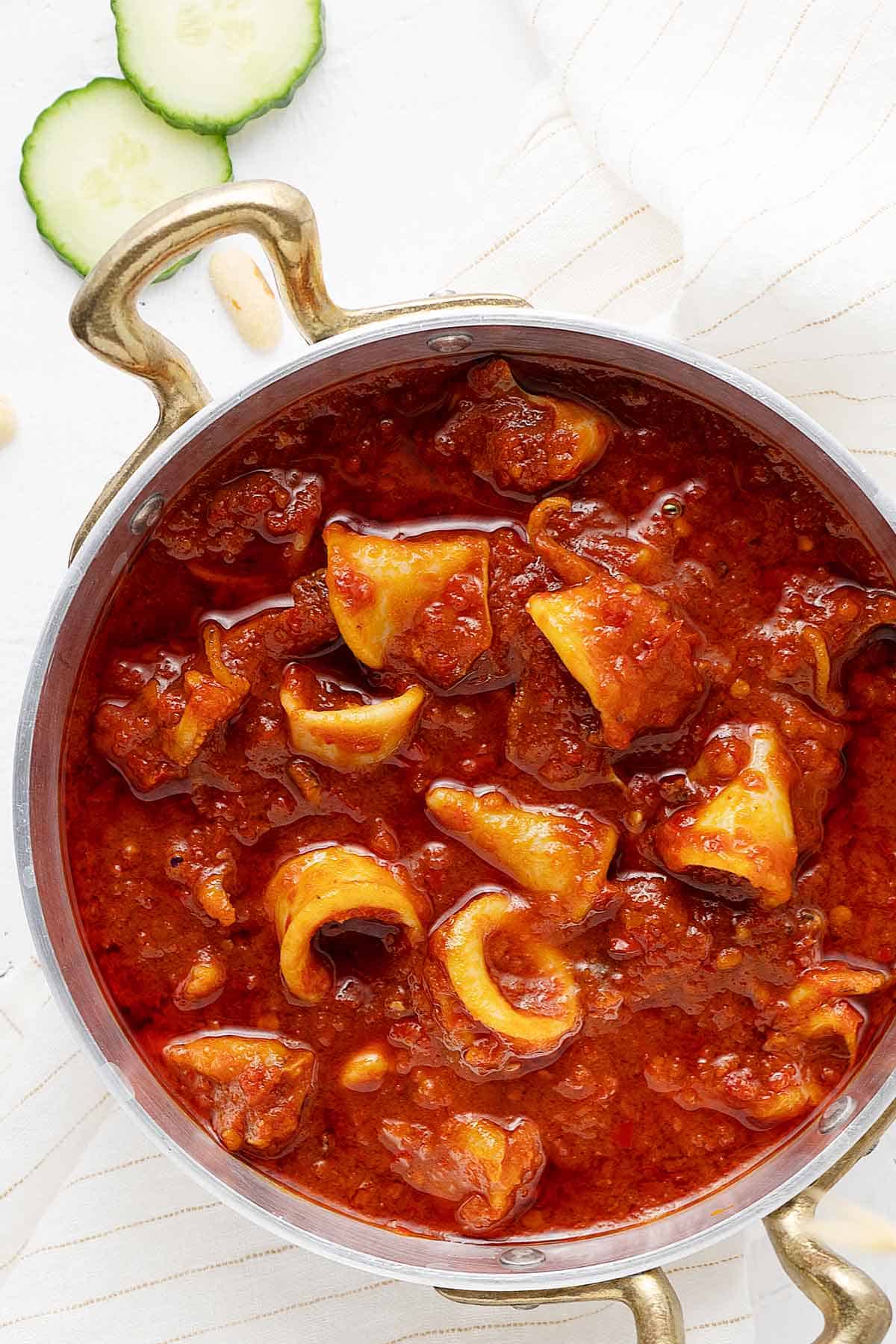 Sambal - Spicy sauce that's made from dry chillies and is usually cooked together with a type of protein source. Anchovies are the most common, like you can see in the video. For the picture above, I used squids. I like my sambal super spicy.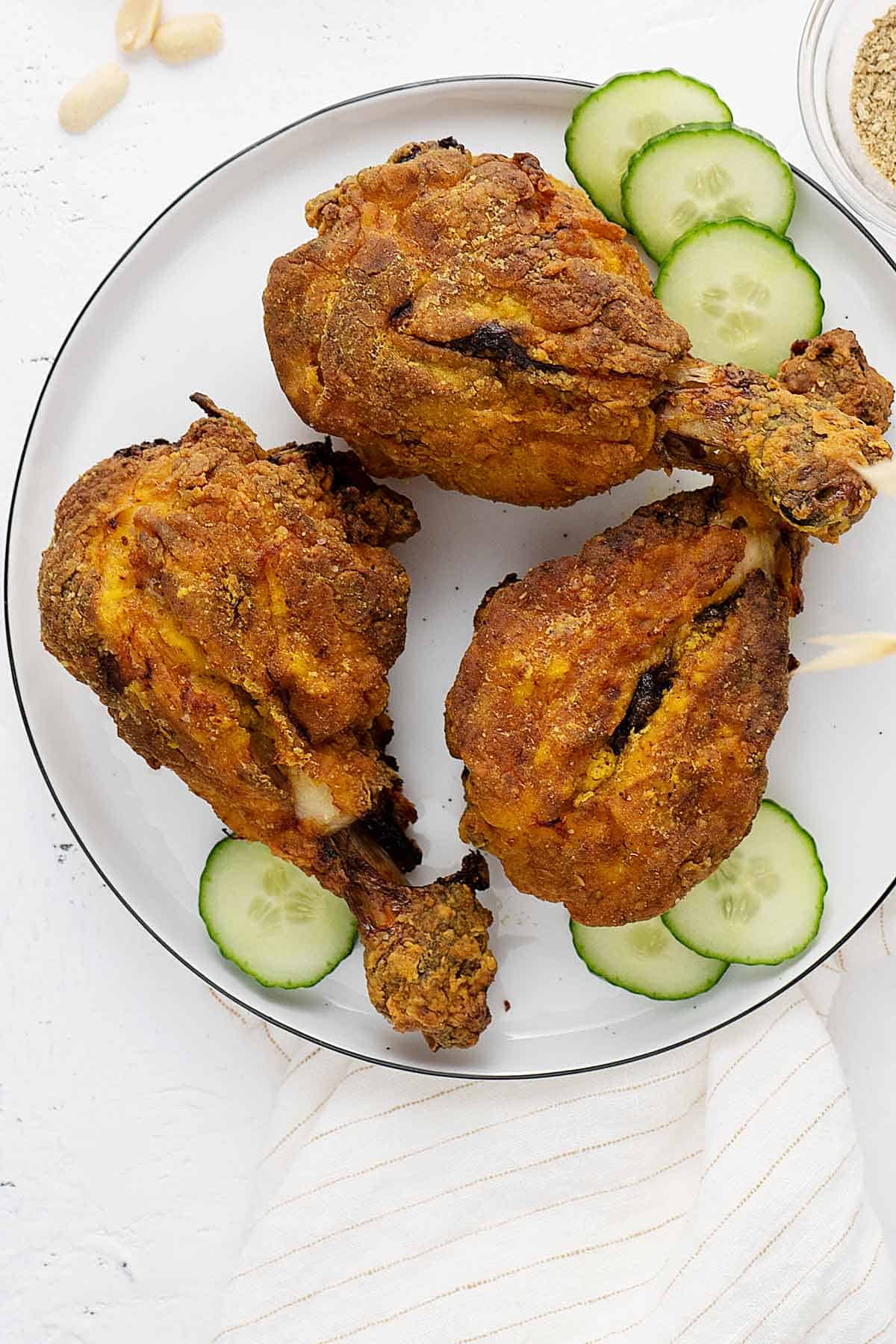 Spiced fried chicken - Chicken pieces coated with spiced batter and then fried. Sounds great, eh?
Sides - hard boiled eggs, slices of cucumber and peanuts.
Ingredients And Substitutions
Some of the ingredients are basic but there are a few important key ingredients that are worth talking about.
For Rice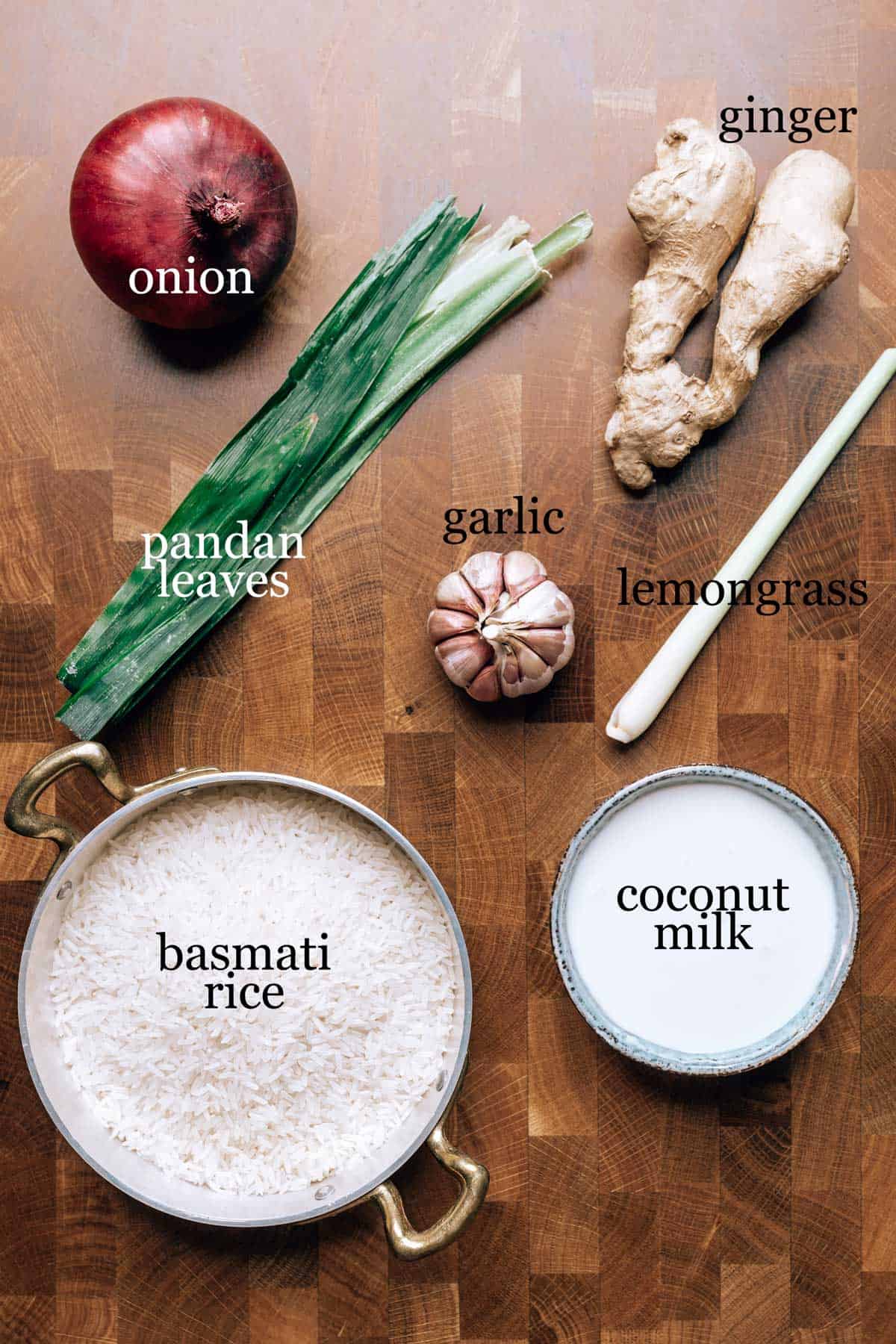 Rice - In the video I used basmati rice but jasmine rice also works beautifully. Just wash off the starch, no need to soak it. Refer to your packet's instructions on the liquid amount if you're using jasmine rice.
Lemongrass - You can find it mostly in the frozen section in Asian grocery stores. Ask around. If not, skip it.
Pandan leaves - Give the rice a wonderful aroma, totally fine to skip it if it's difficult to find.
Red onion and shallot - Just my preference when I have them, I've used Holland or red onion with no problems.
For Sambal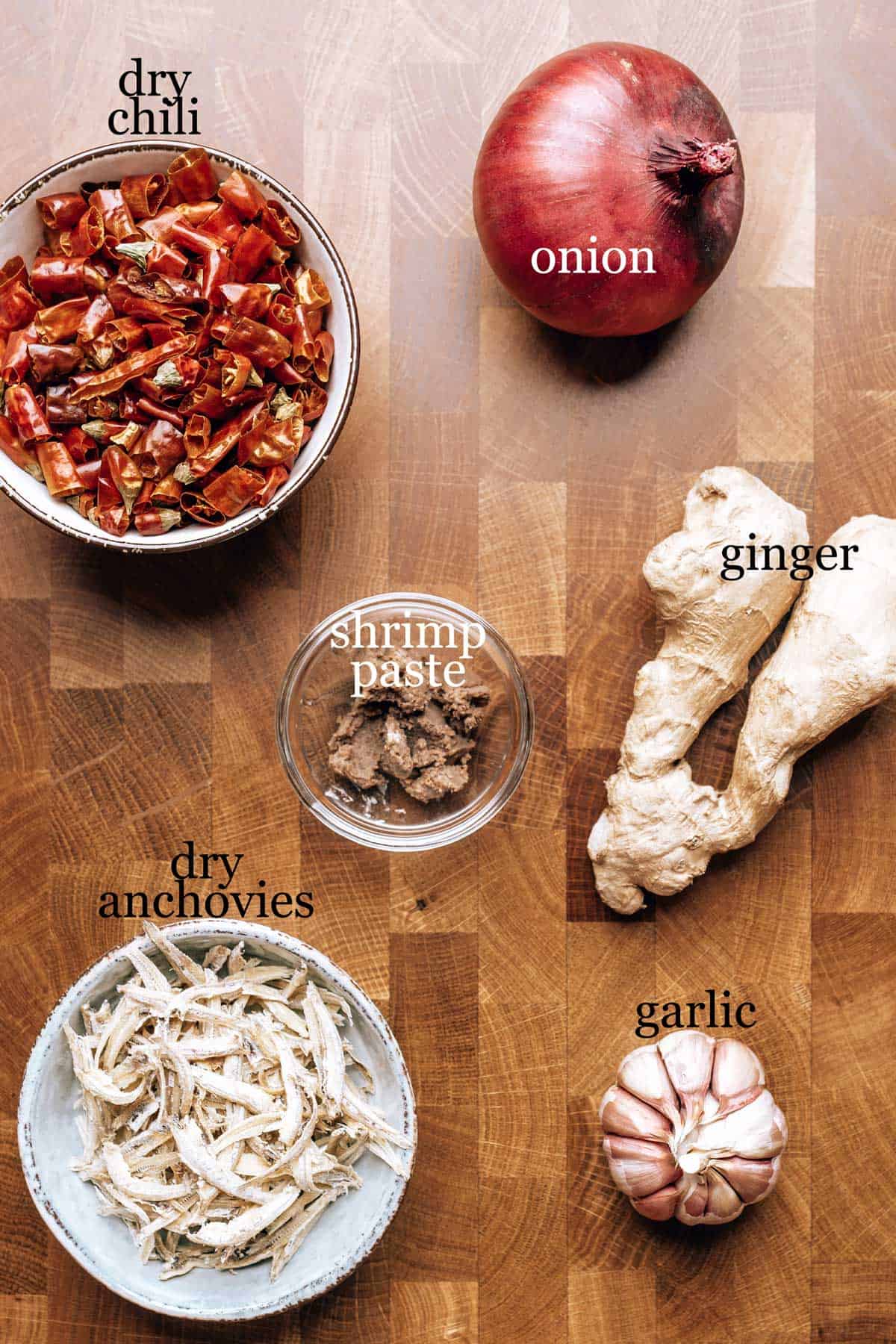 Dry chilies - Here in Spain I find out that they don't always come spicy. So to bring it to my acceptable level of spiciness, I like to combine the dry chillies with dry cayenne peppers. That spicy kick is awesome!
LESS SPICY OPTION: You can use red bell peppers like I did in my sweet and spicy sambal recipe.
Dry anchovies - So far I've been using the ones that my family sent me from Malaysia. Once I bought Japanese dry anchovies and although they're not the same but they still work for the sambal.
SUBSTITUTION: You can also use fresh prawns, squids, clams or even chicken. No need to fry them first, except for chicken (just season with salt and turmeric powder).
Shrimp paste - It lends a touch of seafood to the sambal. This is similar to the one that I use. Skip it if you want.
SUBSTITUTION: Use fish sauce instead.
Tamarind - This is to lend a touch of sourness to the sambal.
SUBSTITUTION: Use lime or lemon juice to taste.
For Spiced Fried Chicken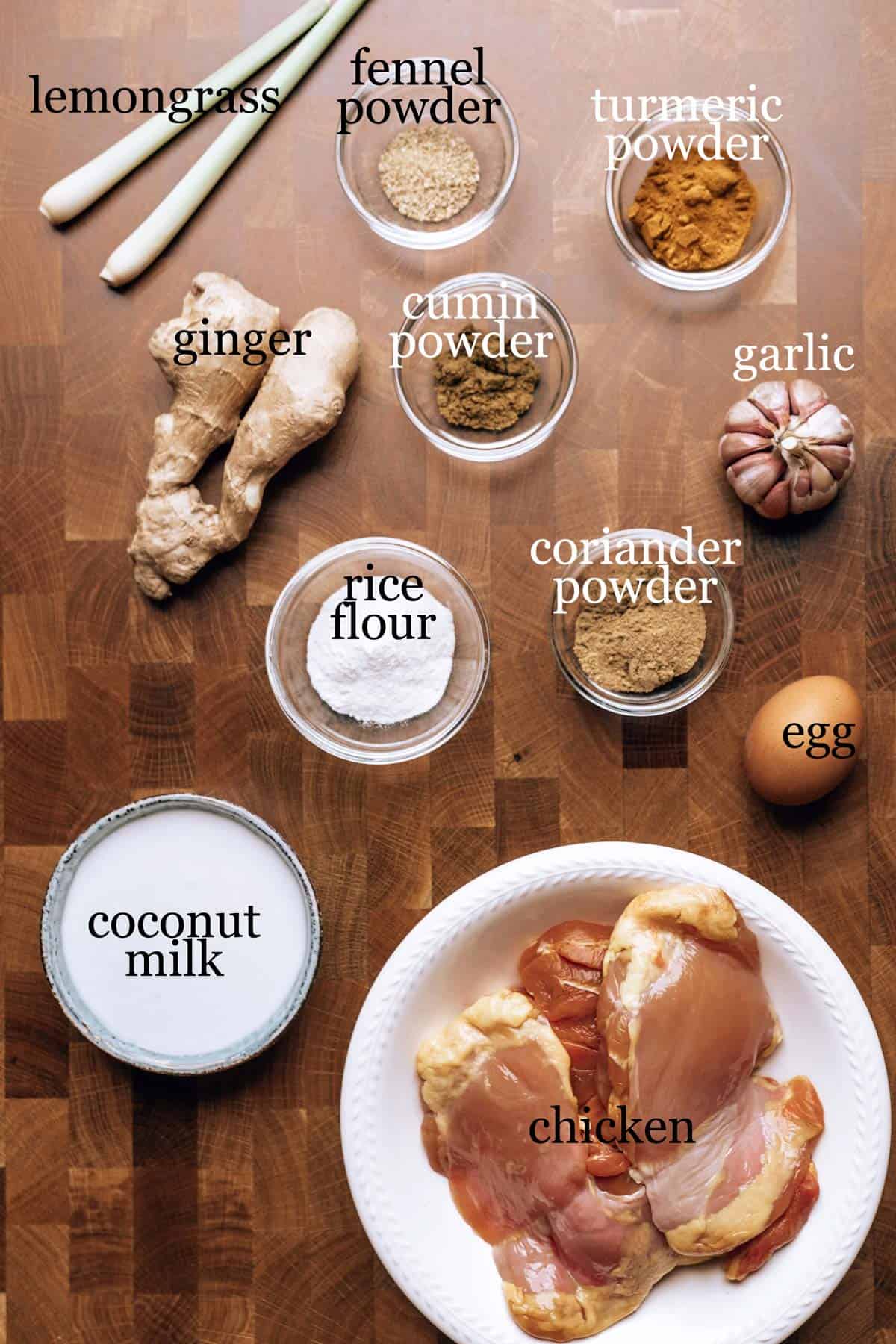 Spices - For the spiced fried chicken I use a combo of spices (fennel, coriander and cumin) but if you don't have them, just use 1 tablespoon of curry powder instead.
Chicken - Use whichever part you fancy, bone-in thighs, boneless or breasts.
How To Serve Nasi Lemak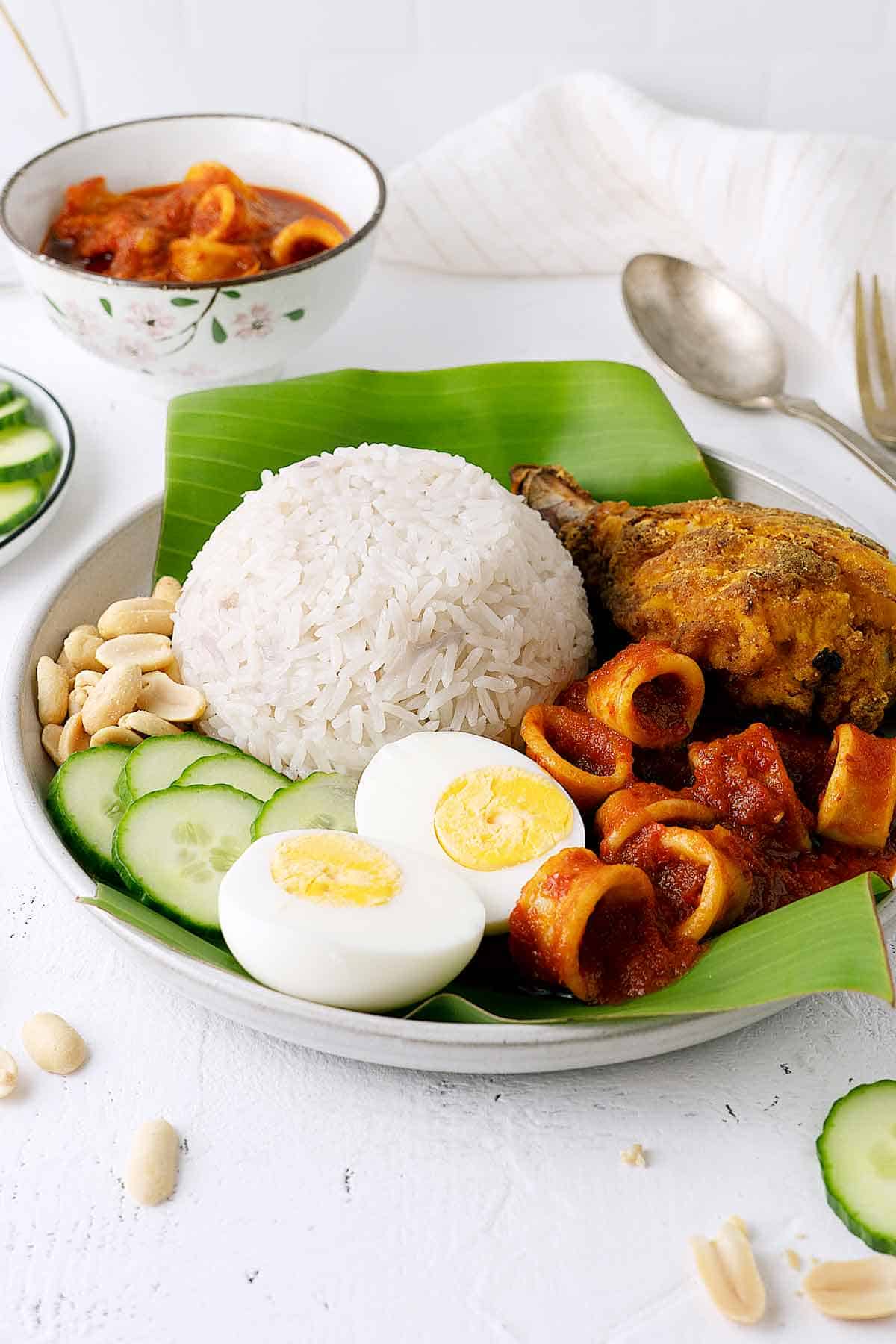 Traditionally nasi lemak and all its sides and trimmings are served wrapped in a piece of banana leaf and folded into a pyramid shape. The heat from the food awakens the aromatic smell of the banana leaf and being wrapped with it, the leaf infuses the food with that heavenly smell.
Now these days, you just place a piece of banana leaf on top on your plate before serving. Simpler but works the same. Almost.
And yes, you serve everything into your plate. That's the iconic look of nasi lemak.
Hope you find this recipe useful. Let me know if you've tried nasi lemak before and what do you think about it!
Recipe Video
📖 Recipe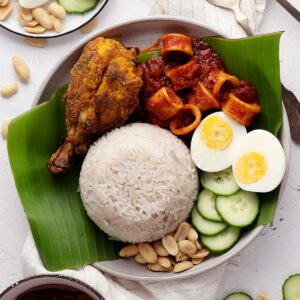 Coconut Milk Rice (Nasi Lemak)
Malaysia is known for its nasi lemak, among other delicious meals. Coconut rice with spicy sweet sambal and spiced fried chicken, together with its trimmings. You've got to try.
Print
Pin
Rate
Ingredients
Ayam Goreng Berempah (Spiced Fried Chicken)
2

lemongrass

, cut

4

garlic cloves

½

inch

ginger

1

tablespoon

turmeric powder

1

teaspoon

sugar

1

teaspoon

salt

1

tablespoon

ground coriander

1

teaspoon

ground fennel

1

teaspoon

ground cumin

4

chicken legs/ thighs

, or

2

-

3

breasts

¼

cup

coconut milk

(

60

ml)

1

large egg

, lightly beaten

2

tablespoon

rice flour
Sambal Tumis Ikan Bilis (Anchovies Sambal)
3.5

oz

dry anchovies

(

100

gr)

2

red onions

, sliced

1.8

oz

dry chilli, cut into small pieces and remove the seeds.

(

50

gr), place chilli in a bowl add hot water and leave to soak for 1 hour. Rinse and drain the chilli, set aside.

3

shallots

, roughly cut

4

garlic cloves

½

inch

ginger

½

inch

shrimp paste

water

sunflower oil

1

teaspoon

salt

, hold back the salt as anchovies are already salty

3

tablespoon

sugar

2

tablespoon

tamarind juice

or use lemon/lime juice to taste
Nasi Lemak (Rice with coconut milk)
2

cups

basmati rice

(

370

gr)

3

cups

canned coconut milk

(

750

ml)

1

cup

water

(

250

ml)

1

pandan leaf

, knotted

1

shallot

, thinly sliced

2

inch

ginger

, cut into matchsticks

4

garlic cloves

, thinly sliced

1

lemongrass

, cut into 2 inch length

2

teaspoon

salt

water for soaking rice
Side
hard boiled eggs

sliced cucumber

peanuts
Instructions
Ayam Goreng Berempah (Spiced Fried Chicken)
Blend/pound lemongrass, garlic and ginger into a paste. Set aside.

In a bowl add in chicken, pounded paste and the rest of the ingredients except egg and rice flour. Mix everything well. Marinate overnight or at least 4 hours.

Add egg and rice flour to marinated chicken, coating them well. Set aside.

Heat a pot of oil on medium heat. Fry chicken until golden brown and fully cooked. Place paper towel to drain the excess oil.
Sambal Tumis Ikan Bilis (Anchovies Sambal)
Blend chilli, shallots, garlic, shrimp paste and ginger with a splash of water ,into a paste. Set aside.

Heat some oil in a pot and fry the anchovies until they are crispy. Place on paper towel, set aside. Then fry the onions until they are soft and golden brown at the edges. Place on a plate, set aside.

Pour in the blended chilli and add in a splash of water to loosen it up a bit. Cook for 15-20 minutes until the sauce reduces and thickens (stir now and then).

Season with salt, sugar and tamarind juice (a good sambal needs to be a bit sweet with a balance of sour and salty). Add in fried anchovies and onion. Turn the heat off and mix well. Sambal is ready.
Nasi Lemak (Rice with Coconut Milk)
Soak basmati rice with water for 30 minutes. Drain right before using.

Place the rest of the ingredients in a pot and bring to a boil, then add in rice. Bring it back to a simmer, cover pot with a lid and cook on low heat for 20 minutes. Remove from the heat and leave it for another 10 minutes before fluffing up the rice and serve.
Notes
Change the ratio (coconut milk : water) if you prefer the rice to be less buttery.

For basmati rice 2 cup coconut milk:2 cup water or 1 cup coconut milk:3 cup water.
For jasmine rice use 2 cup coconut milk:1 cup water or 1 cup coconut milk:2 cup water.

Use any other protein source that you like for sambal (no need to fry first except chicken).
Nutrition Facts
Calories:
698.1
kcal
,
Carbohydrates:
65.9
g
,
Protein:
29.3
g
,
Fat:
36.8
g
,
Saturated Fat:
24.4
g
,
Cholesterol:
228.2
mg
,
Sodium:
1345.7
mg
,
Potassium:
918.9
mg
,
Fiber:
6.7
g
,
Sugar:
14.4
g
,
Calcium:
121.5
mg
,
Iron:
5.4
mg
Originally published on Aug 16, 2017. Updated with improved text, recipe and pictures on Jul 17, 2021.