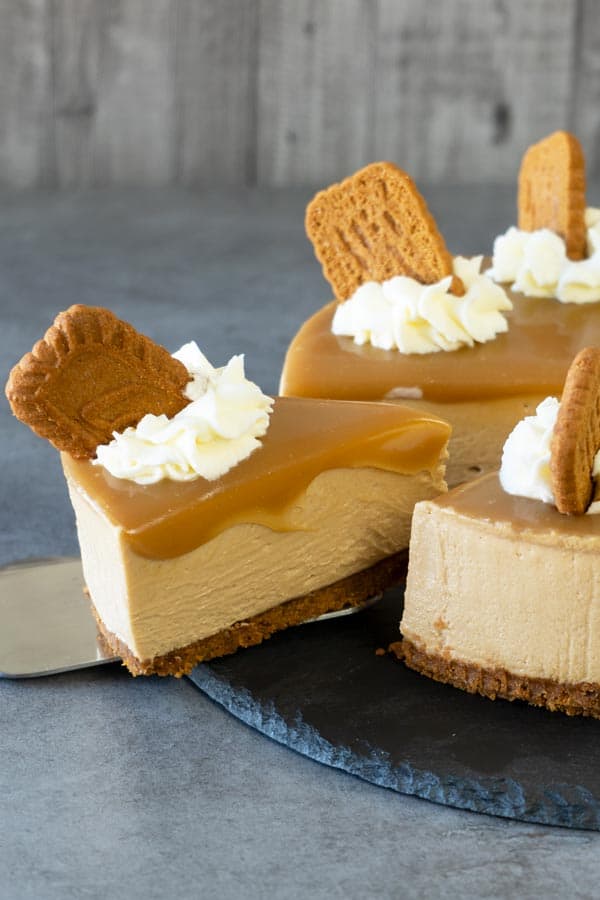 So today I'm excited to share with you this extremely easy no-bake cookie butter cheesecake.
Yeay!
Don't tell me I'm the only one who's excited about it. Am I?
This no-bake cheesecake uses both cookie butter AND speculoos cookies. And guess what? No gelatin is required, as in my delicious no-bake chocolate cheesecake!
Yes I know many of you have been asking about substituting gelatin in my no-bake cheesecake recipes. So for this recipe, no gelatin no worries dear friends.
What Are Speculoos Cookies/Biscuits?
Speculoos cookies or also known as speculaas cookies are originally from Belgium and Netherlands. They are a type of shortcrust cookies/biscuits that have spices in them.
The spices in these cookies range from cinnamon, nutmeg, cardamom, white pepper, cloves and ginger.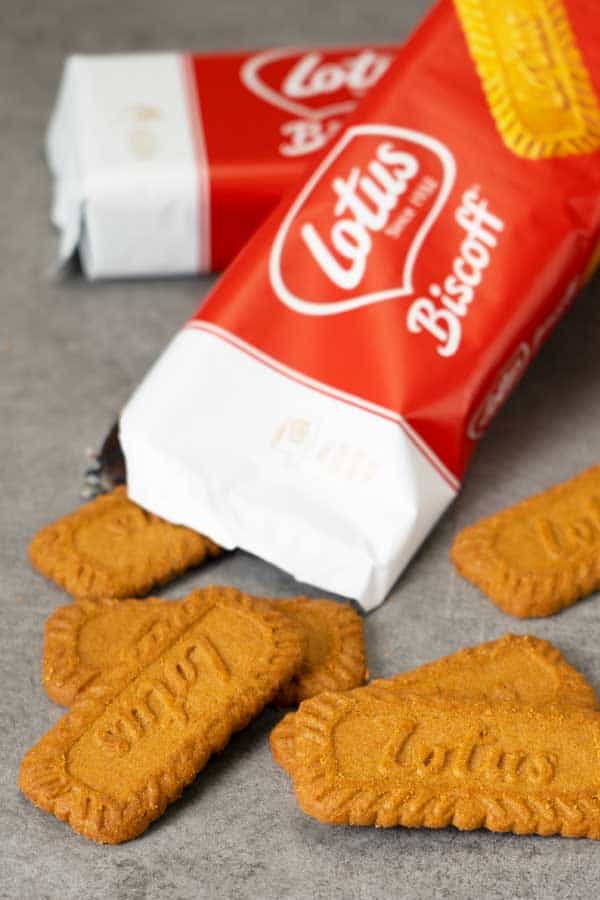 These cookies are thin, crunchy and have some caramelised flavour to them.
Traditionally these cookies are served and eaten during Christmas or in some places to celebrate St Nicholas. These days we enjoy them at anytime simply because they're delicious!
What Is Cookie Butter?
Cookie butter is an edible paste that is made from speculoos cookies and some other ingredients but the main ingredient is... yes you guessed it right. Speculoos cookies.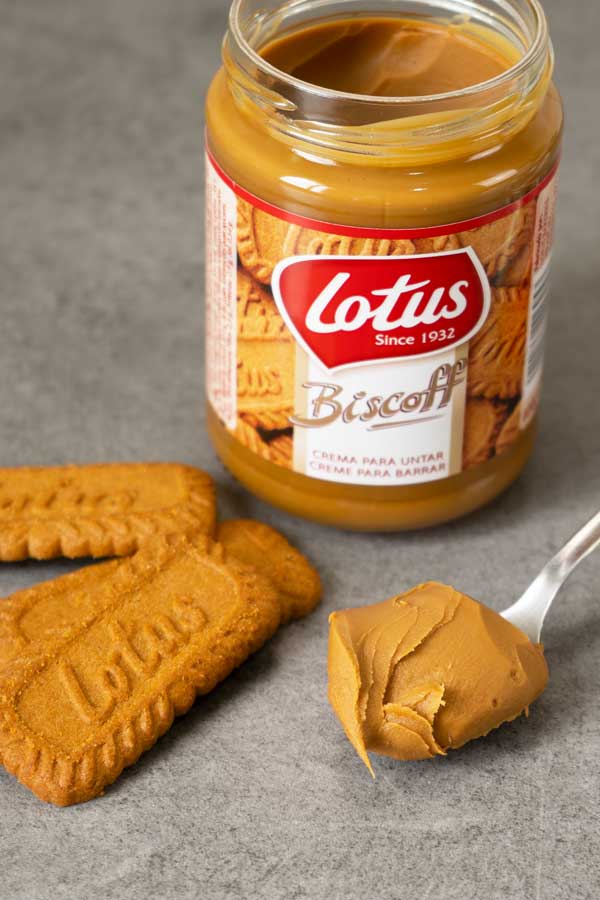 In countries like Belgium, France and Netherlands this cookie butter is commonly eaten as a type of spread instead of chocolate spreads or nuts butter.
And it seems that it has slowly gained the favors of the people in the United States also as it's becoming a more known product there.
No-Bake Cookie Butter Cheesecake
So for today's recipe I'm going full force in speculoos cookies and cookie butter.
I'm using the speculoos cookies for the base instead of my go-to digestive biscuits base. Since the cookies are already sweet so I'm not adding any sugar together with them for the base.
Now let's talk about the cheesecake!
The cheesecake doesn't take any gelatin. Have I mentioned it already to you? Well just to make sure, it has NO gelatin. I repeat, NO gelatin.
Even though it doesn't have any gelatin in it, the cheesecake sets beautifully in a short time. I put it to chill in the fridge overnight and it came out perfect.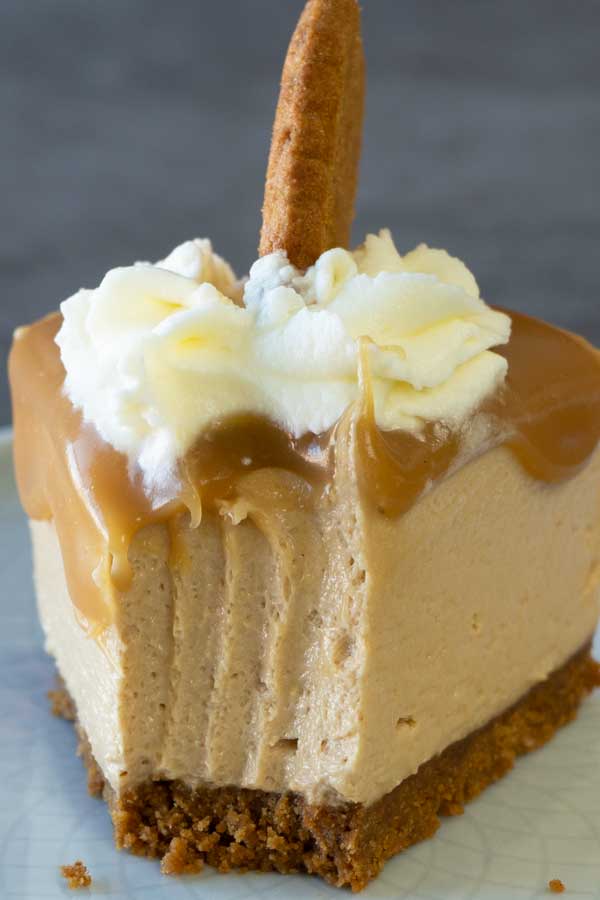 I'm using the cookie butter to give the cheesecake that speculoos flavor. Since the cookie butter is already sweet I'm not using so much sugar to sweeten the whole cheesecake. Just 2 tablespoon of icing sugar.
Oh, now we've come to the caramel part!
You can totally skip the caramel but trust me, it really brings the whole cheesecake to another level like in our no-bake caramel apple cheesecake. You just need a thin layer of this caramel on top of the cheesecake.
Take a bite and it is going to make you go oh laa laaa!
This is a super easy caramel to make, which is always a plus. I've used this caramel (in different quantities) in several of my other recipes. Would you like to see some?
You can look for more in my recipe page.
I hope you'll give this recipe a try. Let me know what you think!
Before you go, I'd like to entice you to my other cheesecake recipes.
Video
📖 Recipe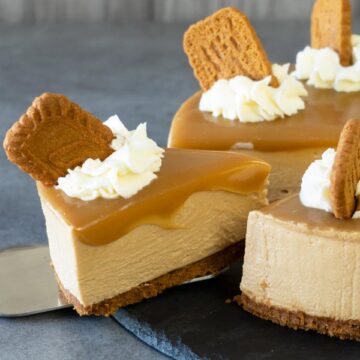 No-Bake Cookie Butter Cheesecake
Creamy, luscious and decadent no-bake cookie butter cheesecake. Made from both the speculoos cookies and cookie butter. And better yet, this no-bake cheesecake doesn't require any gelatin in it.
Print
Pin
Rate
Ingredients
The Base
5.3

oz

speculoos cookies

(

150

gr)
¼

cup

unsalted butter

(

60

gr), melted
The Cheesecake
14

oz

full fat cream cheese

(

400

gr), room temperature

1

cup

cookie butter

(

285

g), room temperature

1

teaspoon

vanilla extract

½

cup

whipping cream min 35% fat

(

125

ml), chilled

2

tablespoon

icing sugar

(

25

gr), sifted
The Caramel
¼

cup

unsalted butter

(

60

gr)

3

tablespoon

sugar

(

40

gr)

2

tablespoon

brown sugar

(

20

gr)

½

teaspoon

vanilla extract

¼

cup

whipping cream

(

60

ml)
Instructions
The Base
Blend the speculoos cookies in a food processor into fine crumbs. Pour into a bowl and add in melted butter. Mix well.

Pour into a 7 inch (18 cm) springform pan. Press evenly and tightly to the base. Place in the freezer for 30 minutes.
The Cheesecake
Whisk cream cheese in a bowl for several minutes until light and fluffy. Then add in cookie butter, vanilla extract and mix well to combine. Set aside.

In another bowl, add in whipping cream and icing sugar. Whisk until soft peaks and pour in into cheesecake mixture. Gently fold the mixture until well combined.

Pour into the base and spread evenly. Leave to chill in the fridge overnight.
The Caramel
Place a pan on medium heat and add in butter, salt, sugar and brown sugar. Stir until both sugars are totally dissolved.

Slowly and carefully add in the cream and vanilla extract. Stir well and continue cooking until the mixture slightly thickened. Pour into a jar and leave it to cool to room temperature. Note: I would recommend you preparing the caramel a few hours before serving so that it has time to set.
Assembling
Pour cooled caramel onto the cheesecake and swirl the pan around to fully cover the top surface. Place in the fridge for 1-2 hours to let it set.

Once fully set, remove the cheesecake from the pan and pipe some whipped cream on top. Place some speculoos cookies on whipped cream, slice and enjoy!
How To Transfer To Serving Plate
It's easy since this cake is small. First insert a knife under the cheesecake and carefully run it all around to detach the cheesecake from the base.

Using the same knife, gently lift the cheesecake a bit and insert 1 flat spatula. Do the same in the opposite direction.


Carefully yet confidently lift the cheesecake with both spatulas and place on a serving plate. Gently remove spatulas out.


Or place a baking sheet on the base of the springform pan before assembling. You will have a slightly bigger baking sheet coming out from the springform pan after assembling it. Before serving, gently slide the cheesecake onto a serving plate.

How To Serve
Keep the cheesecake in the fridge all the time until just a few minutes before serving. Cut the slices as needed and put back the cheesecake in the fridge to maintain chill.
Notes
Please use full fat cream cheese. Meaning, do not use light cream cheese else it won't set as good.
Please use minimum 35% fat content for the whipping cream. The fat is needed to help set the cheesecake.
This recipe doesn't uses gelatin so it usually takes longer to set.
Use unsalted butter.
The caramel will start melting a bit when the cheesecake is out from the fridge for quite a while
Nutrition Facts
Calories:
456.4
kcal
,
Carbohydrates:
27.8
g
,
Protein:
4.6
g
,
Fat:
36.8
g
,
Saturated Fat:
18.5
g
,
Cholesterol:
72.7
mg
,
Sodium:
154.1
mg
,
Potassium:
75.5
mg
,
Fiber:
0.2
g
,
Sugar:
17.7
g
,
Calcium:
48.3
mg
,
Iron:
0.4
mg