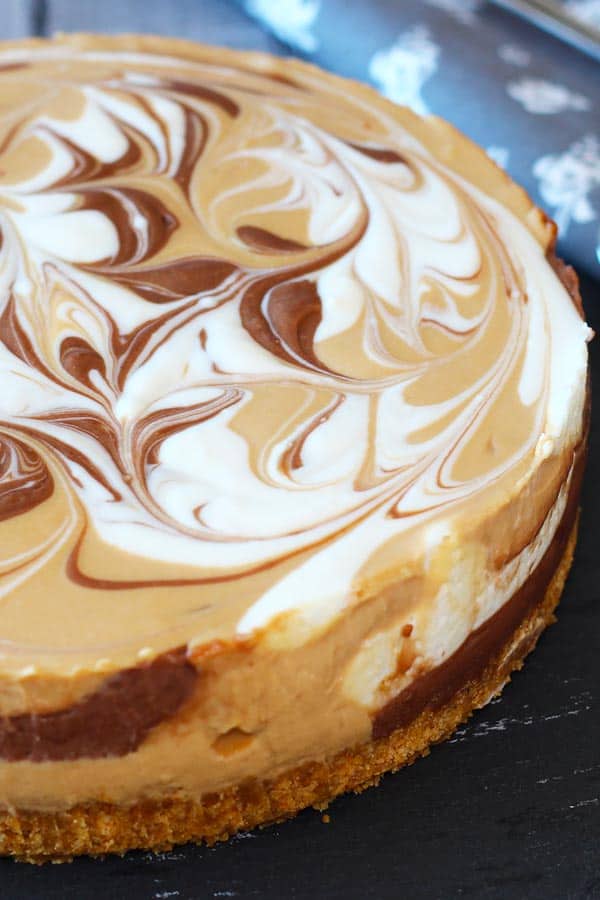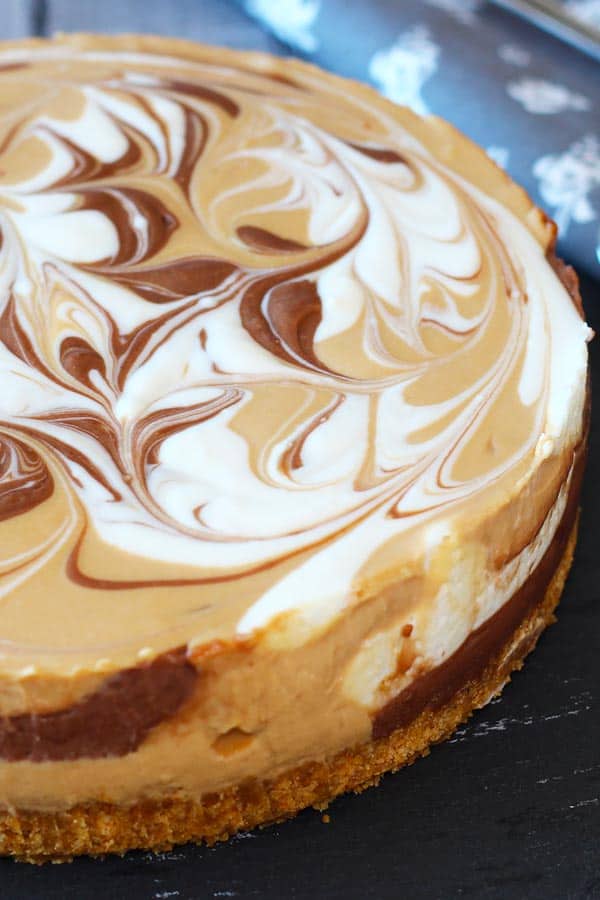 I mean, who doesn't like cheesecakes right? And who doesn't like no-bake cheesecake that saves the anxieties of guessing if it's cooked or not, how wobbly should it be in the center and those cracks that make you feel it's the end of the world.
I mean I love baked cheesecakes too but there are times when I just want to be calm and relax while making my cheesecakes.
Nutella? Dulce de leche? What better decadent combinations you can ask for in a cheesecake. Right? Interested to see how I make my own dulce de leche?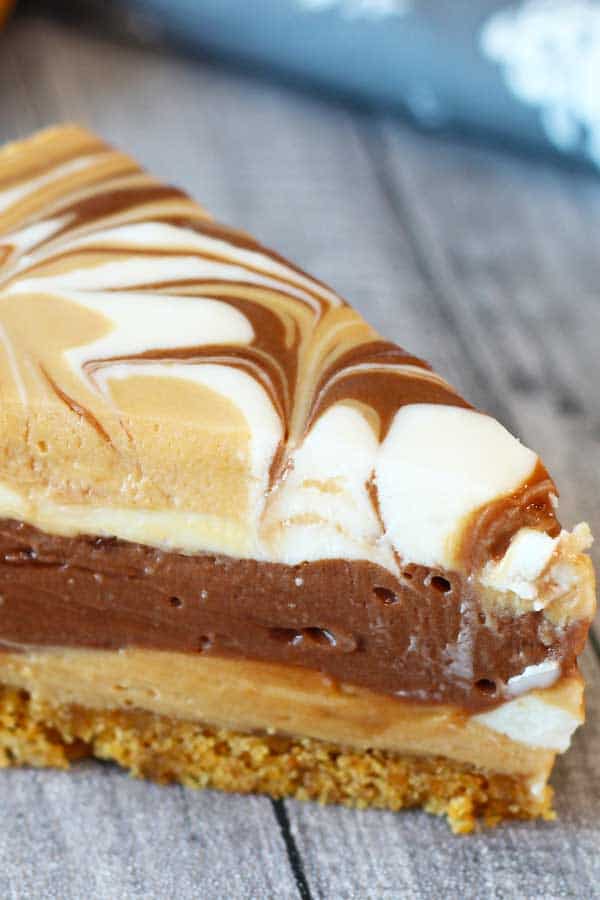 Ok let's go through this no-bake Nutella and dulce de leche cheesecake.
Like always, I used digestive biscuits for the base. They're sweet enough so no sugar needed. Just the biscuits and some melted butter.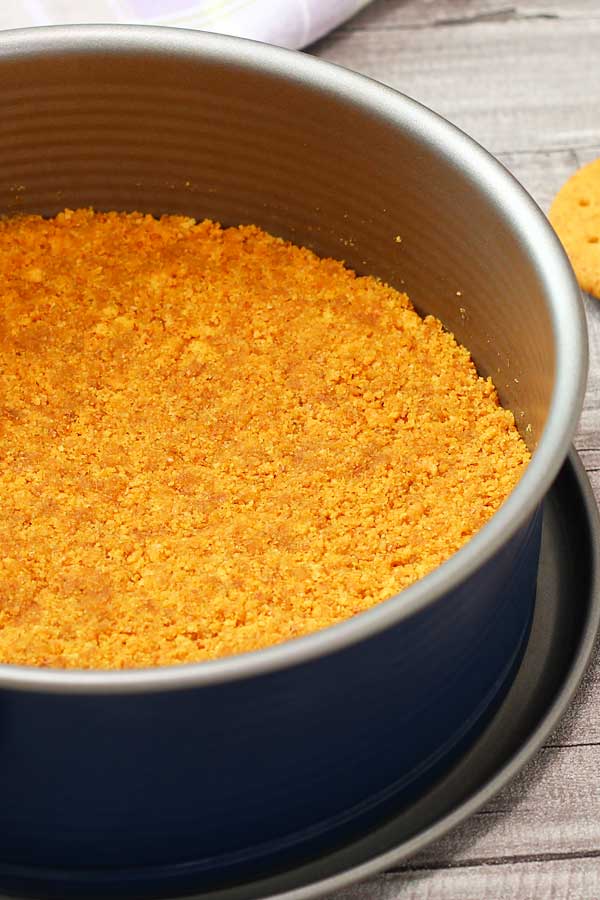 For the cheesecake, using my hand held mixer, I just whisk the full fat cream cheese, sugar, vanilla extract, whipping cream and some powdered gelatine. Soaked and dissolved, of course. I just wanted to explain a bit on the gelatine part as many of you guys have asked me about it.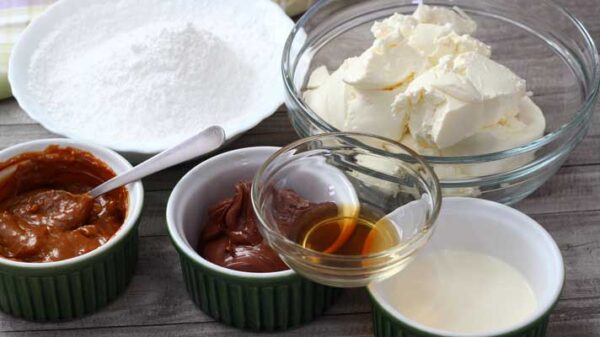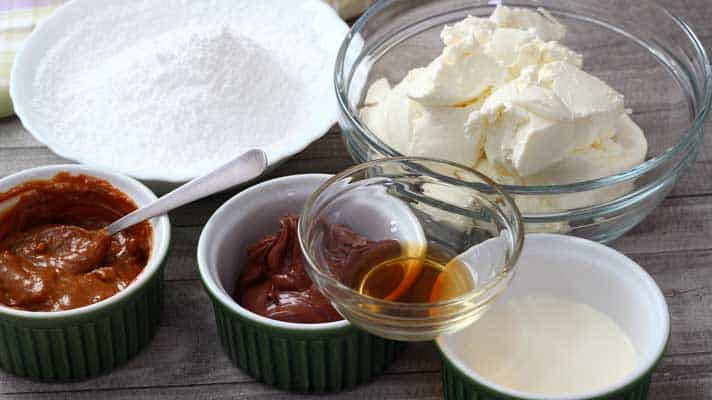 You can use any type of gelatine. Powdered gelatine. Sheets gelatine. Whichever that you can get your hands on. It's not going to effect the recipe. But what you need to do is see the instructions on the packet.
Every gelatine has different strength so mine might not be the same as yours. You need to see what's the quantity of your gelatine needed to set 420 ml of water, for this recipe.
I used 5 gr powdered gelatine. Like I mentioned earlier since the strength of gelatines (by types and brands) are different so my 5 gr of gelatine might be too much or too little comparing with yours. So check the packet of your gelatine. Just for reference, if you are using this gelatine, just use 1 envelope for this recipe.
I divided the cheesecake batter into 3. One plain, one for Nutella and the other for dulce de leche. I just used ½ cup each of Nutella and dulce de leche. That amount is enough to bring out the decadent flavors in this cheesecake. And I used a tiny tad of vanilla extract, just ½ tsp. Everything is yummy with vanilla, don't you agree?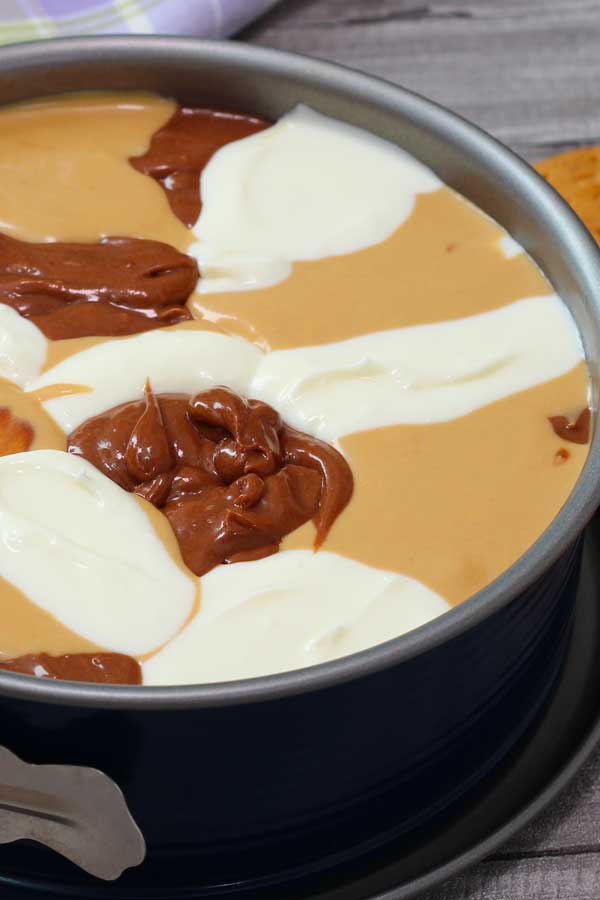 This no-bake cheesecake is super easy to do. The fun part is when assembling it. You can watch in the video how easy and fun it is. You can decorate or present it however you want, of course. Do try it, I'm sure you will like it.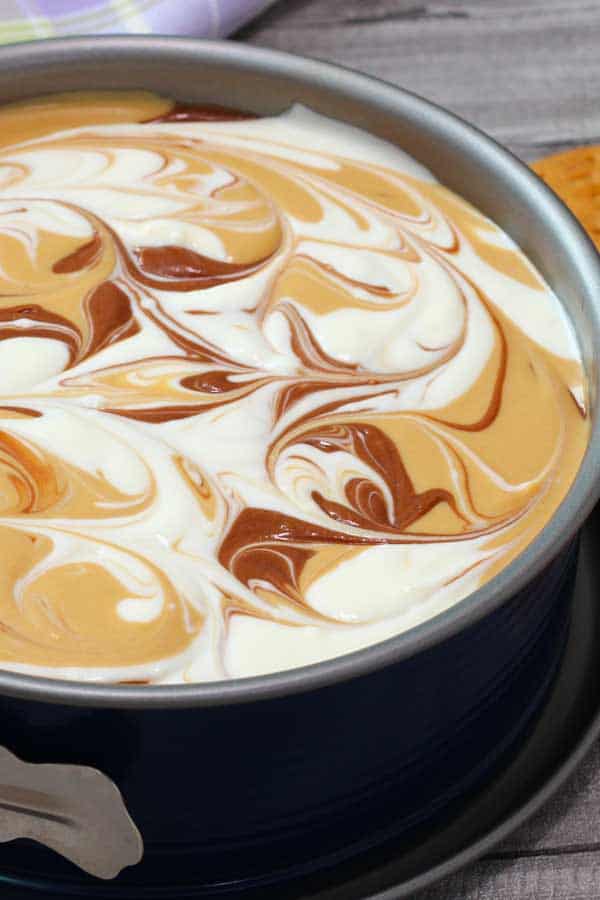 Recipe Video
📖 Recipe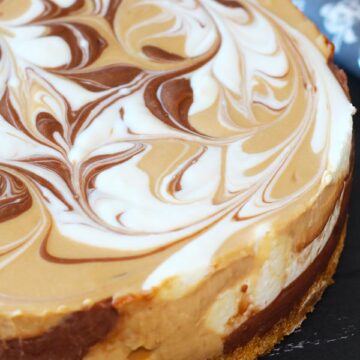 No-Bake Nutella & Dulce de Leche Cheesecake
Decadent flavours of Nutella and dulce de leche, combined in a creamy no-bake cheesecake! Is that too much? Absolutely not! You can never have too much of Nutella and dulce de leche.
Print
Pin
Rate
Ingredients
1 ½

cup

digestive biscuits (

150

g)

¼

cup

unsalted butter

(

60

g), melted

16

oz

full fat cream cheese

(

450

g), room temperature

1

cup

icing sugar

(

120

g), sifted

½

teaspoon

vanilla extract

¼

cup

whipping cream (35% fat)

(

60

ml), chilled

½

tablespoon

gelatin powder

(to set

420

ml water)

1

tablespoon

water

½

cup

nutella

(

150

g)

½

cup

dulce de leche

(

150

g)
Instructions
Crush the digestive biscuits into fine crumbs. Place it in a bowl and add in melted butter. Mix well to combine. Pour the mixture into a 7 inch (18 cm) springform pan. Press and compress the mixture evenly to the base of the pan. Set aside in the fridge while we make the cheesecake.

Add cream cheese in a bowl and whisk until it's light and fluffy. Add in icing sugar, vanilla extract and mix to combine. Add in whipping cream and mix until the mixture thickens slightly. Do not over mix it as we will be doing more mixing later and to avoid the cream from splitting. Set aside.

In a small bowl, pour in the gelatin powder. Add in water and leave it to soak for about 5 minutes. Heat the gelatin in microwave with 15 seconds intervals until it's fully dissolved. Stir and mix well in each interval. Note: Use any type and quantity of gelatin that will set 420 ml water. See the instructions on your gelatin packet.

Add 2-3 tablespoon of cheesecake mixture, 1 tablespoon at a time, into the dissolved gelatin. Immediately stir and mix well after each addition. Add gelatin mixture into the cheesecake mixture. Immediately fold in everything together until well combined.

Divide the cheesecake mixture evenly into 3 different bowls. In one bowl, add in Nutella and mix until well combine. In another bowl, add in dulce de leche and mix until well combine also. We will not add anything to the last bowl. Note: Heat the nutella and dulce de leche for a few seconds in the microwave to make them runnier and easier to mix with the cheesecake mixture.

Take out the base from the fridge. Randomly and alternately spoon each flavor of the cheesecake mixture onto the base. Do this until you finish all of the cheesecake mixtures. Give it a few shakes to settle everything in. Create some swirls using a skewer stick. Chill overnight in the fridge until it's fully set. After it has fully set, remove it from the pan. Slice and serve. Enjoy!
Nutrition Facts
Calories:
416.9
kcal
,
Carbohydrates:
35.6
g
,
Protein:
5.1
g
,
Fat:
28.9
g
,
Saturated Fat:
18.4
g
,
Cholesterol:
65.8
mg
,
Sodium:
221
mg
,
Potassium:
155
mg
,
Fiber:
1.3
g
,
Sugar:
26.2
g
,
Calcium:
77.3
mg
,
Iron:
1.3
mg