If you're an enthusiast baker like me, then you will definitely have to try this no-knead focaccia bread recipe.
As you can see, this focaccia has that artisan rustic look with lots of big-sized air pockets.
The one thing that we look for when we think about artisan rustic breads. Let's get on with the recipe!
Jump to: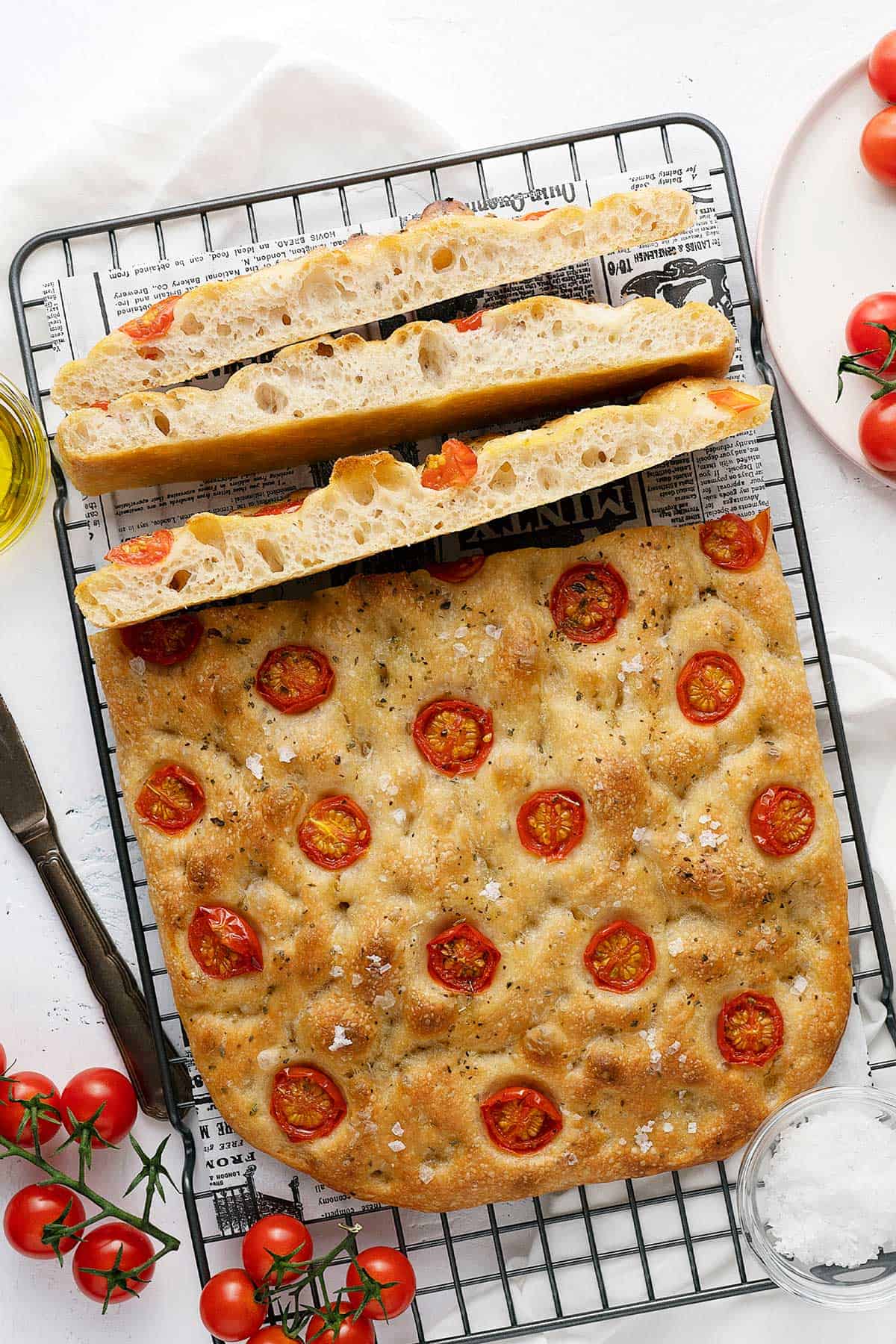 Recipe Highlights
Texture and flavour - Crusty crust, huge air pockets, soft and chewy inside with amazing flavour.
Yield - 1 loaf of 9x13 inch (23x33 cm) sized focaccia enough for 6 people, easily.
Level - Super easy as there's no kneading and fancy machine needed. But you do have to plan this ahead as involves hours of waiting around.
Occasion - Anytime! Lunch, dinner, turn it into sandwiches. Make this to wow anybody, trust me.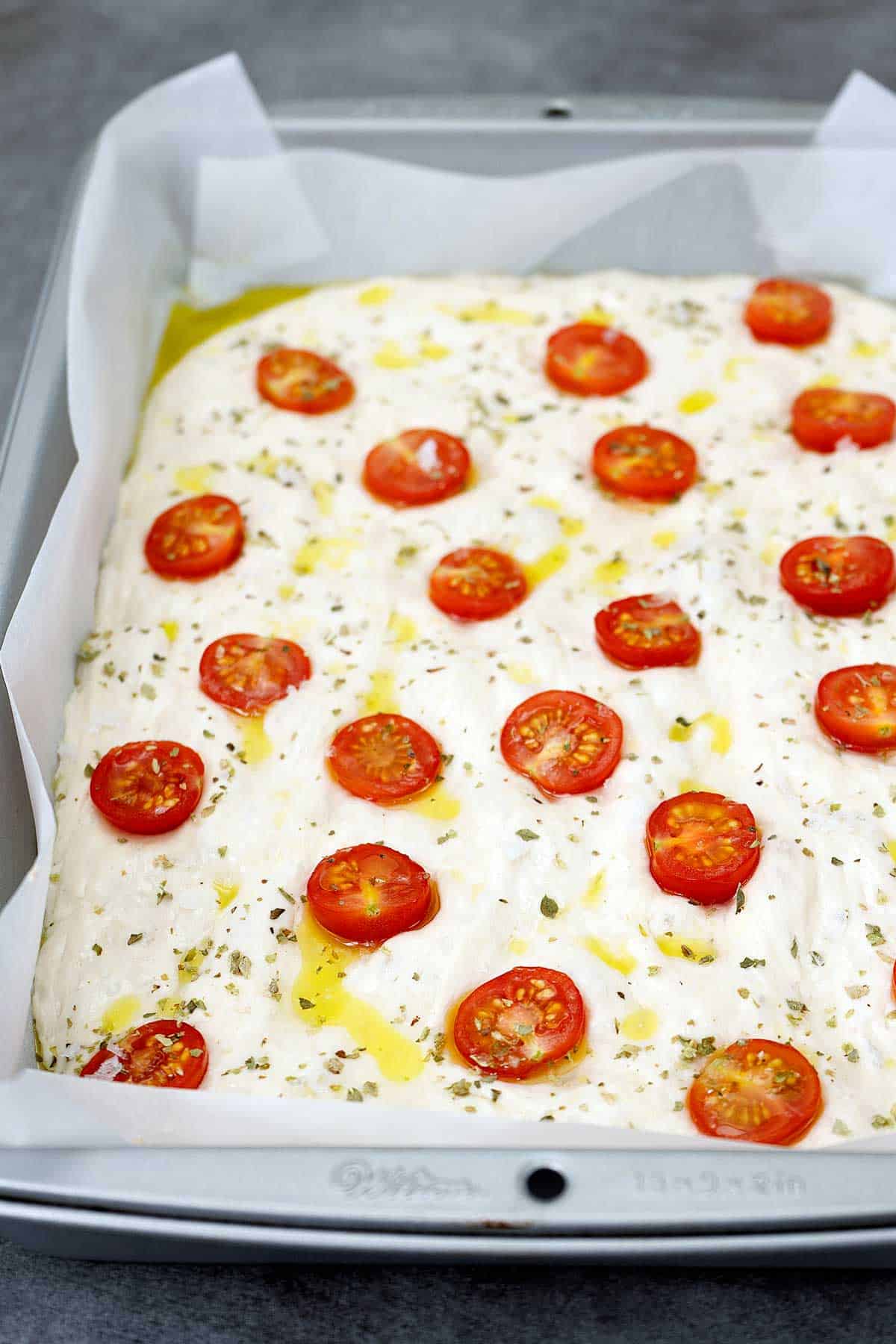 What Is Dough Hydration?
Hydration in a dough affects the final texture of the bread. The more hydrated a dough is (has more water), the more holes the bread texture will have.
Dough hydration is the percentage of the weight of water in dough in relative to the weight of flour in it.
Dough hydration (%) = water weight / flour weight
For example:
Dough hydration 60% means the dough has 60 g of water with every 100 g of flour.
For breads like focaccia or ciabatta, the dough hydration is around 60-80%.
So when you want those rustic big holes in your bread, expect to have a high hydration dough. Meaning the dough will have lots of water and will be so sticky and difficult to handle.
Today's recipe is with dough hydration at 79%. Yep.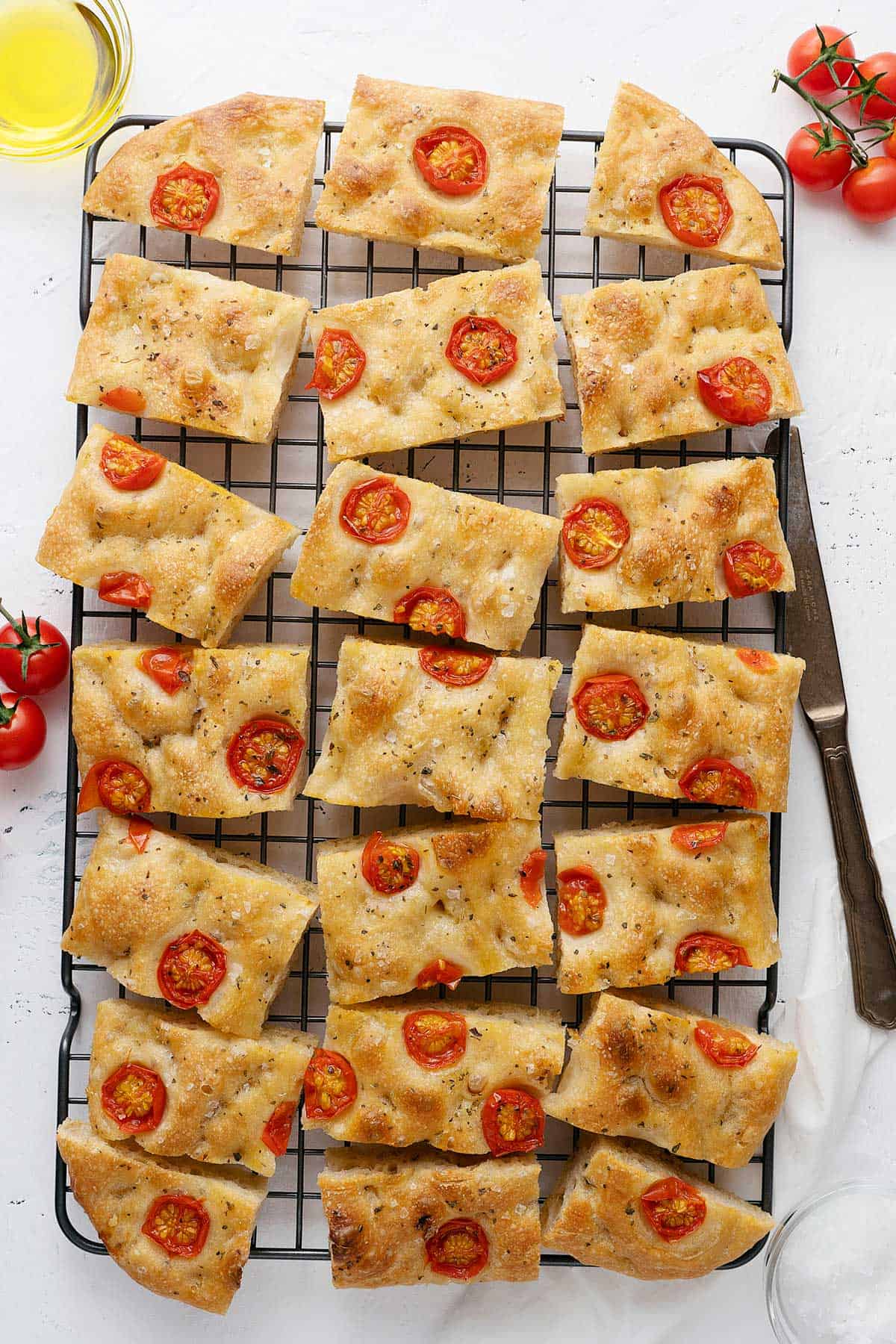 What Is Stretch And Fold Technique?
Since our dough will be very sticky so we will use the stretch and fold technique to slowly develop the gluten in it. Developing gluten will strengthen the dough and make it easier to handle.
Stretch and fold is basically stretching the dough and folding it like an envelope. You do it a few times until you feel the dough is stronger. And you also do it with an interval time so that the dough has time to relax.
You can see how I did it in the recipe video below.
The first round is the most difficult, if I have to say, since the dough is very sticky. But it gets easier after.
Also, remember to wet your hands beforehand to prevent sticking. Using a large scraper will also help.
Why The 24 Hours Slow Rising?
Slow rising dough develops more flavour than a fast-rising one.
I've tested this recipe with only 8 hours of slow rising in the fridge. The taste was good but 24 hours of slow rising tastes way better.
If you don't feel like it, you can simply leave the dough at room temperature to rise until double its size before shaping the focaccia but then.. what's the point. Right?
We want it all. Look, texture and flavour. Go big or go home.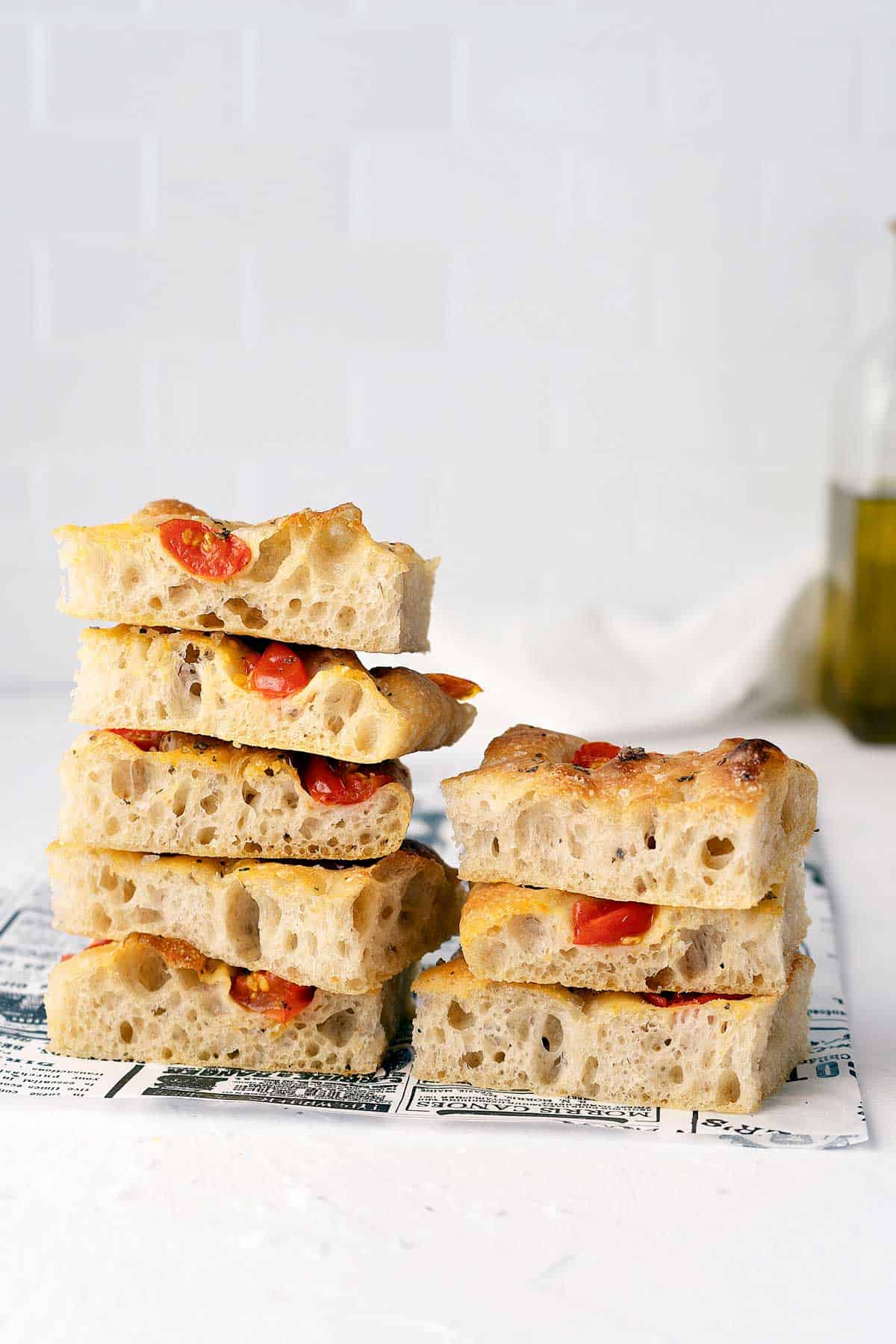 How To Correctly Bake A Focaccia
We love the golden dark brown color of good focaccia, right? We've taken good care of the dough and we will do it justice by baking it the right way.
Here's how:
No fan forced - use conventional heating, meaning don't use the heat with fan that circulate air in the oven. This is to preserve moisture in the oven.
High temperature - preheat your oven for at least 30 minutes at 500ºF (260ºC).
Use higher rack - use the higher ⅔ rack in your oven to bake your focaccia. This will help getting the color that we want without over baking it. Over baking it will result in a hard and overly chewy focaccia.
Rotate - optional. Rotate the baking tray during half baking time to get that even color.
I know today's recipe is a bit different from all the bread recipes that I've made. This recipe will take more of your time but with less effort AND with amazing results.
Give it a try.
In Summary
This no-knead focaccia is:
perfect for enthusiast bakers who are eager to learn new technique in perfecting their bread making
requires no kneading
is a super simple recipe with super easy steps
has that artisan rustic look with crusty crust, soft chewy texture and amazing flavour
let's admit it, it's just so darn DELICIOUS!
More Bread Recipes
If you're into more bread recipes, take a look here:
Video
📖 Recipe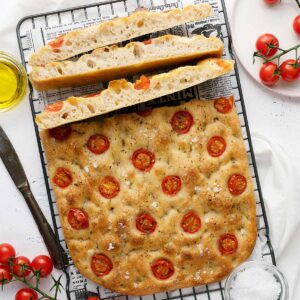 No-knead Focaccia Bread Recipe
For enthusiast bakers out there, you would want to try this! Crusty crust, huge open crumbs, soft chewy texture and amazing flavour. Super easy steps with planning ahead for the time. I'm using the stretch and fold method in this recipe. Do try!
Print
Pin
Rate
Ingredients
The Dough
1 ¼

cup

warm water

(

310

ml)

1

teaspoon

active yeast

(

3

gr)

3

cup

all purpose flour

(

390

gr)

1

teaspoon

salt
Others
1

tablespoon

water

1

tablespoon

olive oil

some cherry tomatoes

, cut in halves

some dry oregano

some sea salt flakes

more olive oil
Instructions
The Dough
Combine warm water and active yeast in a bowl.

Add in flour and salt. Using a wooden spoon, mix everything well until there are no lumps. Cover bowl with cling film and rest dough for 30 minutes.

Spread some olive oil on working surface. Place the dough on top.
Stretch & Fold
Wet your hands to avoid dough from sticking. Grab one side of dough, stretch and fold on top. Do the same with all the other 3 sides as if you're folding an envelope.

Grab the whole dough and flip it up side down.

Cover the dough with a generously oiled cling film and leave it to rest for 30 minutes.

Repeat the stretch and fold process for 3 more times. Watch the recipe video above for better understanding.
Slow Rising
After the 4th stretch and fold, place the dough upside down inside a generously oiled bowl.

Cover the bowl tightly with cling film and place it in the fridge for 24 hours.
Assembling & Baking
Preheat oven at 500ºF (260ºC) for 30 minutes. Place rack on the higher ⅔ level in the oven.

Line a 9x13 inch (23x33 cm) pan with baking sheet. Pour in generous amount of olive oil.

Flip the bowl on top of the pan and let the dough slowly fall by itself into it. With wet hands, gently stretch the dough to fit the pan. Careful not to poke the air pockets.

If it's difficult to stretch, leave it for 10 minutes and then continue stretching. After that leave the stretched dough for 30 minutes.

With wet hands, gently make random indentations on the dough. Place tomato on top.

In a bowl, mix 1 tablespoon water with 1 tablespoon olive oil to emulsify. Then drizzle on top of the dough. Lastly sprinkle some dry oregano and sea salt flakes.

Bake for 20 minutes or until golden brown and fully cooked.
How To Serve
Cool the focaccia on a rack for 30 minutes. Slice and enjoy as is or cut in half and make sandwiches out of it.

Best eaten the day of baking.
Note
Use a kitchen scale for precise measuring of flour. Use scoop and level method if you're using cup measurement to avoid having more flour than the actual amount for this recipe.

Please refer to my post above for tips and detailed explanations.

Although this recipe is forgiving, I really do suggest you using all purpose flour (different flours have different water absorption level, which effects the amount of water needed), in order to have the exact same result as in the video and photos. If you're using bread flour, add bit more water (see the video above for the consistency).
Nutrition Facts
Calories:
278.5
kcal
,
Carbohydrates:
52.3
g
,
Protein:
7.8
g
,
Fat:
3.9
g
,
Saturated Fat:
0.6
g
,
Sodium:
793.1
mg
,
Potassium:
129.5
mg
,
Fiber:
2.8
g
,
Sugar:
0.5
g
,
Calcium:
27.6
mg
,
Iron:
3.5
mg