What Are They?
Duchess potatoes are a classic side side in French cuisine.
It's basically mashed potato that is mixed with egg yolks, butter, nutmeg and seasonings. The mashed potato is then piped into various shapes and forms.
Then they are baked until golden brown.
It's like saying a very fancy mashed potato.
My Version
I know there are 1 million and 1 recipes of duchess potatoes out there but hey, everybody has their own way of making it and this, my friend, is how I like to make it.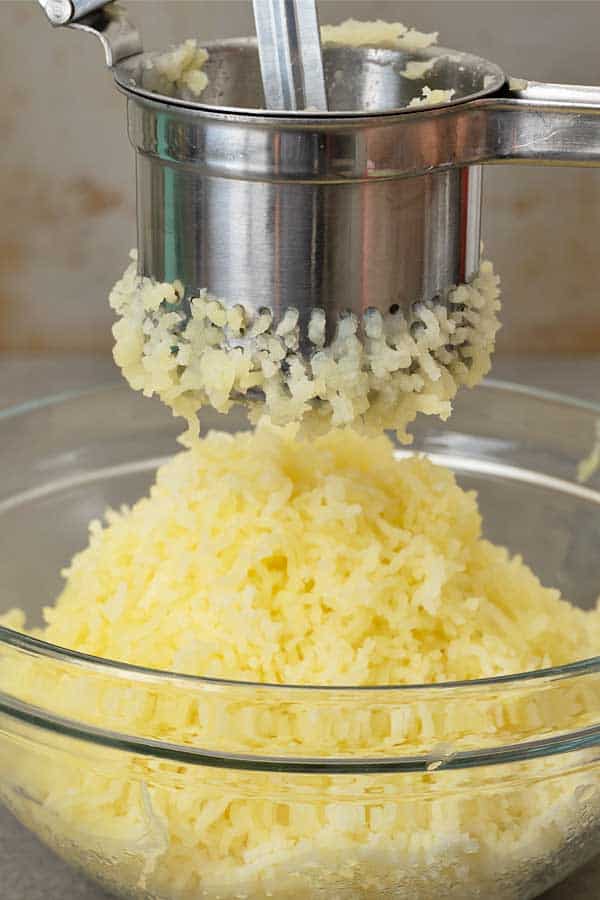 It's a super simple recipe to begin with actually. And there's not really anything complicated about it.
Like I mentioned earlier, it's just mashed potato with extra flavours and then baked for that beautiful golden color.
Boiling The Potatoes
Some people like to boil their potatoes plain without any salt and only season it with salt later with the rest of the ingredients.
Personally for me, I like to always boil my potatoes with some salt. I feel the potatoes absorb the flavour better this way.
You need to boil the potatoes until they're very tender. Stab a piece with a knife and it should break very easily.
How To Get The Perfect Consistency
Ok let's talk about potatoes for a bit. I'm using Yukon Gold potatoes that are ideal for boiling and baking.
Having said that, potatoes are different from my place to yours, regardless the type. Some potatoes absorb more liquid than others.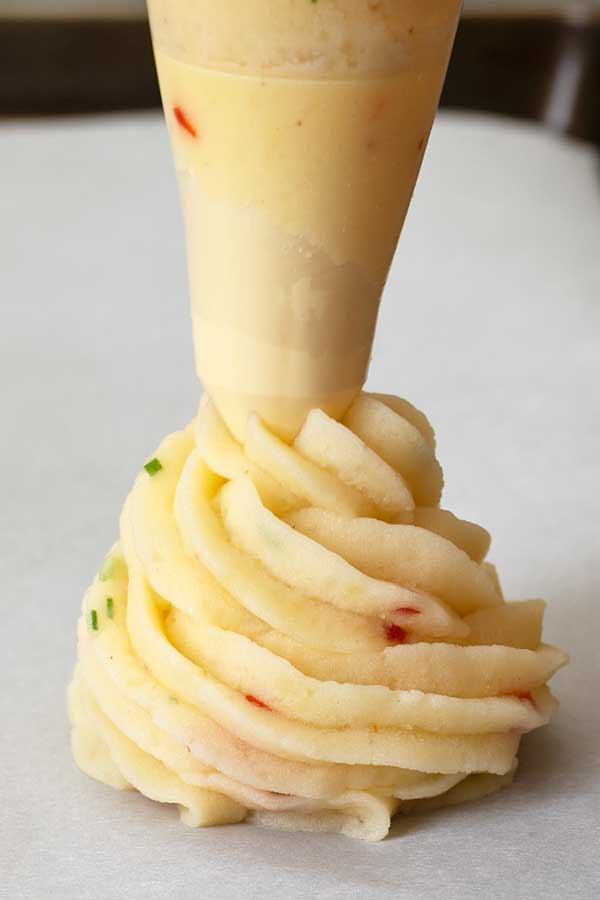 So I would recommend you use 2 egg yolks and start with small amount of cream. Start with ¼ cup (60 ml). Then mix.
If you see that the texture is a bit dry (please compare the texture to mine, in the video below) then add a bit more cream. I would go maximum ⅓ cup (80 ml). If it's still dry, then add another yolk.
Don't be alarmed, it's not difficult alright? It's far from doing a science project, trust me. Haha!
The concept is, start low with the cream and see how the texture is. That's all.
Seasoning Your Duchess Potatoes
You can season your duchess potatoes however you like.
I like to add some parmesan in it for that extra taste. And of course, come chopped chili and chives to give those Christmassy colors.
You can add garlic powder, parsley, paprika powder, coriander leaves, grated cheddar.. the possibilities are endless.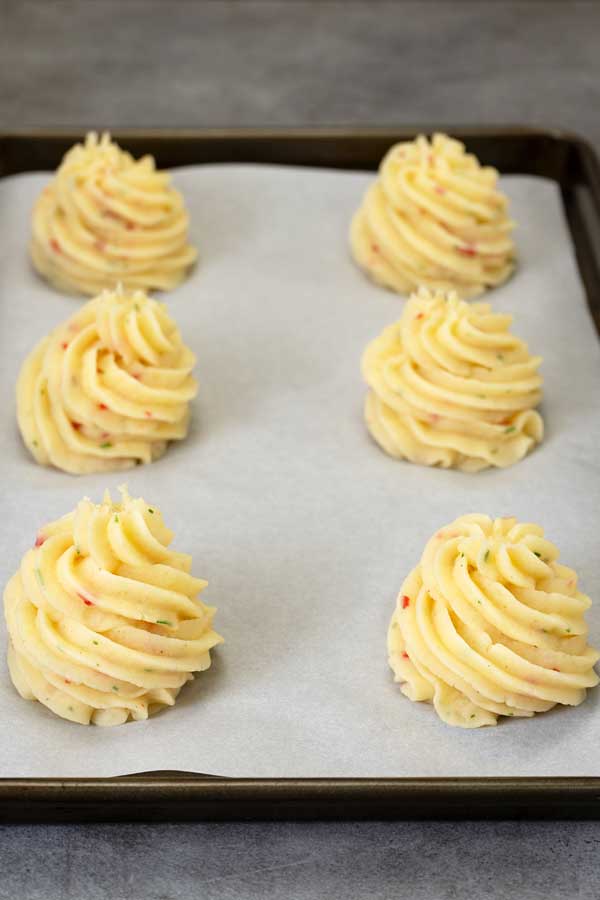 Whatever you do, try to go light because the duchess potato is a side dish after all. We don't want it to dominate the flavours of your roasted turkey, lamb, or chicken. You get my point.
It should only compliment the flavours.
Piping Your Duchess Potatoes
The fun part!
I like to use the normal star nozzle, the biggest size.
I recommend that you pipe your duchess potatoes into 2 inches (5 cm) little round mountains. You should also pipe them tall, around 2-2.5 inch (5-7 cm) tall.
Why? Because they look beautiful like that! Haha!
Well yea you can simply dollop the potato with a spatula with no shape whatsoever but come on.. don't they look beautiful with just a tiny bit more effort?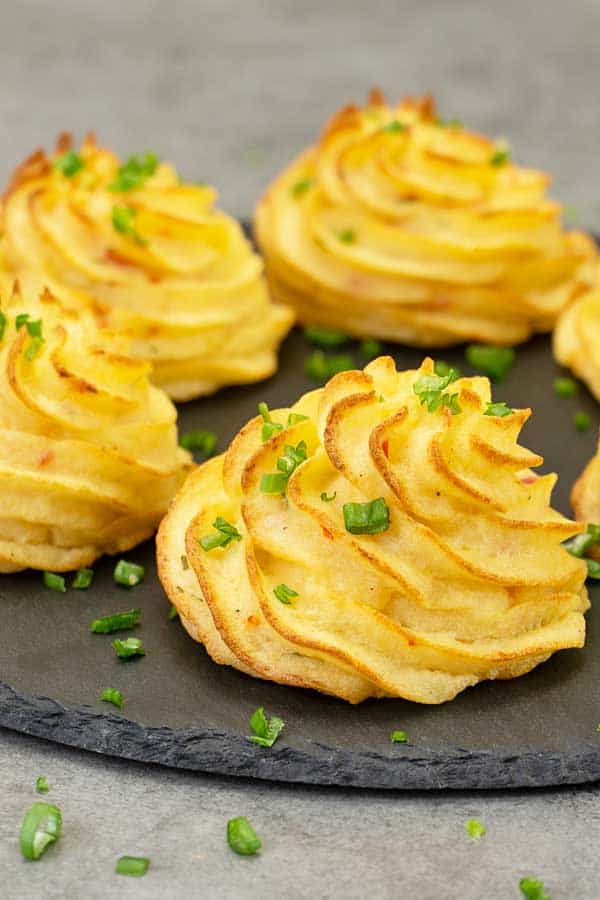 Well then there's nothing to do but to bake those beauties until golden brown and serve!
Give it a try. Pimp up your mashed potatoes for this holidays!
Meals To Match
Here is the list of some of the meals that I think will go perfect with these duchess potatoes. Soak up that amazing gravy!
Video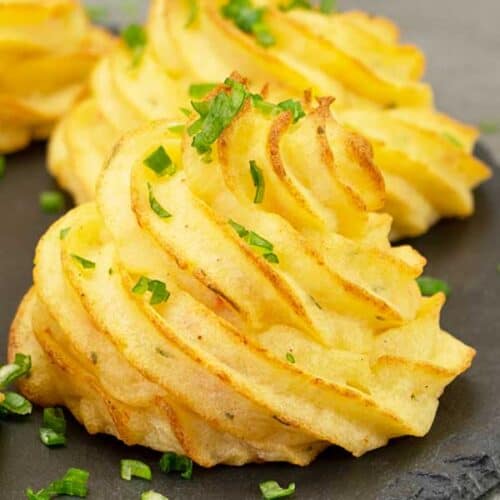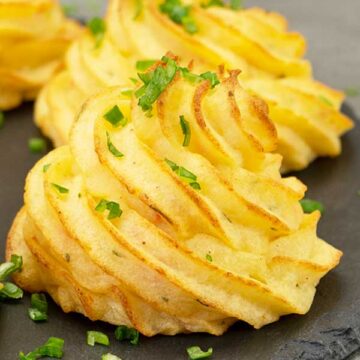 Parmesan Chili Duchess Potatoes
These parmesan chili duchess potatoes are a delicious and different way to enjoy mashed potatoes. Crisp on the outside, soft and fluffy in the inside. A perfect side dish for your slow cooked oxtail stew or roasted chicken, just to name a few. Yum!
Print
Pin
Rate
Ingredients
2.2

lb

potato

(

1

kg)

2

teaspoon

salt

enough water to cover potatoes

2

egg yolks

, room temperature

⅓

cup

cream

(

80

ml)

2

tablespoon

softened butter

(

30

gr), cut into small pieces

1

chili

, deseeded & finely chopped

1

tablespoon

chopped chives

¼

teaspoon

nutmeg

½

cup

grated parmesan

(

30

gr)
Instructions
Peel and cut potatoes into chunks. Place in a pot with cold water, salt and bring it to a boil. Simmer for 20 minutes or until the potatoes are very tender. Drain them.

Place the potatoes in potato ricer and press into a bowl. Add the rest of the ingredients and mix just to combine.

Place the potato mixture into a piping bag with a star nozzle. Pipe around 2 inch (5 cm) diameter and 2-2.5 inch (5-7 cm) tall of small mountains on a baking tray with a baking sheet.

Bake in a preheated oven at 425ºF (220ºC) for 20 minutes or until golden brown. Serve and enjoy!