What Is It?
It's a pie with soft buttery crumbly pastry with creamy sweet lemony ricotta cheese inside.
I think this pie is originally from Italy. Argentine cuisine has strong influences from Italian cuisine due to Italian immigrants to Argentina back then. Throughout the years many meals and dishes have been adapted to Argentine style and I think this pie is one of them.
So though they sound the same but you will find slightly different versions of it from the way the Italians make it and the way the Argentines make it.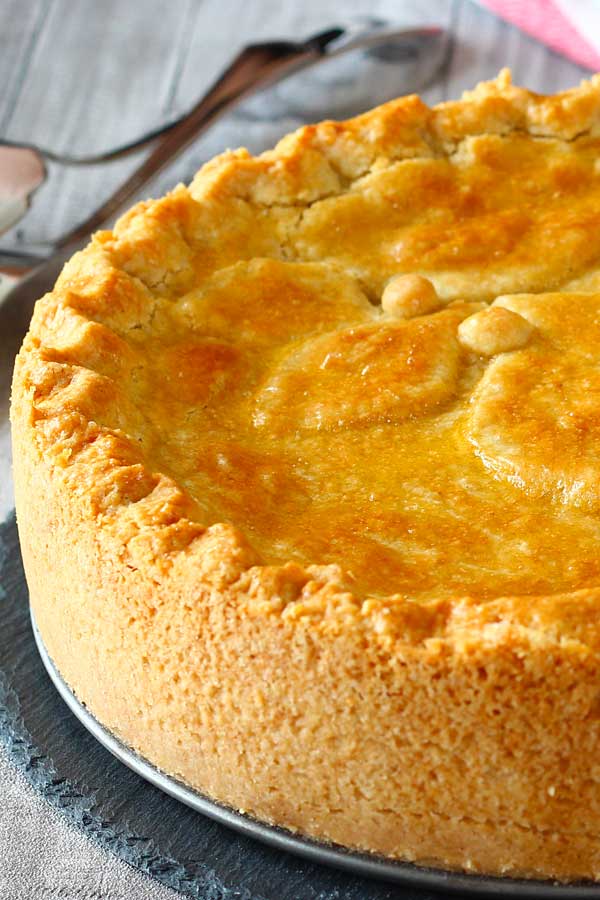 The Pastry
It's the best pastry that I have ever tasted! I'm not 100 years old but when I bite into this pastry it takes me to the images of ancient bakeries back then. When every single ingredient used were homemade.
Homemade butter, homemade mill flour. Each component contributed to the taste. This pastry has that rustic taste, if that makes any sense. It even looks extremely rustic!
I certainly didn't make my own butter, but maybe one day I will share how I make my own ricotta. It's easier than you think.
Anyways. This pastry is the same. Easy. I just use my hand held mixer, nothing fancy. The dough is quite soft but extremely forgiving. In the video above I've showed my way of handling this type of pastry dough in the easiest and less hassles way. Which is rolling it between 2 cling films.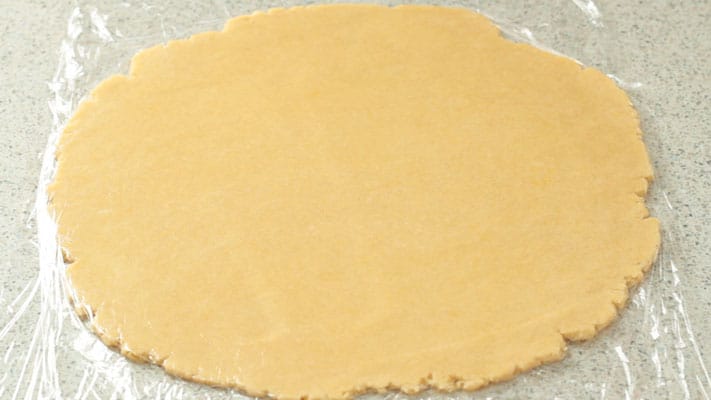 For me, rolling between the cling films avoids adding additional flour to the dough like if you were to roll it on your working surface. Because of the nature of the dough you will be tempted to add more and more flour to it. That will eventually make the dough not as soft buttery and crumbly like we want.
As I mentioned earlier, the dough is extremely forgiving. If if breaks, simply patch it here and there like I did in the video. Don't add more flour to make it stiffer just because you don't want it to break. Just keep patching and everything will turn out good.
The Filling
This pie is amazing with ricotta as it's filling. There's another type of cheese that's quite similar to ricotta but it's not ricotta. It's name is requeson cheese. Though they are quite similar, for me personally, I love ricotta better because of its creamy texture and taste. It's all about preferences I guess. You do you, boo.
The filling doesn't take so many of other ingredients. Just a touch of butter, sugar, vanilla extract and lemon zest. I love that because the ricotta taste really shines.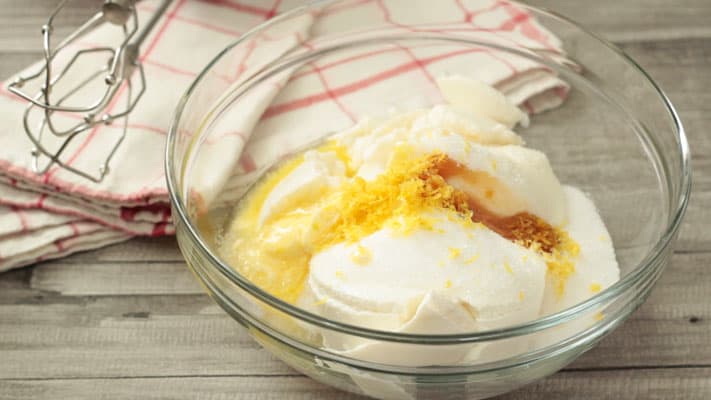 And what doesn't say Argentine if it's not dulce de leche, right? This modern twist to the classic ricotta pie is really wonderful! It was my husband's idea actually. He lives on dulce de leche. So there's a layer of dulce de leche on the base before the filling.
Not only it gives it another notch of taste to this ricotta pie, it also makes it more beautiful. One thing though, use bakers dulce de leche as it's firmer and holds its texture better. I also use this type of dulce de leche in my alfajores. Yum yum!
And like I mentioned in my earlier post, you can also make your own dulce de leche. The homemade dulce de leche has a firmer texture almost like bakers dulce de leche.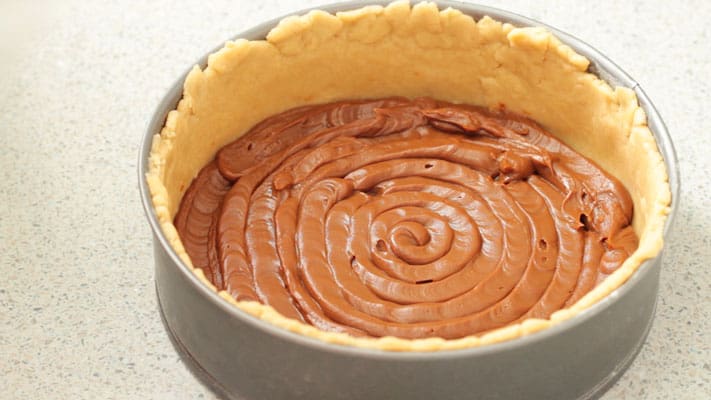 So if you love classic pies, maybe you would want to give this ricotta pie a try. I think you will love it like I do.
Video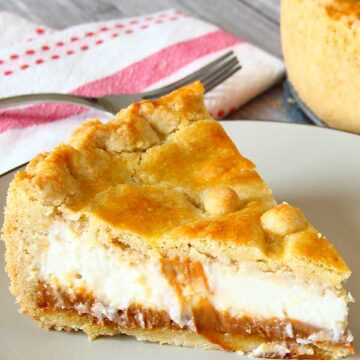 Ricotta Pie with Dulce de Leche
A modern twist to this classic ricotta pie, Argentine style. Soft crumbly pastry with a touch of lemon, a layer of dulce de leche and creamy ricotta as the filling.
Print
Pin
Rate
Ingredients
The pastry
3

cups

self rising flour

(

400

gr)

½

cup

granulated sugar

(

100

gr)

⅔

cup

unsalted butter

(

150

gr), soften

1

egg (beaten)

, room temperature

1

teaspoon

vanilla extract

2

tablespoon

milk
The filling
1

lb

ricotta

(

500

gr), room temperature

⅔

cup

granulated sugar

(

150

gr)

1

tablespoon

unsalted butter

(

20

gr), melted

½

lemon zest

1

teaspoon

vanilla extract

bakers dulce de leche

, as needed

1

egg

, for brushing
Instructions
The pastry
Sift the flour into a bowl. Add in granulated sugar and give it a mix. Add in soften butter, vanilla extract and beaten egg. Using a spatula, mix to combine until the mixture becomes like a wet sand. Add milk and using your hand, mix and gently form into a dough. Do not overwork the dough to prevent hard, dense pastry.

Wrap with cling film and leave to chill in the fridge for 30 minutes. Meanwhile we can prepare our filling.
The filling
In a bowl, add in all the filling ingredients. Mix just to combine. Do not over mix. Set aside in the fridge.
Assembling
Place ⅔ of chilled dough on a cling film. This will be the base. Press a bit and cover with another piece of cling film. Gently roll into an 11 inch (28 cm) diameter disk. We will be using a 9 inch (23 cm) spring form with 3 inch (8 cm) depth. Use the pan as a guidance. Slide the rolled dough onto a baking tray and chill in the fridge for 10 minutes. This is to make it a bit firmer and more manageable later.

After 10 minutes, remove the dough from the fridge and place it on a working surface. Remove the top cling film. Sprinkle some flour on the dough surface and coat it well. The flour helps the dough not to stick and make it easier to adjust to the pan.

Place a 9 inch (23 cm) spring form pan (buttered and floured before hand) up side down on the down. Slide one hand down under the dough and swiftly flip them both. Remove the remaining cling film and adjust the dough to the pan. The dough is very forgiving. Patch here and there as needed and discard the excess dough aside.

Pipe 1 cm height of bakers dulce de leche, covering the base of the dough. Spoon all of the previously prepared filling on the piped dulce de leche. Spread evenly.

Roll out the remaining ⅓ dough and place it on the filling. Adjust accordingly so that it covers all the filling surface. Lightly press both of the surrounding base and top dough together. Cut excess dough on the side, leaving around 2 cm of height. Pinch the seams together. Use the excess dough to make some decorations, if you want. Brush the pastry with egg wash.

Bake at 175ºC (350ºF) in a preheated oven for 45 minutes, or until golden brown and the sides detached from the pan. That indicates that it's cooked. Very important to leave it to cool for 15 minutes and only then remove it from the pan. Then leave the pie to cool completely before leaving it in the fridge overnight before serving. Enjoy!
Nutrition Facts
Calories:
551.7
kcal
,
Carbohydrates:
73.2
g
,
Protein:
13.7
g
,
Fat:
22.8
g
,
Saturated Fat:
13.2
g
,
Cholesterol:
95.9
mg
,
Sodium:
55.7
mg
,
Potassium:
111.1
mg
,
Fiber:
1
g
,
Sugar:
25.2
g
,
Calcium:
113.8
mg
,
Iron:
0.7
mg