Another Southeast Asian recipe or Malaysian, to be specific, for you to try! I developed this version of slow cooker chicken rendang curry recipe with the objective of simplifying it so that it'll be easier to make for everybody around the world.
As always, whenever I simplify an Asian recipe (which we know can be quite laborious) I will make sure I still preserve the wonderful essence flavours of that dish, and the same goes to this delicious rendang.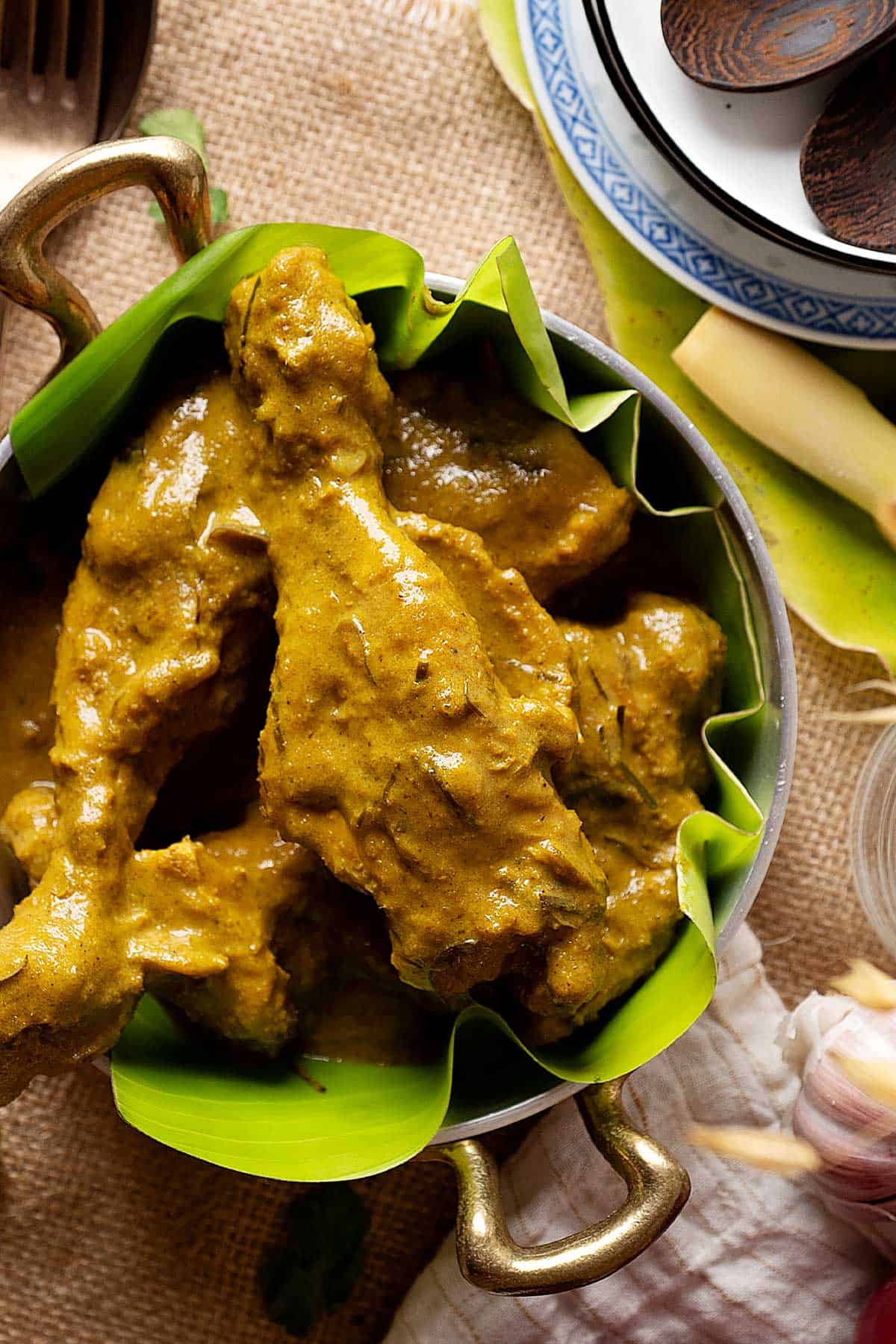 Jump to:
Recipe Highlights
Texture and flavour - Tender flavourful chicken with creamy curry lemongrass sauce. Yes, rendang is a bit different from other curries as it has a very significant delicious citrus-like lemongrass flavour.
Level - Super easy, let the slow cooker does the work for ya!
Size - 6 people.
Occasion - Whenever you fancy a different curry to impress your family and friends.
Why This Recipe?
Like I mentioned earlier, this recipe is made so that it'll be easier and doable for everybody. Regardless if you're in Asian and surrounded by abundance of Asian ingredients, or you're just passionate about food and would love to try this dish that's so famous in countries like Malaysia.
This rendang is different from the traditional rendang as it is simplified in 2 ways:
the recipe itself by using ingredients that are more common and easier to find.
the cooking method which is way easier as you don't need to baby-sit it for several hours.
Despite being a simplified recipe, this rendang is so amazingly delicious because it still preserve all the essence flavours of a traditional rendang.
Lets Talk Ingredients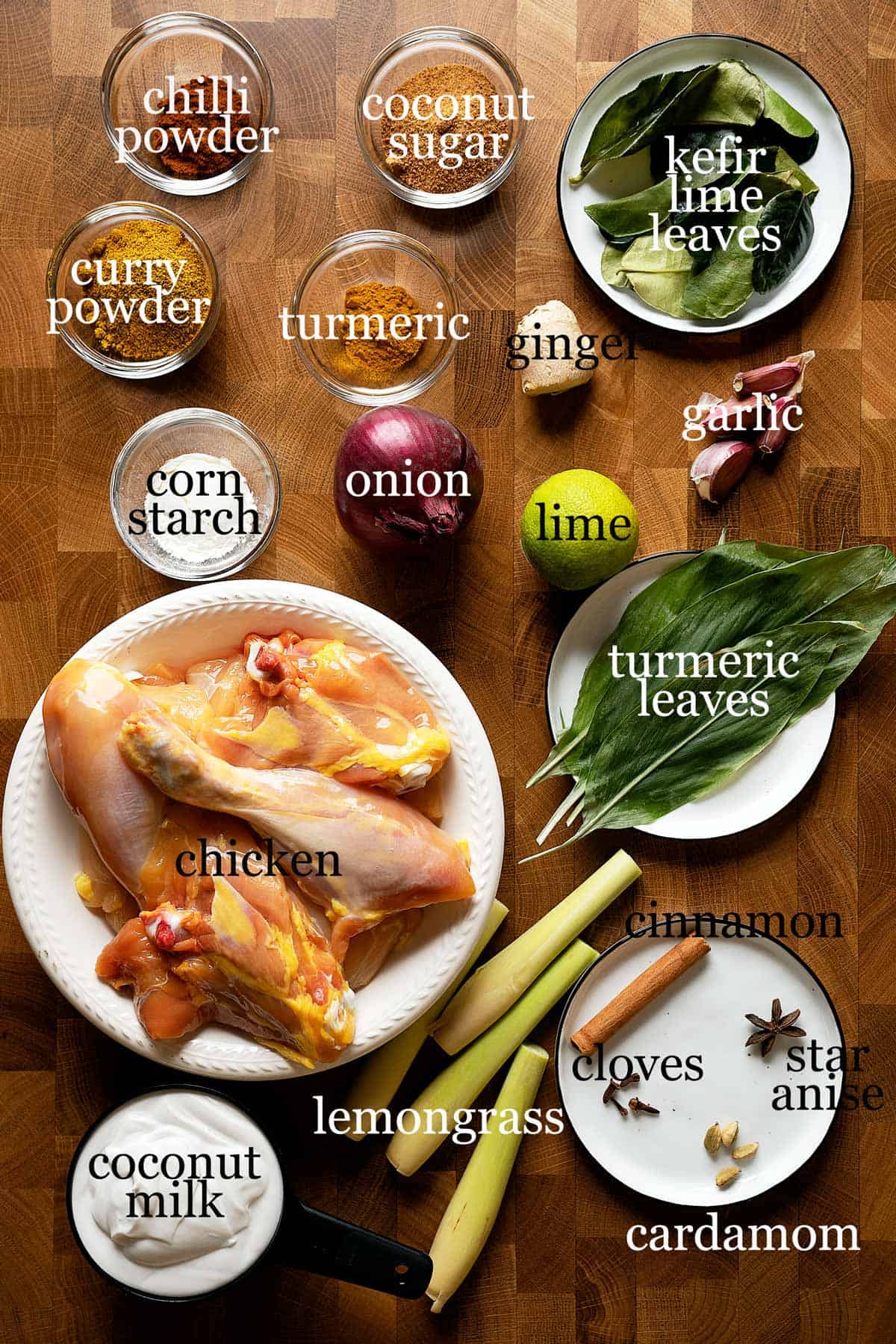 Curry powder - use whichever you have. If you like it spicier, you can use Madras curry powder.
Lemongrass - you can find it in the frozen section in any Asian store. I grow my own (my mother sent me some fresh lemongrass through post from Malaysia, I planted them and have never run out of them for all these years). If you're using lemongrass paste from a jar, use around ¼ to ⅓ cup of it. Just adjust the salt accordingly because usually the paste is already with salt.
SUBSTITUTION: Use lemon or lime zest instead. Just add it together with the coconut milk mixture.
- Lemon: Use total of 2-3 lemon zest.
- Lime: Use total of 3-4 lime zest.
It's not going to taste the same as lemongrass but it works.
Galangal - you can also find it in the frozen section in any Asian store. But if you can't find it then omit it. It's totally fine.
Kefir lime leaves - you can find them either in the fresh veggies section or in frozen section in any Asian store. You can also use dry ones (double the amount and hydrate in warm water before using). They give the rendang a citrusy touch.
SUBSTITUTION: Lime or lemon zest would work. Simply zest ½ lemon or 1 lime and add together with the coconut milk mixture. Again, it's not going to taste the same but it'll do. No need to add it if you're already using zest to substitute lemongrass.
Turmeric leaves - Lend a wonderful aromatic smell for rendang. Quite difficult to get (once I grew them myself). Skip if you don't have it.
Cayenne pepper - Optional. This is for the heat. You can use chilli powder or chilli flakes, it doesn't matter.
Do I Need To Cook The Base?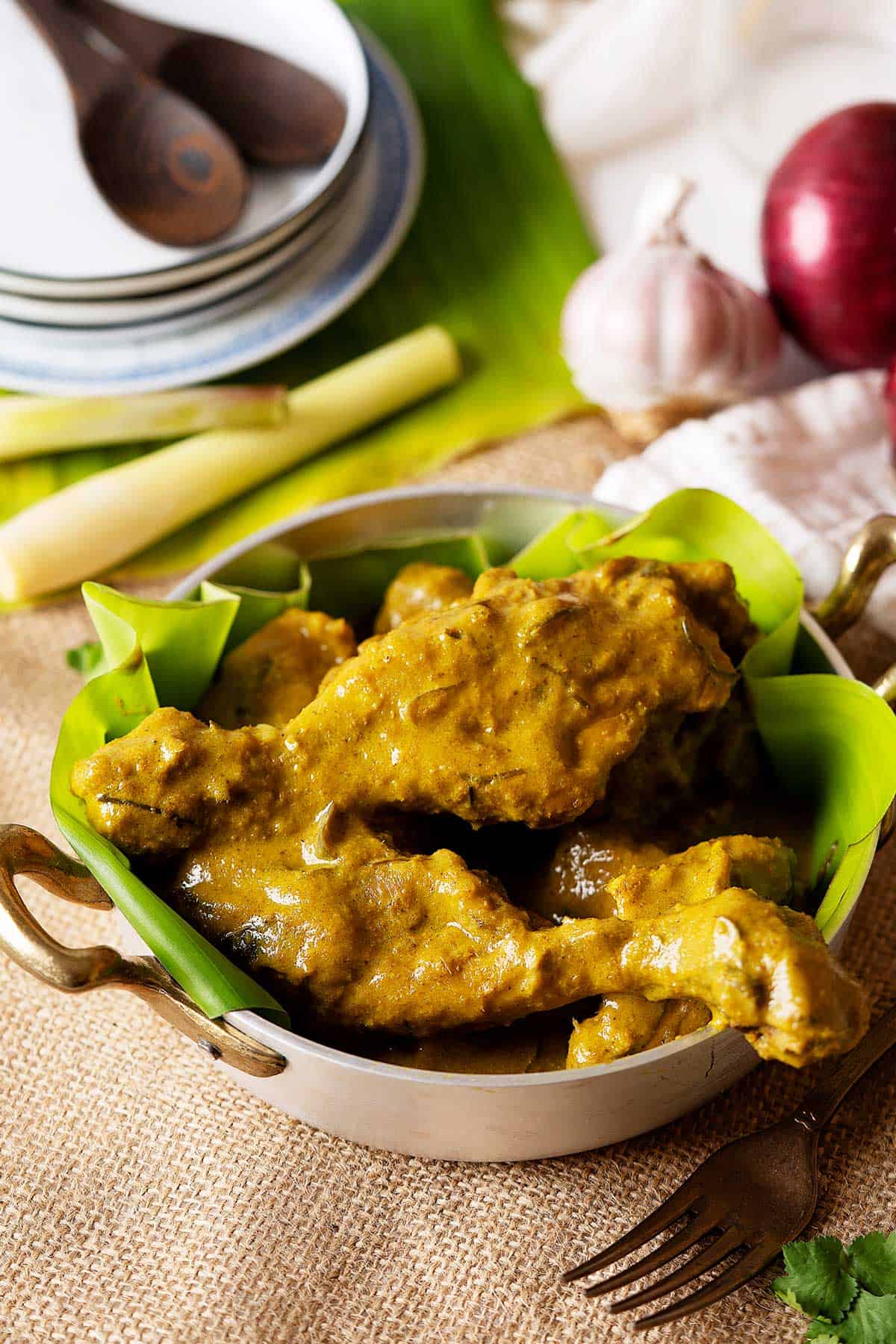 Yes, and it's going to be worth those 10 minutes of your time.
Cooking the base really adds that depth of flavours in your rendang. The umami kick that we're looking for.
I've tried not cooking the base first and personally for me, there was just something lacking, you know.
But hey, if you don't want to, then don't. Your choice.
How To Thicken The Sauce?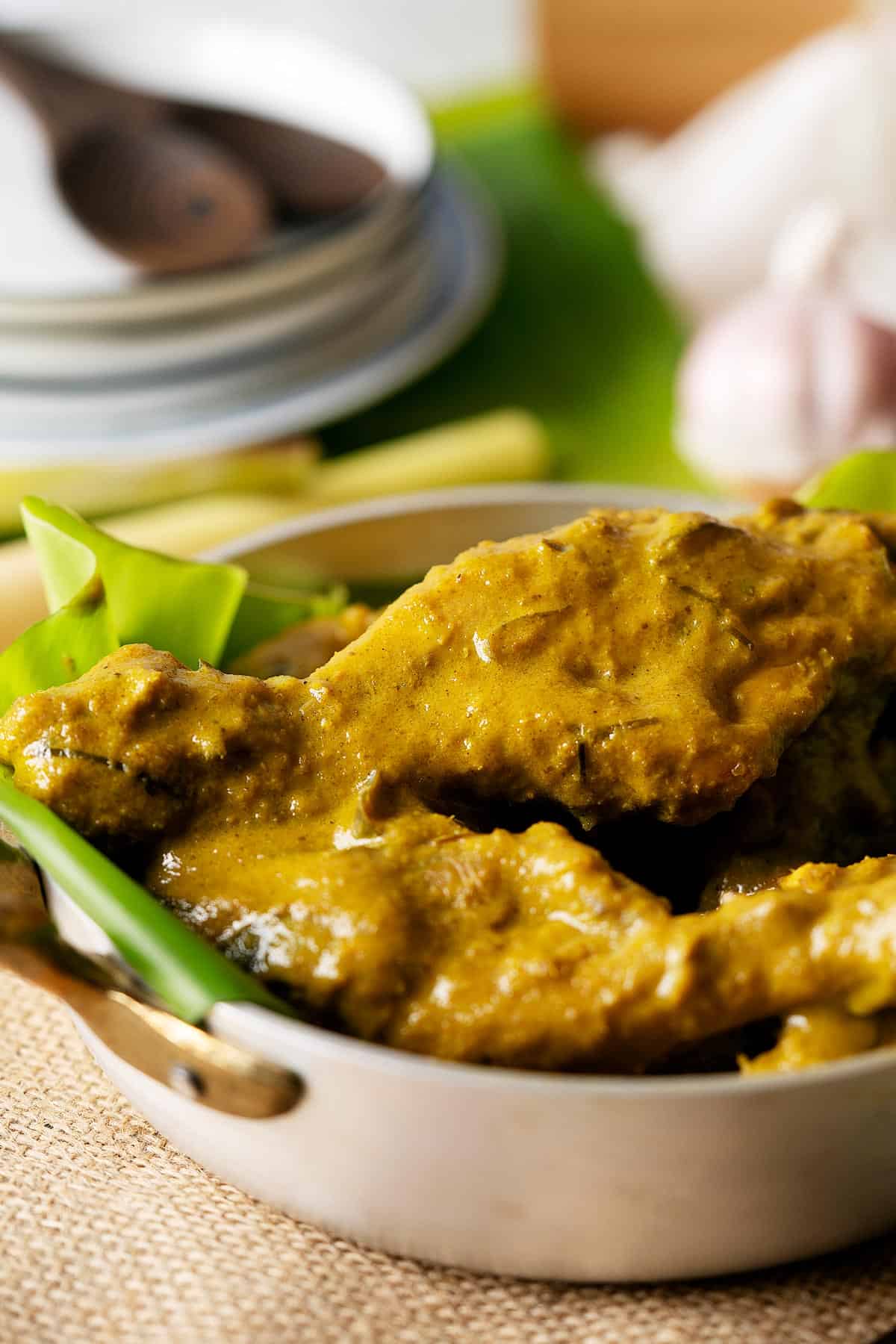 As we all know, cooking with a slow cooker always result in quite a watery dish. And that is a super no-no to a rendang curry.
In this recipe, we're using the minimal liquid to begin with. We will have more liquid from the chicken as it cooks.
To thicken all the liquid, we will use corn starch that we will mix together with coconut milk and let everything cook, uncovered, for a good 10-15 minutes.
What To Eat It With?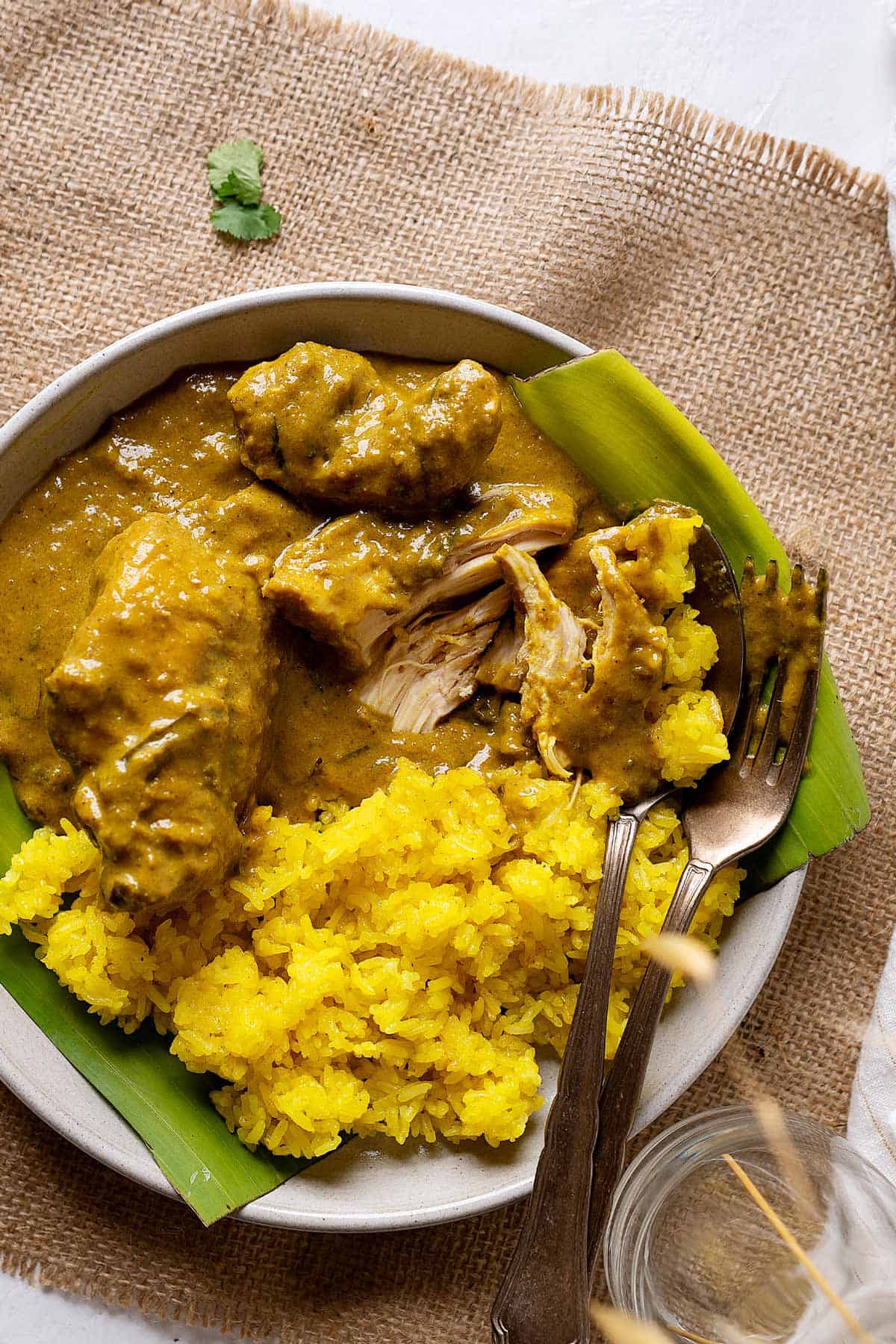 Oh this is fun!
In my family, a rendang should always be accompanied with glutinous rice. It can be steamed glutinous rice with turmeric or simply plain.
But of course, that's not all. You can still enjoy it with rice, bread or something that you can soak the wonderful sauce with. Oh la la!
More Malaysian Recipes
Recipe Video
📖 Recipe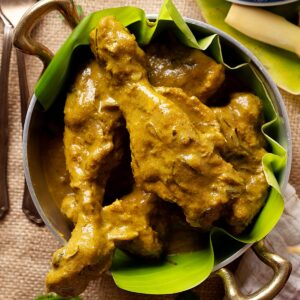 Slow Cooker Chicken Rendang Curry
The simplest way to make Malaysian chicken rendang curry, by using a slow cooker. The taste is equally amazing and delicious with such less effort. This is definitely another level of curry! Check for ingredients substitutions above.
Print
Pin
Rate
Ingredients
The Paste
6

lemongrass

, thinly sliced

1

onion

, chopped roughly

4

garlic cloves

1 ½

thumb sized

galangal

, chopped roughly

1 ½

thumb sized

ginger

, chopped roughly
The Spices
2

lemongrass

, bruised

1

cinnamon stick

1

star anise

4

cloves

4

cardamoms

3

tablespoon

curry powder

2

teaspoon

cayenne pepper powder

1

teaspoon

turmeric powder
The Main
⅓

cup

water

(

80

ml)

4

turmeric leaves

, thinly sliced

15

kefir lime leaves

, thinly sliced

2

teaspoon

salt

2

tablespoon

coconut sugar

2.2

lb

chicken legs, bone in & skinless

(

1

kg)
Seasoning And Thickening
1

cup

coconut milk

(

250

ml)

1

tablespoon

corn starch

½

lime

, take the juice
Instructions
The Base
Blend all the paste ingredients in a grinder into a fine paste. Use a splash of water if needed to help the blending process. You might need to do this is batches, depending on how big your grinder is. Set aside.

We'll start with the spices ingredients. Heat a pan on medium heat with some oil. Add in bruised lemongrass, cinnamon stick, cloves, cardamoms and star anise. Cook until the spices release their fragrances.

Add in the rest of the spices ingredients together with the blended paste and continue cooking for 10 minutes, until the paste becomes thick. Stir now and then.
Cooking
Spray the inside of the slow cooker pot with some oil. Add in cooked base and the all of the main ingredients except chicken. Mix everything well. Now add in the chicken and coat the pieces well with the mixture.

Close the lid. Cook on high setting for 2 hours. Gently give everything a mix with a spatula and continue cooking for another 30 minutes on high setting with the lid on.
Seasoning And Thickening
Add coconut milk and corn starch into a bowl and mix well. Set aside.

Remove the slow cooker lid. Pour the coconut milk mixture into the pot together followed by lime juice. Gently mix everything well. Continue cooking for another 10-15 minutes on high setting without the lid, until the sauce thickens. Adjust seasonings if needed. Serve with some steamed glutinous rice or white rice. Enjoy!
Nutrition Facts
Calories:
250.7
kcal
,
Carbohydrates:
14.8
g
,
Protein:
20.2
g
,
Fat:
13.3
g
,
Saturated Fat:
8.7
g
,
Cholesterol:
86.3
mg
,
Sodium:
895.8
mg
,
Potassium:
493.4
mg
,
Fiber:
2.5
g
,
Sugar:
3.8
g
,
Calcium:
60.7
mg
,
Iron:
4.1
mg
Originally published on Nov 22, 2018. Updated with improved text, recipe and pictures on Apr 12, 2021.