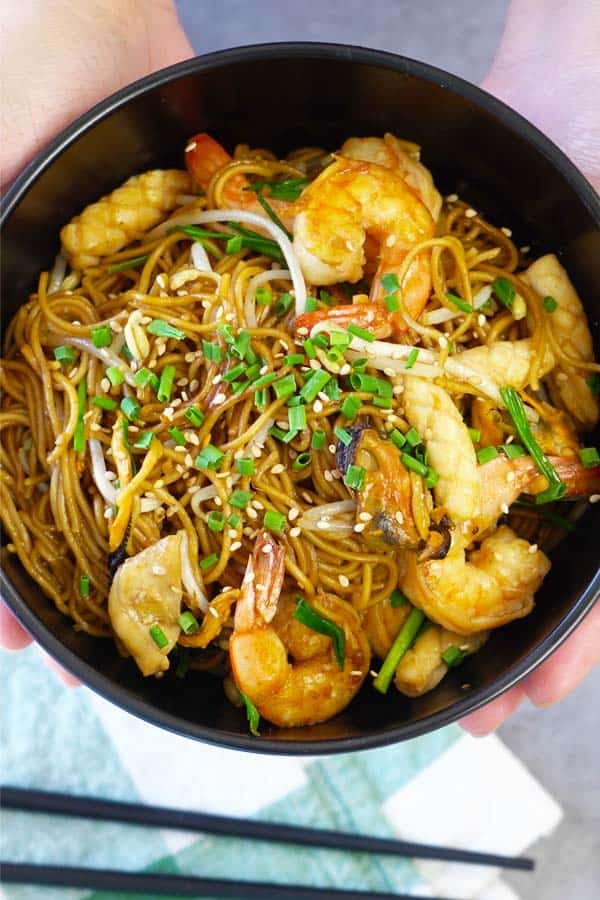 Don't you simply love a quick and yummy stir fry recipe?
The one that works every time and using a few basic ingredients. And also the one that you can modify according to whatever you have in the fridge?
This soy soy stir fry noodles is one of those recipes. Yep.
If you're craving for a fast Asian stir fry mix in the weekdays after a long hard day at work, then give this recipe a try. You won't regret it.
Disclosure: some of the links below are affiliate links, meaning at no extra cost to you, I will get a small commission if you click through and make a purchase. Everything I mention in this post is what I personally use and recommend.
What is it?
This soy sauce stir fry noodles is quite similar to the famous Penang char kway teow from my homeland country, Malaysia. The ingredients for both recipes are quite similar.
The differences are, this soy sauce stir fry noodles uses egg noodles while Penang char kway teow uses rice noodles.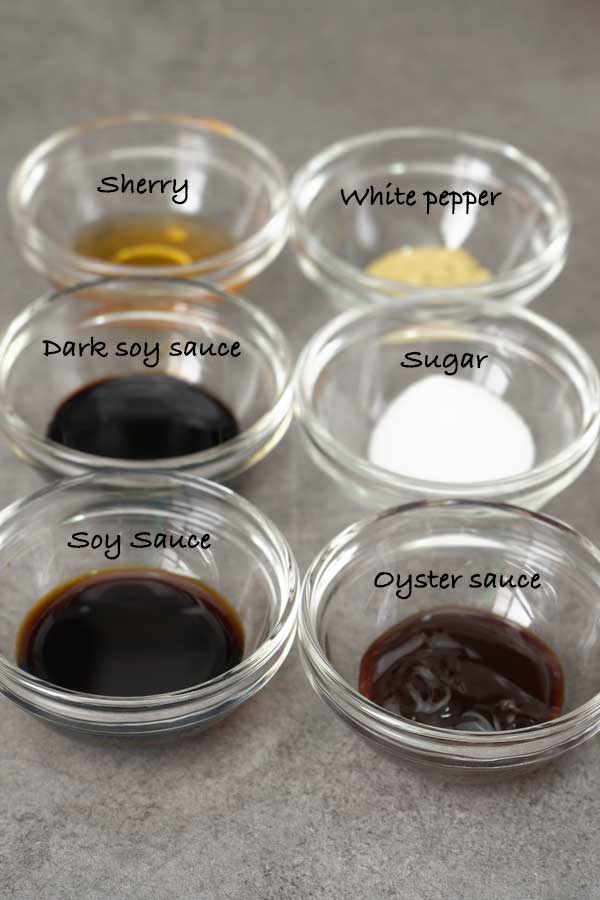 Also, this stir fry doesn't use any eggs while in the other yes it does.
This stir fry uses more soy sauce and is not charred dry like Penang char kway teow.
In Malaysia, this is a famous street food dish. It's particularly famous in one of the cities in Malaysia called Ipoh.
Before we move on with this delicious stir fry recipe, perhaps I could entice you to check out my other delicious stir fry that I mentioned a few times earlier?
Click here to see my super easy and delicious Penang char kway teow (must try)
Egg Noodles
This stir fry uses egg noodles. It doesn't matter if the noodles are dry ones or fresh ones. As long as they're egg noodles.
Usually I always use spaghetti to substitute egg noodles because it's always easier. Everybody has a pack of spaghetti in their kitchen pantry, right?
For this recipe I thought I would use egg noodles like a traditional recipe calls for. I'm using dry noodles because the fresh ones are impossible to find in my city.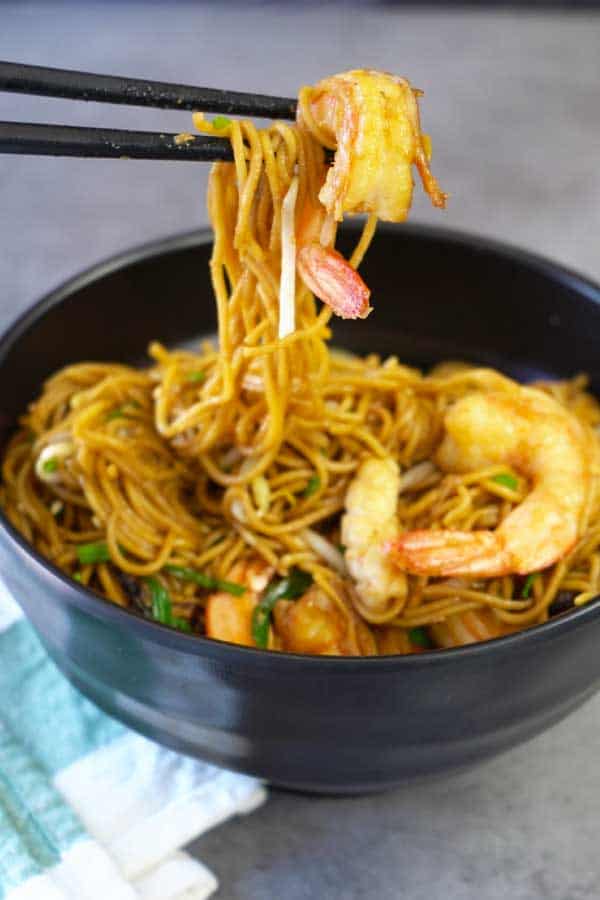 I do make my own egg noodles now and then when the time permits me (and when I'm feeling a bit fancy).
Soy Sauce
We will be needing 2 types of soy sauce for this recipe. The common typical soy sauce and the other one is dark soy sauce.
Usually I would say if you don't have dark soy sauce just skip it, but for this recipe, I would really recommend you to use it.
Since this stir fry is a soy sauce stir fry so the color of the dish it's important and purely depends on the soy sauces that we're using. Else our stir fry will look a bit dull.
So yes, try to find both type of soy sauces.
Apart from the soy sauces, I'm only using some oyster sauce. Oyster sauce is to boost that wonderful seafood taste in this stir fry.
I find myself never needing to add any salt to this stir fry as all the sauces that are in the dish are enough to add the saltiness flavour to it.
But of course, you adjust it to you taste. Add a bit of salt if you want to.
Seafood
Ohhh I LOVE seafood!
For this recipe I'm using some shrimps, calamari and mussels.
You can of course use whatever protein source that your heart desires. Use tofu if you want to go vegetarian. Use chicken if you feel like it. Try to use chicken thigh instead of chicken breast though. Not only it won't get dry but it also has more flavour.
As you can see in the video recipe below, I'm using canned mussels for this recipe. Yes, canned mussels.
I want this recipe to be fast and easy, that's why I chose canned mussels instead of fresh ones. No need to clean them one by one and wait extra minutes to cook them.
I'm also using the juice that comes in the can with the mussels. The juice helps in enriching the seafood taste that we're looking for. So don't throw it away, it's gold.
Easy, Fast And Delicious Stir Fry
Like I mentioned earlier, this is a good stir fry if you want a fast and delicious Asian dish whenever you have the craving. It's also perfect to use up any veggies or protein that you have in the fridge.
You can use broccoli, green beans, red peppers, green peppers, carrots, sugar snap peas..
Some people will say to you that it's not authentic and all those BS but who cares? We will not stop making this delicious stir fry noodles just because we don't have chives or bean sprouts, right?
So go ahead, be free and cook up a storm in your kitchen.
If you're into more Asian stir fry, here are some of my recipes. You can look for more in my recipe page.
Happy cooking guys!
Video
📖 Recipe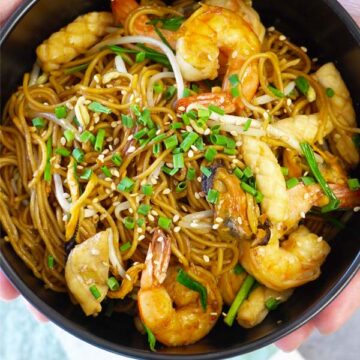 Soy Sauce Stir Fry Noodles
This soy sauce stir fry noodles is a fast and delicious option if you're craving for an Asian meal and don't want to spend lots of time making it. It's another famous street food in my homeland country Malaysia, in a city called Ipoh.
Print
Pin
Rate
Ingredients
The Stir Fry
5.3

oz

dry egg noodles

(

150

gr)

1

teaspoon

sesame oil

2

garlic cloves

, minced

1

thumb sized

ginger

, minced

10

medium sized

shrimps

, peeled and deveined

5

medium sized

calamari

, scored and cut into 1 inch (2.5 cm) pieces

3.9

oz

canned mussels

(

110

gr), with its juice

1

cup

bean sprout

(

100

gr)

0.7

oz

chives

(

20

gr), cut into 1 inch (2.5 cm) length
Instructions
The Sauce
Prepare all the ingredients before starting to cook. Put all of the sauce ingredients in a bowl, mix well and set aside.
The Stir Fry
Bring a pot of water to a boil and place in the dry egg noodles. Cook the noodles according to the packet's instructions. Then drain the noodles and rinse them under cold water. Place the noodles in a bowl together with sesame oil, mix well and set aside.

Place a wok or a pan on a medium high heat with some oil. Add in ginger, garlic and cook until they're golden brown. Then add in shrimps and calamari and continue cooking until they're almost cooked.

Now add in the noodles and the sauce. Mix everything well. Then add in bean sprouts, chives and mussels together with its juice. Mix well and cook for another 30 seconds. Serve immediately. Note: Adjust salt if you need to
Nutrition Facts
Calories:
274.1
kcal
,
Carbohydrates:
35.5
g
,
Protein:
21.8
g
,
Fat:
4.7
g
,
Saturated Fat:
1.3
g
,
Cholesterol:
94.2
mg
,
Sodium:
1542.8
mg
,
Potassium:
403.2
mg
,
Fiber:
3.1
g
,
Sugar:
6.7
g
,
Calcium:
70.5
mg
,
Iron:
4.1
mg