What Is Gozleme?
Gozleme is a Turkish flatbread that has various types of fillings. They can be minced meat, veggies, mashed potato or spinach and cheese.
The dough is very basic and can be done with or without leavening agent (yeast).
Gozleme comes from the word "goz" in Turkish that means "compartments". It refers to the pocket structure of the flatbread.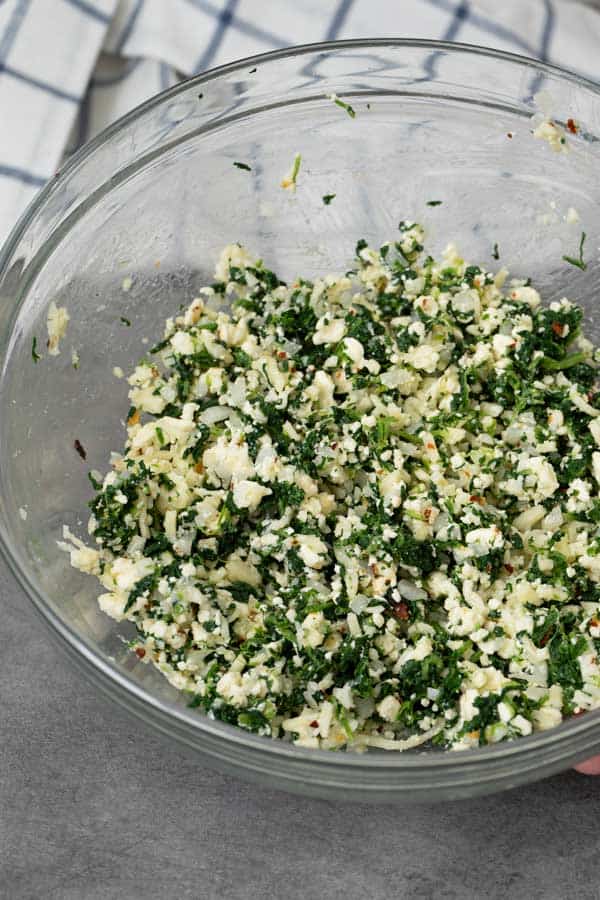 These flatbreads are a common snack and street food among the Turks. And I can see why because they are so delicious!
My Spinach and Feta Gozleme
I LOVE making breads.
I know I keep saying it to you (don't get bored of me) but making bread is one of the most satisfying things to do in the kitchen (apart from deboning a whole chicken. Come on who else loves it, let's make a club please).
Another thing that I love is, Turkish breads!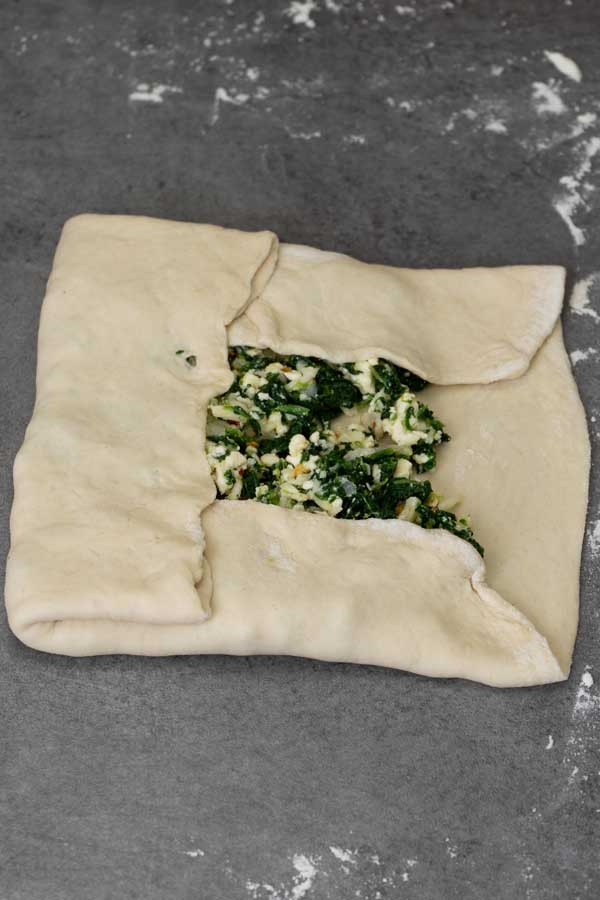 And I've never been to Turkey. Nor my husband. Marco and I are really in love with Turkish cuisine and with all the travel and food videos that we've been watching in Youtube, we wish we can go there one day 🙂
So today I'm sharing with you my take on this wonderful Turkish flatbread that's called gozleme, with spinach and feta filling.
One thing that I get to know from reading about gozleme is, the dough doesn't use any sugar. Not even to help to activate the yeast.
Oh yes before I forget, this recipe is going to be with yeast for that soft fluffy texture 😉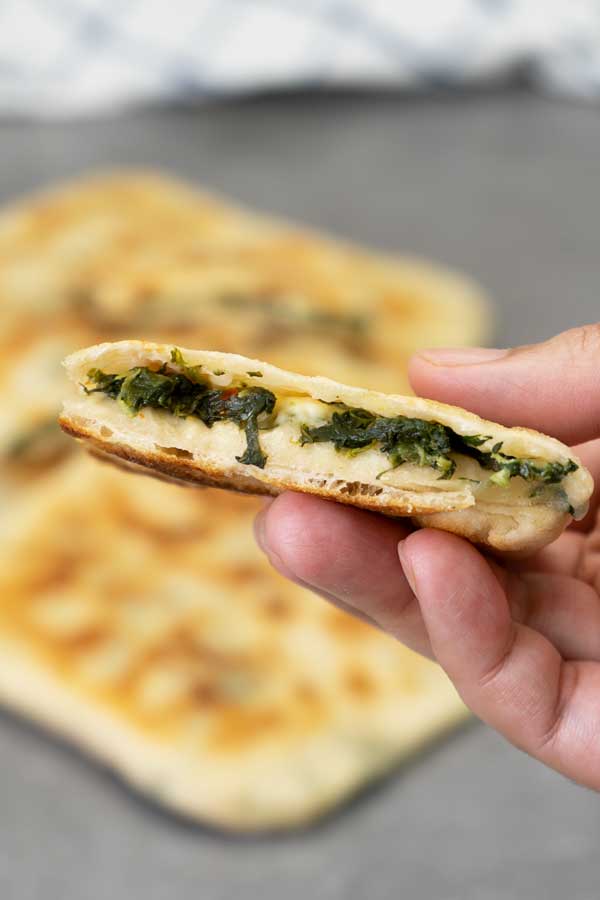 Like I mentioned earlier, this is a very basic dough. It only needs flour, salt, water, yeast and yogurt. Yes yogurt is used to get that hint of tangy taste in the bread.
And as for the filling, it turns out that the filling can basically be whatever you want. Either savoury or sweet.
I'm going with the common filling which is spinach and feta, with some tiny adjustments 😀
You my friend, can make whatever filling that your heart desires.
If you like to try something new, do try these gozleme. Serve immediately after cooking and they're the best. Crunchy skin flatbread with soft texture in the inside. And let's not forget the filling.
More Flatbread Recipes
Before you go, I will leave you with a few of my bread recipes that I think you should really try. You can find more recipes in my recipe page.
Enjoy and happy weekend!
Video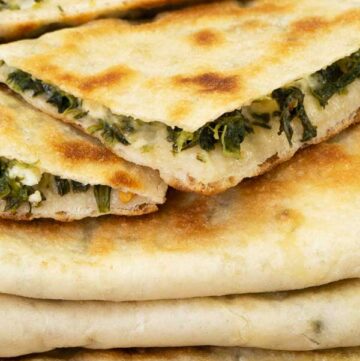 Spinach and Feta Gozleme
This flatbread only uses a few basic ingredients for the dough and the flatbreads are grilled in a pan, which makes it easier. The filling can be whatever you want, really. For this ones I'm going with the typical spinach and feta, with a slight adjustment.
Print
Pin
Rate
Ingredients
The Bread
1

cup

warm water

(

250

ml)

2 ¼

tsp

dry yeast

(

7

g)

3

cup

bread flour

(

390

g)

1

tbsp

olive oil

2

tbsp

yogurt

(

30

g)

¼

tsp

salt
The Filling
14

oz

frozen spinach

(

400

g)

1

onion

, finely diced

7

oz

feta cheese

(

200

g)

3.5

oz

shredded mozzarella

(

100

g)

1

tsp

chili flakes

1

tsp

garlic powder
Instructions
The Bread
Mix dry yeast with warm water and leave for 3-5 minutes for the yeast to activate.

In a standing mixer bowl, add in the rest of the bread ingredients including yeast mixture. Mix to incorporate and then knead for 10 minutes. Form the dough into a ball and place it in a greased bowl and cover it tightly with a cling film. Leave until the dough rises double its size.
The Filling
Thaw the spinach and squeeze out the water. Then chop into small pieces. Put the spinach in a bowl together with the rest of the filling ingredients. Mix well and set aside. TIP: Divide the filling into 6 so that you get equal filling for each bread.
Assembling And Cooking
Place the risen dough on a lightly floured working surface. Lightly knead into a log and cut it into 6 equal pieces. Form each piece into a ball.

Take one ball and roll it into a very thin square, around 10 inch (25 cm). Place some filling in the center and spread evenly, leaving around 2 inch (5 cm) empty space all around.

Fold each side to the center, making sure you cover the filling completely. Cook in hot pan with some oil for 3 minutes on each side (or until golden brown). Brush with some oil before flipping the bread.

Meanwhile continue with the rest of the balls, cooking them as you go. Cover the cooked gozleme with a kitchen cloth to maintain them warm. Cut and enjoy!