Yes, you use the whole orange with the skin and just blend everything! It's so easy and proved to be a success. This recipe has more than 4 million views on our Youtube channel (as to this post's publish date). It's also one of our reader's favourite recipes!
This is one of the first cakes that I baked when I first started. As a beginner back then, I was thrilled because it felt so easy to make (it still is). I was also happy because the ingredients list was super short and basic.
One bite of this, and ohhh la la! I felt like a pro immediately! Can you blame me? I mean look at the texture, the colour and I wish you could smell the amazing orange scent lingering in the air.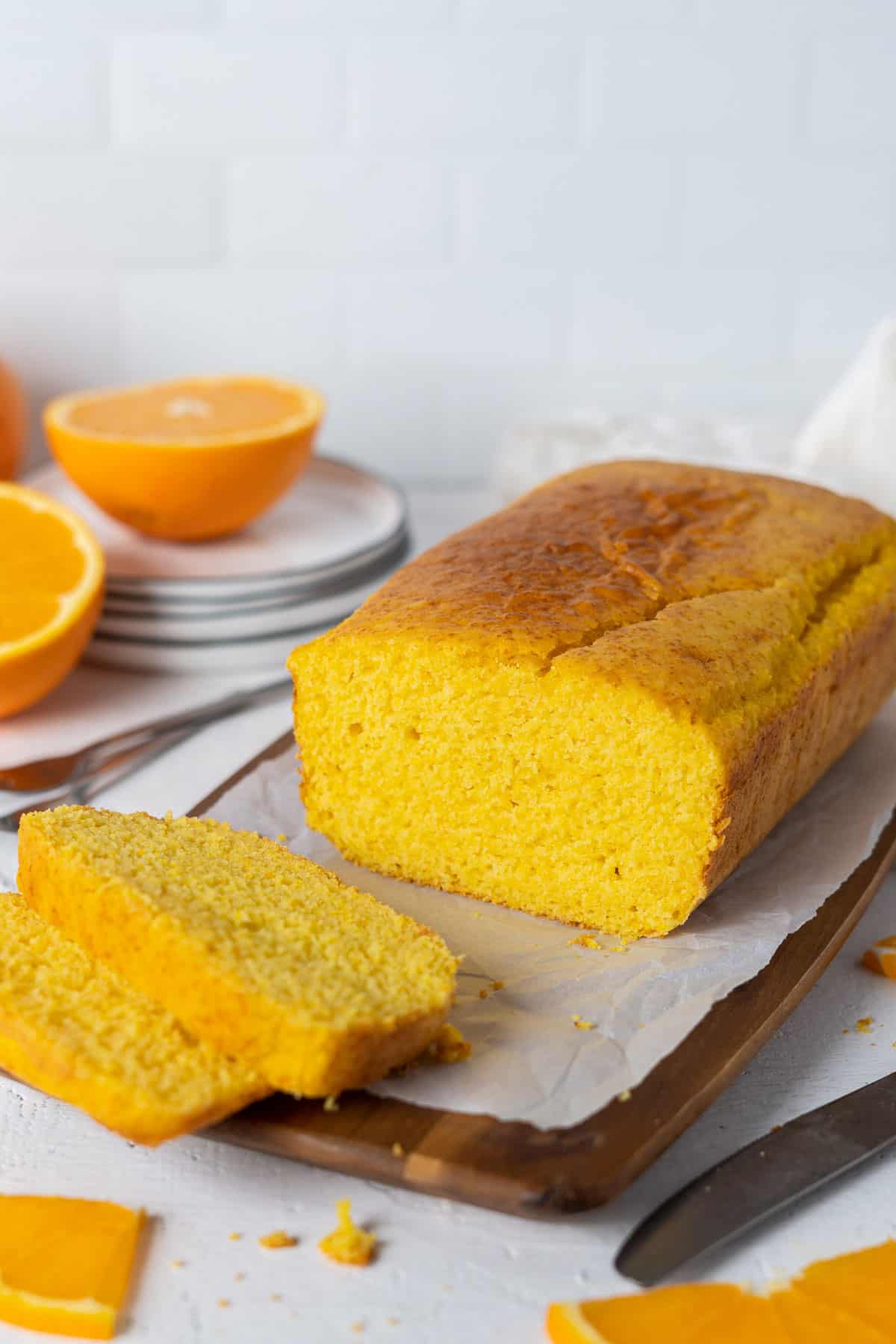 Jump to:
Why This Recipe Works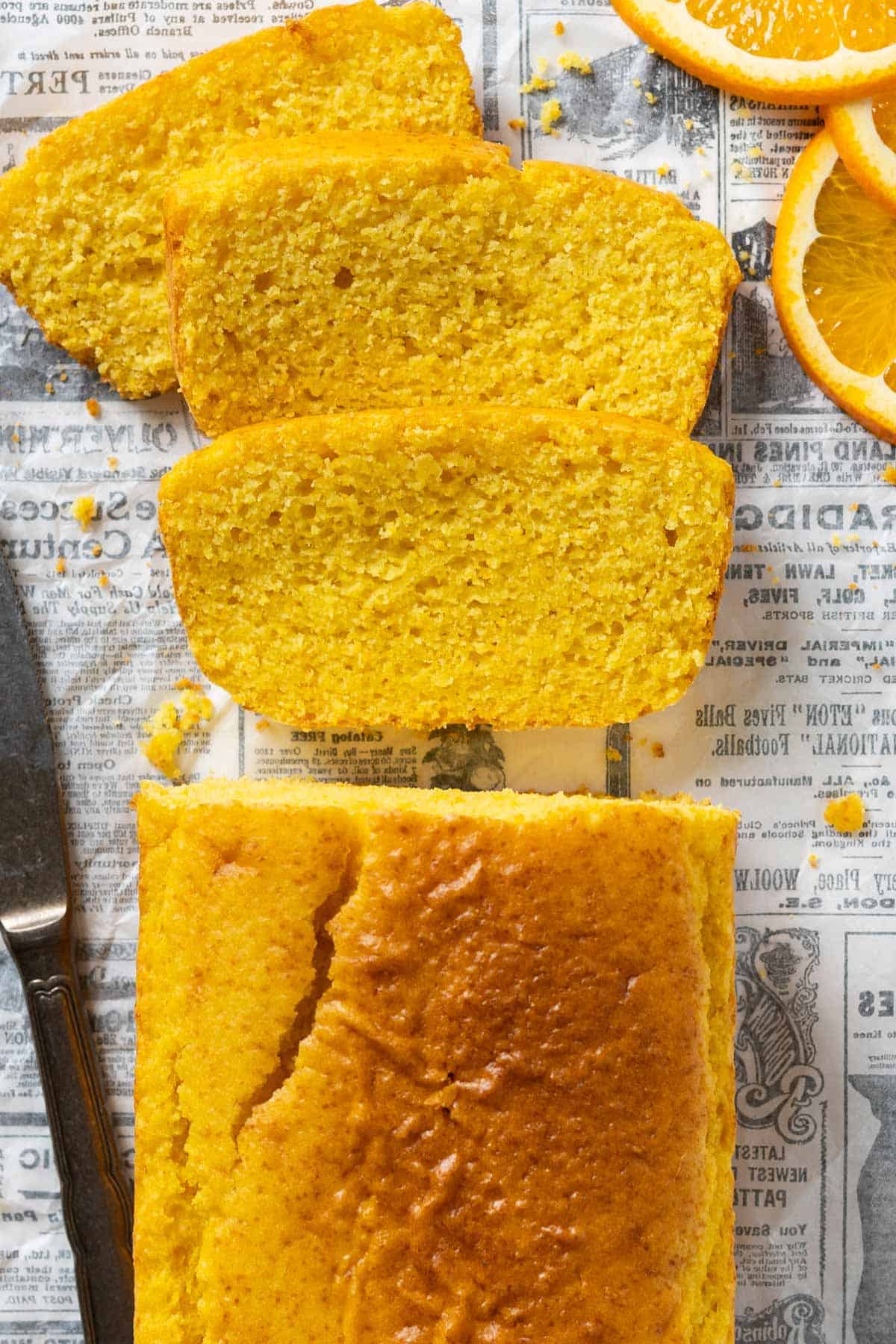 Despite the hesitations that you might feel, trust me, it works like magic. It's because of these reasons:
Easy method (blend and briefly whisk).
Easy basic ingredients.
Unbelievably delicious orange cake
For the effort, you will get a moist, tender cake with amazing orange flavour. You can tell it's going to be an amazing cake just by the smell of the raw batter. And ohh, don't get me started on the heavenly smell as it bakes.
Ingredients & Substitutions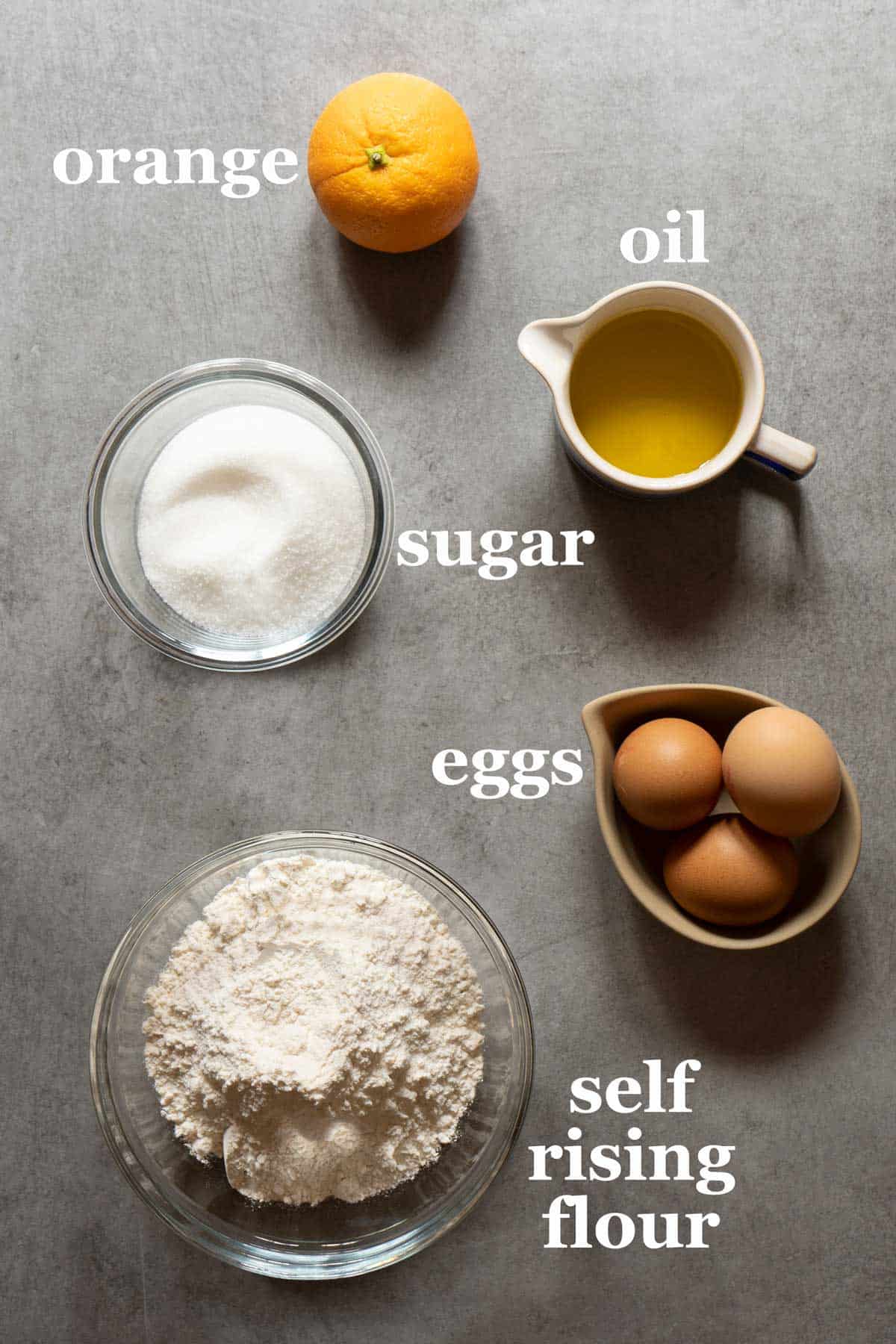 Self-rising flour - It's all-purpose flour with the addition of leavening agents that helps the cake rises when baked.
SUBSTITUTION: Make your own self-rising flour. For this recipe you'll need 2 cup all-purpose flour (250 g), 3 teaspoon baking powder and ½ teaspoon salt. Mix well and use it as self-rising flour as per instructions in the recipe below.
Oil - I originally used vegetable oil in the video but I've since changed to better ones like olive oil, coconut oil or avocado oil. Use any oil that you prefer.
BUTTER: You can, of course, use butter. For this recipe, use 7 tablespoon melted butter (105 ml).
Sugar - Granulated sugar. I've also made it with brown sugar, coconut sugar and erythritol (I use ⅔ cup or 130 g for erythritol). Just know that if you use brown or coconut sugar, the colour of the cake would be darker.
What Orange To Use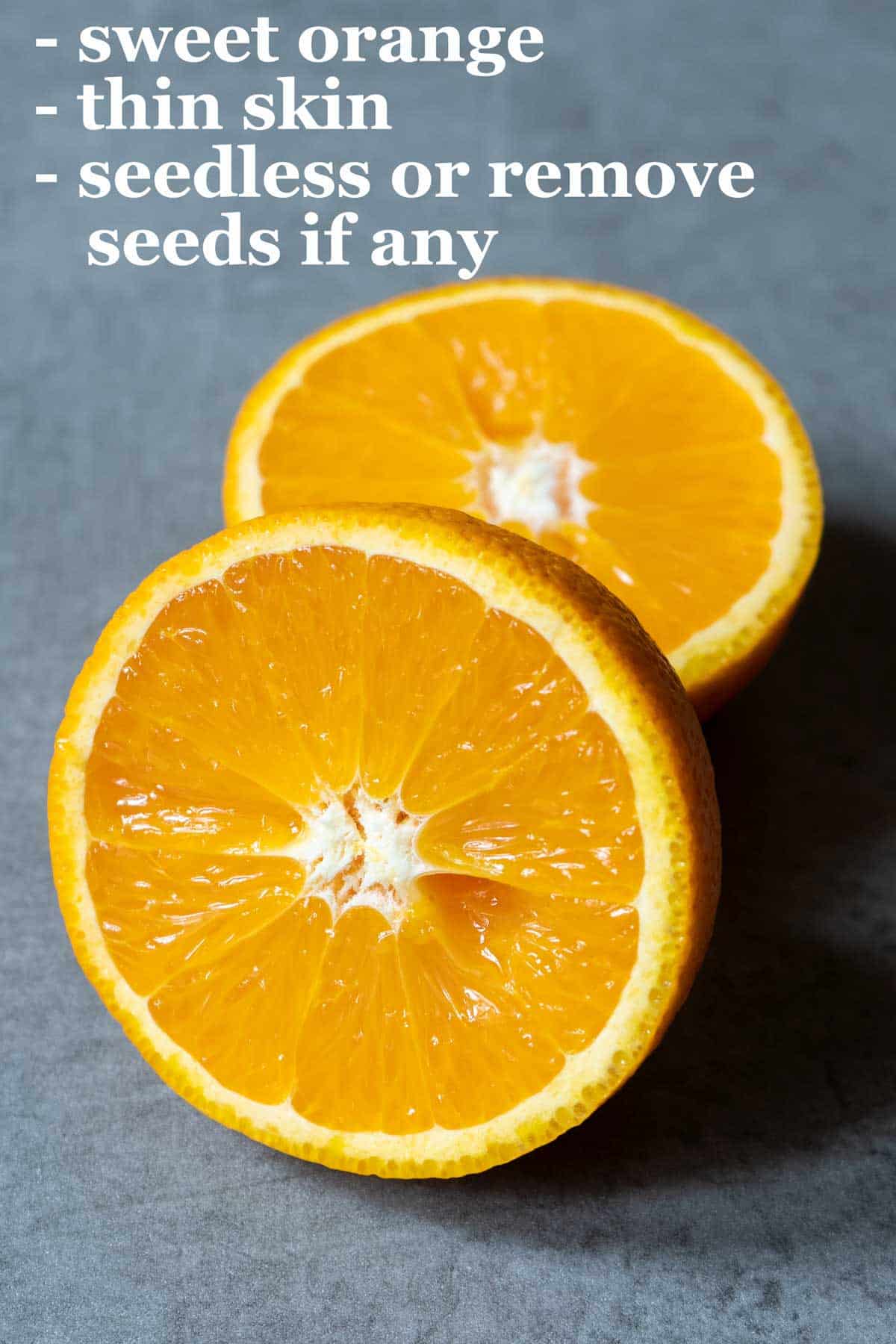 I've made this cake a million times and what I noticed is that, the type of orange matters. So I'm sharing my findings with you here.
Orange for juice - Here in Spain we have the option to choose between oranges to make juice from or simply to eat or snack on. Choose the orange to make juice because they're sweeter and in general have thinner skin.
Orange size - The most common, which is more or less an adult's fist size.
Thin-skinned - Yes, choose orange with thinner skin. This is to avoid that strong bitter taste.
Seedless - Preferably seedless orange since it's easier, you don't need to remove the seeds one by one. But it's not like it's going to take 5 minutes anyway if you have to. Bottom line, remove seeds if there's any.
What Utensils To Use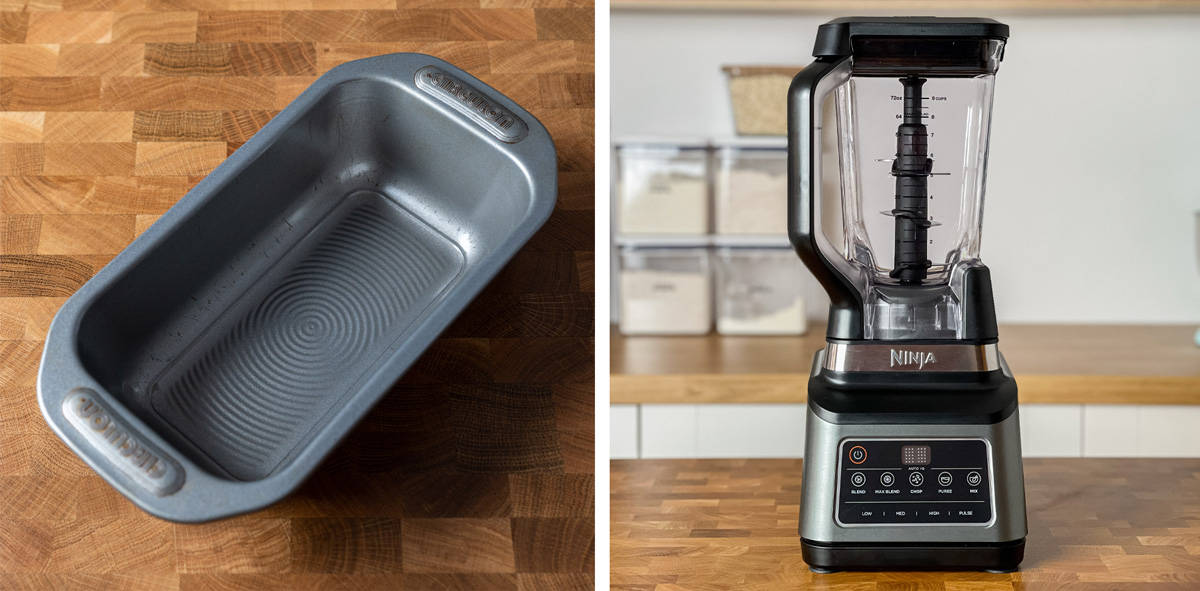 Loaf pan - I highly recommend you use a 5x9 inch loaf pan (13x23 cm) for this recipe amount. The silver colour reflects the heat, meaning the cake cooks slower, doesn't get overly brown and helps in avoiding dry cake.
Blender - I use this food blender and it blends everything in less than 1 minute. The tall jar and multiple blades really help to blend the ingredients and amount perfectly. It's from a whole set of kitchen system, actually. Very useful for me in the kitchen!
How To Make Whole Orange Blender Cake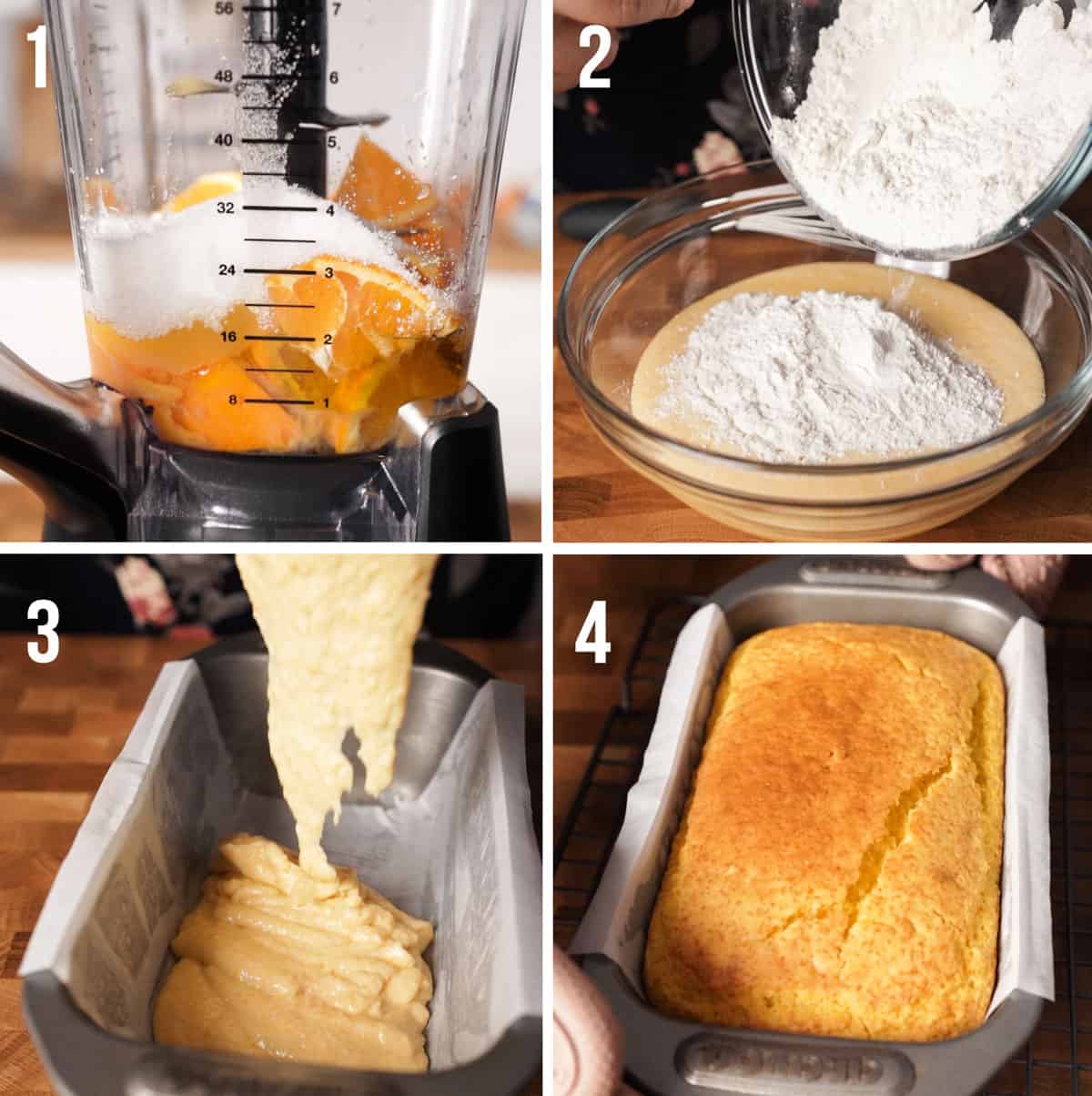 Blend: Add the whole orange, oil, eggs and sugar in a food blender and blend.
Whisk: Pour into a bowl and add in self-rising flour. Whisk to combine.
Assemble: Pour into a loaf pan.
Bake: Bake. Cool completely, slice and enjoy!
How To Store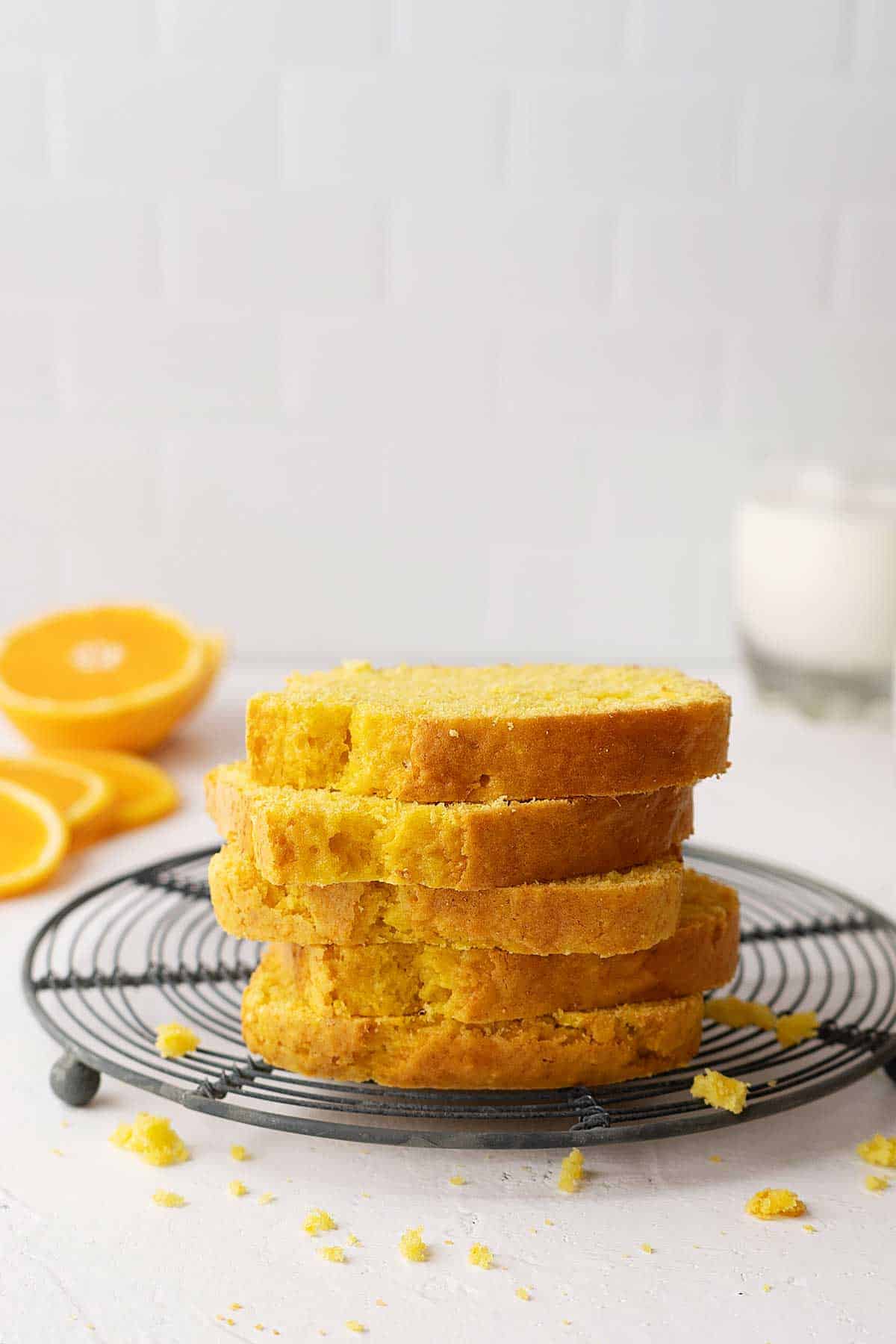 Room temperature - This delicious orange cake lasts up to 4 days in an air-tight container.
Fridge - It lasts up to a week, in an air-tight container. Bring it to room temperature before serving, or warm it up in a microwave for a few seconds. You won't regret it.
Freezer - Wrap each slice individually in cling wrap (easier to take the only amount that you need), and freeze. Best consumed within 3 months. Thaw at room temperature. Warming it up for a few seconds in the microwave will make it feels as if it just came out of the oven.
FAQs
What Does It Taste Like?
Like a fresh natural homemade orange cake that you eat when you visit somebody who bakes their entire life. So homemade and naturally fresh.
This cake is with amazing orange, citrusy flavor (and smell!). It's not overly sweet at all. It has that light hint of natural bitterness that you find in freshly squeezed orange juice. Not the artificial orange juice from the box that has 50 more ingredients added to it, alright?
This is just pure orange flavor transferred into a soft tender cake.
Is It Bitter?
Nope, it's not bitter.
Do you notice that freshly squeezed orange juice has that very light hint of natural bitterness to it? Well, that's the extent of bitterness (if we were to say it's bitter) in this cake.
Can I Use This Recipe For Other Citruses?
I know this recipe works magically with oranges. I haven't tried with other citruses though.
I have a killer lemon loaf cake that I really think you should try. It's also one of our readers' favorites!
Why in the video you don't use baking powder or leavening agents?
It's because I use self-rising flour which already comes with leavening agents to help the cake rises beautifully when baked. You can make your own self-rising flour, I've written the recipe down below.
My cake is dense, why?
Most probably due to 2 factors. 1) You've changed the recipe by using only all-purpose flour, thinking that it's the same as self-rising flour. It's not the same. See the question/answer above 👆. 2) You over-mixed the batter, producing gluten in the process which results in a dense and chewy cake. Less is always more, remember that.
My cake is not sweet, why?
Because of the orange. Use the orange to make juice from, not to snack on. Use a ripe, sweet one, the size of an adult's fist.
Or perhaps you're used to sweeter cakes. No worries. Simply add more sugar, I've written the adjustment in the recipe below.
My cake is bitter, why?
Due to 2 factors. 1) Again, it's the orange. Use oranges to make juice from, not to snack on. Those oranges are so common. Remove the seeds if any. See the question/answer above 👆 . 2) Perhaps you're not familiar with the natural bitter touch of freshly squeezed orange juice. Might I recommend you my amazing lemon loaf cake then, I promise it's a hit. No blending whole lemons here.
Can I use another oil?
Of course! Any oil that you prefer. You can also use melted butter (7 tablespoon or 105 ml).
Can I use healthier flour?
I understand and I've got you. I've made this many times with whole-grain spelt flour and it turns out amazing every single time. Be alert on the baking time though as spelt flour tends to cook faster (we don't want your cake to over-bake and get dry).
Recipe Video
📖 Recipe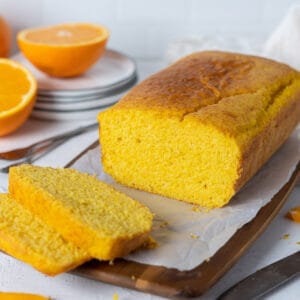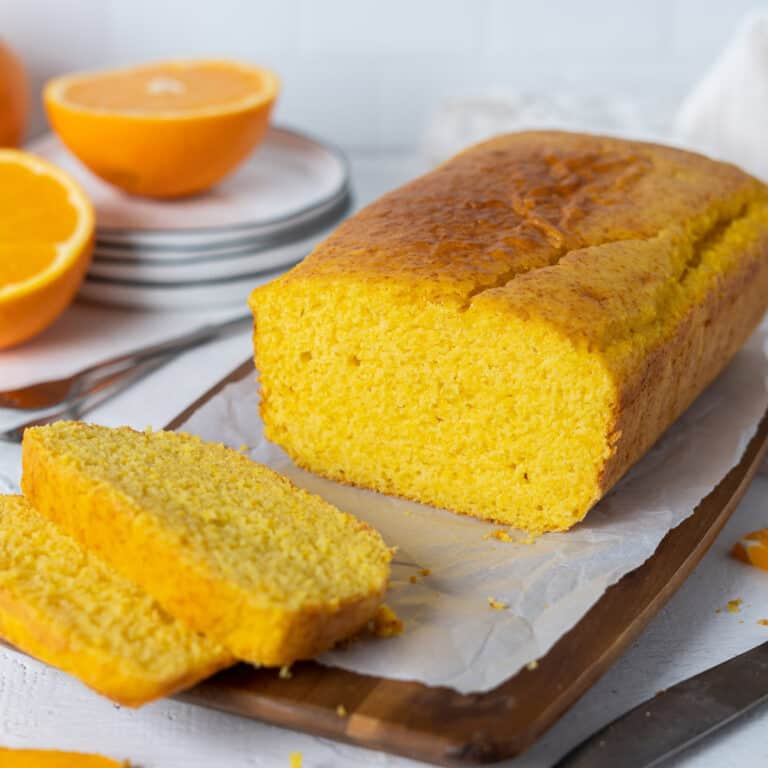 Whole Orange Blender Cake
Super easy orange cake recipe, just put all the ingredients in the blender and blend them away, that's how easy this recipe is. Soft, moist cake with amazing orange flavour and smell.
Print
Pin
Rate
Ingredients
Wet Ingredients
1

seedless sweet orange with skin

(or remove seeds if any)

3

large eggs

, room temperature

⅓

cup

vegetable oil

(

80

ml)

½

cup

granulated sugar

(

100

gr), add

¼

cup (

50

gr) more if you like it sweeter
Dry Ingredient
2

cup

self raising flour *

(

250

gr)
* Make Your Own Self Rising Flour
2

cup

all purpose flour

(

250

g)

3

teaspoon

baking powder

½

teaspoon

salt
Instructions
Wet Ingredients
Add all ingredients into a blender jar and blend into a smooth mixture and pour it into a bowl.
Dry Ingredient
Add flour into the mixture and mix everything together. You can use a spatula or a hand whisk. Do not over mix to avoid dense cake.

* If you're making your own self rising flour, mix all purpose flour, baking powder and salt in a bowl and use that flour mixture instead.
Bake
Pour the batter into a 5x9 inch (13x23 cm) loaf pan, previously greased and floured. Bake in a preheated oven on the ⅔ lower rack, using upper and lower heat, at 340ºF (170ºC) for 40 minutes or until a skewer inserted in the center comes out almost clean.

Remove from the oven and cool completely before slicing. Enjoy!
Notes
Use ripe, seedless, sweet orange with thin skin.
Use spoon and level method if you're using cup measurement.
Use a portable oven thermometer to make sure your oven has the accurate temperature. I use it every single time.
Check the doneness of your cake 10 minutes before the recipe says, to avoid over baking it (since all ovens are different).
Nutrition Facts
Calories:
273.6
kcal
,
Carbohydrates:
43.2
g
,
Protein:
6.6
g
,
Fat:
8.2
g
,
Saturated Fat:
1.5
g
,
Cholesterol:
46.5
mg
,
Sodium:
224.5
mg
,
Potassium:
83
mg
,
Fiber:
1.4
g
,
Sugar:
10
g
,
Calcium:
77.7
mg
,
Iron:
1.6
mg
Originally published on Aug 16, 2017. Updated with improved text, recipe and pictures on Apr 16, 2022.