Everybody loves chocolate, right? When we made a poll in our Youtube channel between gingerbread or chocolate flavoured dessert, chocolate won with a landslide.
Hence the birth of this ohhh decadent double chocolate cheesecake that's too good to be true. But it is! It's not using bain-marie method so guess what? It's going to be a super easy and less hassle one.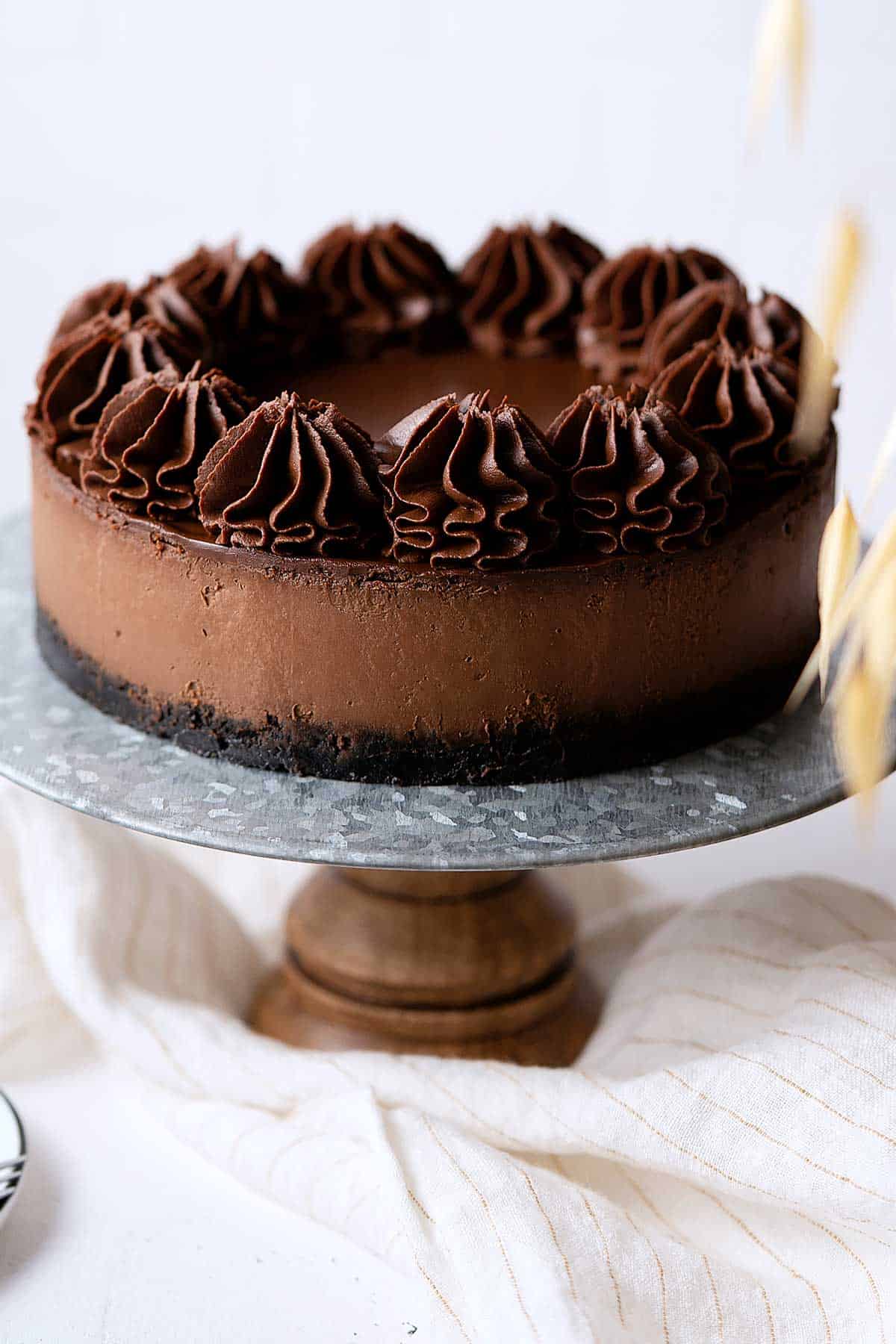 Let's check it out, shall we?
Jump to:
Recipe Highlights
Taste and texture - decadent and creamy chocolate cheesecake filling with oreo base and yes, chocolate ganache as topping.
Level - easy but with bearing a few things in mind. See tips below.
Method - direct baking (no bain-marie needed).
Occasion - perfect for holidays or to impress, or hey whenever you fancy.
Lets Talk Ingredients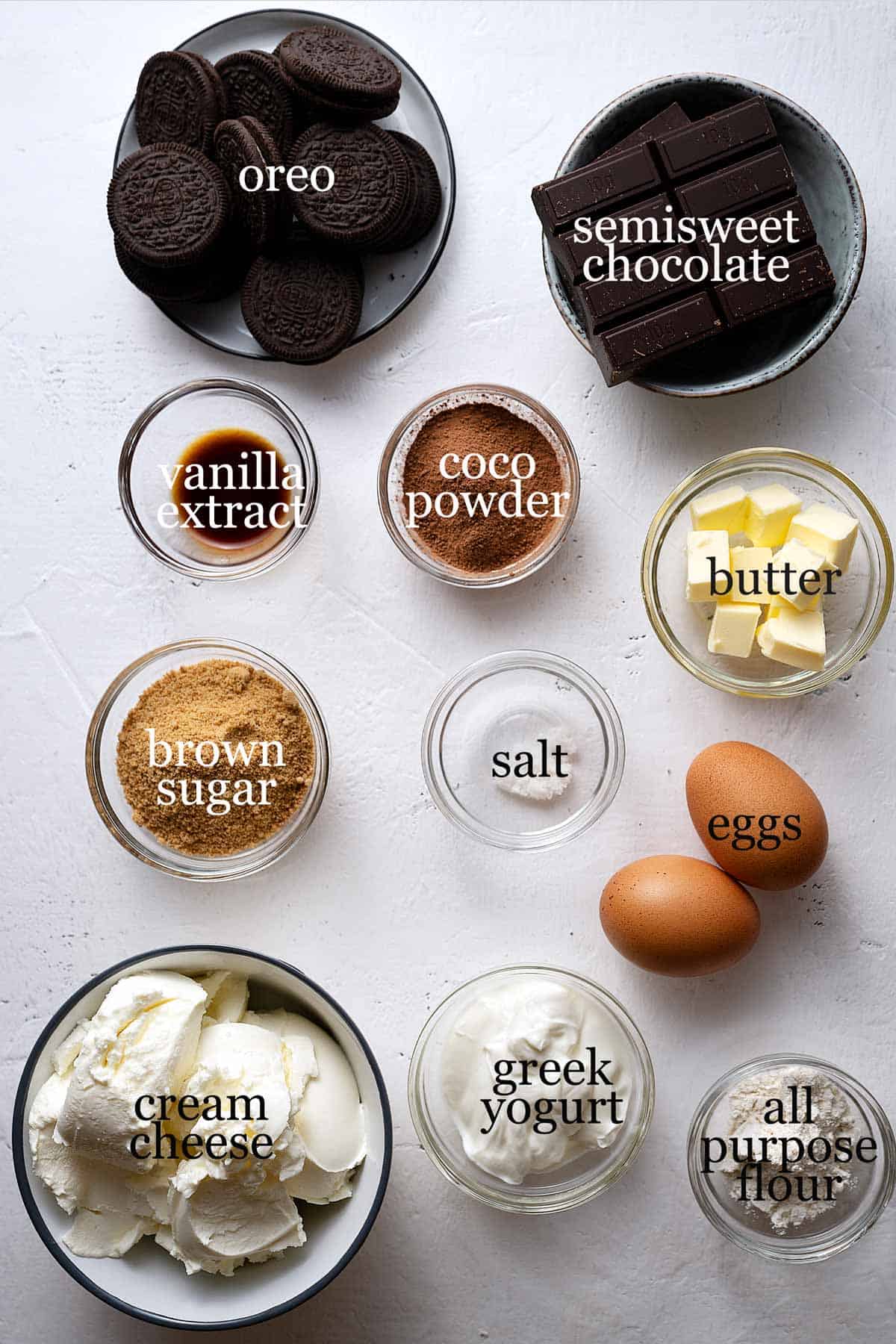 Cream cheese - full fat, please. Pure cream cheese, non of those whipped ones. Could come in bricks or tubs.
SUBSTITUTION: Use mascarpone instead, just know that it'll be double rich.
Greek yogurt - full fat also, please. Sour cream works great as well.
Semisweet chocolate - I use 55%. You can use darker chocolate, just know that it'll effect the taste (less sweet).
Brown sugar - any brown type will do, for that caramel hint. White or coconut sugar also works fine.
How To Prevent My Cheesecake From Cracking
Yes, lets talk about that.
The beauty of a baked-cheesecake is that smooth top, with no cracks at all. Right? Usually people use the bain-marie method to achieve that but what if I told you there's a way that's easier and less hassle?
Follow my tips, understand the reason behind them and your cheesecake will never crack, ever again.
Less is more - whisk as little as you possibly can whenever you're mixing ingredients. This prevents incorporating air into the mixture thus avoid cracking when baked.
Low speed - whether you're using a standing or handheld mixer, always use the lowest speed. Same reason as above.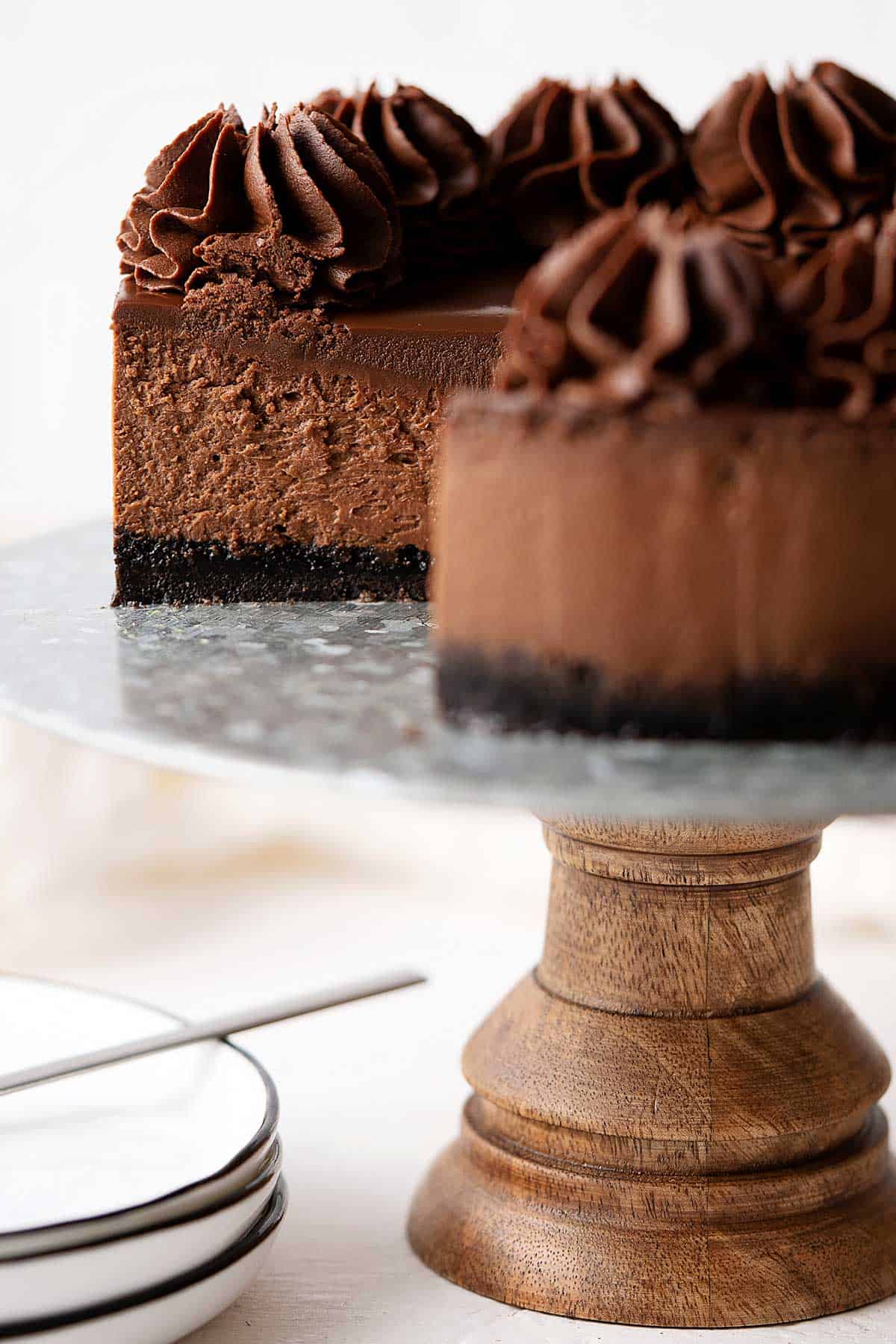 Low oven temperature - each oven is another world. Make sure you're reading the accurate temperature by using a portable thermometer. I use one like this. Ovens can vary in temperature easily by 20 degree, and that's too much. Baking in a very low temperature ensures the cheesecake to cook slowly and evenly. It's like mimicking bain-marie.
Conventional mode - meaning your oven only provides heat from the upper and lower part of the oven, without circulating any hot air. Hot air makes the cheesecake (or any bake goods) dry and cracks. Convection ovens are also easily 25-35 degree hotter, which we don't want. Same reason as above.
Ingredients temperature - last but not least, make sure you follow the temperature mentioned for each ingredient. Everything is thought of so that mixing all ingredients are easier and faster with less whisking. See first reason.
More Chocolate Recipes
Recipe Video
📖 Recipe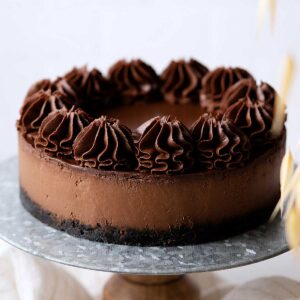 The Best Double Chocolate Cheesecake
The best and the only double chocolate cheesecake recipe that you'll need. Made easier without bain-marie method and no cracks guaranteed. Decadent creamy chocolate filling with oreo base and chocolate ganache on top. Yum!
Print
Pin
Rate
Ingredients
The Base
14

oreo cookies with filling

, crushed (

1 ½

cup cookie crumbs or

150

g)

3

tablespoon

unsalted butter

(

45

g)
The Filling
12

oz

full fat cream cheese

(

340

g), room temperature

⅓

cup

Greek yogurt

(

80

g), room temperature

⅓

cup

brown sugar

(

55

g), packed

2

tablespoon

all purpose flour

(

16

g)

1

teaspoon

vanilla extract

2

tablespoon

natural cocoa powder

(

10

g)

¼

teaspoon

salt

6

oz

semisweet chocolate 55%

(

170

g), chopped

2

large eggs

, room temperature
Chocolate Ganache
6

oz

semisweet chocolate 55%

(

170

g), chopped

¾

cup

whipping cream min 35% fat

(

190

ml)
Instructions
The Base
Mix cookie crumbs and butter in a bowl, using a spoon. Pour into a 7 inch (18 cm) springform pan and press evenly. Place in the freezer for 30 minutes.
The Filling
Using a standing mixer, add all ingredients into the mixing bowl except for semisweet chocolate and eggs. Using the paddle attachment at lowest speed, mix everything well. Do not over mix at any point in this recipe. Set aside.

In another bowl, melt the semisweet chocolate in microwave or use double boiler. Now pour into the mixing bowl and immediately mix until well incorporated. Set aside.

In another bowl, lightly beat the eggs. Now add in the cheese mixture into the egg bowl in 3 additions, mixing well after each addition. Use a hand whisk. Pour the mixture into our prepared pan and spread evenly. Give it a few taps on the kitchen counter.
Baking
Bake in a preheated oven at 265ºF (130ºC) using a conventional mode (no fan-assisted), at lower ⅔ rack, with upper and lower heat for 55 minutes or until the edges set and the center still wiggle when you lightly shake the pan.

Remove from the oven and leave to cool completely before chilling it in the fridge for 8 hours. I'd recommend this step as it develops further the flavour.
Chocolate Ganache
Heat whipping cream in a pot until the second that it starts to boil and then immediately pour into a bowl containing the chopped chocolate. Leave for 30 seconds and then mix everything together using a hand whisk.
Assembling
Remove cheesecake from the fridge and pour half of chocolate ganache on top. Swirl the pan to help cover all the surface. Place cheesecake back in the fridge while waiting the balance of the ganache is firm enough to pipe.
How To Remove Cheesecake From The Pan
Run a knife all around the cheesecake to help loosen it up. Release the spring and remove the ring. Run a knife all around under the cheesecake base to loosen it. Insert 2 big flat spatula underneath, on opposite direction. Swiftly yet confidently lift up the cheesecake using the spatulas and place it on a serving plate.

Pipe the ganache on top and it's ready to serve. Enjoy!
Notes
Pack brown sugar (for cup measurement)
Use portable oven thermometer (like this one) for a more precise temperature reading (I use it too)
Refer to my post above for ingredients notes and tips
Like any other cheesecakes and more with this one that has ganache, I don't recommend you to put it out at room temperature for hours as it will effect the texture. 1 hour out max, then place it back in the fridge.
Nutrition Facts
Calories:
454.9
kcal
,
Carbohydrates:
34.6
g
,
Protein:
6.2
g
,
Fat:
33.2
g
,
Saturated Fat:
18.5
g
,
Cholesterol:
83.3
mg
,
Sodium:
212.3
mg
,
Potassium:
287
mg
,
Fiber:
3
g
,
Sugar:
23.9
g
,
Calcium:
76.4
mg
,
Iron:
3.8
mg