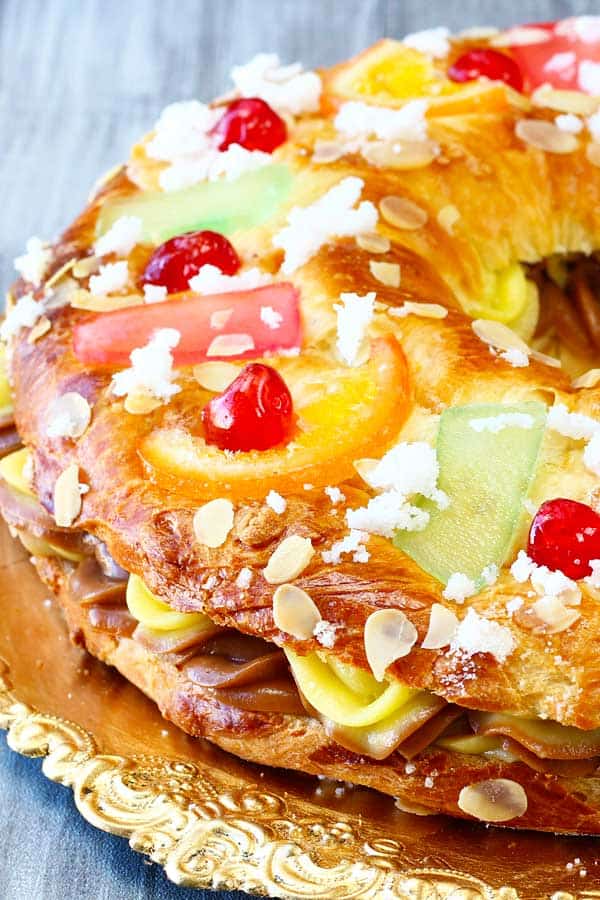 Roscón de Reyes or Three Kings bread is a sweet bread that's traditionally served here in Spain on Three Kings day. Three Kings day is traditionally celebrated on 6th January, in some countries on first Sunday after 1st January.
Orange blossom water is usually used in the recipe for this bread. I didn't use it because nobody in my family likes the taste. So if you like it, by all means use it.
This sweet bread is decorated with candied fruits, almond flakes and snow sugar (that's how I call it) to resemble the crown. Some put kings miniatures inside the bread, as a surprise for the kids but that could be inviting some unwanted incidents. I wouldn't want them to choke on the miniatures.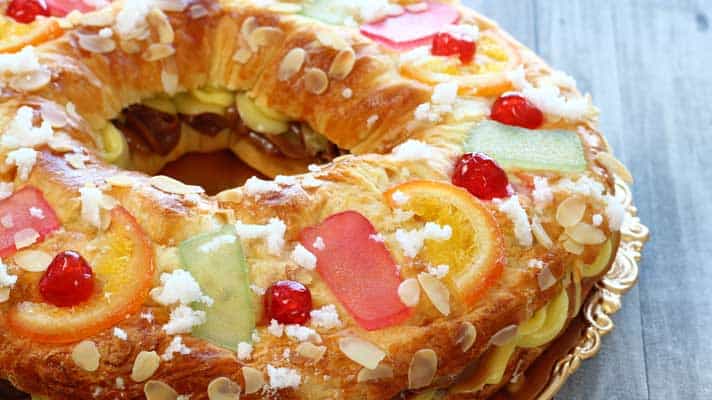 I have been making this Three Kings bread for some years and since it's always cold in this time of the year, the bread dough does take a while to rise. Usually I will measure and prepare all my ingredients the night before so that I can start very early in the morning.
Tips
Well these are not really tips. They are just the things that I noticed all these times making the bread and I thought I'd share them with you.
The dough is going to be sticky at first but don't worry. Don't be tempted to add more flour.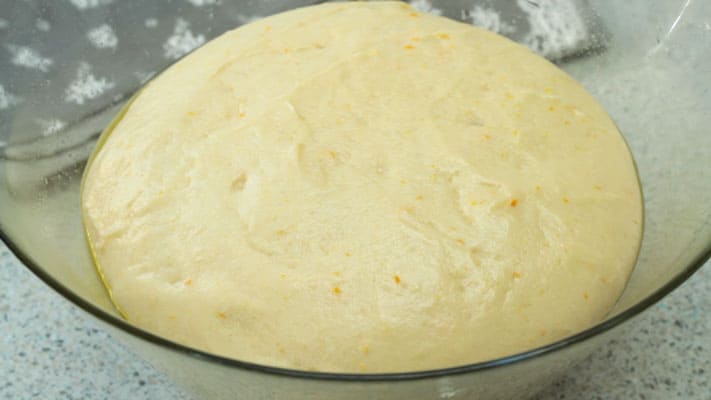 When it comes to adding the butter, make sure to use soften butter, cut into small cubes. This is going to make it easier for the butter to blend in with the dough. Also, have patience at this stage. Add in 1-2 cubes at a time and knead until the butter is fully incorporated before adding more.
Yes it's going to take quite a while but it's worth it. After the butter is all added you will see the dough getting sticky but have faith, it's going to come together. Continue kneading another 10 minutes and you will see. Using a trusty standing mixer is very very helpful at this stage.
As I mentioned earlier, this is a sticky dough..not like a pizza dough. So even when it comes together it will still be sticky. You can see in the video the final texture of the dough.
Since the recipe uses quite amount of butter and eggs, the dough will take a while to rise. So start early if you can.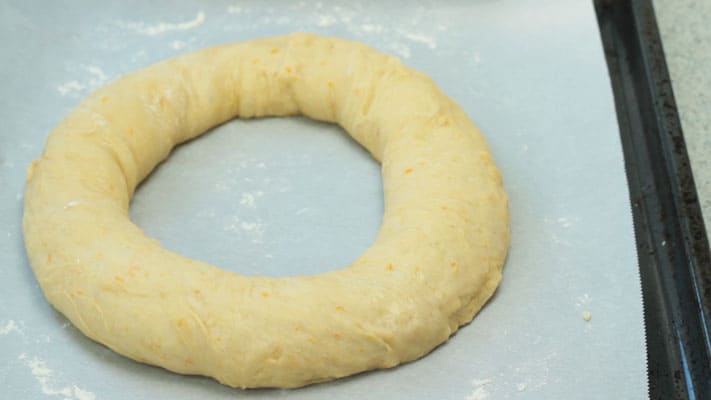 When it comes to shaping the dough into a ring, do the way you feel comfortable and confident with. Just make the inside hole bigger than you think it should. This is because the hole is going to get smaller when we leave the dough to rise again and during baking.
Talking about rising. Don't over rise your dough. It tends to not rise beautifully in the oven and collapses after baking if it's over risen.
Oven's temperature. Since each oven is with different temperatures so know yours. If the oven temperature is low, the bread also tends to collapse after you take it out from the oven.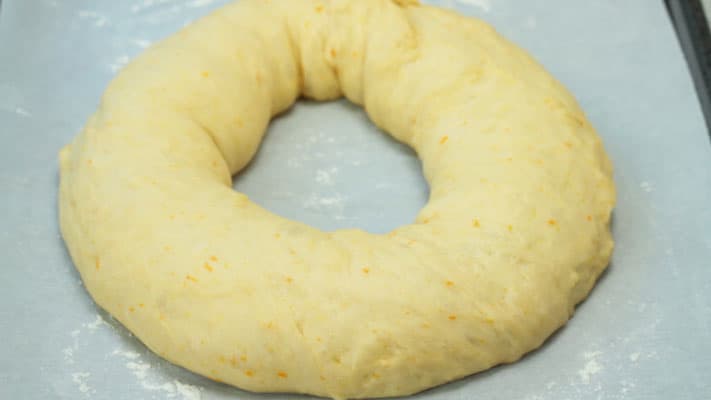 If you see the bread is getting brown too fast, place an aluminum foil on top of it and continue baking. This will prevent it getting darker while it continues cooking.
After you've taken the bread out from the oven, leave it to cool completely on a rack before slicing it. Since the bread is soft and huge, ask somebody to help you moving the bread top.
You can use whatever filling that you like, of course. I used custard and made 2 flavors out of it. Vanilla and Nutella. Make the custard a bit thicker than normal or if you're using instant custard powder, add less water than the packet instructions. We want the custard a bit thick than normal so that it can hold the weight of the bread top and end up looking nice.
Well I think that's all. Have fun making this Three Kings bread!
More Sweet Bread Recipes
Recipe Video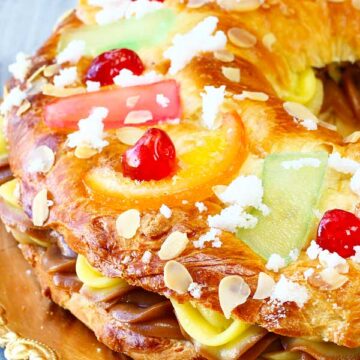 Three Kings Bread
Three Kings bread or rosca de reyes! Soft and fluffy sweet bread filled with custard and Nutella. Yes, 2 flavors. Make and serve this yummy bread on Three Kings day.
Print
Pin
Rate
Ingredients
The bread
½

cup

milk

(

125

ml), warm

1

teaspoon

granulated sugar

2 ¼

teaspoon

dry yeast

(

7

gr)

2 ⅔

cup

bread flour

(

350

gr)

¼

teaspoon

salt

½

lemon, the zest

2

clementines, the zest

1

teaspoon

vanilla extract

1

tablespoon

rum

(optional)

2

eggs

, room temperature

½

cup

granulated sugar

(

100

gr)

½

cup

unsalted butter

(

113

gr), soften & cut in small cubes

1

egg

, beaten for egg wash

some candied fruits

, to put on top

some almond flakes

, to put on top
The snow sugar
2 ½

tablespoon

granulated sugar

½

tablespoon

water
The filling
5

cups

custard

½

cup

nutella
Instructions
The bread
In a bowl, add in warm milk, 1 teaspoon sugar and mix. Sprinkle in dry yeast and stir a bit. Leave the mixture to get foamy, around 3-5 minutes.

In a standing mixer bowl, add in bread flour, sugar, salt, eggs, lemon zest, clementine zest, vanilla extract, rum (optional. you can use orange blossom water if you like) and previously prepared yeast mixture. Mix to incorporate and then knead for 15 minutes. The dough will be sticky, don't worry.

After 15 minutes of kneading, add in soften butter 1-2 cubes at a time. Knead until the butter is fully incorporated before adding more. After the butter has all incorporated, knead for 10 minutes more. Have faith, the dough will come together. It's still going to be a sticky dough but somewhat together.

Place the dough in an oiled bowl and cover the bowl tightly with cling film. Leave until it rises double in size in a warm and draft free place.

After the dough has doubled its size, pour it onto a floured working surface. Lightly knead it for 1-2 minutes and then form it into a ball. Using one floured finger, poke a hole in the middle of the dough ball. Twist it in circles to help make the hole bigger. Then stretch the dough so that you have an even bigger hole. The objective is to make the hole bigger than you think it should, because it's going to get smaller when the dough rises again and during baking. You can watch this step clearer in the video.

Once you have the huge holed donut shape like dough, place it on a baking tray with baking sheet and some flour. Arrange, adjust and tuck in here and there so that it looks nice. Leave it to rise until it doubles its size again.

Once it has doubled its size, gently brush its surface with egg wash. Then you can decorate it as you wish, using candied fruits, almond flakes and snow sugar. To make the snow sugar, simple mix the snow sugar ingredients together.

Bake in a preheated oven at 360ºF (180ºC) for 25 minutes or until golden brown and fully cooked. Cover with aluminium foil if it gets brown too fast. Once it has fully cooked, remove from the oven and leave it to cool completely on a rack before slicing in half.
The filling
Take half of the custard and mix it with some Nutella. Then put each custard flavor in its individual piping bags and cut off the tips. Using another piping bag that's slightly bigger, place a nozzle inside and slide in both of the custards piping bags. Make sure both of the tips are inside the nozzle.

Take the bread bottom and place it on a plate where the bread is going to be served. Pipe the custard filling all around the sliced bread surface. Pipe a second layer so that the filling is visible and looks nice. After that, gently place the bread top on the filling. Serve and enjoy!
Nutrition Facts
Calories:
524.9
kcal
,
Carbohydrates:
72.9
g
,
Protein:
12.5
g
,
Fat:
20.3
g
,
Saturated Fat:
12.2
g
,
Cholesterol:
128.9
mg
,
Sodium:
188.4
mg
,
Potassium:
414.9
mg
,
Fiber:
2.8
g
,
Sugar:
30.6
g
,
Calcium:
234.6
mg
,
Iron:
1.9
mg