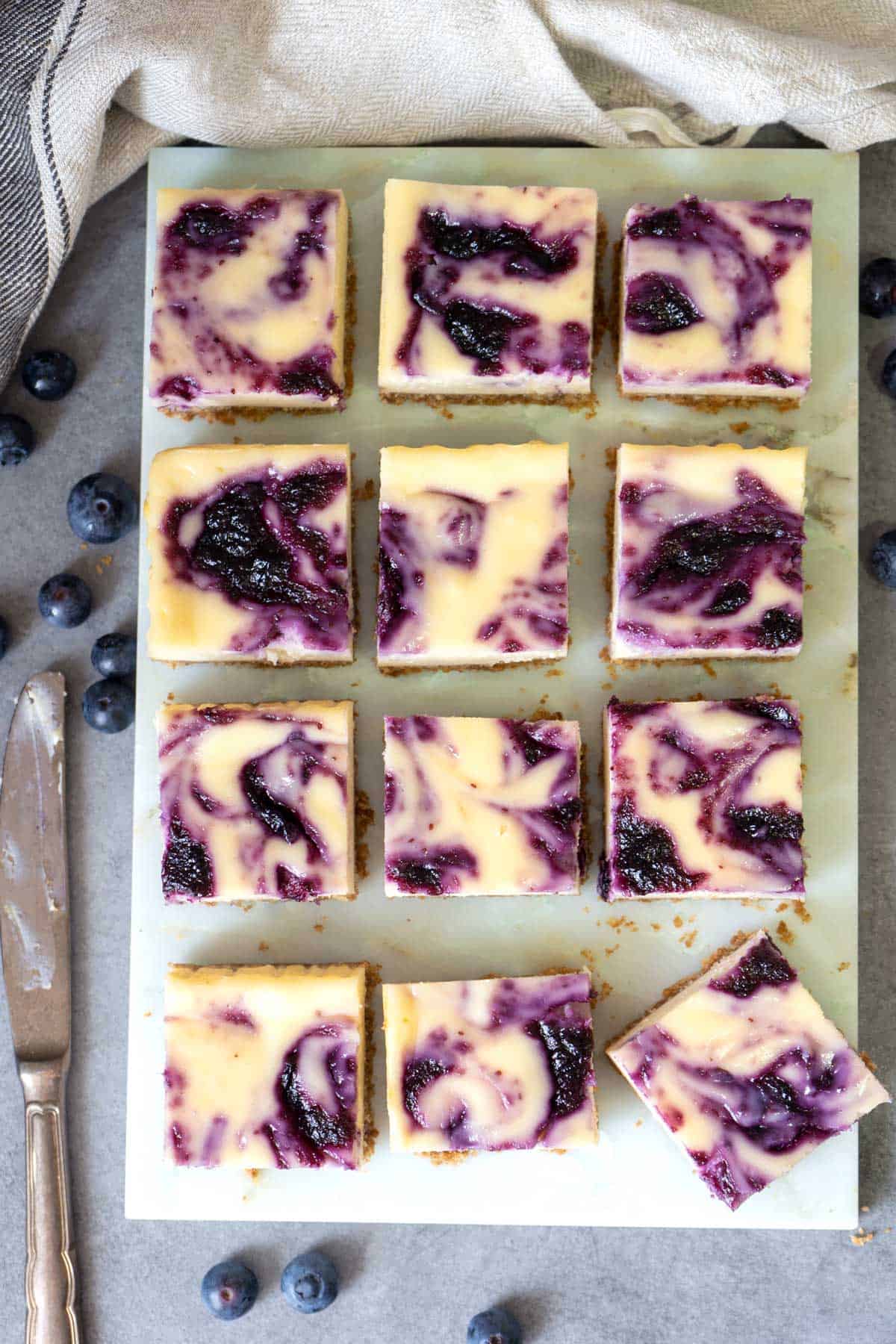 And just like that, I'm back with oh-you-really-have-to-make-this blueberry swirl cheesecake bars!
Seriously, I mean it. Make it and thank me later.
Let's go!
Disclosure: some of the links below are affiliate links, meaning at no extra cost to you, I will get a small commission if you click through and make a purchase. Everything I mention in this post is what I personally use and recommend.
Creamy Cheesecake Bars
Yes, and super creamy is the appropriate word.
Imagine luscious creamy cheese texture against your lips as you bite into these wonderful cheesecake bars. Imagine the taste of coconuty crust with that hint of lemon, the sweet and wonderful tangy taste of the blueberry coulis, all in one heaven bite. Close your eyes and imagine, if that's going to help.
Oh yeaaaaah!
Can you tell I'm excited about this?
If you've been around our website for a while then you'd know that everybody loves our cheesecakes around here. And I'm so excited (yes, I'm repeating the word, I know) to share this recipe with you today!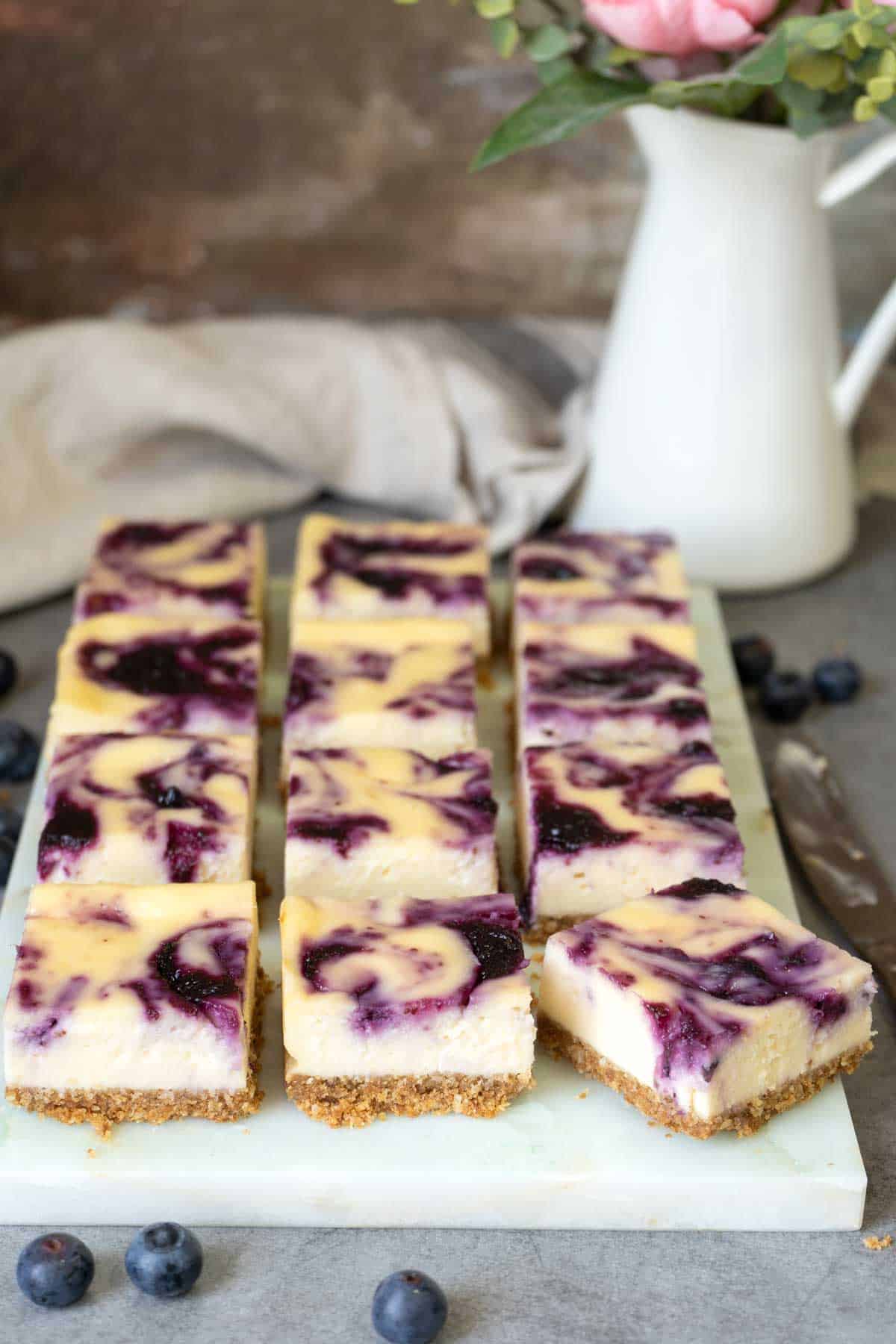 Tips To Have A Perfect Baked Cheesecake
I've been sharing tips on how to get it right when it comes to baked cheesecakes and no worries, I'm going to share them again here with you so that your cheesecake will come out perfect.
Just read and follow my tips below.
Less is more - whisk as little as you can when you're mixing the ingredients. Over whisking/mixing will incorporate too much air into the batter and that's what is going to create cracks when we bake the cheesecake later.
Use low speed - use the lowest speed on your electric hand whisk when you're mixing. I use speed 1 in mine. If you're whisking it with a hand whisk, then don't go crazy. Remember, we don't want to incorporate air into the batter.
Low oven temperature - ok this is subjective. Every oven is made differently. Mine is not the same as yours, obviously. To get a precise internal oven temperature, I always use an oven thermometer like this one. And for baked cheesecakes, we want the temperature to be low. Baking it at a high temperature will make it crack.
Ingredients temperature - when I give out recipes I always specify the temperature of ingredients unless it doesn't matter. So if I specify cream cheese at room temperature, make sure you use the same. You might not think that's important but it is. Having certain ingredients at room temperature will make it easier to be mix/whisk and whatnots. And when they're easier to mix, then it means less whisking, then it means less air incorporated in the batter. See what I mean?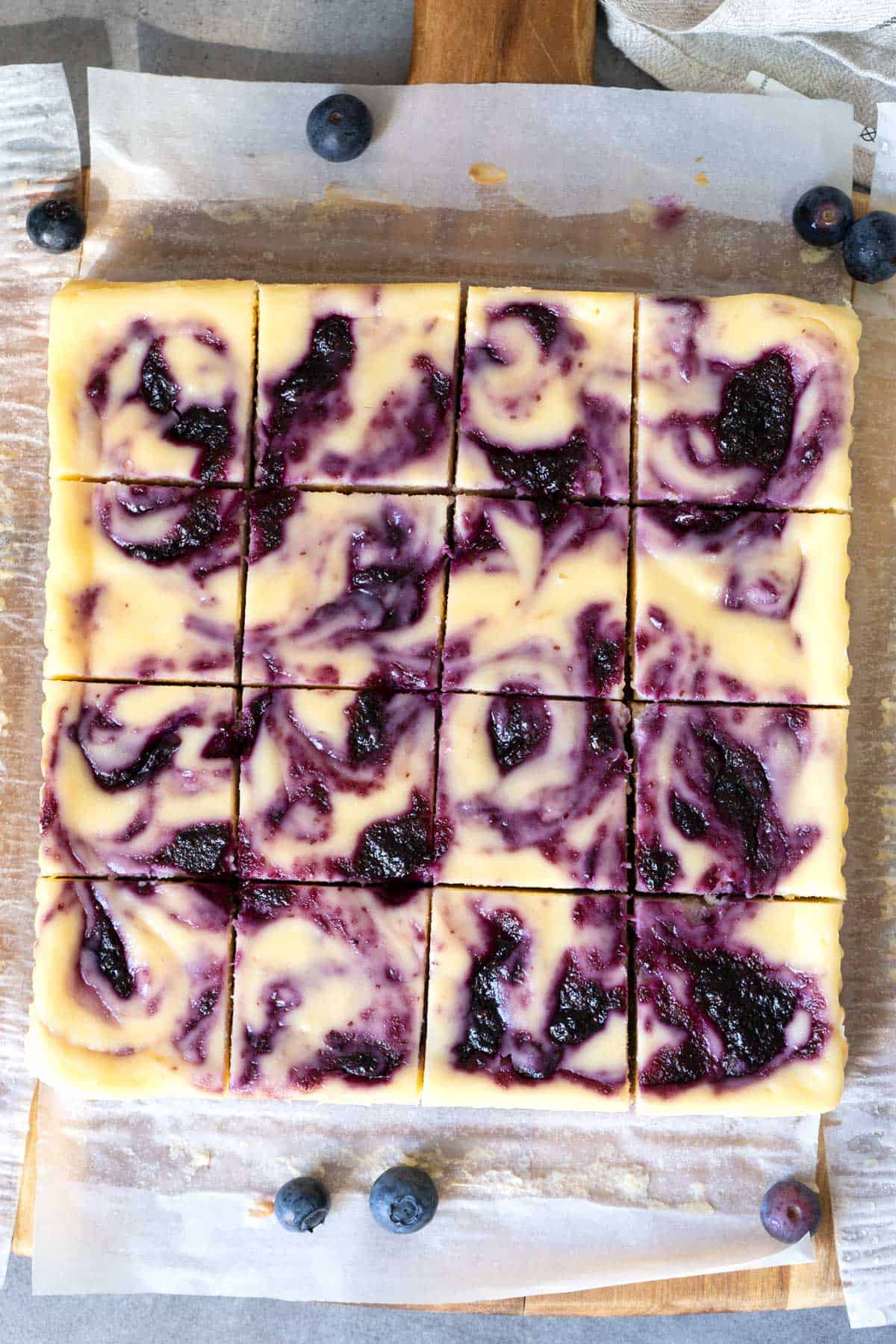 Blueberry Coulis
Don't get intimidated about this. There's nothing complicated about making this blueberry coulis.
You basically throw all of the ingredients and cook them on medium heat until the blueberries start to break down. I like to mash my blueberries because I love the finer texture. You don't need to do this, if you don't mind. I just thought that the coulis would look smoother like this.
Also, I didn't use all of my coulis. When I tested this recipe, I used it all and I find the final look turned out to be a tad overcrowded. If you don't mind then by all means use it all.
If you love this then you simply have to make my healthy blueberry crumb bars!
I really hope you'd give this a try. Let me know what you think!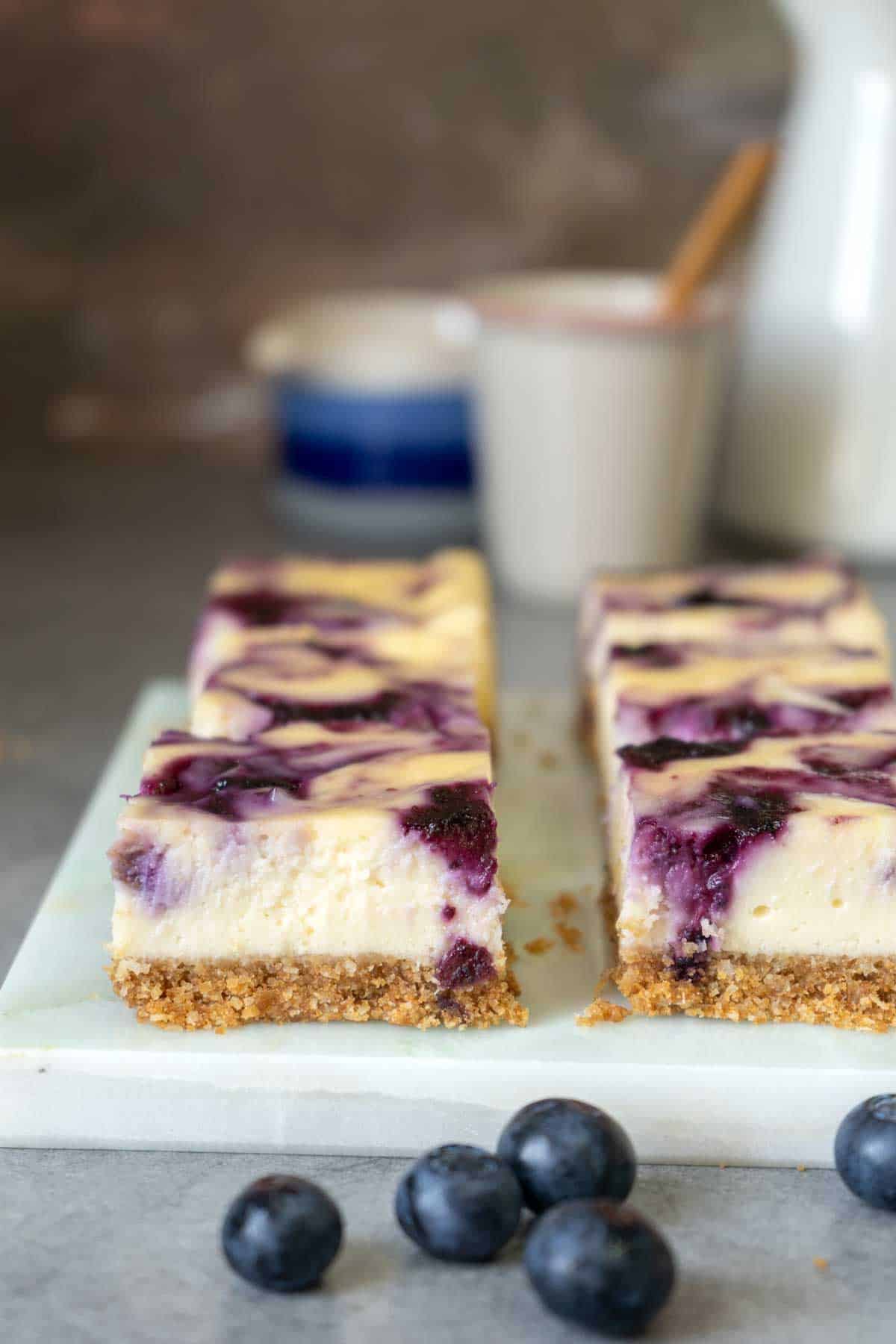 In Summary
These blueberry swirl cheesecake bars are:
a must try if you're a cheesecake lover, no excuse!
super creamy, luscious with coconuty lemony base and sweet tangy blueberry coulis
is actually very easy to make, with just typical ingredients
perfect for gatherings and when you want to wow your guests
come on, they're just SUPER DELICIOUS!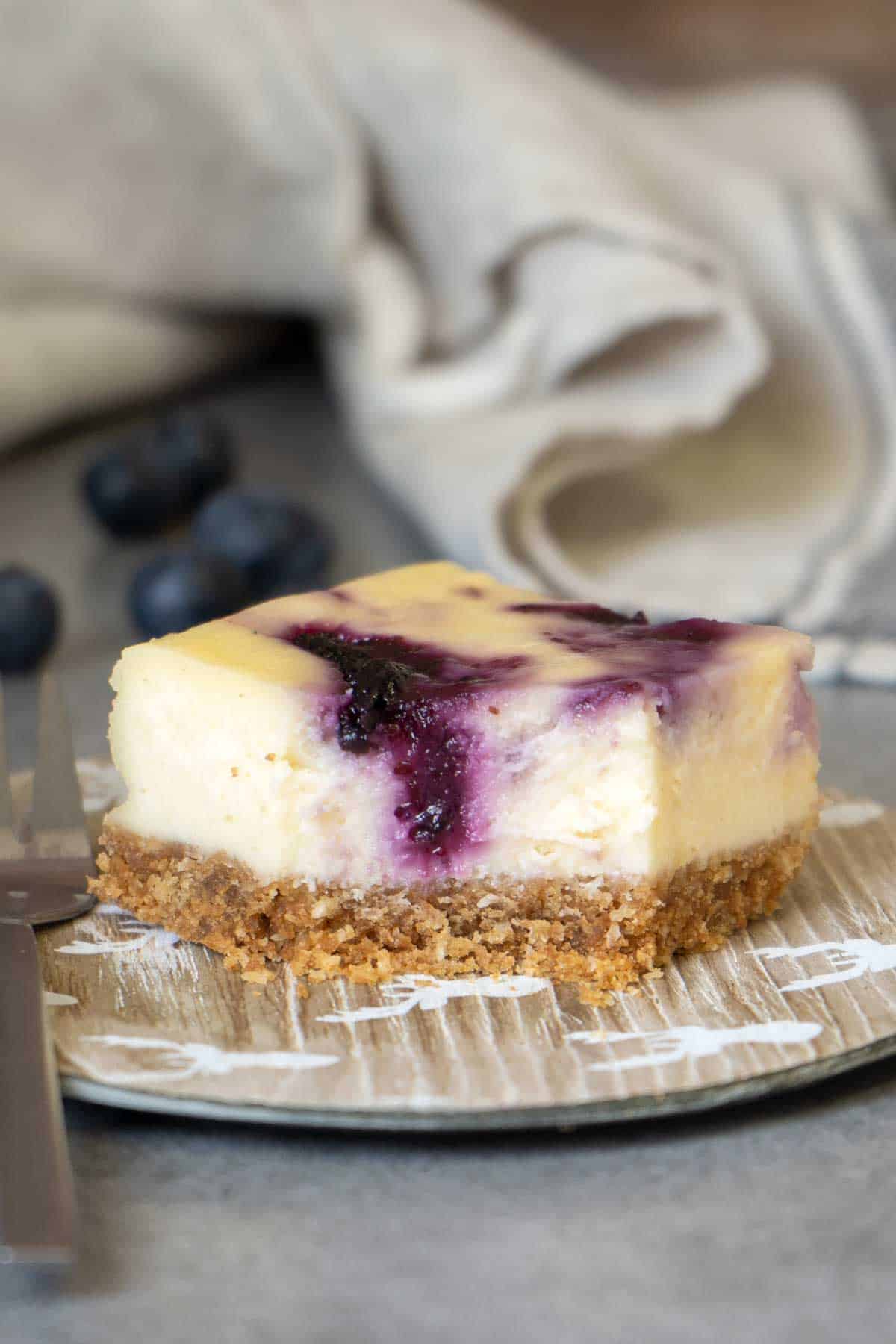 Looking For More Blueberry Recipes?
Video
📖 Recipe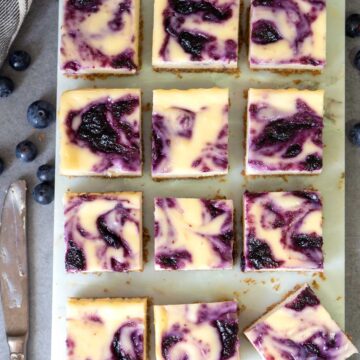 Blueberry Swirl Cheesecake Bars
These blueberry swirl cheesecake bars are a must try for you cheesecake lovers. A classic. Super creamy luscious cheese filling with coconuty lemony base and sweet tangy blueberry coulis. Read my tips on how to get it right. Follow my instructions, refer to my tips and you will have amazing, super yum and beautiful cheesecake bars. Yes!
Print
Pin
Rate
Ingredients
The Blueberry Coulis
1

cup

blueberry

(

150

g)

¼

cup

sugar

(

50

g)

2

tablespoon

lemon juice
The Base
1 ½

cup

digestive biscuits crumbs (

150

g)

¾

cup

unsweetened desiccated coconut

(

60

g)

zest of 1 lemon

⅓

cup

unsalted butter

(

80

g), melted
The Cheesecake Filling
16

oz

full fat cream cheese

(

450

g), room temperature

1 ¼

cup

sour cream

(

285

g), room temperature

1

cup

sugar

(

200

g)

3

tablespoon

all purpose flour

(

24

g)

1 ½

tablespoon

lemon juice

1

teaspoon

vanilla extract

3

large eggs

, room temperature
Instructions
The Blueberry Coulis
Add all of the ingredients into a pan and bring it to a simmer on medium heat. Continue simmering for 5 minutes of until the blueberries start to break down and the sauce thickens. Using a spatula, mash them into fine texture.

Heat off, pour coulis into a bowl and set aside to cool completely before using.
The Base
Mix everything well and pour the mixture into a 9 inch (23 cm) square pan that has been buttered and lined with a parchment paper. Place in the freezer for 30 minutes.
The Cheesecake Filling
Put cream cheese into another bowl and using a hand held mixer, whisk just until it gets creamy. Now add in sour cream, sugar, all purpose flour, lemon juice, vanilla extract and mix everything well. Set aside.

Break the eggs into a different bowl and lightly whisk them. Pour the eggs into the cream cheese mixture and using a spatula, fold and mix everything together. Pour the mixture into our prepared pan and spread evenly using an offset spatula.

Now spoon the blueberry coulis randomly on top. Make swirls and then gently shake the pan to even out the top surface.

Bake in a preheated oven (no fan) at 285ºF (140ºC) for 55 minutes or until the surrounding has set but the center still wiggle when you gently shake the pan. Remove from the oven and cool completely. Then chill in the fridge for min 8 hours before slicing and serving. Enjoy!

Note: please refer to my tips above on how to prevent the cheesecake from cracking.
Nutrition Facts
Calories:
323.5
kcal
,
Carbohydrates:
29.1
g
,
Protein:
4.4
g
,
Fat:
21.9
g
,
Saturated Fat:
13
g
,
Cholesterol:
81.3
mg
,
Sodium:
163.9
mg
,
Potassium:
125.1
mg
,
Fiber:
1.3
g
,
Sugar:
21.6
g
,
Calcium:
61.9
mg
,
Iron:
0.8
mg