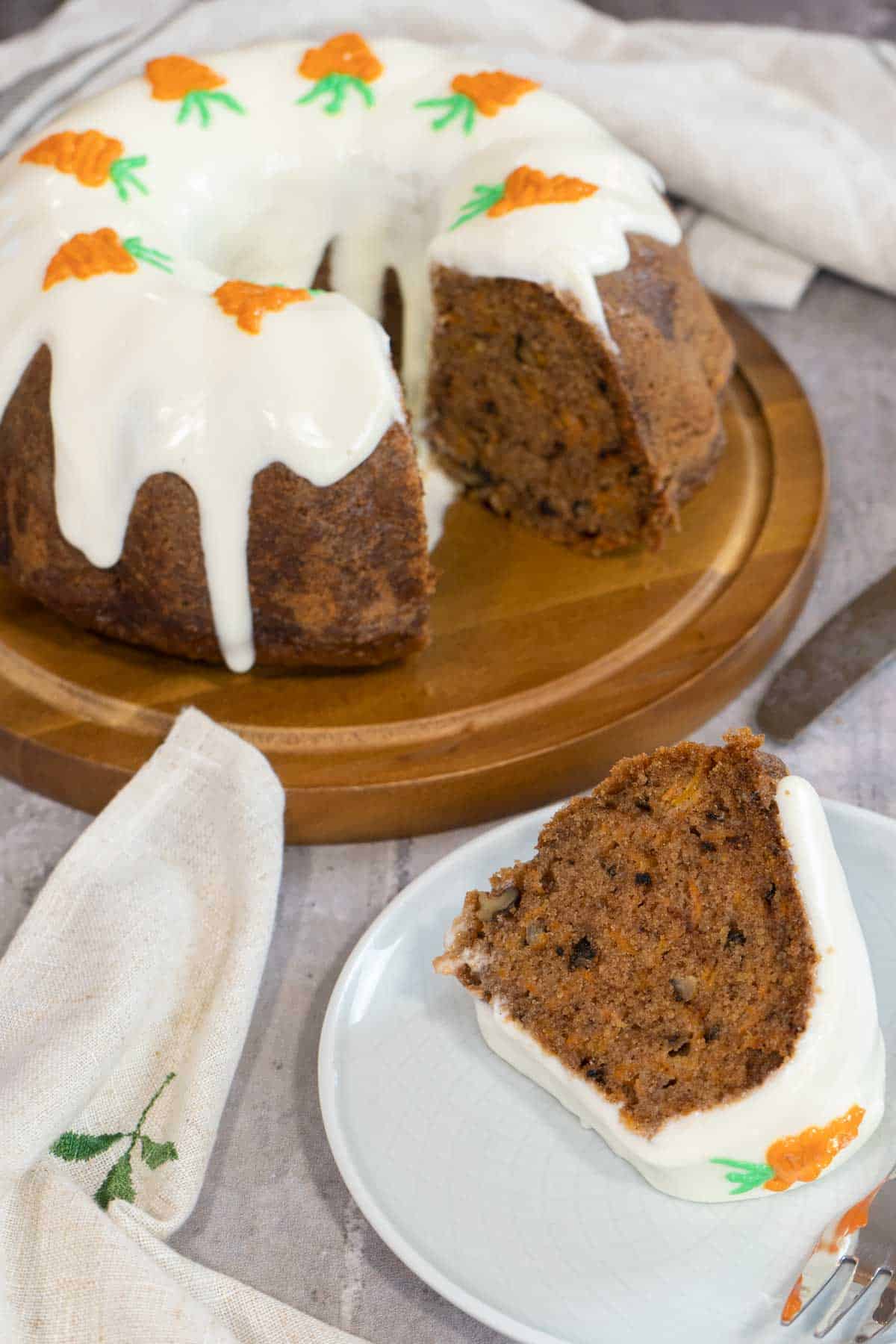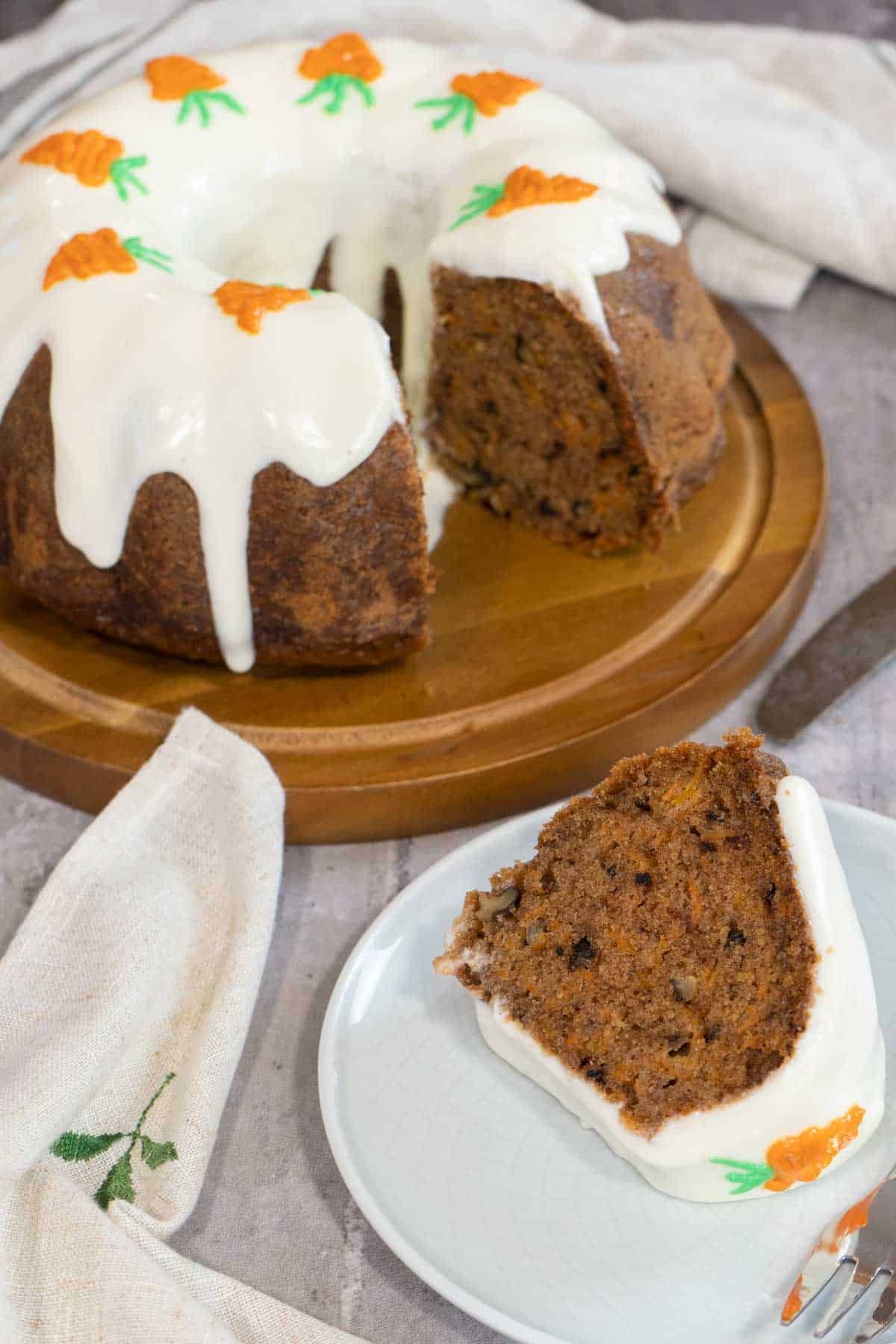 Hey, lovely people! Let's do some simple baking, shall we?
Today's super easy recipe is, yes as the name itself indicates, easy carrot cake! I've adapted my other carrot cake recipes so that this one is with simpler ingredients but you know the taste is just equally delicious.
Let's get started.
Limited Baking Situation
I don't know about you but I'm with limited baking ingredients these days. I'm in Spain, in case you're wondering. Which part of the world are you from?
I'm rationing in my mind all the eggs that we have in the house, which at this moment are around 10 eggs? I'm also mindful when using butter because all I have is just 1 tub unopened and the other one is almost gone. Fresh fruits are also limited. Right now we have few lemons, some mandarines, few pears and apples. Not much varieties, I know.
And don't get me started on bread flour and yeast. Haha!
But hey, of all the things that I'm lacking in the kitchen, I'm extremely grateful that we're doing fine. We have food to put on the table. And we're staying safe at home and taking all the safety measurements.
This recipe came to be due to the limited baking situation that I mentioned earlier. I thought a simple cake with simpler ingredients would be great these days.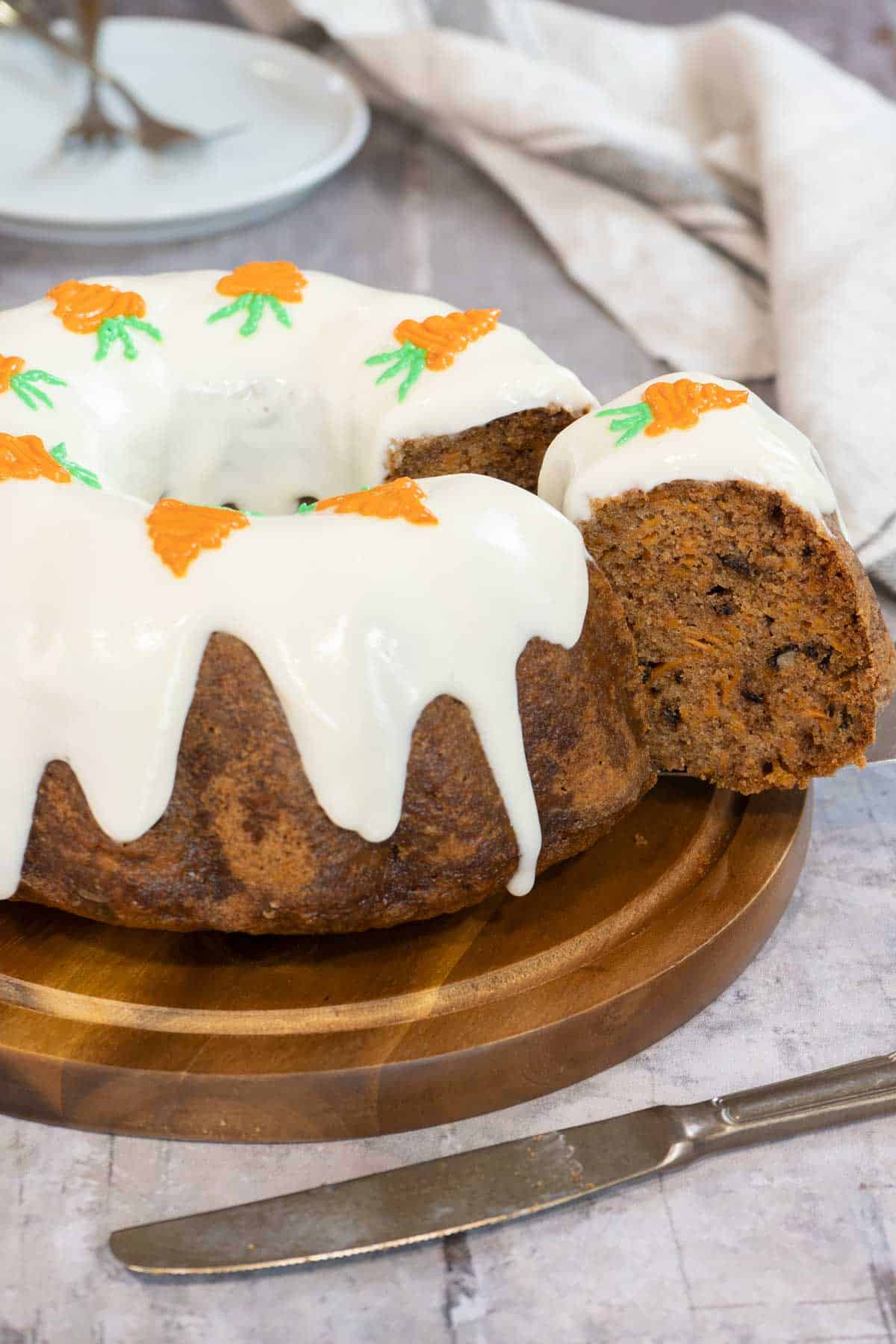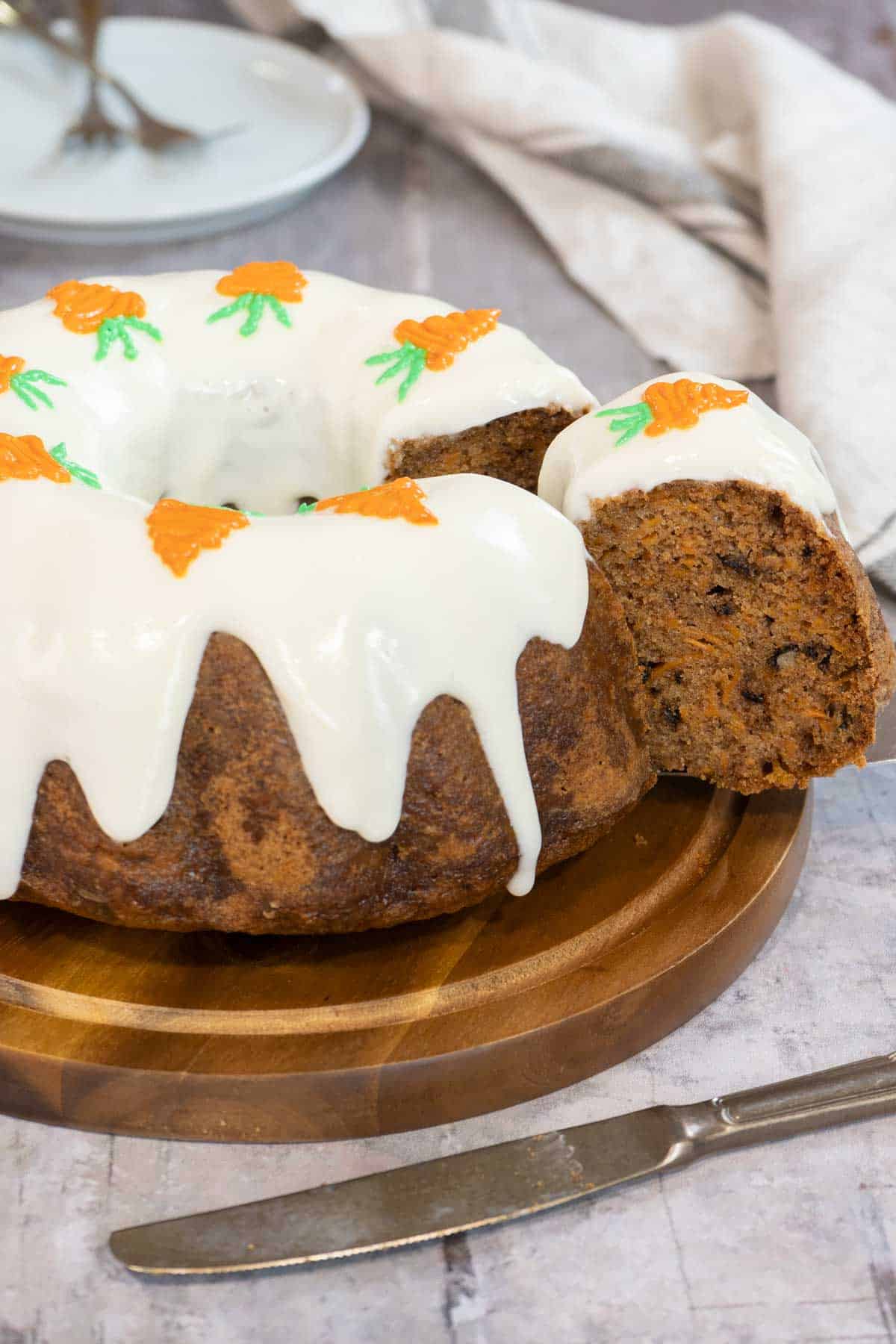 Even Better The Next Day
Oh did I tell you that this recipe doesn't need any butter? No fancy flours also, I'm using just all purpose flour. You can use all white sugar if you don't have any brown sugar. It's totally fine.
And yes, this cake does taste better the next day. Since we have all the time in the world right now, we can take things slow and enjoy every process and moment, no? I'd recommend you to make this cake 1 day earlier. Glaze and enjoy it the next day.
Of course you can enjoy it on the baking day also, no worries. It'll be delicious!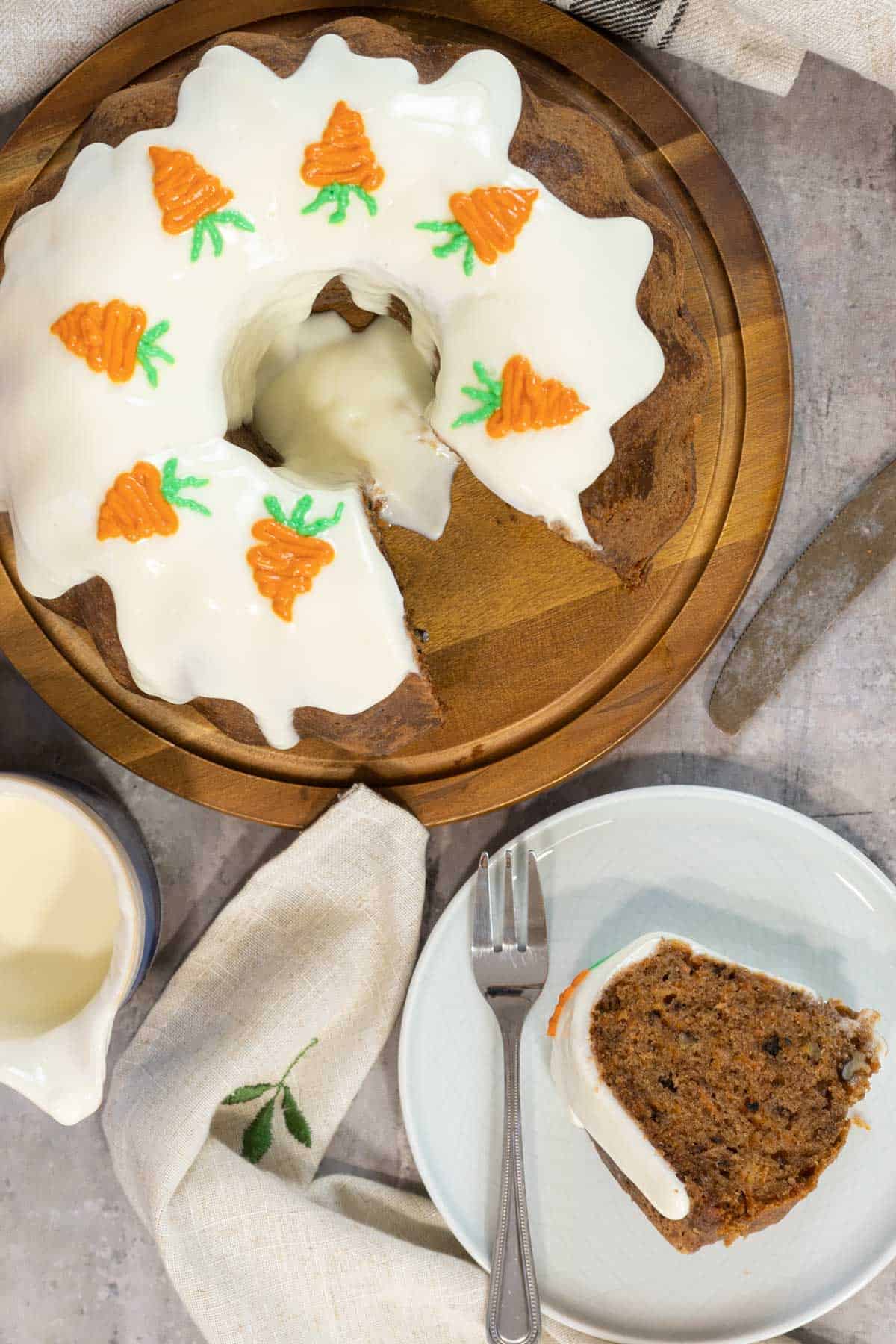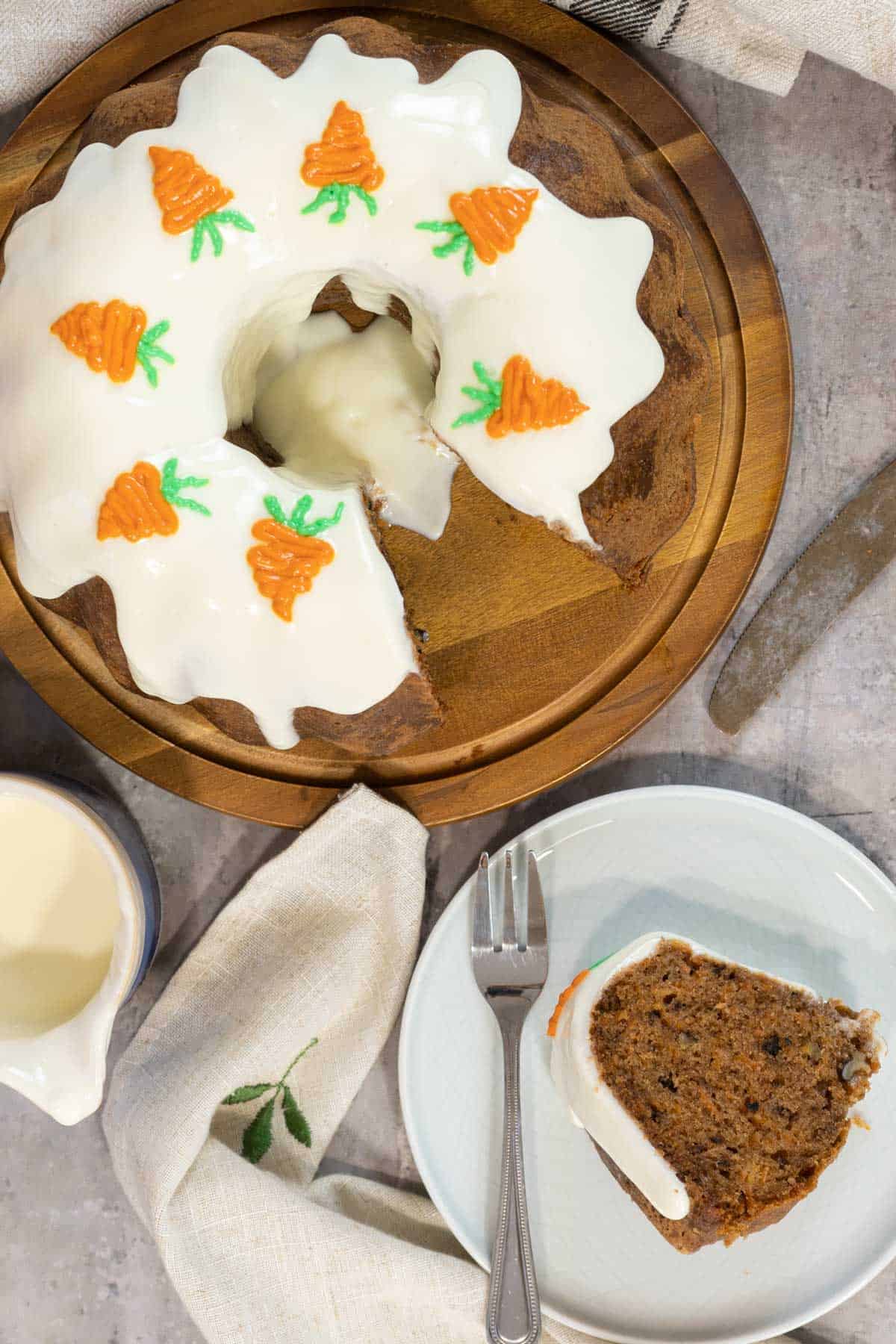 Share Your Limitations
Yes, do share with me.
What are the limitations in your kitchen these days when you're baking or cooking?
What recipes, or tips or explanations would you like me to post in this website, so that I can be of some help to you.
What can I do?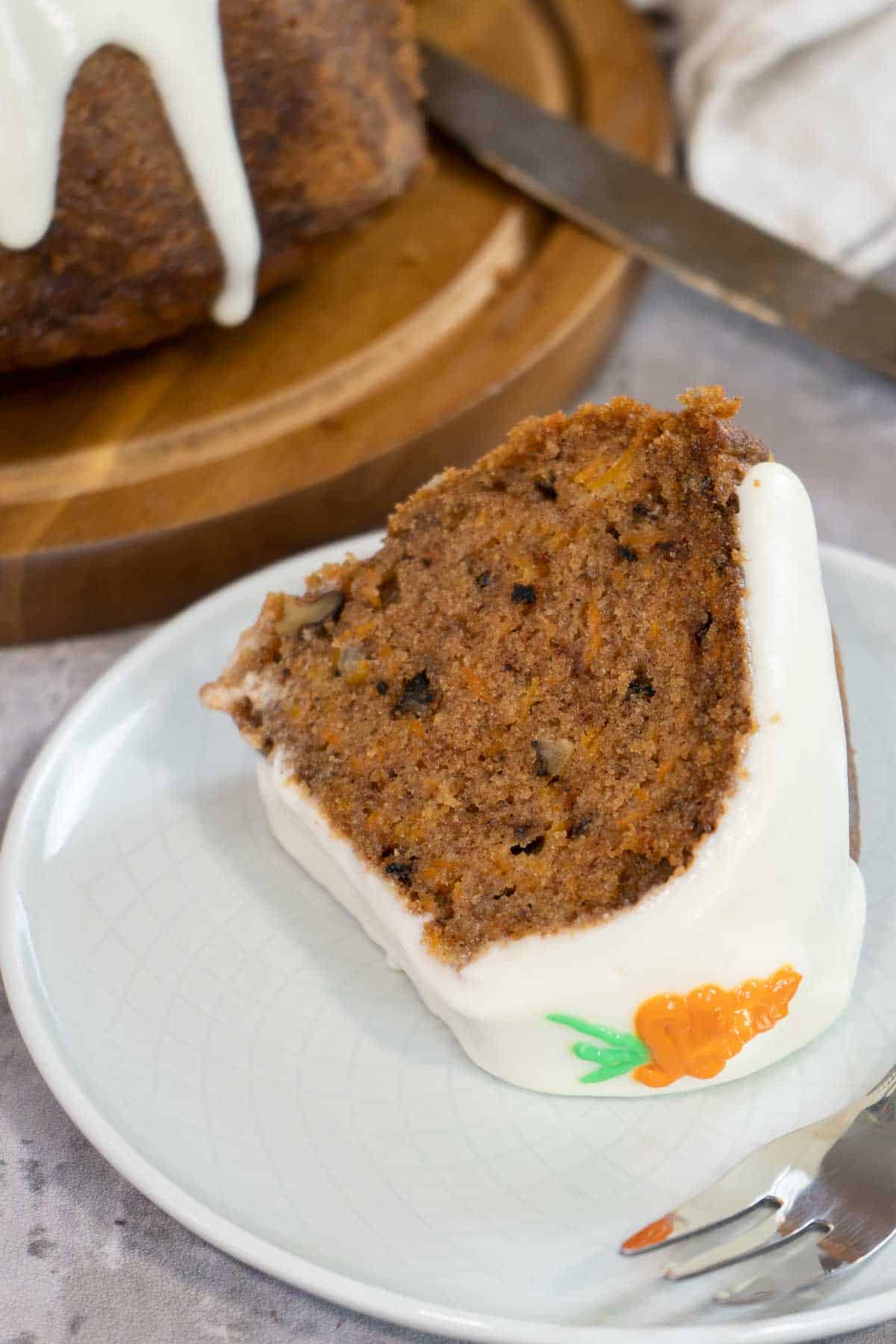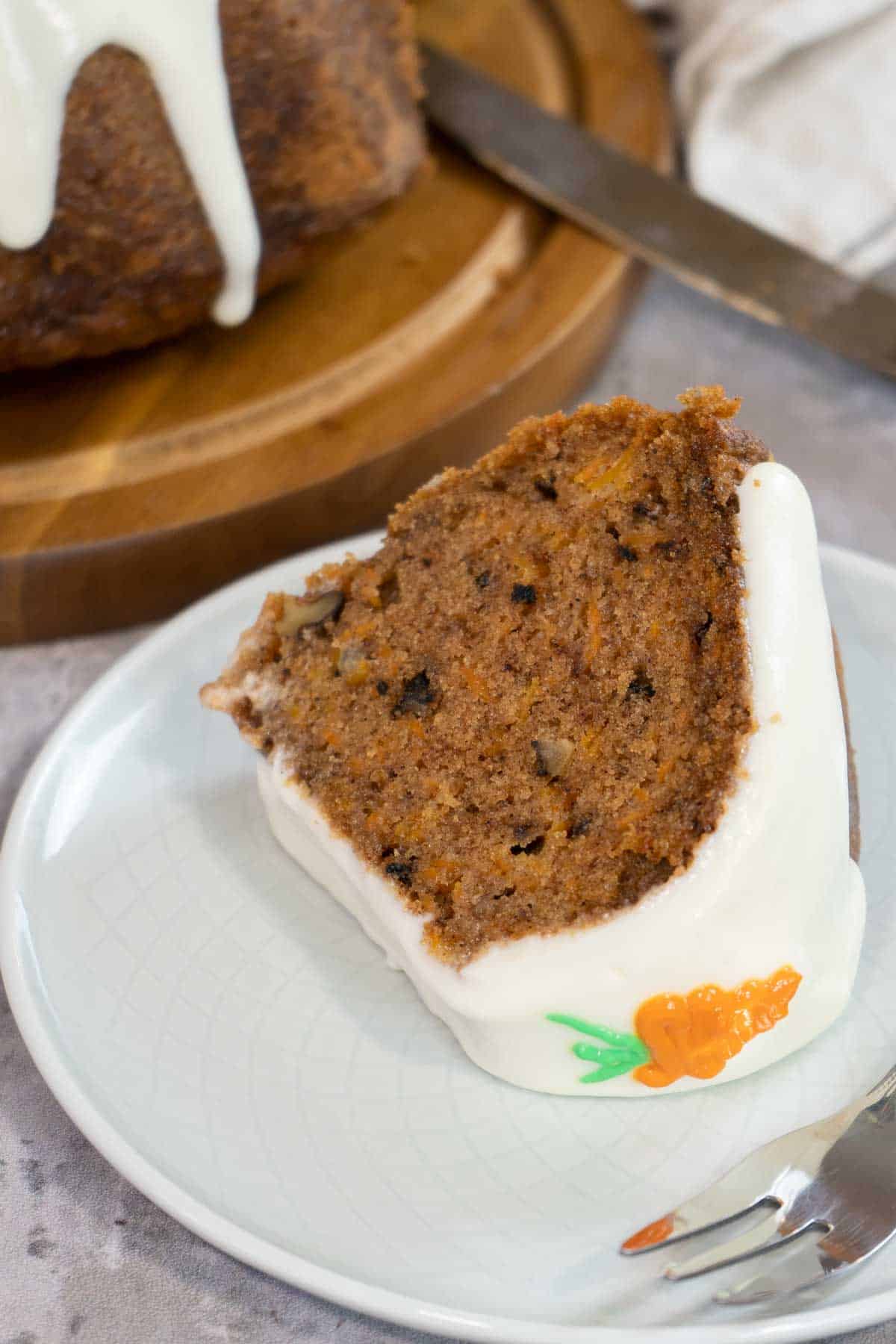 In Summary
This easy carrot cake is:
with simpler ingredients but equally delicious
adapted from my other carrot cake recipes
just what we need right now, pure joy in simple thing
oh yes, it's super fluffy and moist
YUMMY!! You know it!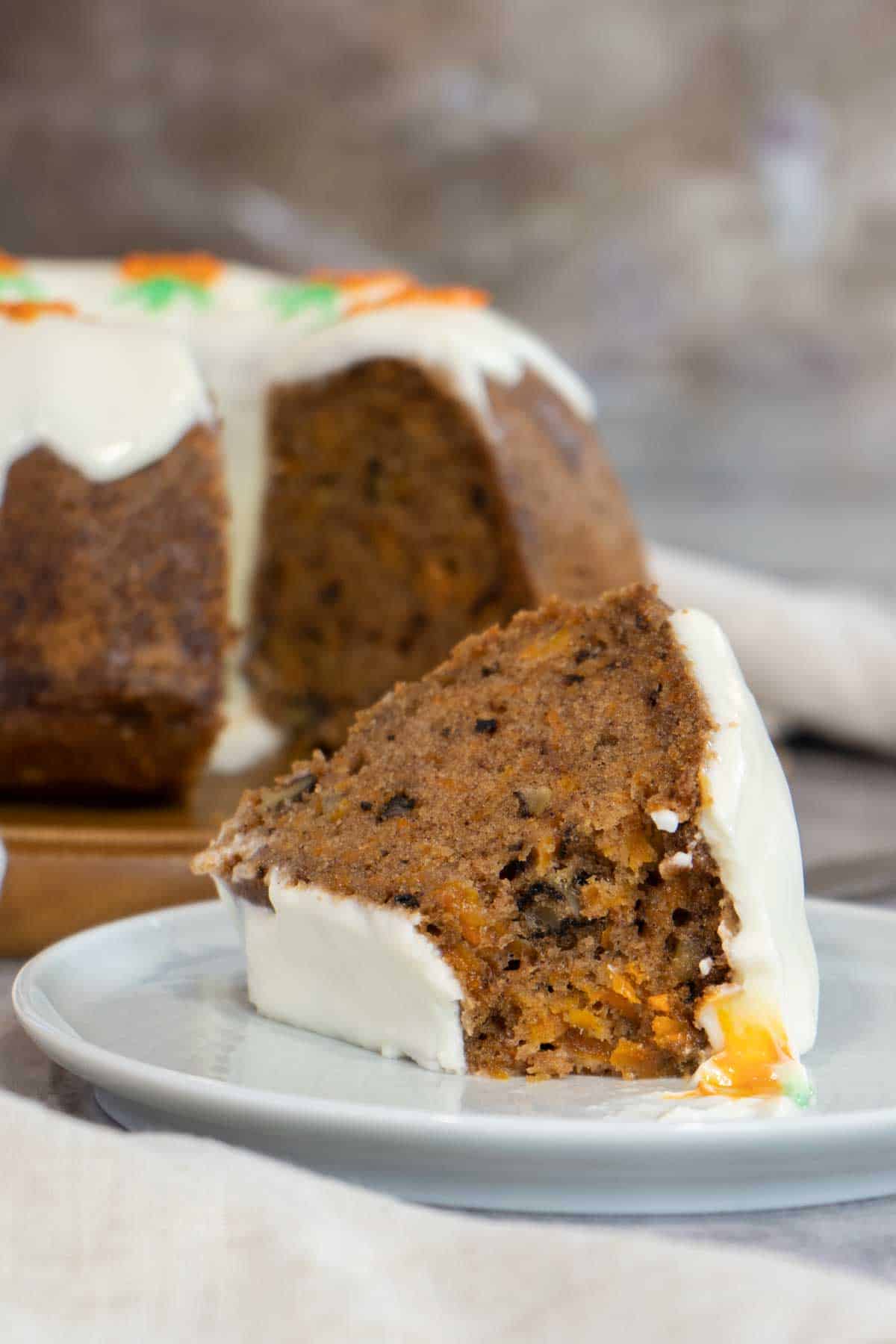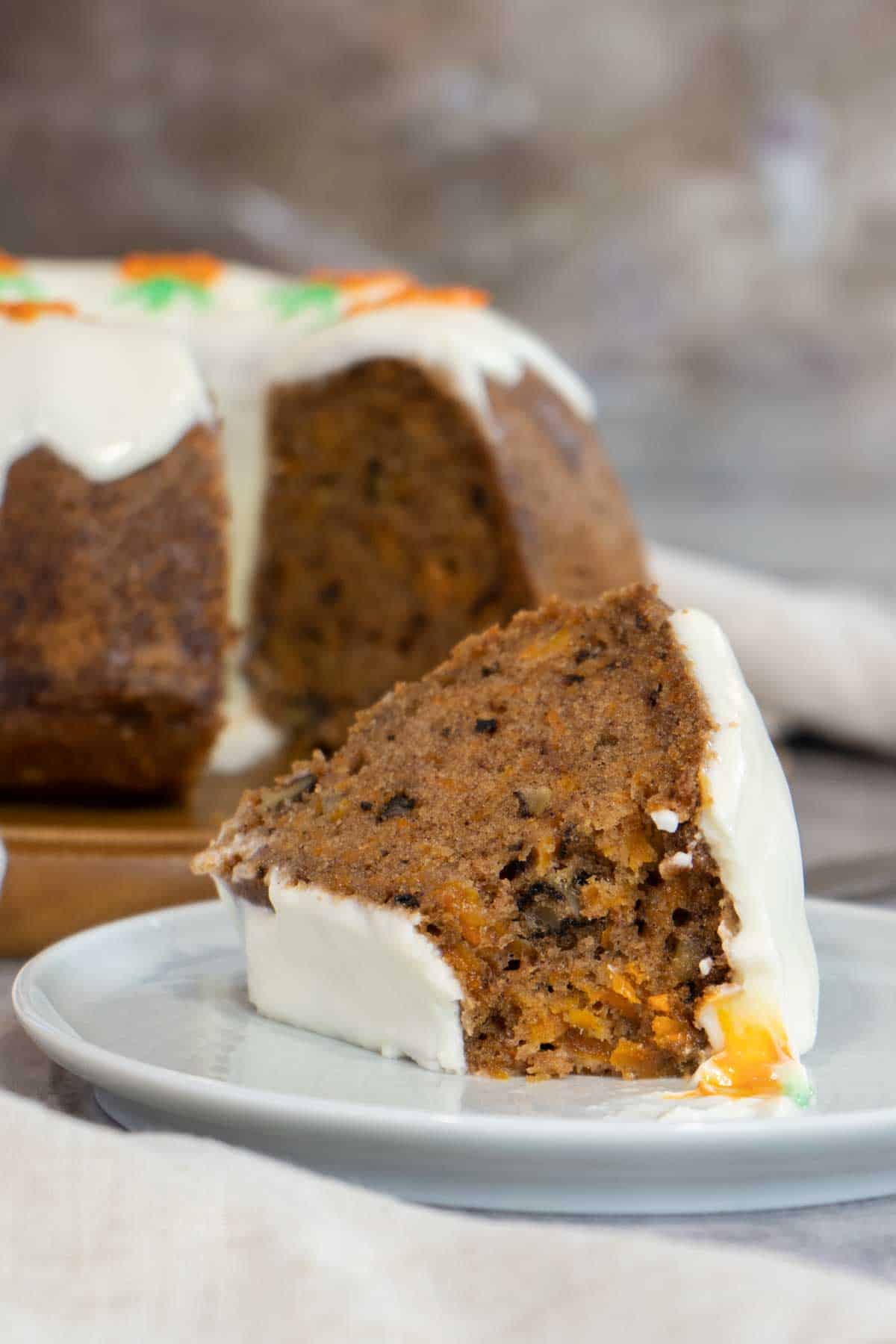 Hungry For More?
Video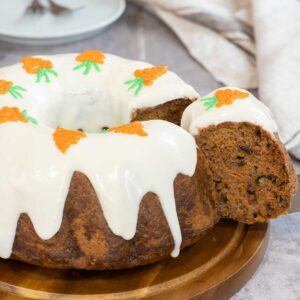 Easy Carrot Cake Recipe
No fuss, super easy carrot cake. Soft, fluffy and moist cake with cream cheese glazing. I adapted from my other carrot cake recipes to make this one with simpler ingredients. It's not overly sweet, do try!
Print
Pin
Rate
Ingredients
Dry Ingredients
1 ½

cup

all purpose flour

(

195

g)

1

teaspoon

baking soda

1

teaspoon

baking powder

½

teaspoon

salt

½

teaspoon

ground nutmeg

2

teaspoon

ground cinnamon
Wet Ingredients
3

cup

grated carrots

(

270

g)

½

cup

sugar

(

100

g)

½

cup

brown sugar

(

80

g)

4

large eggs

, room temperature

1

cup

oil

(

250

ml)

2

teaspoon

vanilla extract

½

cup

chopped walnuts

(

60

g)
The Cream Cheese Glaze
6

oz

cream cheese

(

170

g), room temperature

½

cup

powdered sugar

(

60

g)

1

tablespoon

lemon juice

milk

, as needed
Instructions
Dry Ingredients
Add all ingredients into a bowl and mix well. Set aside.
Wet Ingredients
Add all ingredients into another bowl, except for carrot and walnuts. Whisk until everything is well combined. Now add in dry ingredients and mix well. Don't over mix. Finally add in carrot and walnuts. Fold everything together using a spatula, again don't over mix.
Baking
Pour batter into a 10 inch (25 cm) bundt pan that has been buttered and floured. Bake in a preheated oven at 320ºF (160ºC) for 50 minutes or until a skewer inserted comes out clean. Use upper and bottom heat, no fan, lower ⅔ rack.

Remove from the oven and leave for 5 minutes before flipping the cake on a rack. Cool completely.
The Cream Cheese Glaze
Whisk cream cheese in a bowl until fluffy. Then add powdered sugar, lemon juice and whisk everything together. Pour milk bit by bit until you get your desired consistency, mixing as you go.

Pour on the cake, slice and serve!

Tips: Bake the cake 1 day earlier and glaze it the day after. It tastes more delicious the next day!