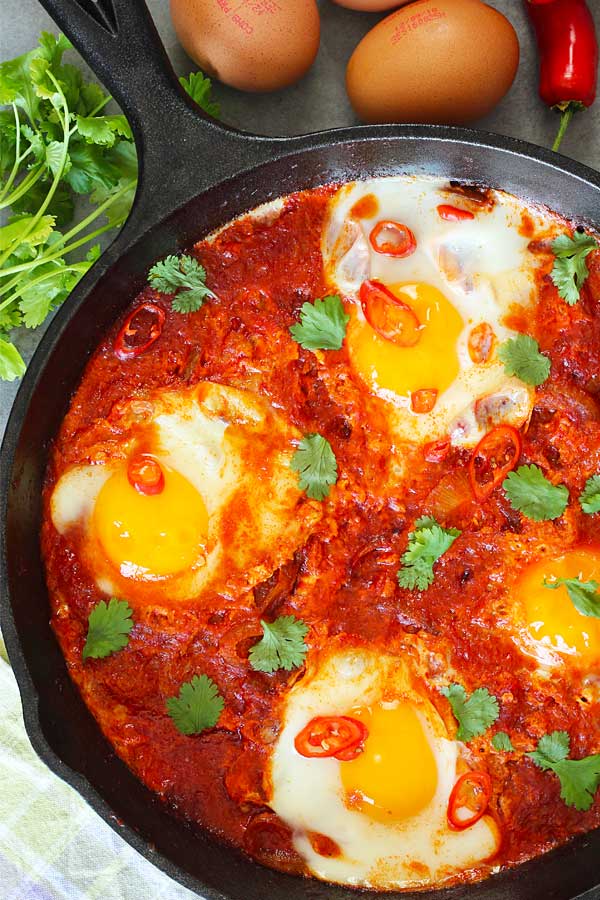 What Is Sambal?
Sambal is a spicy sauce or paste that's made from dry chillies, shrimp paste, ginger, onion, garlic and tamarind juice. It's a very important base for many Malaysian dishes. One example is anchovies sambal that's typically eaten with nasi lemak. Have you tried it?
Click here to see my nasi lemak and anchovies sambal recipe
As I mentioned earlier, sambal is the sauce. So if you're using anchovies with the sambal then it's called anchovies sambal. It can be egg sambal, shrimp sambal, fish sambal and so on.
Sambal is not only used for the spicy taste, it also brings out that beautiful dark red color to the dish. And yes, the red color purely comes from the dry chillies. So sambal is super spicy.
Of all the sambal dishes there are, one of my favourites is this egg sambal. I simply LOVE it!
For me it's the fastest, simplest and cheapest way to enjoy a delicious sambal with a bowl of white rice. Some like to boil the eggs first and then fry them before adding them into the sambal. Some like to fry the eggs one by one and then add them into the sambal.
Personally I like them like this because I like the runny yolk mixed with the sambal and white rice. Oh la la!
Ok now let's get on with the recipe.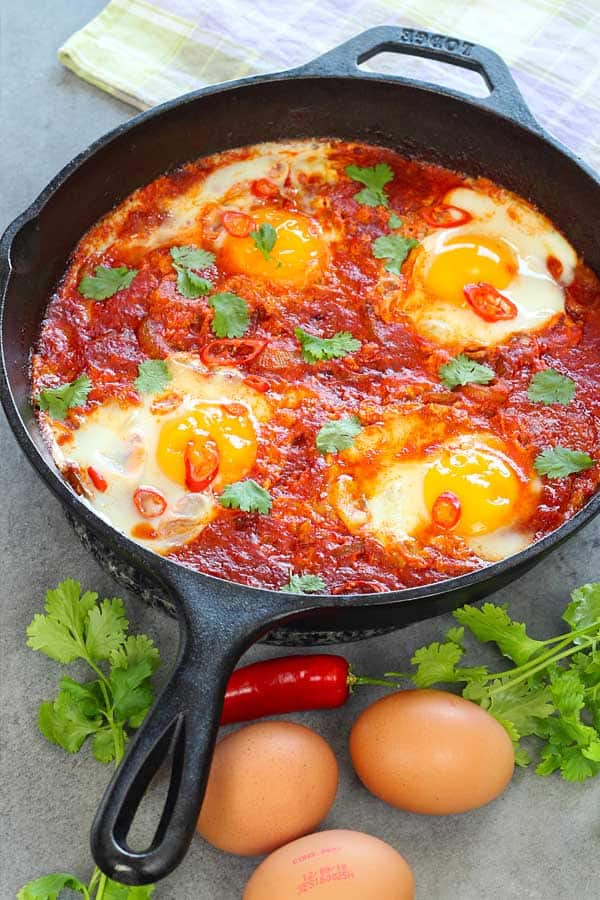 How To Make Sambal Without Dry Chillies
Being married to a Latin American husband, I learned how to substitute ingredients so that my husband can still enjoy his favourite Malaysian dishes without jeopardising his life with the spiciness of a sambal.
Not only for that reason. Dry chillies that are typically used in making sambal in my homeland country Malaysia, are very difficult to find here in Spain. And I know many expats like me are facing the same problems. And also those of you who live outside Malaysia and would love to try making sambal in your own house.
So in this recipe I'm going to share with you how to make this delicious red sambal without using dry chillies.
So. We will use roasted sweet red bell peppers. Yep.
Why roasted sweet bell peppers? Because it gives the sambal that dark red color that we want without messing with the taste. And yes, you can also use roasted red peppers. It's the same concept.
I've tried using fresh red peppers and I didn't like it because it tasted too fruity. If that makes any sense. And it's also too watery and I had to use quite a lot and cook it for a longer time to get the amount of sambal that I wanted.
So we have our red sambal color with our roasted sweet red bell peppers.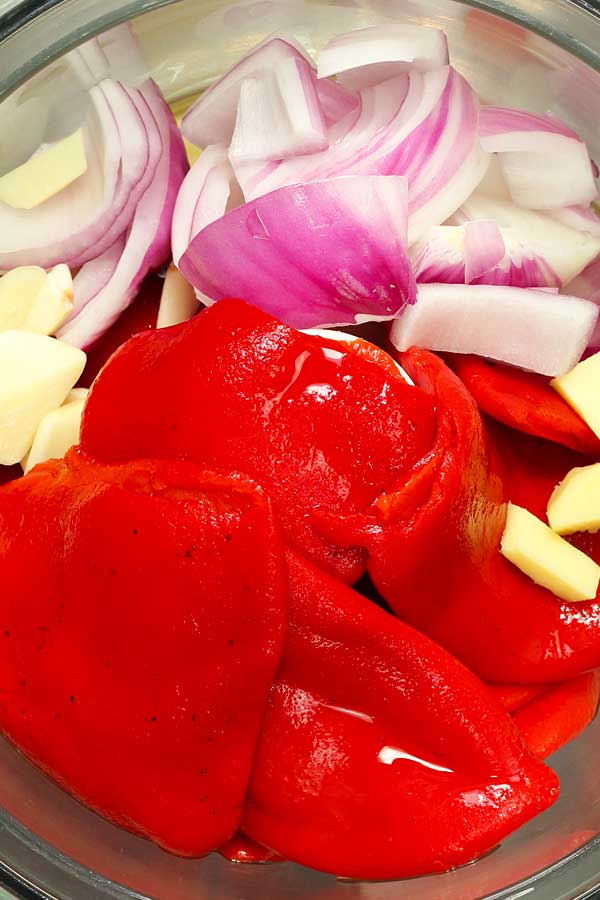 Now let's talk about the spiciness.
I'm using cayenne pepper powder for the heat. You can use whatever you prefer and adjust it to your liking. Chili powder, dry cayenne peppers or chili flakes. As long as it won't change the color of our sambal.
So there you have it. A delicious sambal with a twist.
Other Substitutions
Now that we've covered about the dry chillies, let's talk about the substitutions for some other ingredients.
Sambal usually requires shrimp paste to be blended together with the dry chillies, onion, ginger and garlic.
What if you don't have shrimp paste?
Worry not my friends. You can simply use fish sauce. Yep. It gives that rich saltiness seafood hint to the sambal. Adjust your salt accordingly as the saltiness of fish sauce varies from one brand to the other.
And then the tamarind juice. It's used to give the sambal a sour touch. For that you can simply use lemon juice, lime juice or even vinegar. No problem at all.
Have you checked out my chicken floss recipe? It uses this sambal version concept also. Interested?
Click here to see my chicken floss recipe
So hopefully you'd give this super easy and delicious egg sambal a try. Don't forget your bowl of white rice to go with it. Enjoy!
More Easy Malaysian Recipes
Video
📖 Recipe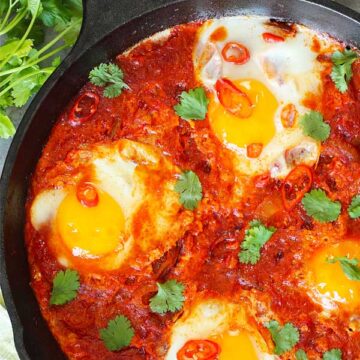 Eggs in Sweet and Spicy Sambal
Egg sambal recipe made for expats and those of you who find it difficult to get dry chillies, shrimp paste or even tamarind. This sambal is equally delicious and one of the simplest sambal recipes ever.
Print
Pin
Rate
Ingredients
12

roasted sweet red bell peppers

½

red onion

, chopped into chunks

4

garlic cloves

1

thumb sized

ginger

salt to taste

1

teaspoon

cayenne pepper powder

1 ½

tablespoon

coconut sugar

2

tablespoon

lemon juice

2

tablespoon

fish sauce

1 ¼

cup

water

(

310

ml)

1

yellow onion

, sliced into thin rings

4

eggs

coriander leaves

, for garnish

slices of chili

, for garnish
Instructions
In a food processor, blend sweet red bell peppers, red onion, garlic and ginger into a smooth mixture. Pour the mixture into a hot pan with some oil.

Add in salt to taste and cayenne pepper powder. Mix everything together and cook until the liquid evaporates, around 10 minutes.

Then add in water, sugar, lemon juice and give it a stir. Add in ring onions and continue cooking until the onion is slightly softened. Adjust seasoning if needed.

Make 4 nests and drop in an egg into each of them. Reduce heat to low and continue cooking until the eggs are cooked to your liking. Garnish with coriander leaves and chili slices. Serve immediately with white rice or bread. Enjoy!
Nutrition Facts
Calories:
130.6
kcal
,
Carbohydrates:
15.8
g
,
Protein:
7.8
g
,
Fat:
4.7
g
,
Saturated Fat:
1.5
g
,
Cholesterol:
163.7
mg
,
Sodium:
2610.3
mg
,
Potassium:
376.7
mg
,
Fiber:
2.4
g
,
Sugar:
6.2
g
,
Calcium:
94.3
mg
,
Iron:
2
mg