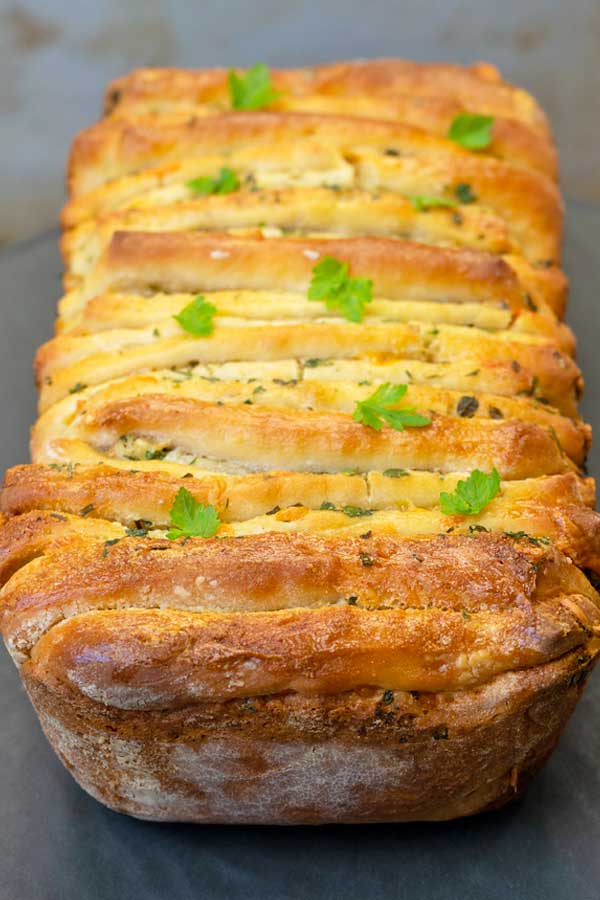 Oooh mamaaaaa!
You really NEED to make this garlic cheese herb pull apart bread! I know it's a mouthful name but this bread is worth to say its name out loud and without a doubt, extremely worth to make it.
And I'm not being crazy and hyper saying it to your face, I'm very calm. I'm almost Yoda.
Tips To Light And Soft Bread
Yep. This bread is light and soft. The ones that once you start eating, you can't stop.
My secret to light and soft bread is using honey and egg. Whenever I can, I will try to incorporate those 2 ingredients in my breads.
Typically you will need a sweetener in a bread, be it savoury bread or sweet bread. In savoury breads you will not need so much, just enough to help activate the yeast. Well for sweet breads, it's obvious.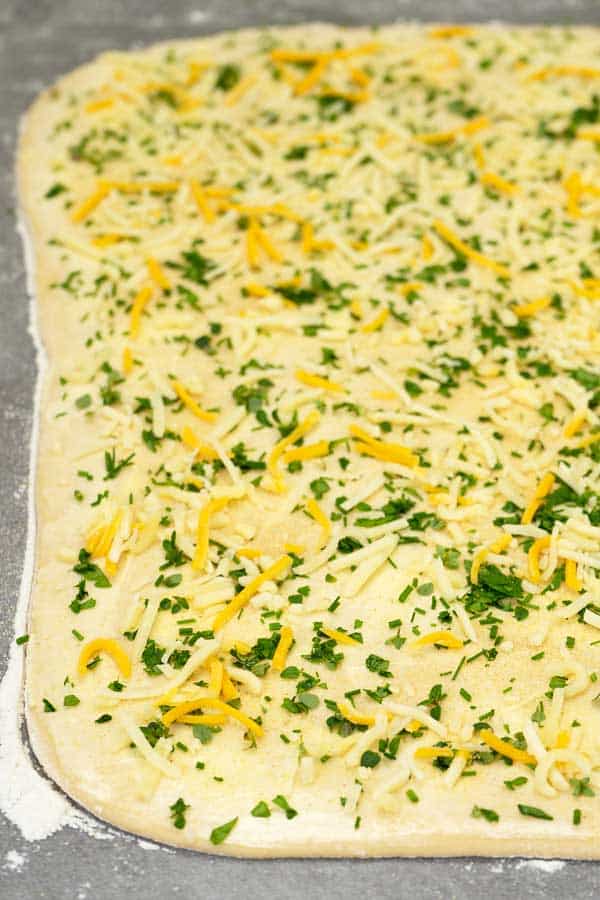 So instead of sugar, I will try to switch it with honey. I said try because not all recipes are the same. Whenever I can, I will.
Adding egg will lighten the texture of the bread and help it rise higher also.
Try it, you'll definitely see the difference.
I know it goes without saying but try to use bread flour whenever you're making bread that needs kneading. I got lots of questions from you guys asking if you could use all purpose flour instead of bread flour.
Bread flour has higher protein content which will help in gluten development when we knead the dough. This will result in more elastic and extendable dough. (Cutting our science class short) And that my friend, will result in the soft chewy texture that we all love so much when we bite into a piece of bread.
I'm not a professional bread maker. But my simple rule is asking myself, does the dough needs to be kneaded? If the answer is yes, then I'll use bread flour. If not, then I will be free to use all purpose flour if I want.
Garlic Cheese And Herb
If you see in the video below, you'll see that for this recipe I'm using the combination of garlic powder and fresh herbs.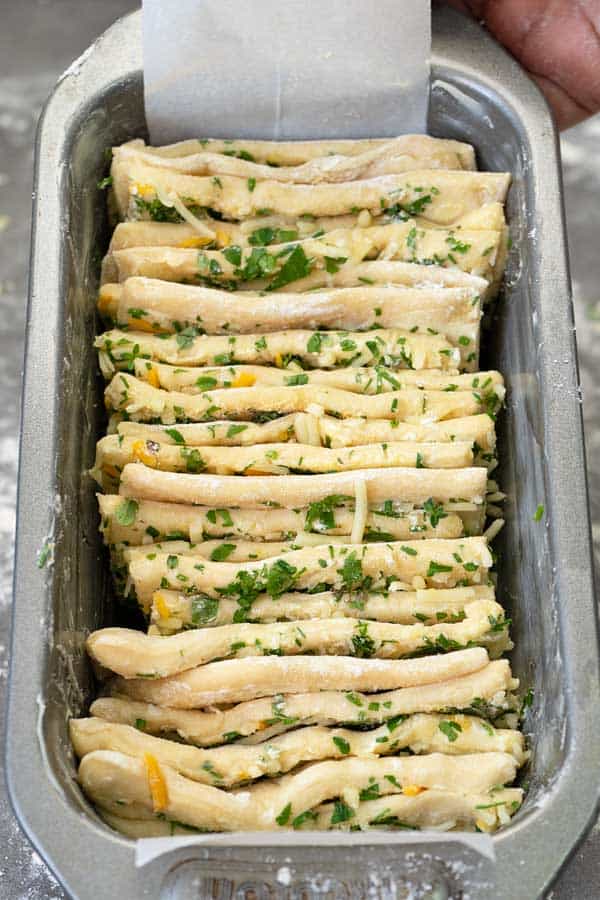 Garlic powder gives a more homogenous garlic taste to the bread instead of fresh garlic.
I'm using the herbs that I have in my tiny garden. You can use your favourite herbs, of course. Adjust it to your taste and make it yours.
For this recipe I'm using shredded mixed cheeses. There's no particular reason at all. I happen to have some in the fridge.
Use your favorite cheese. Parmesan, mozzarella, gouda, cheddar.. go crazy. If you love this type of cheese bread, then you'll also love my Brazilian cheese bread, it's delicious!
You can personalise this bread in so many ways.
I really hope you'll give this bread a try. It's good to eat on its own or as a side to a good soup.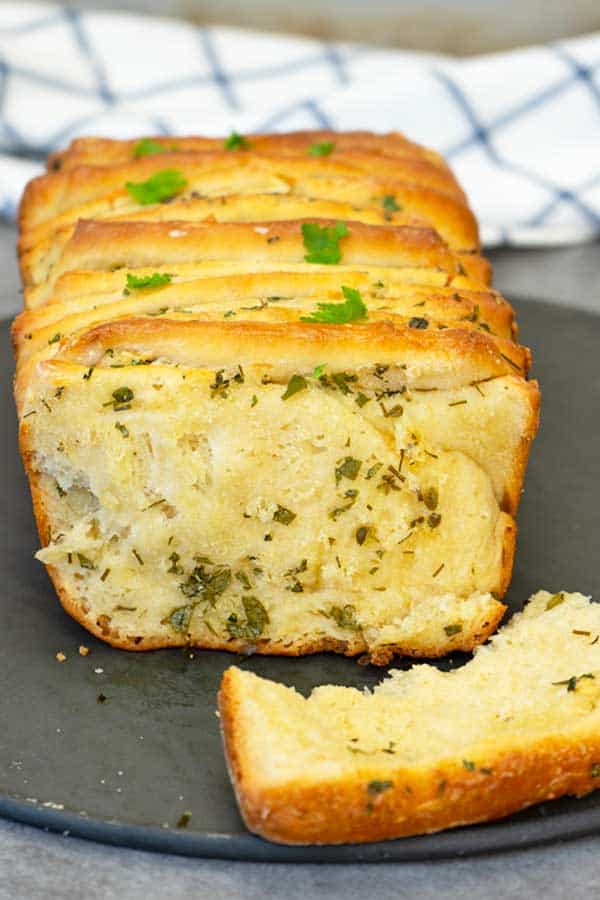 Before You Go
If you're into more bread recipes, maybe you could check some of these out:
You can find more recipes in my recipe page.
Video
📖 Recipe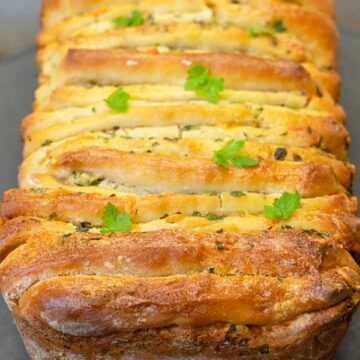 Garlic Cheese Herb Pull Apart Bread
Try this soft, fluffy and full of flavours garlic cheese herb pull apart bread, and you'll never want to buy from the store again. Great to go with soups, stews or even on its own.
Print
Pin
Rate
Ingredients
The Bread
⅔

cup

warm milk

(

160

ml)

1

tablespoon

honey

(

20

gr)

2 ¼

teaspoon

dry yeast

(

7

gr)

2 ½

cup

bread flour

(

325

gr)

1

teaspoon

salt

1

egg

, room temperature

2

tablespoon

butter

(

30

gr), melted

1 ½

tablespoon

garlic powder
The Filling
3

tablespoon

butter

(

45

gr), softened

1

tablespoon

garlic powder

2

tablespoon

chopped parsley

2

tablespoon

chopped chives

2

tablespoon

lemon thyme

1.8

oz

shredded mixed cheeses

(

50

gr)
Other
egg wash (1 egg with a splash of milk)

, for brushing
Instructions
The Bread
Mix honey and warm milk. Add in dry yeast and mix well. Leave for the yeast to activate, around 3-5 minutes.

In a standing mixing bowl, add in the rest of the bread ingredients, including yeast mixture. Mix to incorporate and then knead for 10 minutes.

The dough will be slightly sticky. Form into a ball and place in a greased bowl. Cover bowl tightly with a cling film and leave until dough rises double its size.
Assembling
Place dough on floured working surface. Lightly press and then roll into a 12x16 inch (30x41 cm) rectangle.

Spread softened butter evenly on top. Sprinkle garlic powder followed by parsley, chives, lemon thyme and cheese.

On 12 inch (30 cm) side, cut into 4 equal strips. Use pizza cutter for easier cutting. On 16 inch (41 cm) side, cut into 6 equal strips.

Stack the dough by 3 pieces and then place in a 5x9 inch (13x23 cm) loaf pan that has been buttered and lined. Continue with the rest.

TIPS:

1) Stack and transfer pieces bit by bit so that they don't press on each other by their weight.

2) Hold the pan in standing position for easier stacking the pieces.

Cover the pan loosely with cling film and leave until the dough rises until almost double its size. Gently brush with egg wash, making sure not to brush in between the lines. This is to make sure the pieces don't stick to each other.

Bake in a preheated oven at 350ºF (175ºC) for 40 minutes or until fully cooked. Cover loosely with aluminium foil if it browns too fast. Serve warm.
Nutrition Facts
Calories:
231.6
kcal
,
Carbohydrates:
29.6
g
,
Protein:
8.1
g
,
Fat:
9.2
g
,
Saturated Fat:
5.2
g
,
Cholesterol:
42.9
mg
,
Sodium:
330.7
mg
,
Potassium:
138.9
mg
,
Fiber:
2
g
,
Sugar:
2.8
g
,
Calcium:
79.2
mg
,
Iron:
0.9
mg