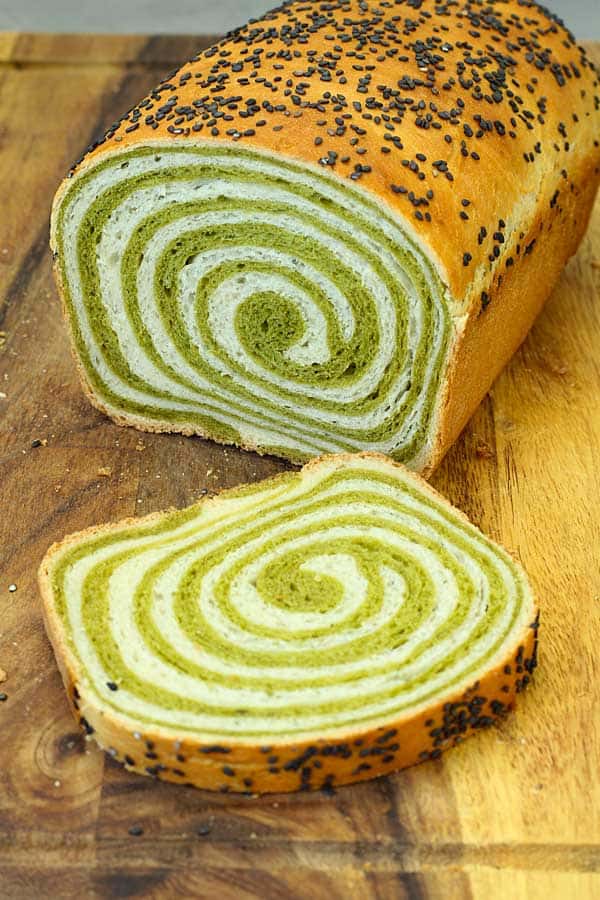 What Is Matcha?
Matcha is synonym with Japan. It's a specially grown and processed green tea leaves that has been grind into fine powder.
It's consumed differently from any other tea that comes in tea bags or leaves. Matcha tea powder is dissolved typically using a special tool, in water or milk.
Matcha tea is usually served in the traditional Japanese tea ceremony where the matcha tea powder used is of a high quality. It is referred to as ceremonial grade matcha.
The lower quality matcha is used for other purposes and is often referred to as culinary grade matcha. In the culinary world, matcha tea powder not only gives flavour but also dyes the food such as mochi, ice creams and noodles.
And today, I'm sharing with you a swirl bread recipe that uses matcha tea powder for that vibrant green color.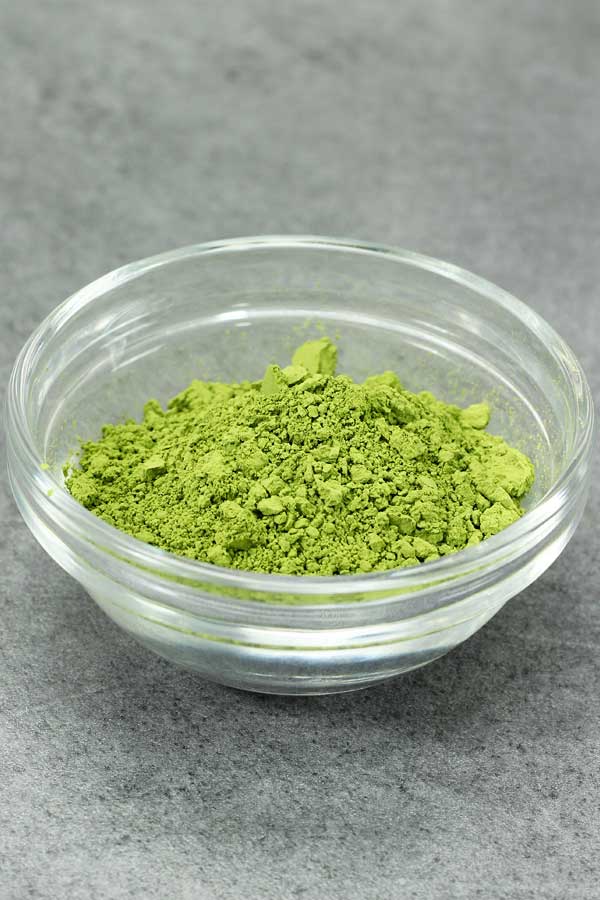 Choosing Matcha Tea Powder
As I mentioned earlier, there are different qualities for matcha tea powder. And since we're not going to use the ceremonial grade matcha to make our bread (well you can if you want to), I should warn that even that, there's a difference in quality for the powder.
How do we know that?
Well look at the color of your matcha tea powder. It should be very vibrant green.
If it's not vibrant green, then either that powder is a very low quality one or it has been oxidised in time. Yes it can get oxidised.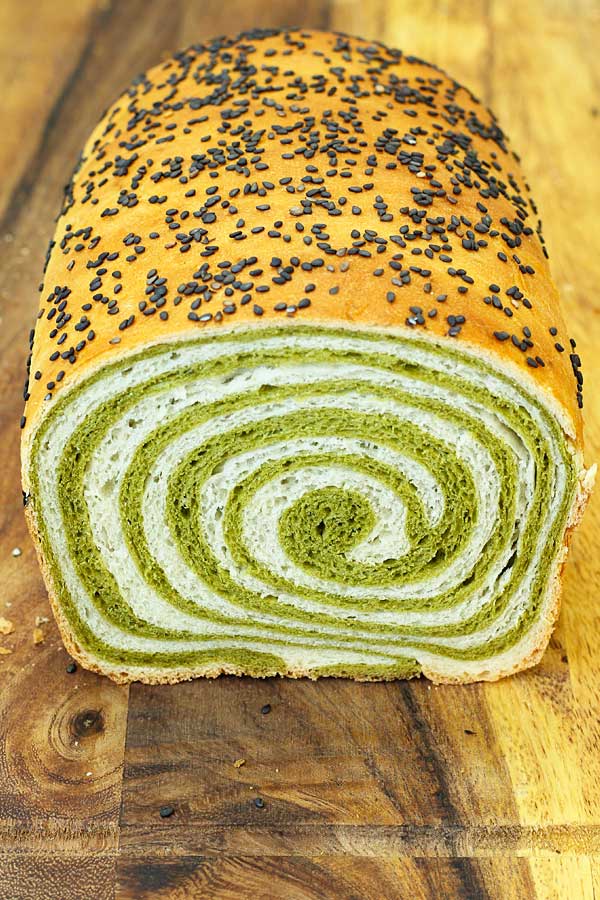 How do I know that? Because it happened to me. My husband bought a packet of matcha tea powder a few years ago. Yes, you read me correctly. A few years ago. In time he forgot about it since we have like 1 thousand types of teas in our pantry cupboard.
The other day I thought of making this swirl matcha bread to film and we were finishing off with the final footages of slicing the bread. After I sliced it, we looked at each other and said, this doesn't look good at all. Haha!
I don't know what happened during the earlier hours of filming that neither of us realised the matcha tea powder that I was using was not green, in fact it was greyish.
You know those moments when you only realised something when it already has happened. When it was already too late? Yep. We definitely had that moment that day. So we stopped filming and give it a rest.
A few weeks later and several boxes more of buying and testing the color of matcha tea powder, finally we found one that's vibrant in color like it should be. Some boxes must have been in the supermarkets for quite a long time, that's why they get oxidised. Either that or it was the matter of quality.
Anyway, long story short. If you care for the color, use vibrant colored matcha tea powder. If you don't mind (because the truth is, the taste is equally delicious), then good for you. Easier.
Making Swirl Matcha Bread
Ok now let's talk swirls.
As you can see in my video below, I divide my dough into 2 equal pieces. They need to be precisely equal or else the swirls wouldn't look beautifully portioned.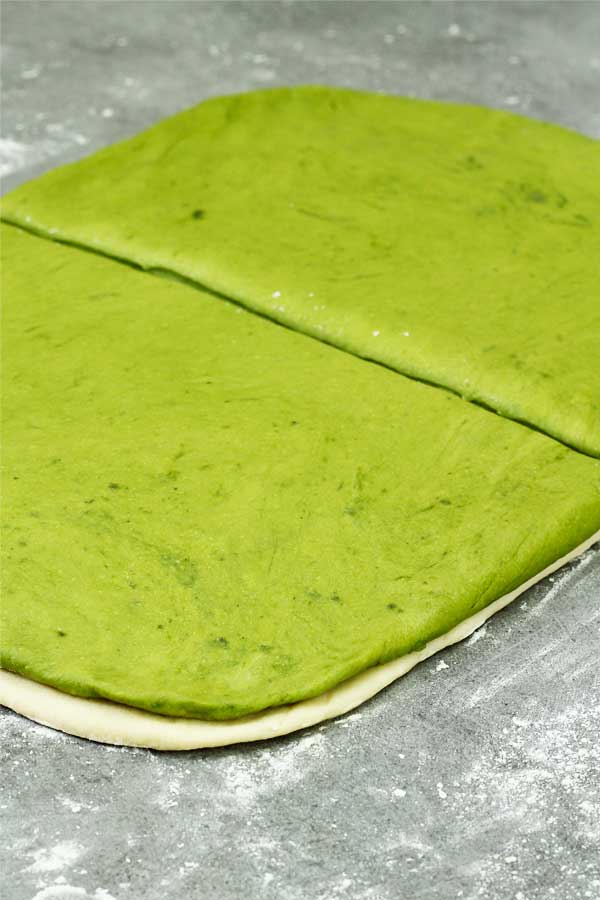 To make sure the swirls come out good, roll both doughs separately into equal rectangle size and thickness. Then place the matcha dough on top of the plain dough and cut them into 2 equal pieces. Stack them on top of each other so that the colors are alternating and then start rolling again.
Only this time make sure the width of the dough is the same width of your loaf pan. Then you simply roll it into a log and that's all the steps that it takes to make the swirls. Easy right?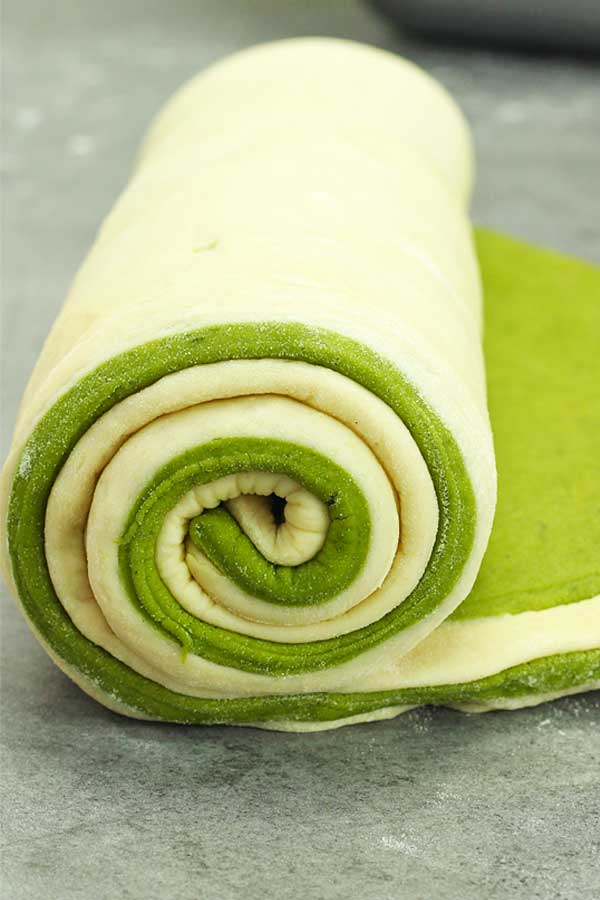 So what do you think? You're convinced to try this delicious soft and fluffy swirl matcha bread?
More Bread Recipes
Video
📖 Recipe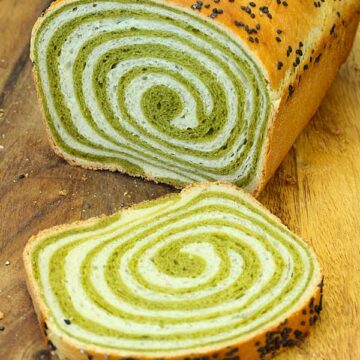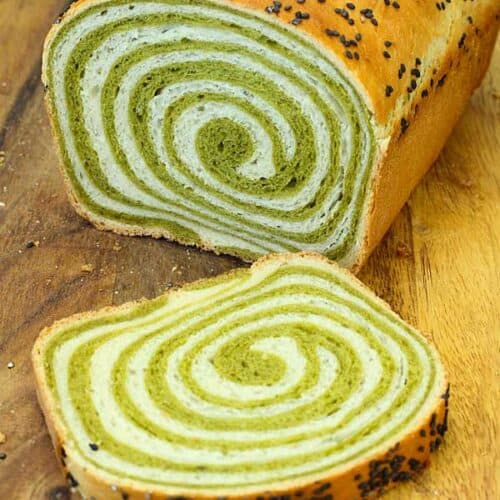 How To Make Matcha Bread
This matcha swirl bread is so soft and fluffy. The beautiful swirl look does give it a wonderful touch. Making this swirl bread is easier than it looks, trust me. If you're a matcha tea lover, you might want to make this recipe.
Print
Pin
Rate
Ingredients
1 ¼

cup

warm water

(

310

ml)

¼

cup

honey

(

85

gr)

2 ¼

teaspoon

dry yeast

(

7

gr)

4

cup

bread flour

(

520

gr)

1

teaspoon

salt

⅓

cup

powdered milk

(

30

gr)

3

tablespoon

unsalted butter

(

45

gr), melted

2

tablespoon

matcha powder

(

10

gr)

some warm honey

, to paint on top

some black sesame seeds

, to sprinkle on top
Instructions
Mix honey with warm water and then sprinkle dry yeast and give it a mix. Leave fr the yeast to activate, around 3-5 minutes.

In a standing mixer bowl, add in flour, salt, milk powder, melted butter together with yeast mixture. Mix to incorporate and then knead for 10 minutes. Form the dough into a ball and then cut it into 2 equal pieces.

Place 1 dough into an oiled bowl and coat it well with some oil. Then cover the bowl tightly with cling film and leave for the dough to rise until double its size in a warm and draft free place.

Place the other dough back into the mixer bowl. Sift matcha powder inside the bowl and then mix slowly to incorporate. Knead until the matcha is fully incorporated with the dough, around 5 minutes. Place the dough into an oiled bowl and coat it well with some oil. Then cover the bowl tightly with cling film and leave for the dough to rise until double its size in a warm and draft free place.

Place the risen matcha dough on a floured working surface. Using your fingers, press it into a rectangle shape. Then using a pin roll, roll it into a ⅕ inch (0.5 cm) thickness. Set aside.

Do the same with the plain dough. Then place the rolled matcha dough on top of the plain dough. Adjust both doughs so that they are the same size. Then cut into 2 equal pieces. Place 1 piece on top of the other, making sure the layers are alternating. Again, adjust them so that they are the same size.

Now roll the layered doughs into a rectangle with the width is the same as the loaf pan. I'm using 5x9 inch (13x23 cm) loaf pan. Then roll the doughs tightly into a log and place it in the loaf pan (greased beforehand). Cover it with a greased cling film and leave for it to puff up a bit, around 30 minutes.

Brush the surface with some warm honey and then sprinkle it with some sesame seeds. Bake in a preheated oven at 350ºF (175ºC) for 35 minutes or until fully cooked. Cool completely on a rack before slicing. Enjoy!
Nutrition Facts
Calories:
248.1
kcal
,
Carbohydrates:
42
g
,
Protein:
8.6
g
,
Fat:
5
g
,
Saturated Fat:
2.6
g
,
Cholesterol:
11.3
mg
,
Sodium:
214.7
mg
,
Potassium:
123.1
mg
,
Fiber:
1.7
g
,
Sugar:
9.2
g
,
Calcium:
47.2
mg
,
Iron:
1
mg